15 Best Plants to Grow in Georgia (With Pictures)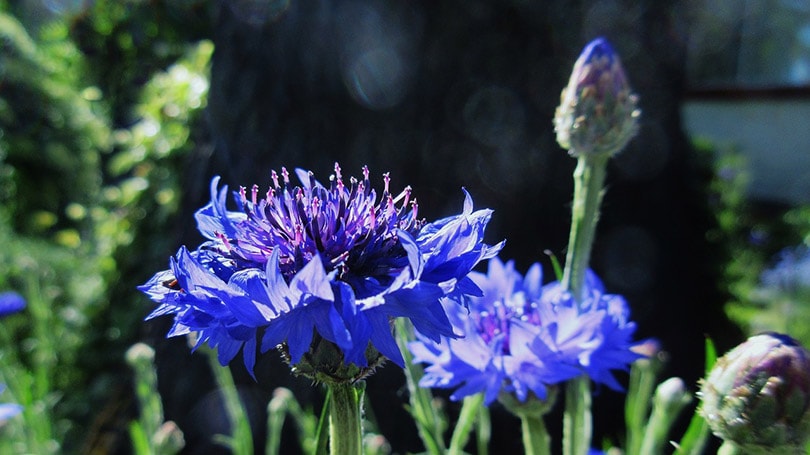 Georgia has a humid, subtropical climate which makes for an excellent environment for growing various plants. Most of the state has long, hot summers separated by mild winters. Georgia's USDA Zone rating varies from 6–9 depending on the particular area of the state.
Most of the state receives a lot of rainfall, and the temperatures can be very high. So, that is a factor to keep in mind when deciding on plants to grow. Below, we've compiled a list of 15 of the best plants to grow anywhere in Georgia.
The 15 Plants to Grow in Georgia
1.

Butterfly Weed (Asclepias tuberosa)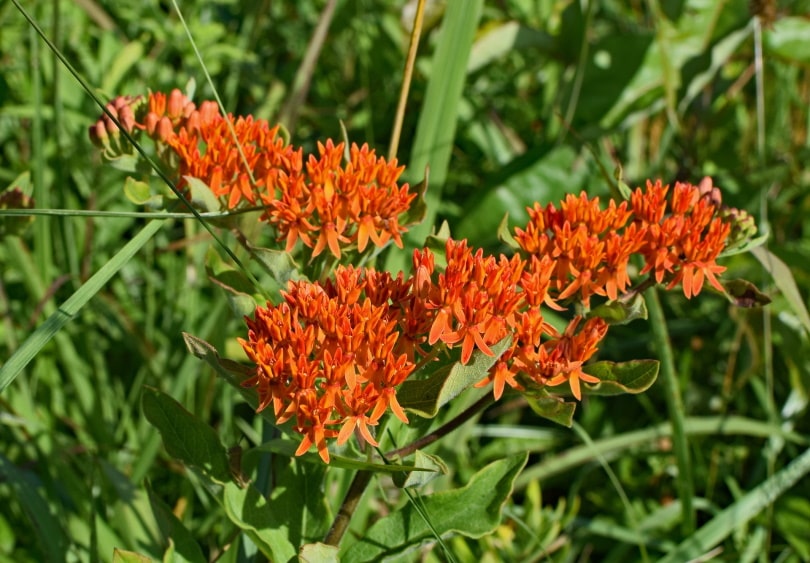 | | |
| --- | --- |
| USDA Zone: | 3–9 |
| Type: | Perennial |
| Sun: | Full |
The name implies that this plant is a weed, but one look at it tells you that there is more to it than that. The butterfly weed is a vibrant orange perennial that thrives in the hot Georgian summers. It loves the sun and requires minimal water and care. As a low-lying flower, it makes a great addition to your flower bed and also makes a lovely ornamental cut flower.
---
2.

Swamp Hibiscus (Hibiscus coccineus)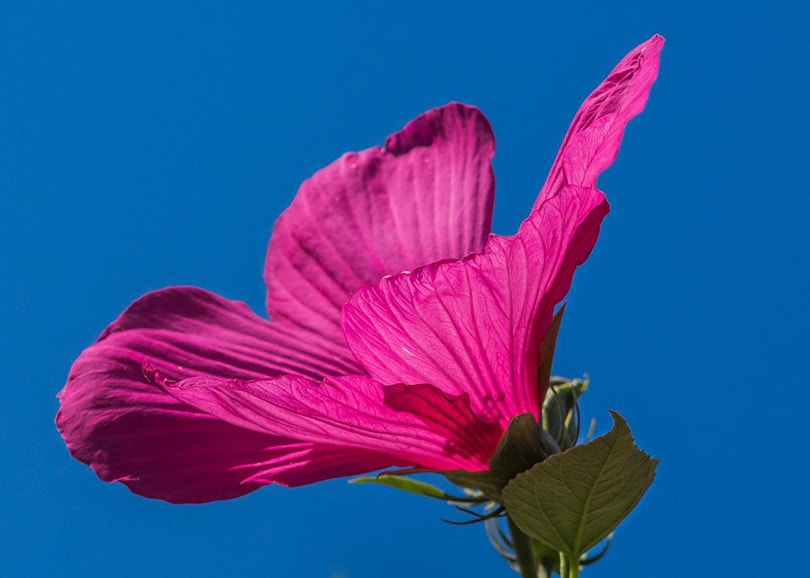 | | |
| --- | --- |
| USDA Zone: | 6–11 |
| Type: | Perennial |
| Sun: | Full, partial shade |
The swamp hibiscus loves a hot, dry summer. But if you have this beautiful red flower in your garden, you'll have to make sure to keep it well-watered so its soil stays moist. If you have a water feature in your garden, this plant will thrive in that environment. Once it starts blooming—typically the beginning of summer—it doesn't stop until the fall. However, the blooms typically only last a few days.
---
3.

Paperbush (Edgeworthia chrysantha)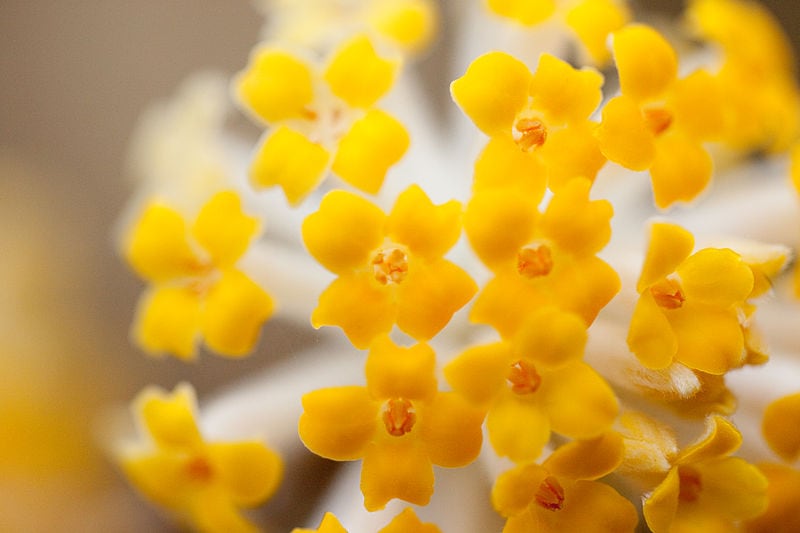 | | |
| --- | --- |
| USDA Zone: | 7–10 |
| Type: | Shrub |
| Sun: | Full, partial shade |
We often don't associate winter and flowers together, but the paperbush defies this. It blooms in late winter to early spring. Growing up to six feet tall, this bush spreads out and blooms the most incredible round, white flowers on otherwise bare stems. If it wasn't already impressive that this bush flowers during the winter months, it's also covered in lush, green leaves in the hot summer, making it a great addition to many different gardens.
---
4.

Bottlebrush buckeye (Aesculus parviflora)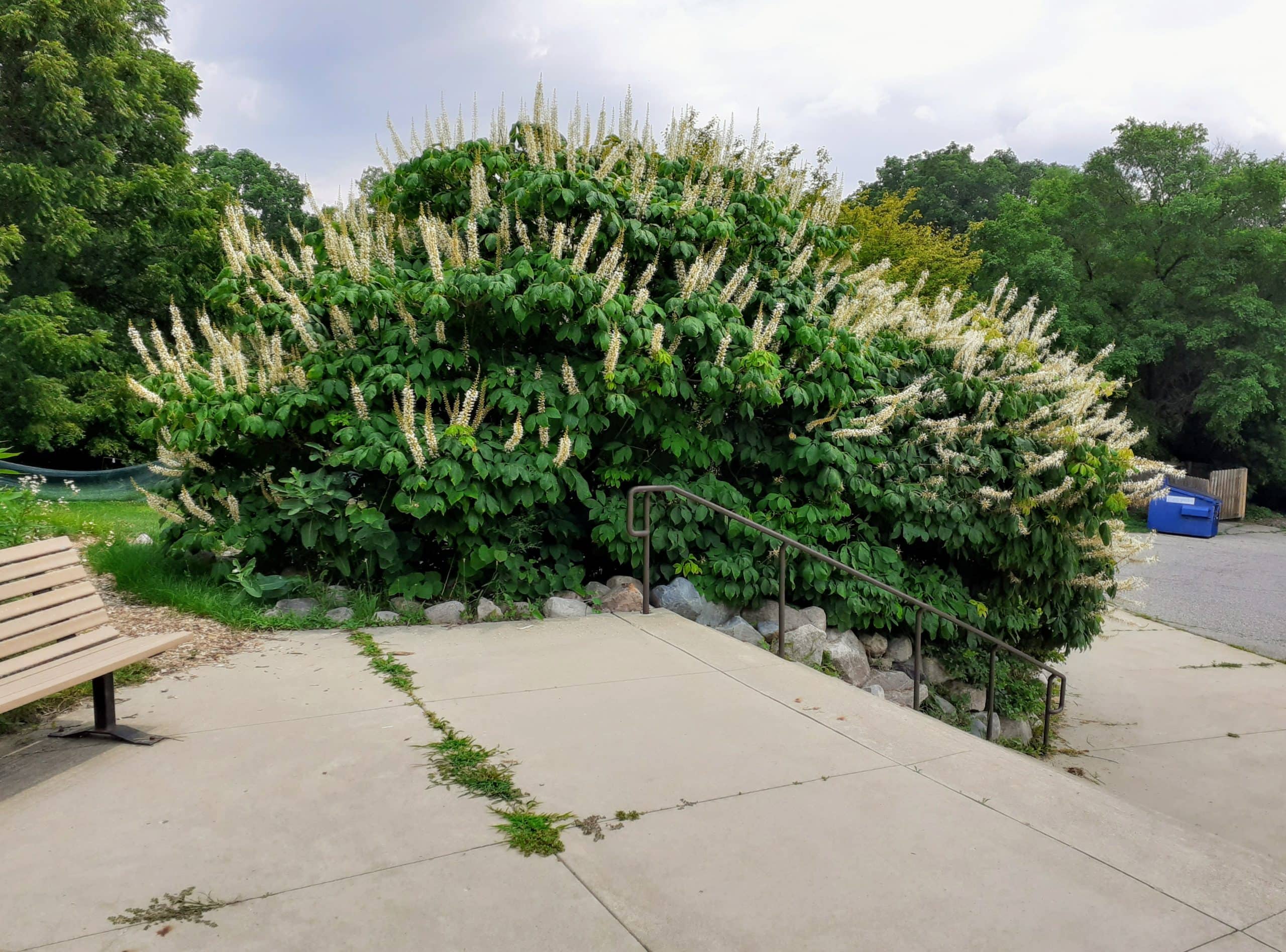 | | |
| --- | --- |
| USDA Zone: | 4–8 |
| Type: | Shrub |
| Sun: | Partial shade |
The bottlebrush buckeye can make quite an impressive addition to your large garden or yard. It can grow up to 12 feet tall yet is still considered a shrub! It has beautiful white, candle-like flowers that reach the sky. It is susceptible to leaf scorch, so wherever you plant it, make sure that it is getting partial shade—especially in the sunnier areas of Georgia.
---
5.

Hardy Plumbago (Ceratostigma plumbaginoides)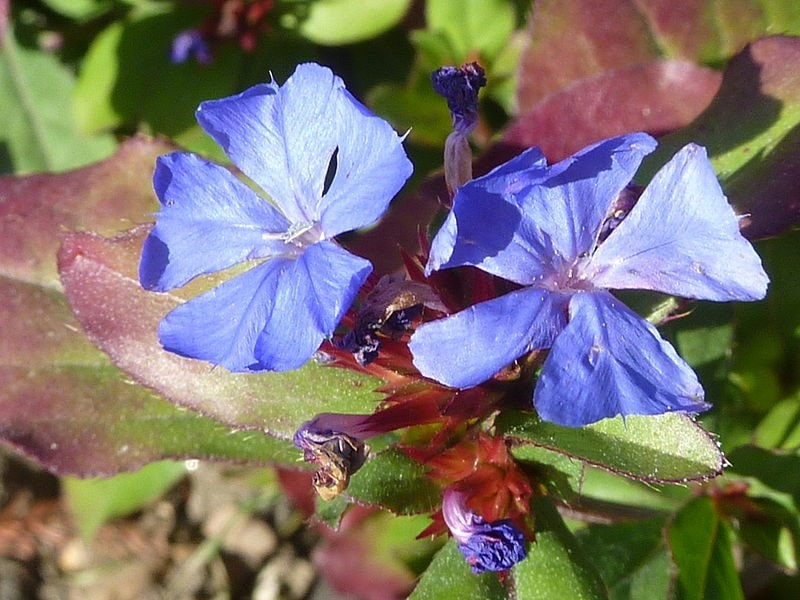 | | |
| --- | --- |
| USDA Zone: | 5–9 |
| Type: | Perennial |
| Sun: | Full, partial shade |
Suppose you're in one of the cooler areas of Georgia. In that case, the hardy plumbago makes a beautiful ground-cover addition to your garden. This plant blooms with rich, blue flowers in the late summer, and then the leaves turn reddish-purple in the fall months. This hardy plant is also resistant to deer but attracts butterflies, which are welcome in any garden!
---
6.

Arkansas Blue Star (Amsonia hubrichtii)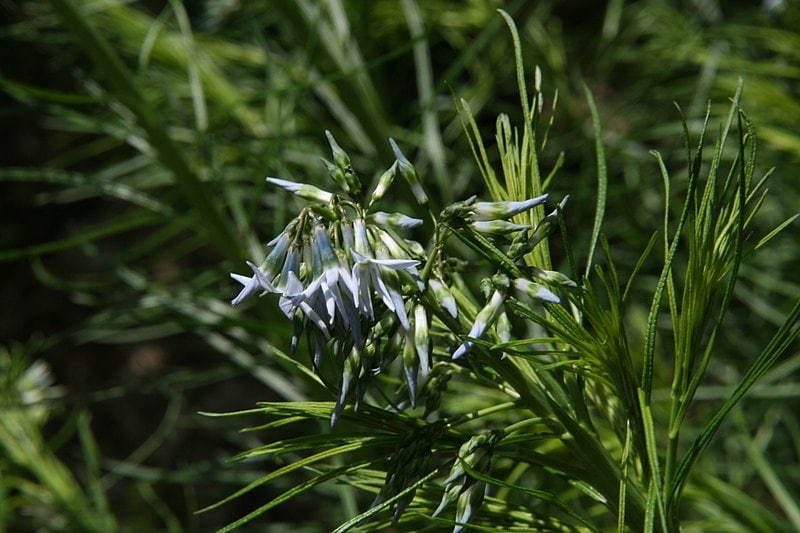 | | |
| --- | --- |
| USDA Zone: | 4–10 |
| Type: | Perennial |
| Sun: | Full |
This incredible plant looks almost like a dense spruce plant with soft, needle-like leaves that can spread out up to three feet wide. The Arkansas blue star, also known as the thread-leaf blue star, grows naturally in fields and rocky outcrops. However, it also makes a great addition to a Georgian garden. The clusters of purple flowers that bloom make a nice contrast to many other types of plants.
---
7.

Purple Beautyberry (Callicarpa dichotoma)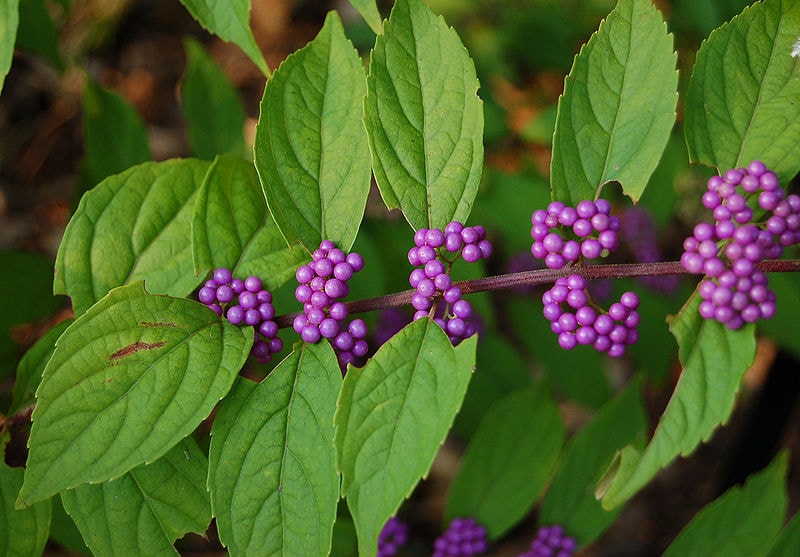 | | |
| --- | --- |
| USDA Zone: | 5–8 |
| Type: | Shrub |
| Sun: | Full, partial shade |
The purple beautyberry is a hardy, low-maintenance shrub. While it is not native to North America, it grows well anywhere in Georgia. This plant produces small pink flower clusters that are excellent pollinator attractants during the summer months. Then, in early to late fall, it produces tiny purple berries. Because of the purple beautyberry's hardiness, it is a relatively easy plant to grow as well.
See also: 12 Shrubs and Bushes That Grow in the Shade
---
8.

Hardy Geranium 'Rozanne' (Geranium' Gerwat' Rozanne)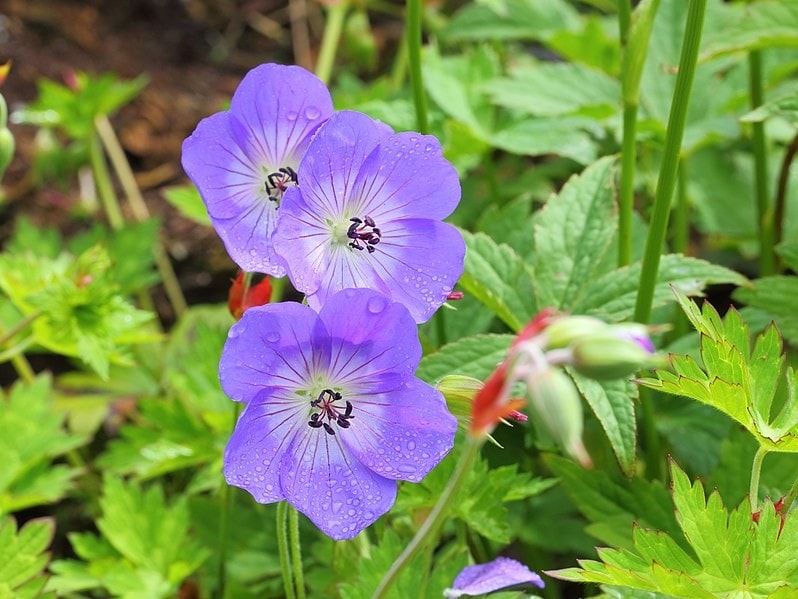 | | |
| --- | --- |
| USDA Zone: | 5–8 |
| Type: | Perennial |
| Sun: | Full, partial shade |
The hardy geranium is a hybrid geranium that is one of the longest blooming perennials in the garden. Its beautiful tiny violet flowers bloom nearly all summer long and offer a wonderful contrast to many other plants and flowers in the garden. Butterflies love it but so do other pests. So, it takes some extra care regarding pest control, but other than that, it is a stable and hardy plant.
---
9.

Oakleaf Hydrangea "Alice" (Hydrangea quercifolia "Alice")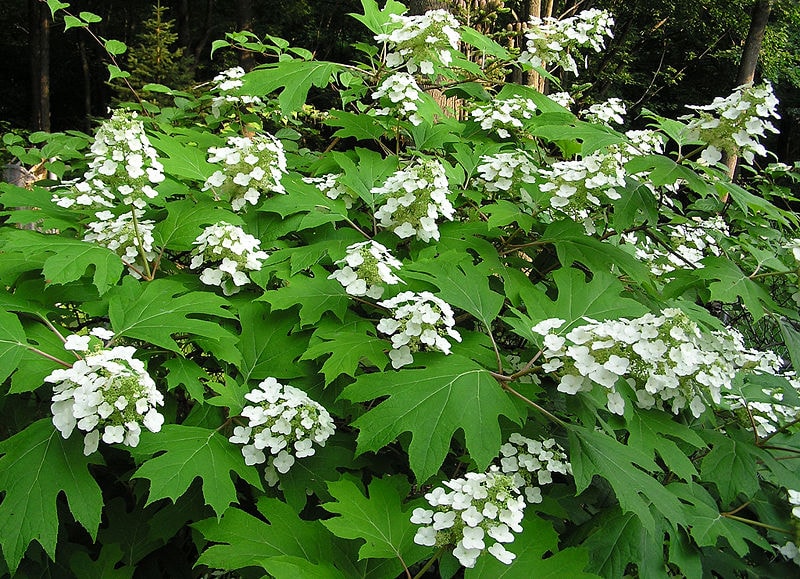 | | |
| --- | --- |
| USDA Zone: | 5–9 |
| Type: | Shrub |
| Sun: | Full, partial shade |
"Alice" is another hydrangea on our list that loves the subtropical climate of Georgia. This plant thrives in the moist soil and isn't too picky about the sun it gets. This hydrangea will reach heights up to eight feet. Its white flowers start blooming early to mid-summer, then fade to a lovely pink as the months go on. It doesn't do well with harsh winter weather, though. So, if you get a cold winter, any fresh buds will die.
---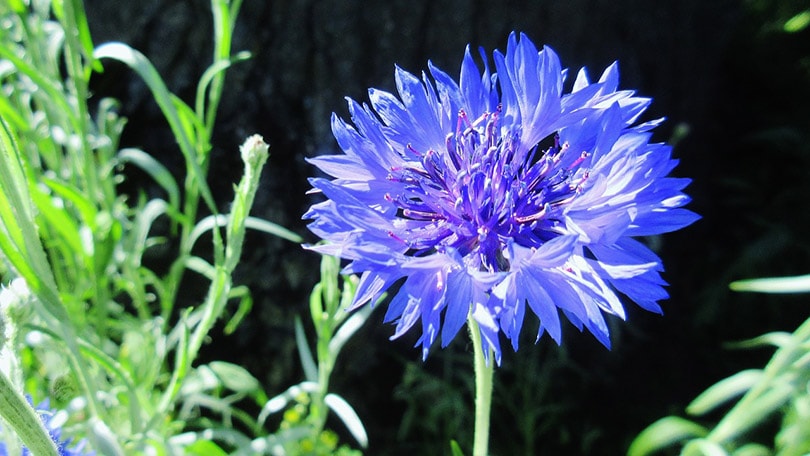 | | |
| --- | --- |
| USDA Zone: | 2–11 |
| Type: | Annual |
| Sun: | Full |
Bachelor's buttons—or you may know them as cornflowers—are classic flowers that have been in European and American gardens for many, many years. They are not native to North America but have been naturalized in many states as they grow easily in many different climates. Once you plant these lovely annuals in the spring, they will spread and flower all year long. These particular cornflowers are especially popular as cut flowers for different arrangements.
---
11.

Bloodflower (Asclepias curassavica)
| | |
| --- | --- |
| USDA Zone: | 8–11 |
| Type: | Perennial, annual |
| Sun: | Full |
The bloodflower has many common names, such as scarlet milkweed, sunset flower, or tropical milkweed. Each name seems to capture its looks accurately. Its red and orange flowers are commonly seen in ditches along the road. While this is a beautiful flower to look at, it is slightly poisonous. It is toxic if consumed in large quantities, and it causes skin reactions upon contact—so probably not the best flower for the garden if there are kids around.
---
12.

Coreopsis (Coreopsis spp.)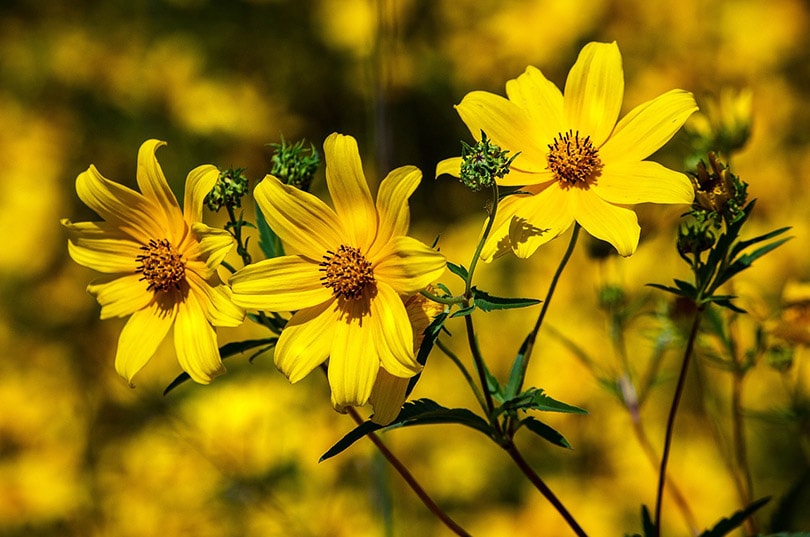 | | |
| --- | --- |
| USDA Zone: | 2–11 |
| Type: | Perennial, annual |
| Sun: | Full |
Coreopsis plants are another example of plants that are suitable for a wide variety of environments. They commonly grow in clumps and reach heights of up to four feet. They also bloom with yellow, daisy-like flowers all summer long. If you don't have a particularly good green thumb, these are an excellent option for the garden because they are hardy and resistant plants.
---
13.

Sunflower (Helianthus annuus)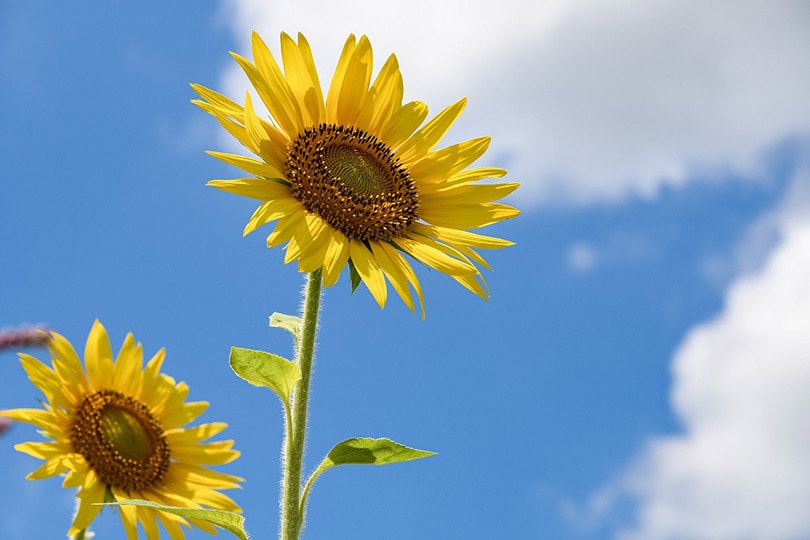 | | |
| --- | --- |
| USDA Zone: | 6–9 |
| Type: | Annual |
| Sun: | Full |
Sunflowers aren't just grown to produce delicious snacks. These glorious yellow plants can add a burst of color to pretty much any garden in Georgia. If given the space and nutrients, sunflowers can also grow up to eight feet tall. You may have heard that sunflowers follow the sun's movement every day. While that would certainly be cool, it's unfortunately not true.
---
14.

Purple coneflower (Echinacea purpurea)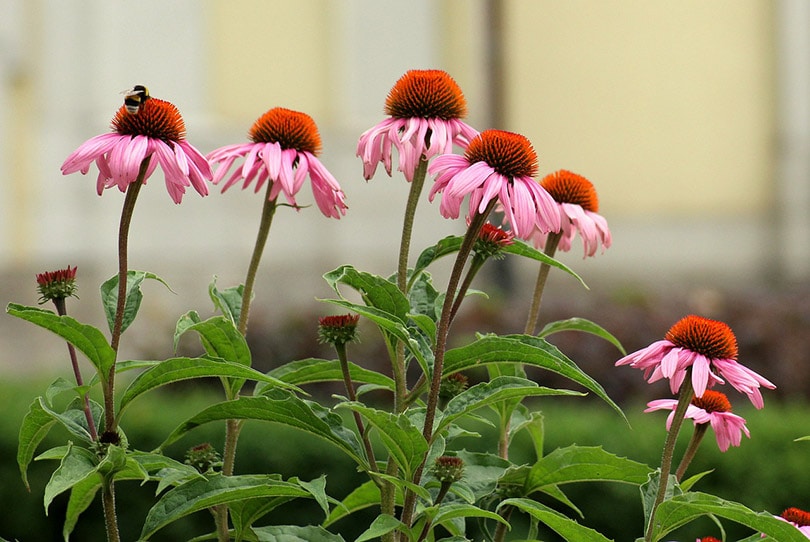 | | |
| --- | --- |
| USDA Zone: | 4–9 |
| Type: | Perennial |
| Sun: | Full, partial shade |
These beautiful purple flowers make a lovely addition to any garden. One of the most stand-out features of the purple coneflower is its unique center. As the purple flowers open and fold down like a rocket taking off, the yellowish-orange or red center protrudes with a strawberry shape. The purple coneflower is popular in gardens and as cut flowers or in bouquet arrangements.
---
15.

Mexican Sunflower (Tithonia rotundifolia)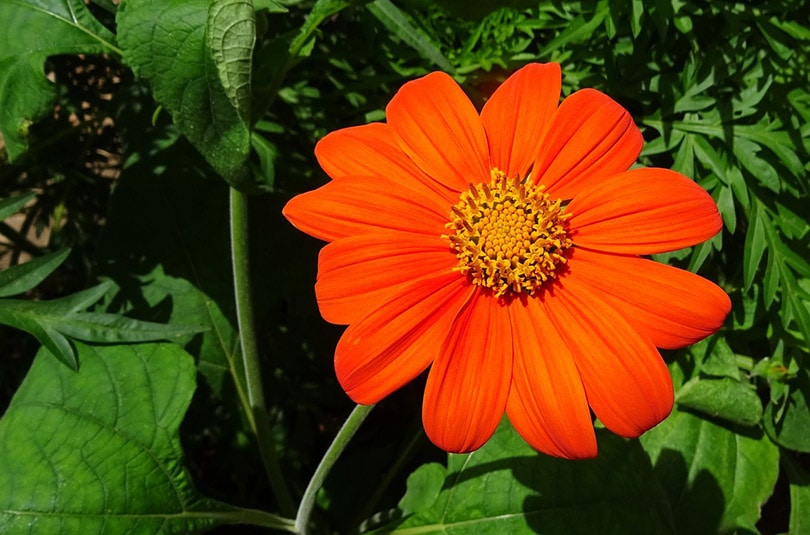 | | |
| --- | --- |
| USDA Zone: | 9–11 |
| Type: | Annual |
| Sun: | Full |
The Mexican sunflower is a vibrant annual that can be grown relatively easily in most areas of Georgia. It thrives in the long, hot summers due to being native to Mexico. Butterflies, hummingbirds, and bees all love the exotic orange and yellow flowers as they bloom fiercely in midsummer until late fall. If you remove dead blossoms, it will encourage the plant to keep blooming.
Conclusion
No matter where you live in Georgia, most of the flowers on this list are great options. The thing about plants is that there are often tons of varieties of any given plant. So, if you're going for a particular look in your garden, you just need to search for varieties that will provide you with the color or style you're looking for in your garden.
See Also:
---
Featured Image Credit: june88, Pixabay