10 Best Allen Wrench Sets (Hex) of 2023 – Top Picks & Reviews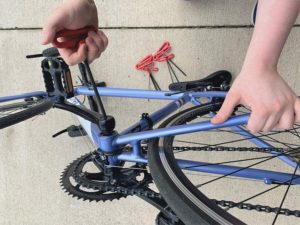 Sometimes, the simplest tools are the best. That's the case with the Allen wrench or hex key. The design is deceptively elementary. However, this mere piece of metal gives you the torque you need to loosen screws and bolts without stripping the heads—as long as you use the right size. You can even use them on hard-to-access headless set screws.
Many sets are lightweight, which makes them portable. You can toss a kit in your bike seat bag or car glove box for repairs on the road. One of the terrific things about these tools is that they're inexpensive to make. It's one reason why you'll find one or two thrown in if you have to assemble a product you've purchased.
Several factors come into play when choosing the best Allen wrench set. Our guide will discuss what you need to know to get the right set for you. We've also included detailed reviews of the top sets to help see what to look for when choosing a product for your workshop. Let's start with a selection of the Allen wrench sets available and what distinguishes each one.

A Quick Comparison of Our Favorites in 2023
| Rating | Image | Product | Details | |
| --- | --- | --- | --- | --- |
| Best Overall | | Owl Tools 5 Allen Wrench Set | Imperial and metric keys ,Short and long arm wrenches ,Lifetime guarantee | CHECK PRICE |
| Best Value | | TEKTON 25253 Hex Key Wrench Set | Well-designed storage ,Metric and Imperial sizing ,Lifetime warranty | CHECK PRICE |
| Best Value | | Craftsman CMHT26001 Hex Key Set | Color-coded carrying case ,Lifetime warranty ,Well-made | CHECK PRICE |
| Premium Choice | | AmazonBasics Hex Key Allen Wrench Set | Value-priced ,Easy storage | CHECK PRICE |
| | | S&R Allen Wrench Set | Excellent range ,Snug fit for keys in case ,Stamped wrenches | CHECK PRICE |
The 10 Best Allen Wrench Sets
1.

Owl Tools 5 Allen Wrench Set – Best Overall
The Owl Tools 5 Allen Wrench Set is a product that covers all the bases, with both metric and Imperial sizes. The former runs from 1.27 mm–8 mm and the latter, 1/16"–7/32". We loved that they are also different colors, with the metric wrenches in silver and the Imperial in black. It makes sorting them much easier. The set includes both short and long arm wrenches.
The 36-key set is made of carbon steel. The size is visible on both the case and the wrenches. They have the ball at the end of each one to improve their versatility. The USA-based company offers a lifetime guarantee on their products, which we appreciated. They offer either a replacement or a refund. Overall, we think this is the best allen wrench set on the market today.
Pros
Imperial and metric keys
Short and long arm wrenches
Lifetime guarantee
A broad range of sizes
Cons
Occasional quality control issues
---
2.

TEKTON 25253 Hex Key Wrench Set – Best Value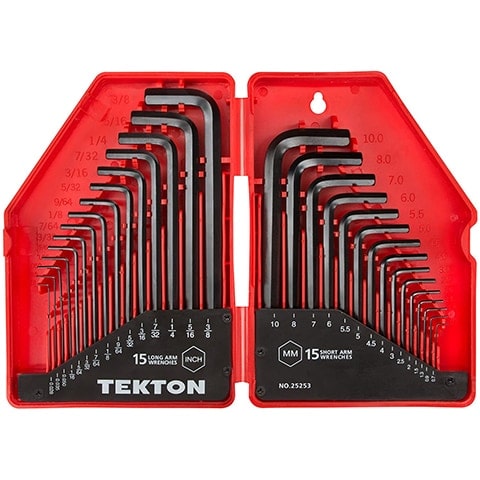 The TEKTON 25253 Hex Key Wrench Set was our pick for the best Allen wrench sets for the money. It includes Imperial sizing from 0.028"–3/8" and metric from 0.7 mm–10 mm. You're covered for whatever projects you're doing. Unlike the previous product, this one has chamfered instead of the ball ends. It's not a dealbreaker, but one of those good-to-know things for comparison.
The case is well-made and lays flat, which is quite helpful. Unfortunately, we can't say the same for the keys. The slots are just a wee bit off in the size. While both measurement systems are the same color, they are also different lengths. The strength of this product lies with the larger sizes versus the very small ones. However, there is a lifetime warranty on your purchase.
Pros
Well-designed storage
Metric and Imperial sizing
Lifetime warranty
Cons
Same color for both Metric and Imperial
Keys fall out of slots
---
3.

Craftsman CMHT26001 Hex Key Set – Premium Choice
The Craftsman CMHT26001 Hex Key Set takes a different approach than the standard L-shaped arms with a T-shaped handle to boost your leverage. It's something you'll either love or hate. It includes both Imperial and metric keys that are color-coded with labeled sides for the carrying case. The wrenches run from 3/32"–1/4" and 2.5 mm–10 mm.
The manufacturer has a stellar customer service reputation, as evidenced by the lifetime warranty on these wrenches. The keys are well-made but perhaps not suited for tough work, such as automotive jobs. While the case is nice, it's bigger than we'd like. Also, it has clearly marked sizes that the wrenches themselves lack.
Pros
Color-coded carrying case
Lifetime warranty
Well-made
Cons
Spendy
Fair strength for tough jobs
---
4.

AmazonBasics Hex Key Allen Wrench Set
The AmazonBasics Hex Key Allen Wrench Set stands out as an affordably priced product, especially considering that you get 26 wrenches. It includes both metric and Imperial sizes in color-coded cases. The sizes are visible on both, which makes it easy to find what you need. We just wish the wrenches fit a bit snugger.
The keys have ball ends, which may explain the stingy 1-year, limited warranty. However, they are strong and made of chrome-vanadium steel. That's reasonable for light-duty jobs but not anything requiring a lot of torque. If that is your range of projects, then this set is an excellent value for the price.
Pros
Value-priced
Easy storage
Cons
Only a 1-year limited warranty
Light use only
---
5.

S&R Allen Wrench Set
The S&R Allen Wrench Set is another value-priced item. The 30 wrenches are made of chrome vanadium steel with straight ends. There are both Short and Long Arm Series keys. The Imperial and metric sizes range from 0.028–3/8" and 0.7 mm–10 mm, respectively. Both the case and the wrenches have the sizes on them, which we always appreciate.
The case is also decent for the price, with a convenient hole to put it on a hook. They are on the smaller side, so the keys are the best choice for heavy-duty work. There is no mention of a warranty on the Allen wrench set. Instead, you must reach out to the Germany-based company if you have an issue.
Pros
Excellent range
Snug fit for keys in case
Stamped wrenches
Cons
Light-duty jobs only
Unknown warranty
---
6.

EKLIND 53168 Hex T-Key Allen Wrench Set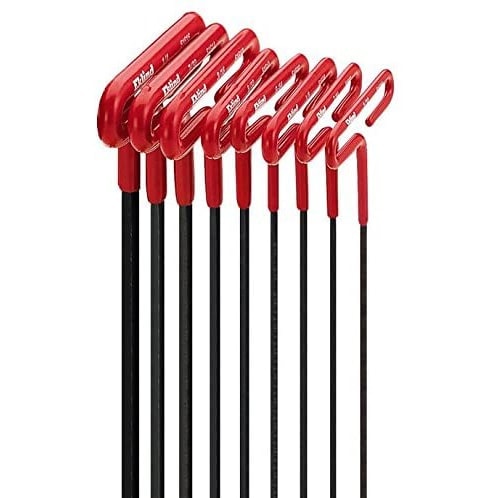 The EKLIND 53168 Hex T-Key Allen Wrench Set is another riff on this handle design. Unfortunately, it misses the mark since they aren't that comfortable to hold. The set includes just eight pieces in Imperial sizes only. The sizes run from 3/32"–1/4". The limited range means that they are only suitable for light-duty jobs, making them less versatile, even with the manufacturer's proprietary alloy.
However, the set is USA-made. Unlike most of the products we reviewed, this one includes a plastic pouch instead of a hard plastic storage case. It's a reasonable solution for keys that don't stay in place. The other thing that stood out was the price. The cost is high, considering how much use you may get out of this set.
Pros
USA-made
Rust-resistant coating
Cons
Only eight pieces
Uncomfortable hand feel
---
7.

HORUSDY 30 Hex Key Set

The HORUSDY 30 Hex Key Set is another offering with both Imperial and metric sizes packaged in a plastic, albeit flimsy carrying case. The price is right on this product, given the number of pieces and range of sizes. It includes both Short and Long Arm Series wrenches. The metric keys run the standard sizes from 0.7 mm–10 mm. The Imperial is 0.028″–3/8".
The lack of a decent coating to protect the keys from rust is a glaring omission on the part of the manufacturer. While the larger wrenches are tough, the smaller ones lack the yield strength necessary to keep them from bending. The Australian-based company offers a 12-month warranty against defects for private use only. It's only three months if you use them commercially.
Pros
Affordably priced
12-month warranty
Cons
Fair quality in smaller sizes
Poor-quality coating
---
8.

Tarvol Allen Wrench Hex Key Set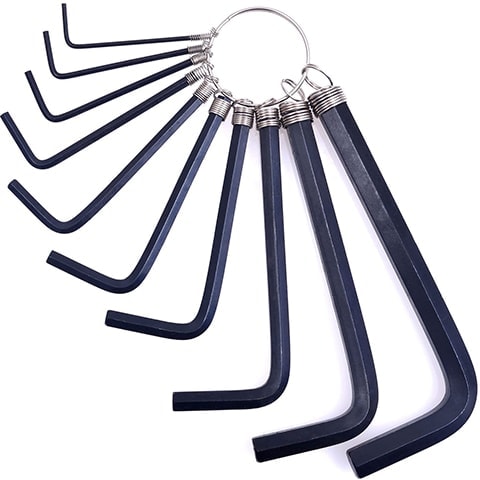 The Tarvol Allen Wrench Hex Key Set is a handy product if you only need to use a limited number of keys that are only Imperial. This set only includes 10. Unlike other products we reviewed, this one keeps the wrenches on a ring, albeit with flimsy attachments. At least you'll know where all the keys are when you need them. The sizes range from 1/16″–3/8″.
The set is affordably priced. We could see adding it to our kit on bike trips. The size range is suitable for most tasks. We also liked that the individual pieces are stamped with the size. On the downside, it's only suitable for light-duty jobs, which isn't surprising, given its design. Unfortunately, that's the other rub. If you use it a lot, replace the keyring with something sturdier.
Pros
Stamped sizes on keys
Lifetime warranty
Cons
Disparity of sizes
Imperial sizes only
Flimsy ring
---
9.

Wiha 35392 L-Key Short Hex Set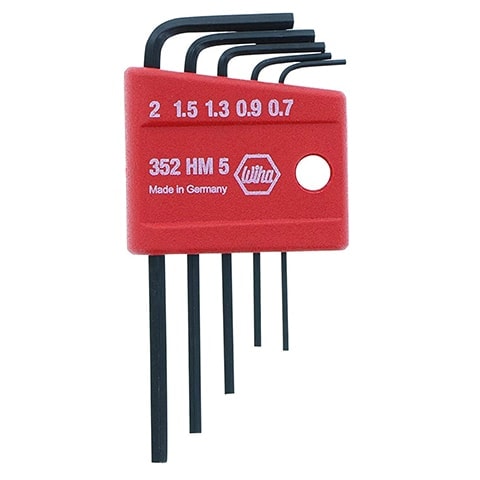 The Wiha 35392 L-Key Short Hex Set is another mini product. Unlike the previous one, this one is metric only and has just five pieces—and a higher price tag. It has sizes ranging from 0.7 mm–2 mm. The small span means that this set has limited uses, at best, especially with chamfered ends. On the positive side, they are durable, being made of a chrome-vanadium-molybdenum steel alloy.
The hex set comes with a carry case, with the sizes clearly marked. There is also a ring for easy storage. If you only need smaller sizes, you might find this product worth a look. The lack of ball ends and the few sizes make it a specialty product for only certain uses.
---
10.

Bondhus 22199 Hex L-Wrench Set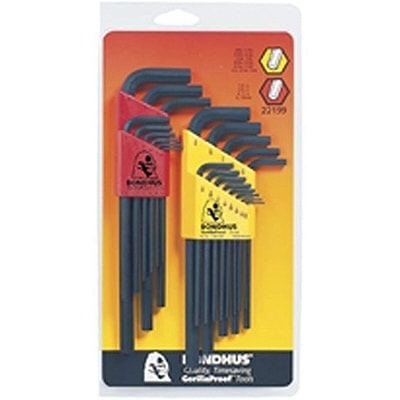 The Bondhus 22199 Hex L-Wrench Set uses proprietary materials with its 22-piece kit. It includes both metric and Imperial sizes. The former runs from 1.5 mm-10 mm, the latter, 1/16-1/4″. The set has the more common standard sizes. The keys are durable and well-made, although the arms are a bit short to take full advantage of the torque with the larger ones.
We liked that the company is USA-based out of Minnesota. The manufacturer also stands behind their Allen wrench set with a lifetime warranty. It breaks, and they'll replace it. The keys have chamfered ends, which adds to their strength. The other red flag we noticed was a lack of a carrying case. It was the only product on our roundup that didn't come with one.
Cons
No carrying case
Short arms
A limited size range on the upper end

Buyer's Guide – Purchasing the Best Allen Wrench Set
As you've seen, there are a lot of variations on this simple theme. William G. Allen was the first person to patent and manufacture the hex key in 1910. Several variations existed, but it was Allen who brought it to market first, hence, the name. It started life in manufacturing before moving to other industries, from bicycles to submarines to cookware.
The first thing to think about is the types of uses where Allen wrenches come in handy for you. That can help drive your buying decision. It'll steer you in the direction of what features you need, particularly the sizes and kinds of hex keys. Some points to consider include:
Metric or Imperial (SAE)
Range of sizes
Material
Length of the wrenches
Design
Storage
Warranty
Metric or Imperial
There are standard sizes for both metric and Imperial systems. You'll find sets that contain one or both of these measurements. The difference exists because the United States kept the British Imperial System after the Revolutionary War. The Industrial Revolution sealed the deal when large-scale manufacturing took off in the country. Old habits die hard in America, Myanmar, and Liberia.
Since you're probably getting stuff manufactured or sourced from overseas, it's probably wise to look for an Allen wrench set that has both systems for working on anything that you might need. We prefer products that color-code or mark the two systems differently to make it easier to sort. It's also helpful if the size is printed on the case and stamped on the tool.
Range of Sizes
The range of sizes you should get will also depend on the type of projects you do. If you do repairs on your car, you'll need a different set than someone who does woodworking. Fortunately, there are standard or common sizes for both metric and Imperial that can help your choice. Many products focus on these choices, with it often pointed out in the description.
The other factor is the accuracy of the keys. You can verify them using a caliper. It's a vital consideration, given that you can strip a set screw easily if you use a wrench that is too small. You'll often find smaller sets that are appropriate for particular jobs. A Swiss Army Knife style for a bicycle is an excellent example. Electronics also require a more limited range.
The size of an Allen wrench is measured as the distance between two opposite flat sides. The ASME B18.3-2003 standard covers the Imperial sizes, whereas the ISO 2936:2014 covers the metric end. It's worth noting that there are also minimum hardness based on size and value using the Rockwell scale. This fact brings us to our next consideration.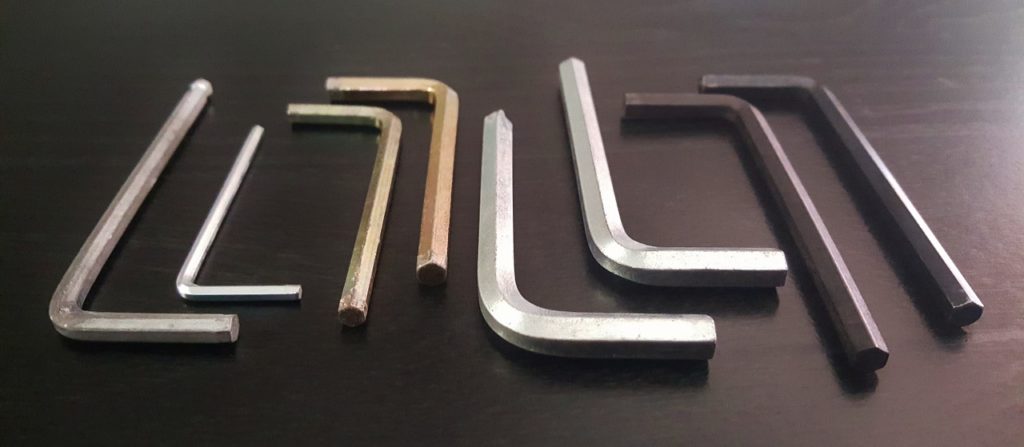 Material/Finish
The standard we referenced above includes specs on the manufacture of Allen wrenches. The product you buy is an alloy steel to meet these criteria, which is a combination of carbon and iron. The term alloy steel means that there is another metal added to the mix to ramp up its strength or hardness, whether it's molybdenum, nickel, or chromium.
The material is a critical consideration, but you must put it into context. We can measure a tool's strength in several ways, including:
Impact strength
Tensile strength
Compressive strength
Yield strength
Impact strength is a material's ability to withstand shattering. Tensile strength considers how easily you can pull something apart from the alloy's components. Compressive strength looks at a materials response to being compressed. None of these specs are an accurate assessment of hex keys.
The one that would likely be most important for Allen wrenches is likely yield strength, which measures a material's resistance to bending. Using that criterion, stainless steel or a steel-iron-nickel alloy would top the list. However, it still goes back to your projects. Getting something heavy-duty might border on overkill if you don't need something that strong. It also can make it unwieldy to use.
We suggest that you don't ignore the low-end of the scale. The smaller sizes are the ones more likely to bend. Most manufacturers use well-known alloys. However, we did come across a few that used proprietary materials that included the finish, too. This feature is vital because that is what's going to protect the wrenches from rust and corrosion.
Length of the Wrenches
You'll find Allen wrenches in both Short Arm or Long Arm Series. Generally, you'll see longer arms with larger hex keys. The length will increase the amount of torque, making it easier to loosen bigger bolts. That's a great thing for automotive work, but for your skillet, not so much. Once again, we refer to our starting point with potential uses.
Design
The term hex key is helpful when discussing these tools because you'll likely find some products that don't have the typical L-shape. Some follow the Swiss Army Knife model, with different size wrenches in a single holder. Others have different handles. Some may include rubber coating on the longer end to make them more comfortable to use.
Another feature you'll often see is wrenches with a ball on the end. The purpose is to increase their versatility by allowing you to use the key at different angles. There is a tradeoff between a thinner end and a decrease in the torque. If an Allen wrench is going to break, it's most likely to happen in the end. However, having this feature also increases the versatility of the product.
Storage
We think that any Allen wrench set must include some type of storage case or holder. Inevitably, the key you need will go missing at the worst possible time. We suggest paying attention to the quality of this feature. A flimsy case isn't going to do you a whole lot of good if it breaks the first time you use your set. We find it very helpful if the size is printed at each slot to make it easier to find what you need.
The other consideration is the fit of the keys. They should go into the case snugly and not fall out if the case is tipped. The first time it happens to you, you'll understand why we made a point to mention it.  Likewise, you shouldn't have to pull hard to take them out of their slots. It's an excellent way to keep track of the wrenches and prevent losing them.
Guarantee/Warranty
Most manufacturers will at least offer a money-back guarantee for faulty construction. We recommend giving products that don't have one a pass. The length of a warranty will vary from one year to a lifetime one. However, always check the fine print, especially if the word, limited, is attached to it. Some companies will offer replacements only.

Conclusion
Based on our reviews, the Owl Tools 5 Allen Wrench Set came out on top as the best Allen wrench set. Everything about the design is user-friendly, right down to the color-coded measurement systems. The price is right too when you consider that you're getting 36 pieces. We could see it being the one set you buy to fulfill all your needs.
The TEKTON 25253 Hex Key Wrench Set is an affordably priced option that also scored points for being user-friendly. The manufacturer put some thought into the design of the case, which is appreciated since it lays flat. The 30-key set also includes a lifetime guarantee, making it an even better value for the cost. This manufacturer was the only one to offer a refund if any of the wrenches failed.