Wagner Flexio 890 vs 590: Which one is Best?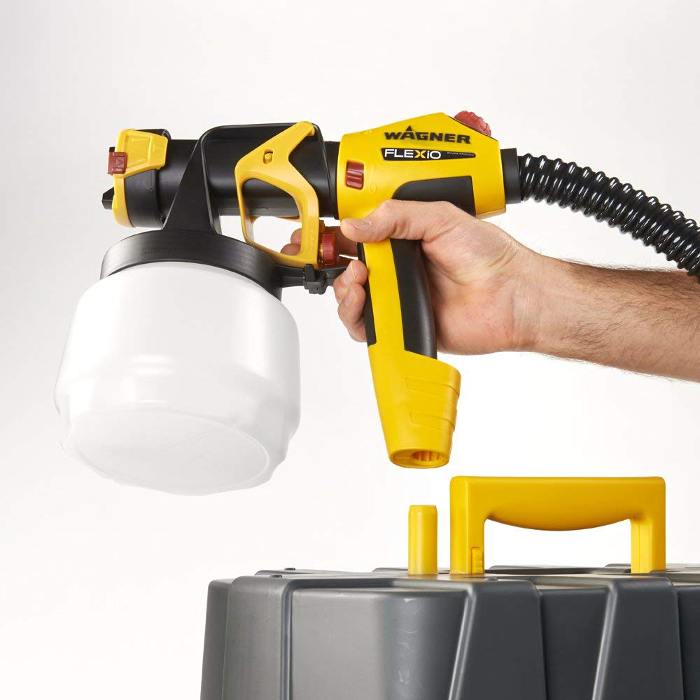 Rating
Image
Product
Details

Best for Large Projects

Wagner Flexio 890

Large paint capacity
Convenient cleanup
Portable paint system
CHECK PRICE

Best for Small Projects

Wagner Flexio 590

More affordable
Adjustable paint flow
Fine finish nozzle
CHECK PRICE
Today, we are taking a look at the Wagner Flexio 890 and the 590.
Both tools can be used indoors or outdoors, for large projects, or for more refined finishes as well.
Both also feature the iSpray nozzle, a component common to all tools in the Flexio line. This feature allows users to adjust spray patterns horizontally and vertically, or for wide or narrow sprays.
Both tools are also engineered to be easy to clean—a big plus for any paint sprayer.
There are also some important areas in which they differ. For example, the 590 is more affordable than the 890, which will appeal to buyers on a tight budget.
But for the money, you also get more with the 890. This tool will serve users much better for bigger jobs, like painting the entire interior or exterior of a home.
With these differences, there is no clear winner between these tools. Which one to get will depend mostly on your unique needs.
We will now take a deeper, more comparative look at these tools to see which one is most suited for your situation.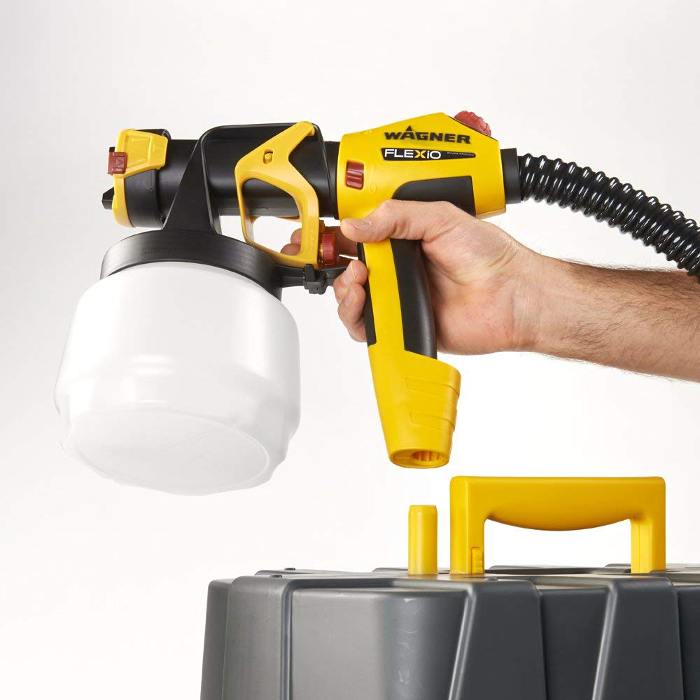 What are the differences between them?
Price: Point for the 590
The difference in price between these two tools may not be enormous in the grand scheme of things, but to budget buyers it will certainly make a difference.
The 590 is more affordable than the 890, and you do get the same quality level of performance with the 590 that you get with the 890.
If you want quality at an affordable price, and you are willing to accept that paint jobs with the 590 are going to take longer than they will with the 890, it may be worthwhile for you to go with the more affordable option.
Capacity: Point for the 890
If you are looking for sheer paint capacity, go with the 890. This feature will allow you to paint for longer stretches of time without the need to refill the sprayer.
If you have never done a big paint project before, this may sound inconsequential, but when it comes to painting a home, larger paint capacities can save you a lot of time.
For many buyers, this larger capacity may very well be worth the extra money.
Performance: Tie
The 890 and 590 are virtually the same when it comes to engineering, which means that in either case, you get a tool that is very capable of producing a good paint job.
Choosing between these two models really will just be a matter of what you need to get done.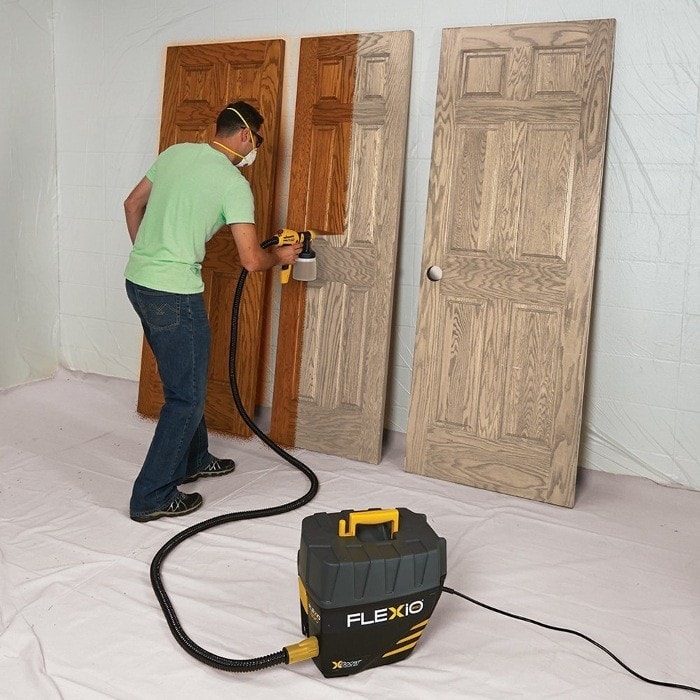 A Quick Rundown of the Flexio 890
Wagner 0529021 FLEXiO 890 Stationary HVLP Paint Sprayer, Sprays Unthinned Latex, Includes two...
PERFECT FOR A VARIETY OF PROJECTS: The FlexiO 890 paint sprayer is great for applying a superior finish on furniture, walls, ceilings,...
PORTABLE PAINT SYSTEM: The turbine sits on the ground, keeping the weight on the floor and reducing hand fatigue for long projects. It...
TWO NOZZLES INCLUDED: iSpray nozzle is ideal for spraying larger jobs and Detail Finish Nozzle is best for small projects and fine...
Pros
Large paint capacity
Easily adjustable nozzle
Indoor/outdoor capable
Fine finish nozzle
Cons
Prone to clogging
More expensive than the 590
A Quick Rundown of the Flexio 590
Pros
More affordable than the 890
Easily adjusted
Indoor/outdoor capable
Fine finish nozzle
Cons
Smaller tank than the 890
Prone to clogging
What the Users Say:
Both tools have been received pretty well. Users generally appreciate the quality of the finish that both tools are able to produce.
We have heard from owners that have used both tools for projects both large and small (which may ease your anxieties a bit if you were worried about the 590's ability to handle large tasks).
The 890 and 590 both, unfortunately, also suffer from the same flaw: clogging. Owners of both tools have experienced clogging with these tools at rates that were much higher than they had experienced with other similar sprayers.
This is naturally going to be frustrating, but if you liked the other aspects of these tools, you may be willing to overlook it.
Conclusion
These tools are really very similar. The most important component of any sprayer, the quality of the finished product, is going to be the same regardless of which option you choose.
If you are on a budget, or you will only be doing smaller tasks with this purchase, you will probably want the 590.
If you have a big job ahead of you, you will probably want the 890.
Now that you know all about these tools, you can make your own informed decision.