5 Best Backpack Sprayers of 2021 – Top Picks & Reviews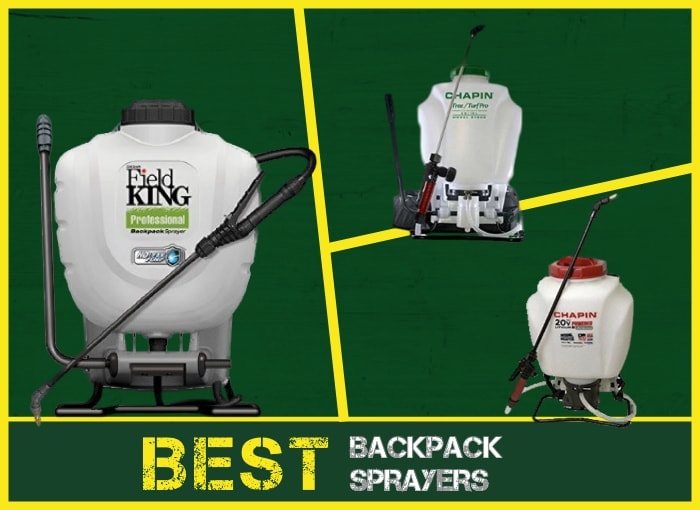 A well-maintained lawn is a thing of beauty. One of the main reasons we are drawn to such beauty is the knowledge of the work that is required to keep up with this maintenance.
Spraying for persistent weed growth such as crabgrass is a chore that no one looks forward to.
Using the right tools for the job always makes things go a little smoother. With so many backpack sprayers available, consumers are overwhelmed with choices.
We have completed some extensive testing and research, and we have developed product reviews for choosing the best backpack sprayer for you.
A Quick Comparison of Our Favorites in 2021:
Rating
Image
Product
Details

Best Overall

Field King Professional 190328 Backpack Sprayer

Built- in agitator
150 psi pump
Piston pump can be used for wettable powders
CHECK PRICE

Best Value

Roundup 190314 Backpack Sprayer

Budget-friendly
Excellent shoulder padding
Can use TeeJet nozzles
CHECK PRICE

Premium Choice

Chapin International 63985 Backpack Sprayer

Electric pump offers fatigue-free use
Great flow rate and uniform spray pattern
CHECK PRICE

Chapin 61900 Tree and Turf Pro Commercial Backpack Sprayer

Excellent shoulder straps
Spill-proof design
CHECK PRICE

Solo 425 Professional Piston Backpack Sprayer

High-pressure piston pump
CHECK PRICE
The 5 Best Backpack Sprayers:
1.

Field King Professional 190328 Backpack Sprayer – Best Overall
The Field King Professional 190328 Backpack Sprayer came in at the very front of the pack. Sporting a 4-gallon capacity and a pump capable of delivering liquid at up to 150 psi, the Field King Professional Backpack Sprayer is both easy to use and a professional-grade tool.
This model comes stock with an inline filter and Viton seals, the latter being a crucial component of any good backpack sprayer; Viton is chemically resistant to most liquids that are used in backpack sprayers. The Field King also is shipped with four separate nozzles. These nozzles will allow the user to complete a multitude of tasks, and the sprayer is also compatible with TeeJet nozzles.
All things considered, the Field King is the best overall backpack sprayer in 2020.
Pros
Built- in agitator
150 psi pump
Piston pump can be used for wettable powders
Cons
Not the best fitting model
---
2.

Roundup 190314 Backpack Sprayer – Best Value
The Roundup 190314 Backpack sprayer came in at number two on our list. We consider this Roundup model as the best backpack sprayer available for your hard-earned money. The Roundup sprayer is outfitted with excellent padding and support, making it perfect for long days in the garden or lawn. Like the Field King, this Roundup model also uses a pump with chemically resistant Viton seals.
Manufactured with a 4-gallon capacity, this sprayer can store plenty of product, minimizing time spent refilling. With a manufacturer such as Roundup, this sprayer can be trusted and put to the test. This makes the Roundup 190314 Backpack Sprayer the perfect option for the budget-minded consumer.
Pros
Budget-friendly
Excellent shoulder padding
Can use TeeJet nozzles
Cons
No agitator
Cannot be used with wettable powders
---
3.

Chapin International 63985 Backpack Sprayer – Premium Choice
The Chapin International 63985 Backpack Sprayer is industrious and capable of handling large gardens and lawns. This 4-gallon sprayer comes with three separate nozzles to handle various tasks. The battery-powered pump is what separates this sprayer from the others on our list. The pump runs on a Black and Decker 20-volt battery, and it can provide liquid at 35 to 40 psi.
While we like the flow rate, we loved the consistent spray pattern and droplet size of the applicator wand. This gives the sprayer a more "professional" feel that's missing from many homeowner models. At this price, you should expect great performance.
While this sprayer is perfect for those who are looking to avoid re-pressurizing their tanks that are equipped with manual pumps, there are a couple of small things that kept this model out of our top two choices. The tank is not equipped with an agitator. Agitators can be useful for products that tend to come out of solution when they are stored.
Meanwhile, the electric pump is convenient but less bulletproof than a manual pump option, and bulletproof is exactly what the average homeowner is looking for. The last thing they need to worry about is faulty switches or wiring.
Pros
Electric pump offers fatigue-free use
Great flow rate and uniform spray pattern
Cons
Heavier option
More prone to failure than manual option
Cannot be used with wettable powders
---
4.

Chapin 61900 Tree / Turf Pro Commercial Backpack Sprayer
The Chapin 61900 Tree and Turf Pro Commercial Backpack Sprayer features a 4-gallon capacity storage tank. This Chapin sprayer uses a hand pump that can provide 40 to 60 psi. This sprayer comes equipped with three nozzles, as well as padded shoulder straps. This sprayer is very plain-Jane and includes many key features that a consumer is looking for. It is quite a bit more costly than the Field King model, and this Chapin sprayer is also lacking the agitator that comes built into the tank of the Field King model. While this sprayer is a good option to consider, it did not make the top of our list.
Pros
Excellent shoulder straps
Spill-proof design
Cons
Plain-Jane design
Cannot be used with wettable powders
---
5.

Solo 425 Professional Piston Backpack Sprayer
The Solo 425 Professional Piston Backpack Sprayer came in at number 5 on our list. This Solo model can carry 4 gallons of liquid, and it can provide a pressure of up to 90 psi. While this sprayer was able to complete most tasks that a consumer is looking for, it fell short in one category. When testing this sprayer, we noticed that the shoulder straps had a habit of falling off during use. This can be inconvenient, but also dangerous. The last thing we want is to spill herbicide on ourselves. For this reason alone, this Solo 425 Professional Piston Backpack Sprayer fell to the bottom of our list.
Pros
High-pressure piston pump
Cons
Manufacturer did not specify Viton seals
Straps would not stay on shoulders
---
Buyer's Guide
A backpack sprayer is a useful tool when an individual is looking to coat or spray a product over a large surface area. They are irreplaceable tools for lawns and gardens where a user needs to stay portable and can walk around with ease.
Backpack sprayers are filled with the product and then strapped on to the user. The tank is then pressurized by a manually operated pump or an electric pump. This tank holds the pressure and emits amounts of fluid when the trigger is depressed, bringing the pressure of the tank down until it eventually needs to be pumped up again. Backpack sprayers are a great addition to any do-it-yourselfer or gardener's tool kit.
Different Types of Backpack Sprayers
Manual
Backpack sprayers can be divided into two main categories. The first category is manually operated sprayers. These sprayers utilize a hand lever that is typically mounted to the bottom of the tank. If the tank is running low on pressure, this lever will need to be cranked several times to bring the pressure back up in the tank. The lever will operate a pump of a diaphragm construction. Manually-operated sprayers are widely available, and they are much more bulletproof than the other option.
Electric
Battery operated backpack sprayers compose the other category. These sprayers run off battery power, typically the same types of batteries that other portable power tools use. These sprayers are very convenient and can oftentimes offer up to 1.75 hours of continuous spraying. This feature makes these sprayers a great option for large gardens or lawns. Battery-powered sprayers can make quick work of these large lawns and gardens, without leaving the user exhausted.
Factors to Consider When Purchasing a Backpack Sprayer
Buying a backpack sprayer can be complicated. With many types of options, it is no wonder why so many consumers become frustrated. We have broken down the key component options for backpack sprayers into five categories in an effort to simplify things for you.
Pump Type and Seals
The pump of the backpack sprayer is a critical component of any backpack sprayer – it simply will not work without it. Pumps can come in many different shapes and sizes, all with their own pros and cons. Most backpack sprayers will use a pump of either a piston construction or a pump with a diaphragm construction.
Piston Pump
A piston-type pump is great for higher pressure applications, and it can produce pressures of up to 150 psi. The only negative to piston-type pumps is the limited type of product they can handle. These pumps will usually not accept a wettable powder product.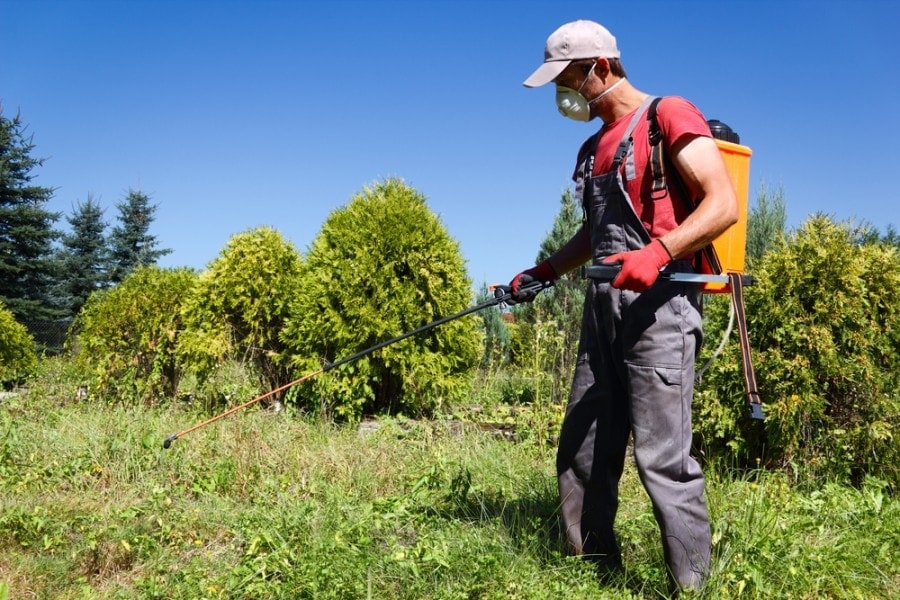 Diaphragm Pump
The diaphragm pump will typically only provide pressures in the 40 to 60 psi range, but they can accept a much greater range of products than the piston pump. For the homeowner that is looking to purchase a backpack sprayer that can wear a number of hats, this is the type of pump you will want to look for in a backpack sprayer.
Viton Seals
Each of these pumps is technically positive-displacement pumps, and they both use seals in their construction. Due to the corrosive nature of the products that many people use in backpack sprayers, the seals need to be composed of a material with excellent chemical resistance. Chemical resistance will vary between products depending on the active ingredient, but most backpack sprayers will see herbicide or pesticide at some point in their lives. Viton seals offer superb chemical resistance to this chemical, and a backpack sprayer of good quality should use Viton seals in their pump's construction.
Applicator Wand & Spray Nozzles
The applicator wand puts some distance between the chemicals and the person doing the spraying. At the end of the wand, you find the spray nozzles, which control the flow rate and spray patterns. Most models have several different adjustable tips that vary in size and spread. The four main spray patterns are cone, direct, fan, and wide stream. Any backpack sprayer you purchase should have the ability to match these patterns.
In tandem with the applicator wand, the spray nozzles control the flow rate, which ranges from 0.25 to 0.5 gallons per minute (gpm). For heavy-duty spraying jobs and professional tasks, you'll want a sprayer with nozzles to accommodate the highest volume.
Straps and Lumbar Support
Most backpack sprayers are manufactured to carry four gallons of liquid. Using rough numbers of approximately 8.5 pounds per gallon, this calculates to carrying about 34 pounds of liquid on our backs. Add in the weight of the sprayer itself, and you could be looking at carrying around nearly 50 pounds on your back! Proper straps and lumbar support are of great importance when you are working with this type of weight on your back.
An important feature to be on the lookout for is a waist strap. While simple shoulder straps work well for light packs, backpack sprayers demand better control and a comfortable fit for long hours spent spraying. A waist strap will help to distribute the load across your hips. This will give you better control of the sprayer, as well as share some of the load from the shoulder straps.
We recommend trying on several types of backpack sprayers if your store allows this. Strap on the sprayer and walk around the store, stopping occasionally to stoop or reach outwards. It is best to check for binding straps or uncomfortable pads. Every backpack sprayer will fit differently, and this feature can make all the difference.
Pressure
Pressures for backpack sprayers can vary greatly, and it is important to match the pressure of the backpack sprayer to the intended application. Most sprayers incorporate some type of regulator into the design. This allows the user to turn a knob and reduce the pressure coming into the spray nozzle. This can help keep the flow of a product consistent, which is a great feature when applying a sensitive product that needs consistent coverage.
40 to 60 psi is the perfect range for most applications. This will usually provide a horizontal spray of approximately 15 to 20 feet. This allows for good coverage, while not causing the user to move everywhere they wish to apply the product.
Safety
Safety is always of great concern, but backpack sprayer safety is imperative. Sprayers should come equipped with tight-fitting lids and straps that allow for good control of the sprayer.
Lids with at least a 4-inch diameter opening are optimal. This allows product to be poured into the container safely. Any product that spills onto the outside of the sprayer should be cleaned off immediately.
Consumers should look for backpack sprayers with trigger guards or locks. These mechanisms are a safety feature that forces the user to consciously depress the trigger to apply the product and prevents accidental discharge of any product.
Also See: Best Fertilizer Spreader

Conclusion
Backpack sprayers are a handy tool for any gardener or homeowner, and the initial purchase should be an exciting journey. If you are in the market for a backpack sprayer, it is always best to analyze the intended use for your sprayer, and then you can make an educated decision from there. The Field King Professional 190328 Backpack Sprayer came in at the top of our list of reviews, mostly due to its do-it-all piston pump, high pressure pump, and agitator. On top of all of that, the Field King was very affordable.
The Roundup 190314 Backpack sprayer was the best budget-friendly option and is a great option for those who are looking for a backpack sprayer without breaking the bank.
Backpack sprayers are a must-have tool for almost any homeowner or gardener. Tool purchase should be a fun and exciting adventure, not a frustrating and confusing one. Hopefully, these extensive reviews offer some clarity and direction for making your decision.