7 Best Battery-Operated Blenders in 2023 – Reviews & Top Picks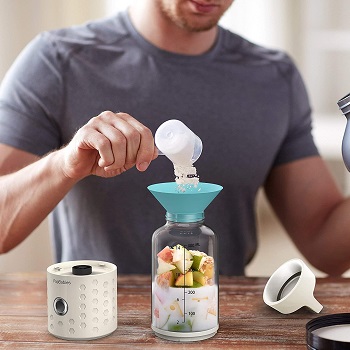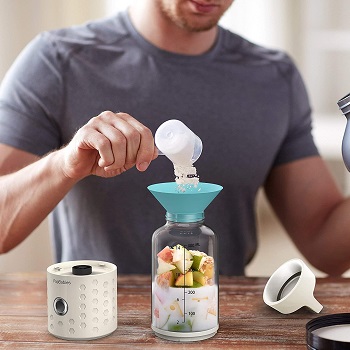 Portable blenders are an interesting niche item that has a surprisingly large number of uses. Blenders aren't something you might think need to be portable, but once you have one, you'll wonder how you ever lived without it. Having a blender in your office at work, taking one with you when you travel, or having one stashed in your car for a quick smoothie before the gym is extremely convenient.
Any blender is portable if you don't mind lugging around a large kitchen appliance. But in this article, we're going to cover portable, battery-operated blenders that are designed to be thrown in a bag and taken with you.  Ordinary blenders are big and heavy and only work if you can find an outlet.
In these reviews, you'll find everything you need to know about battery-operated blenders designed to be carried with you wherever you go. We'll first discuss our favorites and then give you some general tips for buying a portable blender to help you find the perfect one.

A Quick Comparison of Our Favorites (Updated 2023)
Rating
Image
Product
Details

Best Overall

PopBabies P1001W Personal Blender

14-ounce container
Blend while charging
Comes with a handy ice cube tray
CHECK PRICE

Best Value

Tenswall Portable Blender

Unbeatable price
13-ounce container
15 blend cycles without charging
CHECK PRICE

Premium Choice

Cuisinart CSB-300 Rechargeable Hand Blender

20-minute continuous run time
High-power motor
Truly cordless design
CHECK PRICE

Hotsch A5 Portable Blender

14-ounce capacity
Comes with a handy cleaning brush
6-blade design
CHECK PRICE

KitchenAid KHBBV53DG Cordless Hand Blender

Convenient quick charge mode
Charges fully in under three hours
Includes blender
blending jar
and charge cord only
CHECK PRICE
The 7 Best Battery-Operated Blenders
1.

PopBabies P1001W Personal Blender – Best Overall
Our first portable blender is the P1001W Personal Blender from PopBabies. The P1001W is a nifty 14-ounce blender that charges with a USB cable. One nice feature is the ability to use the blender while charging. Some battery-operated blenders can't be used during the charging cycle, which can be annoying when you're caught off guard. In today's world, you're never far from a USB port, so even if you accidentally let it die, you can still make a quick smoothie.
The battery is large enough to support 25 blends before needing to be recharged and supplies enough power to easily blend frozen fruits and nuts. Don't let the small stature fool you; this blender surprised us by quickly blending hard ingredients without stuttering or getting stuck.
Besides the blender, you also get a detachable pouring spout and a small ice cube tray. We don't get much use out of the spout, but the ice cube tray is handy and makes conveniently-sized ice cubes for a travel blender. If you're looking for a powerful, compact battery-operated blender, the P1001W is the best overall battery-operated model.
Pros
14-ounce container
25 blend cycles without charging
Blend while charging
Comes with a handy ice cube tray
Cons
Somewhat expensive
Included spout is useless
---
2.

Tenswall Portable Blender – Best Value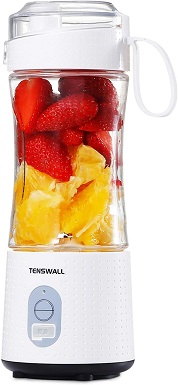 The Tenswall Portable Blender is a very capable blender that slightly underperforms compared to the PopBabies model. It has a lower capacity of 13 ounces, a smaller battery capable of providing 15 blend cycles before recharging, and is less powerful. Smoothies that take 20 seconds with the PopBabies take almost twice as long in the Tenswall. In the box, you'll only find the blender, an owner's manual, and a USB charging cable.
No additional goodies come with the Tenswall, such as a handy ice cube tray or detachable spout. At this point, you might be wondering how the Tenswall made our list at all. The answer is the price. Tenswall's portable blender is the best battery-operated blender for the money. It only performs slightly worse than the P1001W but is significantly cheaper. If you need a portable blender on a tight budget, Tenswall has you covered.
Pros
Unbeatable price
13-ounce container
15 blend cycles without charging
Cons
Less powerful than other portable blenders
Can't use while charging
---
3.

Cuisinart CSB-300 Rechargeable Hand Blender – Premium Choice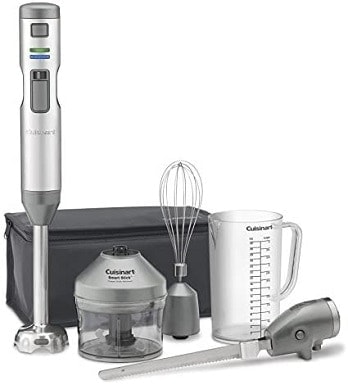 Fresh on the heels of our best-valued blender, we're going in the opposite direction to talk about the swanky Cuisinart CSB-300 rechargeable hand blender. We'll say it right away; this blender isn't cheap. Compared to the other blenders on this list, the CSB-300 is very expensive. Let's talk about the blender itself first. The CSB-300 is an immersion-style blender with five speed settings and can run continuously for 20 minutes on a single charge. It charges on a base station, so the blender is truly cordless. We love how fast it blends and attribute its speed to the large 3-inch stainless steel blade.
Now let's quickly mention everything that comes with the blender. You get a 4-cup measuring cup, a 2-cup chopper, a chef knife's attachment, and a whisk attachment. We're not complaining about any of these extra add-ons, but we can't help but wonder what the price would be without them. Ultimately, whether it's worth the inflated price depends on whether you need all the extras. If you don't, you're probably better off looking for a different blender.
Pros
20-minute continuous run time on a single charge
High-power motor and large blade easily blends almost anything
Truly cordless design
Comes with tons of attachments
Cons
Very expensive
If you won't use the attachments, it's probably not worth it
---
4.

Hotsch A5 Portable Blender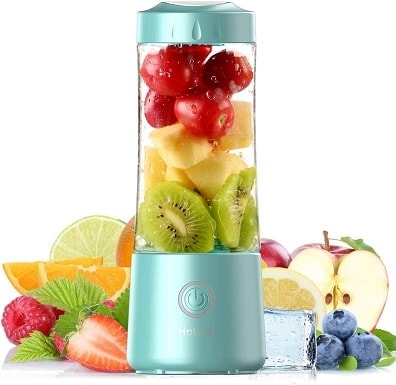 Next up, we have the Hotsch A5 portable blender. It is similar to the PopBabies and Tenswall blenders, with a few differences. Let's start with what we like. The Hotsch A5 has six blades, unlike the other blenders we've reviewed so far, making it easier to get a smooth texture in less time. We also like the cleaning brush it comes with. It's a small detail, but we appreciate how much easier it is to get the hard-to-reach places with the help of a brush.
However, the blender has a downside. We found the A5 struggled with loads the other blenders had no trouble with. It's not a huge deal, but you'll need to make smaller batches and avoid hard ingredients like nuts and frozen fruit. It's a shame because the Hotsch is easy to use and has a decent battery life. Besides being slightly underpowered, the Hotsch has a nice 14-ounce capacity and can get about 15 blends per full charge.
Pros
14-ounce capacity
Comes with a handy cleaning brush
6-blade design makes even-textured smoothies
Cons
A bit expensive
Slightly less powerful
---
5.

KitchenAid KHBBV53DG Cordless Hand Blender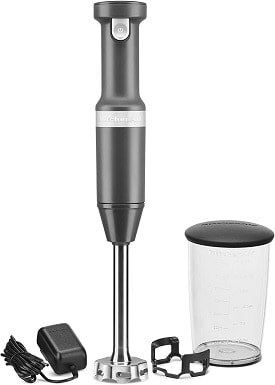 KitchenAid is a big name in kitchen appliances, so we were excited to try their cordless hand blender. The KHBBV53DG is another immersion-style blender like the Cuisinart, but unlike the Cuisinart, it has a much more reasonable price. The KHBBV53DG comes with the basic required gear: the blender, a 3-cup blending jar, and a charging cable.
We like that there aren't any odd extra pieces of equipment that aren't essential; thankfully, the price reflects that. We also like the fast charging mode, which gives you enough juice to blend an average-sized smoothie after a quick 20-minute charge. A full charge takes 2–3 hours, considerably less than the other blenders.
It's slightly less powerful than the Cuisinart, which is our primary complaint. If it were cheaper or more powerful, it would make a serious case for our number one pick. As it is, it just isn't a good enough value to beat the blenders above it. Still, it's a solid immersion blender with a nice quick charging feature that you probably won't be disappointed with.
Pros
Includes blender, blending jar, and charge cord only
Convenient quick charge mode
Charges fully in under three hours
Cons
A bit expensive
Not powerful enough to warrant the price
---
6.

BlenderX ModernComfort MC-PRB-01 Cordless Home Blender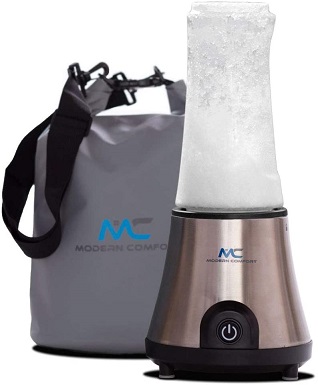 The BlenderX from Modern Comfort is slightly different from the other portable blenders reviewed thus far for one reason; it's not very portable. It comes with a 20-ounce jar which offers excellent capacity with the drawback that its large size makes it unwieldy. Using the BlenderX feels like a corded blender, just without the cord. We think it's perfect if you only want to use it for backyard barbecues where there aren't enough outlets or similar situations, but we wouldn't dream of bringing this with us to the gym. It's simply too big.
With that out of the way, it works great! Despite its high power, it's powerful, gets excellent battery life, and easily blends large ice cubes, frozen fruit, and pretty much anything else you can throw at it. Unfortunately, it is next to last on our list simply because it is barely a portable blender. Its large size makes it difficult to lug around and is only good in specific circumstances.
Pros
Large 20-ounce blending jar
Very powerful
Superb battery life
Cons
Fairly expensive
Portable in name only
---
7.

NutriChef Cordless Personal Portable Blender
The last portable blender on our list is the NutriChef Cordless Personal Portable Blender. This NutriChef blender only has a 10-ounce capacity and has a much smaller battery than similar blenders. We could only get a disappointing 10 blend cycles on a full charge. Overall, this blender is lacking.
It's almost too small to be useful and struggles with easily blended ingredients like room-temperature bananas. We didn't even try blending anything remotely hard since it could barely handle the soft ingredients we tried. The only thing this blender has going for it is its small size, which makes it extremely easy to carry. This could be a good choice if you're only blending small amounts of very soft ingredients or just liquids. Otherwise, steer clear.
Pros
Very portable thanks to its small size
Great price
Cons
Extremely underpowered
Quickly runs out of battery
Struggles with even soft ingredients
---
Buyer's Guide – How to Select the Best Battery-Operated Blender
Now that we've shown you our favorite battery-operated blenders, we'd like to give you some general guidelines you can follow when shopping for a portable blender.
What Will You Be Blending?
The most crucial factor to consider when choosing a portable blender is what you will use it to blend. If you like to make smoothies full of frozen fruits or blend hard ingredients like nuts, make sure you get a blender with enough power. Portable blenders face an uphill battle since blending takes a lot of power, and there is only so much you can pack into a small, portable battery. Some impressive portable blenders are available, so if you're willing to pay a bit more, you can get one that's almost as powerful as a countertop blender.
How Portable Do You Need it to Be?
Portability can mean a lot of things. As we joked earlier, ordinary blenders are portable if you have a big enough bag and don't mind carrying heavy objects. When looking at different options, consider how you'll use your blender most often. If you plan on making protein shakes before the gym, you can get away with a smaller, less powerful blender than someone who wants a blender for the office. Some people take portable blenders camping with them and therefore look for the smallest, lightest blender they can find.
Battery Life
How long you need your blender to last between charges is also important to consider. Using our camper example from above, if you're making pina coladas in the woods for 3 days, you need a beefy battery that won't run out in a few hours. The tradeoff is that larger batteries come with larger blenders, making it challenging to find the holy grail of small yet long-lasting blenders.
We think you should buy the smallest battery that lets you barely get what you want out of a blender. We regularly use a small, compact blender to whip up a quick smoothie before our workouts, and the battery only has enough juice for a single use. Since we don't need more than one blend, it works great, but it wouldn't be enough for other uses.
Immersion vs. Traditional
The style of blender you choose depends more on personal preference than practical considerations. Both styles are equally capable of blending smoothies and milkshakes, and the model you prefer depends on which you like better. Some people feel like immersion-style blenders are prone to bubbling over and making a mess, while others have dealt with leaky traditional blenders and swear that immersion is the only way to go.
Accessories
The blender's accessories are less important than the other factors. However, extras could act as a tie-breaker if you are choosing between two similar products. We think the ideal accessories for a blender are a cleaning brush and a blending jar. A blender without a blending jar will be a pain since you'll have to hope you have a properly-sized container somewhere around your house. That is only an issue for immersion-style blenders, so don't worry if you're purchasing a traditional blender.
A cleaning brush isn't a make-or-break inclusion for us, but we underestimated how useful it is to have a brush designed specifically for the blender you buy. It makes it much easier to get into all the nooks and crannies that are easy to miss with a paper towel.

Conclusion
We hope you enjoyed these reviews! Portable blenders run the gamut from small, single-serving machines up to large behemoths that are nearly indistinguishable from the corded variety. It can be tricky to find the right balance of power, convenience, and battery life right for you, but hopefully, you've found some valuable nuggets in this article that will assist you in finding the right battery-operated blender.
Our overall recommendation, if you're looking for a reasonably priced jack-of-all-trades battery-operated blender, is the PopBabies P1001W Personal Blender. It has enough power and battery life for most people at a great price. If money is tight and you can get away with something slightly smaller and less powerful, try the Tenswall Portable Blender. It isn't as powerful or reliable as the PopBabies, but it will save you money.
Conversely, if you have extra money and want the total package, check out the Cuisinart CSB-300. It is a mighty, truly cordless blender with more bells and whistles than we know what to do with, but it blends nearly anything quickly and easily.