17 Fruit Smoothie Recipes (with Pictures)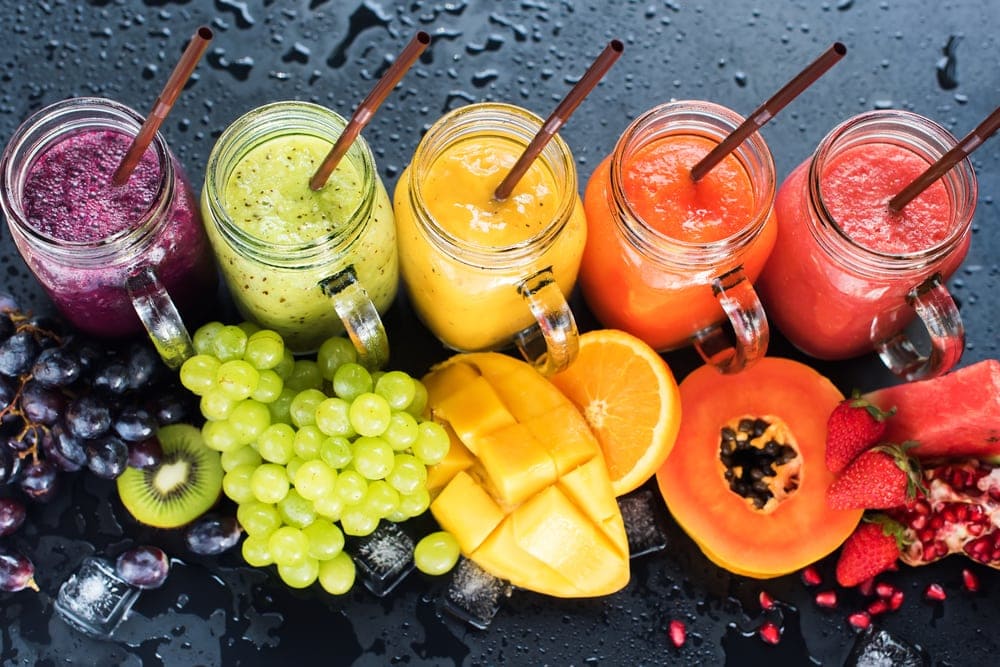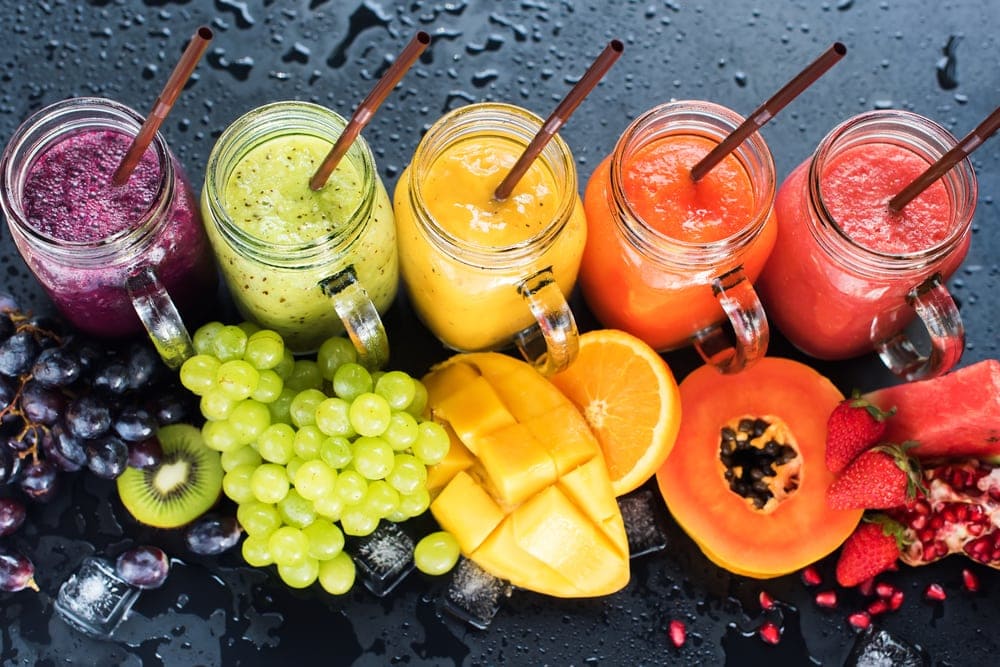 The base of a great smoothie is likely going to be one of your favorite fruits – bananas, strawberries, watermelon – you name it, there's sure to be a recipe! Fruits are an essential part of a nutritious diet and ensuring you get the proper portions per day is key. Smoothies are a great alternative to finding the time to munch on fruit throughout the day. 
However, finding variation in the flavors can be tricky so we have compiled a list of 20 recipes that are sure to change up how you see (and taste) your fruit smoothies.

Prepping Your Smoothie Ingredients
Prepping your smoothie ingredients and storing them unblended is another great option. Simply remove your jar or pouch from the freezer, drop into your blender with your desired liquid or yogurt, and voila! You might be interested in using reusable sealable pouches or opt for glass jars if you are looking to skip plastics altogether. Another great thing about prepping your smoothie ingredients – they will last in your freezer for up to three months. 

The 17 Best Fruit Smoothie Recipes
For those looking for specific recipes, we have included delicious smoothie options made with vegetables, yogurt, and protein, and also noted five keto-friendly recipes for those with dietary restrictions. Before we dive in, here are a few great smoothie facts and tips!
Now – let's get to the recipes! Happy blending!
---
Fruit Smoothies Made with Vegetables
Fruit is the perfect mask to cover the often undesirable taste of vegetables. You might even be surprised to see a few of the veggies these blogs have listed in their smoothies! If you are looking for an easy and delicious way of getting in your daily greens and other veggies, here are our favorite recipes that combine the two for the perfect healthy snack.
---
1.

Avocado Kale Smoothie by the little epicurean
The key to this perfectly creamy recipe is the use of avocado. Add in some banana and kale, you've created your own combination of superfoods! See the full recipe here.
---
2.

Spinach & Blueberry Smoothie by keeping the peas
Spinach and blueberry might not seem like the most obvious pairing, but they'll be amazed at how well they work together. See the full recipe here. 
---
3.

Tropical Carrot Smoothie by the forked spoon
Looking to get away without leaving the comfort of your own home? This smoothie combines your favorite tropical flavors that are almost as good as a vacation. See the full recipe here. 
---
4.

Avocado Apple Cucumber & Ginger by oaw health
Creamy, fresh, and healing – this recipe combines some powerful ingredients to create a delightful smoothie that will heal you from the inside out! See the full recipe here. 

Fruit Smoothies Made with Yogurt
Turn your fruit smoothie into a tropical milkshake by throwing in your favorite yogurt. The most commonly used yogurt is Greek as it adds a ton of protein and probiotics. If you need some inspiration, these next recipes are sure to deliver!
---
5.

Cherry Avocado Smoothie by running with spoons
After tasting this recipe, cherry and avocado will be your new favorite fruit couple. See the full recipe here. 
---
6.

  Pineapple Coconut Smoothie by two peas and heir pod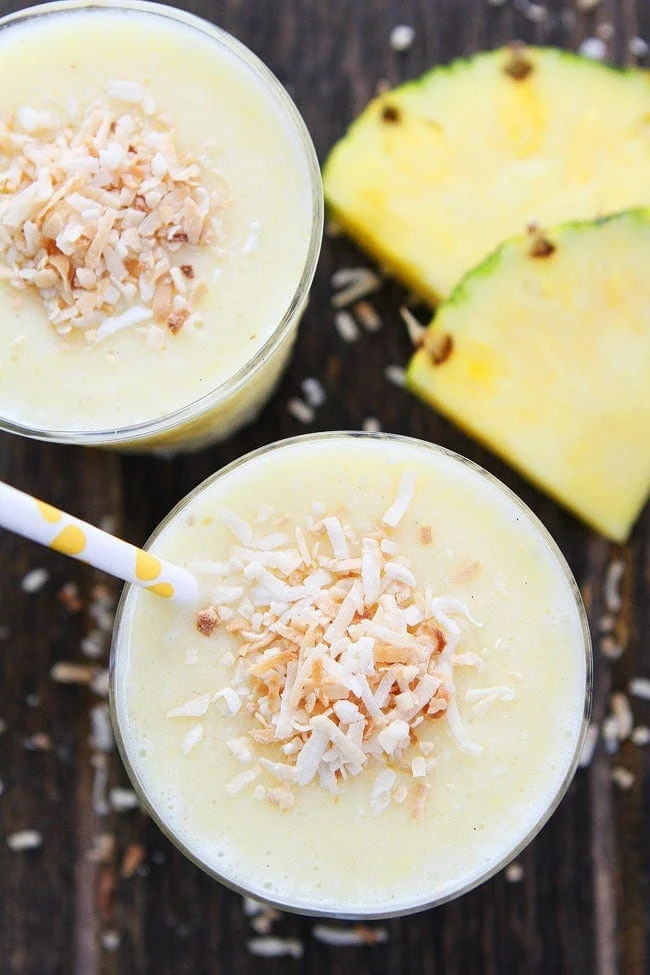 With the sweetness of the pineapple with the subtleties of the coconut, this is another recipe sure to remind you of beach days. See the full recipe here.
---
7.

  Mixed Berry Smoothie by dinner at the zoo
Mixed berry smoothies are a classic – with this recipe you will end up with the perfect blend of your most cherished berry flavors. See the full recipe here. 
---
8.

  Sunrise Smoothie by yummly
Just as beautiful as the morning sky – this recipe is a delicious and fun way to start your day. See the full recipe here. 
---
9.

Rainbow Smoothie by the first year blog
This one may require a bit of dedication, rest assured it's definitely worth the effort! See the full recipe here. 

Keto Fruit Smoothies
Maintaining low carb and moderate protein intake is the main intention of the Keto diet. These recipes are all Keto approved and beyond amazing! If you are unfamiliar with Keto – this diet is known for improving cholesterol and blood pressure, regulating blood sugar levels, and reducing an overactive appetite.
---
10.

Keto Green Smoothie by that low carb life
Don't be fooled by its green appearance, this keto smoothie recipe is just as tasty as it is healthy! See the full recipe here. 
---
11.

Keto Berry Smoothie by four score living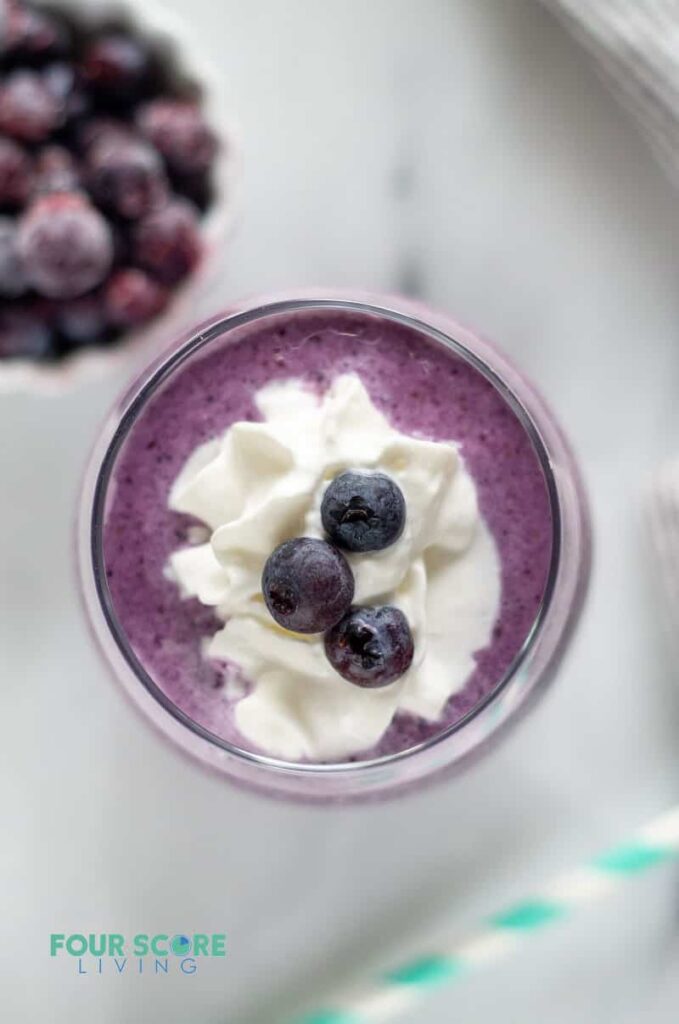 Berries are an excellent source of antioxidants and energy – get your fill with this purple smoothie! See the full recipe here. 
---
12.

Keto Strawberry Milkshake by yummy inspirations
Who doesn't love a good milkshake? Well, now you can enjoy one guilt-free with this keto smoothie recipe. See the full recipe here. 
---
13.

Peaches & Cream Keto Smoothie by low carbingasian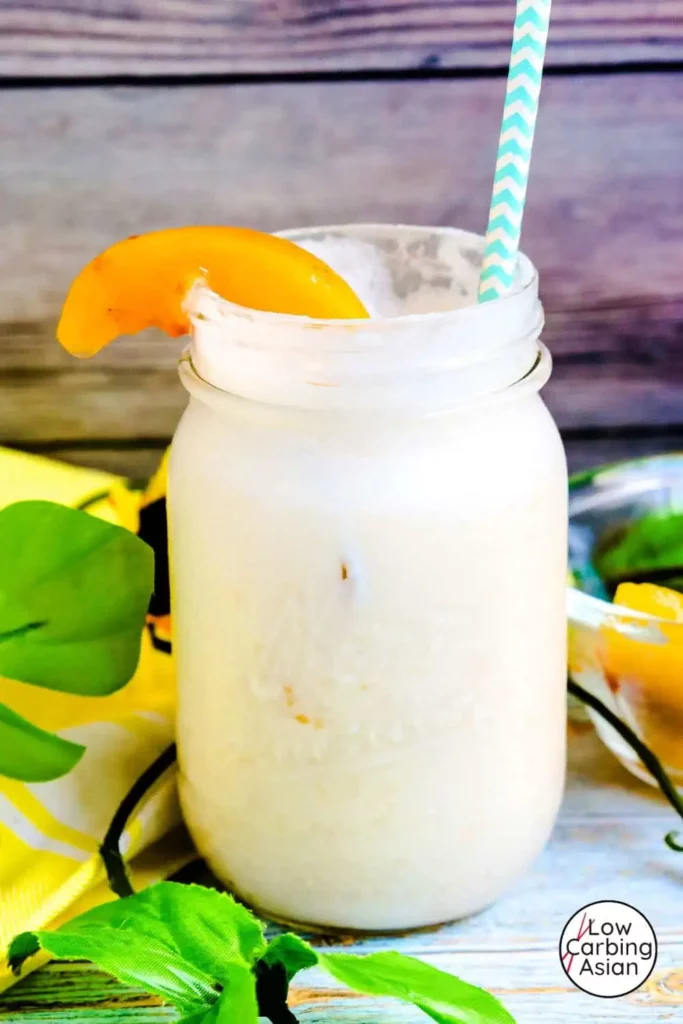 Better than yogurt or typical frozen treats, and packed with health benefits! See the full recipe here.
---
14.

  Raspberry Smoothie by yummy inspirations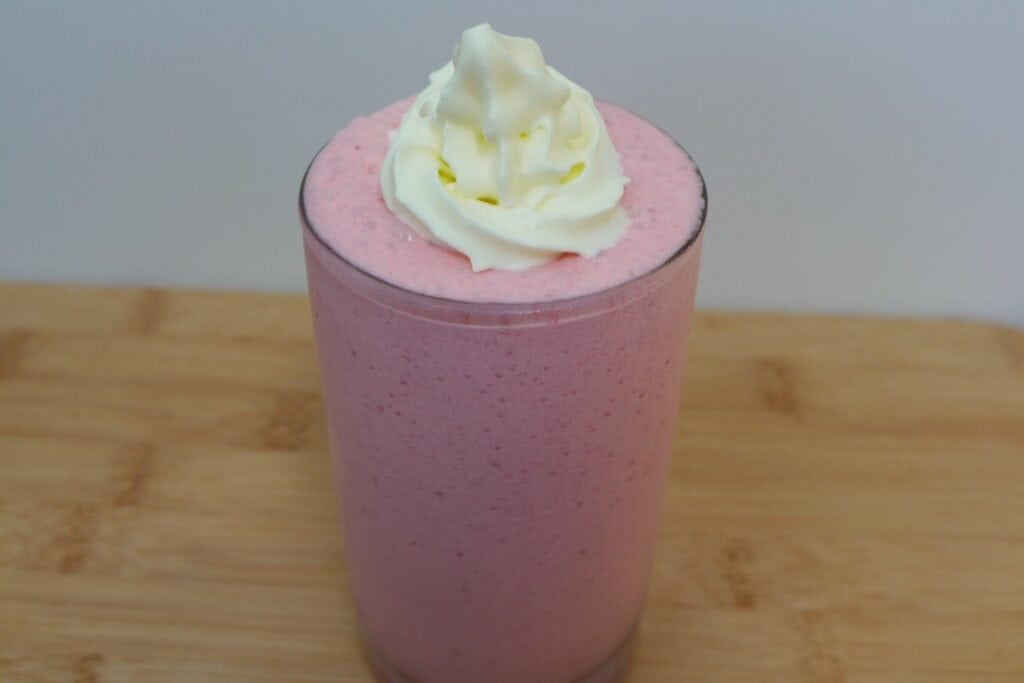 Raspberries are a wonderful combination of tart and sweet. Using them as a base for a smoothie is wise, and oh so yummy. See the full recipe here. 

Fruit Smoothies With Protein
Protein is the ideal additive for smoothies as it makes this delightful snack well rounded and provides your body with the energy boost it might be craving. The best part about powdered proteins? They come in an array of sweet flavors that complement just about any fruit!
---
15.

  Blueberry Lemon Smoothie by suburban simplicity
The freshness of citrus accompanied by the sweetness of a plump blueberry is an unbeatable match. See the full recipe here. 
---
16.

Power Protein Green Smoothie by crazy inspired life
Lean and green and full of protein! In addition to being packed full of energy, this recipe is also gluten-free! See the full recipe here. 
---
17.

Strawberry Banana Protein Smoothie by the frugal girls
Strawberries and bananas are a fairly common and popular fruit combination – see how you enjoy these flavors as a blended treat! See the full recipe here. 

How Long Will Smoothies Last in the Fridge? 
Typically, you could get away with storing smoothies in the fridge for up to 2-3 days. You might notice that after the first day, your smoothies will begin to separate slightly. A quick shake before you serve will fix this problem without compromising the taste. Another thing to note is that ay greens you have included will begin to turn a funky shade of brown and seeds, or nuts will expand making your smoothie extra thick. So you're looking to keep your smoothies looking and tasting the same as the first day, we recommend leaving out the greens and seeds!
Are Smoothies Freezer-Friendly?
There is a lot to be said about the convenience of meal prep. This might leave you wondering if it's possible to make a week's worth of smoothies in one day and have them still taste great by the end of the week. Well, the simple answer is yes! Of course, there will still be a few things to consider before prepping all of your shakes ahead of time, but once you're in the swing of things, you might just love the convenience of having your hassle-free smoothie ready first thing.
How to Freeze Blended Smoothies
Measure each individual daily portion so you can easily toss your ingredients together when blending. Your week's worth of smoothies may not fit in one blender so ensuring that appropriate proportions are maintained during the blending process will result in optimum smoothie results! 

Use glass containers for storage. This step is key because glass is the least likely to break in the freezer. We recommend shoulderless mason jars because they are among some of the most durable glass jars and also double as cool to-go containers.

Fill each jar, leaving 2-3 inches before the top of the jars (or shoulders, if your jars have them), this will prevent cracking! 

Place on the lids and set flat in the freezer, making sure to leave each jar in a standing position. 

Remove a jar from the freezer the night before you need it and let it defrost in the fridge overnight. 

Give your smoothie a good shake in the morning and enjoy!
There are a few things to consider when freezing your smoothies in advance, the main being that some of the nutritional value will be lost. But a shake with most of its nutrients is better than no shake at all! Also, if you have the gusto to make your smoothie each morning then more power to you. Secondly, you might be concerned about separation – this will likely always happen, but nothing a quick shake won't fix. 

Wrapping Up
All in all, we are thrilled that you love fruit smoothies just as much as we do! Whether you are searching for a new recipe to add to your repertoire, or are new to the smoothie game, we hope that you've enjoyed reading about our 20 favorite recipes! If you found one (or more) that you absolutely love, please share them with your fellow smoothie enthusiasts!
If you are looking for a few more great recipes, try: Breakfast Smoothies
---
Feature Image Credit: Olga Pink, Shutterstock