10 Best Air Cut-Off Tools in 2023 – Reviews & Top Picks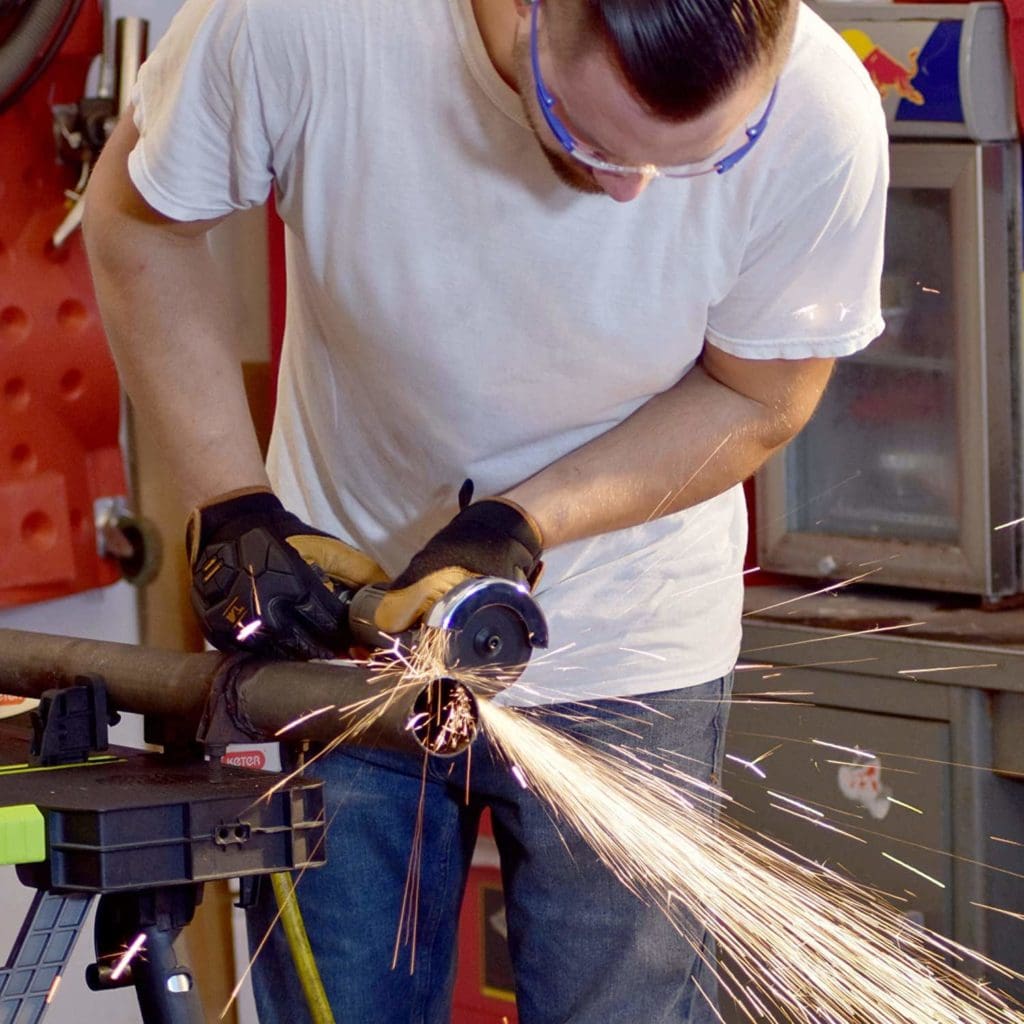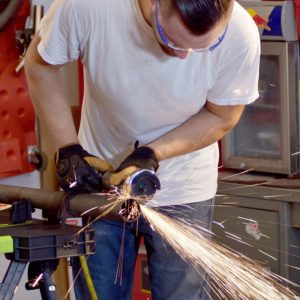 If you work in a garage or shop, then you likely use many pneumatic tools. When something needs to be cut, for instance, an exhaust pipe, angle iron, sheet metal, or anything else, an air cut-off tool is often the best choice. They're more compact than an angle grinder, so they can be used in places where a grinder can't. Plus, they offer impressive cutting power and run on the air compressor with no need for batteries or electric extension cords.
We've been using the same cut-off wheel for many years on countless projects. Unfortunately, it recently became clear that it was time to retire our pneumatic cut-off wheel and get a replacement. On the bright side, this opened up the opportunity to search out the best cut-off tools we could find so that we can also help you to locate the perfect cut-off tool for your needs.
In the following reviews, you'll read about the best air cut-off tools on the market and how they compare to one another. We'll even share our top recommendations to simplify your decision.

A Quick Comparison of Our Favorites in 2023
Rating
Image
Product
Details

Best Overall

Campbell Hausfeld XT200000 Air Cut Off Tool

20000 RPM free speed
3 CFM at 90 PSI air consumption
Weighs just 1.6 lbs
CHECK PRICE

Best Value

SI FANG 3-Inch Air Cut Off Tool

20000 RPM free speed
Uses 4 CFM at 90 PSI
Weighs less than 1.5 lbs
CHECK PRICE

Premium Choice

Craftsman 9-19953 Pneumatic Cut Off Tool

½ HP motor
20000 RPM max speed
See-through safety shield
CHECK PRICE

Ingersoll Rand 326G Cut-off Air Tool

Front exhaust
Locking throttle lever
Large steel shield for safety
CHECK PRICE

Astro 209 ONYX Inline Cut-Off Tool

Variable speed control
Improved stability over standard cut-off wheels
In-line wheel design
CHECK PRICE
The 10 Best Air Cut-Off Tools
1.

Campbell Hausfeld XT200000 Air Cut Off Tool – Best Overall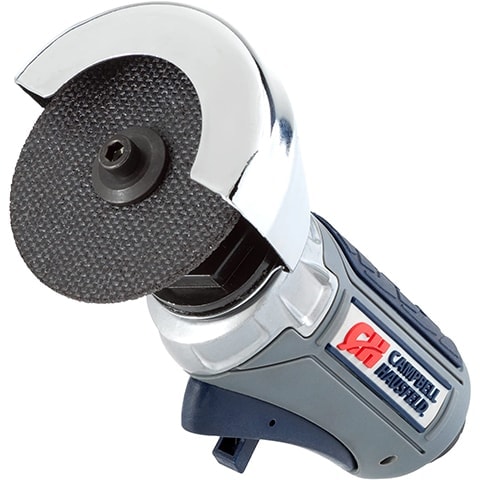 Campbell Hausfeld is known for making high-quality air tools, and the XT200000 air cut off tool is no exception. It sits at number one on our list of the best air cutoff tools. This device weighs just 1.6 pounds, weighing in noticeably lighter than much of the competition. Don't let that fool you though. This is a very powerful tool, equipped with a ½ horsepower (HP) motor that's perfect for cutting a variety of materials including plastic, fiberglass, metal tubing, pipe, and angle iron, composite materials, and more.
Not only is this tool powerful, it's also got an impressive maximum free speed of 20,000 revolutions per minute (RPM). Despite the high speed and gobs of power, you won't need a top of the line compressor to run it. This cut off tool uses just 4.3 cubic feet per minute (CFM) of airflow, so many consumer-grade compressors can handle it with ease.
To help this tool get so light, Campbell Hausfeld opted for plastic housing. While the tool still feels robust overall, the plastic housing feels a bit cheap compared to some of the tools we tested with all-metal construction. Still, this device is loaded with power at a lightweight with great safety features like a rotating guard and trigger latch, which is why it's our top pick.
Pros
½ HP motor
Cuts plastic, fiberglass, composite, metal, and more
20,000 RPM free speed
3 CFM at 90 PSI air consumption
Weighs just 1.6 lbs
Rotating guard and trigger latch for safety
Cons
Plastic housing feels a bit cheap
---
2.

SI FANG 3-Inch Air Cut Off Tool – Best Value
If you've never heard of SI FANG tools, you're not alone. They're not a big player in the tool world, but that doesn't mean they don't make solid products. But their real advantage is affordable pricing. Take this 3-inch air cut off tool, for example. It's dirt-cheap compared to some of the other models we've tested but offers some incredible performance for the price, which is why we think it's one of the best air cut-off tools for the money.
At less than 1.5 pounds, this tool is lighter than a lot of the competition. Still, it features a solid aluminum housing that gives it a high-quality feel. With a 20,000 RPM top speed, you don't have to worry about performance suffering because you spent less on this tool. It can keep up with some of the tools from big-name manufacturers that cost several times as much.
This cut-off tool uses 4 CFM of airflow at 90 PSI, allowing it to run well on consumer compressors; you won't need a top-grade professional compressor to utilize this tool. But you are missing something at this cheap price; a warranty. Even without a warranty, it's a great value at this low price.
Pros
Dirt-cheap pricing
20,000 RPM free speed
Uses 4 CFM at 90 PSI
Weighs less than 1.5 lbs
Aluminum housing feels solid
---
3.

Craftsman 9-19953 Pneumatic Cut Off Tool – Premium Choice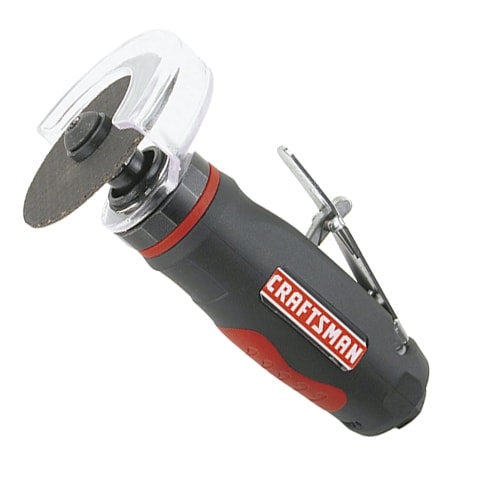 Craftsman is one of the most trusted names in tools. They've been producing quality tools for many years and have developed quite a following. After using this high-quality tool, you'll believe that their following is well earned. This is a high-end tool that functions flawlessly, though you'll definitely be paying quite a bit more for this Craftsman quality. It's one of the more expensive units we tested, but based on its top-notch performance, it's a product we feel confident recommending.
This tool has a ½ HP motor. Many similar tools we tested didn't seem to live up to their power ratings, but the Craftsman certainly does. It's also got a max speed of 20,000 RPM, and we never felt it bogging or slowing down, even when cutting through rather thick metal.
Most of the cut-off tools we've used had safety shields, but this one is clear, allowing you to really see your work. This is a major improvement over metal shields that completely block your work from view. There's also a lock-off throttle lever on this machine for safety. Overall, it's a well-built tool offering high-end performance; just be aware that you'll have to pay top-dollar for it.
Pros
½ HP motor
20,000 RPM max speed
See-through safety shield
Lock-off throttle lever for safety
Cons
Far pricier than other options
---
4.

Ingersoll Rand 326G Cut-off Air Tool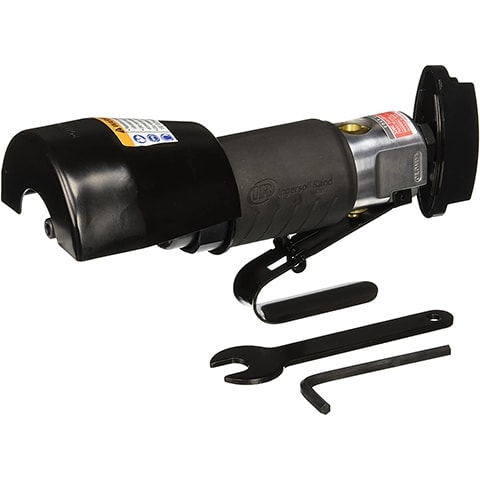 Ingersoll Rand is a brand known for producing pneumatic tools of high quality, so it's not surprising to find their 326G cut-off air tool towards the top of our list. Unfortunately, it's a bit heavy and requires substantial airflow, which prevented it from reaching our top three, though it's still a great tool. It weighs 2.4 pounds, coming in a pound heavier than some of the lightest options we tested. You might have a hard time fueling its airflow needs with a consumer-grade compressor. It requires 6 CFM of airflow for proper operation.
But if you've got a compressor that can handle it, this is a great tool. That extra airflow equates to extra power when cutting through thick metal. And like most Ingersoll Rand products we've used, this tool is well-built and feels solid and robust when you hold it.
Unlike many air cut-off tools, this one has a front exhaust port. We liked this feature because it ensures that the exhaust isn't blowing in your face. There's also a locking throttle lever and large steel shield to keep you safe during use, though the cumbersome shield often made it difficult to see our work.
Pros
Front exhaust
Locking throttle lever
Large steel shield for safety
20,000 RPM no-load speed
Cons
Requires 6 CFM of airflow
Weighs 2.4 lbs
---
5.

Astro 209 ONYX Inline Air Cut-Off Tool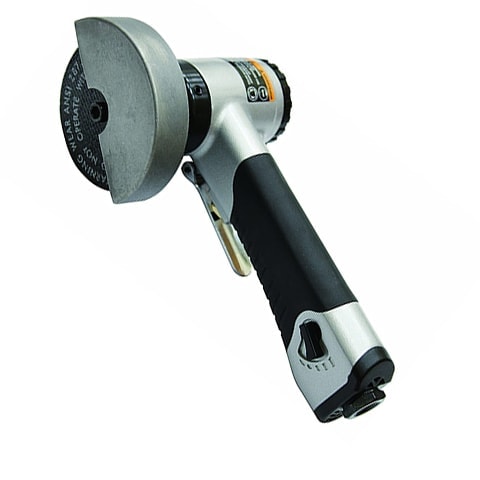 Most of the cut-off wheels we've used feature a wheel that's perpendicular to the handle. This can make it tricky to fit in some tight places, but also makes it hard to work with as the torque of the wheel attempts to pull the tool from your hand. But the Astro 209 ONYX inline cut-off tool is different.
This device has a cutting wheel that's mounted parallel to the handle. This gives you quite a bit more leverage and prevents that feeling of having the machine ripped from your hand. Plus, it makes it much easier to maneuver this cut-off tool into tight areas that are hard to reach with a standard cut-off wheel.
We like the variable speed control on this cut-off tool. The adjustable guard is another great feature, allowing you to work at different angles without having sparks flying in your face. But you'll have to pay extra for these features since this cut-off tool is quite a bit more costly than others we've used. It's also comparatively heavy at a little over 2 pounds, which can start to be a burden after holding it over your head all day.
Pros
Variable speed control
In-line wheel design
Improved stability over standard cut-off wheels
Adjustable guard
Cons
Weighs over 2 lbs
Pricier than most other options
---
6.

Astro Pneumatic Tool 409 Cut-Off Tool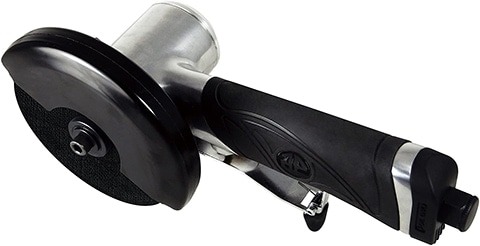 The Astro Pneumatic Tool 409 cut-off tool features an inline design that we've only seen on a few other models. We like this design for the improved leverage it gives the holder. Plus, it makes it easier to fit into some tight spaces. This particular model features a large 4-inch cutting wheel that allows for a cutting depth of about 1.5 inches.
This tool is powered by a motor pushing ¾ HP. That's substantially more power than many other models we tested, though it didn't seem to offer improved performance with the additional power. In fact, this tool actually slowed down on heavy cuts, instilling some doubt as to the true power ratings of this tool. Especially when you consider that it's much slower than other models, topping out at 14,000 RPM.
If you've got a mediocre compressor, you'll want to skip this tool. It needs 5.5 CFM of airflow to run, which is more than many inexpensive compressors can muster. Even with the extra airflow, this is far from the most powerful cut-off tool we tested. We like that the guard is adjustable without tools, but that's not going to redeem the poor performance of this device.
Pros
In-line wheel design
¾ HP motor
Large 4" cutting wheel
No-tools adjustable guard
Cons
Slows down on heavy cuts
Requires 5.5 CFM of airflow
14,000 RPM max speed
---
7.

WORKPAD Pneumatic Air Powered Mini Tool

Most of the tools on this list are cut-off wheels; arguably the most common type of pneumatic cut-off tool. But the WORKPAD pneumatic air powered mini tool takes a different route. This is a small pneumatic reciprocating saw, providing the functionality of a miniature Sawzall in pneumatic form. While there are absolutely some instances where this sort of tool comes in handy, it's just not versatile enough to make its way to the top of our list.
This machine manages 9,000 strokes per minute, offering decent performance for such a compact tool. It barely weighs a pound and utilizes just 3 CFM of airflow, making it a great choice for running on a small compressor. But that small size is also a drawback. While this tool has decent performance for its size, the cutting power is dismal compared to other tools on this list.
Because this is a reciprocating saw rather than a cut-off wheel, it can be difficult to use in tight spaces. The best thing about this saw is its cheap price. For the price, it's well-built with a durable aluminum body, but with such limited usability, we can't recommend it.
Pros
9,000 strokes per minute
Durable aluminum body
Cheaply priced
Cons
Can be hard to use in tight spaces
Lacks cutting power
---
8.

Chicago Pneumatic CP874 Cut-Off Air Tool

If we were to base our results entirely on power, then the Chicago Pneumatic CP874 cut-off air tool might be a winner. It's a very capable device that manages impressive power, even compared to some tools with similar specs. It has a ½ HP motor, which is similar to what many other cut-off tools are equipped with. But this cut-off tool manages a free speed of 22,000 RPM; 2,000 RPM faster than some of our favorites.
But to get the great power this tool produces, it requires a massive amount of airflow. We're talking 12.5 CFM, which is far more than most consumer-grade compressors are capable of. For most people, this would necessitate substantially upgrading their compressor; a very expensive endeavor.
Once you get past the high airflow requirements, you have to look at the tool's weight. It weighs in just under 2 pounds, making it one of the heavier, bulkier options we've tested. Of course, it's not just bigger than the competition, it's also much pricier. Granted, you do get solid metal construction that feels quite durable. But most people won't have compressors that can power this and for the extra price, we want more than just a durable exterior.
Pros
22,000 RPM free speed
Makes plenty of power
Solid metal construction
Cons
Uses 12.5 CFM of airflow
Weighs nearly two lbs
More expensive than other choices
---
9.

AIRCAT 6560 Composite Air Cut-Off Tool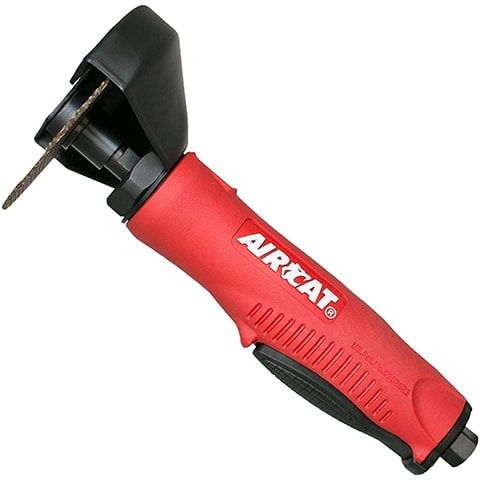 If you believe that you get what you pay for, then you might automatically assume that the AIRCAT 6560 composite cut-off tool is a real winner. While it does have some notable positive qualities, it doesn't live up to the high price or our expectations.
Even so, there are some great features here. This tool uses a large 4-inch cut-off wheel for making deeper cuts than what's possible with a 3-inch wheel. We were thankful for the reduced vibrations when using this cut-off tool. More than just smooth, this machine is also pretty quiet, operating at 89 dB.
You'll get a powerful 1 HP motor in this machine, though it doesn't offer nearly as much power as we expected. We got superior performance from devices with half as much horsepower. Furthermore, the max speed of 14,000 RPM isn't as good as other devices we've tested with less power, instilling more doubt regarding the veracity of this device's power claims.
At nearly 2 pounds, this is a pretty hefty machine. For the high price, we were hoping for a lighter device with impressive performance, but that's not what we feel the AIRCAT 6560 really offers.
Pros
Impressive 1 HP motor
Large 4" cut-off wheel
Quiet operation of 89 dB
Reduced vibration compared to competitors
Cons
14,000 RPM max speed
Doesn't live up to power ratings
More expensive than similar tools
Weighs nearly 2 lbs
Overpriced for what you get
---
10.

Central Pneumatic Extended Reach Air Cut-off Tool

If you often find that your cut-off tool doesn't offer enough reach for your needs, then you might consider the Central Pneumatic extended reach air cut-off tool. For everyone else, we suggest skipping this entirely.
This tool is built with an extended arm for longer reach. While it does provide extra reach, it also makes the tool very large, which makes it difficult to fit into places that a normal cut-off wheel has no issue reaching.
Worse, this device has very little power. It's also got a top speed of 18,000 RPM; slower than other cut-off tools we've tested. When using it, we felt the wheel slowing down on most cuts, proving the lack of torque and power. Add to this the excessive weight of 2 pounds, and it's clear why this cut-off tool is relegated to the bottom of our list.
Pros
Extended arm for longer reach
Cons
Lacking in power
The arm can make it less maneuverable
Weighs 2 lbs
18,000 RPM max speed
---
Buyer's Guide – Finding the Best Air Cut-Off Tools
Choosing an air cut-off tool used to be simple when there weren't very many choices to pick from. But today, the market is flooded with options. How can you narrow them all down to the one that's best suited for you? If you're still unsure, then this buyer's guide is for you.
Picking A Great Air Cut-off Tool
All cut-off tools are meant to cut through various materials. But differences in their specs can often result in drastic differences in performance. Let's take a look at some of the most important specs and features to prioritize in order to find a cut-off tool that fits your needs.
Speed
Higher speed makes for an easier time cutting through just about any material. It's also a good benchmark for the tool's performance. Most of the pneumatic cut-off tools we tested had an average max speed of 20,000 RPM. However, there were some stragglers that topped out at just 14,000 RPM, and there were even some that managed 22,000 RPM.
Variable speed allows you to change the speed of the wheel within the RPM range so you can have more precise control for certain situations.
In general, we suggest picking a cut-off tool with the highest capabilities you can find. And if you have variable speed, then you can always tailor your machine's performance to the task at hand.
Power
The power level of a cut-off tool is generally rated in horsepower, making it easy to compare different models. Most of the tools we tested had about ½ HP, though we did test some models with as much as 1 HP.
That said, there were some models we tested that didn't seem to offer as much power as we'd expect, given their power ratings. So, you'll want to take the horsepower of the cut-off tool into account, though don't rely on it as the sole rating of the machine's performance.
Air Consumption
Air consumption refers to how much air your pneumatic tool uses while running. If you don't have a compressor that's able to keep up, then you'll either have a poorly functioning tool or you'll be spending more time waiting for your compressor to fill than actually working.
Many of the air cut-off tools we tested used around four CFM of airflow. Since many consumer-grade compressors can produce this level of airflow, these devices are a pretty safe bet.
We've also tested some cutoff tools that used far more air; as much as 12 CFM! It's safe to say that a mid-grade compressor will have a very hard time powering such a tool.
You'll want to check your compressor's output before purchasing a cut-off tool. Make sure your compressor can keep up with the airflow needs of the cut-off tool you choose.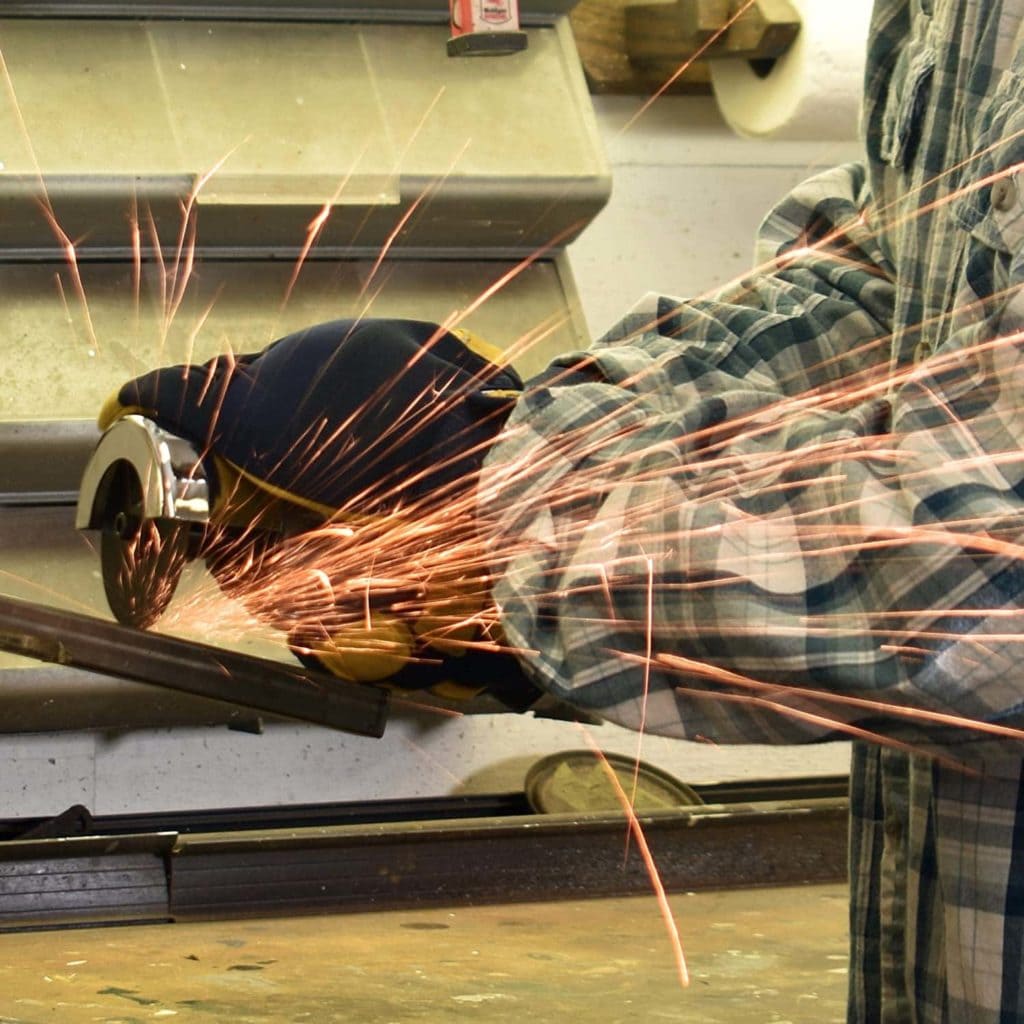 Design
Many of the cut-off tools we tested had similar designs. Most were cut-off wheels with the cutting wheel perpendicular to the handle. But there were a few that went a different route. We tried a couple of cut-off wheels where the wheel was parallel to the handle and even a pneumatic reciprocating saw.
The inline cut-off wheels where the cut-off wheel is parallel to the handle offer improved leverage and can often fit into tight spaces that are difficult to reach with a regular cut-off wheel. Reciprocating saws need a lot more space to work because of the throw of the blade, so we don't think they're a great bet since they lack versatility.
We even tried a cut-off wheel with an extended arm, though it seemed to get in the way more than offering improved reach.
Weight
If you only use your cut-off wheel for short periods at a time, then its weight isn't going to be a deciding factor for you. But if you use it daily for long hours, then a heavy tool will become a burden that can truly weigh you down.
While none of these tools are exactly heavy, there is still some noticeable weight discrepancy between models. We've tested some that were heavier than 2 pounds and others that weighed less than 1.5 pounds.
You'll have to decide how important weight is to you and whether or not you want to prioritize a light tool.
Build Quality
Many of these tools are well-built. But some don't feel as good in the hand. We prefer the tools with metal housings since they feel durable and robust. Composite tools can still be durable though, and they often offer improved vibration dampening and quieter operation.
Price
Price isn't everything. Just because you spend more doesn't mean you'll get a better tool. We've seen cheap cut-off tools offer excellent performance and we've also gotten poor performance from expensive tools. We suggest basing your decision on the tool and its features, rather than the price.

Conclusion
As you've seen from our reviews, we've tested quite a few air cut-off tools to see how they compare to each other. Some were disappointments, but several impressed us enough to earn our recommendations, and we're going to quickly re-summarize those so they're fresh in your mind.
Our top choice for the best air cutoff tool is the Campbell Hausfeld XT200000. This tool is equipped with a ½ HP motor that spins at 20,000 RPM, easily cutting through a variety of materials. It's lightweight at just 1.6 pounds and features a rotating guard and a trigger latch for safety.
If you're looking for a budget-priced air cutoff tool to get the job done affordably, we suggest the SI FANG air cut-off wheel. It weighs less than 1.5 pounds, though it's housed in an aluminum body for a solid feel. It manages a top speed of 20,000 RPM, keeping up with far more expensive units.
And if you need premium quality and reliability, we think you'll find it in the Craftsman 9-19953 Pneumatic cut-off tool. It's a high-quality device with potent specs like a ½ HP motor and 20,000 RPM max speed. Plus, it's equipped with smart features like a see-through safety shield so you can see what you're working on.