6 Best Benchtop Milling Machines of 2023 – Reviews & Buying Guide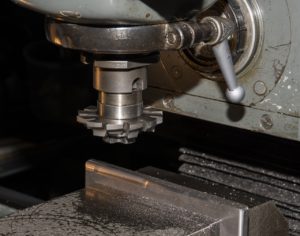 Benchtop milling machines are tiny versions of the large, industrial machines you often see in large factories. This makes them perfect for DIY projects, where you need strength and precision but don't have room for a full-sized machine.
However, because these machines are smaller, they also tend to be less powerful. Some are incredibly underpowered, while others are suitable for most DIY purposes. Purchasing a high-quality benchtop milling machine is essential to your success. To help you sort through all the options, we reviewed some of the top options on the market and wrote a buyer's guide to help you choose the perfect option.
---
A Quick Comparison of Our Favorites in 2023
Rating
Image
Product
Details

Best Overall

WEN 33013 Benchtop Milling Machine

45° bevel
Variable speed
Cast iron
CHECK PRICE

Best Value

Proxxon 37110 MICRO Mill

Quiet
Compact and low-weight
High-quality materials used
CHECK PRICE

Premium Choice

Grizzly Industrial G0704 Mill/Drill

Powerful
Safety shut-off
Variable speed
CHECK PRICE

JET 350017/JMD-15 Milling/Drilling Machine

Tapered base for easy cleanup
360° swivel head
Work lamp included
CHECK PRICE

LittleMachineShop HiTorque Mini Mill

Lighter than most other options
Compact
CHECK PRICE
The 6 Best Benchtop Milling Machines
1.

WEN 33013 Benchtop Milling Machine – Best Overall
With a variable speed that produces 100 to 1,000 revolutions per minute (RPM), the WEN 33013 Benchtop Milling Machine is designed for precision and strength. On the high setting, it can even go up to 2,500 RPM. The bevel head and column turn 45° in either direction, which allows you to make angled cuts into various materials. The cast-iron design is created to be as compact as possible while providing the power most DIY enthusiasts need. The table can move over 11 inches on the x-axis and over 5 inches on the y-axis.
Plus, this milling machine has many useful, minor features. The pre-installed drilling chuck is durable, and you can easily fine-tune adjustments using the handwheels. The emergency stop button and transparent chuck guard are essential safety features that reduce accidents. We also liked the 2-year warranty included with the WEN machine.
The only negative is that it's more expensive than other brands. It is only suitable for those who plan to use the machine often. Other, cheaper options on the market may be more suitable for your average homeowner. However, the WEN 33013 is the best overall benchtop milling machine we reviewed this year.
Pros
45° bevel
Variable speed
Cast iron
Handwheels for fine-tuning
Emergency stop button
---
2.

Proxxon 37110 MICRO Mill – Best Value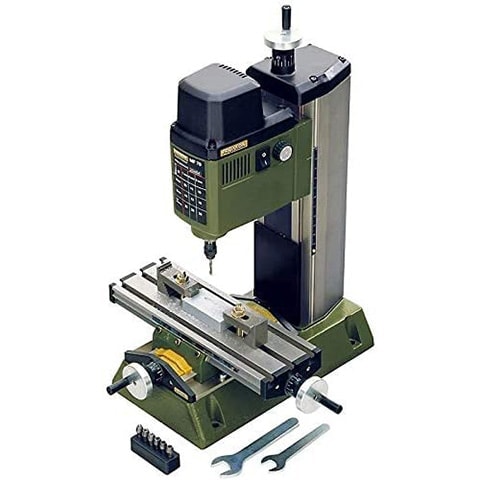 For most homeowners on a budget, the Proxxon 37110 MICRO Mill is the one to purchase. It is the best benchtop milling machine for the money currently available. It is a bit smaller than other machines, making it more suitable for smaller workshops. The Proxxon is quiet and produces little vibration, which makes this machine more suitable for homeowners, especially if you're worried about waking up the neighbors.
The lightweight and slim design makes it fit easier into tighter places. However, it does not compromise performance like other compact options. It still works quite well and is precise. The base is made out of cast iron, and the vertical column and compound table are treated aluminum; it is built to last by all accounts. The handwheels allow you to make minute adjustments, which is ideal when precision is paramount.
This machine's major problem is that the axes aren't extremely precise. When you adjust them, they move off zero by a little bit. For the most part, this shouldn't be a problem for everyone. However, some people might find this extremely frustrating, especially if you're working on projects that require precision.
Pros
Quiet
Compact and low-weight
High-quality materials used
Handwheels for small adjustments
Cons
Axis adjustments aren't exact
---
3.

Grizzly Industrial G0704 Mill/Drill – Premium Choice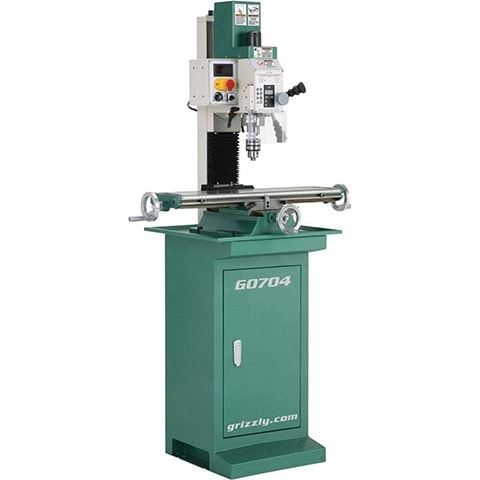 For those with extra money to spend, the Grizzly Industrial G0704 Mill/Drill may be the best option. You will spend way more on it than any other brands on this list. However, you do get what you pay for, and the Grizzly includes features unavailable on cheaper models.
It has the same features found in many industrial mills. For example, it has a dovetail column and a variable-speed 1-HP motor. These features help it perform better and accomplish more challenging jobs. It also has a variety of safety features, like a safety shut-off. These safety features are essential for preventing accidents and injuries.
The only major problem with this machine is that it is enormous. If you're looking for a machine that rivals its industrial counterparts, it must be a bit larger. However, if you're a homeowner with a small workspace, it may be a bit too large for your needs.
Pros
Powerful
Safety shut-off
Variable speed
---
4.

JET 350017/JMD-15 Milling/Drilling Machine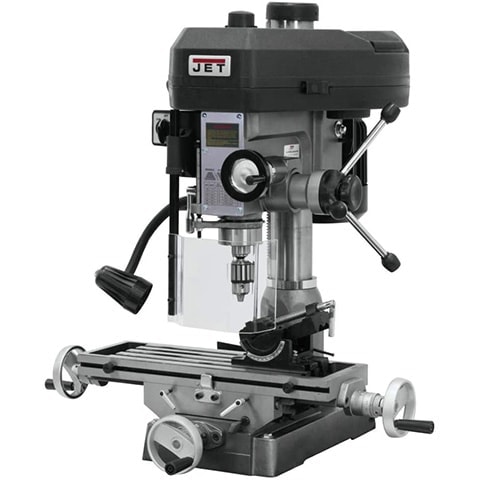 The JET 350017/JMD-15 Milling/Drilling Machine is in the middle of the pack regarding the price. It isn't the most expensive, but the average homeowner will probably think twice before buying it because of the cost. It has a one-piece cast iron column for added support and a quick-slide latch for fast belt adjustments. The tapered base allows you to clean up when you're done quickly. We particularly liked the 360° head swivel and the extra-large work table. It even comes with a work lamp, so your workpiece will stay illuminated.
This machine is large and weighs 450 pounds. However, that isn't too big for a machine of this caliber. Still, you should think carefully about where you'll put it and how you get it there in the first place. Otherwise, you may have a big machine you can't move!
The only problems with this drill are relatively minor. However, most of them are obvious design flaws that the company could quickly fix, so it is a real letdown that they didn't try to fix these issues. When you crank the left side, it rubs against the arm of the light. This moves the light around, which can be annoying.
Pros
Tapered base for easy cleanup
360° swivel head
Work lamp included
Cons
450 lbs
Minor design flaws abound
---
5.

LittleMachineShop HiTorque Mini Mill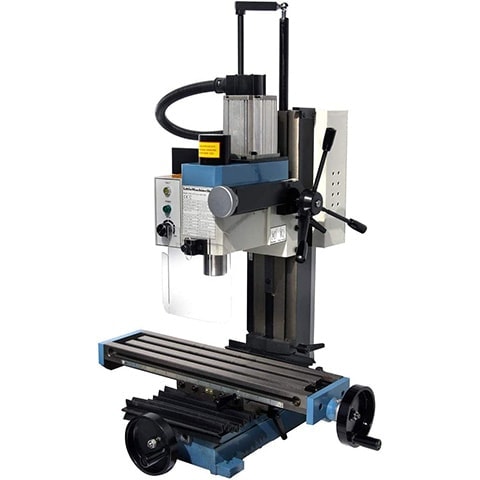 We wanted to love the LittleMachineShop HiTorque Mini Mill, but we didn't like a couple of things about it. The product description includes quotes like "most torque in class." However, figuring out how much torque the machine has isn't easy. It isn't listed anywhere that is easy to find. There were minor inconsistencies in the product description like this, which made us question the machine's overall quality.
With that said, this LittleMachineShop is much lighter than other options. It weighs only 124 pounds, according to the product description, and has a smaller base than many other models on this list. That means that it may fit better in smaller workshops. This may be a practical machine if you're a homeowner with a small workspace.
The spindle lock design on this machine is awful. It is much tighter than it needs to be, which leads to the parts becoming deformed and practically unusable. The customer service seems to be horrible as well.
Pros
Lighter than most other options
Compact
Cons
Poor spindle lock design
Poor customer service
Inaccurate product description
---
6.

SHOP FOX M1110 Mill and Drill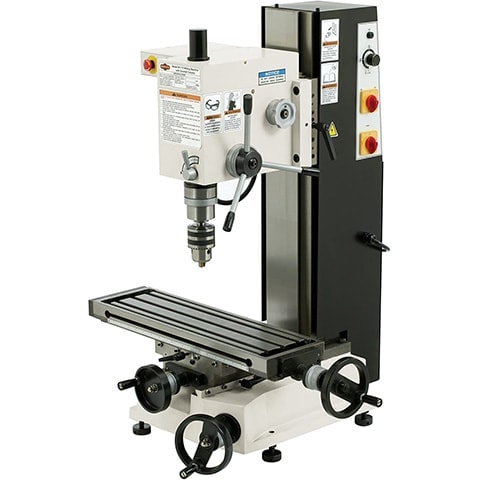 The SHOP FOX M1110 Mill and Drill is another mid-range mill. It costs more than our top pick, but you will not pay nearly as much as some of the other machines on the market. It has 12 lathe speeds, which allows greater precision when milling. The motor isn't as powerful as other brands and only produces ¾ HP. However, it should still be suitable for most DIY projects.
Overall, this machine seems significantly less durable than other available options. It's not built to last, which means that you'll likely be purchasing another one soon. You will also need to repaint this mill soon after purchase, as the paint that comes with it is not high-quality. Furthermore, you will need to clean and lubricate everything quickly and regularly.
Cons
Not durable
Expensive
Requires repainting and cleaning upon purchase
---
Buyer's Guide – How to Purchase the Best Benchtop Milling Machine
As you may have gleaned from our reviews, many aspects go into choosing a good benchtop milling machine. While these machines may look similar, they have radically different features that can affect the tool's performance.
Below, we'll help you sort through all the features and determine which machine is best for you.
Frequently Asked Questions
Are Benchtop Milling Machines Good?
Yes. However, it is essential to remember that these machines are not the same as their industrial cousins. They are significantly less powerful than the larger machines used in factories. So, if you need as much power as an industrial milling machine, you should probably purchase one.
However, the average person does not need an industrial milling machine and can probably get away with one of the cheaper, smaller ones we've reviewed in this article. They are still suitable for most DIY projects.
Should I Get a Mill or a Lathe?
A lathe machine is more limited in uses than a milling machine. However, they are very good at producing cylindrical parts. On the other hand, a mill is more versatile and can be used for more projects than a lathe. They can produce the same pieces as a lathe but may take a bit longer to do so.
Ultimately, choosing one depends on which projects you plan on constructing. A lathe is probably your best option if you're mainly making round parts. However, you may want to consider getting a mill instead if you perform a wide variety of projects.
Can You Mill With a Drill Press?
Yes, with quite a bit of work. You can repurpose a drill press into a mill.  However, it will never be as good as a mill and will take a lot of work to do the conversion. In many cases, you're better off getting an authentic mill instead.
Do I Need a Milling Machine?
If you need to shape metal parts, you need a milling machine. Luckily, milling machines are versatile and can be used for several projects. While they're expensive, you get your money's worth.
Can You Use a Milling Machine on Wood?
You will need something to collect the dust since wood dust is combustible. Using a milling machine on wood is very similar to using other machines on wood. Just ensure that you have a proper dust collection system, and you should be golden.
Important Features
You should keep your eye out for a few features when purchasing a milling machine. We'll discuss some of these features below so you can choose the best option for your needs.
Motor Power
The more power a machine has, the better it will work and the wider variety of materials it will work on. You want as much power as possible. However, more power usually comes at a higher cost. Because of that, you need to consider how much power you need when choosing a machine. You don't want to spend more on a more powerful machine when you don't need to.
If you're doing light projects, a ¾ HP motor will probably work. However, you may want to invest in a 1 HP motor for regular usage. It depends on the projects you're planning on doing as well as your budget. Lower-powered machines are not necessarily low-quality.
Range of Motion
You want the machine to move on the x- and y-axis quite a bit. This helps you place holes exactly where you need them and at a specific diameter. If the machine you choose does not have an extensive range of motion, you may be unable to do specific projects. After all, if the machine can't put the hole where you need the hole to go, you will have a hard time finishing your project.
Durability
These machines should last for years, given how expensive they are. Look for high-quality materials like cast iron and treated aluminum. The more cast iron a machine is made of, the stronger it will be.
You also have to consider the internal components of the machine. This can be harder because you can't readily see what the machine's internal parts are made out of. You will have to rely on reviews like ours to decide.

Conclusion
Hopefully, our reviews and buyer's guide gave you a good idea of which machine is best for your purposes. For most people, we recommend the WEN 33013 Benchtop Milling Machine. As far as the price goes, it is about mid-range. However, it has a variable speed and is durable, making it a practical choice for most homeowners and professionals.
For those looking to spend a bit less, we recommend the Proxxon 37110 MICRO Mill. It is inexpensive and compact and the best option for home DIYers with a smaller work area.
Related posts:
---
Featured Image Credit: Pixabay