30 Free DIY Pallet Table Plans You Can Make Today (With Pictures)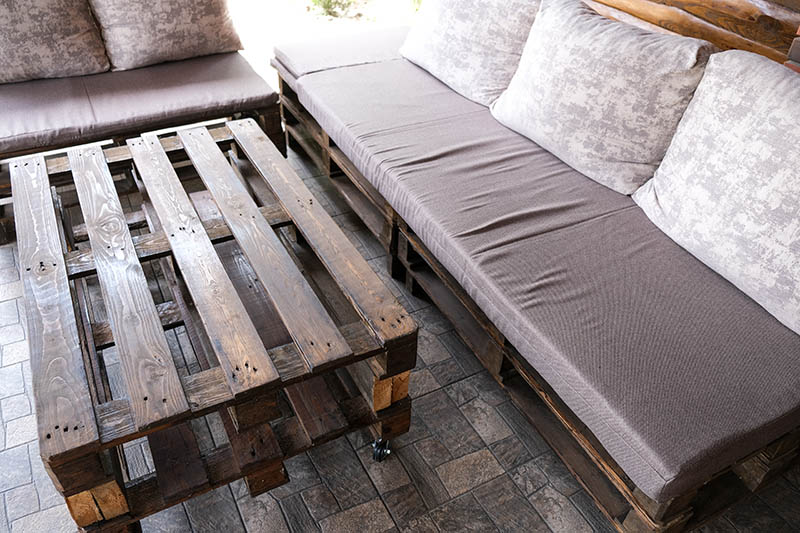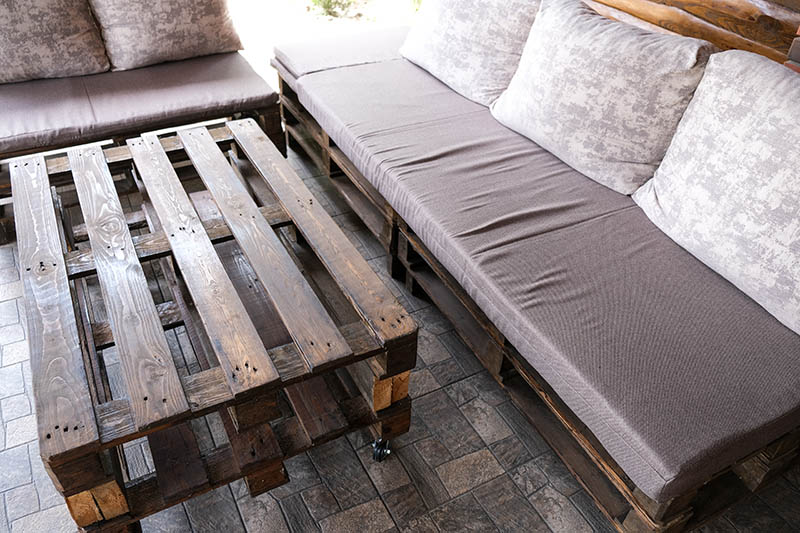 How many of us have those annoying wooden pallets taking up space around the house? Chances are you don't even remember where they came from or how they got to be leaning against the back wall of your home.
The good news is there are plenty of free plans available that will turn those old useless pallets into a beautiful and unique table. All of these plans are not only turning something into a sustainable accessory, but they are also projects you can get started on today!
Take a look at the best free plans that will teach you how to build a pallet table.

The 30 Free DIY Pallet Table Plans
1.

Computer Desk with Wall Shelf from DIY Pallet
This handy project comes from DIYPallet.com. This is a medium skill-level project that will create a unique and storage-abundant place for you to work, read emails, or just browse the web.
---
2.

Corner Table from DIY to Make
This option is courtesy of diytomake.com. This is a reasonably easy project that even beginners can accomplish, and it will add a stylistic touch to any rustic living space.
---
3.

Picnic Table from DIY Pallet
This plan comes from diypallet.com. What is better than an outdoor picnic table? They are convenient for barbecues, poolside, or for any other outdoor occasion. Although you need a bit more skill for this DIY project, the plans are fairly simple.
---
4.

Vanity Table from 1001 Pallets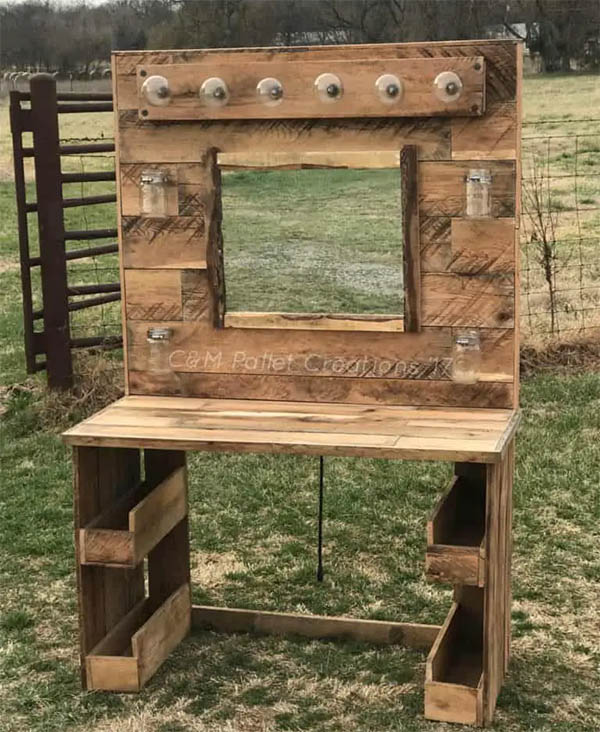 The custom vanity table pallet plan is brought to you by 1001pallets.com. Although we admit that this project will take more time and require a higher skin level, there is no end to the personal touches that can be added to this project. You can stain or paint the wood, add lights, and even make a matching chair to go with your beauty and skincare storage. Adding a mirror is also easy.
---
5.

Plant Stand from Pallet Wood Projects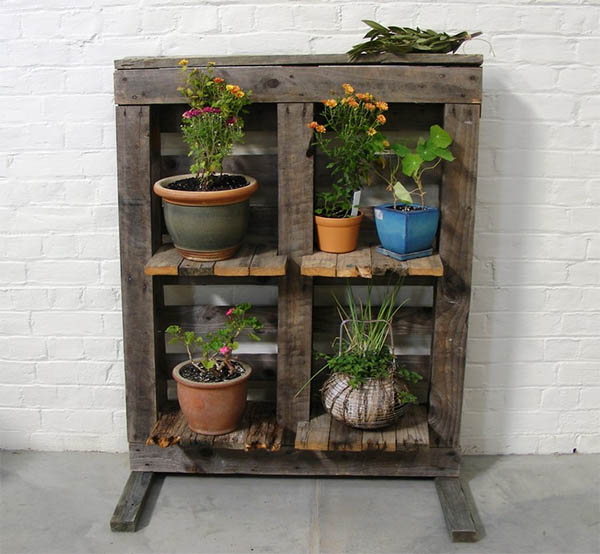 Palettswoodenprojects.com is the next creator with their beautiful plant stand table. Although this is a simple build that requires few tools and other hardware, you can add as many or as little details as you want.
---
6.

Kitchen Table from Easy Pallet Ideas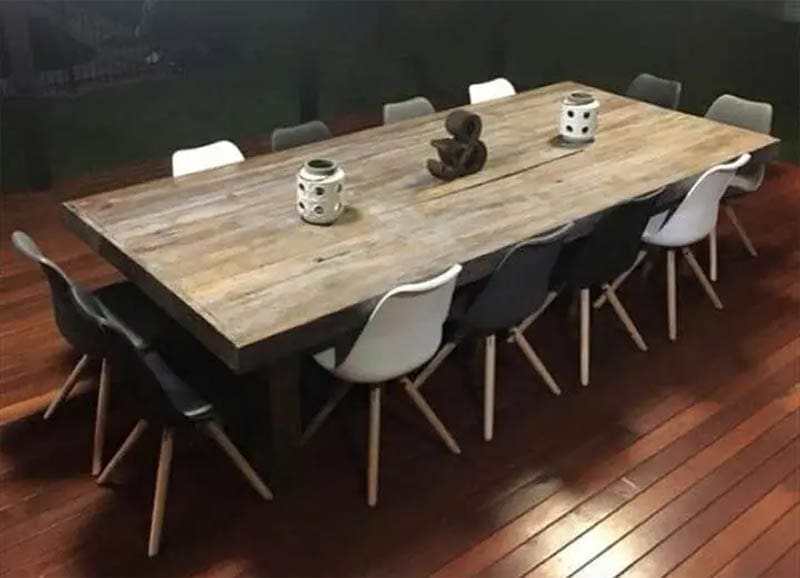 If you want to bring a little rustic beauty to your kitchen space, Easy Pallet Ideas has yet another excellent plan. You can customize this table to suit your needs. It can be made smaller, as well, if your kitchen space is limited. Overall, though, it will make a great addition to your home.
---
7.

Fish Tank Table from Instructables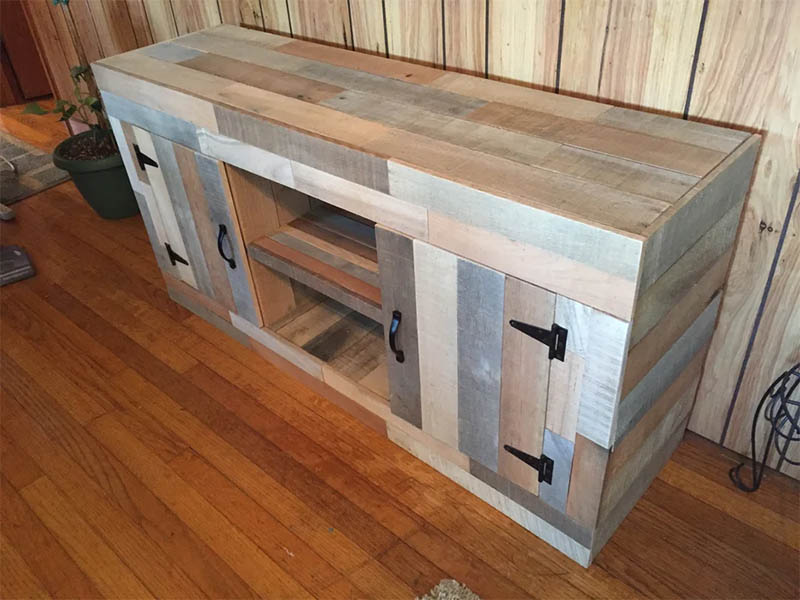 If you need a place for your fish tank, look no further than Instructables. This site will give you all the necessary measurements, tools, and hardware needed to create this one of a kind fish tank table complete with underneath storage space that will benefit your home.
---
8.

Bar Table from Easy Pallet Ideas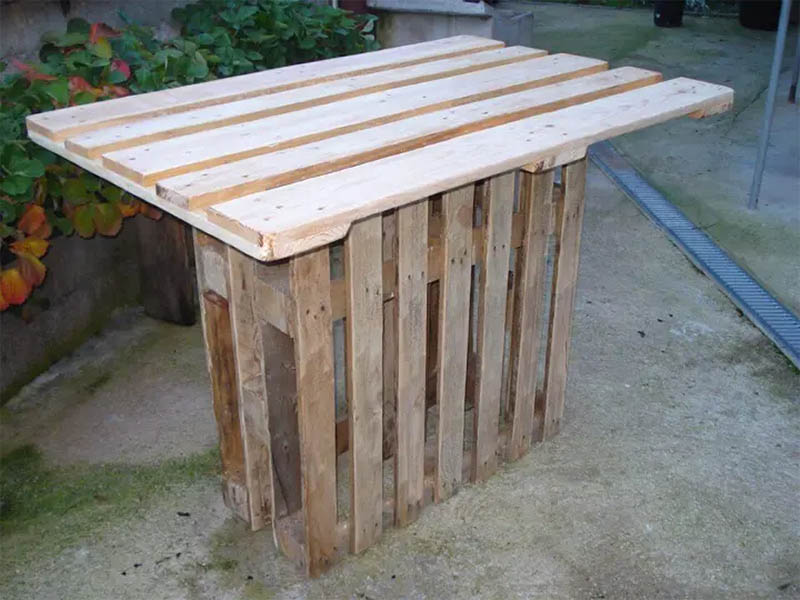 This no muss and no fuss option is easy to build and provides a bar-like atmosphere for your backyard or even the inside of your home. Stain the wood to match other furniture or leave it natural for an outdoorsy and rustic appeal. This is a great summer project from Easy Pallet Ideas.
---
9.

Coffee Table from 1001 Pallets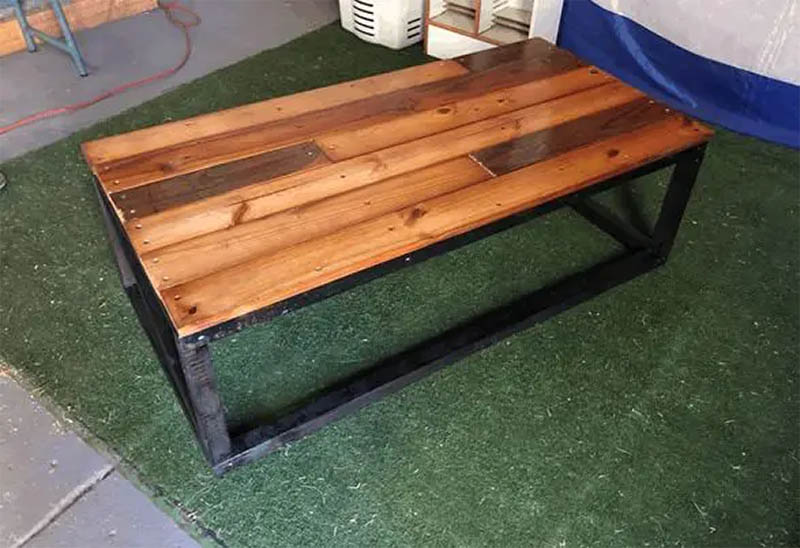 One of the most practical pallet tables you can DIY is the coffee table. There are so many varieties that it can be hard to choose which one you like the best. Regardless, 1001 Pallets has a great basic plan that can be morphed into your custom creation.
Related Read: DIY Pallet Coffee Table Plans You Can Make Today
---
10.

Entertainment Table from Instructables
Though a case could be made that this option is not a table, we figured it had a flat surface, so it works! This is another simple eight-step project from instructibles.com. This little number will hold your tv, cable box, DVD player, and other items with security.
---
11.

Patio Table from Place of My Taste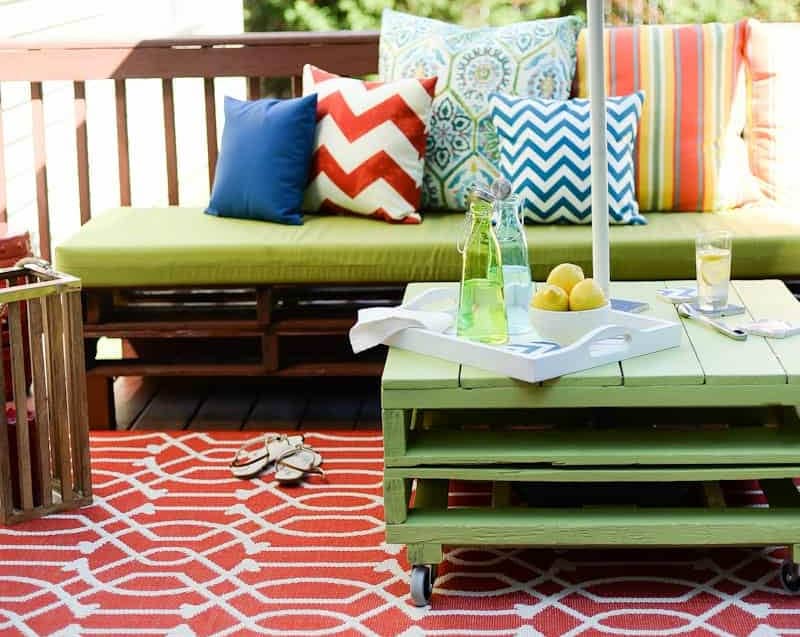 Place of My Taste has come up with a cute patio table on wheels. This is the perfect summer accessory for the warm months. Pick your own colors and add chairs around the table for outdoor gatherings.
---
12.

Side Table from 101 Pallets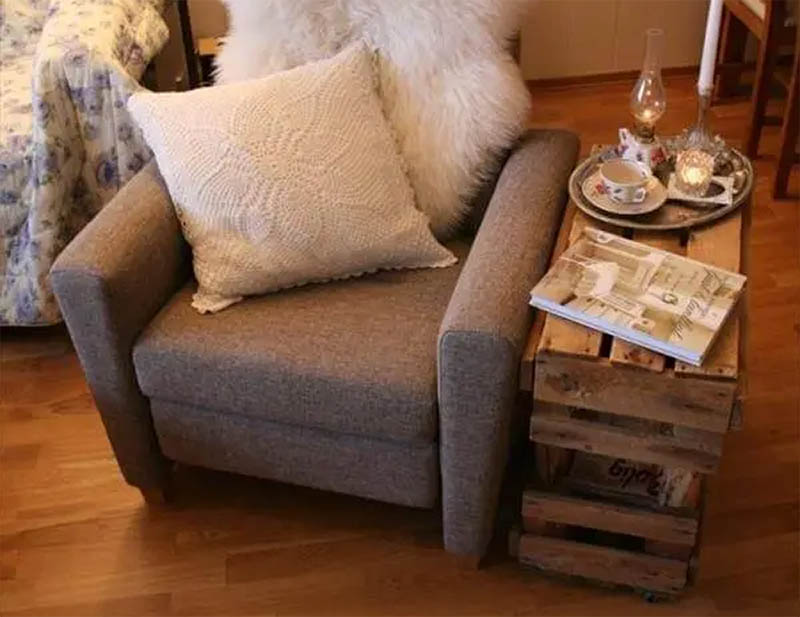 101 Pallets has given you a bunch of great ideas for this simple DIY project. Whether you need a coastal style side table next to your Adirondack chair, or a high sheen traditional piece for a sitting room, these simple plans will allow you to create the perfect side table with nothing but an old pallet.
---
13.

Mini Bar Table from Easy Pallet Ideas
Easy Pallet Ideas has shown us that you can make a minibar with little effort out of old wooden pallets. Complete with inner shelves, this is a great addition to any casual space where you like to relax and kick up your heels. Though it needs a moderate amount of skill, the end result is well worth it.
---
14.

Kitchen Island from Joanne Inspired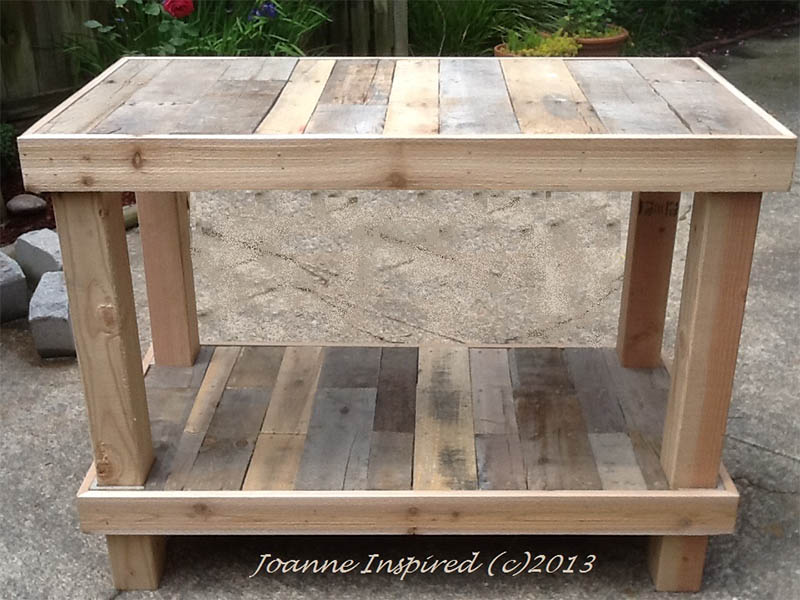 A common complaint regarding a homeowner's kitchen is the lack of counter space. Joanne Inspired has solved this problem with an easy DIY pallet solution. She keeps it simple and easy, so you can add your own personal taste to the project.
---
15.

Nightstand from Instructibles
From Instructibles.com we have a simple nightstand design that can be done with a basic skill level. If you really want to test your skills and add a fancy detail, these plans also break down how to add a cut out symbol like a heart, as well.
---
16.

Kids Play Table from Pallet List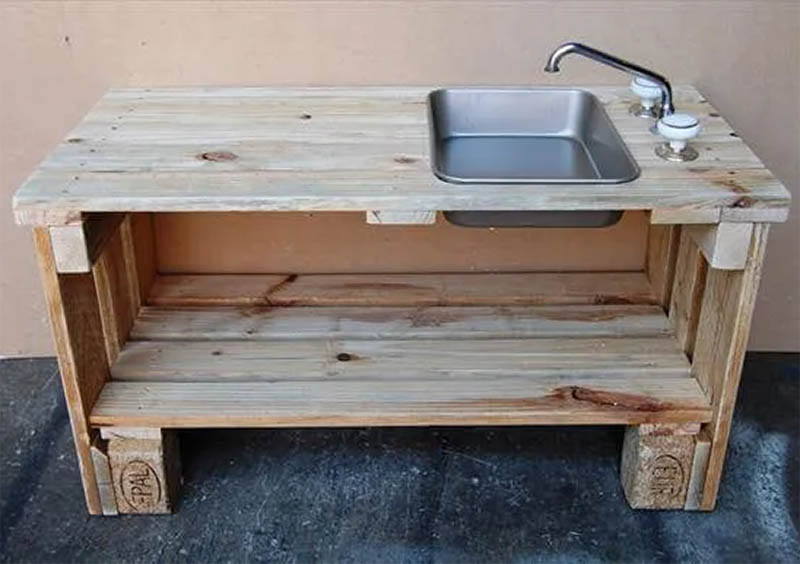 Palletlist.com has come up with a great solution on how to keep kids paint and play dough contained in one spot. They can color, paint, and play to their heart's content without you having to worry about staining your furniture. Add a sink or blocks to make it an even more versatile "house" play table.
---
17.

Asian Inspired Table from 1001 Pallets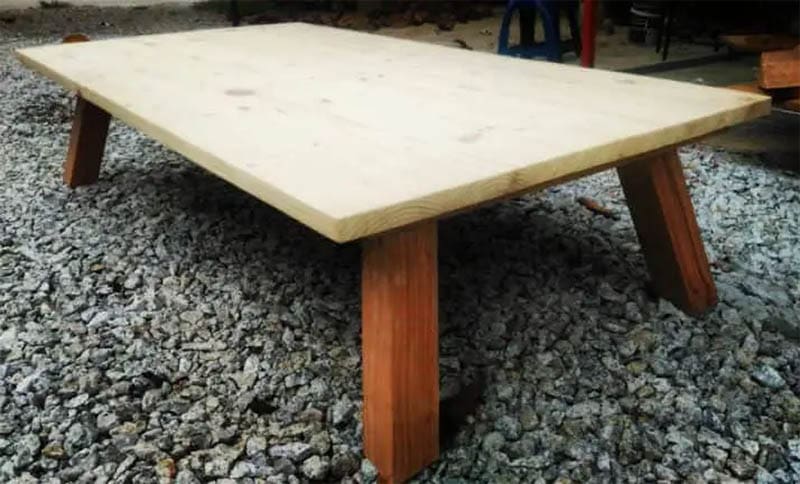 If you want something eclectic that will stand out and be truly original, this DIY project by 1001 Pallets is a good choice. This is an easy to accomplish, Asian inspired table where the craftsmanship is in the details. You can keep this project simple, or add small touches that will still give the table a minimalist air with unique accents.
---
18.

Lift Top Coffee Table From 101 Pallets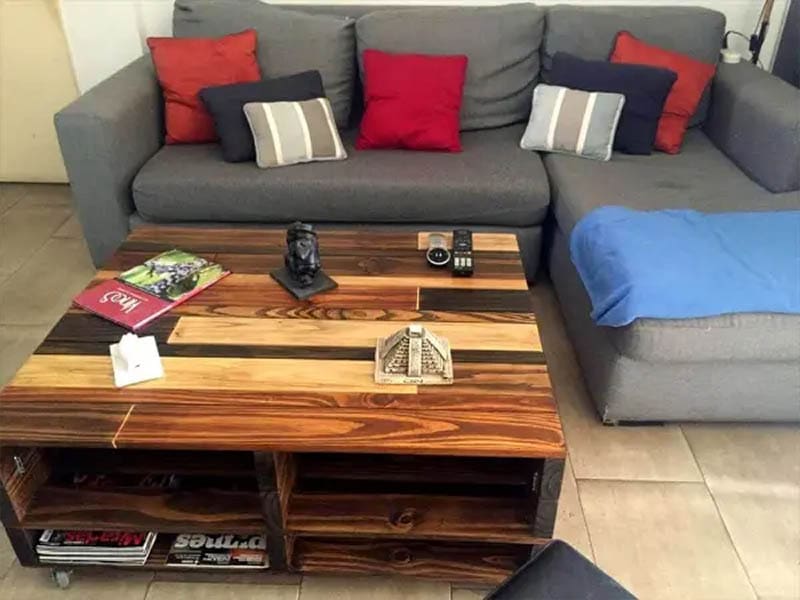 If you have never seen a lift top coffee table, 101pallets has a great plan for you to DIY this project yourself. This plan takes a bit more skill and hardware, but the end result is a table with convenient storage that you can lift and use as a desk or dinner table.
---
19.

Garden Table and Chairs from A Piece of Rainbow
This last option is going to take some skill, additional materials, and time, but the end effect is unique, quaint, and original. A Piece Of Rainbow has delivered precise instructions to create this set with enough giggle room to make it your own. Not only will you have a beautiful set to welcome in the spring, but this set stacks for easy storage during the off-season.
---
20.

Herringbone Top Coffee Table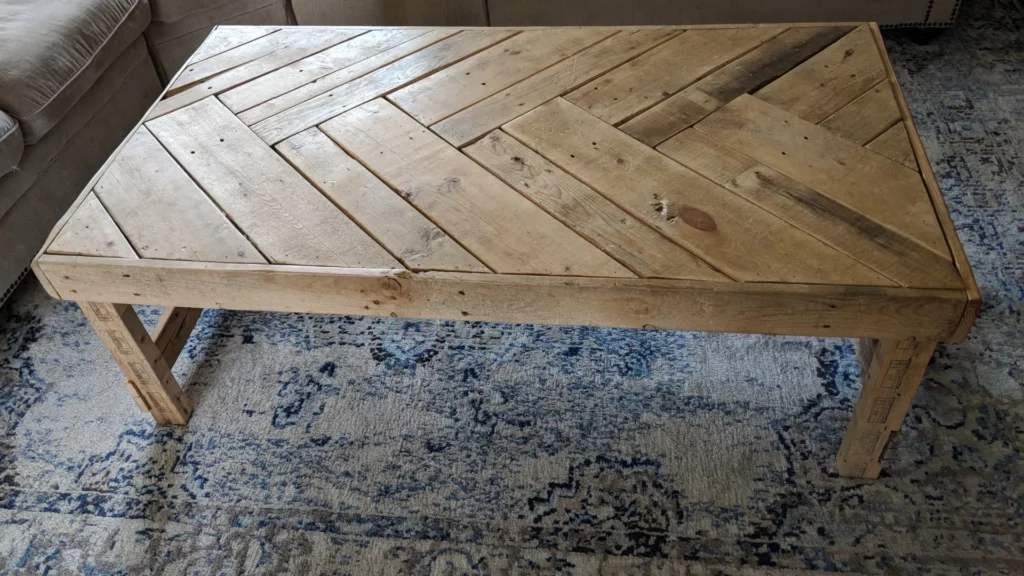 From classic to contemporary, herringbone has its place in any style. What better way to add flexible flair to a DIY project than this herringbone-top coffee table? It is easier than it appears, and you will love getting a custom look on the cheap.
---
21.

Pallet Porch Table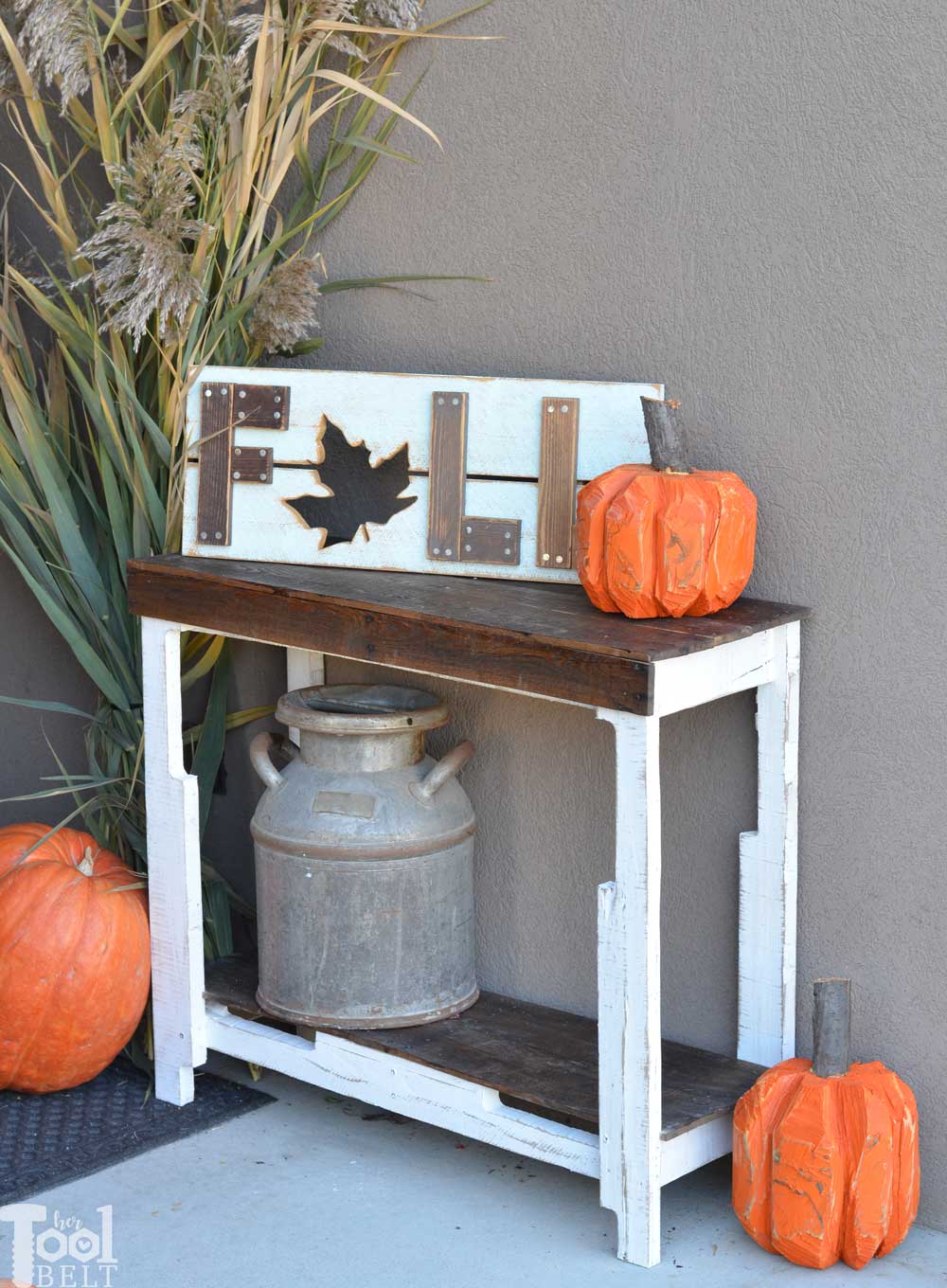 Break down a couple of pallets to make this simple and small porch table from hertoolbelt.com. This slimmed-down table can be an ever-changing catchall for your seasonal decorations. The pallet notches add some style without any extra effort. Plus, they can give the perfect support for a removable shelf.
---
22.

Pallet Workbench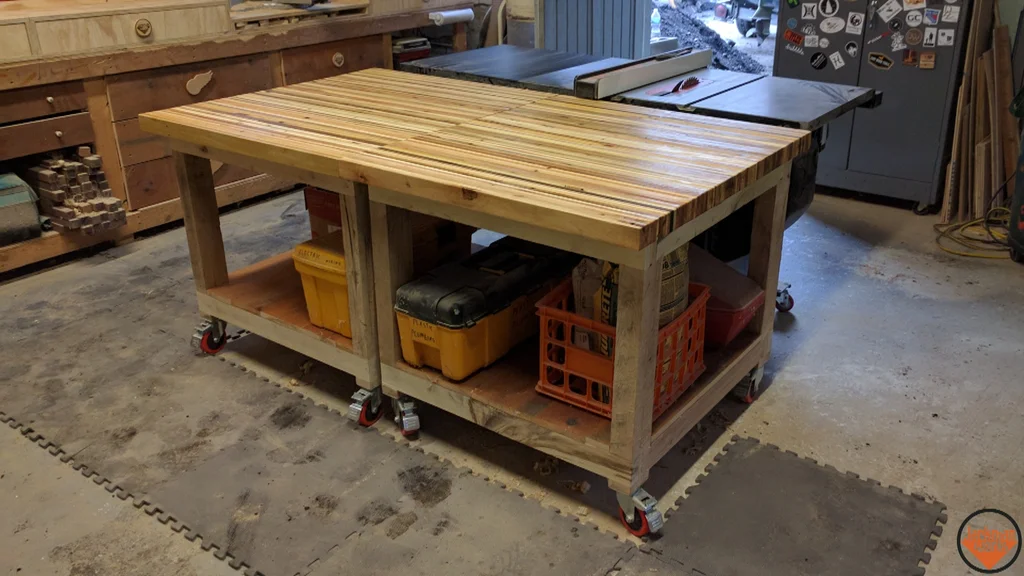 You will have a tough time telling that this handcrafted workbench came from old pallets once you see the final product. The stacked effect gives it a gorgeous clean character, taking a little extra effort that you'll be glad you made. But add the dovetail leg joinery, and it's clear this build isn't for the novice nor the faint of heart.
---
23.

Multi-Purpose Pallet Project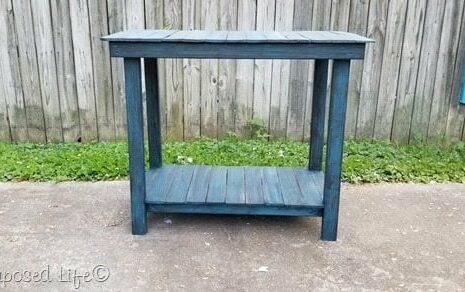 A pallet coffee bar can fit many roles around the house. With a few screws and some Gorilla Glue, this versatile table will be ready to take on anything from the kitchen to the bedroom. You even get helpful tips for getting a one-of-a-kind distressed paint job.
---
24.

Easy End Tables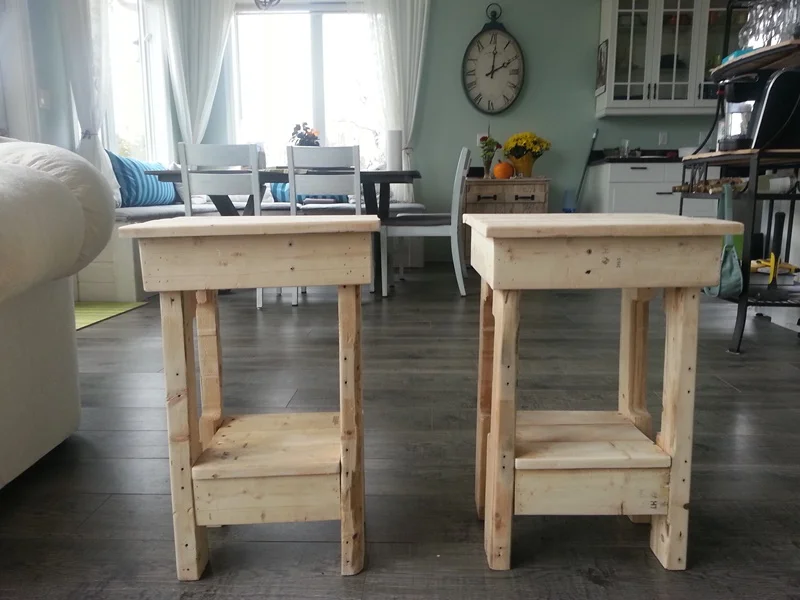 An end-table emergency is one disaster you never expect. When you need a pair of full-sized end tables in a hurry, these plans from instructables.com are for you! Knock apart two pallets, then knock out these simple side tables in only a couple of hours.
---
25.

Hingeless Folding Table
No matter where you go, you will be sure to impress whenever you pull out this portable folding table from Creative Pallet Ideas. There's no hardware to make it work, only a clever design and a few precise cuts. The rounded carrying handle finishes this simple yet flawless project.
---
26.

Roll-Up Folding Table
Nothing is more compact and easy to carry than this roll-up table from Gokman ALTUNTAS. Slip it in a tent bag, and you'll be ready to bring it to any outing, like your kid's soccer games or your next camping trip.
---
27.

Folding Pallet Table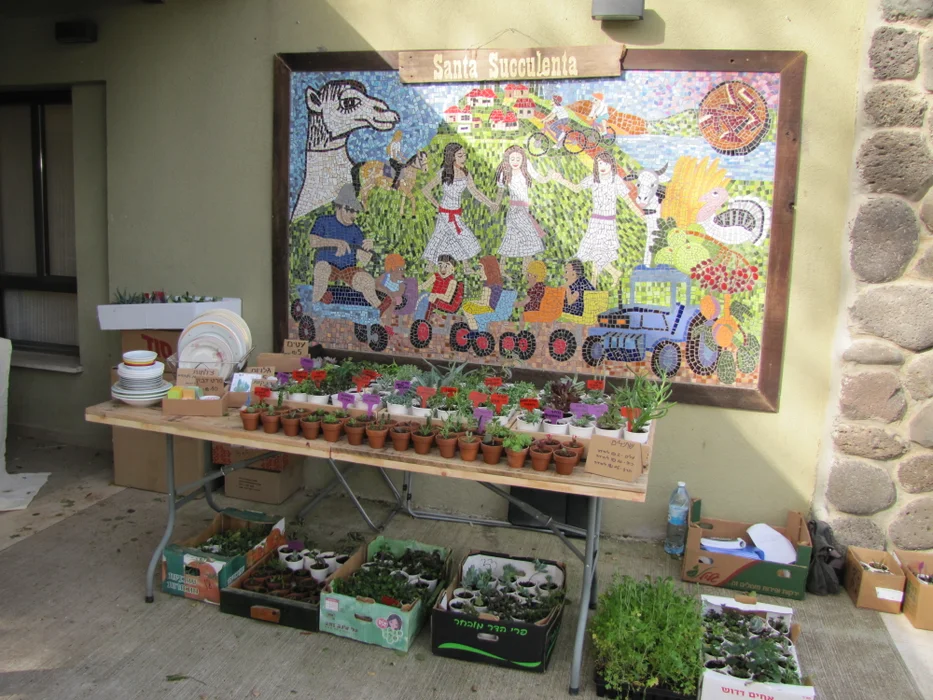 Finding its place in spots like farmer's markets, outdoor concerts, family get-togethers, and more, the folding table is a staple in so many social situations. But unless it has a neat tablecloth, that plastic top makes any setup look bland and basic. Try your hand at this pallet folding table from instructables.com, and you'll craft a classy portable counter you won't want to cover.
---
28.

Pallet Desk with Drawers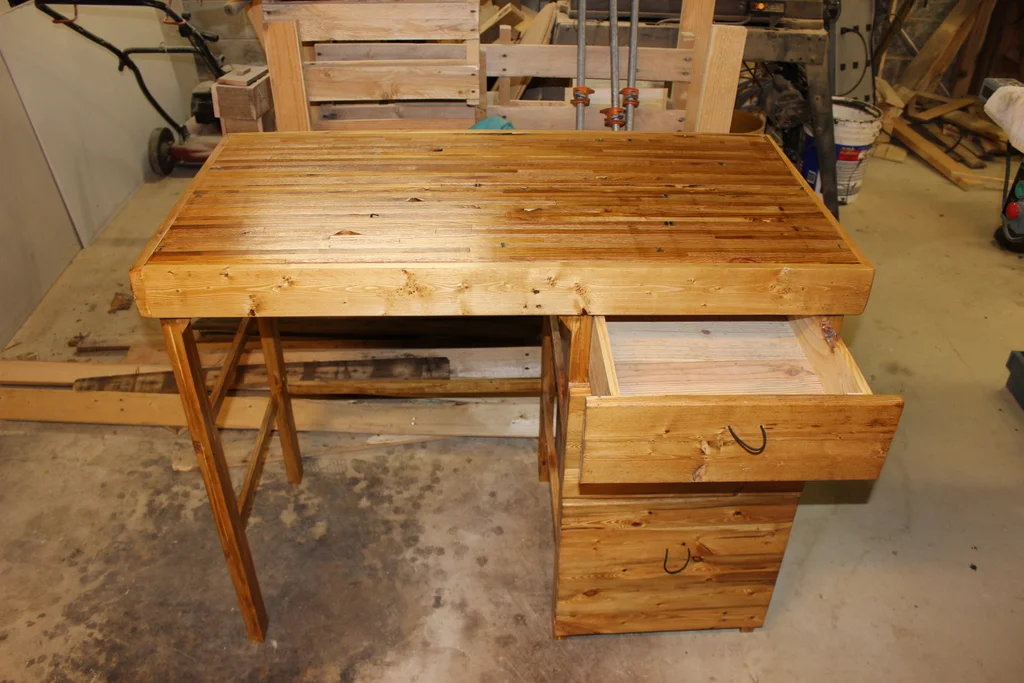 You would never know this rustic desk with drawers from instructables.com came from a pile of pallets. The stacked style again creates a cool texture for the top. A cut groove makes the drawers function, giving you a smooth-gliding place for accessories, stationary, and files.
---
29.

Coffee Table with Secret Storage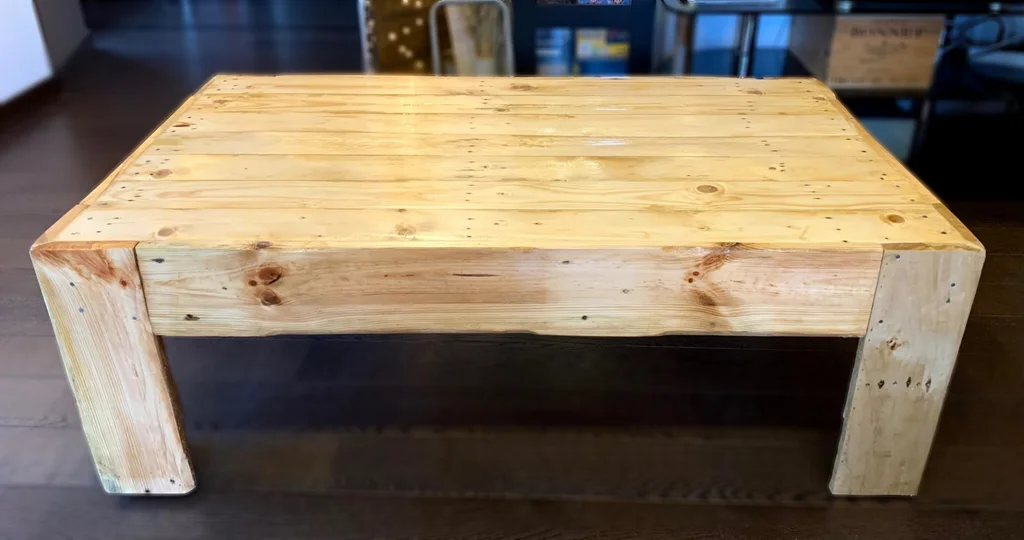 Do you have a problem with people leaving the remote, game controllers, coasters, and books scattered all over? Whatever it is, you can keep it safe and sound with this beautiful cocktail table with a hidden fold-down storage compartment from instructables.com. And storage isn't the only secret system. The invisible casters make it easy to move without hurting the look.
---
30.

Two-Toned Pallet Computer Desk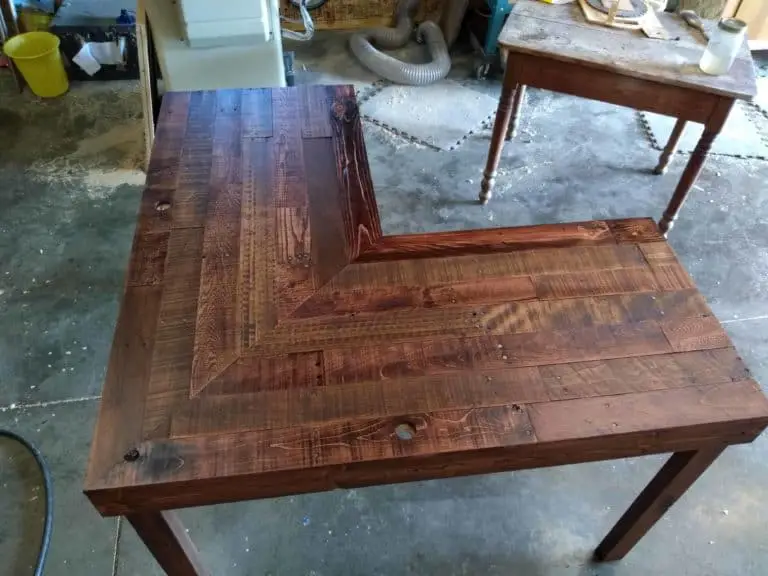 When you need more monitor space, jump into these L-shaped computer desk plans from 1001pallets.com. It is easy to build and looks gorgeous with a stain. The legs are store-bought, but some distressing gives the whole build a rustic reclaimed look.

These DIY pallet projects will take different levels of skills, hardware, and time, but the end results will give you sustainable pieces that reflect your taste, style, and creativity. By using different hardware, wood stains, paint, and other materials, you can design a table that is coastal quaint, rustic comfort, and unique modern all while utilizing spare parts found in your own back yard!
We hope you enjoyed learning how to build a pallet table of your very own with one of these genius plans!
---
Featured Image Credit: vfhnb12, Shutterstock