6 Best Bidet Toilet Seats in 2023 – Reviews & Top Picks
Whether you want cold and warm water with variable stream options and multiple user presets, or you're happy with a heated seat, getting the right bidet toilet seat is important. As well as choosing a model that incorporates the features you want, you should consider the speed, the available water pressure, and the noise levels of the bidet seat.
The seat itself should be comfortable and convenient, too. Ease of installation, and whether the seat is electric or requires a connection to the hot water are other important factors. Environmental friendliness, remote or fixed control, and the inclusion of deodorizers are some other features found on certain models.
There are a lot of options, and the cost of these seats can vary dramatically from budget options that cost only a little more than a standard toilet seat, to tricked out and lavish models that include every possible feature. To help you find the best bidet toilet seat with the features you really need, we have put together a list of reviews of the best bidet toilet seats on the market.
---
A Quick Comparison of Our Favorites
Rating
Image
Product
Details

Best Overall

Bio Bidet Ultimate BB-600

Competitive price
Tank reservoir
Warm air dryer
CHECK PRICE

Best Value

Lotus Smart Bidet ATS-500

Cheap
Eco-friendly mode
Heated seat
CHECK PRICE

Premium Choice

TOTO 350e Washlet

Remote control
Nightlight illuminates the bathroom
Ewater+
CHECK PRICE

SmartBidet SB-1000

Cheap
Remote control
Front and rear cleaning modes
CHECK PRICE

Brondell Swash 1400

Nightlight illuminates well
Heat seat does a good job
Warm air dryer
CHECK PRICE
The 6 Best Bidet Toilet Seats – Reviews 2023
1.

Bio Bidet BB-600 Advanced Bidet Toilet Seat– Best Overall
The Bio Bidet Ultimate BB-600 Advanced Bidet Toilet Seat is an elongated bidet seat. The side panel controls are easy to reach, although they do require some twisting to read the buttons. The soft close seat is made from antibacterial material and also has a heated function for even greater comfort.
The bank of buttons gives you access to seat warming, water temperature, and water pressure, as well as nozzle position features. It also controls the front and rear cleaning functions, oscillating and massage modes, and it allows you to choose auto wash or kid's wash settings, which make the BB-600 suitable for use by all members of the family. The seat uses a tank reservoir, which prevents cold water spots, ensures a steady stream, and is environmentally friendly. Once the cleaning cycle is complete, the BB-600 also offers a mild warm-air dry.
It has front and rear cleansing using warmed water, is made from antibacterial materials, and has a wide clean function.
The Bio Bidet has a lower price than premium models but offers most of the same features and functionality. Overall, it is an excellent choice and the best bidet toilet seat we have reviewed, although we would have preferred a remote control option, and you may have to use the aerate feature if you find that the water pressure is a little too vigorous.
Pros
Competitive price
Tank reservoir
Warm air dryer
Warm air dryer
Cons
Water pressure high in standard setting
---
2.

Lotus Smart Bidet ATS-500 Toilet Seat– Best Value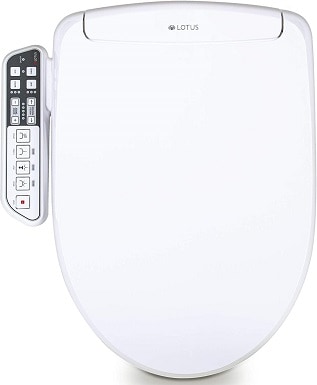 The Lotus Smart Bidet ATS-500 Toilet Seat fits round and elongated toilet designs. It has a soft close lid, so is safe on fingers and minimizes nighttime noise. The controls are laid out on a bank on the right-hand side of the toilet with the regular controls located at the front of the controller and easier to find. The seat is warmed for extra comfort.
The Lotus Smart Bidet is billed as being good for the environment, thanks to an eco-friendly mode, and because its air dryer prevents the use and disposal of toilet paper.
The adjustable nozzle is jet washed before and after use ensuring total cleanliness, and settings include turbo wash, rear and front wash, and energy-saving mode.
The wide range of features and the low price of the Lotus Smart Bidet ATS-500 Toilet Seat make it the best bidet toilet seat for the money. However, the plastic of the lid and the seat seem to lose their shine quickly, which is a disappointment because they are not as cheap to replace as a standard seat.
Pros
Cheap
Eco-friendly mode
Heated seat
Cons
Doesn't take long to look worn
---
3.

TOTO 350e Electronic Bidet Toilet Seat– Premium Choice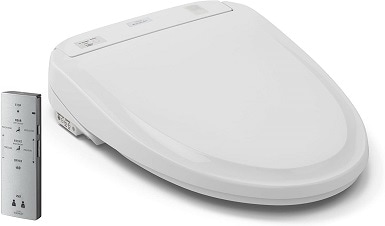 The TOTO SW584#01 350e Electronic Bidet Toilet Seat is not cheap. In fact, it's the most expensive on our list, but you do get a lot of functionality for your money. The seat itself is heated and has auto open and close features. It also has a convenient nightlight to improve your experience in the bathroom. Tankless water heating ensures that you always have access to warm water when needed, even if you're last in line.
The bidet pre-mists the toilet before every use, to prevent stubborn soiling. Features include front and rear washing, 5 different water pressure settings, and the Ewater+ compound, which is used to clean the bowl before and every use. All controls are managed through a convenient and simple remote control.
This is a high-quality and highly functional bidet toilet seat, with some really luxurious features, but there are some issues with the product's longevity.
Pros
Remote control
Nightlight illuminates the bathroom
Ewater+ cleans and cleanses the toilet
Instant warm water from tankless design
Cons
Expensive
Won't last too many years
---
4.

SmartBidet SB-1000 Electric Bidet Seat
The SmartBidet SB-1000 Electric Bidet Seat is an inexpensive bidet seat. It has a soft closing lid and different models are available for either elongated or round seat designs. The company claims it is easy to install, but it isn't as simple as other devices.
The water hose that comes with it is also very short, so it may be necessary to buy a longer and more appropriate hose.
It does have front and rear washing, as well as a heated dryer. There is a turbo wash but this was too vigorous for serious use. All the settings are done via the handy remote control and the energy-saving mode can be used to reduce your impact on the environment.
Pros
Cheap
Remote control
Front and rear cleaning modes
Cons
Hose is short
Turbo mode is violent
---
5.

Brondell Swash 1400 Luxury Bidet Toilet Seat
The Brondell Swash 1400 Luxury Bidet Toilet seat is on the higher end of the budget scale. It isn't as expensive as the TOTO but is still a pricey model. But, it comes with a remote control rather than a control panel. It has two stainless steel nozzles, a warm air dryer, and it even has an ambient nightlight to bathe your bathroom in a warm glow of candescent light.
The endless warm water spray and heated seat add extra luxury. Unfortunately, the round seat model does leave you with quite a small toilet seat hole due to all the hardware. Also, the seat doesn't do as good a job of cleaning as other models do, including some of the less expensive and less technical models.
Pros
Nightlight illuminates well
Heat seat does a good job
Warm air dryer
Remote control
Cons
Round seat doesn't leave a lot of room
Very technical
Expensive
---
6.

Kohler Novita BD-N450US-N0 Elongated Bidet Seat
The Kohler Novita BD-N450US-NO Elongated Bidet Seat uses an automatic water heater, so it can provide constant access to warm water when it is needed. The stainless-steel wand cleans before and after every use to ensure cleanliness.
Front and rear wash modes and a 3-level adjustable nozzle mean that the Kohler is well set up to keep you clean. What's more, it can be done using the waterproof remote control. There are some issues with the position of the dryer fan and it can feel like it's facing in the wrong direction. It also took some time to get used to the remote because the instructions aren't great. It can also be a challenge to turn off some of the features you might not want, like the night light.
Although the Kohler is a decent bidet toilet seat and does a good job in most ways, it is a challenging model to master and it could do a better job of being intuitive and easy to use.
Pros
Automatic water heater
Adjustable nozzle
Nightlight
Cons
Instructions are challenging
Difficult to turn off settings
Remote isn't intuitive
---
Buyer's Guide – Choosing the Best Bidet Toilet Seat
Bidet toilet seats can cost upwards of $150, and as much as $1,000. Considering how often you use a toilet seat, even the high-priced models can seem like a reasonable investment to ensure and improve personal hygiene. However, the cost can be off-putting because we simply aren't used to spending that amount of money on what is basically a toilet seat. Whether you opt for a budget or luxury model, there are certain key factors and features to look for.
Choosing the Right Seat Shape
The first functional factor to look at is the shape of the seat. Whether you buy a round or elongated design will depend entirely on the shape of your current toilet. If you have a round toilet, buy a round bidet seat. The electronics and nozzles can take up a lot of room and minimize the gap in a round toilet seat, so do ensure that you take this into account when considering a bidet seat.
Access to Electric Outlets
If you want features like warm water, air dryers, and nightlights, you will need an electrical connection. The vast majority of toilets and bathrooms do not have electrical outlets, for safety reasons, so either check whether you have a mains connection in your bathroom or get quotes for running electricity into your bathroom before you buy this type of model. The alternative is a cold-water seat that doesn't require an electrical connection.
Water Tank or Water Heater
Tank, tankless, and hybrid are the main types of bidet seats available:
Tank – A tank system has a warm water tank, usually at the rear of the seat. Water is stored in the tank, heated, and then used on demand. This type of system does offer access to instant hot water, but only as long as it is available. When the water in the tank is used up, it will have to refill and reheat before there is hot water. This means that a tank system uses a constant supply of hot water.
Tankless – Tankless systems heat the water as it is used, rather than storing it. This means that it does not need to use electricity all the time, but it cannot give access to hot water straight away, which means that you will have to endure a few seconds of tepid or cold water spray. The lack of a tank means that tankless units tend to be smaller and sleeker than tank units.
Hybrid – A hybrid system offers the benefits of tankless and tank units. They have a small reservoir, which warms up a small amount of water when you first use the bidet. This means that you don't have to put up with the splash of cold associated with a tankless system. It takes less heating than with a full tank system, but it does still require some heating.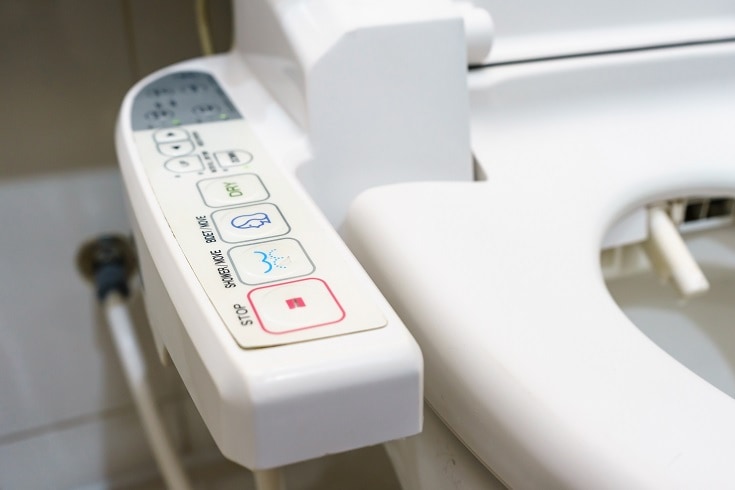 Remote Control or Control Panel
All bidet seats have buttons to control their functions and settings like water flow. Some bidet seats have a control panel, typically to the right of the seat. The control panel should be easy to understand and use. It will normally offer the most frequently used buttons and presets at the front of the control, with less-frequently used settings at the rear.
Alternatively, some seats offer remote control. The remote control is usually more convenient, and it is easier to change the settings while sitting and using the toilet. You should also get a remote control holder that may need attaching to the wall or the side of the basin.
Features and Settings
Among the different settings and features found on bidet seats are the following:
Heated Seat – Sitting down on the seat, typically in the middle of the night or early in the morning when the heating hasn't had the opportunity to warm the seat, means sitting on cold plastic. It's uncomfortable and can shock you into waking up. A heated or warmed seat makes the whole experience a little more comfortable and less of a late-night shock.
Feminine Wash – Most electric bidet seats have adjustable nozzles so you can ensure that they are hitting the right areas. With a feminine wash, the bidet seat has front-facing nozzles to clean the front and rear.
Dryer – A warm air dryer offers a convenient and hygienic way to dry the area, after cleaning. It directs warm air for several seconds and should provide enough heat and warmth to completely dry you.
Nightlight – A nightlight may not be a functional bidet setting, but it can be very beneficial. The nightlight bathes the toilet and the surrounding area in light, making it easy to find your way in the dark and without having to turn the full light on.
Beyond these features, you should also consider standard toilet seat features. Soft closing lids can prevent injury to fingers and minimize loud noises in the middle of the night. The curve of the seat will also determine how comfortable the seat is during use.
Conclusion
The best bidet seats are comfortable and they enhance personal hygiene, replacing the need for toilet paper. Costs can vary wildly according to the features and other factors, so it is important that you get the right model.
Determine the shape and size of seat you need, and what features are required, and use our reviews to help you find the best bidet seat for your toilet and your needs.
We found the Bio Bidet Ultimate BB-600 Advanced Bidet Toilet Seat has a heated seat, uses a water tank, and has a good range of features despite being moderately priced. The Lotus Smart Bidet ATS-500 Toilet Seat has a decent range of features, despite being priced much lower than the Bio, but you will have to settle on a control panel to the side of the seat.
---
Featured Image Credit: Thanakrit Pongprawat, Shutterstock