10 Best Toilet Safety Rails in 2023 — Reviews & Top Picks
According to a 2017 report from the Center for Disease Control, 235,000 Americans go to the emergency room every year with injuries sustained in their own bathrooms. As you get older, your risk of being hospitalized from slipping and falling in your bathroom increases, with seniors between 65 and 85 most at risk.
That same CDC report mentions that while slips in the bathtub and shower represent the two most common causes of bathroom injuries, the third-most common cause is getting on and off the toilet. Fortunately, a set of toilet safety rails can greatly decrease your risk.
There are a lot of toilet hand rails on the market, and a lot of them look the same. We're here to help you cut through the noise. In this review, we've listed some of our favorite toilet safety rails — we hope one of these will be right for you, too.
---
A Quick Comparison of Our Favorites in 2023
Rating
Image
Product
Details

Best Overall

Medline MDS86100RF

Fits all kinds of toilets
Comfortable armrests
Durable
CHECK PRICE

Best Value

Moen DN7015

Affordable
No-hassle installation
Strong
CHECK PRICE

Premium Choice

RMS Safety Frame & Rail

High-quality construction
Comfortable armrests
Foot plate
CHECK PRICE

Vive Safety Rail

Compact
Non-slip armrests
Adjustable in two directions
CHECK PRICE

Vaunn 10710-OG

Can be used in the whole house
Sturdy construction
No screws or tools to install
CHECK PRICE
The 10 Best Toilet Safety Rails
1.

Medline MDS86100RF Toilet Hand Rails – Best Overall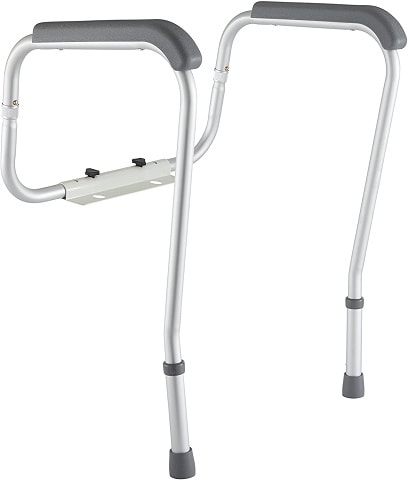 Medline is easily our favorite pick for the best toilet safety rail. It combines strength, comfort, and ease of use, getting almost everything right. The first thing you'll notice is the soft foam armrests that make the metal frame much more comfortable to put weight on. We also like the adjustable handles that let every user find their own comfort preference.
This toilet hand rail is one of the most versatile out there, fitting round-bowl and elongated toilets, along with both standard and comfort heights. The aluminum frame can hold up to 300 pounds, and is easy to clean. It can also be installed in under 30 minutes, even by people who aren't very handy.
One thing to beware of: these toilet hand rails do not ship with installation instructions, so be prepared to look on the internet to figure out setup. The arms do not initially come locked in place — if you miss this, you might think the rails are wobbling or unsafe. They're not, but it takes a bit of extra work to get them there.
Pros
Fits all kinds of toilets
Comfortable armrests
Durable
Easy install
Cons
No instructions
Arms are wobbly until locked in place
---
2.

Moen DN7015 Toilet Safety Bar Rails – Best Value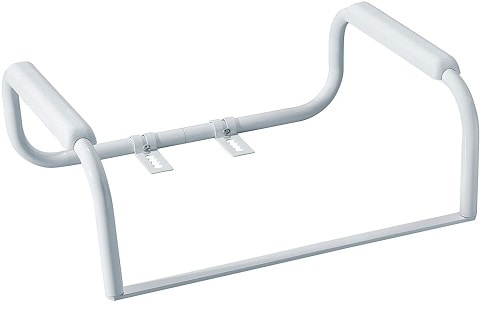 If you're looking for a toilet safety frame on a budget, your search ends here: well-known fixture makers Moen have the best toilet safety rails for the money. This simple unit fits underneath your toilet seat, and can hold up to 250 pounds.
It's hard to imagine an easier installation process, and Moen's limited warranty adds even more peace of mind. This unit also complies with the Americans with Disabilities Act and can be used in public restrooms. It even looks good — if you have other Moen products in your bathroom, the safety bar will coordinate so well you won't notice it until you need it.
There are a couple of sticking points that make this a "value" choice rather than a top product. The metal looks fine for a while, but after a few years of use, has been noted to rust. We've also noticed that the plastic bolts holding it to the toilet seat need to be regularly re-tightened.
Pros
Affordable
No-hassle installation
Strong
Looks good
Cons
Rusts after several years
Bolts occasionally start to come loose
---
3.

RMS Toilet Safety Frame & Rail – Premium Choice
This set of portable safety rails is on the more expensive end, but it's worth it for extreme flexibility: it's easy to carry and requires no setup. If you have mobility issues, you can take this out in public and use it in practically any restroom you encounter.
Whether you take it out or stay home, this is one of the most comfortable toilet hand rails we've ever used. You can feel the higher quality in the fit, the armrests, and the extra leg support from the 7-inch foot plate.
So why isn't this in the top spot? A couple of reasons. It might be out of the budget for many people. It also doesn't come with instructions for how to fold it — you and your caregiver will have to figure that out yourselves. Finally, while the foot plate itself is nice, its plastic flanges are surprisingly sharp and painful if you step on them.
Pros
High-quality construction
Comfortable armrests
Foot plate
Zero-effort setup
Portable
Cons
No folding instructions
Expensive
Plastic foot plate rims are painful to step on
---
4.

Vive Toilet Hand Rail
Here we've got another simple rail that attaches underneath the toilet seat. While it doesn't fold up, it's compact enough to carry around, and it's a breeze to remove from one toilet and use on another.
Vive's toilet hand rail earns our top spot for its armrests, which are both comfortable and easy to grip without slipping. The height and width of the rails can also be adjusted for different toilets and body types. We also like how well the steel pads hold the whole unit in place under the seat.
A word of warning: while those pads are secure, they aren't connected by a brace, and thus will only work if you stand straight up and down. Twisting to the side can dislodge the whole rail. This is an excellent safety product otherwise, but since Moen's portable rail provides the same service for a lower price, we've given it the edge.
Pros
Compact
Non-slip armrests
Adjustable in two directions
Cons
More expensive than some similar products
Can slip if twisted too far the wrong way
---
5.

Vaunn 10710-OG Deluxe Bathroom Safety Toilet Rail
Vaunn's toilet safety attachment is a freestanding frame that can be adjusted from 27.5 to 33 inches to match standard or comfort-height toilets. It's ADA-compliant, built of tough but light steel, and able to hold a user up to 300 pounds.
We like its no-tool installation, but lots of toilet hand rails work that way. What sets Vaunn's model apart is the way you can use it elsewhere in your bathroom, and in other rooms too — if you're recovering from surgery, it could be the only safety frame you'll need until you're mobile again.
If there's anything we don't like here, it's that the width of this frame isn't as flexible as the height. It's a bit narrow, and can't be adjusted. We look for more accommodation of different needs in a "deluxe" set of rails, so this only takes the #5 spot.
Pros
Can be used in the whole house
Sturdy construction
No screws or tools to install
Cons
Narrow
Width can't be adjusted
---
6.

Drive Medical RTL12079 Stand Alone Toilet Hand Rails
This toilet safety frame from Drive Medical has an unusual shape. Most of the frame is at floor level, with only the arms reaching above the toilet seat. This makes it a great choice for people with freestanding bidets in the bathroom.
It's wide and extremely sturdy, also making it ideal for people over 250 pounds — or anybody who doesn't like bumping into the rail while they're trying to wipe. Note the added storage rack that's great for holding reading material.
We were disappointed to see that despite the good width and height, you can't adjust these rails. They are the size they are. This unfortunate lack of versatility, plus the absence of rubber pads to keep it from slipping on the tile (though you can at least add your own), combine to keep Drive Medical out of the top five.
Pros
Good for bidet fans
Accommodates overweight users
Magazine rack
Cons
No non-slip feet
Can't be adjusted
---
7.

Carex FGB36800 Toilet Safety Rails
This portable toilet safety rail rests on the bowl and uses the seat to hold it in place, similar to the Vive and Moen models at 2 and 4. Carex's portable rail makes its mark by being the cheapest option so far, and by having an adjustability range that matches both round and elongated toilets.
While the cushioned armrests and 300-pound capacity are nice, Carex is at #7 for a few reasons. The plastic no-slip caps sometimes fall off, and are small enough that you can flush them down the toilet if you aren't careful — damaging both the safety rails and your plumbing. Also, installation is difficult, requiring you to remove part of the seat.
Pros
High weight capacity
Portable
Matches all toilet sizes
Comfortable sit
Cons
Unexpectedly complex install
Plastic caps can fall into bowl
Metal feet aren't secure
---
8.

OasisSpace Stand Alone Toilet Safety Rail
OasisSpace comes in eighth with a medical-grade safety rail that checks a lot of the boxes we like: rubber feet to keep from slipping, a simple fold for storage and portability, and extensive, non-slip foam armrests. You hold it in place by clamping it between the toilet tank and seat, making it another strong option if you're looking for safety rails you can use anywhere.
That unique attachment method is a double-edged sword, though. We put this frame at #8 because, while sturdy and comfortable, it has a habit of knocking the seat shut. If you're just trying to use the toilet without hurting yourself, OasisSpace might present a few too many nasty surprises.
Pros
Can be used anywhere
Non-slip foam armrests and sturdy rubber feet
Easy to use even with mobility restrictions
Cons
Sometimes slips and knocks toilet seat shut
Expensive for temporary use
---
9.

HEALTHLINE HL7302-10 Toilet Hand Rail
These last two safety rails still have our recommendation, but we don't recommend choosing them over any options higher up on the list. This Healthline model is a perfectly good bathroom aid for disabled users of all ages, and will majorly increase safety and comfort on the toilet, especially if you weigh over 250 pounds.
What we don't like is the complicated installation, which requires you to bolt the rail to your toilet to secure it in place. This means it slides around less, but also that it can only be used in one bathroom. The armrests aren't nearly as comfortable as we'd like, and the height of the handles can't be adjusted.
Pros
Secure and doesn't slide
Handles a lot of weight
Cons
Not portable
Not a universal fit
Uncomfortable armrests
---
10.

Ideaworks JB4349 Deluxe Toilet Safety Rail
Finally, we've got another freestanding safety frame. Like Drive Medical's rack at #6, it sits at the foot of your toilet, with the arms coming up to seated shoulder height. It's easy to assemble, and its feet don't slide along the floor under pressure. We like that it fits easily in any bathroom. It's also been known to remain sturdy after years of use.
Yet the downsides are too numerous to put it any higher. While strong, it feels flimsy, which can make using the bathroom an anxiety-riddled experience. It also has a tendency to wobble when pressure isn't applied exactly equally to both sides. Lastly, it's way too easy to painfully stub your toes on the foot frame.
Pros
Feet stay in place
Doesn't take up bathroom space
Sturdy and long-lasting
Cons
Feels shaky
Can tip to the side under pressure
Stubbing toes on frame is painful
More expensive than necessary
Flimsy, low-capacity magazine rack
---
Buyer's Guide – Finding the Best Toilet Safety Rail
The first step in buying bathroom safety rails is to figure out your exact needs. Do your best to answer the following questions. If needed, replace "you" with the family member you're buying the safety frame for.
How old are you? The older you are, the more likely you are to suffer a debilitating fall in your bathroom.
Do you need the rails temporarily or permanently? People recovering from injuries might need toilet safety rails temporarily, while the elderly or those who suffer from chronic pain might need them permanently.
Do you want to use these rails in just one bathroom or multiple? Some safety rails need to be bolted onto your toilet, and thus can't be moved. If you want to be able to use the bathroom at friends' houses, or in public, look for safety rails that don't bolt in place. You'll also want frames that can be easily folded up and carried.
How much do you weigh? People over 225 pounds or so might run into issues with both the width and the carrying capacity of certain frames. Make sure to get one that can hold you.
How much space do you have in your bathroom? Some safety rails take up more or less space.
Next, make your budget. Good safety rails can be found for as little as $20, but you'll find different types in different price ranges. The $20 to $30 range includes armrest-only frames that clamp under the seat. From $30 to $50, you'll discover freestanding and bolt-on frames that are solid and comfortable, while premium models can run up to $100.
Once you've picked the safety rail you want, it's absolutely critical that you take precautions. Don't buy a toilet rail for yourself or anybody else without testing to make sure it can support the intended user's weight. When putting a frame together, test each part to make sure you've assembled it correctly, and regularly recheck to ensure nothing has come loose.
One other important note: unless your rail has a built-in magazine rack, don't use it for any purpose other than toilet safety! It's not a clothes hanger or a towel rack, and definitely not a replacement for your walker or cane.
It goes without saying that we aren't doctors and none of what we've written here should be taken as medical advice. If you aren't sure whether you need toilet safety rails, and what kind, consult with your doctor.
---
Conclusion
For our reviews, we tested a wide range of freestanding, bolt-on, and seat-held safety rails, and came out with a clear winner for the best toilet safety rail. The Medline MDS86100RF Toilet Safety Rails can be installed lightning-fast without any technical knowledge — the only drawback is that the instructions are lacking. Once you have it safely in place, it's a supremely comfortable product that will keep you safe in the bathroom without restricting your movements.
It's also affordable, but if you're really on a budget, you can still get a quality product with the Moen DN7015 Toilet Safety Bar Rails, our pick for the best toilet safety rail for the money. Just be careful to check once a month or so to see if the screws have gone loose.
We hope our reviews have helped you narrow down your search for toilet safety rails. Don't stress too much: any set you get will be better than nothing, and protect you from a lot of potential accidents.