10 Best Blenders for Baby Food – Top Picks & Guide 2023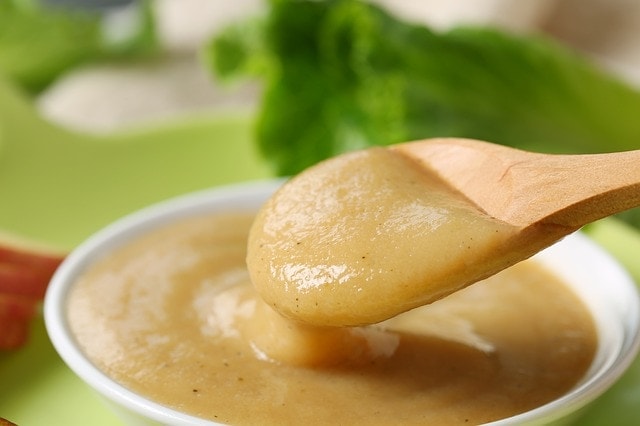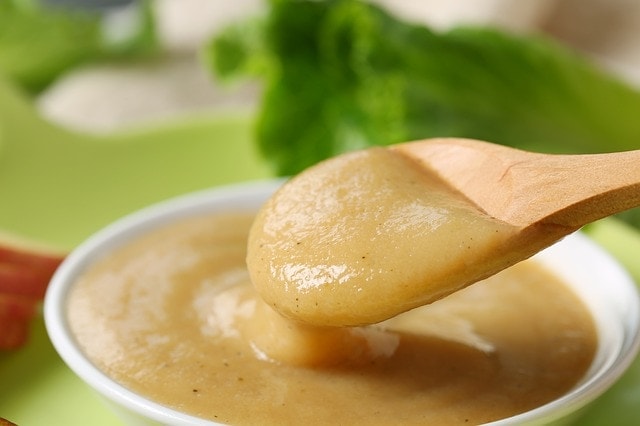 When you have a baby, you want to make all the right decisions. When it comes to feeding, you want to give your baby the best option when preparing meals. For many, that means making organic, chemical-free baby food at home. Years ago, this was a time-consuming task, and it still is today unless you have some help.
With all the gadgets available on the market nowadays, parents have many convenient options. However, that means deciding which baby food blender to purchase can be a stressful undertaking. Parents have enough stress, so we want to relieve that stress and offer you guidance.
You may also be looking at these appliances if you're a caretaker. We want to help you too. When preparing meals for a loved one with special requirements at mealtime, these types of appliances are an excellent resource. Below are our top 10 reviews for the best blender for baby food.
A Quick Glance at the Winners in 2023
Rating
Image
Product
Details

Best Overall

Whale's Love LS-BE617

Five functions
Self-cleaning
Bottle warmer capability
CHECK PRICE

Best Value

Magic Bullet BBR-2001

Affordable
Dated storage cups
Dishwasher-safe parts
CHECK PRICE

Premium Choice

BEABA 912509

One-handed operation
Narrow footprint
Large capacity bowl
CHECK PRICE

QOOC 01 4-in-1

Quiet
Easy to clean
Easy to use
CHECK PRICE

Elechomes

All-in-one
Compact
Low water sensor
CHECK PRICE
The 10 Best Blenders for Baby Food
1.

Whale's Love Baby Food Blender – Best Overall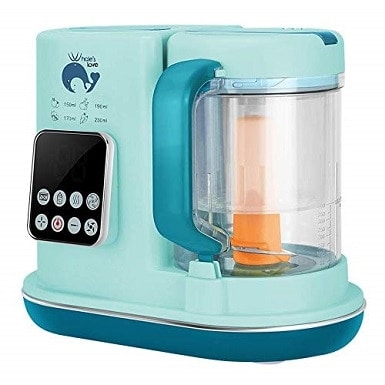 The Whale's Love LS-BE617 Baby Food Maker has all the features you desire when making baby food at home. It's a five-in-one mechanism to steam, blend, warm, reheat, and self-clean with the touch of a button. It includes a blending bowl and a steamer basket to cook multiple items at one time. All the removable parts are food-grade material, as well as FDA- and FCC-approved. This model includes an anti-dry and an auto-shutdown function for safety. It offers the convenience of a large LCD control panel for simple operation.
Alternatively, the water tank doubles as a milk bottle warmer. It's quick and convenient to help satisfy a baby's impatience.
This blender is a pricey option, and unfortunately, there is only one bowl and steaming basket. For the money, this gadget offers many functions. However, be prepared to wash the bowl and basket multiple times when preparing more than one meal at a time.
For the options and functionality, we think that this is the best baby food blender this year.
Pros
Five functions
Self-cleaning
Compact
Easy to use
Large-capacity bowl
400 power watts
Bottle warmer capability
Cons
Pricey
One bowl/basket set
130 blending watts
---
2.

Baby Bullet Blender System – Best Value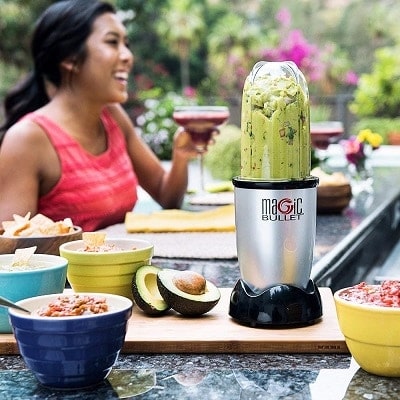 You may have a Magic Bullet for your smoothies, but the brand also makes the Baby Bullet Baby Care System. This 20-piece system has six storage cups with a date-dial feature on each lid, as well as a tip-proof tray for secure storage. Preparing baby food for the week in a short amount of time is the objective of this blender. It has a small cup, a large bowl for batches, and two blades for milling and blending.
Notably, although the containers are BPA-free, they are still plastic, leaving durability in question. With 200 power watts, it's not overly powerful, so don't overpack it before blending, as you may be disappointed. Raw vegetables are noted for jamming the blades, so it's best to steam them before blending, and the compatible steamer is purchased separately, keeping this out of our number-one spot.
The good news is that your baby won't eat baby food forever. If you need a simple, easy, and affordable blender for regular use, we believe this is the best baby food blender for the money.
Pros
Affordable
One-year limited warranty
Dishwasher-safe parts
Dated storage cups
Easy to use
Easy to clean
Cons
All plastic construction
Soft food only
---
3.

Babycook Baby Food Blender – Premium Choice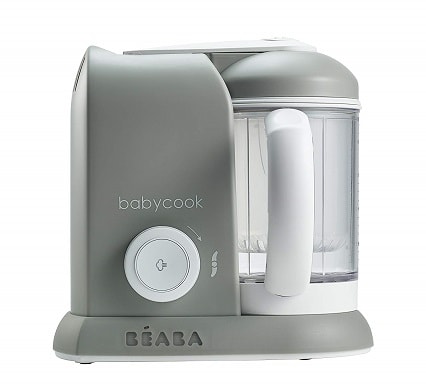 The BEABA Babycook four-in-one will steam, blend, reheat, or defrost food for baby. It includes a steamer basket that can have food ready in 15 minutes or less. The blending bowl capacity is almost five cups, can cook up to 18 servings of baby food at a time, and is easily a one-handed operation. It has an automatic switch-off, a double safety-lock, and integrated spatula storage, and the audible timer lets you know when food is ready. This blender has a narrow footprint, making storage a bit easier.
Although all the removable parts are dishwasher safe, the downside of this model is the integrated water reservoir. With no self-cleaning option, you must be diligent with keeping it clean after daily use to avoid mold growth. You'll also want to be mindful of the kind of water you use, as hard water will cause more issues.
As our premium choice, this best blender for baby food model is the most expensive on the list.
Pros
Large capacity bowl
Easy to use
Narrow footprint
One-year limited warranty
Cons
Expensive
Difficult to clean
Related Read: https://housegrail.com/smoothie-recipes-for-kids-toddlers/
---
4.

QOOC 4-in-1 Mini Baby Food Blender
The QOOC 4-in-1 Mini Baby Food Maker is a compact and quiet blender. It allows you to steam, blend, defrost, and reheat food for your baby all in one unit. The containers are BPA-free plastic and dishwasher safe. This blender may be ideal for the parent who wants a quiet option while holding a sleeping baby. It's also compact and easy to store out of the way.
The setup for this model may be frustrating and laborious. It takes about an hour of sanitization to get it ready for food preparation. Given that this is a mini blender, the capacity is limited to small batches. Fortunately, it doesn't take up much counter space. Users indicate that the steamer works well, but the blending takes much longer to achieve the pureed consistency suitable for a baby.
If you want a model that you can set and forget until you hear the timer, this isn't your pick. This choice is more hands-on, making it less convenient.
Pros
Quiet
Easy to clean
Easy to use
One-year limited warranty
Cons
Slightly pricey
Plastic containers
Lengthy setup
Hands-on
---
5.

Elechomes Baby Food Blender / Processor
The Elechomes Baby Food Maker is another all-in-one model that steams, blends, heats, and sterilizes bottles. It has a dual-layer steamer basket, and you can cook two different foods at one time. With a two-cup capacity, it's compact while still accommodating a sizable batch. With a low water protection sensor, the appliance will shut off if the water level is too low. Additionally, you control the steam strength with the timer. This blender components are BPA-free and FDA-approved food-grade plastic, and the removable parts are dishwasher safe. The blade is detachable for easy cleaning too.
Be aware that using distilled water is a requirement with this processor. If you use hard tap water, you'll have issues with this model, including rust.
If you're looking for a small, affordable model that's easy to use, this may be right for you. However, if you don't want the hassle of buying distilled water, you may want to consider other options.
Pros
Affordable
All-in-one
Easy to use
Compact
Low water sensor
Cons
Distilled water only
Smaller capacity
---
6.

Sage Spoonfuls Baby Food-Blender
The Sage Spoonfuls Baby Food Maker is both an immersion hand blender and a food processor. The versatility of the attachments allows you to control the consistency of the food depending on the feeding stage of your child. The food processor container is BPA-free plastic, and all accessories are dishwasher safe. The mixing blades are stainless steel, and it has a quiet 250-watt motor. It can also be used beyond baby food to chop nuts or puree soup, for example.
While this model offers versatility, it doesn't handle small portions well. If you prefer to make a meal out of 3 to 4 tablespoons, this model may not be ideal for you. The food processor attachment has been noted as having an inadequate locking mechanism, causing the plastic to break.
If you're looking for an inexpensive option to try out before upgrading, this may be the right choice for you. Don't set high expectations, and you may be satisfied.
Pros
Inexpensive
Versatile use
Easy to clean
Quiet
Cons
Food needs to be cooked separately
Not for small portions
Flimsy plastic container
---
7.

Homia Baby Food Blender Chopper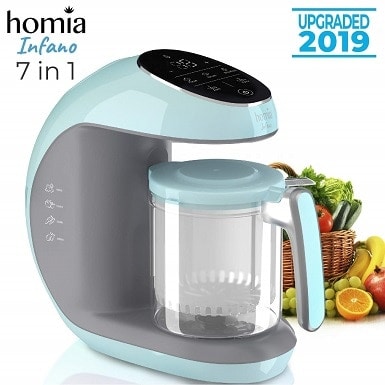 The Homia Baby Food Maker has a sleek and stylish design. It's a seven-in-one model that will steam, blend, chop, disinfect, clean, reheat, and defrost ­— it can do everything but grocery shop for you. With an easy-touch control panel, a low water sensor, and a self-clean option, this brand seeks to make parenting life as easy as possible.
This blender is a bit pricey, but it comes with a three-year warranty. The BPA-free plastic batch container with this model has a smaller capacity than others in this price range, holding up to 20 ounces. However, it has a split basket to steam two different foods at once.
If you need to make large batches at a time or have a limited budget, this may not be the baby food maker for you. If you need as many options in one model as possible and don't mind spending a few extra dollars, this may be perfect for you.
Pros
Easy to clean
Easy to use
Seven-option versatility
Compact
Self-clean function
Wide-opening water reservoir
Cons
Pricey
Limited capacity container
---
8.

Cuisinart Baby Food Blenders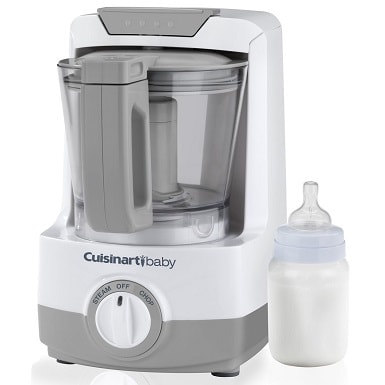 The Cuisinart BFM-100 Baby Food Maker has a large-capacity container holding up to four cups. It has steam, chop, puree, and bottle warmer functions. This choice is another sleekly designed model with an automatic shut-off when the water level is low, and the food steams and purees in the same container. It has a one-dial control with an LED indicator light.
Users note that the steam chamber isn't easy to clean, and a black substance can accumulate. To alleviate this concern, you may have to clean with vinegar often to avoid this issue. The system is also temperamental when it's time to puree if there's too much or too little food in the bowl, and blade engagement is frustrating.
This blender is slightly pricey, and while the bottle warmer function is a nice touch, babies tend to outgrow bottles as they become reliant on solid food. Reheating or defrosting may be a preferred option. However, if you have multiple children that will benefit from both, this may be the perfect fit for your needs. However, for the price, more options would have been a plus.
Pros
Four-in-one function
Easy to use
Large capacity
Cons
Slightly pricey
Difficult to clean
Loud
Temperamental
---
9.

NutriChef Digital Baby Food Maker
The NutriChef PKBFB18 Digital Baby Food Maker is a digital two-in-one steamer and blender. It has an adjustable steam time in increments of 30 minutes, pulse blending at 430 watts, and a food processor speed of 3,000 RPM. The soft pulse option allows you to achieve the consistency your baby needs at every stage of development. The blending cup construction is food-grade plastic, making it dishwasher safe, and has a capacity of 10 ounces. The stainless-steel blade is also removable for easy cleaning. This model has an auto power-off function for safety.
Users have reported that the blending is uneven and often leaves chunks. The food cup is smaller than many other models. Although the water tank is easy to fill, it only has a six-ounce capacity. Unfortunately, this blender has minimal options compared to many other models.
If you're looking for a cheap option to try out, you may be okay with this baby food maker. However, if you need a machine to make life easier and baby food making more convenient, you won't like this pick.
Pros
Affordable
One-year warranty
Steam and blend
Cons
Small-capacity cup
Soft food only
Uneven blending
Small batch only
---
10.

Nuby Garden Fresh Baby-Food Blender Set
The Nuby Garden Fresh Mighty Blender comes with a 22-piece set that includes containers for small and large batches, six storage cups, a flexible freezer tray, and two blades for blending and milling. The milling blade will cut up oats for baby oatmeal. The food containers are BPA-free plastic construction but are not dishwasher safe. You can adjust the blender based on the blend stage suitable for your baby's age and preference.
This model doesn't steam but includes a steamer basket for use in the microwave. Unfortunately, microwaving food will deplete the nutrients that you prefer to save for your baby and defeats the purpose of making baby food at home. Food will need to be cooked before blending, as this model doesn't handle firm textures.
If you want an affordable price and pretty colors, you may like this option. However, if the mere suggestion of cooking your baby's food in the microwave is a turn-off, this isn't for you.
Pros
Affordable
Multi-piece set
Cons
Low-wattage motor
Not dishwasher safe
Blender only
Soft food only
---
Buyer's Guide: Buying the Best Blender for Baby Food
There are a few different kinds of baby food makers. In our review above, we considered blenders and all-in-one machines. Blenders typically have few pieces, and food needs to be pre-cooked before blending. With all-in-one machines, you can steam and blend food in the same machine. Some will have other options, such as bottle warming. Identifying which kind of model you prefer is the first step in the decision.
As with any small kitchen appliance, they aren't designed to last a long time. Fortunately, babies don't eat baby food forever. When researching baby food makers, there are several factors you'll want to consider, such as ease of use, durability, cleaning, portability, and safety.
Ease of Use
You have your hands full taking care of a baby, so it makes sense that you want a blender that will make your life easier. Many models handle multiple functions, like steaming and blending. If you have to cook food separately, it can make the process less efficient, depending on your needs. You'll also want to choose a baby food maker that isn't time-consuming.
Durability
A baby's diet will go through different phases of integrating solid food. You'll want a model that will meet the needs of each baby food stage, from pureed to chunky. You'll also want something that will hold up over time, giving you the best bang for your buck.
Cleaning
With children in the house, cleanup is a never-ending chore. You'll want a blender that's easy to clean, so it doesn't take up so much of your time. To ensure that your child is getting the best nutrition, you'll do whatever it takes, but easy cleaning is a gift in its own right.
Portability
Every parent knows that where the baby goes, the baby's stuff goes too. When it comes to babies and toddlers, there's so much to carry! Whether you're headed to Grandma's for the weekend or vacation for the week, you'll want a model that can travel with you without too much fuss.
Safety
You'll want to focus on the construction of the containers, as well as the machine itself. You want to provide the safest products for your child's needs, ideally made of BPA-free, lead-free, and phthalate-free materials to ensure the utmost safety for your little one. You don't want cheap plastic construction that could potentially break off into the food. If a model doesn't explicitly indicate the type of plastic construction, you might want to avoid that purchase.
Caretaker Note
We realize that caretakers also look at these options when caring for a loved one who needs easy-to-swallow food. Often the texture of a meal will affect a person's desire to eat, and this can be a challenge, especially since convenient, commercial baby food is often bland. Creating recipes at home allows a caretaker to infuse better flavoring and better nutrition, especially for a senior.
In this case, a bottle warmer option isn't necessary, but you'll want still something easy to use with safety measures, such as auto-shutoff, at an affordable price. A regular blender may not give you the control you need to get the texture just right, so baby food blender may be a better choice in this circumstance. An all-in-one should undoubtedly be a consideration, depending on your needs.
Conclusion:
Homemade food allows us to control the ingredients in our diet, and feeding loved ones healthy options is always a good thing. We hope our reviews have helped you identify a few candidates for your next purchase. To recap, our overall choice for best blender for making baby food is the Whale's Love LS-BE617 Baby Food Maker, with five options and a self-cleaning mode. The runner-up is the Magic Bullet BBR-2001 Baby Bullet Baby Care System, our best value choice that includes 20 accessory pieces and conveniently dated storage cups. Our premium choice is the BEABA 912509 Babycook, which is a four-in-one processor that's easy to use. We wish you well in this next phase of your baby's development, and good luck getting sweet potato stains out of everything!
Thank you for reading this article, and good luck with finding the best baby food blender for your needs!