10 Best Bolt Cutters of 2023 – Top Picks & Reviews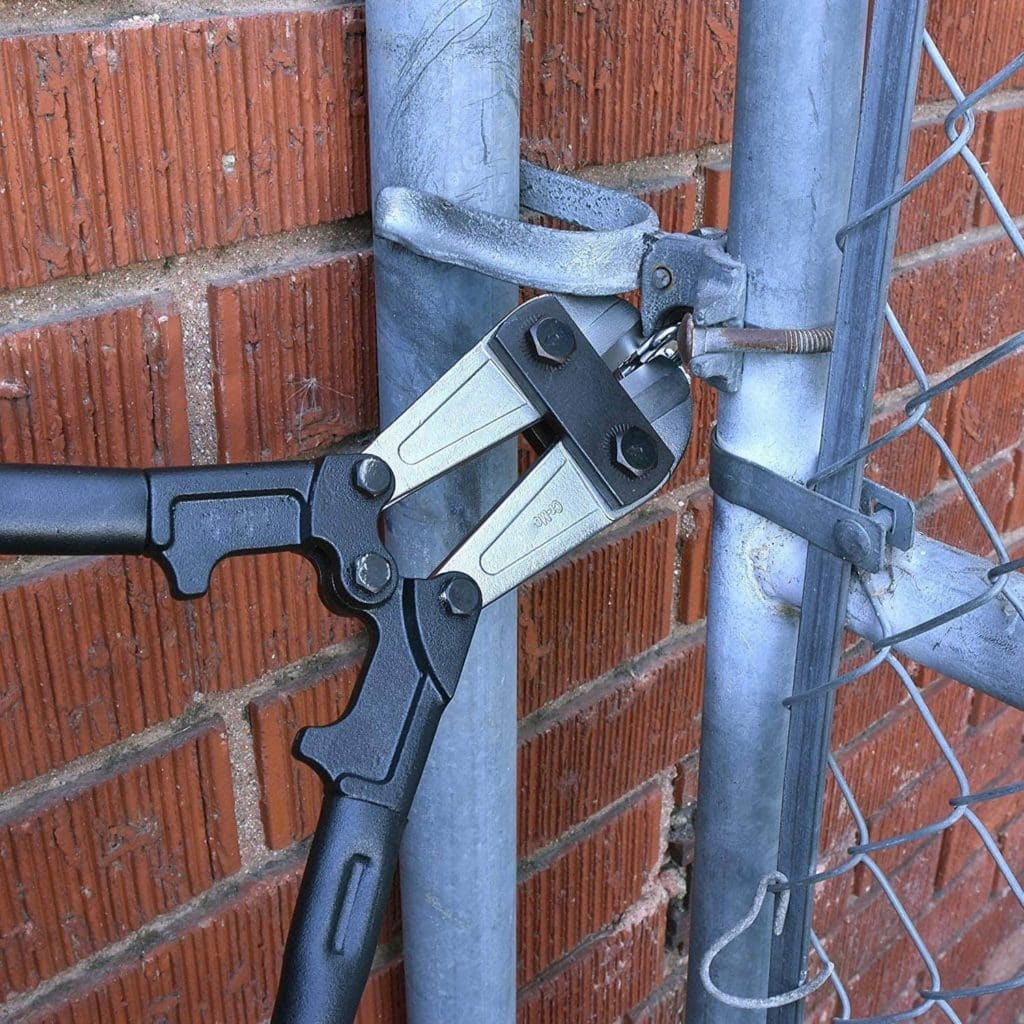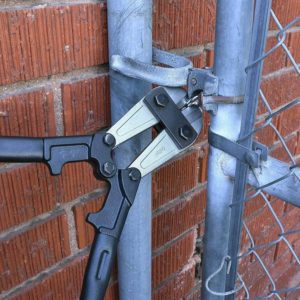 Bolt cutters can be used to cut screws, wire, and bolts. Some of the strongest and most heavy-duty cutters can also be used to cut padlocks and master locks, although buyers usually need to buy a pair that are specifically designed for this purpose.
You might be forgiven for thinking one pair is pretty much the same as the next pair. In reality, there are lightweight, heavy-duty, and standards pairs of cutters. There are those with ergonomic handles and those with elongated handles that allow for additional cutting pressure to be applied. And then there are the different methods of hardening and toughening the blade material to prevent the cutters from shattering or breaking during use.
There are, in fact, many different options when it comes time to choose the best heavy duty bolt cutters. With so many to choose from, including Tekton and Neiko sets, we have compiled reviews of the ten best bolt cutters so that you can find the pair that best fit your cutting needs, your requirements, and your budget.
---
A Quick Comparison of Our Favorites in 202
Rating
Image
Product
Details

Best Overall

WORKPRO W017004A Bolt Cutter

Chrome-molybdenum steel jaws
Comfortable
ergonomic handles
Compact cutting action
CHECK PRICE

Best Value

TEKTON 3386 Bolt Cutter

Compact bolt cutters
Ergonomic handles
Will cut padlocks as well as other metal
CHECK PRICE

Premium Choice

RIDGID 14228 Model S30 Bolt Cutter

Toughened steel jaws
Single cam movement for precise cutting
Long handles for additional cutting pressure
CHECK PRICE

KNIPEX Tools 7101200 Compact Bolt Cutter

Compact design
20 times the hand pressure
Lightweight
CHECK PRICE

Neiko 00563A Heavy Duty Bolt Cutter

12" to 42" models
Ergonomic handles
Long handles allow for greater application of force
CHECK PRICE
The 10 Best Bolt Cutters
1.

WORKPRO W017004A Bolt Cutter – Best Overall
The Workpro W017004A Bolt Cutter is a high-quality and durable set of bolt cutters. They have chrome-molybdenum steel jaws and tubular handles. They feature bi-material handles that are ergonomically designed to provide comfort and convenience while the compound cutting action requires less effort than other cutters but offers the same cutting capabilities. The cutters come in a range of sizes from 14-inch to 30-inch and although the manufacturer recommends not using them to cut locks, these cutters are suitable for sheering other materials.
Their comfortable handle and compound cutting action, combined with their affordable price tag, means that they top our list of the best bolt cutters on the market. It is a shame that they aren't suitable for cutting locks, and the handles could be better quality.
Pros
Chrome-molybdenum steel jaws
Compact cutting action
Comfortable, ergonomic handles
Good range of cutter sizes
Cons
Not suitable for locks
Rolled handles don't feel too sturdy
---
2.

TEKTON 3386 Bolt Cutter – Best Value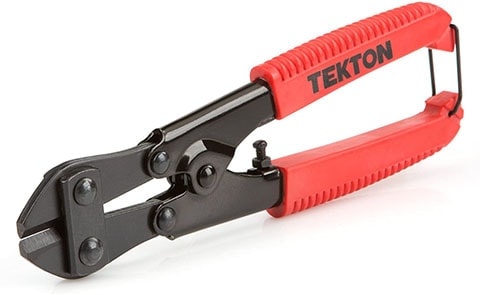 The Tekton 3386 Bolt Cutter is a highly affordable set of compact bolt cutters. They measure 8", although there are models available up to 36 inches in size, and they have hardened steel jaws.
They also feature a compound cutting action and this combination of hardened material and compound cutting action means that you will be able to cut through a surprising thickness of strong metal. According to Tekton, these cutters will work to cut through everything from screws and fastenings to bolts and padlocks. They will also cut wire up to 3/16-inch diameter. The tubular steel handles have been covered in soft rubber grips that make them more comfortable, allowing for regular and long-term use while ensuring that they are comfortable even when applying a lot of pressure.
Their price means that these are some of the best bolt cutters for the money, but you do need to ensure that you get the cutting material right into the neck of the cutters to avoid damaging the jaws and to ensure the best cut.
Pros
Compact bolt cutters
Will cut padlocks as well as other metal
Ergonomic handles
Cheap
Cons
Don't perform as well as more expensive cutters
---
3.

RIDGID 14228 Model S30 Bolt Cutter – Premium Choice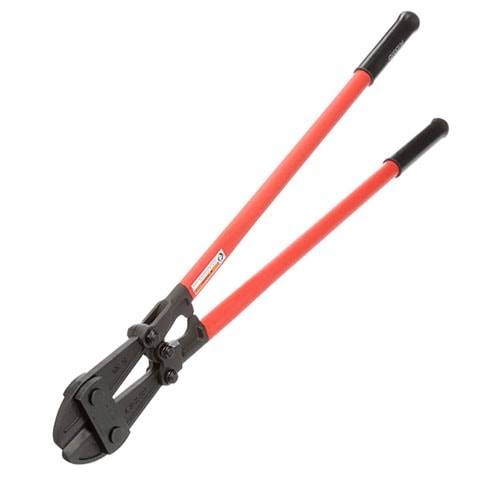 The Ridgid 14228 Model S30 Bolt Cutter is an expensive set of cutters, but they prove that you do get what you pay for when it comes to heavy-duty tools. They have hardened alloy steel jaws that will cut through tough metal and will last without becoming damaged.
They are also precisely aligned, and the single-cam movement ensures that they stay this way. They have a center cut for precise and accurate cuts, and they have elongated handles that make it easy to apply extra pressure for some of the most difficult cuts. They are very expensive bolt cutters but they do a good job cutting all manner of metal and thicknesses of material, they have comfortable grips, and they will last for years.
Pros
Toughened steel jaws
Long handles for additional cutting pressure
Single cam movement for precise cutting
---
4.

KNIPEX Tools 7101200 Compact Bolt Cutter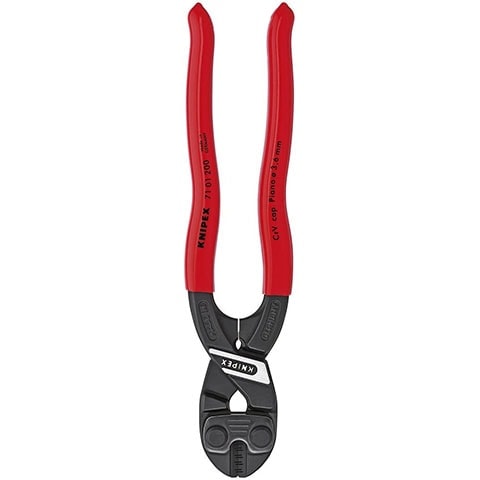 The Knipex Tools 7101200 Compact Bolt Cutter is an 8-inch set of bolt cutters. The leverage action design applies 20 times the hand pressure you apply so they will make short work of all but the most stubborn metal objects.
They are small and convenient so are easy to move around even if you have long lengths of fencing to deal with. Their size also means that they will sit in a tool belt and are convenient enough to be used for applications like cutting floral wire. These are expensive cutters, and they do struggle with TIG wire, but they are generally considered very high-quality bolt cutters.
Pros
Compact design
20 times the hand pressure
Lightweight
Cons
Expensive
Still not ideal for TIG wire
---
5.

Neiko 00563A Heavy Duty Bolt Cutter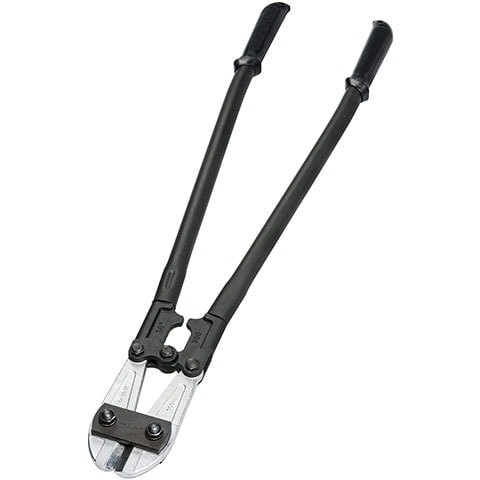 The Neiko 00563A Heavy Duty Bolt Cutter is a 36-inch bolt cutter with chrome molybdenum steel blade that provide greater cutting prowess than chrome vanadium blades. They have been heat treated, as well, ensuring that they retain their shape and will last even with continued and heavy use. Dents in cutter blades quickly prevent them from being able to do the desired task at hand. The cutting object gets caught in the dent, which prevents the blades from striking together around the material.
The use of hardened and treated materials can prevent these dents from appearing and therefore prolong the life of the blades. According to Neiko, these cutters will cut through objects including chains, bolts, screws, wire, and padlocks.
Pros
Inexpensive
12" to 42" models
Long handles allow for greater application of force
Ergonomic handles
Cons
Struggle with padlocks and master locks
---
6.

GreatNeck BC30 Bolt Cutters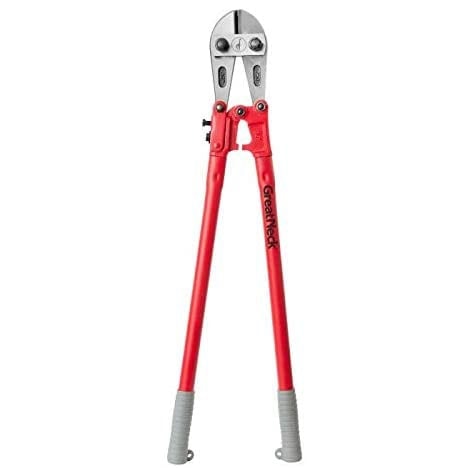 GreatNeck BC30 Bolt Cutters are inexpensive and made from S2 steel that offers increased cutting power. Although these are not considered suitable for padlocks and locks, they will easily cut through most soft metals including wire, nails, and bolts. They come in a range of sizes from 8" to 36" and have a hardened cutting edge that will give them a longer life and ensure that they retain good cutting power.
The compound cutting action means that you enjoy a lot of cutting power for minimal effort. The ergonomic comfort grip handles are designed to provide extra comfort for prolonged use. Although these cutters are inexpensive, they have proven uncomfortable to use and they aren't capable of cutting some of the thickest metal objects.
Pros
Cheap
Long handles
Sizes range from 8" to 36"
Cons
Rubber handles are uncomfortable
Not suitable for padlocks and locks
---
7.

Alltrade 831718 Bolt-Cutter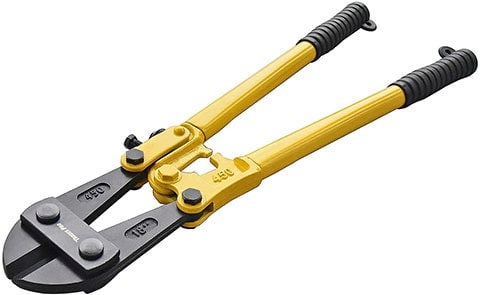 The Alltrade Trades Pro Bolt Cutter is an 18-inch set of bolt cutters, although a 30-inch set is also available. They are made from heat-treated carbon steel that is not only tough but will last for years without becoming easily dented or damaged. The hardened cutting blades can be sharpened so that you can continue to enjoy high quality and durable cutting for years to come.
The powder-coated finish is rust-resistant, while the compound jaws mean that you can enjoy a lot of cutting pressure for minimal effort. The cutters are a decent price, but they are not strong enough to deal with locks, padlocks, and they may not be comfortable or suitable for prolonged and ongoing use.
Pros
Inexpensive
Powder-coated finish
Blades can be resharpened
Cons
Not effective for padlocks
Not great for extensive use
---
8.

Olympia Tools 39-118 Power Grip Bolt Cutter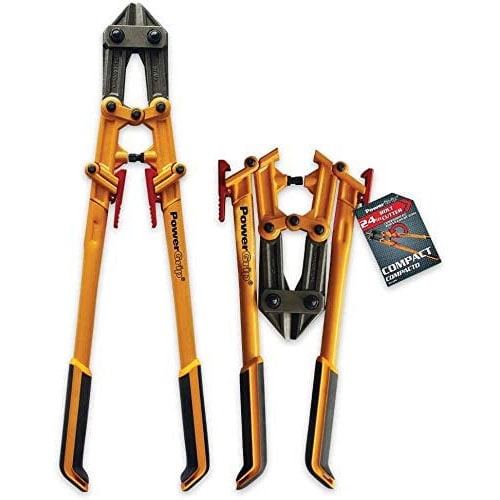 The Olympia Tools 39-118 Power Grip Bolt Cutter comes in a variety of sizes, including the compact 18" bolt cutter model. It has compound hinges and extra-long handles that minimize the amount of pressure that you need to apply to cut through metals.
The handles fold away, which means that they take up less space when being stored and it also enables you to keep the sharp blades out of the way. Although the folding handles are seen as a selling point, they reduce the stability of the handles, and the last thing you want with a set of powerful bolt cutters is the feeling that the handles are going to fold in on themselves. The price of these bolt cutters is reasonable, and if you need something to stow away and use for an emergency, they could be very useful.
If you need something for more regular use, the lack of comfort and the lack of stability and handle strength will put you off.
Pros
Foldable handle for storage and safety
Long handles and compact hinges
Reasonable price
Cons
The handle doesn't feel secure enough
Not heavy-duty
---
9.

MAXPOWER 30″ Heavy Duty Bolt Cutter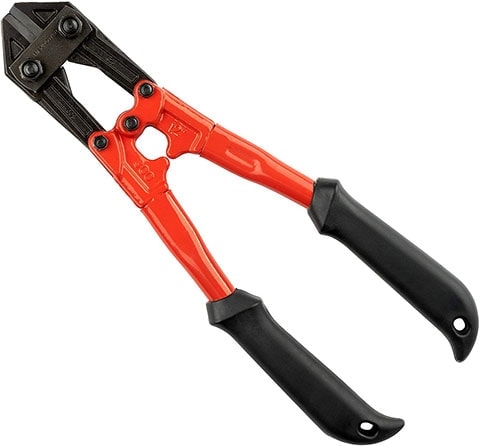 The Maxpower 30" Heavy Duty Bolt Cutter is an inexpensive set of large bolt cutters with 30-inch handles and drop-forged chromoly steel, which is lighter and more durable than standard steel. The blades are designed to last for years, without dulling, and these cutters feature gripped handles that should ensure they are more comfortable for one-off and for regular use.
The blade and handle are designed for precise cutting and regular use. However, the blades damage more easily than with other tools, the handles are uncomfortable, and it is a real struggle to get through anything other than the softest and smallest material.
Pros
30" handles
Lightweight, durable steel
Cons
Uncomfortable grip
Durable handles and blades
---
10.

Capri Tools CP40209 40209 Mini Bolt Cutter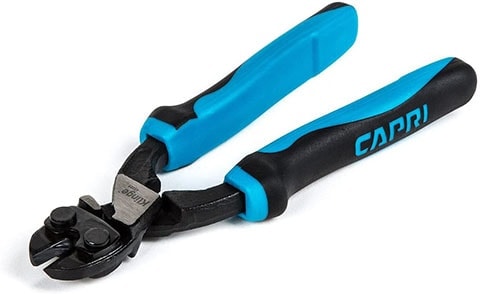 The Capri Tools CP40209 Mini Bolt Cutter is an 8-inch set of bolt cutters. Capri Tools claims that they will easily cut through wire, rod, bolt, and chain. They have Chrome Molybdenum blades that withstand damage and will not dull. They feature a high leverage design, too, which means that you will get more cutting force for minimal effort, and they have ergonomic handles that should make them easier and more convenient for regular and long-term use.
However, despite being quite expensive for cutters of this size, they won't cut through padlocks and other locks, the ergonomic handles are uncomfortable, and the size of the cutters means that you have to apply a lot of force if you want to cut through anything of a reasonable thickness.
Cons
Uncomfortable handle
Not heavy duty
Expensive
---
Buyer's Guide – Choosing the Best Bolt Cutters
Bolt cutters should be considered an essential addition to any tool shed or toolbox. While they are called bolt cutters, they can be used to cut anything from metal wire to, in some cases, padlocks and master locks. They can prove invaluable in an emergency and they will prove very worthwhile during a lot of demolition and destruction jobs.
The basic principle of a set of bolt cutters is simple. You squeeze two halves of the cutter handles together, and the pressure you apply is then converted to cutting pressure and combined with sharpened blades at the business end of the cutters. In practice, however, factors like the length of the handles, the use of compound hinges, and the inclusion of hardened metal blades are some of the factors that determine just how effective a cutting tool they make.
How to Maintain Bolt Cutters
Maintaining bolt cutters will ensure that they last longer and that they are capable of cutting bolts and other materials when required. The following steps will help you to properly maintain a decent set of cutters.
Use a firm brush to brush away rust and any hard dirt that has built up on the blades and the working mechanism of the hinges.
Use a lubricant spray to clean grime and dirt from the hinges. The hinges need to move freely, and this is especially true of compound hinges that essentially magnify the pressure you apply.
Always ensure that your bolt cutter blades are as sharp as possible. Using dull blades means that you will have to apply more pressure, and any small nicks will become larger, reducing the effectiveness of your cutters and increasing the likelihood that they will rust and become further damaged.
Store your bolt cutters properly. Long armed cutters should ideally be hung upright. If you don't have the room to hang them, ensure that they are stood upright. All bolt cutters should be stored in a dry location that is free from damp to prevent the hinges and blades from rusting.
Compact bolt cutters can be stored in a toolbox, and you should use the catch to keep the handle closed if one is available because this will prevent damage to and by the bolt cutters on other tools in the box.
Bolt Cutter Features
Size
Bolt cutters can range in size from compact 8" models to huge, robust 40" cutters. The size of bolt cutter you choose is ultimately determined by the size of the job at hand, but also other factors. Compact cutters are ideal for trimming the ends of wires or cutting around the edges of rebar. They will also conveniently fit into a toolbox or even a pocket.
In contrast, large 40" models are ideally suited to cutting through a thick fence and even through padlocks and master locks. They will not fit in a pocket, though, and may require trunk or van space if you need to transport them from one location to another.
You can, of course, own and use two different sizes for different jobs and applications, but you should avoid trying to use the wrong size of cutter for the job. If you try using a cutter that is too small, it can lead to damage to the cutters, a mangled mess of wire or other metal material, and it can even cause injury to yourself.
Weight
Weight is also an important factor. Heavy-duty cutters tend to be heavier in weight. They are made from tougher and more durable steel and this, naturally, weighs more. However, heavy cutters are not ideal for prolonged use. You will have to lift them, carry them, and then apply force to cut with them. While you might be able to do this successfully for one or two cuts, with the heaviest, will you be able to keep it up for dozens of cuts over the space of an hour or two?
It may be necessary to compromise by choosing a set that is not as tough but that weigh less so that you can keep working. On the other hand, a really lightweight set will offer no more cutting value than a set of cheap pliers, so they may be suitable for cutting lightweight wire, but they will not be suitable for thick metal materials.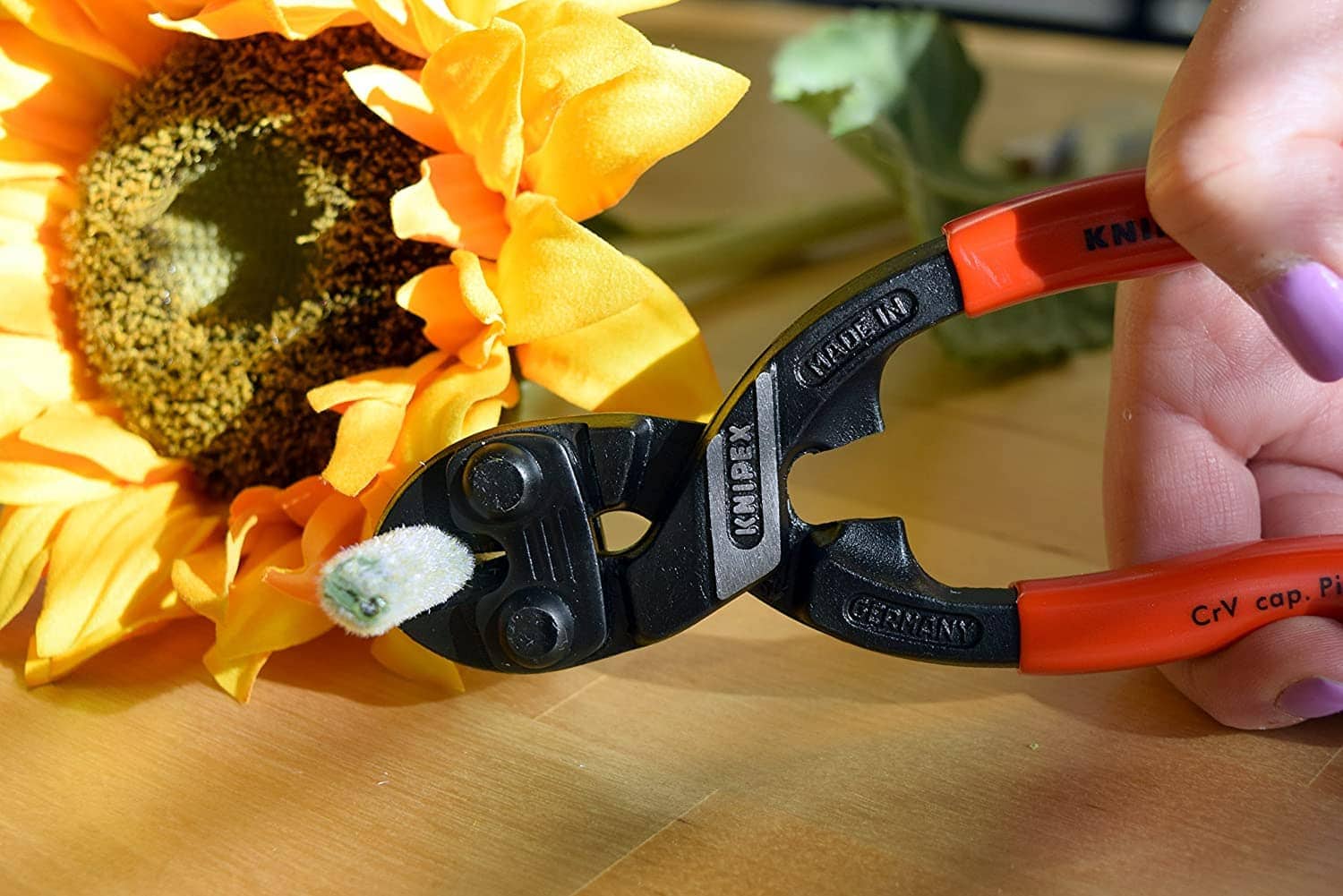 Handles
If you are buying a set of bolt cutters for a one-off emergency, the comfort of the handles may not be that important, but the length will be. Longer handles allow for greater leverage, which means that you can apply more pressure with less effort. But long handles take up more room, and if the handles themselves are not durable and hardwearing, they are likely to snap if you place too much pressure on them.
Handles should be comfortable to use, especially if you will be using the bolt cutters regularly. Ergonomic handles usually have an additional layer, which may be made from rubber or another material. These handles prevent your hands from slipping while making it easier to apply more pressure.
Textured handles made from a hard grip can actually make them less comfortable, because the ridges of the hard rubber dig into your hands and cause pain.
Blade Quality
The vast majority of bolt cutter blades are made from steel, but there is a surprising number of different types of steel and additional features to look out for. Hardened steel is a forged steel blade with a hardened edge. These will retain their sharpness for longer and will not require sharpening as often as other forms of steel blade. If you want to cut through materials like padlocks, you will need the hardest and best quality steel blades to achieve this.

Conclusion
Bolt cutters are a powerful cutting tool that can be used for professional and domestic purposes. They range from compact 8" models to heavy-duty 40" behemoths. They can be used to cut anything from wire to padlocks and master locks, although you will need to buy specialist cutters if you want to tackle these hardened metal items.
As well as the size of the cutters, look for those with compound blades to help provide raw cutting power. The quality and type of metal used on the blades not only determines how well the cutters cut, but will also determine the longevity of the blades and the cutters, and the ease with which they will pass through the material that is being cut. Hopefully, our reviews of the best bolt cutters have helped you find the ideal pair for your needs.
We believe that the WorkPro W017004A Bolt Cutter offers the best combination of competitive price, strong cutting action, and sturdy metal construction, while the Tekton 3386 Bolt Cutter represents the best value for money thanks to its low price and its decent cutting action and metal construction.
New posts: