15 Free DIY Spice Rack Plans To Make Today (with Pictures)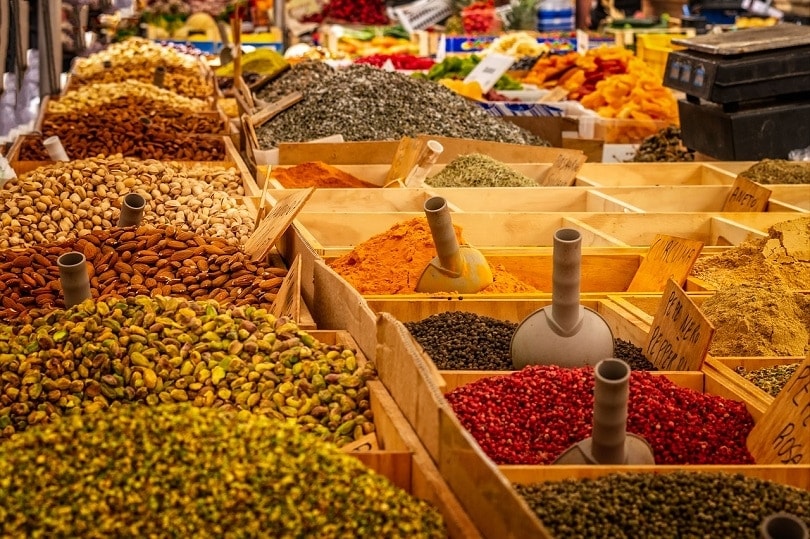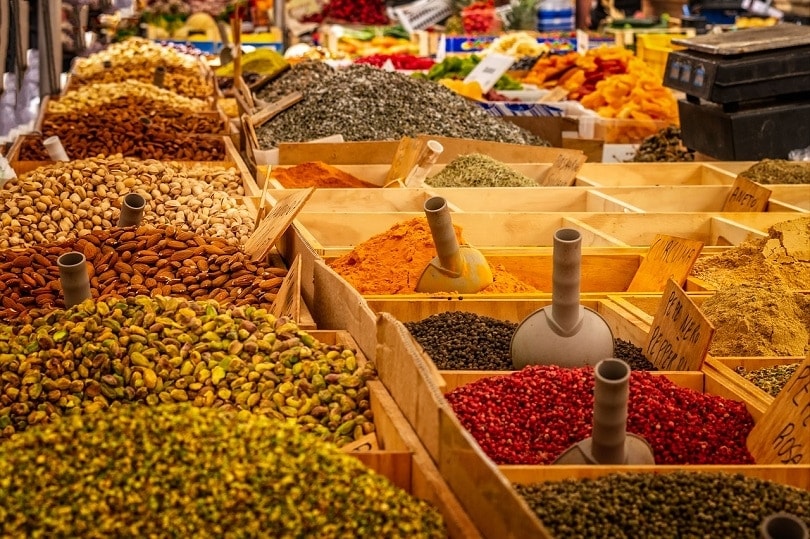 A well-organized kitchen is a beautiful thing. Something as simple as the right spice rack can change your whole cooking experience. And why spend extra money on something that's almost perfect? With a little instruction, you can roll up your sleeves and make exactly what you need!
Some home chefs need a large space or the ability to read each container, and others require an elegant hideaway for their spices. Below, our list of free plans will teach you how to build a spice rack that's geared to your needs.

The 15 DIY Spice Rack Plans
1.

Door DIY Spice Rack from Ana White & Shanty 2 Chic
This door spice rack by Ana White & Shanty 2 Chic is a serious space saver. And with some basic woodworking tools, you can make it for as low as $30. It's a simple project for the ambitious beginner or a quick & easy one for those with intermediate skills.
Materials: (2) 1×4 boards, 10 feet long, (3) ⅜" dowels, 4 feet long, ⅜" dowel buttons, Cup hooks, (1) 2×4 and ¼" thick plywood sheet, 1¼" finish nails, 1¼" pocket hole screws
Tools Needed: Drill, ⅜" bit for the dowels, Tape measure, Speed square, Pencil, Kreg jig, Circular saw, Brad nailer
---
2.

Magnetic Wall DIY Spice Rack from Instructables
Counter space is premium real estate in most kitchens, so why not store the rack vertically? The builder of this magnetic spice rack on Instructables put all their magnetized containers on the fridge. However, you can use almost any wall surface to add a sheet of tin or a magnetic whiteboard. We love how few tools are needed to complete this!
Materials: 4 oz round, Clear topped tins, 1/4" – 1/16" Neodymium magnets (3 per tin), Surface for mixing epoxy (newspaper, or similar), Epoxy (like JB Weld), Damp paper towel
Tools Needed: Toothpicks, Tweezers, 100-grit sandpaper, Label maker (if desired)
---
3.

Countertop DIY Spice Rack from Construct 101
It's as easy as cutting, nailing, and filling with these free spice rack plans on Construct 101. Even with such simple steps, you end up with a great-looking shelf. Splurge on some paint to add a little style to your kitchen organization!
Materials: ¾" 1×6 cedar board (fence or pallet board work too), 1¼" finishing nails
Tools Needed: Jigsaw, Hammer, Sandpaper
---
4.

Test Tube DIY Spice Rack from Handyman's Daughter
Chemistry and cooking are essentially the same. And this test tube spice rack by the Handyman's Daughter tips its hat to that idea. It's our favorite aesthetic design by far, but we just wish the tubes held a larger volume.
Materials: 1×4 board, 20 mm test tubes with stoppers, 18 mm rubber o-rings, Wood glue, Paint or stain (if desired), Mineral oil (for hardwood)
Tools Needed: Drill, 21 mm Forstner bit, Table saw, Sander, 12" clamps
---
5.

Storage Bin DIY Spice Rack from Remodelaholic
If you're the type who prefers a tidy kitchen, perhaps this storage big spice rack from Remodelaholic will fit the bill. Though it takes up countertop space, it saves a little by stacking spices in the drawer. We think you'll love this spice box if you have intermediate skills and want a clean and charming look.
Materials: 1/4 sheet of ½" plywood, Pocket hole screws, Glue, Pre-stain wood conditioner, Stain, Chalk paint, Drawer pull, Polyurethane, Graphite Paper
Tools Needed: Table saw, Miter saw, Drill, Pocket hole jig, Paint brushes, Sander, Clamps, Measuring tape, Square
---
6.

Tiered DIY Spice Rack from Joyful Derivatives
The tiered counter or cabinet spice rack melds form with function. Those who like easy access and readability of their spices will love Joyful Derivative's plans. Plus, by its very design, this rack promotes organization and impedes overfilling.
Materials: ¾" plywood, Primer, Paint, Nails, Glass spice jars (optional)
Tools Needed: Table saw, Nail gun or hammer, Clamps, Paintbrush
---
7.

Under Cabinet DIY Spice Rack from Instructables
Put those dead spaces under cabinets to use with the help of sheet metal, magnets, and these plans from Instructables. Though efficient and beginner-friendly, one downside of this build is that jars may be hard to read with more than one row.
Materials: Canning jars, E6000 glue, ¼" x 1/16" Neodymium magnets, Sheet metal (20 gauge recommended), Liquid nails, Small screws
Tools Needed: Drill
---
8.

Wall Mounted DIY Spice Rack from Angela Marie Made
These wall spice rack plans from Angela Marie Made are straightforward to construct, with plenty of photos to help you along. There is a noticeable lack of instruction on the wall mounting part, so we don't recommend this design for beginners. For extra style points, they even have pantry label decals DIY!
Materials: (1) 1×3 @ 6ft, (1) 1×4 @ 6ft, (2) ½″ x 3 @ 3ft, (2) ½″ x 2 @ 3ft, 1″ and 1¼ ″ Kreg screws, 1 ¼″ Brad nails, Wood glue, Paint or stain (optional)
Tools Needed: Kreg jig, Drill, Miter saw, Clamps, Brad nailer
---
9.

Magnetic Fridge DIY Spice Rack from Instructables
This magnetic spice rack for the refrigerator on Instructables gets full marks for affordability and ease of construction. Almost no tools are necessary for these serviceable, space-saving racks, and they're so fast and easy to make! We highly recommend this design for folks with a tight budget and beginners.
Materials: Small plastic bins (like pencil holders), Magnets
Tools Needed: Hot glue gun
---
10.

Rustic Wall Shelf DIY Spice Rack from Ana White
Ana White's rustic wall shelf is a stylish and practical solution to kitchen storage. Beginners with a stock of tools should find these straightforward plans easy to follow. And we love how the affordability doesn't impact this design's stunning finished product.
Materials: (1) 1×8 board @ 8ft, (1) ¾" wide flat metal stock, 41″ long, 1¼" brad nails, 2" self-tapping wood screws OR 1¼" pocket hole screws, 2½" drywall screws
Tools Needed: Drill, Kreg jig (if using pocket hole screws), Stud finder, Jigsaw with metal blade
---
11.

Hanging DIY Spice Rack from Dremel
Do you love the under-shelf spice jars idea but want something a little sturdier than a magnet? These plans for a hanging spice rack by Dremel may be just right. Instead of affixing metal and magnets with glue, this design screws the jar lids directly to the shelf. You won't be able to move the jars around freely, but you also don't need to worry about knocking them down accidentally. Beginners will also appreciate that Dremel suggests a saw kit that's perfect for those looking to invest in power tools for the first time.
Materials: 1×3″ Poplar Plank, Decorative trim (if desired), Wood stain (if desired), Small Screws, Jars with metal screw tops (like Mason)
Tools Needed: SM20 Saw-Max Tool Kit, SM500 Wood & Plastic Carbide Wheel, Drill with ⅛" bit, Screwdriver, Pencil, Clamps, Dremel 4200 (if etching the jars)
---
12.

Built-In DIY Spice Rack from Shanty 2 Chic
We adore this spice rack built into the wall from Shanty 2 Chic. And if you're ready to take on a more complicated project, we think you will too! The builders walk you through every step, so even lower skill levels with access to the tools can confidently craft this beautiful space saver.
Materials: Three 1×4 planks at 10ft, One 1×4 planks at 6ft, ¼ " plywood to fit (57"x 14 ¾" used here), Three ⅜" dowel rods at 4ft, Wood glue, Wood filler
Tools Needed: Miter saw, Drill, Kreg jig, Rotary saw, Sander, Nail gun (or hammer & finishing nails), Stapler (or hammer & finishing nails)
---
13.

Simple DIY Spice Rack from Sawdust 2 Stitches
Do you need a no-frills cabinet organization solution? Sawdust 2 Stitches has you covered with these rustic spice rack plans. And they don't just show you how to build a custom-fit cabinet or countertop shelf. This builder includes several tips for adding style & creativity to your project and other kitchen organization ideas too!
Materials: (2) 1″x 4″ Boards, Primer, Paint, 1½″ finish nails, ¼″ Paneling, Wood Glue, Glass Jars, Black primer
Tools Needed: Miter Saw, Sander, Paintbrushes, Nail gun or hammer, Compressor
---
14.

Simple Wall Shelf DIY Spice Rack from Rona
These spice rack plans from Rona are a practical mix of magnetic and wall-mounted shelves. The tins are kept in place by the magnets, not suspended. Designed for affordability, Rona's shelf is mainly made from medium-density fiberboard (MDF), glue, and magnetic tape. With the right tools, this project is simple enough for novices.
Materials: 48″ x 48″ x ½" MDF sheet, 48″ x 48″ x ¼" MDF sheet, 1″ x 24″ x ½" pine board, 24″ x 6″ metal sheet, Vinyl stickers (if desired), 1″ finishing nails, Glue, Primer & paint, Magnetic tape, Hooks
Tools Needed: Table saw, Jigsaw, Hammer, Pencil, Drill and ⅛" bit, Screwdriver, Paintbrush, Level, Extra fine sanding sponge
---
15.

Travel Ready DIY Spice Rack from Instructables
Backpackers, travelers, and outdoor lovers rejoice; we found the perfect spice rack for you! This travel spice rack strap on Instructables has it all. It's lightweight, easy to pack & use, cheap to make, requires few tools… the list goes on. You'll never have to sacrifice great cooking while traveling again with this clever build.
Materials: Nylon ribbon or webbing (at least 18" recommended), Pairs of 1 or 2 oz Nalgene containers, ½" long stainless steel bolts, Matching nuts, Matching locknuts (for dry spices) or rubber washers (for oils)
Tools Needed: Hand Drill
---
Final Thoughts
Now, you can revamp your kitchen organization for a cleaner, more accessible, visually appealing cooking experience. You'll save money, learn about new DIY designs, and might even have some fun!
We hope that this list has helped teach you how to build a spice rack that you love. Magnets, countertop shelves, wall & door mounts —whatever your skill level, there's a DIY plan for you.
Happy building!
---
Featured Image Credit: Tama66, Pixabay