10 Best Brushless Impact Drivers of 2023 – Reviews & Top Picks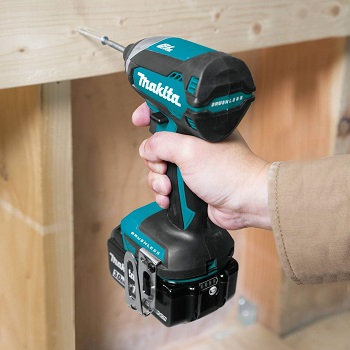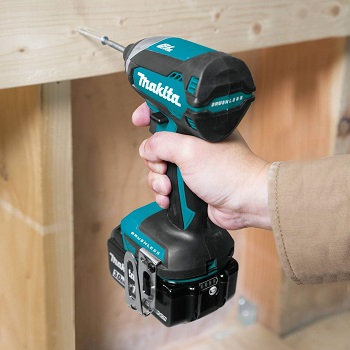 In recent years, brushless has become one of the biggest buzzwords in power tools. If you've ever had the pleasure of using a tool with a brushless motor, you know exactly why. Compared to traditional brushed motors, brushless offers a drastically improved power-to-weight ratio, better battery life, and longer overall lifespan. If you're shopping for a new impact driver of the year, then brushless is the best choice.
Once you peruse the many available brushless impact drivers, you'll discover diverse options to choose from. Though they all offer the same basic functionality, the features they provide and ease of use will differ as much as the price. We've tested tons of these powerful little tools so you don't have to. The following ten reviews will compare the ones we think are the ten best to help you narrow down the choices.
---
A Quick Comparison of Our Favorites in 2023:
Rating
Image
Product
Details

Best Overall

DEWALT DCF887B

LED lights
2
000 in-lbs torque
3 year warranty
CHECK PRICE

Best Value

Makita XDT131

Affordable
3 lbs w/ battery
LED lights
CHECK PRICE

Premium Choice

Hitachi WH18DBDL2P4

1
832 in-lbs of torque
Low vibration
Lifetime-warranty
CHECK PRICE

Bosch PS42-02

LED lights
Just 1.6 lbs w/o battery
CHECK PRICE

PORTER-CABLE PCCK647LB

Affordable
9 lbs w/ battery
3 year warranty
CHECK PRICE
The 10 Best Brushless Impact Drivers:
1.

DEWALT Brushless Impact Driver Kit – Best Overall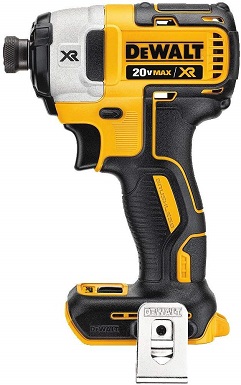 DeWalt is one of the most trusted brands of power tools, and they consistently surpass expectations. Such is the case with the DCF887B brushless impact driver, our choice for best overall out of all the models we tested. The 2,000 inch-pounds of torque this tool can deliver is impressive on paper, but to truly appreciate the power this impact packs, you have to feel it. Luckily, the variable trigger makes it easy to feather your way into all that power and avoid snapping your wrist. Even better, three selectable speeds are available with a max of 3,250 RPMs.
At just 2 pounds with no battery, this is a light and compact device that's easy to maneuver into tight and hard to reach areas. The three LED lights on the DeWalt seemed to far outshine the single-LED design of many other manufacturers and lit up our workspace. It should come as no surprise that this is one of the pricier models we tested. We feel the three-year warranty that backs it up helps to make this a good long-term investment. Overall, we think it's hard to beat the features, longevity, and value of the DeWalt DCF887B making it our top pick as the best brushless impact driver on the market.
Pros
LED lights
3 speed settings + variable trigger
2 lbs w/ no battery
2,000 in-lbs torque
3-year warranty
3,250 max RPMs
---
2.

Makita Brushless Cordless Impact Driver Kit – Best Value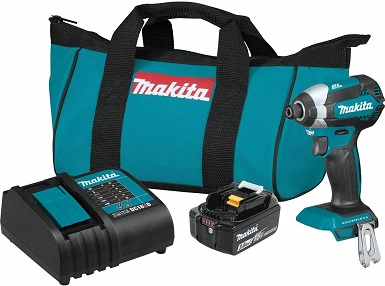 Makita is not generally known for low-priced tools, so the affordable price point of the XDT131 is a bit surprising, especially given its admirable performance. The 1,500 inch-pounds of maximum torque isn't that impressive on paper. In reality, it outperformed models that had a higher torque rating, though it's noticeably less powerful than the DeWalt in first position.
We prefer to have more variability than the 2-speed selection of the Makita allows, though the 3,400 max RPMs is very respectable. It does have dual LEDs and a belt clip as well, two features that we hope to see on every impact driver we test. At 3.3 pounds with the battery, it's not the lightest model, though it's also not one of the heavier ones. Altogether, it's an excellent tool that provides great value for the price, which is why we think it's the best brushless impact driver for the money. With a little more power and variability, the Makita XDT131 might be in the running for the top spot.
Pros
Affordable
3 lbs w/ battery
LED lights
Cons
1500 in-lbs max torque
Only 2 speeds
---
3.

Hitachi Brushless Impact Driver – Premium Choice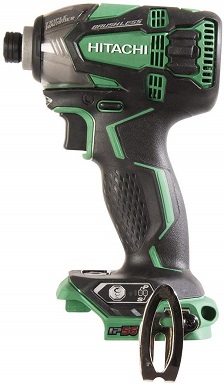 As one of the most expensive models we tested, we had high hopes for the Hitachi brushless impact driver, and we weren't disappointed. At 2.15 pounds without the battery, it's one of the lighter models, though not quite as light as the DeWalt. The 1,832 inch-pounds of torque available at the touch of a trigger felt like far more when ratcheting in the toughest bolts and long screws. Though it's a slightly lower rating than that of the DeWalt, we could hardly tell the difference. One place where this tool outshines the competition though is with the lifetime-warranty that backs up all Hitachi power tools.
Though the 4,000 beats per minute (BPM) is pretty high, the 2,900 max RPMs is not. However, this is the only stat on the Hitachi that isn't in the highest category of the models we tested. We always appreciate variability, and thankfully the Hitachi provides four different speeds to choose from, plus a variable trigger for complete control. When we used it though, the thing we most appreciated was the very low vibration felt through the handle. This tool dampens the vibration better than any of the other ones we tried.
Pros
1,832 in-lbs of torque
Lifetime-warranty
15 lbs w/o battery
Low vibration
4 speeds
---
4.

Bosch EC Brushless Impact Driver Kit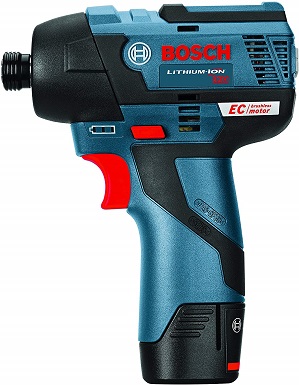 Most of the models we tested were either 18V or 20V cordless setups. Conversely, the Bosch PS42-02 is part of a much less powerful 12V system. You can feel the lack of power when asking this tool to turn the most serious of bolts and screws. At 975 inch-pounds of torque maximum, it's one of the weaker impact drivers we tested. That said, there are advantages to the 12V system. Since it's less powerful, it's also much smaller and more compact. This driver weighs in at just 2.2 pounds fully loaded with a battery. That's about what our top performers weighed without their batteries, so this is pretty impressive.
For convenience, the Bosch impact driver does have trigger operated LED lights. This is great since this model is so compact you'll likely use it for the most cramped and hard to reach jobs. Two speed selections are available with a max 2,600 RPMs in the highest setting. Though we appreciate these features, we don't think they quite warrant the high price of this little tool. For the price, you can get a much more powerful and capable device that's only slightly bulkier.
Pros
LED lights
Just 1.6 lbs w/o battery
Cons
975 in-lbs max torque
Expensive for what you get
---
5.

PORTER-CABLE MAX Impact Driver Kit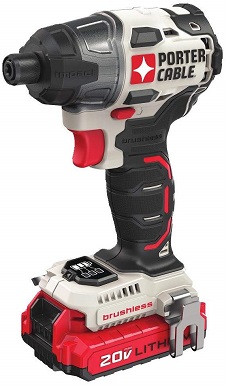 Weighing in at 2.9 pounds with a battery installed, the Porter-Cable PCCK647LB MAX impact driver is one of the more light and manageable models you could purchase. Even better, it's also one of the more affordable tools that we tested. Knowing both of those facts, it shouldn't be much surprise that it's not one of the most powerful drivers we reviewed. At just 1,400 inch-pounds, it's pretty weak and you could feel it during use. The one we tested wasn't quite able to remove the lug nuts on our minivan, which we found to be disappointing, to say the least.
We almost expect to see a trigger operated LED light on any impact driver, but the Porter-Cable was lacking this very important feature. Worse yet, it didn't offer any speed selections, relying entirely on the variable speed trigger. These are just a matter of convenience, but the terrible battery life was a real hold-up of our productivity. We did appreciate the three-year warranty that protects this tool, but it's not enough to gain our highest recommendations.
Pros
Affordable
9 lbs w/ battery
Three-year warranty
Cons
1,400 in-lbs max torque
Poor battery-efficiency
No speed selection
---
6.

Milwaukee Brushless Impact Driver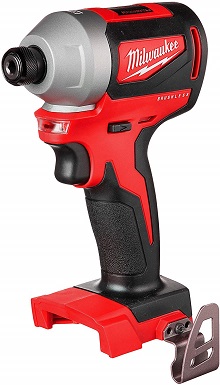 Generally speaking, Milwaukee is a high-end and well-respected name in power tools and their products often get our highest recommendations. Unfortunately, the 2850-20 M18 brushless impact driver did not impress us enough to live up to the same expectations. Unlike many of the other tools we've tested from this company, this impact driver was quite affordable. The top speed of 3,200 RPMs is decent, but the 1,600 inch-pounds of torque is not so great. With this moderately-low torque rating, you may expect this device to be small and compact, but you'd be mistaken. At a stout 2.7 pounds with no battery, this is one of the heavier models we tested.
Though it's not one of the greatest even on paper, the real problem with this tool is the drive engagement. Sometimes the machine just didn't want to run for some reason. It felt as though it was being sensitive to the pressure and didn't like the way it was being applied. It would make sound, but just not engaged as we expected. This would stop if you held the gun right, but it's a strange happening that we were surprised by.
Cons
1,600 inch-pounds of torque
7 pounds w/ no battery
Drive engagement issues
---
7.

Ryobi Brushless Lithium-Ion Impact Driver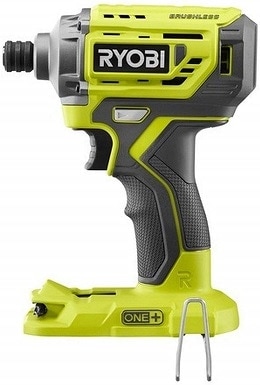 Equipped with 2,000 inch-pounds of maximum torque, the Ryobi P239 brushless lithium-ion impact driver is one of the most powerful of all the models we tested. Despite being so strong, it's also very affordably priced. Being one of the more popular DIY and hobbyist power tool brands, it's very possible you already have the Ryobi One+ battery, making it even cheaper to get started with this impact driver.
At 2.87 pounds without the battery, this is one of the heavier brushless impact drivers we tried. It should come as no surprise that it's also a bit bulky and cumbersome compared to many of its competitors. With so much power at this low price, something had to give, so you're giving up the compact and lightweight form that many of the less powerful models offer. The final drawback for the Ryobi is the short 90-day limited warranty. We'd prefer at least 2-3 years just for peace of mind. Overall, we felt it was a solid offering with loads of power for the price. That said, if you're not already invested in the Ryobi One+ system, we'd suggest investing in a higher-quality impact driver instead, like the DeWalt DCF887B.
Pros
Affordably priced
2,000 inch-pounds max torque
Cons
Only 90-day limited warranty
87 pounds w/o battery
Large and bulky
---
8.

Ridgid Cordless Brushless Impact Driver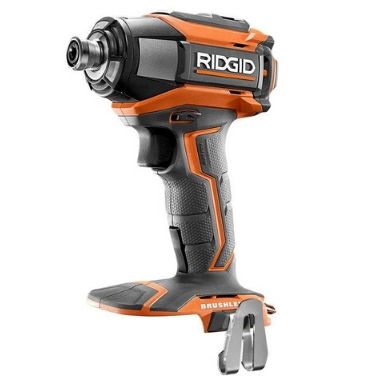 Without the battery, the Ridgid R86037 weighs in at a hefty 3.5 pounds, making it the heaviest of all the brushless impact drivers we used. You can feel that extra weight, and it doesn't take long to start putting extra strain on your shoulders, arms, and even hands. If you're going to be using this tool all day, expect to feel that burn after a short while. All that weight may be from the beefy motor though, which manages a stout 2,250 inch-pounds of torque. This is pretty impressive, though the 2,750-max RPMs isn't so much.
We did appreciate the tri-beam LEDs operated by a trigger. While this was a nice touch, we don't like the warranty fine print. At face value, the warranty seems top notch. Ridgid backs up all of their tools with a lifetime warranty. Upon further inspection, you'll notice that they only honor that warranty if the tool was purchased from The Home Depot. Be aware of this major drawback before pulling the trigger on a purchase.
Pros
2,250 inch-pounds max torque
Tri-beam LED
Cons
Lifetime-warranty only honored from THD
Only 2,750-max RPM
Very heavy – 3.5 pounds w/o battery
---
9.

KIMO Brushless Cordless Impact Driver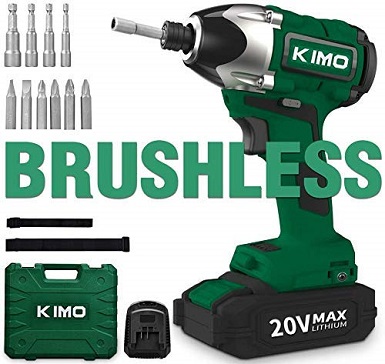 On paper, the KIMO 3601B brushless cordless impact driver was one of the most powerful models we got our hands on, even though it was also one of the lowest priced. If you haven't heard of KIMO, you're not alone. They're a relatively unknown manufacturer which is the first problem. You're very unlikely to have any other tools from them, so the battery you get with this impact driver will only be good for this one tool and you may not be expanding your setup. Though rated for 2,652 inch-pounds of torque, we didn't feel that much power during use. It was stout, but not more so than the most powerful drivers like the DeWalt.
The max speed of 2,800 RPMs is one of the slower models we tested and you could tell that it took substantially longer removing or installing lengthy bolts and screws. Despite this, it's a capable tool overall. We felt the biggest drawback was really how heavy it was compared to competitors. At 4 pounds with the battery, you're going to feel that extra weight, especially on any hard to reach screws where you have to maneuver the driver into a difficult angle or space.
Pros
Cheap price
Very powerful – 2,652 inch-pounds of torque
Cons
No-name – you probably don't have their other tools
2,800 RPM-max speed
4 pounds w/ battery
---
10.

Prostormer Hex Cordless Impact Driver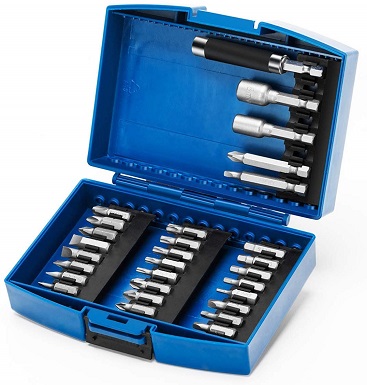 For those who are simply price shopping, the Prostormer Hex cordless impact driver is going to catch your eye. The Prostormer redefines affordable, being sold as an entire kit with a battery, charger, and tool bag for about the same price as some of the other affordable brands sell just the standalone tool. It should come as no surprise then that this device feels and looks very cheap. It jumped out at us as soon as we laid hands on it. The build quality matches the price.
Even on paper, the specs that the Prostormer offers are not amazing. 1,327 inch-pounds of torque is nothing too impressive, even though it's as large and bulky as any model we tested. The 2,000-RPM max speed is the lowest we tested, taking the longest to install or remove screws. For the price, we didn't expect much. If money is your only deciding factor and your impact driver will see only light, occasional use, then the Prostormer is an acceptable choice. For all other situations, we recommend spending a bit more to get a much more qualified tool such as the Makita in our second position.
Cons
Cheaply made
2,000-RPM max speed
1,327 inch-pounds is weak
Large and bulky
---
Buyer's Guide – Choosing the Best Brushless Impact Driver
There is a lot of information packed into the ten reviews you just read. If after reading them you feel a bit overwhelmed, then don't worry, this section is for you. There are certain key characteristics that we think you should prioritize when choosing a new brushless impact driver. In this section, we will discuss those traits and make sure you're fully prepared to pull the trigger on a new purchase.
Torque
At the end of the day, you're purchasing a brushless impact driver for installing and removing screws, bolts, nuts, etc. Everything outside of this function is somewhat frivolous. The torque rating of any particular driver will tell you how much power it has available for turning screws and bolts. A higher torque rating generally means a stronger tool, though some manufacturers have been known to exaggerate the capabilities of their tools. 1,500 inch-pounds is a good benchmark that we recommend trying not to go below. At this power, you should be able to loosen or tighten most bolts and screws with ease, even if they're corroded or rusted.
Weight
When cordless power tools first started to hit the scene, they were giant and bulky just like their plugged-in cousins. Nowadays, our tools have become streamlined and lightweight, though not all of them equally so. If your impact driver will see only sporadic use, then a little extra heft may not be too taxing on you. On the other hand, if you're going to be using yours for long hours or all-day work, then you'll very likely feel that extra pound wearing out your shoulders and arms fairly quickly.
Convenience Features
Some features aren't necessary to the tool's main function, but they provide so much convenience that we always prefer the models that include them. For us, the two biggest convenience features for a brushless impact driver are a trigger operated LED light and a belt clip. Whenever you're working in low-light conditions, the LED on the front of your gun can make a huge difference in your ability to accurately see your work. We find ourselves in these conditions all the time, so we appreciate this feature. Often, we find that we need both of our hands available, but one is holding the driver. The belt clip makes it easy to slide the tool onto your side, freeing your hands for whatever you need.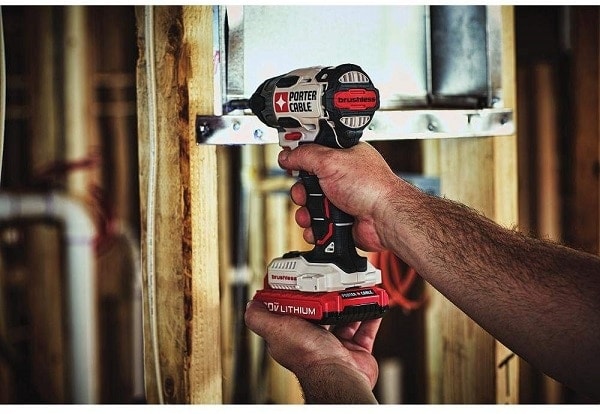 Final Verdict
We've covered a lot of information in all of these reviews, so before you go and make a purchase, let's do a quick recap of our findings. Overall, we think the DeWalt DCF887B is the best choice when you're looking for a new brushless impact driver in 2019. Packing 2,000 inch-pounds of torque into a two-pound body with 3 speed settings, variable trigger, and tri-beam LED lights, it's easy to see why it's our top pick. Round it all out with a three-year warranty and its value is pretty hard to beat.
Our second pick, the Makita XDT131 18V LXT, spins an impressive 3,400 RPMs at just 3.3 pounds with the battery installed. It's compact and includes convenient features like trigger-operated LED lights at a very affordable price point. For our premium choice, the Hitachi brushless impact driver manages to be a worthwhile value, even at a premium price point. Its super low-vibration design is very comfortable. 4-speed selection makes it very versatile and the lifetime-warranty is the best available. We feel confident recommending all three of these brushless impact drivers, and we believe you'll understand why as soon as you use any of them the first time.