6 Best Budget Toilets Under $200 in 2023 – Reviews & Top Picks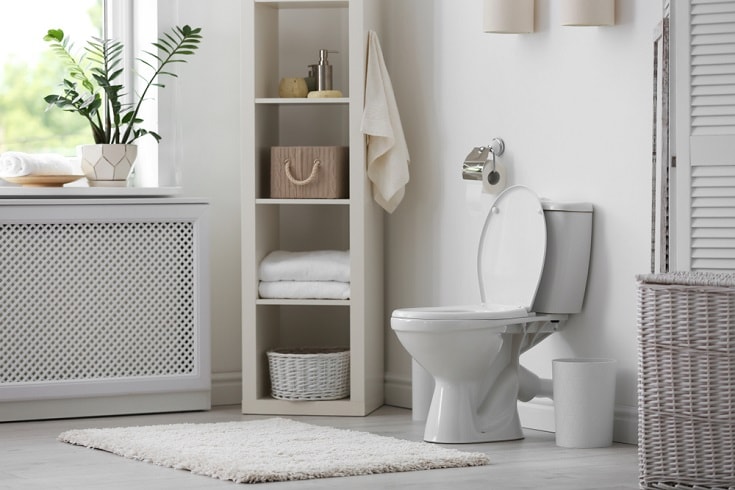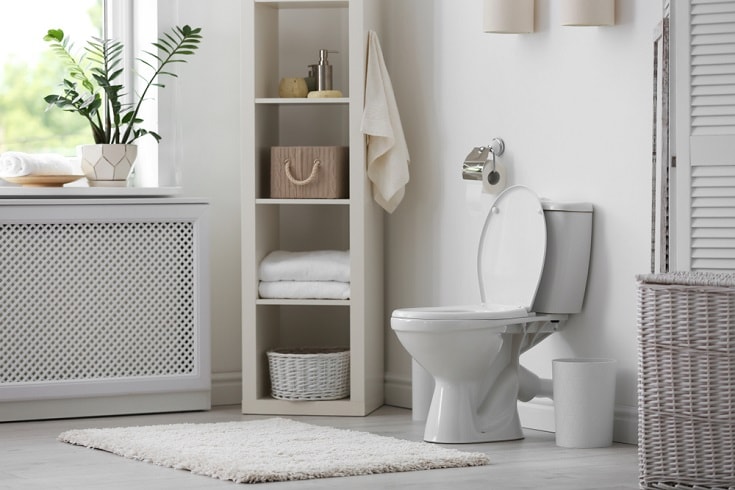 Everybody poops. And the typical American flushes about 24 gallons of water every day – a quarter of our total water consumption! So, chances are that at some point in your life that you're going to need to buy a toilet.
Everyone needs a good toilet. With hundreds of brands available online and in the hardware store how can you make sure you're buying the best one for your needs? Don't fret though, because we're here to help.
Here, we've made a list of reviews to show you the best toilets under $200. Whether you're looking to deck out your RV, fix up the office bathroom, or install one in your own home – these reviews will have you covered. Since everyone must use a toilet, shouldn't it be easy to find the right one without breaking the bank?
---
A Quick Comparison of Our Favorites in 2023
Rating
Image
Product
Details

Best Overall

Kohler

Fantastic flush power and cleanliness
Easy to install
Excellent water efficiency
CHECK PRICE

Best Value

American Standard

Maximum water efficiency
Available in a variety of sizes
EverClean surface inhibits bacteria growth
CHECK PRICE

American Standard Wall-Hung

Lightweight
Good flush power
Easy installation
CHECK PRICE

Best for RVs

Dometic Domestic Sanitation

Surprisingly strong flush power
Durable ceramic build
Comfortable, full sized seat
CHECK PRICE

Thetford Aqua-Magic RV

Fast & easy install
Hand sprayer for cleaning
Variable heights
CHECK PRICE
The 6 Best Budget Toilet under $200
1.

Kohler 528361 K-3977-0 Toilet – Best Overall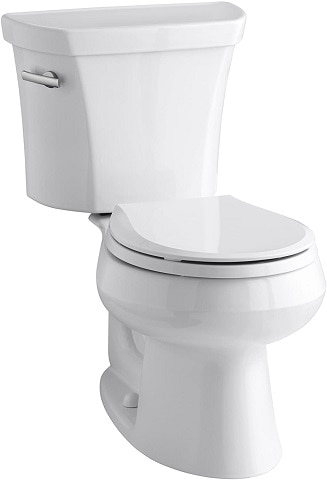 Efficient, powerful, and sturdy the Kohler is a high-quality toilet for a low budget price, and makes the top of our list for best toilets under $200. It can handle large amounts of waste with ease and won't wake the whole house up doing so. You also get everything you need to install it yourself, including a 1-year limited warranty to protect your investment.
Our favorite things about the Kohler are the combination of superior flushing power and efficient water use. Often toilets with powerful, clog blasting flushes use more water than their less-powerful competitors. But you don't have to sacrifice effectiveness for efficiency – the Kohler stays within conservation guidelines at 1.6 gallons per flush (GPF) and beats out similarly sized competitors for bowl cleanliness.
The Kohler has an ergonomic design too. It sits high enough off the ground to reduce knee strain, and the bowl is large enough that you don't have to worry about a cold surprise on your bare skin.
The only real downside we encountered is the weight. Made from porcelain, it weighs in at almost 100 pounds. Don't be afraid to ask for help moving this one!
Pros
Fantastic flush power and cleanliness
Easy to install
Excellent water efficiency
Quiet flush
1-year limited warranty
Comfortably, ergonomic design
---
2.

American Standard 288DA114.020 Toilet– Best Value
Looking to lower your water bill? Check out the American Standard 288, which get 1.1 GPF. It does trade flush power for upgraded efficiency, so the occasional clog is inevitable. However, the money you can save each month should not be overlooked by budget conscious buyers.
If you have children, you probably worry about keeping surfaces in your home clean. And the bathroom is ground zero for germs. This toilet is made from a special material that inhibits bacteria growth, meaning you can breathe a little easier and clean a little less!
Easy to clean, efficient, and a lifetime warranty limited. You won't need to replace this toilet any time soon, which makes the 288 our clear choice for best budget toilet under $200 for the money.
Pros
Maximum water efficiency
Available in a variety of sizes
EverClean surface inhibits bacteria growth
Lifetime limited warranty
Cons
Low flush power
Moderate price range
---
3.

American Standard 2257101.020 2257.101.020 Toilet
The American Standard 225 has a lot to offer a commercial buyer. It is affordable, lightweight, sturdy, and efficient. And the modest price means you can even furnish multiple stalls without breaking the bank.
This is another great option for those unwilling to trade toilet flush power for efficiency. Put away that plunger, because the pipes are designed to handle bulk. It uses a max of 1.6 GPF, and with the appropriate handle can reach as low as 1.1 gallons. Less clogging and less money!
The 225 would be an excellent choice for any office or restaurant looking to lower bills. Most American homes are not equipped for wall mounted toilets, however, so use is limited.
Pros
Lightweight
Good flush power
Easy installation
Remarkable water efficiency
Friendly for smaller budgets
Cons
Requires additional parts
No warranty
---
4.

Dometic Sanitation 302310083 310 Toilet
For the ultimate comfort while traveling, we love the Dometic for a budget RV toilet. Though middle-of-the-road price-wise, you get a lot for your money. Specifically, it has a full sized, elongated seat that won't leave you yearning for your bathroom at home – a rarity in an RV!
Water efficiency is especially important in an RV. Which means we were pleased to see that the Dometic has an incremental flush, meaning you can use as little or as much water as you need. Go as little as 1 pint, or up to 0.4 liters for a flush powerful that leaves the bowl sparkling clean.
The larger size may end up as a downside for some though, since space is scarce in an RV. No matter how comfortable it is… if you can't fit it in your bathroom it's a no-go.
Pros
Surprisingly strong flush power
Durable ceramic build
Comfortable, full sized seat
Pedal flush
Water efficiency
Cons
Requires additional parts
Large for an RV
---
5.

Thetford 31671 Aqua-Magic RV Toilet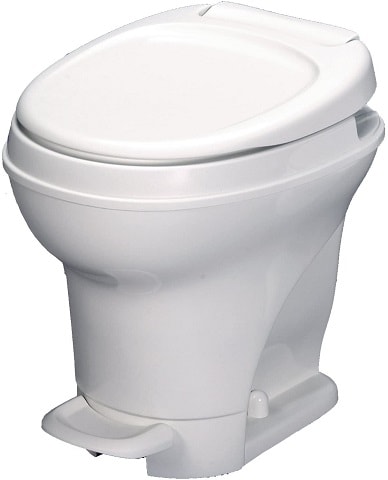 While it may not be the best, Thetford's RV toilet is a great choice for budget & space conscious buyers. It comes in two different sizes, so you can choose what's most comfortable for the space available to you. The low size is only 15" high which means it can fit in virtually any RV!
One of the best things about the Thetford is that you can add a handheld spray nozzle for cleaning. The flush isn't as powerful as other toilets, but you won't have to suffer for it with this easy clean design. The handy sprayer also replaces one of our least favorite parts about cleaning a toilet – the toilet brush, ugh!
The major drawback, however, is the low durability of a plastic toilet. This, and the smaller size are the main things buyers should compare to other RV toilet options.
Pros
Fast & easy install
Hand sprayer for cleaning
Variable heights
Pedal flush
Small, fits in most RVs
3-year warranty
Cons
Plastic, less durable
Small, less comfortable
Flush power
---
6.

American Standard 221CA.004.020 Colony Toilet
Those who like choices will appreciate the American Standard 221. Pick between a low flow version to save on water, or a GPF for increase flush power. And for those with space requirements it comes in two sizes, so you can even tuck it into the hall bathroom without your knees scraping the wall.
The process of installing this toilet is simple enough for any layman to handle with ease. However, it does weigh in at a little over 75 pounds – the second heaviest of all the toilets on our list. Renovators of second story bathrooms beware!
Even with the GPF variation, however, we did notice that the American Standard 221 is somewhat lacking in flush power. Over time the bowl is not kept as clean as others in our toilet reviews. While this is more of a cosmetic issue, it may also point to less ability to prevent clogs.
One of the best things we can say about this choice is that it is the most inexpensive home toilet on our list. It won't blow your mind, but it doesn't really need to.
Pros
Choose low flow vs traditional
Variable sizes
Inexpensive
Easy installation
Cons
Heavy
Flush power, cleanliness
---
Buyer's Guide – Finding the Best Budget Toilets Under $200
When deciding on a toilet under $200, there are some important considerations to make. Where will you be installing your new toilet? And will you be doing the installation, or will you be hiring a plumber?
After it's set up and ready to go, there are still two things to consider. Efficiency of water usage will make a big impact on your utility bills, and flushing power is an absolute necessity. Let's take a closer look at each of these areas to determine which toilet is the best for your needs.
Types
There are three types of toilets that you'll need to choose from: Home, commercial, or RV. Without serious modifications toilets of one type cannot be used interchangeably.
Home toilets are specifically designed for comfort and are often easier to install than other toilet types. They're also easier to clean, and often more pleasing to the eye.
Commercial toilets can be found in offices, restaurants, gyms, or any other public use building. Because they're likely to see heavier use than a home toilet, they are equipped with greater flushing power. This, combined with their wall-mounted installation, prevents them from clogging.
RV toilets are specially made to fit into the smaller confines of campers and recreational vehicles. Shorter and smaller than home or commercial toilets, they prioritize space-saving efficiency over flushing power and comfort.
Installation
Installing a toilet may seem like a job for a professional. But these days many options come with everything you need to do it yourself.
A savvy buyer can save themselves the hassle and cost of calling a plumber by choosing an all-inclusive model. If you're interested in managing your own installation, look for models that are at least partially pre-assembled.
Pro tip: Many toilet bowls don't come with a seat! Plan to purchase a compatible seat with your toilet and you won't be setting yourself up for an emergency hardware store trip.
Water Usage
Older models of toilet used to use between 3 and 7 gallons of water per flush. With technological advancements, however, most toilets these days only use 1-2 gallons per flush.
Today we all know how important conserving our natural resources is. But did you know that choosing a high-efficiency toilet is also the best way to save on your utility bills? For budget-conscious buyers, a low flow toilet is an efficient and reliable choice that will save you from flushing your money away too.
Flush Power
If you've ever experienced a toilet with sub-par flushing power you probably remember how inconvenient, and just plain gross that can be. Flush power is especially important to families and commercial spaces.
Check if the toilet has a MaP score. This number represents how many grams of solid waste the toilet can remove in one flush. The higher the score the less likely it is to clog or require additional flushes.
You'll notice that some toilets even have a "power-wash" flush. This helps keep the bowl cleaner, longer, and will prevent any undesirable hand scrubbing. If you're looking to save yourself the hassle of frequent toilet bowl cleanings, this feature is a must.

Conclusion
Did you know that a well-hydrated adult uses the bathroom as much as 12 times a day? It just goes to show that even if you don't have a family of four, your toilet is going to see a lot of use. So why gamble on finding the right one for you?
With its near-perfect combination of efficiency and power at an amazing price, the Kohler 528361 K-3977-0 Toilet receives our highest recommendation on our list of best toilets under $200. For any home installation, it should be the first toilet you consider.
However, for the most economical toilet, the American Standard 288DA114.020 Toilet steals the show. Its low-flow flush design will continue to save you money year after year.
Our detailed reviews covered important toilet features like installation difficulty, water usage, and flushing power. We even added some helpful tips on what to know before buying. We hope that these reviews can help make your shopping experience simple and stress free.
---
Featured Image Credit: New Africa, Shutterstock