DeVilbiss FinishLine 4 FLG-670 Paint Gun Review 2023 – Pros, Cons, & Verdict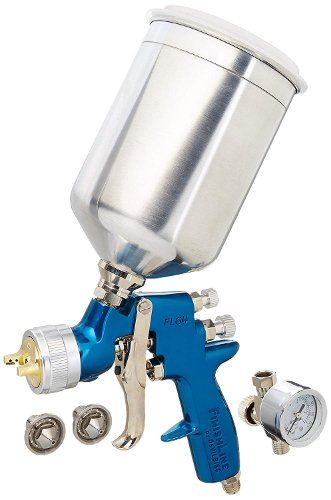 We give the DeVilbiss FinishLine 4 FLG-670 Paint Gun a rating of 4.6 out of 5 stars. 
Build Quality: 4.5/5
Power: 4.2/5
Features: 4.6/5
Price: 4.9/5
Review Summary
This spray gun will appeal to the beginning painter as well as the seasoned professional. With three tips it will spray epoxy primer (1.8mm tip), base colors (1.5mm tip), and urethane clear coat (1.3mm tip), all with equal verve and panaché. They come out like glass. The adjustments are easy and precise. The atomization is fantastic and gives excellent results.
If you paint for living you'd probably use this spray gun mainly for laying primer, or the occasional small job, but for anyone doesn't require super high, photo-finish quality, this is a great product. It's very easy to disassemble, clean, and reassemble. The manual is very detailed, and spare parts are readily available.
This gun out-performs competitors that cost three times as much. And if you have any problems, Devilbiss customer service goes out of their way to make you happy. You get the feeling they really care. They're prompt, courteous, and helpful.
A Quick Look at the DeVilbiss FinishLine 4:
Pros
Easy to use
Excellent manual
No streaks or drips
Excellent customer service
Adjustments are extremely easy
Easy to disassemble, clean, and reassemble
Handles primer, base coats, and clear coats equally well
Cons
No carrying case
The fan needs to be wider
No spray gun wrench to change the tips
Doesn't include a filter at the bottom of the cup
Specifications
Brand: DeVilbiss

Product Type: Spray gun

Model: 803558

Power: Air compressor

In the Box: FLG-670 HVLP Gun, 900cc Aluminum Cup, 1.3mm, 1.5mm and 1.8mm Fluid Tips, Air adjusting valve with gauge.
Quality tips
Having three different tips allows you to dedicate each one to a particular type of paint or primer. This cuts down on contamination, makes cleaning easier, and delivers more consistent results over the long run. This kind of quality is important when you want lasting results.
Customer service
DeVilbiss' customer service is hard to beat. They go out of their way to make you feel special, to listen to you, and treat you like a real person. You might not always get what you want, but they do their best to let you down easy. It's a nice change of pace these days.
FAQ
What is the interior?

The inside of this spray gun, in fact, all the internal passages are anodized. That and the anodized body simplifies the maintenance and cleaning of this gun.

What kind of compressor is needed?

This gun requires 13cfm (cubic feet per minute) at 23psi to function properly. 40psi is ideal. You'll need a minimum of a 5 Hp compressor. There have been reports of it working correctly with smaller compressors, but why take the chance? Get the right size up front and you not only won't have any problems with the spray gun, but it'll also serve you very nicely in the long run with other compressed air tools.

Will it work with a compressor larger than 5 Hp?

Yes, just make sure you're using a 3/4″ or 3/8″ air hose. As a general rule of thumb, you can almost always use a bigger compressor – with the pressure dialed back – but using too small a compressor is a killer.

Does this come with a carrying case?

No. This is a major disappointment. We're not sure why DeVilbiss didn't include a case with this spray gun.

Does it work with automotive parts?

This spray gun was made for automobile and industrial paints, so yes, it works quite well with them. You'll get a nice smooth finish that only an expert could tell wasn't laid down with a high-end sprayer.
General User Impressions
The good
DeVilbiss quality and customer service

Many people had nothing but good to say about DeVilbiss and their customer service. Some gave a shout out to their customer service representative by calling them by name. The occasional bad apple didn't discourage many from admiring DeVilbiss' reputation for quality, and their customer service made up for it with those that were upset. You can't go by treating your customers like family.

Bang for the buck

The value of this spray gun won over many people who compared it to more expensive models from other manufacturers. Quality, delivered at a reasonable price, is always a winner. A quality product with fewer features will often defeat an average product with too many features that don't always work.

Sprays and atomizes

In most of the reviews we saw, people were impressed by the three fluid tips that came with this gun and the way it laid down paint, primer, and clear coat without running or dripping. "Clear as glass," and "amazing" were some of the comments we found. It atomizes the spray for a near perfect finish.
The bad
Misrepresentation

A number of people reported getting a plastic cup instead of the metal one pictured in the advertisements. This wasn't a universal complaint by any means, but it happened often enough to make us wonder what's going on at the factory.

On the other hand, we found a number of reviews where the customer explicitly said they received a metal cup. Someone at the factory may be cutting corners now and then when the boss isn't looking. If so, it isn't DeVilbiss' fault directly, but they need to address it.
---
I'd also recommend watching this YouTube video for a visual overview:

Conclusion
The DeVilbiss FinishLine 4 FLG-670 spray gun is a quality product with enough features to satisfy even a picky user. It works the way it should, sprays evenly and clearly without running or dripping, and is simplicity itself to disassemble, clean, and reassemble. It feels comfortable in your hand and is very well-balanced. The instruction manual is straightforward and includes an exploded diagram that actually makes sense.
We wish it had a carrying case, but that's really the only fly in the ointment. Aside from that, this spray gun will probably be the last one you'll need to buy for some years to come.
Related posts: