10 Best Cabbage Varieties to Grow At Home (With Pictures)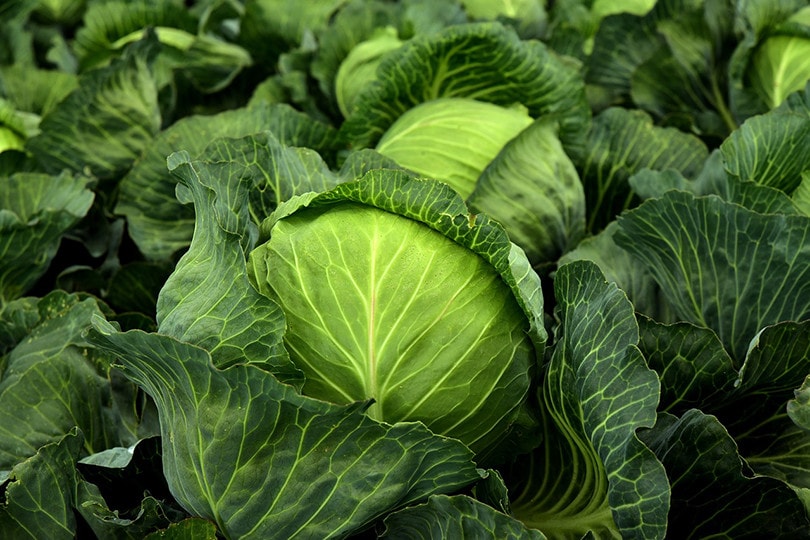 Cabbage is a great vegetable to grow at home. It is fairly easy to grow, provides a ton of nutrients and health benefits, can be used in a variety of ways, and it is affordable. Cabbage can be used in salads, eaten raw, or cooked in various dishes. It typically takes two to three months to reach maturity, and it needs a good amount of sunlight, but it can produce multiple pounds of delicious leafy greens per plant. For these reasons, many people are looking for cabbage to grow in their personal gardens.
Like most domesticated plants, cabbage has multiple cultivars and offshoots that grow at different times and in different sizes. There are fast-growing cabbages, slow growing cabbages, giant cabbages, dainty cabbages, and foreign cabbages. There are red cabbages and white cabbages. There are cabbages great for salad and cabbages great for cooking in a wok. Whatever type of cabbage you enjoy, there is a variety out there that can easily be grown in your garden.
Here are the ten best cabbage varieties to grow at home.

Quick Cabbage Overview
| | |
| --- | --- |
| Scientific name: | Brassica oleracea |
| Colors: | Green, red, purple, white |
| Frequency: | Annual, biannual |
| Season: | Spring or autumn |
| Type: | Leafy green vegetable |
| Average weight: | 2lbs |
| Location of Origin: | Europe |

The 10 Cabbage Varieties
1.

Brunswick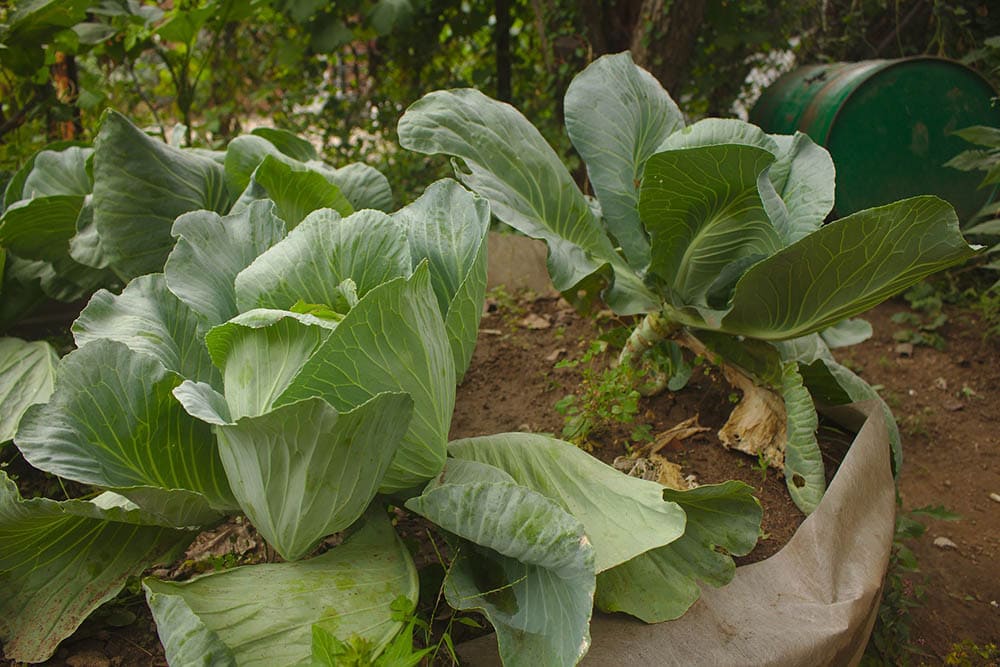 | | |
| --- | --- |
| Growing Time: | 90 days |
| Size: | Large |
Brunswick cabbage is a large and versatile variety. Brunswick can be grown in either spring or fall, meaning it can slot into whatever garden rotation you are currently running. The heads of Brunswick cabbage can get extremely large. They can measure upwards of 10 inches in diameter and weigh over five pounds.
Brunswick cabbage is extremely cold tolerant making it a great crop to grow in cold climates. It will also last most of the winter, allowing you to eat fresh greens during the coldest months of the year. Brunswick reaches maturity in 90 days, making it a slow growing cabbage, but the versatility and the size of the final product make it worth the wait.
---
2.

Bok Choy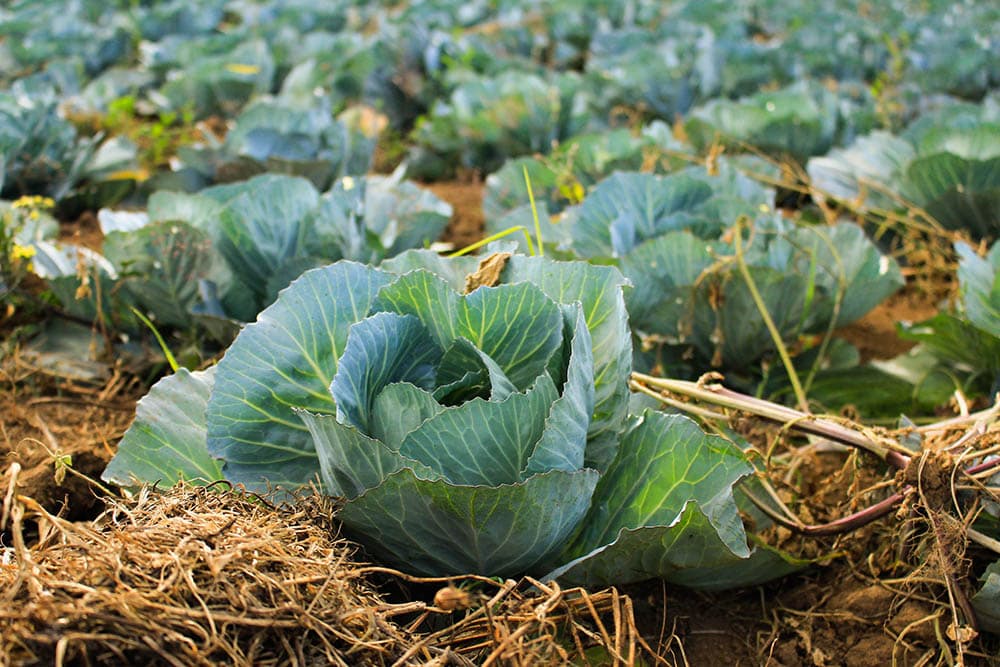 | | |
| --- | --- |
| Growing Time: | 45 days |
| Size: | Medium |
Bok choy is also known as Chinese cabbage. It is a great cabbage to grow at home because it is a staple in a wide variety of Asian dishes. Bok choy is planted in spring and summer with the target of harvesting the plant in the fall. Bok choy typically takes 45 days to reach maturity and is considered a medium sized vegetable.
Bok choy is a great variety of cabbage to grow because it is harvested right before winter. It is a great addition to stir-fries, hot lo mein, soup, and noodle dishes, which are perfect for a cold winter's meal. You can eat the leafy green parts of Bok choy or the white stalks, and both make an excellent addition to your meal.
---
3.

Earliana
| | |
| --- | --- |
| Growing Time: | 60 days |
| Size: | Small |
Earliana is a small cabbage that is great for small or fast gardens. Earliana takes just 60 days to reach maturity and produces heads that range in size from one pound to two pounds and only measure a few inches in diameter. Earliana cabbage can reach maturity weeks earlier than some other large cabbage varieties due to its smaller size.
Earliana cabbage still requires full sun and adequate spacing in order for it to thrive. It is a great option for someone looking to dabble in cabbage, try out cabbage for the first time, or someone who likes to cook with small cabbage heads rather than super large varieties.
---
4.

Golden Acre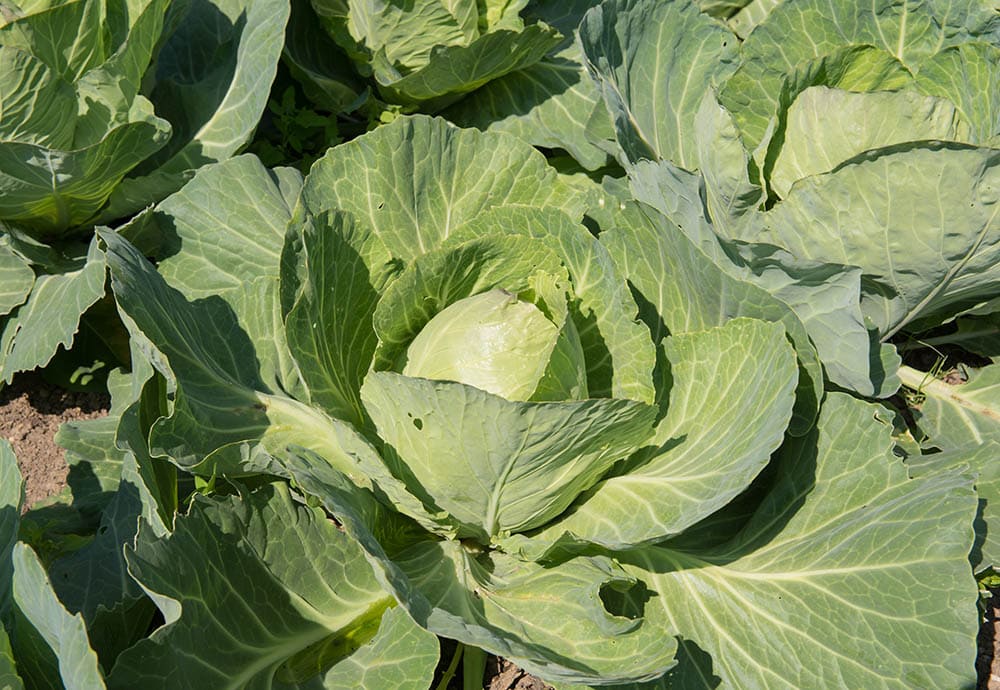 | | |
| --- | --- |
| Growing Time: | 60 days |
| Size: | Medium |
Golden acre cabbage is another variety that grows rather quickly and produces manageable heads. Golden acre is sweet compared to many other cabbages, which are tart or bitter. Golden acre cabbage grows over a wide area and is more forgiving in its growing condition than other cabbage varieties.
Golden acre cabbage can grow in partial sun or partial shade rather than full sun. They also do not need as much room to grow and spread. Many cabbages need 24 inches of spacing, but golden acre can survive with just 14 inches of spacing. That makes these cabbages great for small shady gardens where space and sunlight can be an issue.
---
5.

January King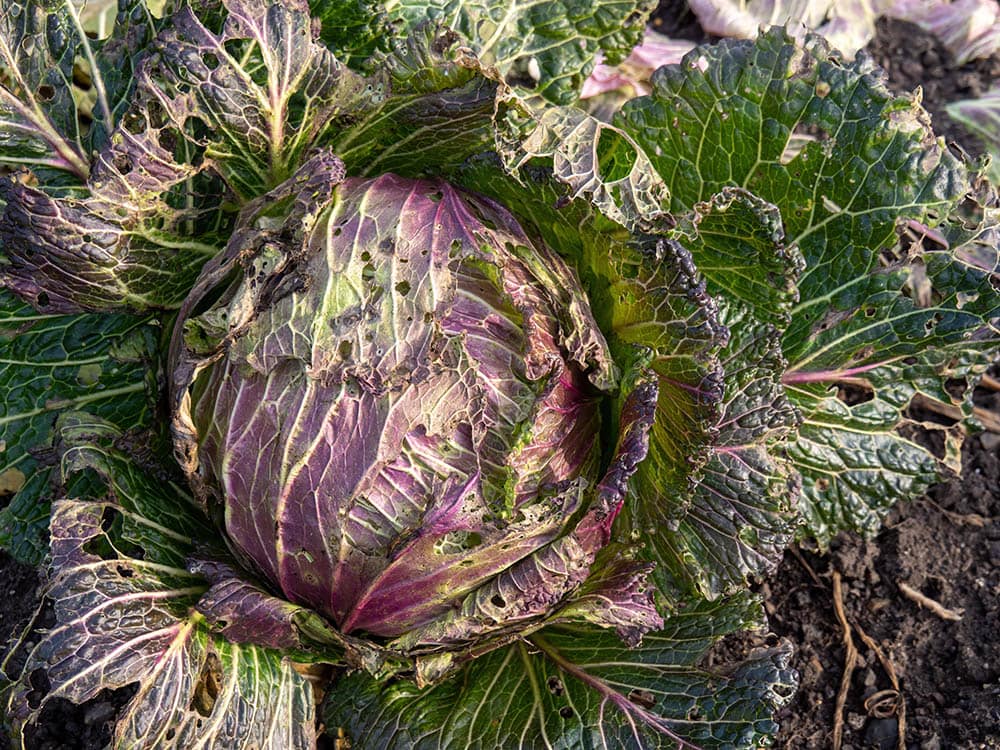 | | |
| --- | --- |
| Growing Time: | 150 – 200 days |
| Size: | Medium |
As the name suggests, January king cabbage can be harvested in January. Unlike most cabbage varieties, January king can withstand some of the coldest winters while retaining its vibrant leaves and edible nature. You can plant January king in early summer and shoot for a January mature date. It takes nearly 200 days for this cabbage to reach maturity, but it is worth the wait.
Not only is this cabbage delicious, but it is also beautiful. It sports dark green and purple leaves, which can brighten up your garden and especially so during a season when most other plants are dying or shutting down for the winter. January king is beautiful, delicious and can provide fresh vegetables in the depths of winter.
---
6.

Late Flat Dutch
| | |
| --- | --- |
| Growing Time: | 100 days |
| Size: | Extra large |
If you really like cabbage, you should try your hand at growing late flat Dutch cabbages. This cultivar creates truly massive heads that can produce multiple pounds of edible cabbage greens. The largest late flat Dutch heads can weigh over 15 pounds and measure nearly a foot in diameter. If you get multiple starts to pop and thrive, you can end up with dozens of pounds of cabbage.
The large size takes a while to mature, giving the late flat Dutch plants a growing time of 100 days or more. Due to their large size, these cabbages need plenty of sunlight, plenty of water, and plenty of room to spread out. Each cabbage plant will need a minimum of two feet of space around the plant to accommodate the large heads.
---
7.

Charleston Wakefield
| | |
| --- | --- |
| Growing Time: | 75 days |
| Size: | Large |
Charleston Wakefield is a cabbage variety that grows extremely well across the United States. It is tolerant of both hot weather and cool weather, which extends its growing zones. These large cabbages take about 75 days to reach maturity.
Mature Charleston Wakefield heads are dark green, have a conical shape, and can weigh anywhere from three to six pounds. It takes a while for these large heads to grow to their full size, but when they are done growing, you can get pounds of delicious American cabbage. In order for Charleston Wakefield to thrive, it needs full sun and plenty of space to grow.
---
8.

Parel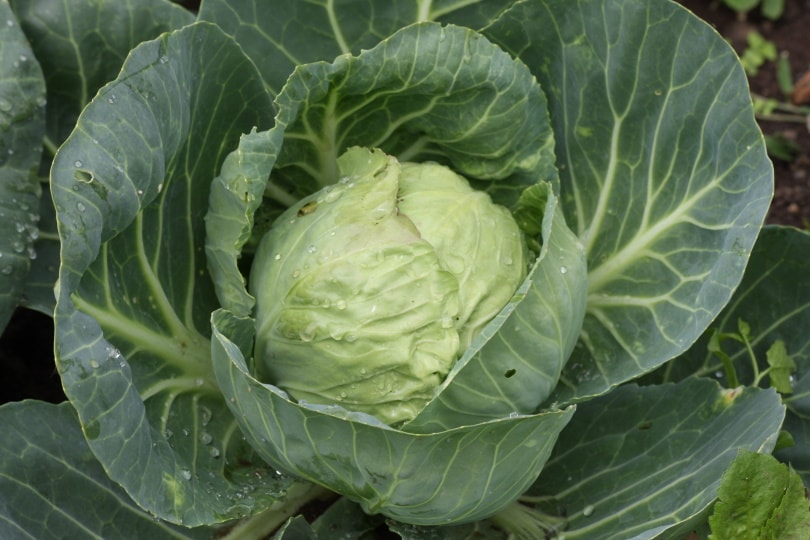 | | |
| --- | --- |
| Growing Time: | 45 days |
| Size: | Small |
Parel is a hybrid cabbage cultivar with a lot of benefits. You can plant this hybrid at the very beginning of the growing season and get delicious cabbage in just six weeks. This is a fast-growing and compact cabbage that is not too large. You can get two crops of Parel cabbage per year if you plan your garden accordingly.
Parel has a very appealing blue-green color and rich leaves. It requires a lot of water to thrive, but you have to take care to keep the maturing heads dry to prevent mold, mildew, and rot from ruining this fast-growing vegetable. Parel cabbage is a great choice for anyone looking to grow cabbage quickly or someone who wants to get multiple harvests in a single year.
---
9.

Red Acre
| | |
| --- | --- |
| Growing Time: | 85 days |
| Size: | Medium |
Red acre is a red cabbage that looks nearly as good as it tastes. This small bright cabbage is great for cooking, sautéing, and salad. Red acre can take anywhere from 70 to 100 days to reach maturity. The growing zones for red acre are quite a bit more specific than other cabbages meaning that not everyone will be able to get this red cabbage to grow at home.
Red acre thrives in growing zones 3 through 9. Other cabbage varieties can grow in zones 1 to 12, meaning this is a more particular plant to grow. If you live in one of the zones ideal for red acre, it is worth trying to grow this vibrant cabbage.
---
10.

Savoy Perfection
| | |
| --- | --- |
| Growing Time: | 90 days |
| Size: | Medium |
Unlike most cabbage varieties, savoy perfection is a wrinkled or crinkled cultivar. Other cabbages have smooth leaves and tight heads. Savoy perfection sports textured leaves and looser heads than its cousins. This makes Savoy perfection a great way to break up a garden or add texture to a salad.
Savoy perfection is a medium sized cabbage that produces heads measuring five inches in diameter and can weigh up to three pounds. Savoy perfection is not the largest cabbage available. It has a pungent taste and a great appearance that will look good in any garden or garden salad.

Cabbage Growing Tips
Sunlight
Cabbage typically likes to grow in full sun. Most leafy green vegetables do best in full sunlight. There are some cabbage cultivars that can grow in partial sun or partial shade, but to be safe, you should always assume that the cabbage wants to be planted in full sunlight. Even cabbages that can grow in partial sun will grow best and thrive in full sunlight.
---
Water
Cabbage also likes to receive a lot of water. However, you should do well to avoid overwatering your cabbage. Overwatering cabbage can lead to leaf rot, root rot, and mold that can quickly damage or destroy an edible crop. Cabbages growing in the autumn or winter will need less water than cabbages growing in the spring and summer.
---
Spacing
Cabbage is a large plant that requires ample spacing to thrive. Most cabbage varieties require at least 18 inches of space to grow comfortably. Other varieties want a minimum of 24 inches of space. If you are planting or culling your cabbage starts, you need to make sure that each plant has enough room around it so that it can spread out and establish a large and healthy base for the dense cabbage heads. Do not crowd or over plant your cabbages because it will cause them to wilt and it will affect their overall growth.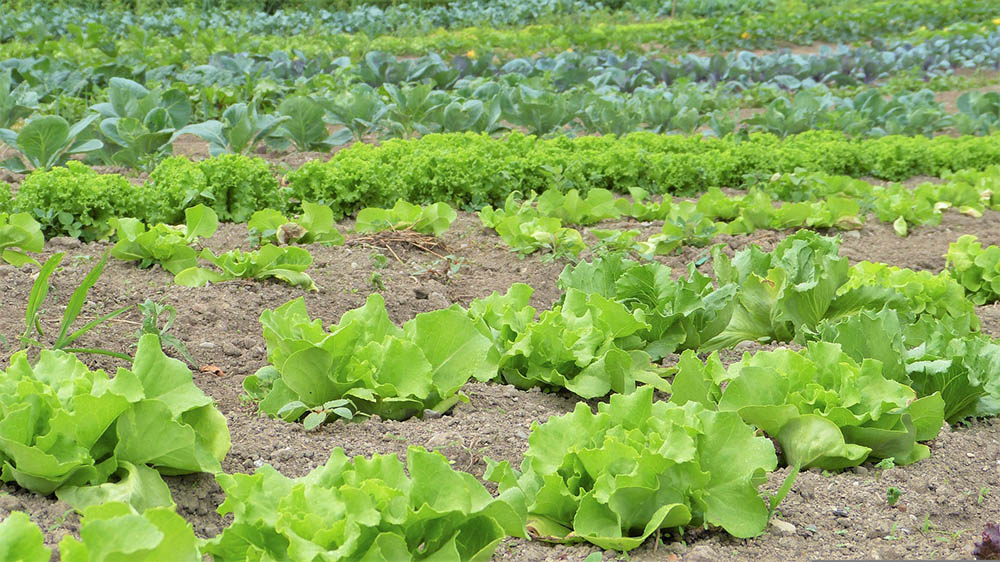 ---
Check The Growing Season
Before planting your cabbages, check to make sure you are planting them in the proper season. Some cabbages get harvested in summer, some cabbages get harvested in autumn, and some cabbages can even be harvested in the dead of winter. Planting your cabbage at the right time is critical for success. Most cabbage varieties are planted in spring or early summer, but not all of them are.
---
Check Your Growing Zone
The last thing you want to check is your growing zone. Cabbage is a fairly versatile plant that can grow in a variety of environments, but some cabbages are pickier than others. Cabbage growing zones typically range from Zone 1 to Zone 12, but some varieties can only grow in the middle zones. Many cabbages are cold tolerant or even frost resistant. That is because cabbage hails from Europe, and some cabbages come from northern Europe. But for the best results, double-check your growing zone and the growing zone that your cabbage thrives.

Conclusion
Cabbage is a cooking and kitchen staple in many places around the world. With the right variety and a little bit of persistence, cabbage can also become a staple in your garden as well. Cabbage is delicious, good looking, and provides a ton of vitamins and minerals for a healthy diet. Cabbage is easy to grow, versatile, and can be planted in a wide variety of environments. With a little research, anyone can become a successful cabbage grower.
---
Featured Image Credit: ulleo, Pixabay