Comfort Height vs. Standard Toilet: Which to Choose?
There's nothing more awkward than using a strange toilet. It's always the wrong shape. Or maybe it's too wide, and you feel like you're about to fall in. An uncomfortable toilet makes a natural process feel so unsettling. Perhaps that's why so many people prefer to do their business at home.
But out of all the situations a strange toilet can put you in, the height of the toilet is by far the worst. If you're tall and sit down on a low toilet, it may feel as if your knees are touching your chest. And if you're short on a high toilet, your feet may just dangle and never touch the ground.
There are two general categories when it comes to your toilet's height: comfort height and standard.
And there are good reasons for having either. But which is right for you? In this article, you'll discover the benefits for each toilet, our top picks for each, and which one is right for you.
---
Standard vs Comfort Height Toilet: What's the Difference?
When comparing the main difference between comfort and standard height toilets, it's right there in the name.
But what height constitutes a toilet to be labeled as comfort height while others are just standard?
Toilets are generally labeled as comfort height if they measure 17-19" tall with the seat. And that's not just a number chosen at random. Comfort height toilets follow the measurements put down by the Americans with Disabilities Act (ADA). Toilets must fall within this range to be ADA-compliant.
You may have noticed that the toilets in wheelchair-accessible stalls are just a bit different. Those would be considered comfort height toilets.
A standard toilet measures 15 inches from seat to floor. These are the most common toilets found within private homes and establishments.
The height difference between standard and comfort height toilets is only 2". This may seem irrelevant, but we guarantee you'll be able to tell the difference the moment you sit down.
Important Factors When Deciding Between a Comfort Height and Standard Toilet
When getting a new toilet, you're going to need to decide whether a comfort height toilet is right for you. And there are some key considerations to think about.
Cost
The first major hurdle to overcome in your search for a new toilet is its cost. What's your budget for a new toilet? There are affordable options for both comfort height and standard size toilets. But if you're really looking for the cheaper option, the answer might surprise you.
Normally, "specialty items" tend to cost more; however, such is not the case for these toilets. The standard toilet is actually the more expensive of the two.
Feel
How are you going to know which toilet's best for you and your family if you don't sit on them?
Seriously, you need to actually get a feel for it. If you're uncomfortable on a taller toilet, opt for the standard size. And try to take into consideration those who will be using this toilet as well.
Awkward toilets can get pretty uncomfortable. And you definitely don't want one inside your home.
Height
Height's definitely an important factor when deciding on which toilet to get. And we're not talking about the toilets!
Your height will have a huge impact on your decision. If you're a taller individual, sitting down onto a standard toilet could end up being a nightmare. Just going to the bathroom could heavy undue stress on your joints and knees.
And if you're a shorter person, a comfort height toilet could cause you problems as well—especially if your feet are left dangling. This can lead to numbness and your legs falling asleep.
Bowl Shape
Toilet bowls come primarily in 3 different shapes.
And although you can find both toilets in each of these shapes, comfort height toilets tend to fall into the elongated category.
Constipation Problems
Did you know that your posture while on the toilet directly affects your ability to comfortably pass your bowels?
It's been proven that the higher you sit, the more difficult it is to pass a proper BM.  Standard toilets definitely edge out comfort height toilets when it comes to this.
Special Considerations
One of the most important things to keep in mind when purchasing a toilet is what special needs you may have.
If you're elderly or have elders at home, you may want to consider a comfort height toilet. The increased elevation makes it easier to sit down and stand back up off the toilet. Individuals with special mobility needs may also want to consider a comfort height toilet.
But then again, if you have a house full of kids, you may want to just stick with a standard sized toilet.
---
Pros and Cons of Standard and Comfort Height Toilets
Pros of Standard Toilets
More Effective for Constipation
Average-short height will find more comfortable
Great for kids
Pros of Comfort Height Toilets
Great for elderly, disabled, or people who have trouble standing
Best for taller people
Cheaper
Cons of Standard Toilets
More expensive
Taller people may find them uncomfortable
Cons of Comfort Height Toilets
Not suitable for shorter people
Less Effective for Constipation
Great Picks for Standard and Comfort Height Toilets
If you're unsure on where to start when choosing your next toilet, check out these two great options found on Amazon!
Standard Toilet: American Standard H2 Option
If you're looking to save water with every flush but still have a strong flushing power, you should definitely give this toilet a look. It has a compact-elongated shape that works great in smaller bathrooms as well.
Comfort Height: Toto Ultramax II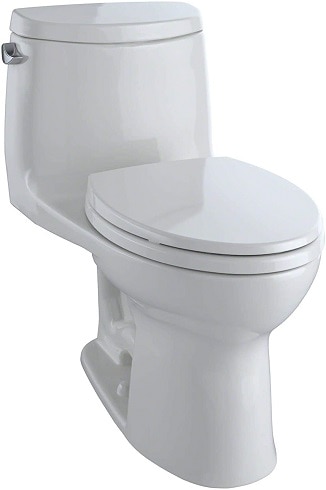 The Toto Ultramax II provides a great ADA-compliant comfort height experience. It's elongated bowl shape is more accommodating for different people. The toilet is also equipped with Toto's powerful Tornado Flush while only using 1.28 gallons.
---
Which toilet is Right for You? Comfort Height or Standard?
When it comes to choosing a toilet, you want to ensure that you've made the best choice.
Go through our list of criteria and put together a list of what you'll need to maximize your comfort. Armed with that knowledge you should be able to put together a pretty sizable list to get you started.
Just remember, don't be afraid to seek these toilets out at your local hardware stores and give them a test sit.
---
Featured Image Credit: Olena Yakobchuk, Shutterstock