7 Best Cant Hooks & Peavey – Reviews & Top Picks 2023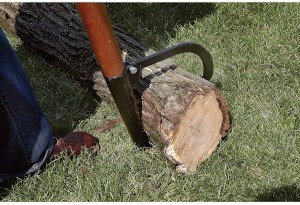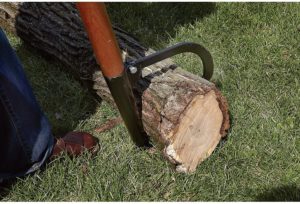 Cant hooks and peaveys are similar tools that perform similar tasks, although they do have some slight differences. Whereas the cant hook has two hooked claw ends, the peavey has a single hook end and a spike. Although both tools are used to grab, move, and lift logs, the peavey's design means that it can handle bigger logs but offers less maneuverability than the cant hook.
Considering the work either of these tools will need to do, the most important factors are the material and quality of the handle and the hook, as well as the length and size of the tool itself. With handle lengths ranging from 10 to 20 inches and longer, materials including lightweight aluminum and hardwearing stainless steel, the list of cant hooks and peaveys is a long one and includes products from manufacturers like Ironton, WoodChuck, and BAC Industries.
We have put together a list of reviews of seven of the best cant hooks and peaveys available. Choose one that best meets your log shifting requirements, has the features and specifications you consider most important, and falls within your budget.
---
A Quick Comparison of Our Favorites in 2023
Rating
Image
Product
Details

Best Overall

Felled Steel Timberjack

Cheap
Rubberized handle
A-frame log handler
CHECK PRICE

Best Value

Ironton Wooden Handle Cant Hook

Cheap
Durable wooden handle
Powder-coated metal hook
CHECK PRICE

Premium Choice

Woodchuck WCT04 Dual Peavey Point and Cant Hook

Works as peavey and cant hook
Lightweight aluminum
Rolls 30" logs and lifts 20"
CHECK PRICE

BAC INDUSTRIES INC TMB-55 Timber Jack

The lacquered wood handle is sturdy
Jack lifts logs 11" off the ground
CHECK PRICE

Timber Tuff TMW-01 Peavey

Lightweight hardwood handle
Powder-coated hook
CHECK PRICE
The 7 Best Cant Hooks & Peavey
1.

Felled Steel Timberjack – Best Overall
The Felled Steel Timberjack is a 45-inch cant hook. It is made from carbon steel, which is chosen for its structural rigidity and strength. The steel has an orange powder coating, which helps prevent corrosion and rusting.
The steel grab handle allows you to grab logs between 3 and 15.5 inches in diameter. The rubber handle has been designed to offer grip and support and to ensure that the tool is comfortable to use even for heavier logs. The A-frame design allows you to pick logs up to 11 inchesoff the ground so that you can safely chainsaw through, without the fear of sawing into the ground and suffering kickback. If not required, the log stand can be removed, leaving you with a standard Cant Hook design.
The Felled Steel Timberjack is affordably priced and aimed at regular home users. It will not withstand regular and heavy-duty use so it is ideal for cutting and managing firewood, but not suitable for commercial tree felling. Despite this, we think it is the best cant hook available this year.
Pros
Cheap
Rubberized handle
A-frame log handler
---
2.

Ironton Wooden Handle Cant Hook – Best Value
With its hardwood handle and metal hook, the Ironton Wooden Handle Cant Hook is an inexpensive Cant Hook design.
The handle is lacquered, although it would definitely benefit from the addition of a non-slip rubberized sleeve. The whole unit is 48 inches in length, but the head takes up quite a lot of length, so it is quite short compared to some models. The longer the handle, the more leverage you have when trying to roll logs around, making it easier to move heavy and cumbersome pieces around. The hook itself is designed to deal with logs between 8 and 10 inches in diameter, which means that it is suitable to work with most firewood piles, but will struggle with larger trees and commercial use anyway.
The Ironton is quite heavy, certainly compared to aluminum models, but it feels sturdy when used with the recommended log sizes. It is an inexpensive model that is great for home use, making it one of the best cant hooks and peaveys for the money, but it will not withstand commercial use and can't be used on large logs.
Pros
Cheap
Durable wooden handle
Powder-coated metal hook
Cons
Short handle
10" to 12" log diameter
---
3.

Woodchuck WCT04 Dual Peavey Point and Cant Hook – Premium Choice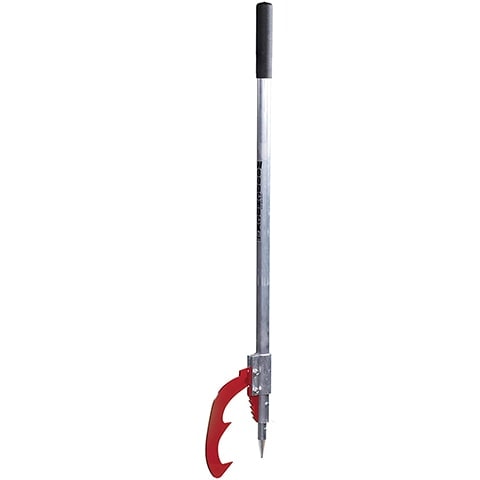 The Woodchuck WCT04 Dual Peavey Point and Cant Hook is a dual-purpose device. The aluminum handle is a lightweight alternative to wood and steel and measures 47 inches in length, which means that it may struggle to offer leverage for larger logs.
Despite being aluminum in construction, the Woodchuck only weighs a little bit less than the wooden Ironton, although it is two devices in one. The peavey spike can be retracted back into the handle, leaving a second hook surface and turning the peavey into a cant hook. The device has a limit of 30 inches diameter logs for rolling and 20 inches for lifting, although this hook has successfully been used on larger logs. For further functionality, the premium Woodchuck can be purchased with a log jack, which allows you to easily lift logs and hold them in place while power sawing through the wood.
Although the Woodchuck WCT04 Dual Peavey Point and Cant Hook device is designed for home use, its priced for professional use and is one of the most expensive devices on our list.
Pros
Works as peavey and cant hook
Lightweight aluminum
Rolls 30" logs and lifts 20"
---
4.

BAC INDUSTRIES INC TMB-55 Timber Jack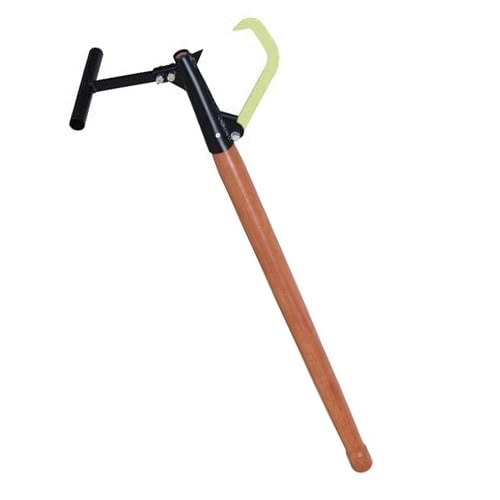 The BAC Industries INC TMB-55 Timber Jack is a 48" Cant Hook that includes a timber jack to facilitate the lifting of logs from the ground. The Timber Jack has a lacquered hardwood handle. The steel hook is designed for strength and durability and to ensure that you get a reliable grip that you can trust. The hook will work with logs up to 14 inches in diameter and will lift them up to 11 inches off the ground.
This gives you more than enough room to power saw through the log while it is in situ, however, the hook would benefit from having some additional teeth further up the hook because this would mean better grip for smaller logs, preventing them from spinning around the hook. The BAC Industries Timber Jack is a little more expensive than some models, but it does include the Jack feature which is a beneficial addition.
Pros
The lacquered wood handle is sturdy
Jack lifts logs 11" off the ground
Cons
Jack needs removing to roll logs
Struggles with smaller diameter logs
---
5.

Timber Tuff TMW-01 Peavey
The Timber Tuff is a 49-inch peavey, which means that it has a spiked dog and a hook. It's made from a lightweight hardwood handle and a powder-coated steel hook. The powder coating helps minimize corrosion and prevent rust, ensuring that the hook will retain its strength and will last for longer. Despite being described as lightweight, the handle is thick and with minimal taper, which makes it difficult to grip and grab hold of. It would also benefit from a rubberized sleeve for improved grip and to offer a more comfortable finish.
The hook end needs to be sharper to offer a better grip and it would also benefit from having additional grip further down the hook, which would make it more effective at gripping smaller logs. The Timber Tuff TMW-01 is suitable for mild home use but will not withstand regular or heavy-duty tasks.
Pros
Lightweight hardwood handle
Powder-coated hook
Cons
Needs additional grip on the hook
Needs a sharper hook end
---
6.

Earth Worth 83-DT5221 Peavey Point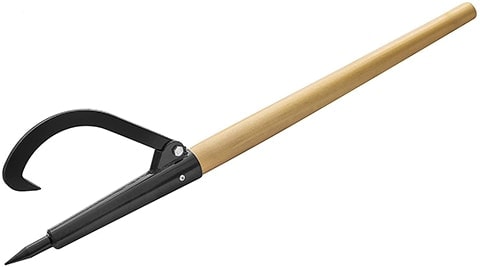 The Earth Worth 83-DT5221 Peavey Point is a peavey with a sharpened spike on one side and a hook end on the other. It features an ergonomic wood handle that is lightweight but sturdy. The handle is quite thick and does not taper, which means that it offers a restricted grip and would benefit from more contouring or the addition of a rubberized handle grip. Especially considering the Earth Worth is one of the most expensive options on our list.
However, despite only being a 4-foot Peavey its strength and heft mean that it offers good leverage against most logs, and its 18-inch log opening means that it is suitable for use with firewood piles and most wood requirements at home. If you are a commercial user, you may still want something more comfortable and easier to hold, while for home use, this model is more expensive than most others.
Pros
Lightweight hardwood handle
Robust and strong
Cons
Expensive
Only suitable for 18" logs
No rubberized grip or ergonomic handle
---
7.

LogRite 60″ Aluminum Handle Cant Hook

The LogRite 60" Aluminum Handle Cant Hook is the most expensive model on our list, but it is also the longest cant hook we reviewed. A longer handle gives you greater leverage, but longer handles are at greater risk of bending and snapping when you apply weight and pressure to them. Fortunately, the lightweight aircraft aluminum and zinc-plated steel hooks are durable and hardy. They will last for thousands of uses.
This 60" Cant Hook will work with logs up to 36 inches in diameter, which is the largest log capacity we found, and unlike a lot of options, the LogRite does include a rubberized handle. Considering the weight you will be shifting around and the kind of physical work conducted with a cant hook, handle comfort is important. Hardwood and metal handles, with no additional grip, can be uncomfortable and may cause damage to your hands. Rubberized grips help reduce the impact on your hands.
Pros
60" length
Work with logs up to 36" diameter
Rubberized grip
Cons
Expensive
Long handles can be cumbersome
---
Buyer's Guide – Choosing the Best Cant Hook or Peavey
Although many people use the terms cant hook and peavey intermittently to describe the same items, there is a subtle difference between the two. The cant hook has two hooked metal ends to form a claw-like shape, while the Peavey has a spike and one hook. The two devices have slightly different roles, too, which we will cover below to help you decide which is the best cant hook or peavey for lugging your firewood or other logs around. Our cant hook guide also covers some of the essentials that you need to consider when buying one of these items.
Cant Hook vs Peavey
The cant hook and peavey are often treated as being the same item. They look very similar and perform very similar tasks in similar situations. They are priced similarly and have a lot of similar features. They're even made from the same materials: typically, a choice of aluminum or wood handles with powder-coated steel ends. In reality, the two products may be similar but there are some slight differences.
Differences
The biggest difference is in how the two products look; specifically, there are differences at the business end of the devices. While the Peavey has a sharpened pole that can be used to get into a woodpile and separate two or more logs or to dig into the ground and allow the turning of smaller logs, the Cant Hook has two hooked ends. This allows for improved grip, especially over larger logs, but it prevents the hook end from being able to get in between two or more logs.
Applications
Both products are used to move and shift logs around in some way, but while the cant hook is best for gripping, it will struggle with thick logs. The two curved hook ends prevent this product from being used in woodpiles.
Because one of the ends of the peavey is straight, rather than curved in, this means that it has a larger jaw that is better suited to grabbing thick logs. The peavey is also better suited to turning and moving individual logs around, and it will struggle to get a decent grip because of the straight edge of the spike end.
Log Jacks
You will notice that some of the models in our list are described as having a log jack or log jack stand included. These are additional parts of the frame or a section that is added to the frame, and it acts as a stand for the log. The pole effectively digs into the ground or another log. The primary workpiece is seated in the jack stand, and this can be turned so that there is a gap between the log and the floor. The gap is usually around 11 inches and it allows you to use a chainsaw or other power saw to quickly cut the log to size and without having to worry about the saw blade catching in the ground or on another log and causing painful and potentially dangerous kickbacks.

Cant Hook & Peavey Features
The similarities between these two devices mean that you will need to look at the same features when buying. While writing our reviews we considered the factors below to be the most important when buying this type of product.
Handle Material
The handle is the section of the device that you will be gripping. You will be moving reasonable weights around, and you may suffer knocks and vibrations to the hand. It is important that you can get a good and firm grip on the handle, that you will be able to retain that grip even following ongoing use, and that the handle will offer decent leverage when working with heavier logs. Handles usually come in a choice of aluminum or hardwood.
Aluminum – Aluminum is one of the most popular construction materials because it is lightweight but offers a very respectable strength to weight ratio. This means that you can get good leverage from a handle that will last for years without potentially becoming chipped, bent, or otherwise damaged. Aluminum won't rot, disfigure, discolor, or rust, either, so it has more chance of retaining its strength and durability over a long period.
Wood – Hardwood is also considered a lightweight and durable material but it has different properties. It must be treated before use to prevent it from suffering damage or rotting down. While it is described as being lightweight, hardwood is heavier than aluminum. In some cases, however, this extra weight may be appreciated because it allows you to work with greater force and without the worry of the handle snapping or bending.
Handle Cover
Other than the handle's primary material, you should also look at whether it has some kind of coating. Hardwood handles are often lacquered. This lacquering offers a tough and durable, water-resistant finish to the handle.
Aluminum handles will usually benefit from the addition of a non-slip sleeve, for example, one made of rubber. A rubber handle means that you can grip on to and swing the handle without the fear of it flying loose from your grip. It can also minimize the vibrations and knocking damage caused to your hands, on impact, so if you have to give a peavey a bit of a swing to ensure that the spike end gets right into the log you're working on, it shouldn't prove too uncomfortable on your hands.
Handle Length
Handle length is worth consideration. The vast majority of these tools have a 48" or 4' handle. This length affords a combination of strength and durability coupled with flexibility. Longer handles can be unwieldy. They are difficult to swing, hard to handle, and their length exaggerates every little movement so that a slight wobble can lead to a big mistake. Although 48" handles are preferred, we did find some good models with 60" handles which offer much more leverage and support.
What Is Powder Coated Metal?
Other than the handle material and handle quality, you will also need to consider the hook end of the device and the pole end of the peavey. These should be made from good quality steel, typically powder-coated stainless steel. Stainless steel is already a durable material, but once it has been powder coated it is even more durable and it is resistant to damage like scratches, scrapes, knocks, and dents. It is also less likely to fade and shouldn't start wearing down for years to come.

Conclusion
Cant Hooks and Peaveys are used to perform similar tasks. They are used to lift, roll, and manipulate logs so that you can move them wherever you want them and even work with them.
The handles tend to be 48 inches in length because this offers a good compromise between leverage, strength, and convenience. Models include aluminum and hardwood handles, while the hooks and poles are usually powder coated stainless steel, which will not rust and will not corrode even when it is left outdoors or in a damp space.
Look for strength, ensure you choose between the hook and pole as required, and decide whether you want a log jack that can lift the log off the ground while you use a chainsaw to split it. Hopefully, our reviews of some of the best cant hooks and peaveys available, have helped you to find the one that best suits your project requirements and your personal needs.
The Felled Steel Timberjack is cheap, has a comfortable rubberized handle, and is strong and durable enough to serve its purpose well and for a long time. The Ironton Wooden Handle Cant Hook is even cheaper, although its wooden handle feels short and it lacks a non-slip sleeve that would give you added confidence when shifting large logs around.
You might also be interested in: 3 Ways to Get Rid Of Creeping Charlie (Quick & Easy)