10 Best Faucet Water Filters of 2023 – Reviews & Top Picks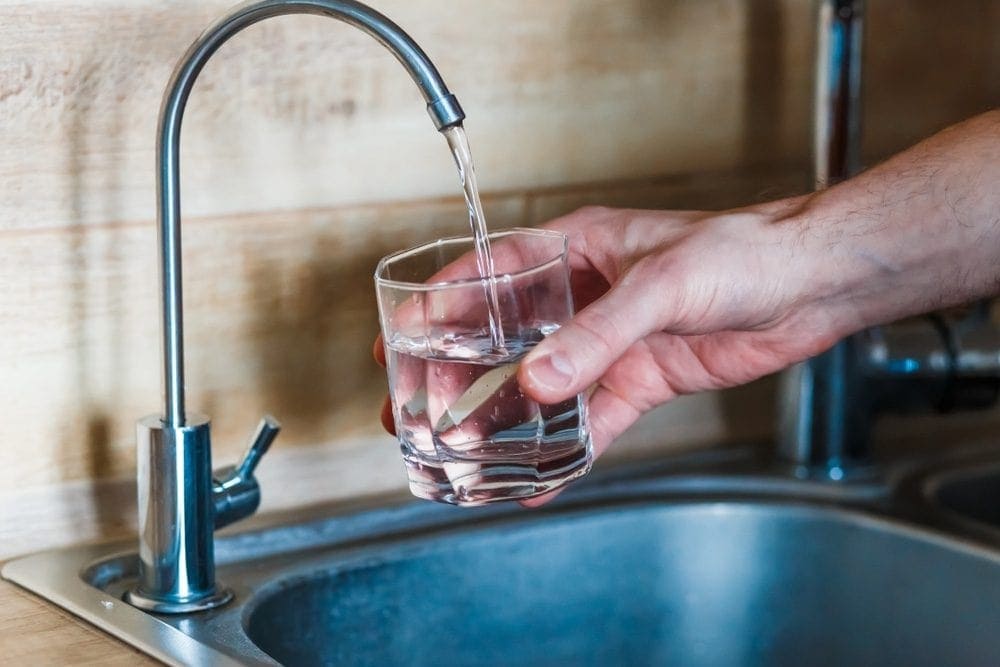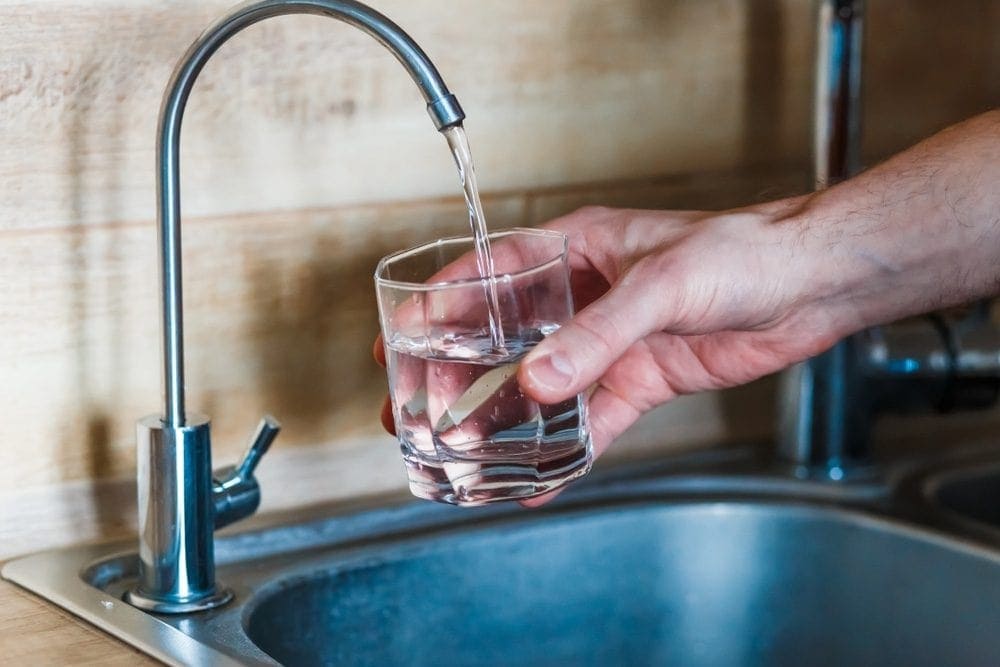 There are many different types of water filters available on the market. But one of the most convenient, easy to use, and simple-to-install water filters that you could get is a faucet mount filter. They attach directly to your existing kitchen faucet without the need for any plumbing, drilling, or shutting off the water. They're non-permanent, so they're even a great option for renters. And since they're affordable, they're a great choice for anyone.
We've been using faucet filters for years, but we wanted to see if there was something better available, so we set out to try as many of them as we could find. After thoroughly testing them all, we've settled on three winners that we recommend. But before you decide, the following 10 reviews will compare some of the best options to help you make an informed choice.
A Quick Comparison of Our Favorites in 2023
Rating
Image
Product
Details

Best Overall

PUR Advanced Faucet

1-click easy installation
3-month filter life
Filters 70 contaminants
CHECK PRICE

Best Value

Brita On Tap

Affordably priced
4-month filter life
Reminder light for filter change
CHECK PRICE

Premium Choice

Invigorated Water pH Regenerate

Leaves sink faucet open
12-month filter life
Alkalizes your water
CHECK PRICE

Engdenton Faucet Stainless-Steel

Sleek look
6-month filter life
Swivels 360 degrees
CHECK PRICE

Home Master Mini Sinktop

BPA-free
12-month filter life
CHECK PRICE
The 10 Best Faucet Water Filters
1.

PUR FM-3700 Advanced Faucet Water Filter – Best Overall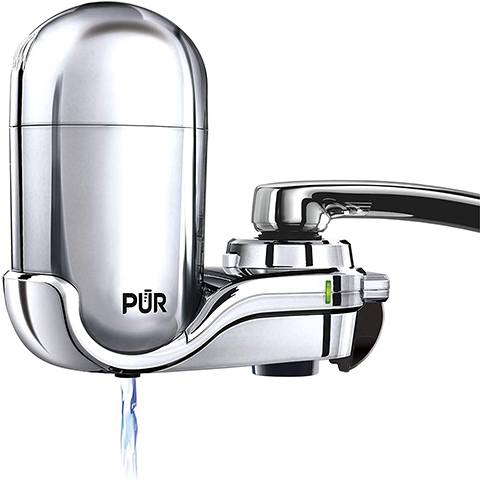 If you've looked for water filters at all, you've almost certainly come across the name PUR. They're one of the most well-known and oldest names in home water filtration. This means that replacement cartridges are easy to find since they're sold in so many places.
The PUR filter is very easy to install with one-click installation. Find the right adapter for your sink and just pop the filter on. Once installed, all you must do to get filtered water is turn the knob. This will redirect the water from your faucet through the filter, providing you with healthy and clean water that's had more than 70 contaminants removed.
Like all sink mounted water filters, the PUR filter is going to inhibit normal sink use to some degree. This one is a bit bulkier than some of the other options, and you'll probably notice its size if you wash dishes by hand. But it's so convenient to have delicious and refreshing filtered water on tap, and the PUR cartridges are so easy to find that it's our favorite overall. Plus, it's protected by a two-year warranty so you can rest assured that you'll have clean drinking water for years.
Pros
Removes 70 contaminants from water
Easy to find replacement cartridges
Two-year warranty
One-click installation
Cons
Inhibits normal sink operation
---
2.

Brita 7540545 On Tap Faucet Water Filter System – Best Value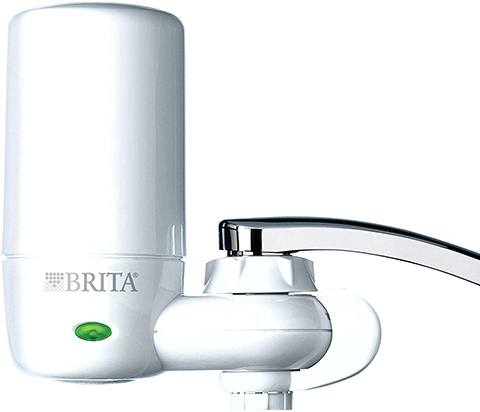 Brita may be the biggest name in water filtration. Brita filters are everywhere, so it shouldn't be much surprise to find one on our list. Since they're so common, getting replacement cartridges for this filter will be a breeze. You can even probably find them on the shelves of your local supermarket as you do your normal shopping. And you'll know when it's time for a replacement, thanks to the filter change reminder light conveniently built into the filter.
The Brita filter is one of the most cost-effective faucet filter we've seen, which is why we think it's the best faucet water filter for the money. It's also quite compact, so it won't inhibit normal sink use as much as some of the larger filters will. However, it doesn't provide quite as thorough filtration as some of the other options. This filter removes over 60 contaminants in total. For us, that's plenty to provide some peace of mind, but if you're looking for specific impurities to be removed, the Brita may or may not filter them. Overall, this is the best tap water filter for the money that we have reviewed.
Pros
Very affordably priced
Filter change reminder light
More compact than many other options
Replacement cartridges are very common
Cons
Doesn't filter out as many contaminants as other filters
---
3.

Invigorated Water 8541997845 Faucet Water Filter – Premium Choice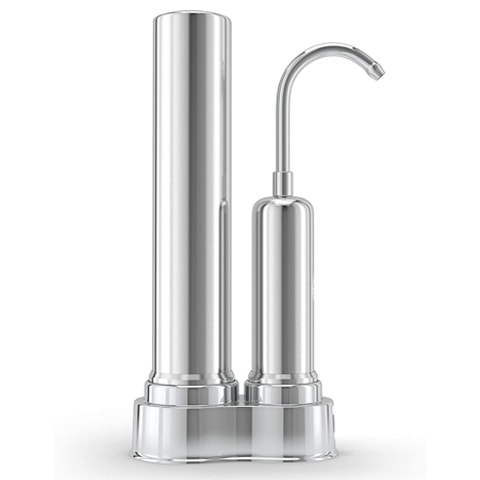 You're most likely looking to drink filtered water to improve your health, so why not take it a step further by alkalizing your water at the same time? That's exactly what the Invigorated Water Faucet Water Filter does. It will remove the unwanted impurities from your water that make it less healthy and replace them with important minerals that boost your water's alkalinity and help you stay healthy and hydrated.
While most of the faucet filters we tested mounted directly on your sink's faucet, this one has a small hose that attaches to the faucet while the filter sits beside the sink. This means it doesn't affect your normal sink function as much, so doing dishes won't suddenly be more difficult. But it does mean you'll be sacrificing some counter space, since this filter is a bit bulky.
Installation of this filter is easy with the five included connectors. Just screw the connector to your faucet and attach the hose. Once installed, you'll have clean water for 12 months before you have to think about it again, which is about four times the filter life of the PUR or Brita filters.
Pros
Leaves your sink faucet open
Alkalizes your water
Five connectors for easy sink hookups
Filter lasts for up to 12 months
Cons
Takes up a lot of counter space
---
4.

Engdenton Faucet Water Filter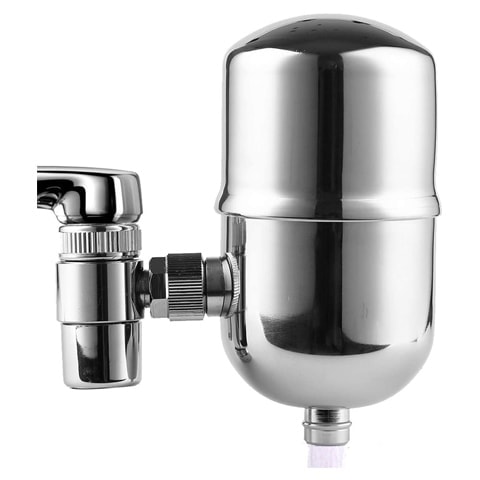 With sleek looks and food-grade 304 stainless-steel construction, the Engdenton Faucet Water Filter is a premium filtration device with the looks to match. You'll be paying a bit more for the quality, but you'll also get quite a few features packed in for the price. For instance, this filter can swivel a full 360 degrees, meaning you can maneuver it to wherever is most convenient. This helps it get out of the way so you can use the sink as normal. It also makes it more convenient for simply pouring a glass of water!
While most of the filters we tested had lifespans of just two or three months, the Engdenton takes it further with a filter lifespan of six months or about 320 gallons. We prefer the lower maintenance of longer-lasting filter cartridges, so this earned some points in our book. However, the replacement filters aren't as easy to find as some of the more well-known brands and they're also a bit more expensive.
Pros
Sleek looks
Filters last up to six months
Made from food-grade 304 stainless steel
Swivels 360 degrees
Cons
More expensive than other options
Replacement cartridges aren't as easy to find
---
5.

Home Master HM Mini Faucet Filter
If you need to retain full function of your sink and have a water filter for the sink faucet, the Home Master HM Mini Faucet Filter sits on the counter and attaches to your faucet with two small hoses that won't impede its normal movement. While this is great for proper sink function, it's not the most attractive look. It makes the sink area look kind of messy.
This filter features a one-micron carbon block that can remove all sorts of impurities, including chemicals, pesticides, herbicides, VOCs, and more. Even better, it's got a long filter life of 1,500 gallons, so you'll only have to replace the cartridge once per year.
Some of the premium filters we tested were made from stainless steel, but this one is crafted from plastic. It's BPA-free, but for this expensive price, we were hoping to see higher-quality materials used.
Pros
The filter lasts for 1,500 gallons or one year
One-micron carbon block
Removes chemicals, pesticides, VOCs, and more
BPA-free
Cons
More expensive than other options
Multiple long hoses don't look good
---
6.

Waterdrop WD-FC-01 Faucet Water Filter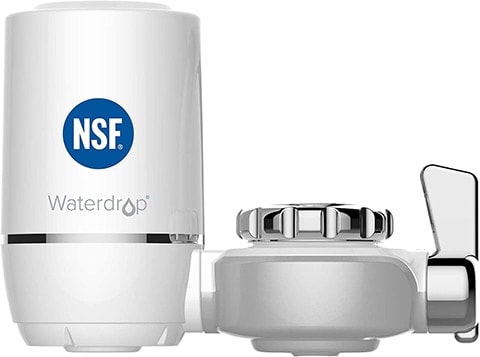 If you're looking for premium filtration without the accompanying price tag, then the Waterdrop WD-FC-01 Faucet Water Filter is one to check out. It's priced affordably, though it has a somewhat cheaper look that matches the price. Performance-wise, it's a winner, though. This filter can remove many common impurities like lead and chlorine. Though where it really shines is its ability to filter out fluoride, which very few filters can remove and they're typically quite pricey.
While it does strip quite a few contaminants from your water, the Waterdrop filter leaves the important minerals intact, so they're not missing from your diet. And the cartridges have an improved lifespan of six months or 320 gallons, so you'll get twice as much life from them as you would from a PUR or Brita filter.
There was plenty we liked about this filter, but it wasn't perfect. The faucet adapters were all plastic and didn't work well. They weren't strong enough to withstand the water pressure and would blow off, ruining the threads. Beyond this, the filter doesn't swivel, which means it can't be moved out of the way. If these problems were addressed, the Waterdrop filter would be a top contender.
Pros
Removes fluoride
Retains beneficial minerals
Not as bulky as other systems
Six-month/320-gallon filter lifespan
Cons
Replacement cartridges are more difficult to locate
Cheap, plastic faucet adapters don't work well
Filter doesn't swivel
---
7.

DuPont WFFM100XCH Faucet Mount Water Filter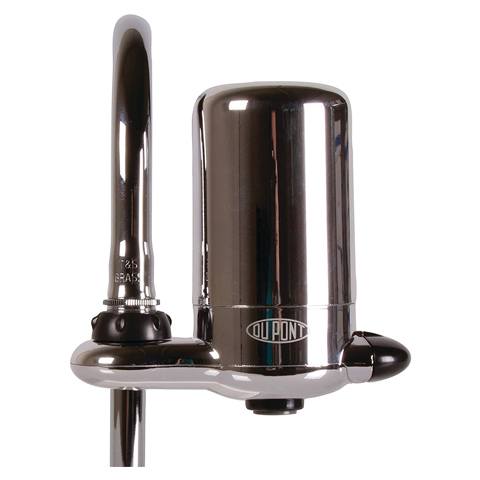 You may know DuPont for their paints, but you may not know that they also make a Faucet Mount Water Filter. It's got a basic design similar to the popular PUR and Brita filters. It doesn't swivel or tilt, but you can turn it to get more room around your faucet.
What we liked about this filter was its affordable price. It also offers antimicrobial protection, so you don't have to worry about anything growing on or in your water filter.
But there was plenty we didn't like about the DuPont faucet filter. First, it only came with two adapters. If one of them fits your sink, then you're in luck. But they didn't fit all the sinks we tried them with, so you're limited as to what sinks this device will actually attach to. We also weren't impressed with the short filter life of the DuPont filter that means you'll be replacing cartridges on a regular basis.
Pros
Affordably priced
Antimicrobial protection
Cons
Only includes two faucet adapters
Short filter life
---
8.

ESOW SUS304 Faucet Mount Water Filter
At first look, we liked the ESOW SUS304 Faucet Mount Water Filter. It's got an attractive design that looks great attached to a sink. This filter is made from stainless steel, lending a quality feel to its good looks. But aesthetics isn't the most important part of a water filter. What really matters is the water that it filters, which is where this filter fell short.
The first thing we noticed when we hooked this filter up to our sink was that our normal sink flow had become erratic. When using the normal faucet, our water was spraying all over and making a mess. We ended up swapping the aerator on the filter for the one that originally came on our faucet and this fixed the problem for the most part. Then, we decided to try the water from the filter. It didn't taste great. It was a slight improvement over the tap water, but not enough for us to recommend this product.
Pros
Attractive looks
Made from stainless steel
Cons
Hardly improved the taste of our water
Causes erratic sink flow
---
9.

iSpring DF2-CHR Faucet Mount Water Filter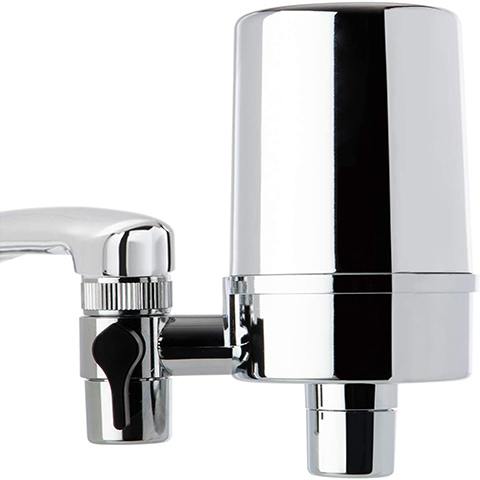 The iSpring DF2-CHR Faucet Mount Water Filter had quite a few positive traits that we liked, but even more drawbacks that we couldn't look past. On the bright side, it has an excellent filter lifespan of 500 gallons or eight months. That's several times longer than some of the most popular faucet filters last. This filter also removes quite a few impurities, such as chlorine, germs, cysts, lead, and more, which it manages to remove at a rate of 1.5 gallons per minute. That makes it one of the fastest-flowing faucet filters we've tested.
When it's time to replace a filter, you're going to start running into some issues. Replacements are nearly impossible to locate. You're certainly not going to find them locally. But that's not the biggest issue with this filter. Water pools up inside the filter, sitting for long periods between uses. That's a great spot to start growing mold, which we certainly don't want to drink. But the filter also leaks, and we could never get it to fully seal. Worst, the water doesn't even taste great after being filtered through the iSpring, which is why this filter is relegated to the bottom of our list.
Pros
500-gallon lifespan or eight months
Up to 1.5 GPM flow rate
Filters chlorine, germs, cysts, lead, and more
Cons
Replacement filters are very hard to find
Water pools inside the filter
The filter leaks
Water doesn't taste great through this filter
---
10.

Culligan FM-25 Faucet Mount Filter
We liked the compact design of the Culligan FM-25 Faucet Mount Filter. It's much smaller than most of the competing filters we tested, making it much less obtrusive. But it's not a great filter. It doesn't remove very many contaminants. For instance, it only removes the taste and smell of chlorine, but not the chlorine itself. And we could still taste the chlorine a little.
The diverter switch on this filter isn't as large and easy to turn as most of the other filters we tested. This makes it a bit more difficult to switch between your normal faucet and the filter. If this were a dirt-cheap filter, we could probably look past some of these flaws. But, this is one of the more expensive options. With all these blatant drawbacks, we can't confidently recommend the Culligan FM-25, so it's going to stay in the last position on our list.
Cons
Mediocre filtration
Doesn't remove chlorine
Diverter selector doesn't work as well as others
Overpriced

Conclusion
Faucet mounted water filters are one of the most convenient and inexpensive ways to get nearly unlimited filtered water in the comfort of your kitchen. But we didn't want just any filter, we wanted the best. After testing as many faucet filters as we could find and writing reviews to compare them, we've settled on just three that we think are the top choices.
Our favorite overall was the PUR FM-3700 Advanced Faucet Water Filter. With simple, one-click installation that takes only a minute, you can remove up to 70 contaminants from your water for a healthy and delicious drinking experience. The cartridges are easy to find, and a two-year warranty protects your investment.
For a more budget-friendly alternative, we suggest the Brita Faucet Water Filter. This one is cheap and replacement cartridges are available almost everywhere. Plus, it's one of the more compact options that won't take up much sink space.
Finally, our premium recommendation is the Invigorated Water Faucet Water Filter. It removes the unwanted impurities and replaces them with healthy minerals for an alkaline boost. And with filters that last 12 months, it requires less maintenance than almost any other faucet filter we've seen.