10 Best Car Buffers & Polishers of 2023 – Reviews & Guide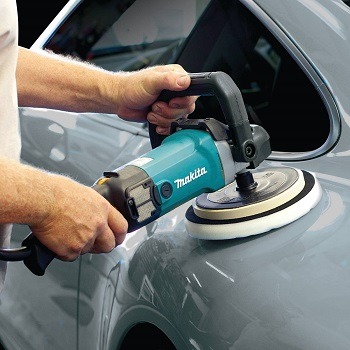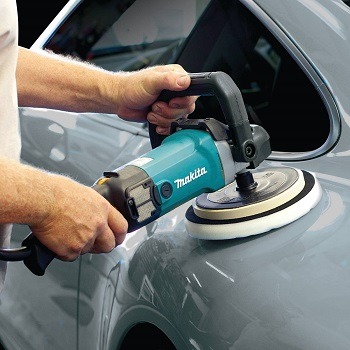 Whether you are a professional car detailer or an avid car enthusiast, the condition of your car's exterior is of utmost importance. Your car is constantly exposed to the elements and will inevitably pick up stains, swirls, and surface scratches.
You can easily take the buffing of these minor scratches into your own hands, without forking out for expensive repair jobs. While it's perfectly possible to do the job adequately with hand applicators and over-the-counter products, a high-quality machine buffer or polisher will give your car a showroom finish to be proud of.
There is a wide array of machine polishers out there to help you achieve the showroom-shine you desire, and it can be a confusing process to sift through the myriad options. We've done all the hard work for you and created an in-depth list to narrow down the options and help you find the best product for your unique needs.
---
A Quick Comparison of Our Favorites in 2023
Rating
Image
Product
Details

Best Overall

TORQX BUF503 Random Orbital Polisher

Soft-start safety function
Ergonomic and balanced design
Variable-speed trigger
CHECK PRICE

Best Value

BLACK+DECKER WP900 Random Orbit Polisher

Affordable
Double-handled
Long power cord
CHECK PRICE

Premium Choice

DEWALT DWP849X Buffer/Polisher

High rotations per minute
Controlled Finishing System with soft-start function
Variable speed trigger
CHECK PRICE

PORTER-CABLE 7424XP Polisher

Comfortable size and weight
Random orbit action
Variable speed dial
CHECK PRICE

WEN 10PMC Polisher

Affordable
Tow-handle grip for increased accuracy
Random orbit action
CHECK PRICE
The 10 Best Car Buffers & Polishers
1.

TORQX BUF503 Random Orbital Polisher — Best Overall

The TORQX orbital polisher is a beautifully and ergonomically designed machine with high-quality construction and materials, making it our top choice overall. It features a well-balanced design that makes it easy to use on large areas like car hoods and roofs for extended periods. TORQ has made one tool to do it all — it can polish, remove scratches, apply waxes and sealants, clean headlights, and even scrub carpets. The powerful 680-watt motor will do all the hard work for you, allowing powerful and efficient buffing and even paint removal.
A rotating, variable speed trigger sits comfortably on the handle right above the thumb, giving you convenient one-hand speed control. It features a unique Precision Power technology, which starts the polishers slowly and fades the speed out gradually when switched off. The benefits of this technology are twofold: It stops polish and wax from being thrown off the polisher and extends the life of the internal motor.
The ergonomic design includes a smaller second handle for the left hand, for more accuracy and precise polishing in hard-to-reach areas. It accepts 3-inch, 5-inch, and 6-inch backing plates for increased versatility, allowing you to easily switch between buffing and polishing pads without extensive modification. All in all, this is the best car buffer and polisher we have reviewed this year.
Pros
Soft-start safety function
Ergonomic and balanced design
Variable-speed trigger
Multi-use application
Cons
Not ideal for heavy-duty use
---
2.

BLACK+DECKER WP900 Random Orbit Polisher — Best Value
The Black+Decker WP900 is the best car buffer and polisher for the money on our list. It is an effective and powerful polisher without a massive price tag. Accuracy is a breeze with its comfortable double handled-design, and a 10-foot power cord will allow you plenty of reach. It comes with two different polishing bonnets: a foam applicator bonnet for applying waxes and sealant and a set of polishing bonnets for polish application and a showroom finish.
A real stand-out feature is its elegant, double-handled ergonomics that will keep your hands comfortable, while still being sturdy enough to allow you to exert enough pressure to get a good buffing. It offers high quality and power that far exceed the competitors in a similar price range. A minor drawback is that the included buffers are not that high quality, so you may need to purchase aftermarket ones to get the full benefit out of this machine.Despite this, we think this is the best value car polisher on the market.
Pros
Affordable
Double-handled
Long power cord
Cons
Included pads are not that high quality
Won't last as long as more expensive competitors
---
3.

DEWALT DWP849X Buffer/Polisher — Premium Choice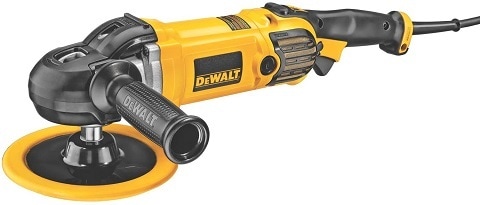 This powerful buffer and polisher from DeWalt is our premium choice, ideal for home and regular commercial use. It may be more expensive than the other choices on our list, but it has almost all the features you could want from a polisher. With a sturdy ball-bearing construction, variable speeds, and a soft-start function, it is well worth the additional cost. A powerful motor delivers up to 600 rotations per minute, with a conveniently located variable speed trigger that allows you to maintain in full control at all times. The polisher also has a built-in electronic module that will automatically adjust its speed according to the amount of pressure you apply, resulting in an even-looking, smoother finish. This makes it perfect for professionals and beginners alike, as it mitigates the risk of damaging your car's clear coat.
It's fairly lightweight and has various grip options due to its three-position bale handle, perfect for difficult jobs that require extended use. All that power in the motor does come with one drawback: It will heat up fairly quickly.
Pros
High rotations per minute
Controlled Finishing System with soft-start function
Variable speed trigger
Three-position adjustable handle
Cons
Powerful motor can heat up quickly
---
4.

PORTER-CABLE 7424XP Polisher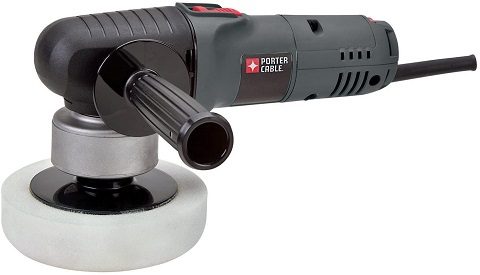 The Porter-Cable 7424XP is a well-known, high-quality polisher designed for professionals and DIYers alike. Porter-Cable has a reputation for tools that last and are up to the task, and this polisher is no different. It has a random-orbit, swirl-free polishing action and a handy removable, two-position side handle.
This polisher features a 4.5-amp motor and a variable speed dial that operates at 2500-6800 OPM (orbits per minute). The 7424XP accepts 5/16- to 24-spindle thread accessories and comes with a 6-inch polishing pad. It is reasonably priced, is as safe as it gets, and is ideal for beginners and seasoned veterans alike. Any veteran car detailer you ask will sing the Porter-Cable's praise, such is the legend it has.
Pros
Comfortable size and weight
Random orbit action
Variable speed dial
Cons
Backing plate not included
---
5.

WEN 10PMC Polisher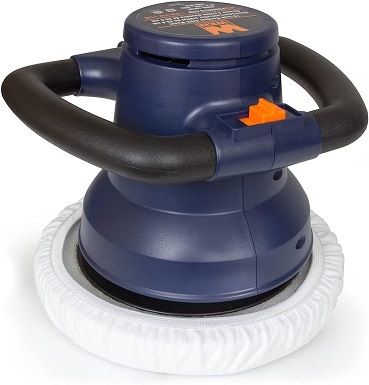 If you're looking for a polisher that's affordable but can still perform, the WEN 10PMC may be ideal for you. It features a unique tow-handle grip, making it easier for you to apply sufficient pressure and still operate it at high speeds. Its high-performance 120-volt motor is capable of 3200 OPM, which is more than sufficient for home detailing enthusiasts.
It comes with two applicator bonnets, two polishing bonnets, two wool-blend bonnets, and a wool-blend washing mitt, all housed inside a molded carrying case. This is more than enough to get you started without having to fork out extra cash. Our only complaint is that while its OPM rate is more than enough to apply wax, it may not be fast enough to remove it sufficiently. This slow speed may also limit its use in other areas like paint stripping, which need the extra power output.
Pros
Affordable
Tow-handle grip for increased accuracy
Random orbit action
---
6.

Meguiar's G3500 Dual Action Power Tool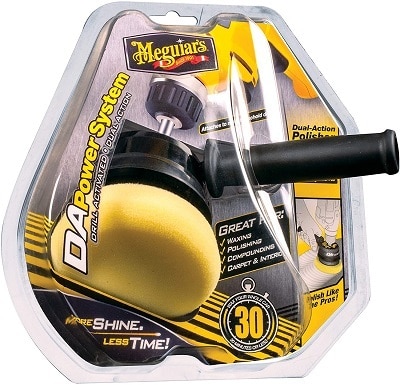 The Meguiar G3500 is a versatile and highly affordable waxer and polisher and is a perfect option for the home detailer. It attaches simply and quickly to most standard drills, as long as they don't exceed the maximum recommended RPMs of 2,500. This does limit its power somewhat. But what it lacks in power, it makes up for in convenience: It can be used cordlessly, it is small and lightweight, and it has a random orbit motion.
It's the perfect choice for detailers who don't want to purchase an additional machine and don't have a huge workshop space. However, it is lacking in its variety of applications due to its lack of power. While it can be used with a cordless drill, make sure you have a few battery packs in hand, as it will drain them fast!
Pros
Small and lightweight with solid construction
Great ergonomics
Quiet operation
Affordable
Cons
Lacks the power a traditional polisher has
Backing plate cannot be changed
---
7.

Griot's Garage Random Orbital Polisher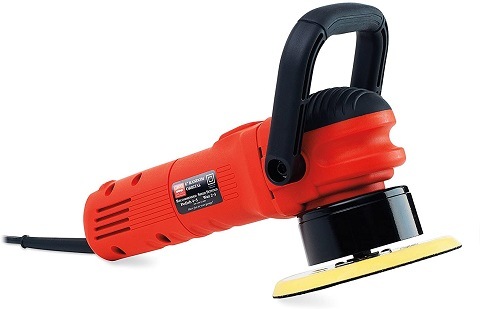 This dual-action polisher from Griot's Garage features a powerful 6800 OPM rating, making it great for polishing, waxing, and paint removal. It's a polisher that can handle a bigger task. It is comfortable to use, albeit a bit heavy, due to its powerful 1,000-watt motor. It features a fan-cooled counter-balance, 6-inch vented orbital backing plate, and premium bearing construction.
The six different speed settings allow you to precisely control the speed, no matter the task at hand, and have a great deal power. A comfortable adjustable handle and molded hand and finger grips on the housing make it easy on your hands during extended use.
Some users do note that it can be fairly noisy, especially when being pushed hard.
Pros
High power output
Adjustable and removable handle
Removable backing plate
Cons
Noisy
Fairly heavy compared to other high power polishers
---
8.

Makita 9237CX3 Polisher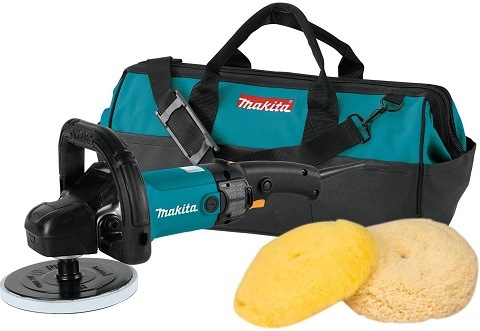 This polisher/sander from Makita is an affordable product packed with quality features. A rubberized handle and gear housing make sure you don't accidentally scratch your car when using it, and a soft-start function prevents flinging off product onto your car and into your workshop. A variable speed dial and trigger make operation a breeze, and the automatic consistent speed control ensures that it maintains its speed even when under pressure.
A wire mesh intake cover will increase durability by preventing bonnet fibers and other unwanted debris from entering the motor. It includes a 7-inch backing pad, a wool applicator bonnet, a wool polishing bonnet, and a foam pad bag to store away safely. This polisher is fairly heavy, so your arms will get a good workout after a short time.
Pros
Rubberized handle and housing
Soft-start function
Variable-speed dial
---
9.

Goplus Electric Car Polisher
The Goplus is a budget electric car polisher designed with beginner and DIY detailers in mind. It features a 1,600-watt motor and six different speed settings that can be adjusted according to use. It's equipped with an adjustable handle for extra accuracy, as well as a safety trigger button. It comes in a hard plastic suitcase for easy storage.
One important factor to note is that this polisher gets very hot, very quickly, and with extended use, overheating can be an issue. It also has low-quality parts, with multiple users reporting the handles breaking. There are also many reports of burned out motors and smoking machines due to the overheating. That said, it's an affordable machine with decent power and may be worth the risk if you're on a budget.
Pros
Affordable
Powerful output
Cons
Overheats quickly
Low-quality materials
Motor prone to burning out
---
10.

TACKLIFE PPGJ01A Polisher
The PPGJ01A from Tacklife has most of the features that you'd want from a polisher, barring longevity. It has a powerful 1,500-watt motor, with variable speed settings and a power rating of up to 3,000 RPM. A detachable side handle and D-style main handle make for comfortable and accurate use. It also features an LCD screen for speed control monitoring. The package includes two replaceable trays, cleaning brushes, four different bonnets, and 10 different sandpapers.
The quality of this polisher leaves much to be desired. It is poorly made, with cheap parts that break quickly. It also gets hot quickly and will then cut off, so you'll need to wait for it to cool down before using it again. It includes extras, but they are fairly generic and not sufficient for heavy-duty use.
Pros
Affordable
Many included extras
Cons
Low-quality build
Overheats quickly
Doesn't hold speed setting when trigger is released
No case or bag
Short power cord
---
Buyers Guide – Choosing the Best Car Buffers and Polishers
Finding the right buffer and polisher can be a challenge; you want a machine with the right combination of power, affordability, and balance to achieve the specific results you desire. There are several important factors to look for in order to make the right decision.
Speed
The number-one consideration is speed. The greater the speed (or OPM) that your polisher is capable of, the better that it can deal with deeper scratches. It will also help with buffing off wax, which can often be difficult to remove on a slower machine. However, a high-powered machine is also likely to heat up quickly and lead to more friction. You'll need to exercise caution at high speeds in order to not damage your car's clear coat.
We recommend using a buffer with a slow-start function, which controls the speed of your buffer when starting up and slowing down. This function serves to help mitigate damage and stop your machine from flinging product all over the place.
Comfort
The chances are that an entire vehicle polish will take a while, so comfort is an important consideration. You'll want a machine with two handles, ideally adjustable ones. The grips should also be a soft material like rubber, both for the comfort of your hands and to ensure the safety of your vehicle. Additionally, the more comfortable and customizable your grip is, the more accurate you can be and thus, achieve optimum results.
Weight
You'll be carrying this machine around for hours on end, so the lighter it is, the better. A heavy machine will tire you out quickly and will make the job take longer overall. You'll also want a lightweight machine for increased maneuverability, so you can get into those tight spots like mirrors and lights. A lighter machine is also a safer machine, especially for inexperienced users.
Type
Buffers come in two types: rotational or random orbital. A rotational polisher is simple and straightforward. The polishing heads spin on a single axis in a regular, circular motion. This can cause heat and friction to build up — a helpful feature for paint removal and for applying wax. But in a beginner's hands, this kind of power can mean a potential respray, as you'll need experience to operate it effectively and without damaging your car's finish.
A random orbital, or dual action polisher, spins in two different ways. The polishing heads spin in a concentric circular motion on a spindle, and the spindle turns in a wider circler motion. The name comes from the way our planet orbits the sun: The earth spins on its own axis, while at the same time, orbiting around the sun.
This orbital oscillation creates a wobble, generating enough friction to buff, but not so much to cause too much heat. The reason for the word "random" is that the spindle will stop spinning if enough pressure is applied to the polishing head and effectively turns it into a rotational polisher, perfect for deeper and more challenging scratches. This makes it perfect for DIY car detailers, as it is safe and easy to control.
Conclusion
Our overall best choice for buffering and polishing your car is the TORQX Random Orbital Polisher. It is a high-quality, ergonomic, and easy-to-use machine. It can polish, remove scratches, apply waxes, and even scrub carpets, which makes a worthwhile, all-in-one product for beginners and professionals alike.
The best car buffer and polisher for the money is the Black and Decker WP900. It is an affordable yet effective machine that will give your car a showroom shine without emptying your pockets. It features elegant, double=handled ergonomics for comfortable extended use, and it is a worthwhile addition to any car DIYer's workshop.
The vast array of buffers and polishers on the market can make choosing the right one a difficult and confusing process. Hopefully, our in-depth reviews have made the task easier for you, so you can find the right machine for your needs.