8 DIY Rolling Workbench Plans You Can Build Today (With Pictures)
Every DIYer needs a workbench, so why not DIY one! A workbench is a great way to add a practical workspace to your garage and a bit of storage too. Luckily, they're pretty straightforward to build.
While a workbench may seem basic and utilitarian, there are actually many ways that you can put one together. In this article, we'll take a look at some of the best plans out there. Some of these are complex, while others are extremely simple. Some provide just a simple workspace, while others include lots of storage.
No matter what you're looking for, we have a plan for you below

The 8 DIY Rolling Workbench Plans
1.

Simple Workbench with Storage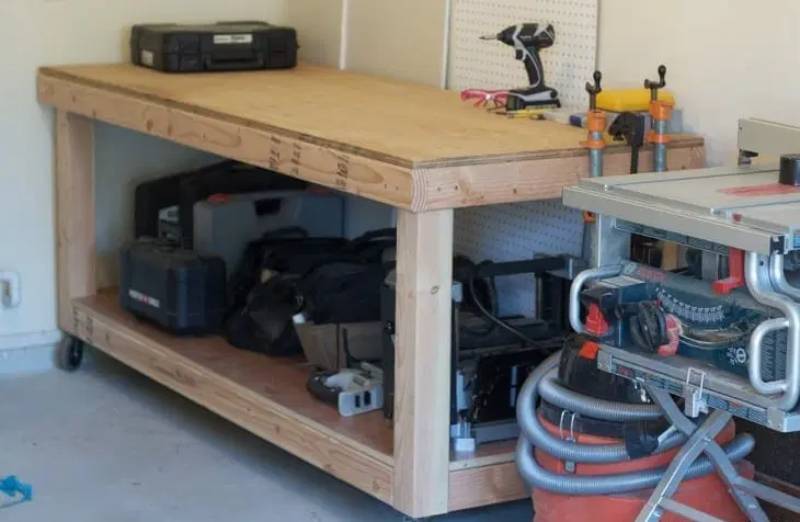 This simple workbench looks like one that you would purchase professionally. It includes plenty of storage, as one of its primary purposes is to help you stay organized. Now, you won't just have a dumping ground for all your tools; you can keep them organized and put away.
With some basic pieces of wood and some screws, you can put this workbench together pretty easily. It does require some more advanced tools, though, like a table saw and jigsaw. Be sure you have all the required tools before you start building, as they are not all "standard" for your average DIYer.
If you have all the correct tools, then the plans are simple.
---
2.

Slim Workbench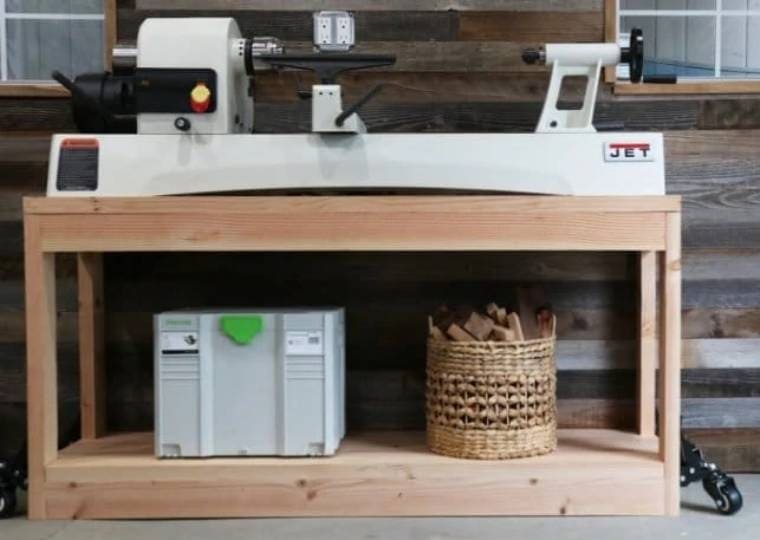 If you have a smaller workshop, you may want to consider
this slimmer workbench
. It is still very practical, but it doesn't take up as much space as other options. While wider workbenches are often better, they aren't very practical if you can't fit them in your workspace.
We highly recommend this workbench specifically for holding tools and that sort of thing. It can be fairly useful for extra storage on top of being a workbench.
However, there isn't much extra storage built into this design. Therefore, if storage is on your priority list, you may want to look elsewhere.
---
3.

Large Workbench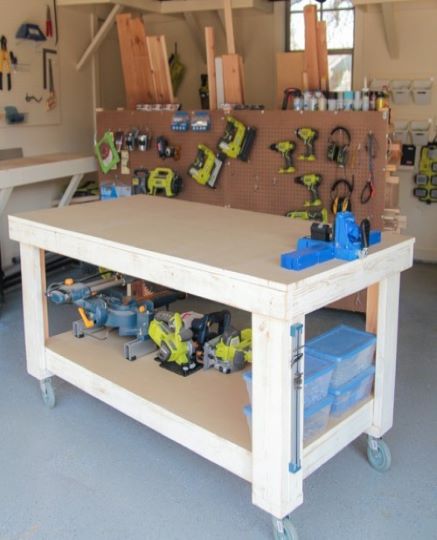 For those with a much bigger space, this plan may be a good option. It is perfect for making a workbench that is going to sit in the middle of a larger workshop. It can hold multiple power tools on the bottom and can be easily pushed around thanks to the wheels.
This workbench only requires a few different cuts of wood and a Kreg jig. It does not necessarily include all the tools that other options require, as you use a lot of the wood as-is. Therefore, if you don't have all these extra tools, this plan may be a better option.
---
4.

Workbench with Lots of Storage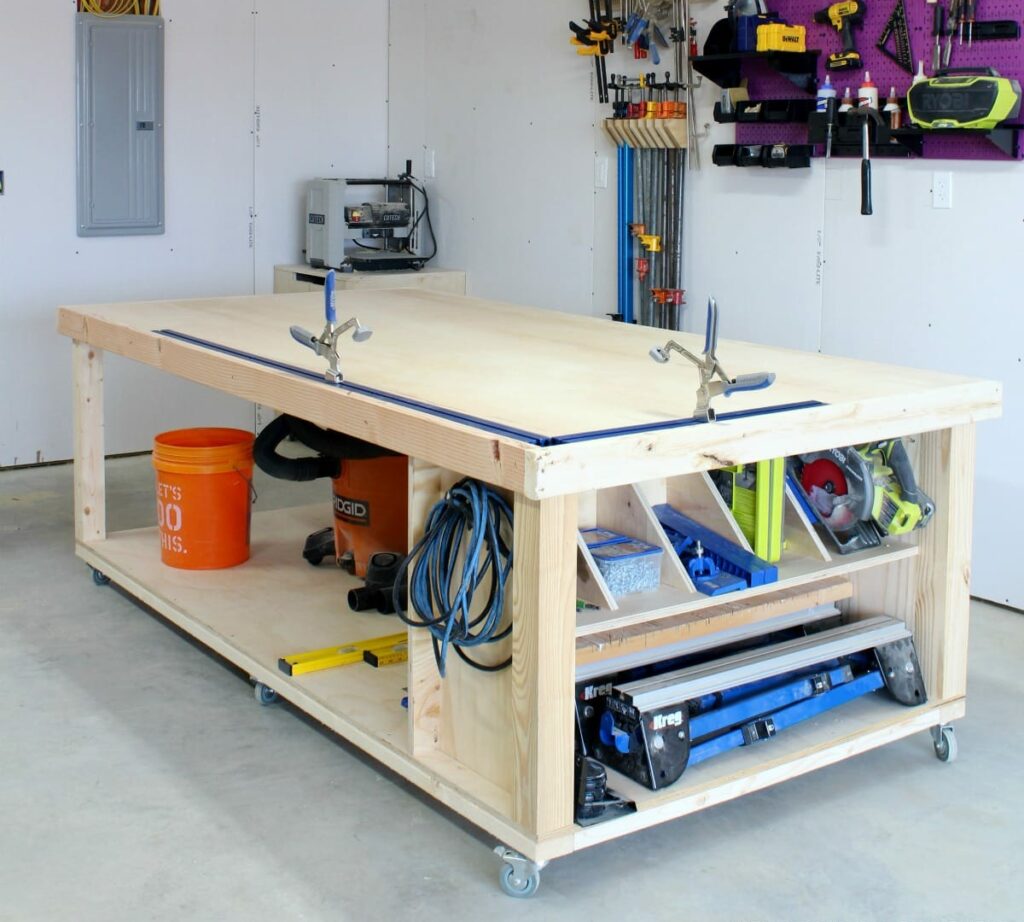 While some DIYers only need a workbench to actually work on, others care a lot about storage. If you fall into this latter category, this option may be the best one for you. It has plenty of space for tools of all sorts, with built-in storage on the side and a large platform on the bottom.
This table is pretty easy to craft as well. The plans are completely free and very straightforward. In fact, the pictures utilized for this plan are much better than others, making them much easier to follow. You don't need any fancy tools for this plan either – besides a circular saw and a drill.
Therefore, you should be able to make it without much of an issue – even if you are just starting out.
---
5.

Workbench with Shelves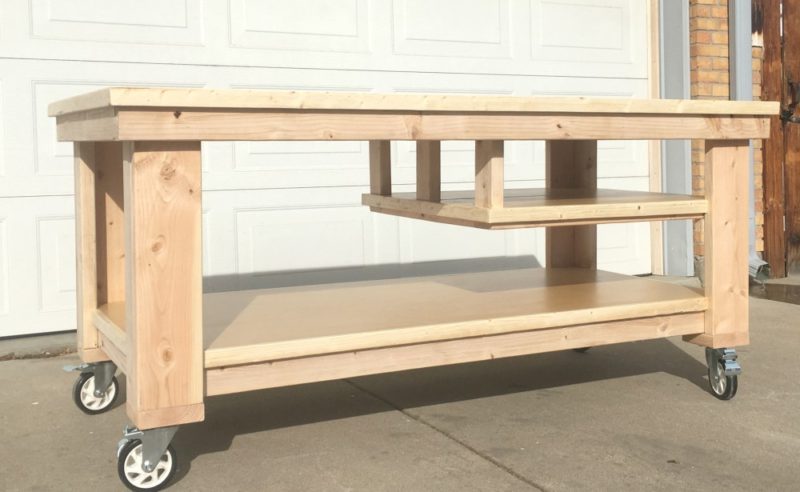 This is another workbench that was made with storage in mind. However, it adds another shelf underneath the workbench, making it have a bit more storage without such a complicated build. If the previous build looked a bit overwhelming for you, then this option may be a bit of an easier choice.
Like most of the other options on this list, this workbench does not require any complicated tools. You should be able to do it with most of the tools you have lying around. It does require some wood glue, though this can be purchased very cheaply.
The plans are straightforward to make, so that doesn't seem to be something that you need to worry too much about. You should be able to follow it even if you have little experience.
---
6.

Fancy Workbench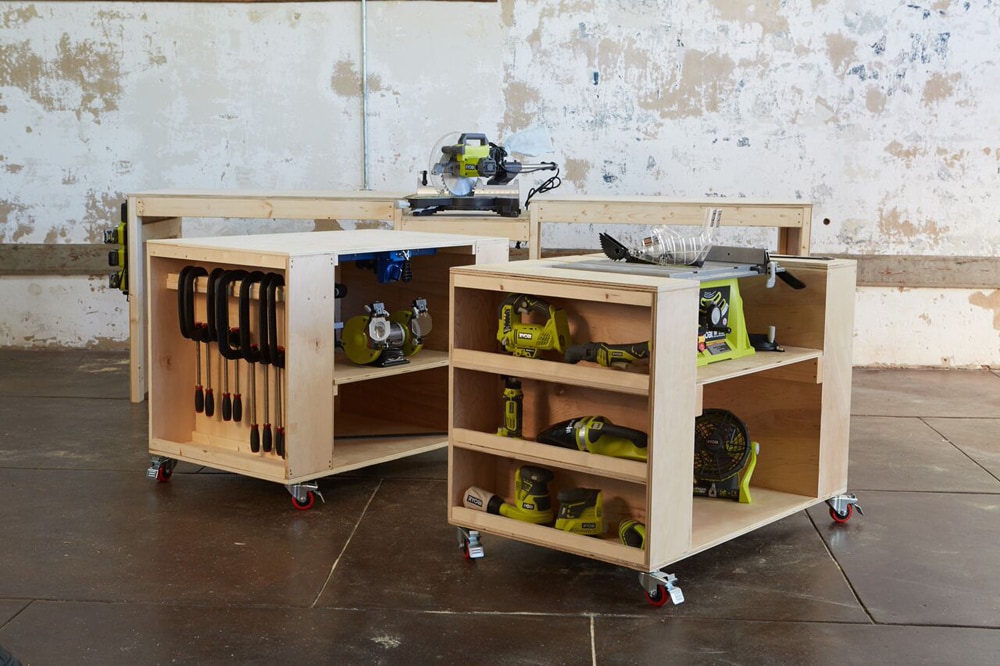 Take one glance at these plans, and you'll know why we called them "fancy." This workbench is mostly made up of three different parts. Firstly, you have the actual workbench part that you do your work on. Then, there are two separate shelving pieces that fit underneath the workbench. These can be rolled out from underneath the workbench and then put back under if necessary.
In other words, this workbench has a lot more pieces and moving parts than others.
With that said, this plan doesn't seem to be as complicated as it looks. The directions are simple, though there is more for you to do overall. You will be spending longer making this bench and will need more material. However, you'll be left with one of the coolest benches out there.
This is far from a simple workbench. For that reason, we only recommend it to those who have the time and energy to put it. Plus, because it requires more material, you'll spend more on this project.
---
7.

Sturdy Workbench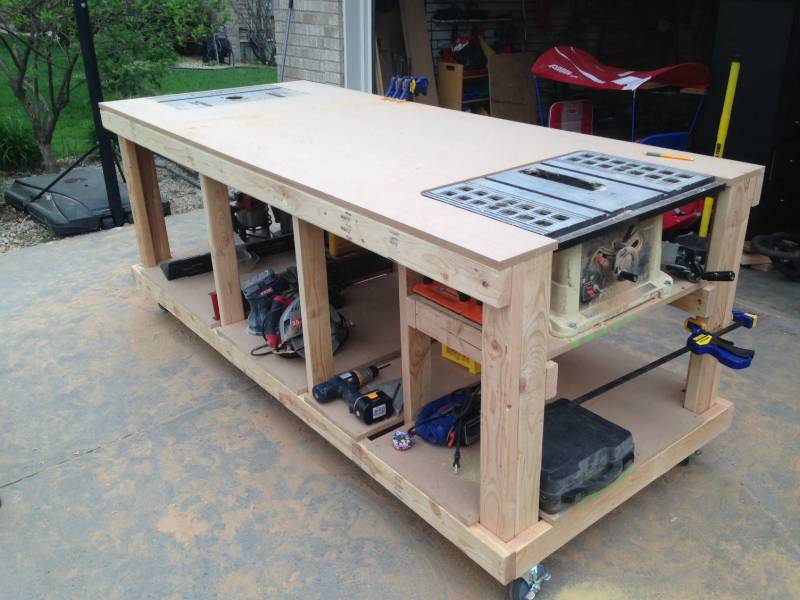 Compared to other options we've mentioned, this plan is pretty similar. However, it includes a lot more "legs" that connect the top of the bench to the base. Therefore, it does appear to be very sturdy, which is good if you're looking for a bench to last a long time.
These plans include a router table that sits flush against the surface – a great option if you regularly use a router. It also has plenty of storage underneath for other tools. It isn't that it includes plenty of other shelves or anything like that. Instead, it is simply very large. Therefore, it can fit plenty of tools underneath it.
---
8.

Workbench with Hideaway Miter Saw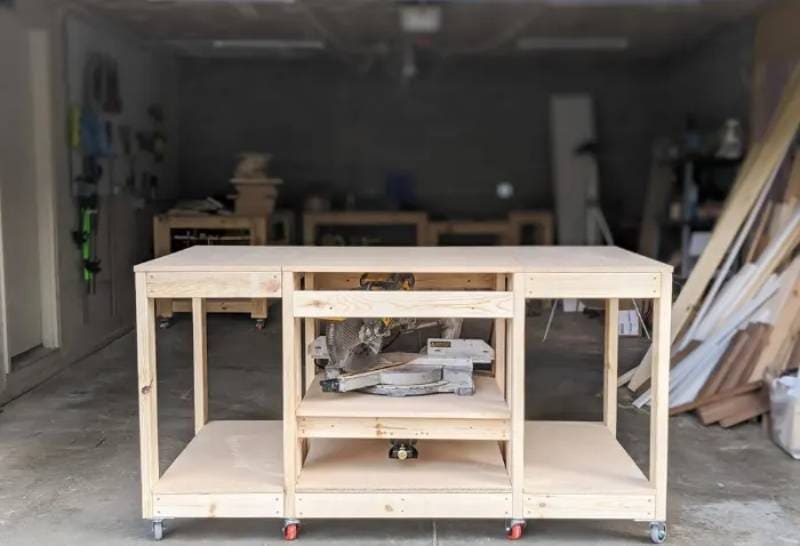 This workbench plan is quite unique. It includes a miter saw that you can easily hide away when you aren't using it. If you commonly need a miter saw but don't want to leave it sitting out, then this may be one of your only solutions.
However, this table is a bit more complicated to build due to this unique feature. It also isn't super intuitive, as you need a drill to lower and raise the miter saw. It is a great solution if this is on your must-have list. However, we wouldn't recommend it if you could care less about leaving the miter saw out.
Again, this build probably isn't for everyone. However, its uniqueness promoted us to include it on this list.

Conclusion: Workbench Plans
Every serious DIYer needs a workbench. Without it, finding a clear space to work on your projects can be difficult. You may end up with projects strewn throughout the floor of your workspace, which can be dangerous and lead to things getting broken.
Luckily, making a workbench is pretty easy. You typically don't need many tools to accomplish this. In fact, some of them only require a simple saw and a drill. Others do require more advanced machinery, so be sure that you have all the tools before you get started.
You will need to consider which type of workbench you're looking for. There are some plans that create a relatively simple workbench, while others focus on storage. Choose whichever option fits your needs.
---
Featured Image Credit: mavo, Shutterstock