10 Best Quiet Portable Generators of 2023 – Reviews & Top Picks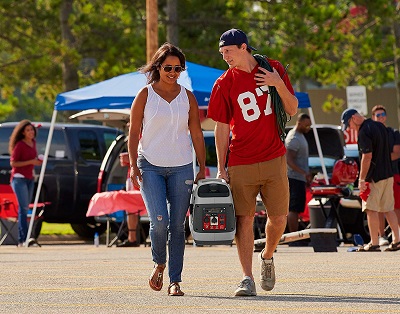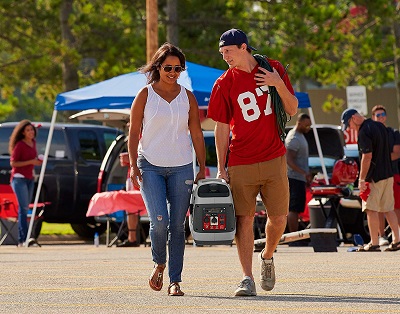 Generators will keep the lights going in a power outage, let you use electric tools on a remote job site, and add some comforts from home while camping or RVing. While all of those things are great, a loud generator can be a huge inconvenience.
So, you want to choose a quiet model to keep from pulling your hair out? You would think that would be easy because generators list a decibel rating, right? Not so fast, though. Did you know that a ten-decibel increase doubles the noise level? Picture a normal conversation between two people. The decibel level is between 50 to 60dB. Your vacuum cleaner is 70dB. With that being said, a ten decibel increase can be drastic.
Most people, however, are not aware of how a decibel rating system works. For example, the rating is based on the noise from about 7.5 yards away. You are also not going to choose an option based solely on the sound level, either. You will need to have other functions available to make it a usable option for you.
In an effort to keep the power on and the noise pollution low, we have decided to review the ten best quiet portable generators around. Below, we share the decibel level for each option along with other important features such as the starting watts, outlet options, fuel source, and runtime. Plus, we will give you some tips to keep in mind when picking one out. Keep reading to find out which one was our top choice and least favorite.
A Quick Comparison Of Our Favorites in 2023
Rating
Image
Product
Details

Best Overall

Westinghouse WH2200

52dB noise level
Lightweight and compact
Three outlet options
CHECK PRICE

Best Value

Jackery Portable Power Station Explorer

55dB noise level
Electronics safety features
Light and easy to transport
CHECK PRICE

Premium Choice

Honda Power Equipment EG2800IA

49 to 58dB noise level
3000-watt start power
Multiple outlets
CHECK PRICE

WEN Quiet Portable Inverter

2000-watt start level
Overload protection
51dB noise level at 50 percent load
CHECK PRICE

Briggs & Stratton P2200 Power Smart

2,200-watt start power
Powers higher wattage items
Inverter technology
CHECK PRICE
The 10 Best Quiet Portable Generators
1.

Westinghouse Portable Inverter Generator – Best Overall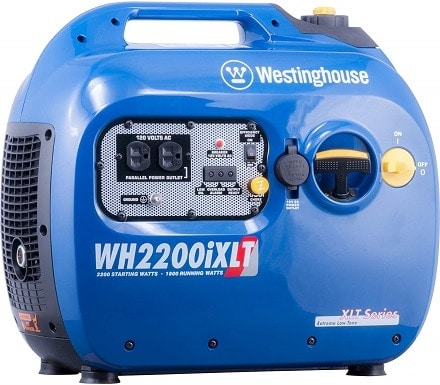 If you are looking for the best quiet portable generator that is perfect for camping, RVing, or just charging your electronics, look no further. The Westinghouse WH2200 is a super quiet model rated at 52dB. You will be able to run heavier appliances and equipment, as well, with a 2200-watt starting capacity and an 1800-watt run level.
This generator gives you several outlets to choose from including two standard household outlets, and a 12-volt DC plug for charging phones, etc. The model is EPA and CARB certified and has low THD inverter technology so your expensive technology will be protected. You will also be able to use it worry-free because it has an automatic low-oil shut-down feature and a thirteen-hour runtime.
Perfect for traveling at 43 pounds, this little number is gas-powered with an efficient 1.3-gallon tank. You can use the high-efficiency mode which will keep the power running longer. There is also an option between a recoil start or button start. What's more, if you happen to need more watts, you can easily attach another unit to run parallel with this one. The only drawback is the cable to attach the two is sold separately.
Pros
52dB noise level
2200-watt start
Lightweight and compact
Three outlet options
Parallel connections
Long runtime with safety features
Cons
Does not come with cable connection
---
2.

Jackery Portable Station Generator – Best Value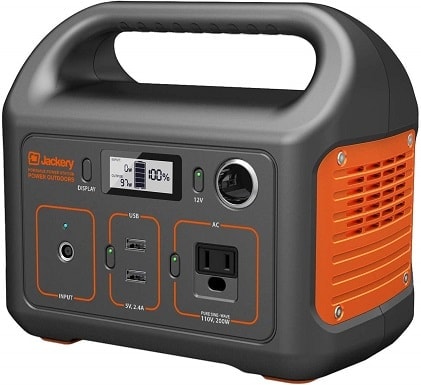 In a pinch, like a power outage, you can need to purchase a generator quickly, but you might not have the available funds to purchase a more expensive model. The Jackery is the best quiet portable generator for the money. This solar-powered option is not only inexpensive but it will save you on fuel costs, as well.
Although you have to purchase the solar panels separately, it comes with a 67000mAh lithium-ion battery that will allow you to run the generator for three consecutive hours. What's more, it has a plethora of safety features including short circuit protection. Also important to note, you will have to charge the solar panels for seven-hours in sunlight.
Nonetheless, the good news is if you need this model for an emergency, it will still have a lot of great uses once the power is back on. This generator has a 400-watt starting power and a 200-watt run which is perfect for powering lights or charging electronics. All of those functions are made easy with two USB ports, one DC carport, and a 110-volt standard outlet along with an LCD display face.
Though it is not as quiet as our first choice, the Jackery is still rated at a respectable 55dB. You can tote this model around for camping, tailgating, etc as it is only 6.6 pounds and has a handle. Even though you can't run anything above 200-watts, you will like this affordable option.
Pros
55dB noise level
Electronics safety features
Light and easy to transport
LCD display
Inexpensive
Good runtime
Cons
Cannot be used for items over 200-watts
Solar panels sold separately
---
3.

Honda Portable Inverter Generator – Premium Choice
If you are in the market for a more expensive generator with extra bells and whistles, than this is the model for you. The Honda portable inverter generator has a noise level of 49 to 58dB which is great for the level of power you are able to utilize. It has a 3000-watt starting power and a 2800-watt running level so you can run power tools, mini-fridges, lights, etc.
Besides the big stuff, you can also safely run electronics as this model has inverter technology and two 20-amp USB ports. For the heavier equipment, you can make use of the two 120-volt outlets and one 120-volt 23.3-amp plug. Fueled by gasoline and a 3.4-gallon, this option runs for between seven and twenty-hours depending on the load, and it's fuel-efficient.
The weight on this generator is 131 pounds making it better for stationary use, however, you can make use of the wheels and folding handle for your convenience. The choke valve allows for a safe start along with a low-oil alert and an overload alarm that will keep you apprised of how the generator is running.
Although this option is more expensive than others, you will be able to use this in many different situations.
Pros
49 to 58dB noise level
3000-watt start power
Equipped to run higher voltage items & electronics
Fuel-efficient
Multiple outlets
Safety features
Cons
More expensive
Heavier to transport
---
4.

WEN Quiet Portable Inverter Generator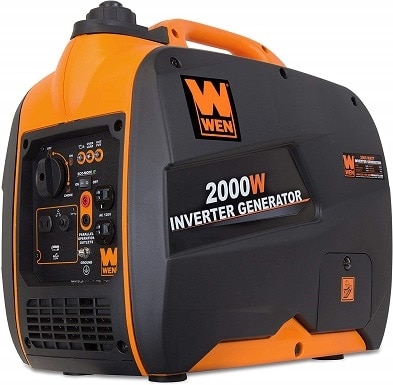 Moving right along to the number four spot is the WEN portable generatorthat features a super quiet 51dB at a 50 percent load. This EPA III and CARB compliant model has a starting power of 2000-watts along with a 1600-watt run level. With this wattage, you can run anything from lights to power tools. You are also able to safely charge computers and Iphones with overload protection and inverter technology.
The 79.7-cc OHV engine is powered by gasoline in a 1-gallon tank. You also have the option of two 3-prong 120-volt standard outlets, one 12-volt DC plug, and one USB port. This model is 48 pounds with a handle for easy transport.
To keep everything safe and in good working order, there is an eco-mode option plus a low-oil shut off and overload protection. You can also add an additional unit for extra power when needed. Although, this option needs a cable and kit that does not come included with the generator.
The runtime is a little lower at six-hours with a 25 percent load. Also, though it does have a DC plug, the model in question does not have a carport plug. Nonetheless, this is a good portable generator for camping, emergency home use, and light to medium power tools.
Pros
51dB noise level at 50 percent load
2000-watt start level
Overload protection
Multiple outlets
Generator safety features
Cons
No car port
Lower runtime
Kit and cable sold separately
---
5.

Briggs & Stratton Portable Inverter Generator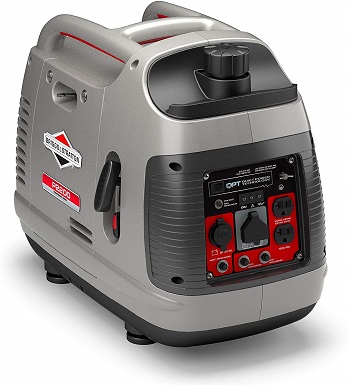 The Briggs & Stratton is another good option for remote power and general emergency situations.  This generator has a 2,200-watt start-up power and a 1,700-watt run level. Having this amount of wattage available will allow you to run heavier equipment like power tools or a mini-fridge. On the downside is the noise level, though. At a 59dB rating while using a quarter of the power, your unit is going to be much louder when used at top capacity.
For smaller items such as your electronics, this is a good model. It also has inverter technology to protect overvoltages from occurring. You have two 120-volt outlets, one 12-volt/5-amp DC plug with a USB adapter included. The generator is powered by gasoline with a gallon tank that will give you eight-hours of use when using it  at a quarter of the power. On high power, you will get about an hour of runtime before you have to refill the tank, though.
The 111cc OHV engine is not CARB compliant meaning you cannot purchase this generator in California. On the other hand, you can use parallel wattage if you purchase another cable and unit. This option is also easy to transport as it weighs 55 pounds and has a versatile H-handle.
Pros
2,200-watt start power
Powers higher wattage items
Inverter technology
Three outlets with included USB adapter
Cons
Louder noise level
Shorter runtime
Not CARB compliant
---
6.

Generac Gas Powered Inverter Generator
Typical of portable generators in this category, our next pick features inverter technology making it safe to use with your electronics. Nonetheless, this model only comes with two standard 120-volt outlets. Any USB or DC ports will need to be provided by the user.
This model has an 80-cc OHV engine that is capable of running 2,000-watts at the start and maintaining 1,600-watt run level. We recommend you use this for smaller items such as charging phones, lights, or alarm clocks, though. On the other hand, you will be able to take advantage of the LED display which shows the fuel level, runtime wattage, and general status of the unit.
With a 1.06-gallon tank, you will get approximately seven hours of use out of each tank of gas when using it at 25 percent power. You will have to deal with a louder noise level, however, as it measures 60dB when a quarter of the load capacity is being used. This generator also features a one dial use option, and a turbo stand.
Weighing 46 pounds, the Generac has a handle and top fill gas tank. CARB-certified, you can use this model combined with others, but you will need a sold separately cable and kit to run them together.
Pros
2,000-watt start power
LED display
Safety features
One dial use
CARB certified
Cons
Only two outlet choices
Louder noise level
Shorter runtime
Separate parallel kit
Smaller wattage items only
---
7.

Pulsar Portable Gas Inverter Generator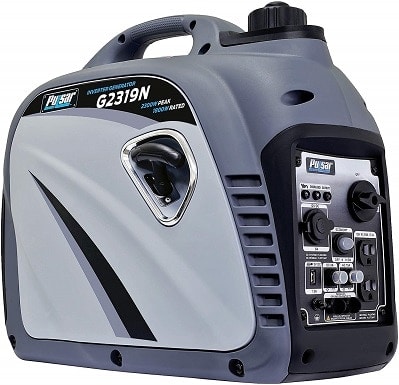 Next is the number eight spot that sports a high wattage 2,300 start and an 1,800 consistent run power making this a good option for RVs and power outages at home. You can also use this model on remote job sites to power equipment such as electric drills and saws, however, it will need to be a remote location due to the noise. At 59dB at a quarter load, the higher power will make this an even louder option than the generator above.
The 80-cc OHV engine powers two 120-volt AC plugs, a 12-volt DC option, and a 5-volt USB port for charging your computer and other technology. Your electronics will also be safe with an auto volt regulator and AC circuit breaker. Not only that, but you also have a few generator safety features such as a low-oil sensor, economy switch, and it is CARB certified.
For a higher-powered unit at 47 pounds, it has a 1.18-gallon gas tank that is really too small for its size. You will only get about six hours of use with a 50 percent load, although the runtime tends to be lower if you use higher wattage equipment. Furthermore, this option only has a recoil start which can be difficult to use. You can combine it with another generator, but a cable will need to be purchased. On the other hand, this option comes with every tool you will need including an extension cord for convenience.
Pros
2,300-watt start power
Four outlets
Safety features
Additional tools available
Cons
Louder noise level
Shorter use time
Use for lower watt items only
Recoil start
Cable sold separately
---
8.

A-iPower Super Quiet Portable Inverter Generator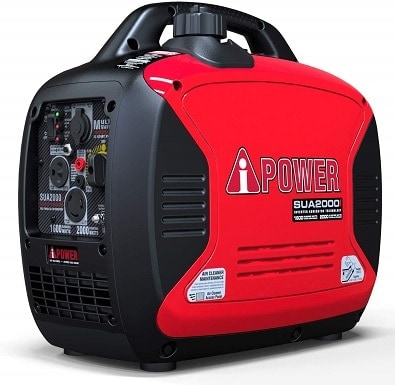 In the next review we have chosen the A-ipower portable generator. A lower wattage option, it has a 2,000-watt starting power and a 1,600-watt run best used for charging low-watt electronics. You have three outlets available including a standard 120-volt option, a 12-volt DC adapter, and a 120-volt/30-amp plug that is RV ready. Unfortunately, a typical RV is too much for this unit. It also does not come with a USB, although the DC port can be adapted.
If you are looking for something super quiet as the name suggests, this is not going to work for you. The 58dB rating at 25 percent power is actually significantly louder. If you plan to use this anywhere besides remote areas, the noise is going to be too loud even for light daily use.
Powered by gasoline and a 1.1-gallon tank, the 79 cc Apower engine will run for three hours on 50 percent power though it claims to last seven. It is CARB and EPA-certified with a multi-switch operation and a fuel gauge. At 46 pounds, you can use this with parallel technology with a separately bought cable. Also, the combined generators do not work well together.
Pros
Three outlets
CARB and EPA certified
Safety features
Cons
Only for light wattage
Loud noise level
Short runtime
Does not combine well with others
RV port ineffective
---
9.

Atima AY2000i Inverter Generator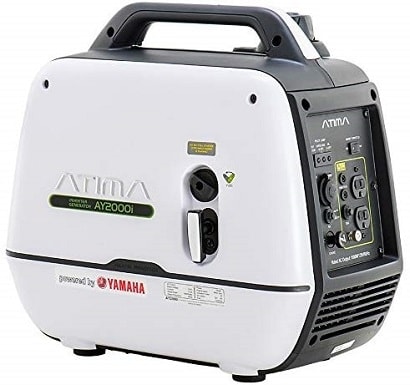 Last on our list of portable quiet generators is the not so quiet Atima AY2000i. At 51.5 to 61dB this option will keep your neighbors up at night from the noise pollution. The decibel rating is based on 25  percent power from seven yards away, as well. The noise coming from the generator has also been measured at 72dBs while charging a phone.
Using a 2,000-watt start, and 1,600 running power, this model does not offer too much beyond basic charging capabilities. The 1-gallon tank will last you about two hours on a low setting causing you to go through a lot of gasoline.
This model also has a spark arrestor feature and a smart throttle though over-voltages are common. On the other hand, the weight is decent for travel at 50 pounds and it has two 120-volt outlets, plus a carport. It does not have a USB port, though you can purchase an adapter.
Per standard, you can use the parallel technology to run about generator simultaneously. Unfortunately, even working together this model tends to overheat and shut down. It also uses a considerable amount of oil, and the oil sensor is not accurate. All in all, this is not the best choice, especially if you are looking for a quiet portable generator.
Pros
Spark arrestor
Decent weight
Cons
Very loud
Prone to over-voltages
Low wattage items only
Short runtime
Sensors not accurate
No USB port
---
Buyers Guide – Finding the Best Quiet Portable Generator
Important Things To Know When Choosing A Quiet Portable Generator
There are a few things to consider when you are in the market for a quiet portable generator. Obviously, the noise level is the first consideration. As we mentioned at the top, the decibel rating is an important feature. Anything in the vicinity of 50 to 60dB is going to be around conversation level anywhere from a normal household convo to a dinner party level with several people.
Anything higher than 60dB is not going to be appropriate for night use. Also, keep in mind that you want to look at what percentage the decibel rating is being measured. For example, if the 58dB is measured at 25 percent power use, yet you plan on using the model for higher-powered equipment or appliances, it is going to be quite noisy. Also, take a look at features such as power conversations from DC to AC and spark arrestors, both of which will lower your sound levels.
You may have also noticed that most of the choices above are inverter style generators which make them safe for expensive electronics such as cell phones and computers. To keep your items safe, you want to check the harmonic distortion level. A harmonic distortion is a non-linear burst of current that causes an over-voltage. Anything under 1.3 percent when the load is at full charge will keep your expensive items secure.
Finally, looking at the start and run wattage levels is important when you think about what equipment or appliances you wish to run. For example, certain appliances require a certain amount of watts to start up and then can run on a lower wattage. If you plan to use heavier equipment, you want to find a higher start and run wattage.
---
Conclusion
We hope that our reviews have given you the information you need to make the right choice in a quiet portable generator. While the situation can vary depending on your needs, the picks above will help you select the right model for you.
On the other hand, if you prefer a quick answer, the Westinghouse WH2200iXLT Portable Inverter Generator is quiet, powerful, and has a lot of features that will suit many different needs. Overall, this is our number one choice for the best quiet portable generator.
If you want something more cost-efficient from start to finish, the Jackery Portable Power Station Generator is the solar-powered option you have been looking for.  It will be a great asset to camping trips, power outages, and job sites. It is the best quiet portable generator for the money.
Interested in a DuroMax model? Take a look at our reviews on the top ten best DuroMax portable generators here.
Related Read: How to Ground a Portable Generator (4 Steps to Follow)