10 Best Compact Subwoofers for Cars in 2023 – Reviews & Guide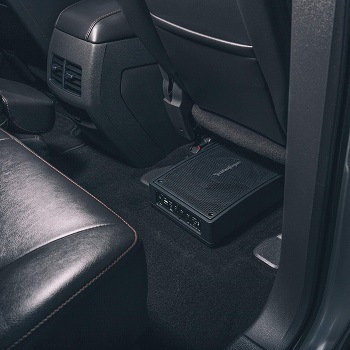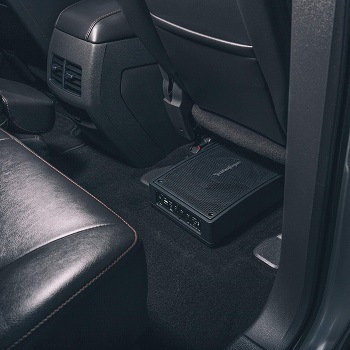 If you are a music enthusiast, you are interested in more than just the words in a song. You want to hear every beat and sound. Unfortunately, not every speaker system can allow that luxury, certainly not the generic ones in most cars.
The solution to this problem is a subwoofer, which allows you to enjoy low-frequency sounds that standard speakers cannot deliver. Unfortunately, most subwoofers are large and pose a problem when you want to fit them into a smaller car.
That is where compact subwoofers come in. Their slim profile ensures they do not take up much space, making them the ideal choice for smaller vehicles. Nevertheless, different brands of compact subwoofers vary in quality, which means that you need to take your time to find one that gives you the best bang for your buck.
The good news is that we have compiled a guide of compact subwoofers with the best reviews. Read on to identify your ideal compact subwoofer.
---
A Quick Comparison of Our Favorites in 2023
Rating
Image
Product
Details

Best Overall

Rockville RW10CA Subwoofer

Powerful
Big 10-inch cone
Thermal protection
CHECK PRICE

Best Value

Rockville SS8P Car Subwoofer

Easy to install
Stays cool
Adjustable input sensitivity
CHECK PRICE

Premium Choice

Kicker 11HS8 Subwoofer

Powerful built-in amplifier
Works with most head units
Allows for bass fine-tuning
CHECK PRICE

Kenwood KCS-SW11 Subwoofer

Incredibly durable
Remote control
Noise-free sound
CHECK PRICE

JBL BassPro SL Subwoofer

Beginner-friendly installation
Numerous outputs for fine-tuning
Durable
CHECK PRICE
The 10 Best Compact Car Subwoofers
The following are 10 of the most appreciated compact subwoofers on the market today:
1.

Rockville RW10CA Compact Subwoofer — Best Overall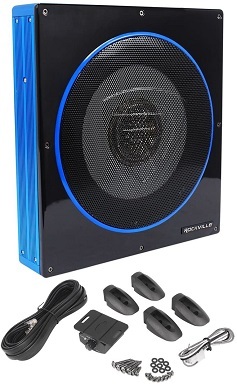 With a power-handling capability of up to 800 watts, the Rockville RW10CA is easily the most powerful, high-quality compact subwoofer on the market today. The subwoofer features a 10-inch cone that is much larger than most car subwoofers. This enables it to quickly displace a large volume of air and produce a powerful and much deeper bass devoid of sound distortions.
The RW10CA comes with myriad audio customization features to tailor the sounds to your liking. Lovers of bass should find this to be quite fulfilling. It also comes with built-in high-level inputs, which allows you to have an easier time installing the system because you do not have to remove the receiver. Unfortunately, the RW10CA does not have as many outputs as you might find in other systems but has all the basic ones.
The RW10CA is also very durable, thanks to the thermal protection feature that minimizes the potential for burnouts. Overall, we think this is the best compact subwoofer for cars on the market this year.
Pros
Powerful
Big 10-inch cone
Thermal protection
Audio customization options
Cons
Does not have as many outputs as some models
---
2.

Rockville SS8P Compact Car Subwoofer — Best Value
Even though Rockville has a reputation for creating high-end products, it seems that the company also has the interests of consumers with a tight budget in mind, if the SS8P is anything to go by. Rockville's SS8P is one of the best compact subwoofers for the money. In terms of size, it comes in a 2.8-inch enclosure that can easily fit under your seat. Additionally, it is made from cast aluminum, which is renowned for staying cool. Therefore, you should not worry about having the subwoofer on for extended periods, even when blasting at full capacity.
The SS8P also comes with high-level inputs for an easier installation process. Moreover, these inputs still allow installation even when you do not have preamp outputs. You also have the ability to adjust the input sensitivities. This compact subwoofer has a 100-watt RMS as well as a peak power of up to 400 watts, which is excellent for its price.
Rockville also went the extra mile to fit it with great controls for easier operation. The only drawback is that this system could do with more bass. Nonetheless, for its price, the bass quality is understandable.
Pros
Easy to install
Stays cool
Adjustable input sensitivity
Affordable
---
3.

Kicker 11HS8 Compact Subwoofer — Premium Choice
The makers of the Kicker 11HS8 had tight spaces in mind when designing this subwoofer. Measuring a little over 14 inches long and 3 inches thick, this system is the definition of a compact subwoofer. As such, you should not have difficulty finding space in your car to fit it. The Kicker 118S8 has a built-in 150-watt amplifier that does an excellent job of boosting the overall quality of your sounds, which isn't surprising, considering the 11HS8's popularity.
This subwoofer also allows remote bass control to fine-tune the bass. Moreover, it features high- and low-level inputs that are compatible with almost any head unit; talk about user-friendliness! The compact subwoofer has quick-connect and Velcro-fastened straps that promote easy installation and removal. Even though you might find the cone in this system to be small, it can still deliver above-average sound quality.
Pros
Ideal size
Powerful built-in amplifier
Works with most head units
Allows for bass fine-tuning
---
4.

Kenwood KCS-SW11 Subwoofer
It should not be surprising that a compact subwoofer from Kenwood has made this list since the company is famous for making excellent car subwoofers. The KCS-SW11 is a testament to that. What we especially love about this subwoofer is its durability. It has a die-cast aluminum frame that ensures you get good service from this system for many years.
The KCS-SW11 features a compact, low-profile design that fits comfortably into a small car. Moreover, it comes with a remote-control feature to allow you to tune the system without much hassle, regardless of where you have placed the subwoofer. The build quality of this system is excellent. As mentioned, it is made from die-cast aluminum, one of the planet's best heat-absorbing materials, allowing you to use the subwoofer at loud volumes for extended periods.
Additionally, it has a front metal grill that provides additional protection to the diaphragm, thereby extending the woofer's lifespan. What's more, its design ensures that the sound you get is devoid of white noise. The only issue you might have with this subwoofer is its limited customization abilities. If you like tweaking your sounds, you might feel restrained. Nonetheless, the little tweaking you can do with this system will still make for excellent sound.
Pros
Incredibly durable
Remote control
Noise-free sound
Cons
Limited tuning capabilities
---
5.

JBL BassPro SL Compact Subwoofer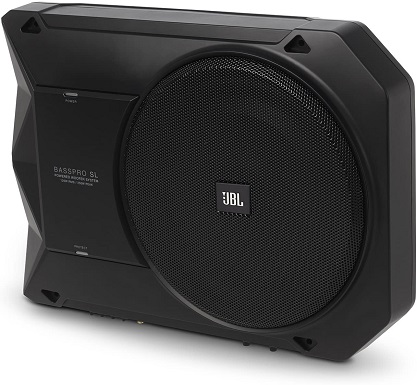 If this is your first time installing a subwoofer into your car, you can try out the JBL Bass Pro since it is incredibly beginner-friendly. For starters, the connectors at the back are clearly marked to allow for a straightforward installation. Moreover, the Bass Pro comes with numerous outputs at the back, allowing you to customize the bass to your liking.
This system also features an efficient design that dispels heat, allowing it to remain cool even when it plays at a high volume for extended periods. This design, therefore, dramatically reduces the risk of burnout. It has an 8-inch cone, which some might consider small compared to other models.
Nonetheless, the cone is still capable of delivering deeper, higher-quality sounds than most car subwoofers that you come across. The bass, however, could use upgrading. Nonetheless, for the price that you pay for this unit, it is not worth complaining about.
Pros
Beginner-friendly installation
Numerous outputs for fine-tuning
Durable
---
6.

Rockville USS10 Subwoofer
One of the defining attributes of a quality subwoofer is the ability to produce high-quality sound while allowing you to make custom adjustments to suit your preferences. The USS10 by Rockville has a host of control options and features great sound quality. The USS10 is 10 inches long and 2.9 inches wide, which is ideal for a car subwoofer.
You will also love that it has an 800-watt power capacity that allows for some of the deepest bass you can get from a car subwoofer. It comes with a remote control to adjust the sound to your liking. The inputs and outputs are on one side, which provides an easier and neater installation. Rockville also has an 8-inch size for this model in case you want something that is even more compact.
However, the installation instructions that come with the USS10 are not as straightforward as one would like them to be. Nonetheless, it should not be a problem as the design is meant to be user-friendly.
Pros
Compact size
Powerful
Easy to install
Easy sound adjustment
Cons
Instructions could be better
---
7.

Rockford Fosgate PS-8 Compact Car Subwoofer
This solid subwoofer features a highly efficient design and has an outstanding build quality for its price range. Worth mentioning is a metal grill on its front face to protect it from the elements and a heavy-duty enclosure. Despite its robustness, the Fosgate PS-8 has a low-profile, compact design that fits into small spaces. Additionally, it is all-inclusive, so you will not have to do extra wiring to make it work.
The PS-8 subwoofer features a wide array of outputs, as well as tuning options to allow you to customize your sounds to fine-tune your music. It also comes with a quick-connect system to ensure that you do not have difficulty connecting and disconnecting your cables. Despite all its features, however, we find it to be a little pricey.
Pros
Efficient design that minimizes sound distortion and heat
Heavy-duty enclosure
Variety of customization settings
---
8.

Kenwood KCS-PSW8 Sub-woofer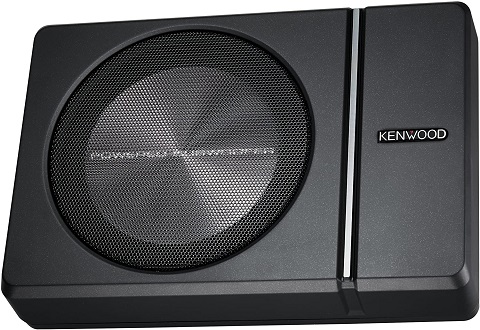 The Kenwood KCS-PSW8 subwoofer features a Class-D amplifier, which makes it an extremely powerful system. When you combine that with the fact that Kenwood makes it, you can expect a powerful punch with no compromise on sound quality. Installing the KCS-PSW8 is also easy since it only comes with two plugs. This subwoofer comes in a low profile to ensure that you do not have a hard time finding space for it in your car.
Additionally, it has a sensitivity rating of 81 dB and a frequency response of 35 to 150 Hz, which is nothing to complain about for its price range. The only issue we found was the limited options for remote control. You will have to make most adjustments on the unit, which can be inconvenient.
Pros
Powerful amp
Low profile design
Easy installation
Cons
Limited options on remote control
---
9.

Sound Storm Laboratories LOPRO8
The Sound Storm LOPRO8 subwoofer has a peak power capacity of 600 watts and an RMS power capacity of 400 watts. Additionally, the built-in amplifier features significantly greater switching speeds and lower gate-to-drain capacitance than many other units on the market.
It also allows for numerous customizable settings to enable you to find the sound that is just right for you. However, it might take a while before you get good at using these settings. This subwoofer comes with a 3-year warranty, which is an indication that you will be getting a high-quality product.
Pros
Excellent power output
Great value
Extended warranty
Cons
Susceptible to overheating
---
10.

Pioneer TS-SWX130DA Compact Subwoofer
Pioneer has been a leading brand in the subwoofer market for decades, and you can expect excellent quality whenever you purchase its products. The TS-SWX130DA is a quality subwoofer that one might pass over due to its relatively low RMS power output of only 50 watts. However, most people should find it more than convenient for their needs.
It features a sealed enclosure that allows for deeper bass. Also, most people find the sound from sealed subwoofers to be more captivating than that of standard woofers. You will also love the fact that it has a built-in Class D amplifier, as well as an aluminum cone, which makes for a powerful, high-quality sound. It comes in a compact size that should fit any space you can spare. It is also quite durable.
Pros
Good frequency output
Sealed enclosure
Small and compact
---
Buyer's Guide – Choosing the Best Compact Subwoofer
When looking for the ideal compact subwoofer for your car, consider these factors.
Size
Even though compact subwoofers are designed to fit into smaller vehicles, the amount of space available in a car varies among different models. Therefore, you want to ensure that the subwoofer you like can fit into your car. It is best to measure the dimensions of the available space in your car before buying a subwoofer.
Power Output
The amount of power that a subwoofer can produce determines the volume and even the quality of the sound that it emits. The power output in subwoofers is defined by peak power and RMS power. Peak power is the maximum wattage a system can handle in short bursts, while RMS is the maximum wattage a subwoofer can handle for prolonged periods without distorting the sound. Therefore, you want a subwoofer with a high RMS rating since the peak power does not mean much because it is not sustainable.
Frequency Range
This refers to the range of frequencies a subwoofer can handle without distorting the sound. A good subwoofer should handle a frequency range of between 20 and 200 Hz.
Cone Size
The cone is the feature that produces the bass sound. Generally, larger cones produce deeper and more powerful bass sounds as they displace more air. Therefore, if you are into deeper bass, you might want to look for a subwoofer with a large cone.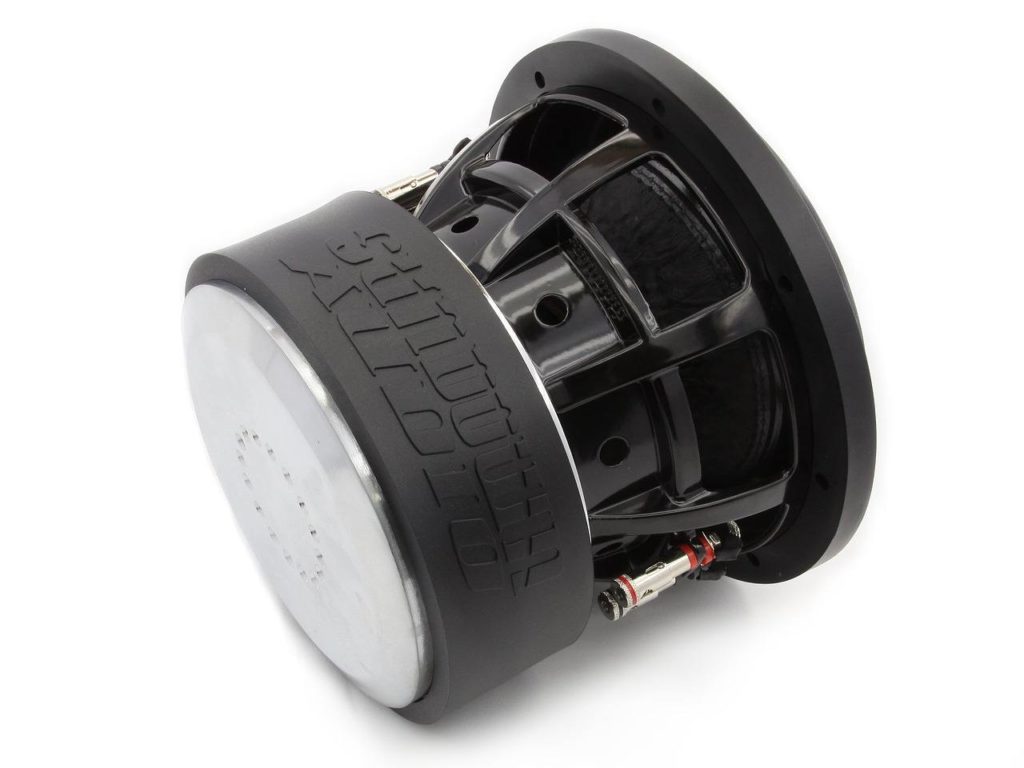 Enclosure Type
Subwoofer enclosures can be sealed, ported, or bandpass. Sealed enclosures have deeper and more accurate bass sounds. However, they also use up more power. Ported enclosures have a vent that reinforces low bass response, which makes them ideal for forceful bass, such as that found in heavy rock music. On the other hand, bandpass enclosures have a design that maximizes slam.
Conclusion
Compact subwoofers tremendously increase the sound quality and overall musical experience in a car, but you need to find the one that suits your preferences and budget. Hopefully, our reviews above will help you find a good system for your car. That said, we believe that the Rockville RW10CA is the best compact subwoofer on the market today, thanks to its superior design, power, and performance. However, it is the Rockville SS8P that will give you the most value for your money.
You might also like: