9 Best Powered Subwoofers for Cars in 2023 – Reviews & Top Picks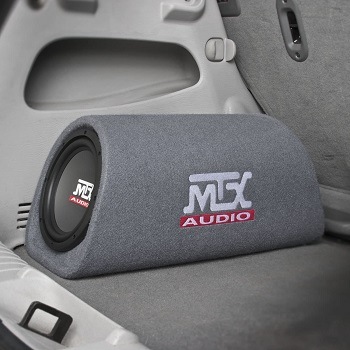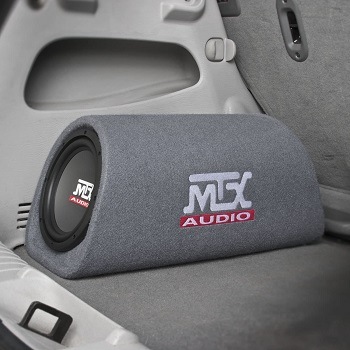 Subwoofer quality ranges substantially, from units that empower you to bump awesome bass, and others that are essentially ineffective. Unfortunately, buying speaker equipment can be very complicated, especially for the average Joe who doesn't know what to make of the esoteric lingo.
Consequently, our objectives going into this guide were severalfold. Not only did we want to provide you with a comprehensive list of the 9 best products out there, but we also hoped to make understanding these products easier.
Read on for some subwoofer for car reviews that will help you identify the right product!
A Quick Comparison of Our Favorites in 2023
Rating
Image
Product
Details

Best Overall

MTX Audio RT8PT Powered Subwoofer

120 RMS power
8-inch sub
Cloth enclosure
CHECK PRICE

Best Value

Rockville SS8P Under-Seat Powered Car Subwoofer

Affordable
Stays cool
Adjustable sensitivity
CHECK PRICE

Premium Choice

Rockford Fosgate P300-12 Powered Subwoofer

Very powerful
Easy to install
Closed-loop design
CHECK PRICE

Kenwood KSC-SW11 Compact Powered Subwoofer

150 RPS
Aluminum enclosure reduces heat
Wireless control
CHECK PRICE

JBL GT-BassPro12 Car Audio Powered Subwoofer

Aluminum build
150 RPS
Remote controlled
CHECK PRICE
The 9 Best Powered Subwoofers for Cars
1.

MTX Audio RT8PT Powered Subwoofer – Best Overall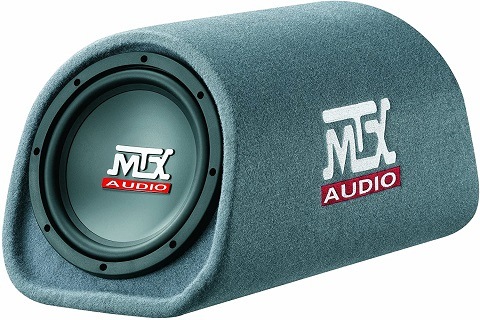 The MTX Audio features an average power rating of 120 RMS, which should be enough for people who like to blast music. The woofers are 8 inches and benefit from a carpeted enclosure that further enhances the quality of the audio output.
The unit benefits from external bass control which means you can adjust the volume output effortlessly from the front of your car.
Unfortunately, many users do report audio distortion that gets worse the louder you play your music. However, the sound quality should be satisfactory for the average user. With all that being said, we believe this is the best powered subwoofer for cars on the market right now.
Pros
120 RMS power
8-inch sub
Cloth enclosure
External control
---
2.

Rockville SS8P Under-Seat Powered Car Subwoofer – Best Value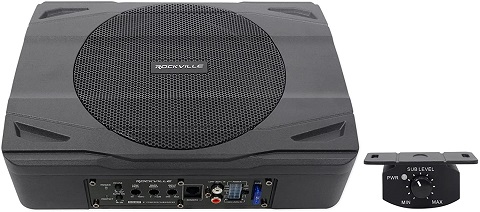 The Rockville is our best-powered subwoofer for the money. It's an affordable product that is designed to rest directly beneath your seat, saving you precious space. The enclosure is made of cast aluminum and designed to stay cool even during long periods of use. Sensitivity is adjustable, and it features a peak output of 400 RMS.
Unfortunately, though, the average power is significantly reduced at just 100 RMS. The main user complaint is simply that these speakers are not very powerful. However, if you want to replace or slightly upgrade the built-in bass in your car, this option will be suitable.
Pros
Affordable
Stays cool
Adjustable sensitivity
---
3.

Rockford Fosgate P300-12 Powered Subwoofer – Premium Choice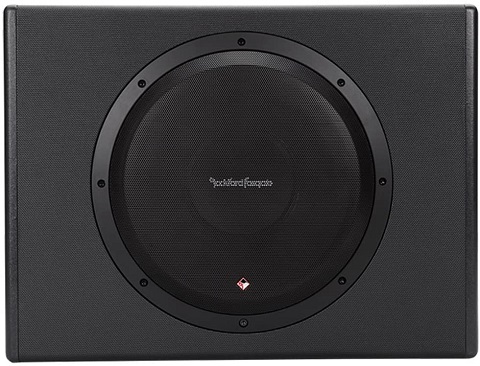 If you have a little bit of money to spend on this purchase, you'll be sure to appreciate the Rockford Fosgate. It's a powerful, 300 RPS unit that generates an enormous amount of power. Meanwhile, the closed-loop design is optimized for coordinating performance between the woofer and the amplifier. Installation is also very easy. Hook this subwoofer up to a power source, and it will be good to go!
There are two concerns to be wary of. For one thing, this is one of the most expensive products on our list. The housing is also somewhat lacking in durability. It's a great speaker, but if your car is a rough and tumble environment you may want to opt for something else.
Pros
Very powerful
Easy to install
Closed-loop design
---
4.

Kenwood KSC-SW11 Compact Powered Subwoofer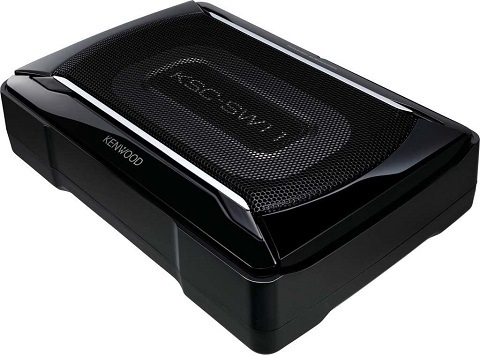 The Kenwood is a moderately priced, enclosed subwoofer that will be great for people with limited space. The  8-1/4 x 5-1/8 inch aluminum enclosure does well to keep the system from overheating, while the system maintains ease of use thanks to a wireless remote control. It features a peak power level of 150 RPS.
You should be aware that the installation can be complicated. The average user will probably need to hire out for the installation, which will naturally enhance the cost. However, once you get the speaker up and running it will be a reliable source of quality audio.
Pros
150 RPS
Aluminum enclosure reduces heat
Wireless control
Compact dimensions
---
5.

JBL GT-BassPro12 Car Audio Powered Subwoofer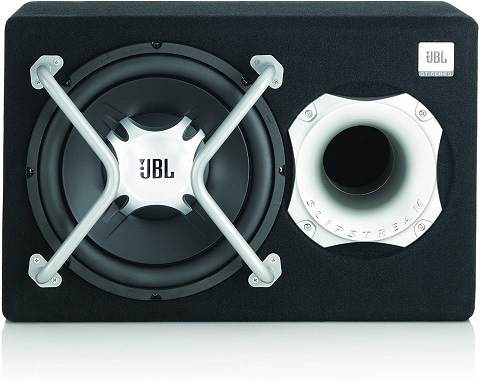 The JBL is a 12-inch subwoofer with a die-cast aluminum housing. The aluminum component helps with heat management, while also helping to output rich, deep bass consistently. It also coordinates well with the rest of your system. With signal sensing, the JBL knows to activate the moment you turn the rest of your audio equipment on. The average output is 150 RPS.
The speaker is controlled via a remote and has a sensitivity range of 35Hz – 120Hz. The input sensitivity is 50v helping you to get the most out of the speaker's power.
You should note that this speaker is bulkier than you may prefer. If you own a compact car, this option might not work for you.
Pros
Aluminum build
150 RPS
Remote controlled
Syncs up with the rest of your audio equipment
---
6.

Rockville RWS12CA Powered Car Subwoofer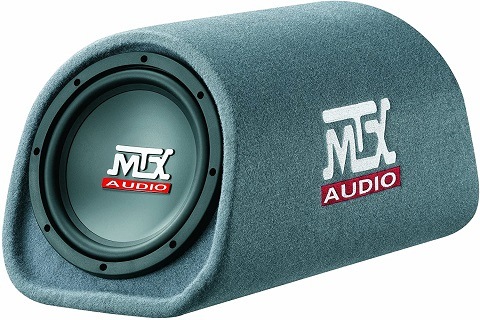 The Rockville is a tremendously powerful bass with a peak of 1200 RPS and an average output of 300. The ultra-stiff composite pulp material is specifically optimized for enhancing the richness of the audio. It is surrounded by high-density foam that will further boost the bass.
Finally, the subwoofer is designed to work well even in extreme climates with a temperature range of between -40- 220 degrees.
Unfortunately, the Rockville does feature a complicated installation. Wires need to be run through the firewall of your car which may require professional assistance.
Pros
Very powerful
Stiff housing
Extreme temperatures
---
7.

KICKER 11HS8 Car Audio Powered Subwoofer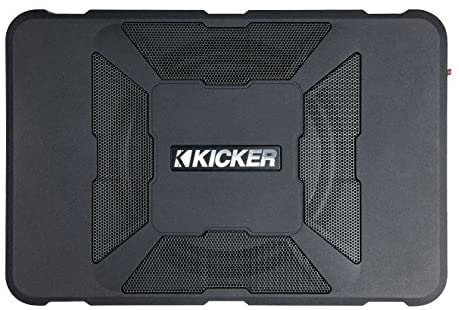 The Kicker Hideaway is a compact 150 RPS speaker. It can fit effortlessly beneath your seat, and benefits from a "plug and play" installation process that allows you to hook the speaker up to a power source and start listening.
And, because of the compact dimensions, it can be easily placed on your door or beneath the seat of your car. The speaker itself is 8 inches, which should be ample enough to produce the rich sound most buyers opt for.
Some users have noted that their speaker blew out much sooner than they would have anticipated (in certain cases only months after acquiring). Of course, this may have been influenced by their car, how they listen to music, or simply a rare factory defect. However, it is still something to keep in mind.
You should also note that this is one of the more expensive speakers that we've highlighted in this guide.
Pros
Easy to install
150 RPS
Compact dimensions
8-inch speaker
Cons
May blow out prematurely
Expensive
---
8.

Cerwin-Vega Mobile VPAS10 Active Subwoofer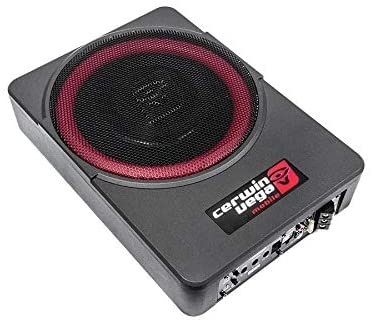 The Cerwin has a peak power output of 550 RPS and average power of 200 RPS. The PWM MOSFET thermal circuitry is designed to withstand extreme temperatures, and it features an adjustable sensitivity that should do well to sync the speaker up with the specifications of your system.
Thanks to auto-turnon mode, the bass seamlessly syncs up with the rest of your stereo equipment so that you don't have to turn everything on independently.
Unfortunately, the cooling system does leave something to be desired. In hotter weather, you may only get 20 minutes' worth of use out of it before the speaker deactivates to cool down.
Pros
200 RPS average
Circuitry withstands extreme temperatures
Seamlessly syncs up with the rest of your equipment
Cons
Deactivates often for cool down
---
9.

Alpine Electronics PWE-S8 Powered Subwoofer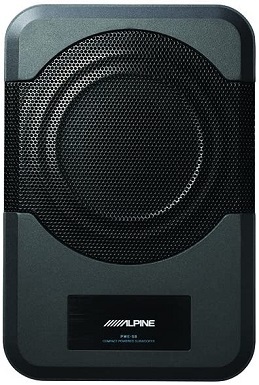 The Alpine Electronics is an 8-inch subwoofer with an RPS average of 120 watts. It has been sized to fit easily beneath the seat of your car, and features a frequency range of 32Hz-150Hz frequency. As far as specs are considered, these are fairly average. However, the Alpine Electronics may pose a serious value concern for some users.
Despite producing a very average performance, this unit is one of the most expensive on our list. It's also worth noting that installation hardware does not come with the package, and the audio output is fairly mediocre. If you own a larger car, you may not notice the bass at all.
Cons
No mounting hardware
Quiet output
Very pricey
Value concerns
---
Buyer's Guide – Finding the Best Powered Subwoofers for Cars
If some of the technical lingo in the guide above went over your head, it will probably be handy to read the buying considerations listed below!
Location
Some subs install into the car, others go beneath your seat, and many go in your trunk. While no location is necessarily better than the others, it can make a big difference if you have limited space. Naturally, built-in, or under the seat speakers save more space, but you can find compact trunk units as well.
Size
There are contradicting ideas about the optimal size for subs. Some believe that bigger is better, but the truth is that the answer will change depending on a variety of factors, including the build materials of the enclosure.
External Control
External control means that you don't have to interact directly with the speaker to adjust the volume. Externally controlled subs will function the same way as the rest of your stereo equipment making them optimal for the average user.
Fortunately, this feature is very common with powered subs, but you still should make sure that the product you want includes it.
Wireless Remote
If your system does not have an external control system, you will want to opt for something that features a wireless remote. This component will make it easy to adjust your speakers regardless of where they are located in your car.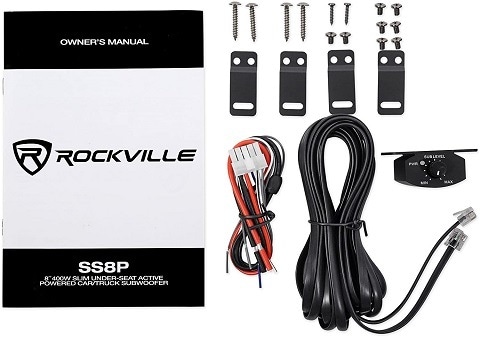 Installation
If you plan to install the speaker directly into your car there are extra considerations to bear in mind. Typically, aftermarket speakers are designed to fit in the factory-made holes. This saves you lots of time and can help you forgo the costly expense of a professional installation. However, every manufacturer is a little different, and there isn't a one size fits all speaker size.
There are a few ways to make sure the unit you choose is right for your car. Of course, you can always take the measurements yourself. However, to eliminate any uncertainty, you may be better served to contact the speaker manufacturer. They will often have a master list of cars that are compatible with their product.
What are Powered Subs
Powered subs include everything you need in a single package. They are typically compact and feature a built-in amplifier.
Ironically, powered subs tend to be less powerful than other options, thanks to their diminished size. Consequently, this may be a better option for people that are trying to replace factory presets rather than upgrade their existing system.That said, our list proves that power levels can vary significantly from speaker to speaker.
Power
If you are interested in a powerful speaker, you should pay attention to the RMS rating. Speakers tend to advertise on the basis of their peak performance, but it is the average RMS that gives you a better insight into the typical experience the sub will provide.
Sensitivity
The higher the sensitivity rating of a speaker, the more it can accomplish with limited amounts of power.
Frequency
The frequency of the sub will indicate how low the sound of the bass can go. However, your actual results will also depend on the housing and materials used in the construction.
---
Conclusion
We hope our buying considerations and product list have helped make this decision much easier for you. By this point, our hope is that you aren't even reading anymore because you've already selected the perfect bass for your situation.
However, if our powered subwoofer for car reviews hasn't quite helped you select a product, it may be to your benefit to revisit two special options.
Our top choice for the best powered subwoofer for a car, the MTX Audio RT8PT Universal Powered Subwoofer is excellent for people who need the best product they can get. However, if you're on a tight budget, you can still get something excellent by opting for our runner up, the Rockville SS8P Under-Seat Active Powered Car Subwoofer.