5 Best Contractor Table Saws – Reviews & Top Picks 2023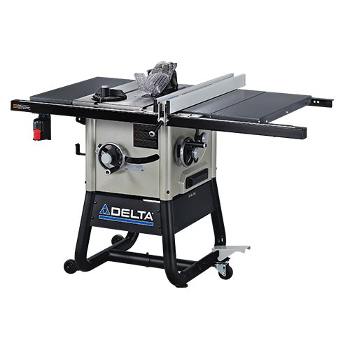 If you need more power than a portable or jobsite saw can offer, turn to the contractor table saw. Featuring more powerful motors, larger tables, and greater torque than portable saws, they'll make quick work of construction and woodworking jobs without breaking the bank.
Don't fall for all the marketing hype, though—not every table saw is really worth your money. In this guide, we'll cover everything you need to know when choosing the best contractor table saw for your projects. As the result of rigorous testing and examination over weeks of sawing, each of the following reviews will point you towards one of the five best contractor table saws for the money.
---
A Quick Look at Our Favorites in 2023
Rating
Image
Product
Details

Best Overall

Sawstop 36″ Contractor Table Saw

Brawny 1¾-HP motor
Large cast iron table
Emergency stop system
CHECK PRICE

Powermatic PM1000 Contractor Table Saw

Extra-large table
Well-designed fence system
Easy blade change system
CHECK PRICE

Best Value

Jet 708492K Contractor Table Saw

Excellent 1¾-HP motor
52" rip capacity
Table is precision ground for smooth cutting
CHECK PRICE

Delta 36-5000 Contractor's Table Saw

Great stability
Heavy-duty
Dual voltage capacity
CHECK PRICE

Shop Fox W1837 Table Saw

Lots of features at a low price
Excellent 2-HP motor
Low vibration and very quiet
CHECK PRICE
The 5 Best Contractor Table Saws
1.

SawStop 36″ Contractor Table Saw – Best Overall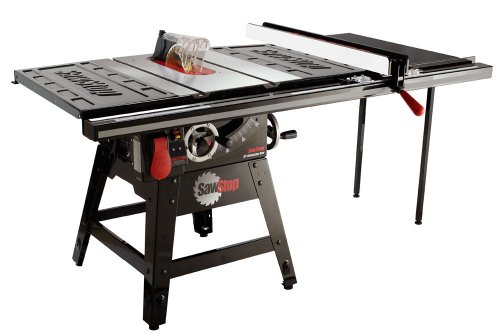 The SawStop is undoubtedly the best contractor table saw on the market. It's not every day that you find a 1¾-HP cabinet table saw with a 36-inch rip fence. After years of relying on jobsite saws for portable work and cabinet saws in our own woodshops, we're truly impressed by the horsepower and rip capacity of this beast of a machine.
Even more so than its outstanding efficiency, the SawStop contractor table saw is remarkable for its safety measures. An integrated work safety system sends a small electrical charge through the blade as soon as the machine is powered on. If highly conductive human skin touches the blade, an aluminum brake immediately stops the blade and drops it into the table– effectively preventing 99% of table saw accidents.
Pros
Brawny 1¾-HP motor
Large cast iron table (20" W x 27" D)
12" wide extension wings
Emergency stop system
Durable and long-lasting cast-iron construction
Cons
Fence adjustments can be finnicky
Needs a dust collection system (not included)
---
2.

Powermatic PM1000 Contractor Table Saw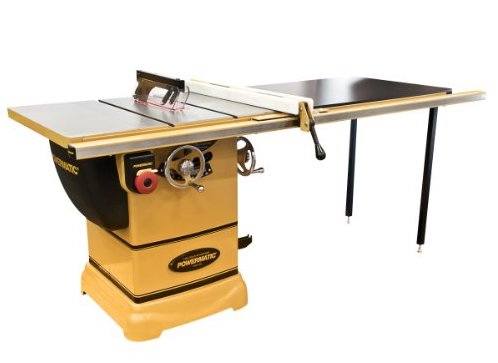 By doing away with the robust safety features of our top pick, the Powermatic PM1000 can offer the same power, an even larger working surface, and a generous five-year warranty—all at a lower price.
Extend to its fullest, the Powermatic's table reaches an impressive 57 inches wide and 27 inches deep, making it one of the largest table capacities of any saw we tested. The 1¾-HP motor powers a robust 4200 RPM arbor speed, and combined with the saw's 3⅛-inch maximum cutting depth, is more than powerful enough for any construction job. Add in a belt drive system that's designed to reduce vibrations, and the Powermatic becomes even easier to use with great accuracy and precision.
In short, the Powermatic PM1000 trades the advanced safety features of our number one pick for a wider variety of functions, greater cutting power, and a larger workspace. It's an excellent piece of machinery that's built to last.
Pros
Extra-large table
Well-designed fence system is easy to dial in for precise work
Special belt drive system reduces vibration
Features a hands-free power switch
Easy blade change system
Cons
No dust collection
No riving knife included
---
3.

Jet 708492K Contractor Table Saw – Best Value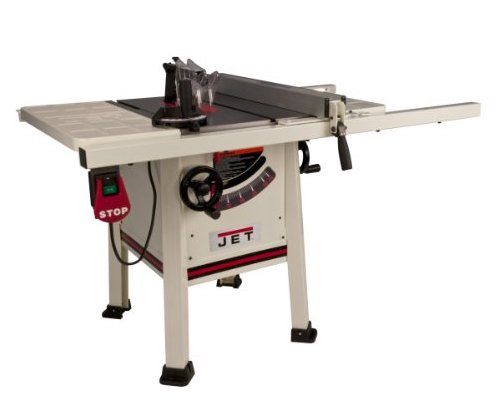 Finding a budget-priced contractor table saw is a tricky proposition. For a tool that mainly competes on power, durability, and utility, any decrease in expense will usually come with a proportionate decrease in quality.
While some might suggest simply going for a high-end jobsite table saw that will still be inexpensive in comparison to a contractor saw, there's one option that we can recommend: the Jet 708492K contractor table saw. Its heavy-duty cast iron table and easily adjustable fence and blades give it a leg up on the competition that costs nearly twice the price.
On balance, the Jet sacrifices almost no power or rip capacity for its reduced price—but the motor just isn't quite cut out for professional work. Though it produces a respectable 1¾ horsepower, something about the design makes it prone to overheating and seizing during heavy workdays. It's a significant limitation, but not a complete deal-breaker when you take the price into account, as well which makes this the best contractor table saw for the money.
Pros
Offered at an excellent price
Cast-iron table is precision ground for smooth cutting
Excellent 1¾-HP motor
52" rip capacity
Cons
Doesn't have any automatic power-off mechanisms
Motor tends to overheat
Not a great choice for professional use
---
4.

Delta 36-5000 Contractor's Table Saw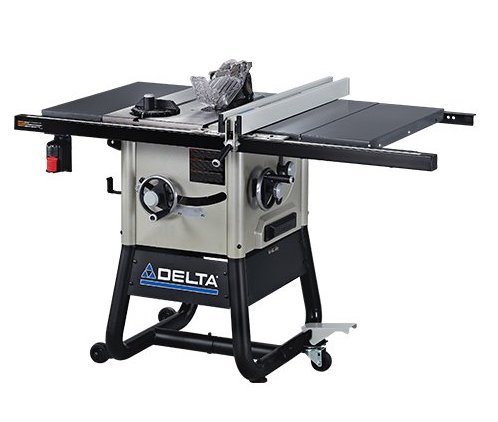 The Delta 36-5000 is an excellent choice for those who frequently work with longer pieces of wood. The table extender is easy to line up with the main table, and the railing system makes sure every piece of wood that you put through it goes through straight and smoothly.
Given its excellent performance and precision cuts, it's surprising that the Delta 36-5000 contractor table saw is also so easy to move. A tubular stand with two fixed wheels and one swivel wheel gives the best possible blend of mobility and stability, making it the most portable of all the contractor table saws we reviewed. Also featuring a heavy-duty one-piece rail system and easily adjusted guards, it's a great option for craftsmen who value precision and versatility.
That's about where the benefits of this saw stop, though, as its one-HP motor is seriously underpowered. Unfortunately, that's a glaring flaw in an otherwise wonderful saw, as this lack of power prevents it from ever achieving its true potential as an all-in-one jobsite and home workshop table saw.
Overall, the Delta 36-5000 is a supremely flexible and useful saw that is hampered in professional use by its underpowered motor. For home enthusiasts with a large enough budget, it may be the perfect table saw for your woodshop.
Pros
Great stability
Heavy-duty table and rail system
Big steel extension wings
Dual voltage capacity (120V – 240V)
Cons
Underpowered one-HP motor
Not suitable for professional construction work
---
5.

Shop Fox W1837 Table Saw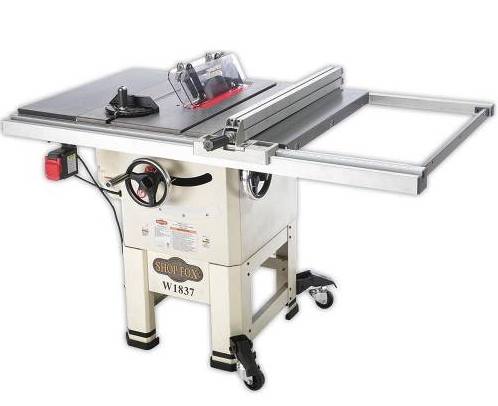 While we do appreciate the intentions behind the Shop Fox W1837, the increased portability is its most significant disadvantage. We understand that contractor tables are bulky and heavy pieces of kit, but they need to be. Shop Fox has tried to introduce casters to a contractor table saw in hopes of making it easier to move, which it does but at the cost of lowered stability.
Finally, consider the Shop Fox Hybrid table saw as an alternative to your contractor table saw needs. It comes with almost all the features you might expect out of a contractor saw at a significantly reduced price but sacrifices some stability to do so.
Surprisingly, this bargain-priced table saw alternative offers a powerful two-HP motor and precision-ground cast-iron table—placing it near the capacities of our top pick and runner-up. Add in a serious vibration-dampening system, and you may end up falling in love with the performance of this exceptionally versatile machine.
Pros
Lots of features at a low price
Excellent two-HP motor
Low vibration and very quiet
Cons
Not very stable
Low-quality blades
It's impossible to get the fence square
The top is not straight
Significant assembly required
---
Buyer's Guide – Choosing the Best Contractor Table Saw
Many factors will influence your decision when buying a contractor table saw. One thing is for sure, however, and that's the fact that your new saw has to be versatile, powerful, and extremely stable. When you are working on a project for your clients, precision is everything—so choosing a table saw that gets the job done correctly is crucial.
To make your decision easier, we have put together a list of different features that make up a contractor's table. We have also included specific attributes that you should look for and consider when making your final decision.
Things to Consider When Buying
Weight & Material
Where you will be using the table saw will determine what sort of weight you should look for. Contractor table saws are massive pieces of kit. They require multiple people to move one. With that being said, some are lighter than others. If you ever need to move your table saw, a lighter table will be the best option. Anywhere from 200–300 pounds will be ideal. If your table saw will be set up in a workshop and won't be moved at all, consider choosing a heavier one since heavier table saws offer more stability compared to the lighter ones. Heavy tables can weigh anywhere up to 600 pounds and beyond.
One factor that will influence the weight is the material of the tabletop. Most table saws will have a cast iron top which is strong, durable, and wear-resistant. However, there are several other choices available on the market including stainless steel and stamped metal. These are usually lighter than cast iron but are just as durable.
Table Size
The type of work you do will determine what table size you will require. Contractor tables are generally a lot bigger than conventional table saws, but still, different contractors will have different needs. Someone cutting doors for a living will require a smaller table than someone cutting fencing panels and kitchen worktops. Consider the size of the materials that you work with most often, then choose your table size accordingly.
Warranty
Contractor table saws are expensive. They are also powerful and complex pieces of machinery that are prone to faults and the occasional breakdown. Choosing a table saw with a good manufacturer's warranty will give you the peace of mind of knowing that it's covered if anything goes wrong.
Attributes to Look Out For
Horsepower
The power output of the motor will depend on the size and weight of the machine. Lighter, more portable table saws may have a maximum horsepower of two. Larger, more stationary table saws can boast a horsepower of up to five. The latter may be overkill for most professionals, but if you need something extremely powerful, just know that the option is there. Anywhere from one to three horsepower is sufficient for most professions.
Fencing and Miter Gauge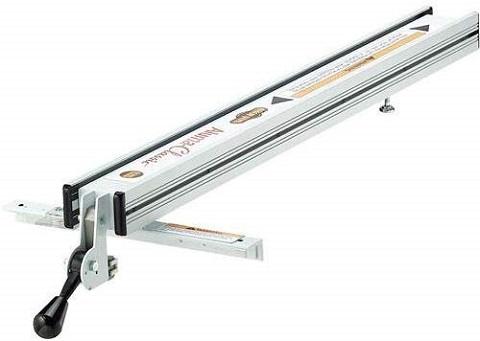 The fencing and miter gauge are two essential pieces of kit that should be included in any table saw purchase you make. The fencing will provide stability and control to allow you to make straight cuts. The miter gauge will allow you to make angled cuts. Without these two accessories, you will not be able to do any considerable work. Always keep these two things in mind when making your decision.
Storage Space
Contractor table saws are different from traditional, home-workshop table saws simply for the fact that they get used more. Additional storage space underneath the table will allow you to store extra blades and other accessories safely for when you need them. The more storage space, the better.
Safety Features
Your safety should be your main priority when using a large piece of machinery. Most contractor table saws will have several safety features straight out of the box, but it's a good idea to know exactly what to look for so you know if anything is missing.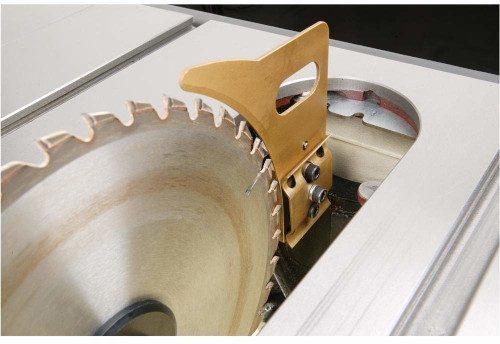 The blade guard is one safety feature that is typically included with every saw. The guard is provided to protect your fingers from coming in contact with the blade. The problem with blade guards is that they can sometimes obstruct your view. Choosing a saw with plexiglass or clear guard will help to eradicate that problem.
Besides cuts and amputations, another common injury when using table saws is being hit with flying pieces of wood. The kickback can propel fragments of timber straight back towards the table user if there are no safety precautions in place. Splitters and anti-kickback pawls are two safety features that should be included when you buy a new table saw.
Everything You Need to Know about Blades
The blade of a table saw is the star of the show, so we decided to go a little more in-depth with our breakdown of what to look for in one. Blades come in a variety of different sizes and materials, and they all vary in different revolution speeds and the number of teeth they have. To make the most informed decision, it's a good idea to know about each of these factors.
Blade Material
The material of a table saw blade would determine what material it is designed to cut. For example, woods are usually cut with a metal blade such as steel and carbon steel. These blades are hard but flexible. For harder materials like metal, diamond-tipped tungsten blades are typically more suitable. Finally, for PVC and other forms of plastic, the best blade for the job is usually made from tungsten carbide.
Teeth Per Inch
The number of teeth that a blade is a useful metric for judging it's cutting speed and quality of finish. Blades with more teeth per inch will cut slower but the final cut will be more precise and clean. On the other hand, blades with fewer teeth per inch will cut faster but with a much rougher finish.
Blade Type
The two most common types of blades on the market are rip blades and crosscut blades. Similar to the number of teeth, the type of blade will determine how fast the blade cuts and how clean the finished cut will be. Rip blades have more teeth and have larger gullets. They will work through a piece of wood faster and will wick away any chips of wood and dust.
Crosscut blades have a large number of teeth but with smaller gaps between them. The result is a slower, more precise cut. You can also purchase blades that fall somewhere in the middle, offering both speed and precision.
Blade Size
The most standard blade sizes on most table saws will range from eight to 12 inches, with some saws using larger blades for more commercial applications. Knowing your table saws blade size will allow you to purchase blades that are made especially for your table saw.
Conclusion
Buying a contractor's table saw is a significant investment, so it's crucial that you get it right the first time. Hopefully, our reviews of contractor table saws have made your choice considerably easier.
If you are still struggling to decide, we would highly recommend choosing the SawStop. It's not only the best table saw on the market, but it's also the safest. The SafeStop mechanism is a genius invention, and the team at SawStop deserves our support. If you want to save a few bucks while still getting the job done, consider the Jet 708492K. It's the second-best on our list in the safety department, but it's also a great all-rounder that is ideal for any profession.
We hope that you enjoyed reading our article and that this helps you find the best contractor table saw for your needs!