10 Best Table Saw Blades of 2023 – Reviews & Buying Guide
Every experienced woodworker knows that your table saw, no matter how much power it has, is only as good as its blade. A crummy blade can make imprecise cuts that ruin projects, which is a waste of time and money.
Of course, if you're here, you probably already know that. You may also have realized that it's not easy to shop for tools online. It's not always clear what parts of a product description contain good information, and which are just marketing fluff.
We've assembled these reviews of the best table saw blades of this year to help you become a well-informed buyer. You should learn everything you need to know from our included buyer's guide, and then use these reviews to find the table saw blade that's right for you.

Comparison Table (updated in 2023):
Rating
Image
Product
Details

Best Overall

Forrest 10-Inch Table Saw Blade

Sturdy
Small kerf
Hand-tensioned
CHECK PRICE

Best Value

Freud Diablo Table Saw Blade

50 teeth
Laser-cut stabilizer
Perma-shield coating
CHECK PRICE

DEWALT DW3106P5 Table Saw Blades

Good price
Two Blades
Stays sharper longer
CHECK PRICE

Irwin Tools Table Saw Blade

Laser-cut
Heat resistant
Designed to do crosscuts and rips
CHECK PRICE

Concord 10-Inch Table Saw Blade

Thin kerf
Cut well to start
Straight and true from factory
CHECK PRICE
The 10 Best Table Saw Blades:
1.

Forrest 10-Inch Table Saw Blade – Best Overall
The Forrest WW10407125 10-Inch Blade presents potential buyers with a dilemma. It's one of the most expensive sawblades on the market, leaving one to wonder if it's worth the price. What we can tell you it's that it's an excellent saw blade. It comes with a small kerf, which saves you up to ⅛" per cut relative to lesser blades. Despite its thinness, it is sturdy, and you won't have inaccurate cuts due to wobbling or flexing while in use.
These blades are largely handmade, including hand tensioning and the teeth are hand-brazed to the plate. Unlike other brands, there's a human monitoring the whole process, so flaws are fixed before these blades leave the factory. These blades' high-quality results in less backside tear out, which is always a welcome feature in a table saw blade. However, it does sometimes burn harder woods, so you'll need to take precautions when cutting those woods.
These blades are also extraordinarily expensive relative to the rest of the market, so you have to decide if they're worth the price for you. However, all in all, we still think that these are the best table saw blades on the market.
Pros
Small kerf
Sturdy
Hand-tensioned
Low backside tearout
Cons
Burns harder woods
Expensive
---
2.

Freud Diablo Table Saw Blade – Best Value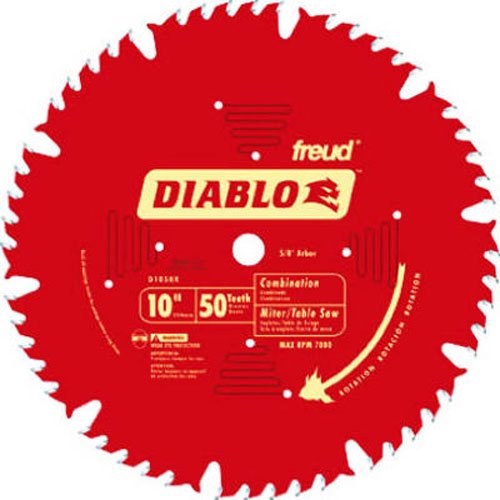 The Freud D1050X Diablo is good for anyone who knows that they'll be doing a ton of ripping and crosscutting, and don't want to have to change out blades to get good cuts of both kinds. This blade comes with 50 teeth, which is a lot and improves cut quality. 40 of these teeth are small, and makes this blade great for crosscutting, while the ten larger teeth help remove shavings during ripping, making that process easier. Since you can do both operations with this blade, you can replace two blades and still get excellent results.
The blade itself is laser-cut for high levels of precision and includes a stabilizer that reduces wobbling during cuts. It also comes with a Perma-shield nonstick coating, which helps the blade resist damage due to heat or corrosion. However, this doesn't specialize in either rips or crosscuts, so if you know you're mostly going to be doing one kind of cut or the other, and you need the very best precision on the market, you may consider a different blade.
For most people, this will be the best table saw blade when considering the value for the money, since it costs far less than our top model.
Pros
50 teeth
Perma-shield coating
Laser-cut stabilizer
Good for ripping and crosscutting
---
3.

DEWALT DW3106P5 Table Saw Blades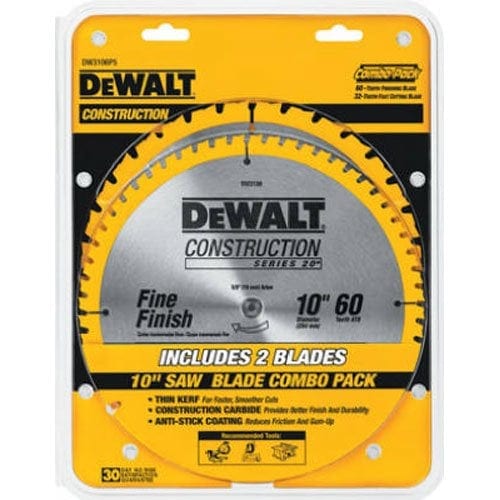 The DEWALT DW3106P5 will be an attractive offer for most people. It comes with two blades for the price of one, which is a great deal if the blades live up to their potential. Included are two 10-inch blades, one with 32 teeth for ripping or other general-purpose tasks, and the other with 60 teeth for high-quality crosscutting. These blades are advertised as having a computer-balanced plate that should reduce vibration and lead to increased accuracy and a better finish.
However, there are serious problems with some of the blades that come from the factory that you should consider before you buy. They're inconsistently sharpened, which means some will work just fine, while others will need a touch-up before first use. If you know how to sharpen blades, that may not be a big deal, but you'll still have to work to get a good outcome.
In addition to the sharpness problems, they're not the best for fine detail work, as they leave a more ragged edge than competing blades. If you don't need perfection, however, it's hard to beat the price on these blades.
Cons
Inconsistent sharpness
Not good for fine work
---
4.

Irwin Tools Table Saw Blade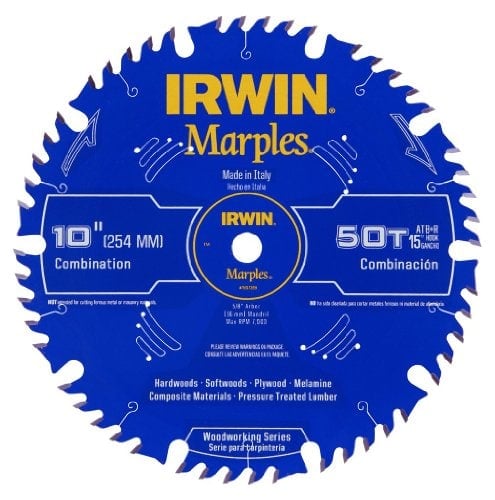 The Irwin Tools 1807368 is available at a decent price, and has some upside, but has enough problems to drop to the bottom of our list. Like the Freud D1050X Diablo, this model is designed to do both crosscuts and rips well, due to a design that mixes a large number of small teeth with a few large teeth and gouges for removing excess wood shavings. It's also laser cut, which makes for a high degree of precision on both the flat edges and the blades.
However, this model wears out extremely quickly relative to other blades. Some users report that they use it up in less than a day, which is far less durability than we're looking for in a saw blade. It also has quality control issues, which means some of these blades wobble while in use, leading to low-quality cuts. Finally, the design itself isn't conducive to quick cuts, so even if you don't have problems with it wearing out or wobbling, you'll lose a lot of time using this model relative to better blades.
While the price of this blade is attractive, it's not going to be the right model for most people.
Pros
Laser-cut
Good for ripping and crosscutting
Cons
Wears out quickly
Quality control issues
Slow cuts
---
5.

Concord 10-Inch Table Saw Blade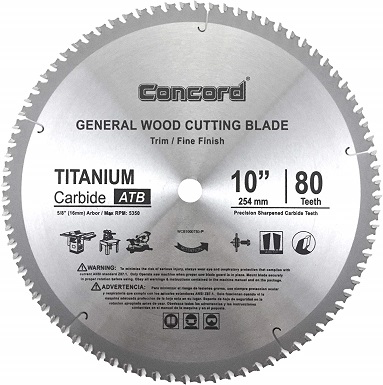 This 10-inch, 80-tooth table saw blade from Concord Blades is equally at home performing crosscuts and rips in both hardwood and softwood. It's affordably-priced and well within reach of most hobbyists. Out of the box, the blade was straight and true as you'd hope to see. Good sign so far. The hole seemed a bit tight when fitting it, but it did go on.
It seemed to perform pretty well right off the bat. The cuts were quick and while not perfectly splinter-free, they were sufficiently clean. Unfortunately, the blade started to dull rather quickly. Within a day's work, the blade had slowed considerably. This blade may last a single job, or with occasional use, it may last a few weekend projects. Overall, it can't provide the same quality cuts and longevity of the blades placed higher on this list.
Pros
Straight and true from factory
Cut well to start
Cons
Cuts had some splinters
Blade dulls very quickly
---
6.

DEWALT 10-Inch Table-Saw Blade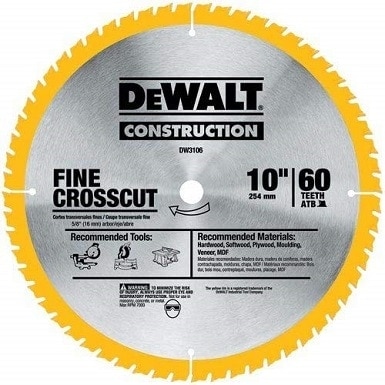 When it comes to making finish cuts such as ripping the wood down for a cabinet, you want to use a finish blade in your table saw. This DeWalt 60-tooth is such a blade. It's also got a very thin kerf which allows for faster and smoother cuts. Fully balanced from the factory, it creates a very clean cut on both sides. On the downside, some of the bright yellow paint on this blade ended up wearing off on the wood that was being cut. It also didn't seem to perform so well in hardwood, although it says right on the blade that hardwood is one of its recommended uses.
Pros
Clean cuts from finish blade
Fully balanced
Cons
Some paint wore off on the wood
Not great with hardwood
---
7.

TWIN-TOWN 10-Inch Saw Blade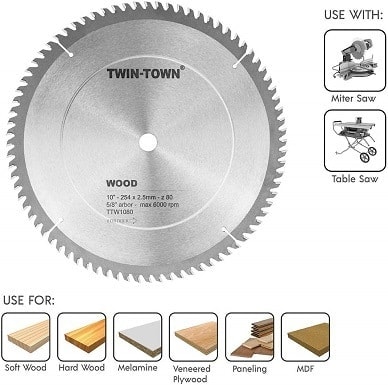 This 80-tooth, 10-inch saw blade from TWIN-TOWN is meant to deliver a clean finish cut in a variety of wood materials. The first thing that stood out is the high speed this blade is capable of, up to 6,000 RPM. Although the cut is pretty clean overall, this blade does vibrate a little which prevents it from achieving a perfect finish cut. That said, it did cut very smoothly and easily through all of our boards to start.
Without the sound relief cuts that are present on many higher-end blades, this blade creates a bit more noise than some of its competitors. The carbide teeth ought to provide a long service life, though in our experience the blade began to dull a bit quicker than some of the blades in higher positions on this list. It's a modestly priced option, and overall, adequate for the price you pay. That said, we can't recommend it very highly; there are better blades available for the same price.
Pros
Modest price
Cuts up to 6,000 RPM
Cons
Began to dull quickly
Louder than competitors
Experienced vibration
---
8.

TAICHIV 10" Saw Blades for Table Saw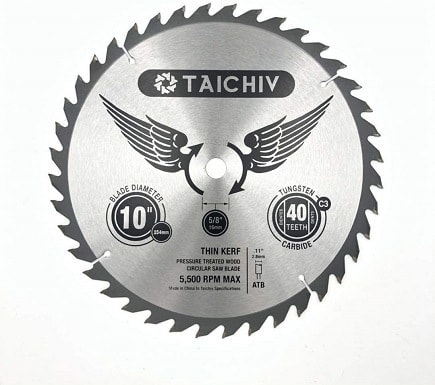 This affordable tungsten-carbide blade from TAICHIV can reach a respectable 5,500 RPM. Featuring a specially formulated coating to minimize friction and reduce gum-up, it should glide through most wood effortlessly. For the price, we didn't really expect that much. However, it performed quite well on our first cuts.
Soon we noticed that the blade was starting to dull very quickly. After just a few dozen boards being run through it, this blade had definitely lost some of its charm and was taking longer with each cut. It was also noticeably louder than the higher end blades with noise-relief carvings. The blade may be useful for the hobbyist who isn't using it all that often. If your saw sees regular use, we'd have to recommend something a bit longer-lasting.
---
9.

Overpeak 10-Inch Table Saw Blade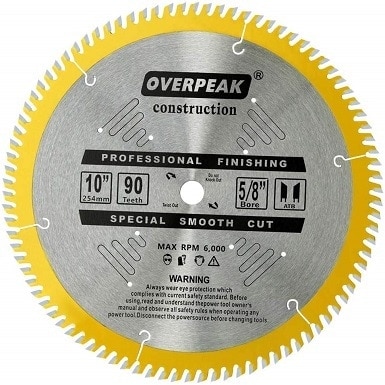 With a peak RPM of 6,000, this Overpeak table saw blade can be used in almost any saw. Making it even more versatile is the variety of tooth options available, from 30-90 TPI. It's a bit more expensive than some of its most similar competitors, though we don't feel that it provides extra value. This is supposed to be a thin kerf blade, though it was noticeably thicker than many of the blades we tested. This meant the cut wasn't quite as clean and there seemed to be more sawdust created.
Despite being crafted from tungsten-carbide, this blade began to dull very quickly. We noticed it slowing down and causing more splintering in our cuts after just a few boards. Because of the higher price and complete lack of longevity, we can't suggest this blade when other blades at lower price points offer a longer lifespan and cleaner cuts.
Cons
Overpriced
Dulls quickly
Not the cleanest cuts
---
10.

IRWIN Table & Miter Saw Blades
With 180 teeth, this low-priced IRWIN classic series table saw blade should be able to deliver extremely fine finished cuts. With a very thin kerf of just 0.09 of an inch, we expected a lot from this little blade. Regrettably, that's not what we experienced. This blade is definitely thin, but maybe too thin. When we set it up, we noticed right away that the one we received wasn't quite straight! After returning it and getting a new one, we were relieved that this one was straight to start. However, that changed pretty quickly.
After just a few boards we noticed that our cut was off and migrating from the fence. Once we stopped to examine, it became clear that this thin little blade just doesn't have enough strength to avoid warping. It did create a very smooth cut for the few pieces it worked on though. While it may be great for cutting very thin, single-ply material or veneers, for regular table saw work we have to recommend you pick something with better quality and a longer lifespan.
Cons
First one arrived warped
Second one warped on use
Too thin overall
Poor quality

Buyer's Guide – Picking the Best Table Saw Blades
Now that you have a general idea of the options available to you, we'll take a look at how you can find the best table saw blades on the market. You will need to take into consideration what it is you are cutting and how often you are cutting to make sure that you get the proper blade for the job.
Blade Types
You will see some acronyms when shopping for table saw blades; these will stand for the type of tooth that the blade has. Here are a few of the most common ones and what you should know.
Number Of Teeth
Even in our reviews, you can see that the number of teeth on a table saw blade varies greatly. It's good to have a general understanding as to how the number of teeth will affect the cut that you get from a saw. As a general rule of thumb, the more teeth on a blade, the smoother the cut.
Ripping blades will likely have fewer teeth as they are designed to give a quick cut along the grain of the wood. Rip blades can move fast and leave a clean cut.
Crosscut blades go across the grain as opposed to with the grain. Since crosscut blades are designed to across the grain of the wood without splintering, it will need more teeth. Generally, crosscut blades have 60 to 80 teeth. Crosscut blades make more individual cuts as it moves through a piece of wood, the cut is slower, but it will also be much smoother than a rip blade.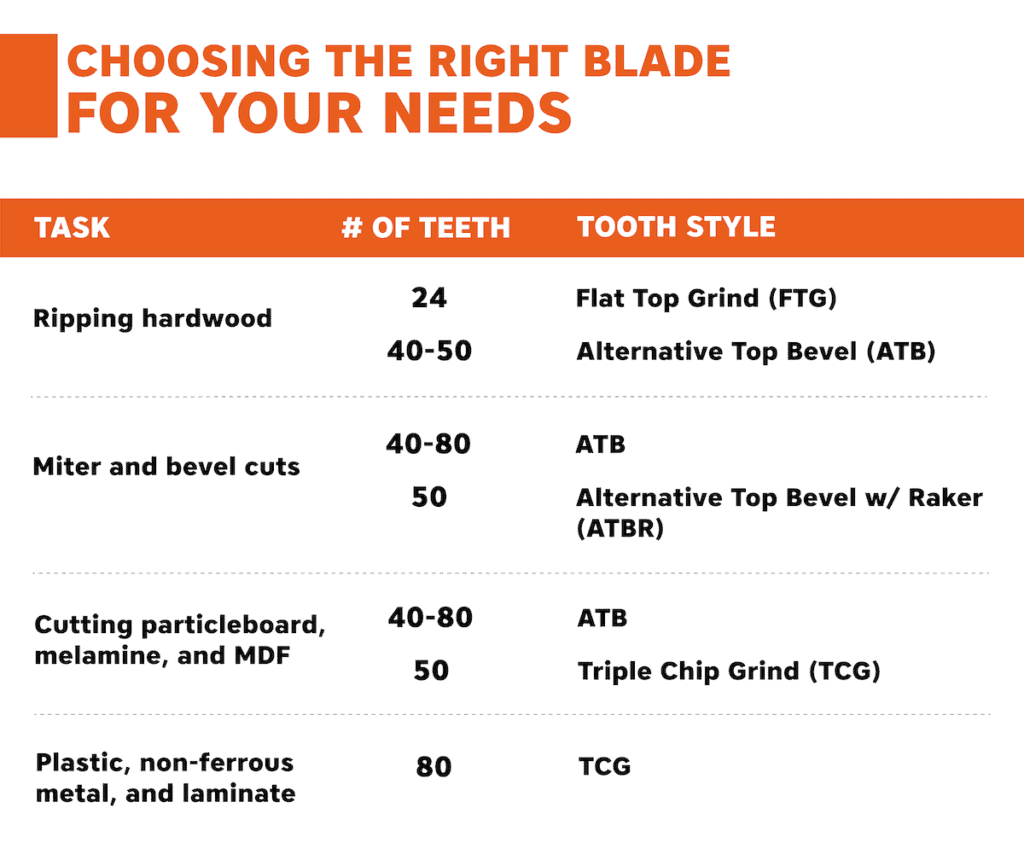 Kerf
When shopping for a new table saw blade, you will likely see kerf referred to several times. Kerf is essentially the width of the blade that cuts into the material. Thin kerf blades remove less content than a full kerf blade; thin-kerf blades require less power to operate. If you have a lower horsepower, saw pay attention to the kerf thickness.
The only problem with a thin kerf is that the blade is also thinner and could bend or vibrate a bit more than some of the thicker kerf options.
Blade Size
Most table saws use either a 10-inch, or a 12-inch table saw, so it's a good idea to double-check if you're getting a number that's different from one of those. For both safety and ease of use purposes, you want to make sure that you get the right size for your table saw.
Types of Cuts

If you're starting out, you might be using one blade for all cuts that you make with your table saw. While there's nothing inherently wrong with that, different blade configurations produce better-quality cuts. If you're looking for a glassy-smooth finish, or want a cut that is both perfectly-straight and free of splinters, you'll want to use different blades depending on the alignment with the grain.
Table saws are generally better for making rip cuts, while circular saws are better for cross cuts, though you can use a table saw for crosscuts with the right safety steps and the correct blade. While those safety steps are beyond the scope of this article, there are plenty of places to learn about them online.
When you're performing rip cuts, you'll want a blade with fewer, but larger, teeth. Typically, that means buying a blade with 24, 40, or 50 teeth, but no more. The 24-tooth blade is designed for rough rip cuts. If you're looking for something cleaner, you can get a 40- or 50-tooth blade, but keep in mind that those will be combination blades. Since the teeth are smaller, they'll work much more slowly.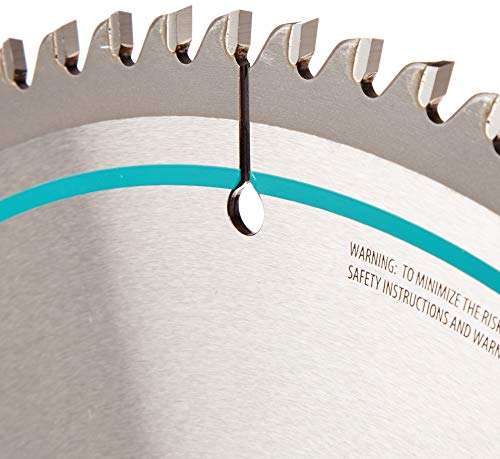 Crosscut blades are designed with more, but smaller, teeth. You'll be looking for a saw blade with at least 40 teeth, a 50-tooth combo blade, or up to an 80-tooth blade. The more teeth a saw blade has, the cleaner it cuts, as long as it is well-made. In some instances, an expensive 40-tooth blade will cut more cleanly than a cheap, poorly-made 80-tooth blade.

Conclusion
The Forrest WW10407125 10-Inch Blade is our pick for the best table saw blade due to its hand-craft frame, which is exceptionally sturdy but also features a small kerf for extremely precise cuts. The Freud D1050X Diablo due to its dual function as a great blade for ripping and for crosscutting, as well as its laser-cut stabilizer, though it misses out on first place since it's not the very best at ripping or crosscutting, though it does well with both. The DEWALT DW3106P5 features two blades for the price of one, but inconsistent sharpness and a lack of precision drop it to third on our list. In last is the Irwin Tools 1807368 which is laser cut and good for ripping and crosscutting, but runs slowly, wears out quickly, and suffers from quality control issues.
We hope that our reviews and buyer's guide have taught you some new things about table saw blades. You should be able to use this new knowledge to find the best table saw blade that fits your budget and works well, too.