6 Best Portable Jobsite Table Saws – Reviews & Top Picks 2023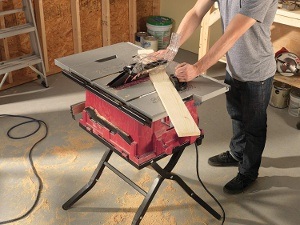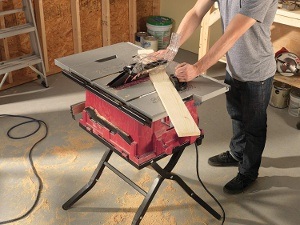 When you think of a jobsite table saw, portability and convenience immediately come to mind. If it was as simple as choosing based on those two factors, picking out the best table saw to take with you would be a breeze!
But after years of on-the-job work with saws both great and not-so-great, we've come to appreciate saws that strike a fine balance between price, power, versatility, and durability. With those values in mind, we carefully examined and reviewed each jobsite table saw available on the market today.
In this guide, you'll find only the portable table saws that meet our rigorous quality standards. Read on to see what we've decided are the 6 best portable jobsite table saws of the year, and consult the buyer's guide for a fuller explanation of everything we took into account in our best portable table saw reviews.
A Look at the Winners (Compared in 2023):
Rating
Image
Product
Details

Best Overall

DeWalt DWE7491RS Portable Jobsite Table Saw

Easy and reliable portability setup
Big rip capacity and great power
Equipped with a dust collection port
CHECK PRICE

Best Value

SKIL 3410-02 Portable Table Saw

Lightweight and super portable
Powerful
Well-designed rip fence and blade guard
CHECK PRICE

Hitachi 10″ Portable Jobsite Tablesaw

Integrated fold-out stand
Excellent stability
Soft start and electric brake
CHECK PRICE

Makita 2705 10″ Contractor Table Saw with Stand

Extremely durable
Powerful motor and stable base
Easy adjustments on blade guard and dual side guards
CHECK PRICE

Bosch GTS1031 Jobsite Table Saw

Decent accuracy
Good portability
Strong motor
CHECK PRICE
The 6 Best Portable Jobsite Table Saws:
1.

DeWalt DWE7491RS Portable Jobsite Table Saw – Best Overall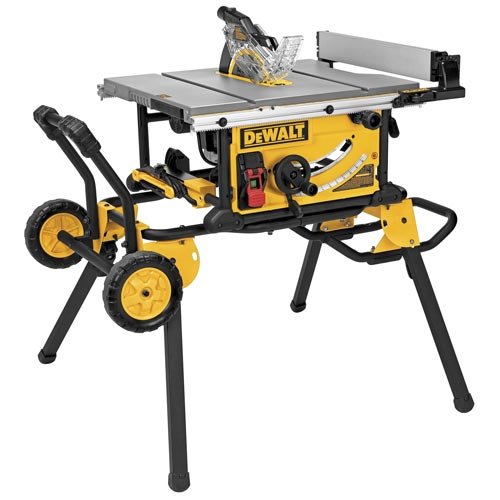 Easy adjustments and ample power make the DeWalt DWE7491RS stand head and shoulders above the competition for portable jobsite table saws. Featuring a generous 32½-inch rip capacity powered by a 15-amp motor, it makes quick work of hardwoods, softwoods, and man-made materials alike.
Weighing in at over 100 pounds, you shouldn't expect to hoist this table saw over your shoulder, but a sturdy and easy-to-install rolling stand makes this an acceptable inconvenience. While there are lighter portable table saws available on the market, none of them has the stability and safety provided by this saw from DeWalt.
Combining a cut depth of 3⅛ inches at 90 degrees and 2¼ inches at 45 degrees makes cutting wood to any size quick, easy, and accurate. However, you should select a new miter gauge instead of the included one; it's not up to the same standards as the rest of the machine.
In short, the DeWalt DWE7491RS can tackle any task your jobsite might throw at it. No machine is perfect, but in our opinion, this one comes close, which is why it's won top spot for best portable table saw.
Pros
Easy and reliable portability setup
Big rip capacity and great power, 4800 RPMs
Rack and pinion fence system
Equipped with a dust collection port
Cons
Miter gauge isn't accurate
---
2.

SKIL 3410-02 Portable Table Saw – Best Value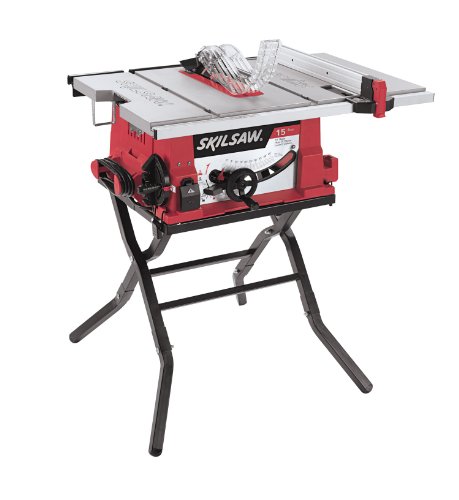 The SKILSAW portable table saw knows its clientele, calling itself "ideal for DIY woodworkers," and we'd have to agree. At such an affordable price, it lacks many of the bells and whistles of other table saws we reviewed, but that doesn't stop it from packing a lot of power and accuracy in a small package.
Weighing just 67 pounds, the SKILSAW portable table saw can feel too light if you're cutting pressure-treated lumber or hardwood. For small projects around the yard, it's portable enough to carry without the help of a friend. Keep in mind that without wheels, you should set it up somewhere central to the work you're doing.
A self-aligning rip fence helps with accuracy and safety, and a 15-amp motor produces nearly 5000 RPMs. Overall, we're a huge fan of the SKILSAW 3410-02 portable table saw for anything short of heavy construction work, and we're proud to call it the best portable jobsite table saw for the money.
Pros
Lightweight and super portable
Powerful enough for any home woodworking job
Well-designed rip fence and blade guard
Cons
No wheels
Struggles with the weight of hardwoods and pressure-treated lumber
---
3.

Hitachi 10″ Portable Jobsite Tablesaw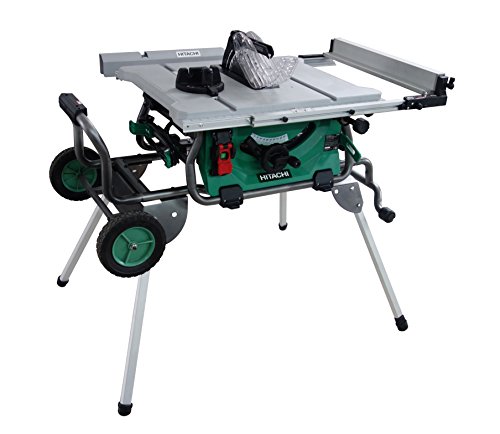 The Hitachi portable jobsite table saw won big points with us for its clever fold-and-roll stand. By incorporating the stand and saw into one integrated unit, it's the easiest saw to transport out of any we reviewed and has great stability when deployed.
The tradeoff for this portability is a little less power and cutting capacity. A 15-amp motor produces 4500 RPMs for the saw blade, roughly 300 RPMs less than other table saws we reviewed. A telescoping table extension helps to accommodate its smaller tabletop area but feels less stable when in use.
If portability is your top priority in a jobsite table saw, the Hitachi is an excellent choice for the price. When you don't mind taking more time with setup and transport, consider other options on our list.
Pros
Integrated fold-out stand makes it extremely portable
Excellent stability once it's set up
Soft start and electric brake are excellent safety features
Cons
Not as powerful as comparable models
Smaller tabletop area
---
4.

Makita 2705 10″ Contractor Table Saw with Stand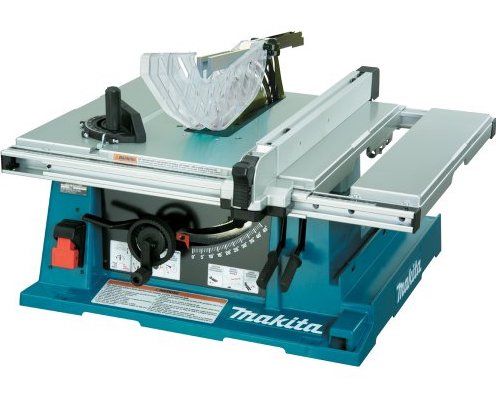 Of all the portable jobsite table saws we reviewed, the Makita stands out as being the most heavy-duty and heaviest! With a combined weight of 145 pounds for the saw and stand, it's easily the most durable and stable saw we've seen. Just plan on having someone to help you with the transport and setup.
Its 15-amp motor delivers 4800 RPMs. Combine this with the weight and stability of the Makita, and cutting through even the heaviest of hardwoods and pressure-treated wood feels quick and easy.
Easy adjustment on the blade guard and dual side guards make it easy to measure and cut wood of any dimension safely. In fact, it's the only portable jobsite table saw we found that could easily rip 4' x 8' sheets of plywood without feeling unstable.
For anyone looking to do some serious construction work, the Makita stands out as the best choice. This rugged durability comes at a premium; it's more expensive than any portable table saw in our review.
Pros
Heavyweight construction makes it extremely durable
Powerful motor and stable base make large cuts easy
Easy adjustments on blade guard and dual side guards
Cons
Very heavy for a portable saw
On the expensive side
---
5.

Bosch GTS1031 Jobsite Table Saw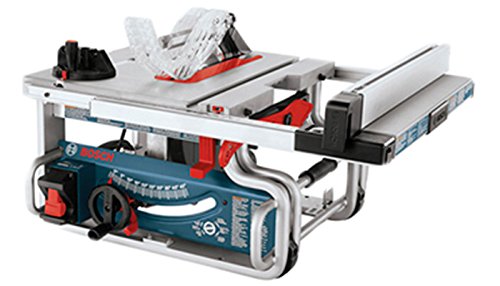 We wanted to love the Bosch GTS1031. You expect a loss of accuracy in a portable saw. That's just the nature of the beast. But the Bosch held up pretty well. It still wasn't as good as a stationary saw, but it was pretty close. And where the DeWalt's miter gauge is, to put it mildly, problematic, the Bosch delivered up-and-down accuracy. It's a worthy bearer of the Bosch name.
With a 4-HP motor spitting out 5,000 RPM (no-load), the power is decent. However, the rip capacity is fairly weak compared to other saws on the list. You get 18 inches to the right but only 7¾ inches to the left, which ranks pretty low for a contractor saw. Unfortunately, the dust chute doesn't work as advertised, and the bevel range could be better. The GTS1031 makes the list for portability, and its one-handle carry system is worth consideration if you move around often.
Pros
Decent accuracy
Good portability
Strong motor
Cons
Smaller rip capacity
Poor dust chute
---
6.

Jet JBTS-10MJS Small Jobsite Table Saw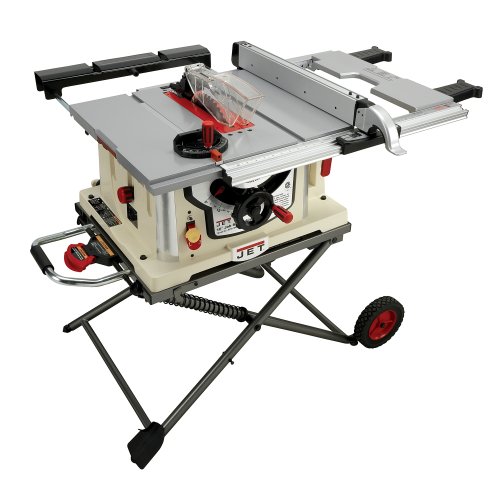 The best thing about the Jet JBTS-10MJS is that it's easy to set up and take down. However, it fails the basic tests of a portable job site saw in that it's heavy and clumsy to move around. That would be enough to drop this turkey to the bottom of our rankings. But our problems didn't end there. It's also poorly manufactured and not at all steady once set up. This makes for poor cut control and unsafe tool usage.
Those problems might be forgiven a little bit if this wasn't also easily the most expensive model we tested. That is, this was the worst quality saw we reviewed at the highest price. We can forgive a lot, but that's something we can't.
Cons
Poor quality
Unstable
Expensive
Terrible value
Bulky
---
Buyer's Guide: How to Buy the Best Portable Jobsite Table Saw
Buying the right jobsite table saw is a pretty big deal. For starters, they aren't cheap. They can be several hundred dollars. From that standpoint alone, spending some time comparison shopping is worthwhile.
The jobsite table saw is also, by its very nature, a tool intended to be portable. You're going to take it with you to where the work is, so it's something you'll want to be able to depend on. You'll find yourself fresh out of alternatives if it doesn't deliver what you need when you need it to.
We get why you'd read our reviews and perhaps want something more. We're prepared to deliver it here with some tips we accumulated while researching.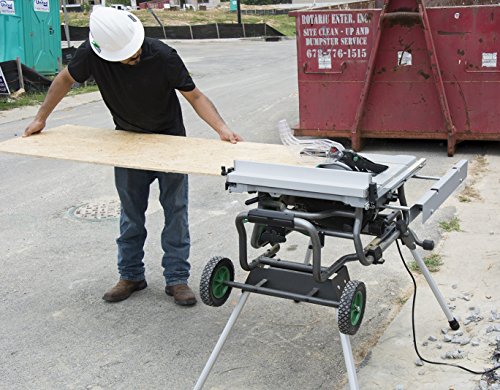 The right saw for your needs
Jobsite table saws trade some performance for rugged construction and portability. If you wanted straight-up cutting quality, you'd be looking at workshop table saws. If you're looking up jobsite table saws, you've decided you need a table saw to take to where the work is.
This is an important first step in getting the right saw to meet your needs. Right now, you might have browser tabs open researching different kinds of portable table saws. That brings us to your next choice: a jobsite saw with its own stand, or a benchtop saw that uses a separate stand.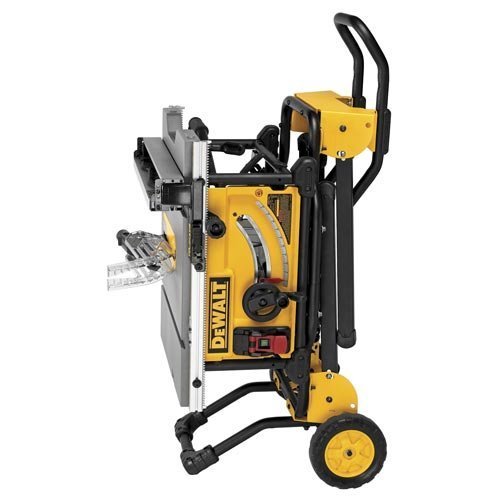 Portability
The primary reason you're looking at portable jobsite table saws is that you want to work at the site, not haul what you're cutting back to your workshop. Naturally, your priority in choosing a saw is finding one that pairs portability with your needs.
An obvious starting point here is weight. If you can't move the saw to the site, it's not that portable. At 57 pounds, the Bosch GTS 1031 was the lightest of the portable saws we looked at. The SKIL 3410 weighs in at 67, but the other four saws we looked at are roughly between 90 and 100 pounds.
If you drive to a jobsite with stable floors, the saw's weight can be mitigated by a functioning pair of wheels. In that case, look at jobsite saws with a stand designed to move around. A design that is intuitive to collapse and move around is superior to one that is clumsy. One of the reasons that the DeWalt DWE7491RS got our top pick was that it's very portable.
Power
Your choice here is pretty straightforward. If you bought a stationary contractor table saw, one that you set up and leave in your workshop, your intention is to take the work back there. But you're looking for portability, which means you need to maximize the amount of power you take with you into the field.
In truth, you could barely fit a butter knife in the space between these saws when it comes to power. All of them have 15 amp motors, and while we could dive right into the weeds about relative RPM, in practice, that doesn't mean much in terms of raw cutting power.
Power vs Portability
You're looking beyond the models we reviewed, so you must consider the amount of power a saw can deliver in the field compared to others of comparable portability. You can find highly portable saws with smaller motors. Your choice comes down not to raw numbers one way or the other but serious consideration of what kind of power you need versus how portable you need your saw to be. It's a little more complicated than looking at numbers on paper.
Rugged construction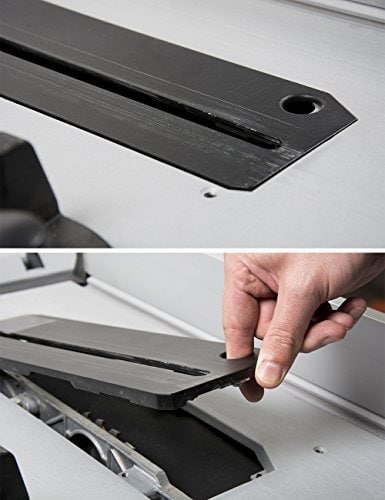 There are a couple of big differences between doing the work at the jobsite versus taking the work back to your workshop. Taking the work back home means having a wider array of specialized tools to take on multiple tasks with the same workpieces. If you need to round corners in a piece of wood after cutting it down, that's easier done in the workshop than taking a portable table saw, a jigsaw, and a sander to the job site.
Durability
Jobsites are inherently harder on tools, so when you're choosing a portable table saw, it means taking a good, hard look at which ones are more likely to take a beating and keep working. You'll also want to look at saws with long operational lives.
You can get a saw that's simple to move around and delivers great cutting power, but if it won't work under difficult conditions or is poorly designed, you might as well be lugging around a suitcase full of rocks.
Safety first
We mentioned that working mobile means having less control over working conditions than in your workshop. You might work around other people, some of whom might have lax safety standards. You might work outside, where weather can change abruptly.
You might have reliability issues with your power source. You are also limited in alternative tools, so you might feel inclined to stretch your portable table saw's operational range, whereas if you were back in the workshop, you'd use something else. The point is the variables are greater, but you can still exercise a little control by having as many excellent safety features built into your saw as possible.
There are two questions you should ask before powering up a job site table saw:
Is the on/off switch easy to locate and responds at a second's notice? Cutting the juice to your saw is the first step towards managing its safe operation.
How's the kickback control? A saw that jerks back after hitting a knot is dangerous.
Accuracy in cuts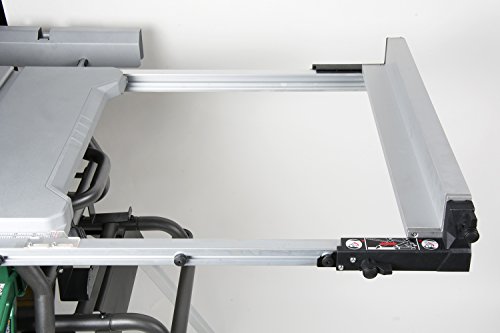 It's a hard reality that if you use a portable table saw, you will sacrifice some accuracy for portability. If you need laser-accurate cutting, look at a stationary saw. But if you need to take your saw to job sites, it's not something to overlook.
If your saw doesn't cut very accurate bevels in the field, those frames you're constructing aren't going to fit. Beyond the saw design, look for models with excellent fences to help guide your cuts. Between basic design and its superior fencing, the Bosch 4100 cuts bevels to within 1/8-inch accuracy. That by itself was enough to warrant ranking it runner-up. If it'd been as portable as the DeWalt, it would have been our top pick.
Price
The Skil 3410 was our best-for-the-money choice. It was also the least expensive model that we reviewed. It delivered the best for-dollar value. It didn't deliver the best overall performance, however. The question of price isn't just a matter of comparing prices and going with the one that will hit your wallet the lightest.
It's a matter of weighing different performance factors and sorting out which ones you need to pay for and which are luxuries. The primary reason the Jet JBTS-10MJS got dropped to the bottom of the pile was that it is the most expensive model we reviewed, and it didn't show a relative increase in performance quality.
Conclusion:
DeWalt's DWE7491RS did it all for us. It delivered cutting power, accuracy, and ruggedness. It was also the easiest to move around, and the price delivered a fairly reasonable value. The Skil 3410 was the lowest-priced and delivered the best for-dollar value. The Hitachi C10RJ was a capable saw but awkward to move around and use, but it was at least more affordable than the JET JBTS-10MJS, which for the price, was horribly unstable.
We hope you found our reviews valuable in finding the best portable jobsite table saw for your needs. Good luck with your search!