6 Best Corded Chainsaws – Top Picks, Reviews & Buyer's Guide 2022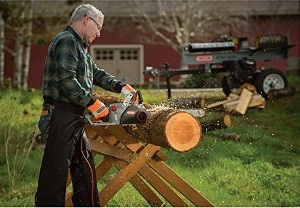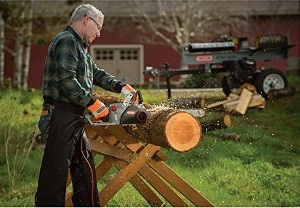 We do a lot of woodcutting, and over the years, we've become pretty well acquainted with several different chainsaws. For a long time, only gas-powered chainsaws could really provide the necessary power for felling trees and cutting up logs. Today, electric chainsaws have come a long way and are now a viable choice that even poses some serious advantages over their gas-powered counterparts.
Oregon CS1500 Self-Sharpening Electric ChainsawIf you're ready to take the plunge and switch over to the convenience of a corded electric chainsaw, then this guide is for you. We've done the hard work of finding and testing all of the best corded chainsaws available, pitting them against each other in an epic gladiator deathmatch, leaving only one standing. Actually, three were left standing after our reviews, and they're the three that we most highly recommend.
---
A Quick Comparison of Our Favorites in 2022:
Rating
Image
Product
Details

Best Overall

Husqvarna 414EL 16″ Corded Electric Chainsaw

Tool-less chain tensioning system
Lightweight
Robust and well built
CHECK PRICE

Makita UC4051A 16-Inch Electric Chainsaw

Built-in current limiter
Easy to check bar oil
Auto chain oiler
CHECK PRICE

Best Value

Oregon CS1500 Chainsaw

Low-vibration and low-kickback
Powerful 15-amp motor
Tool-free chain tensioning
CHECK PRICE

BLACK+DECKER CS1518 Corded Chainsaw

Easy to start
Kickback guard
Self-tightening blade
CHECK PRICE

Worx WG304.1 Corded-Electric Chainsaw

18-inch bar provides more reach
Low-kickback bar and chain
Affordably priced
CHECK PRICE
The 6 Best Corded Chainsaws:
1.

Husqvarna 414EL 16″ Corded Electric Chainsaw – Best Overall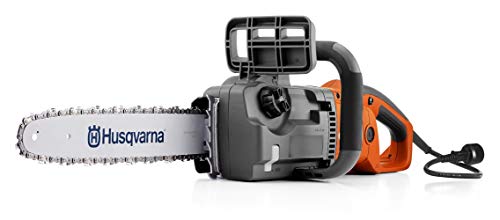 Husqvarna is one of the biggest names in chainsaws. We've had great results with their saws in the past, and the 414EL 16-Inch Corded Electric Chainsaw is no exception. This lightweight saw weighs in at just 12 pounds, but it packs a heavyweight punch that powers through any tree or log with ease. Its power is comparable to a gas chainsaw and it never got bogged down or jammed up while we used it.
One feature we love on some gas-powered Husqvarna chainsaws that are missing from this one is interchangeable blades. As it is, the 16-inch bar is holding this saw back. It's got the power to cut larger trees but not the reach. Unfortunately, you can't put a larger bar on this saw.
Hold the Husqvarna in your hands and you can feel the quality. It's a robust saw that's built to withstand the rigors of daily work, protected by a fitting two-year warranty period.
In short, we think that this is the best corded chainsaw of the year.
Pros
Tool-less chain tensioning system
Lightweight at just 12 pounds
Robust and well built
Power comparable to a gas chainsaw
Doesn't bog down in thicker cuts
Cons
Can't upgrade to a longer bar
---
2.

Makita UC4051A 16-Inch Electric Chainsaw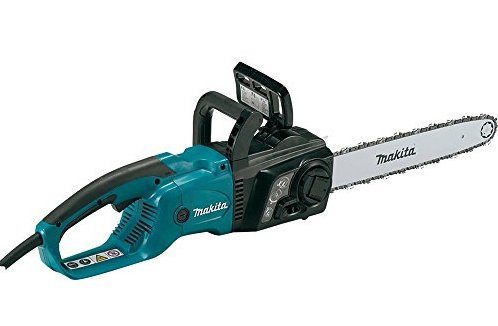 Makita is a very well-known and well-respected name in the power tool world, so it wasn't any surprise to us when their 16-inch electric chainsaw outperformed most of the competition. It's a smart design, packed with features that prolong the tool's lifespan and make your life easier. For instance, we never found a log that managed to bog this saw down, but if you do, the motor has a built-in current limiter to protect it in case of overloading.
Like most electric chainsaws, this one has an automatic chain oiler. But Makita goes a step further by letting you close it off completely so it's not leaking oil when not in use; a common complaint with electric chainsaws. When you are using it, you can easily check the viewing window to see how much bar oil is left, ensuring you never run the chain dry.
The chain adjustment mechanism is convenient, allowing for simple tool-free adjustment. It locks well and doesn't allow the chain to loosen often like other saws we tested. But this saw is heavier than many other options. If it were lighter like the Husqvarna, it might have been a real battle for top contender.
Pros
Built-in current limiter protects the motor when overloaded
View window makes it easy to check bar oil
No tools needed for blade and chain adjustments
Auto chain oiler can be closed off when not in use
Cons
Heavier than other similar chainsaws
---
3.

Oregon CS1500 Chainsaw – Best Value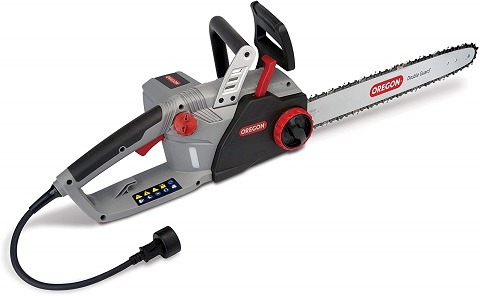 Cheap enough for any budget and powerful enough to take down almost any tree, the Oregon CS1500 is our pick for best corded chainsaw for the money. Don't let the low price fool you though, this is a very capable tool and it's built to a higher quality than many saws we tested that were much more expensive.
The CS1500 is equipped with a powerful 15-amp motor that cuts like a gas-powered saw without the noise. But it doesn't feel like one, thanks to the low-vibration and low-kickback ControlCut Oregon chain. It made every cut feel easy and remained sharp for many hours of continuous use.
Compared to other saws we tested, this one is quite cumbersome at 15 pounds. But for the power and price, we can handle the extra weight. Plus, it's got great convenience features like the tool-free chain tensioner that worked very well. It was easy to adjust and stayed tight when using the saw.
Pros
Affordable on almost any budget
Low-vibration and low-kickback ControlCut Oregon Chain
Powerful 15-amp motor cuts through medium trees with ease
Tool-free chain tensioning
---
4.

BLACK+DECKER CS1518 Corded Chainsaw

Black+Decker's CS1518 is our top pick of corded chainsaws. Considering what a corded chainsaw is and what it's used for, this one is just about perfect. It also costs less than most of the other models we looked at, which means it's got great for-dollar value.
It's a snap to start and quiet to run, which is why you're buying a corded chainsaw. It's also got good power for an electric chainsaw. You aren't going to turn that mighty oak in your backyard into winter heat with it, but if that oak drops a giant limb across your backyard during a storm, this saw will take care of that. It's also got a kickback guard, and the blade stops spinning immediately when you let off the button. That makes it pretty safe. The blade also tightens itself, which makes for easy maintenance.
We were pressed to come up with something we didn't like. There wasn't a cord cage to prevent the tool from being pulled out of the extension cord plug. That's really about it. Otherwise, this is a great saw.
Pros
Great value
Easy to start
Kickback guard
Self-tightening blade
---
5.

Worx WG304.1 Corded-Electric Chainsaw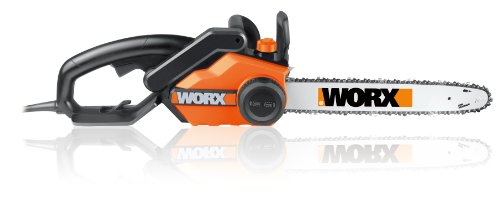 We've had good luck with several Worx products in the past, but the WG304.1 Corded Electric Chainsaw is not one that we'd recommend. It does have some notable features though. We liked the powerful 15-amp motor that never bogged down and hardly ever slowed down, even in the thickest cuts. The 18-inch bar also offers extended reach over many competitors, another feature we appreciated.
Our biggest gripe with this chainsaw was the chain. The included chain is the worst we've seen included on a saw, and that's saying something. It seemed fine at first, but it came loose very quickly. Most chains do this during break-in, but this one continued to do so, causing us to repeatedly stop to make adjustments.
Then, we noticed that cuts started taking longer and longer. Within just a couple of hours, the chain had become nearly unusable. We'd put the saw to a log, but it wouldn't want to cut into it, no matter how fast the chain turned. If this saw came with a better chain, it might have been a different story.
Pros
Longer 18-inch bar provides more reach
Low-kickback bar and chain for safety
Affordably priced
Cons
Bar adjustments are a pain
Bogs down in thicker cuts
Poor chain lifespan
---
6.

Greenworks 16" 12-Amp Corded Electric Chainsaw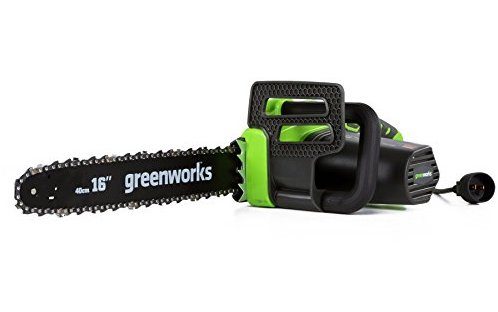 As one of the most affordable chainsaws on our list, we really wanted to like the Greenworks 16-inch Corded Electric Chainsaw. Not only is it inexpensive, but it's also the lightest saw we tested, weighing in at a meager nine pounds.
We soon realized why this saw is so light, it has no power! It's got a 12-amp motor, so we knew it wasn't going to power through the thickest trees. But to say the power was underwhelming is an understatement. Plus, we couldn't get comfortable with the front handle that doesn't extend over the bar. On many saws, you can hold directly over the bar, but this one forces you to hold to the left, so you can never get the right balance.
Worst, the bar and chain both get loose during use. We had to stop repeatedly to tighten them both. It became so constant that we were very frustrated using this saw, opting for other saws instead, which is why we don't recommend the Greenworks 16-inch electric chainsaw.
Pros
Inexpensive
Very lightweight at just 9 lbs
Cons
The 12-amp motor doesn't provide much power
The chain continues to loosen during use
The front handle isn't comfortably placed
The bar won't stay tight
---
Buyer's Guide: How to Find the Best Corded Chainsaw
If you're still unsure of which corded chainsaw would be the best fit for you, then this buyer's guide is for you. After testing so many of these saws, we've narrowed down the choices to the most important attributes that you should be considering when you purchase a corded electric chainsaw. But before that, let's talk about why you would want a corded chainsaw at all, as well as some things that hold these saws back.
Advantages of Corded Electric Chainsaws
Why would you want a corded electric chainsaw in the first place? Gas-powered chainsaws have reigned king for many years, so, what advantages do electric chainsaws have over them?
Quiet Operation
Gas chainsaws are incredibly loud. Even between cuts when just the motor is running, they're a nuisance. Neighbors hate them, and you'll want to wear ear protection while using them. Electric chainsaws, on the other hand, are nearly silent. They make noise while cutting, but they're silent when you aren't pulling the trigger. Even while cutting, they're much quieter than any gas-powered saw.
Low Maintenance
One of the biggest hassles that comes with owning a gas chainsaw is all of the required maintenance. You'll need to mix up your fuel each time you want to use it and don't forget regular oil changes. Plus, you'll have to change spark plugs and air filters.
But corded electric chainsaws require none of that. They don't use oil, except for bar oil. There are no spark plugs to change and no maintenance is needed other than regularly adding chain oil, which is even applied automatically.
Can't Run Out of Gas
You can't run a gas chainsaw without gas. If you run out of gas, you're out of luck! But with an electric chainsaw, you can't run out of gas, unless it's plugged into a generator!
Easy to Start
Anyone who has used a gas chainsaw knows what a pain in the neck they are to start. And everything makes it worse! Cold weather, humidity, hot weather, you name it! They require priming and yanking on the pull-string; it's a hassle.
Electric chainsaws solve all of that. Once you plug it in, it's on. Just pull the trigger and the chain will spin. It couldn't be easier!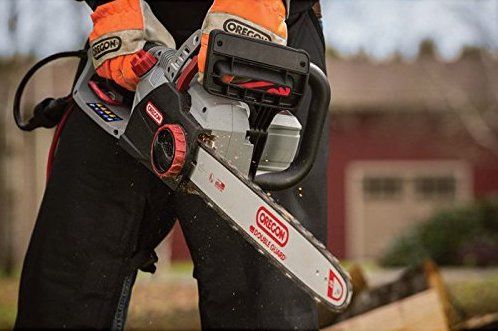 Drawbacks of Corded Electric Chainsaws
While corded chainsaws have many advantages over gas chainsaws, they're far from perfect. Let's discuss some of the downfalls associated with electric chainsaws.
Requires Electricity
This one is obvious. An electric chainsaw needs electricity. So, what do you do if no electricity is available where you need to cut? You can use a generator, but then you still have to deal with all of the same problems presented by gas chainsaws.
Gas chainsaws don't need electricity. They'll run anywhere, so long as you have gas.
Always Tied to a Cord
Since you need electricity, you'll always be tied to an extension cord. That means that trees far from any plugs are going to be increasingly difficult to cut. The cord can really hold you back.
Not as Powerful
Though the technology has come a long way and electric chainsaws are now comparable to smaller gas chainsaws, they still don't have the power of a behemoth 62cc chainsaw. If you're going to do serious work such as chainsaw milling, you're going to need the power of a big gas chainsaw.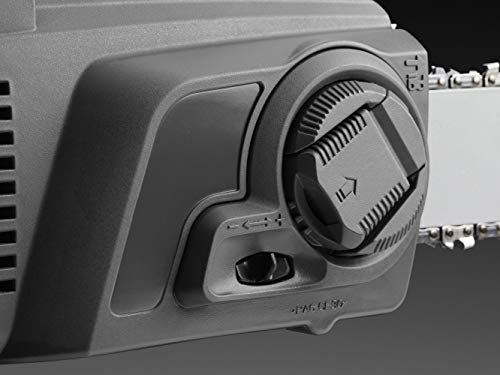 What to Look For in a Corded Electric Chainsaw
Now that you know the advantages and disadvantages of corded chainsaws, if you still want the convenience of an electric saw, let's discuss the traits you should prioritize when shopping for one.
Power
A lot of electric chainsaws today are powerful enough to rival small gas-powered chainsaws, but that doesn't mean that all electric chainsaws are powerful enough to cut the trees you're trying to bring down.
You can get a general idea of how much power a saw is using by its amp rating. The higher the amp rating, the more power the saw is pulling. So if you want to do any serious woodcutting, look for a saw with a 14-amp motor or higher.
Weight
Some of the electric saws we tested were as light as nine pounds, while others were as heavy as 15 pounds. That may not seem like a lot, but after a few hours of cutting, the extra weight is going to leave you feeling worn out. This is especially true for smaller individuals or those who have pre-existing injuries or conditions.
If you know that weight is going to be a concern for you, then look for an electric chainsaw that's closer to nine or 10 pounds. But the more powerful 14-amp and 15-amp chainsaws tend to weigh a bit more, so you'll have to balance the tradeoff.
Easy Adjustments
Chainsaws are in constant motion and things come loose. This means that adjustments need to be made. Today, most of these saws feature convenient tool-free adjustment systems. But they're not all created equal. Some are well-thought-out and easy to use, but others are a bit of a hassle or don't work as well as hoped.
Safety
Chainsaws, regardless of make or model, are still pretty dangerous. Look for features like a chain brake that place a premium on your own safety. When it comes to safety, you're also going to want to weigh user comfort features as part of that. User comfort reduces fatigue, which is a major contributor to accidents. And, of course, don't forget to buy a full kit of safety equipment and use it.
Conclusion
If you're ready to be forever done with oil changes, priming, poor starting, and excessive noise from your chainsaw, then you're probably looking for the best corded chainsaw just like us. If you read our reviews, then you know we put some of the most popular options to the test to find a winner, and in the end, we found three.
Out of all the saws we tested, the Husqvarna 414EL 16-Inch Corded Electric Chainsaw was our favorite. It's got all the power of a gas chainsaw without the noise. At just 12 pounds, it's lightweight but robust and has a well-designed tool-free chain tensioning system.
The Makita 16-Inch Corded Electric Chainsaw was our runner up. It's a bit cheaper but also a bit heavier. The built-in current limiter keeps the motor safe and a viewing window lets you check the bar oil at a glance. Best of all, you can close the automatic chain oiler to prevent leaks when not in use.
For the best value, we recommend the Oregon CS1400 Corded Electric Chainsaw. It's affordable on almost any budget, yet it's got enough power to cut through any tree it reaches through thanks to the stout 15-amp motor.