10 Best Cordless Hammer Drills of 2023 – Reviews & Buying Guide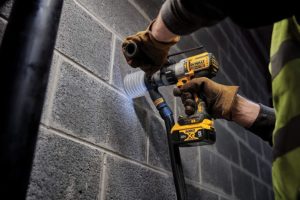 Hammer drills are a necessary tool for many projects. They are convenient and suitable for a wide variety of purposes. These tools aren't expensive, so there is little reason not to have one.
However, just because the hammer drills are useful doesn't mean they'll all be worth the money. Some are not very well desig. You need to purchase an excellent cordless hammer drill that can withstand whatever you throw at it. Otherwise, you may have a tool that can't perform up to snuff.
We reviewed some of the top brands on the market and put together a complete buyer's guide to help.
A Quick Comparison of Our Winners (2023)
Rating
Image
Product
Details

Best Overall

DEWALT DCD996B XR Hammer Drill

Brushless motor
Long battery life
3 modes of LED light
CHECK PRICE

Best Value

SKIL HD527802 Hammer Drill

Battery included
Decent runtime
Variable speed
CHECK PRICE

Premium Choice

Milwaukee 2404-20 M12 Fuel Hammer Drill

Very durable
Lightweight
LED light
CHECK PRICE

PORTER-CABLE PCC620B MAX Hammer Drill

2-speed gearbox
LED work light
½" ratcheting chuck
CHECK PRICE

CRAFTSMAN CMCD711C2 Cordless Hammer Drill

Battery included
High-quality charger
2-speed gearbox
CHECK PRICE
The 10 Best Cordless Hammer Drills
1.

DEWALT DCD996B XR Hammer Drill – Best Overall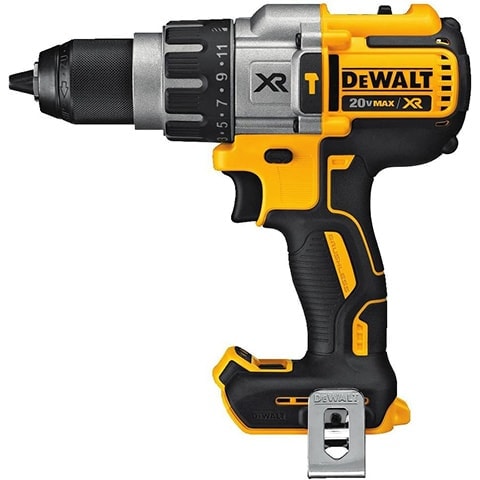 DeWalt makes excellent tools, and their DEWALT DCD996B XR Hammer Drill is no exception. It was by far the best overall cordless hammer drill on the market. It has a high-performance transmission that runs for an extended time on one battery. The high-efficiency brushless motor also improves its run time.  In fact, it was one of the longest-running tools we tested.
We also liked that it can drill fast and work on masonry and other sensitive materials. The 3 modes of LED light work exceptionally well. It has a spotlight mode, making working in dark places easy. We would buy this drill just for this feature; that's how good it is.
Dewalt's DCD996B is a bit more expensive than most brands. However, it is a DeWalt, so you're paying extra for the brand name. Unfortunately, it also doesn't come with a battery.
Pros
Brushless motor
Long battery life
3 modes of LED light
Fast drilling
---
2.

SKIL HD527802 Cordless Hammer Drill – Best Value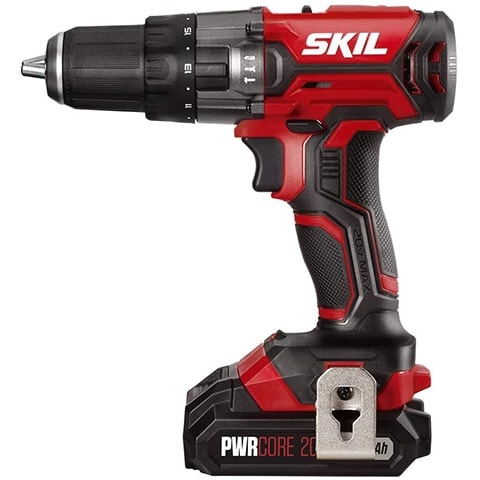 Skil makes cheaper tools than most other companies, but they're well-made and are great deals for the money. We liked their SKIL HD527802 Hammer Drill. It is cheaper than the competition but capable of taking on various projects. It comes with a battery and a 20-volt charger.
It can do just about everything, from tightening screws to drilling through concrete. It is perfect for DIYers but may not be suitable for professionals who use it daily. We loved that this tool allows you to transition between hammer, drill, and screwdriver modes very quickly. You can also select your speed setting easily.
The LED lighting is excellent. However, it isn't nearly as good as some other drills. It will illuminate a workspace, but if you work in dark spaces all the time, the light may frustrate you a little bit. However, the Skil HD527802 is still the best cordless hammer drill for the money.
Pros
Inexpensive
Battery included
Decent runtime
Variable speed
---
3.

Milwaukee M12 Fuel Hammer Drill – Premium Choice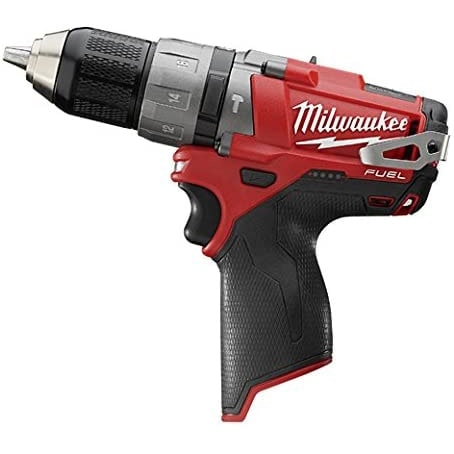 For those who want a top-of-the-line hammer drill, the Milwaukee 2404-20 M12 Fuel Hammer Drill is a solid choice. It is more expensive than most other brands but performs better than most. It may be an excellent option for professionals who plan on using the hammer drill frequently since it can stand up to quite a bit more punishment than the others we've reviewed. The Milwaukee is also more ergonomic, so it will not fatigue you as much.
Like many hammer drills, this one has standard features like an LED light and battery charge indicators. We also liked the ½-inch chuck; it is a high-quality chuck that is exceptionally compact. You can easily take this tool on the go or to the job site.
Pros
Very durable
Lightweight
LED light
Ergonomic
---
4.

PORTER-CABLE MAX Hammer Drill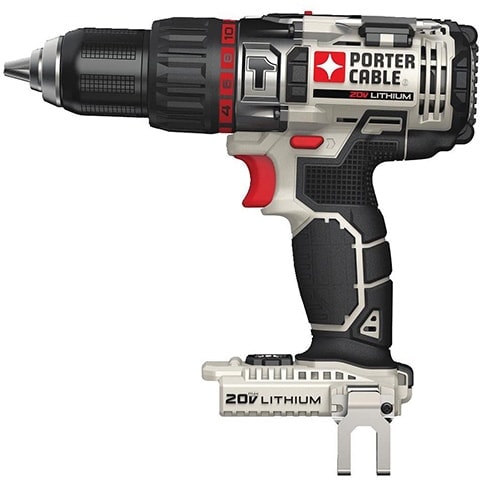 The PORTER-CABLE PCC620B MAX Hammer Drill is a decent option, though we didn't like it as much as our top three choices. It is quite powerful and can deliver 27,200 blows per minute (BPM). It has a 2-speed gearbox and a ½-inch metal ratcheting chuck. The LED work light allows you to brighten shady areas easily. We thought that the light worked well and had no complaints when using it.
We like that it has a battery-level check light, which is helpful when you're in the middle of a big project. The magnetic bit holders are also lovely and prevent you from losing your bits. As you can see, this drill has many features to like. It just doesn't blow us away like others we looked at.
We found that this drill is not as durable as some other brands on our list. Realistically, you should only expect a couple of years out of it.
Pros
2-speed gearbox
LED work light
½" ratcheting chuck
27,200 BPM
Cons
Not as durable as other options
---
5.

CRAFTSMAN Cordless Hammer Drill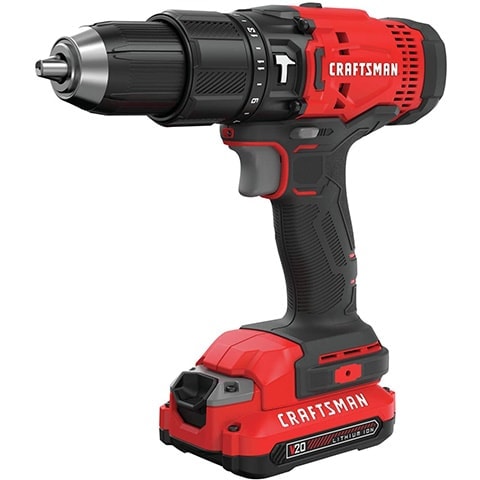 The CRAFTSMAN CMCD711C2 Cordless Hammer Drill is part of Craftsman's V20 cordless system and can use the batteries of other Craftsman tools. If you already have a variety of these tools lying around, you may want to buy this tool simply because you likely have many batteries you can use in it. This extends the run time and saves you a bit of money. There is a battery included with this drill, however.
The Craftsman can deliver 25,500 BPM, which is slightly lower than some of the other options on this list. The 2-speed gearbox is excellent and improves the performance of this tool, but most of the hammer drills on our list also have a 2-speed gearbox.
Our favorite part about this hammer drill was the charger. The charger can return the battery to full charge in 60 minutes or less, which is extremely fast. We didn't like that the drill doesn't come with a carrying case and doesn't have any way for you to store the bit either. This is a small problem, but it can be very annoying.
Pros
Battery included
High-quality charger
2-speed gearbox
Cons
No carrying case
No bit storage
---
6.

Makita Compact Cordless Hammer Driver-Drill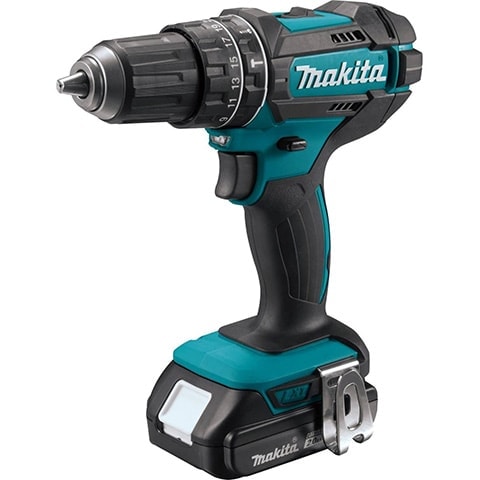 While the Makita XPH10R Compact Cordless Hammer Driver-Drill isn't terrible, there are plenty of better drills on the list. It has a 4-pole motor that delivers 480 inch-pounds (in-lb) of torque. In general, we consider that to be about average. It has a variable 2-speed design to perform various tasks. It is also relatively compact at only 7¾ inches long. If you need a hammer drill that you can easily take with you, this is the option you should pick.
It also has a carrying case, 2 batteries, and an excellent charger. All these accessories are a significant reason we rated the drill so high. The carrying case isn't the best, but it is included, to begin with. The 2 batteries were an excellent addition since you can charge one battery while using the other.
Our main problem with this tool is that it seems to wear down way faster than others. Defects are common, and the drill seems to break often. You can't expect it to last too long.
Pros
480 in-lb of torque
2-speed design
Includes a variety of accessories
Cons
Defects are common
Not very durable
---
7.

Milwaukee M18 FUEL Cordless Hammer Drill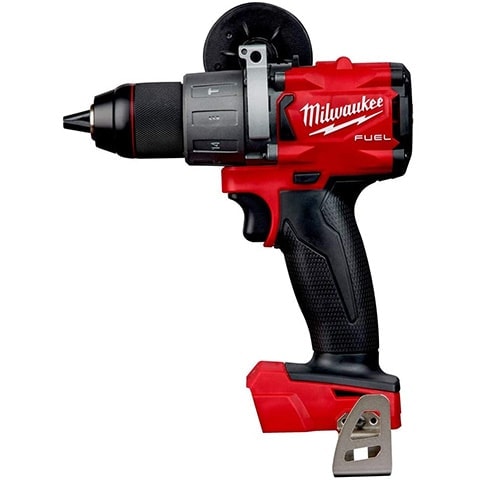 With a brushless motor, you'd think that the Milwaukee 2804-20 M18 FUEL Hammer Drill would be pretty powerful. The company advertises that it is 60% more powerful than other drills on the market. However, in practice, we didn't find that this was true. It provides up to 1,200 in-lb of torque, but it is important to remember that is the maximum; it doesn't perform that well most of the time.
Our favorite part about the hammer drill is that it has Redlink Plus Intelligence. This ensures the drill performs optimally and prevents damage from overloading and similar circumstances. It is compatible with the entire M18 system as well, which is a nice benefit if you already have Milwaukee tools lying around.
Besides these positives, there were a few things we didn't like about this drill. It gets hot rather quickly, especially when compared to other drills. The packaging also isn't very good, and there were a few reports of damage during shipping. It also doesn't stand up to heavy use and is unsuitable for professionals.
Pros
1,200 in-lb of torque
Redlink Plus Intelligence
Cons
Gets hot fast
Poor shipping
---
8.

Ryobi P214 One+ Hammer Drill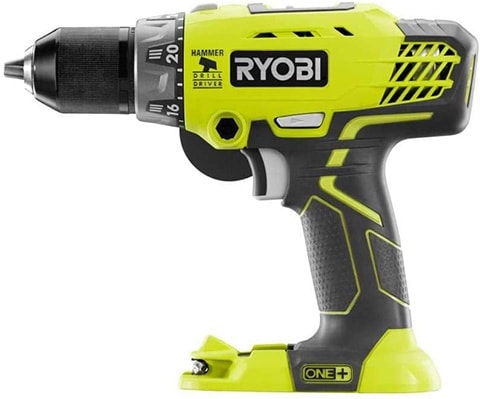 The Ryobi P214 One+ Hammer Drill is a unique hammer drill. However, that isn't necessarily a good thing! It comes with a handle designed to help you put more pressure when drilling. However, this handle gets in the way more often than it helps. Like most hammer drills, this one comes with a 2-speed gearbox. It has a drill mode and a drive mode. These two modes allow it to be used for various functions, including drilling holes in metal and driving simple screws.
It has a ½-inch, all-metal ratcheting chuck, which is durable. That's about where the positives stop, however. The chuck is difficult to lock and takes a lot of getting used to. The chuck also spits out the bit for absolutely no reason occasionally. It is a bit less powerful than other brands; we think there is a reason the torque isn't listed on the product description.
Pros
2-speed gearbox
All-metal ratcheting chuck
Cons
Chuck is difficult to lock
Bit often falls out
Less powerful than other options
---
9.

Ridgid Cordless Brushless Compact Cordless Hammer Drill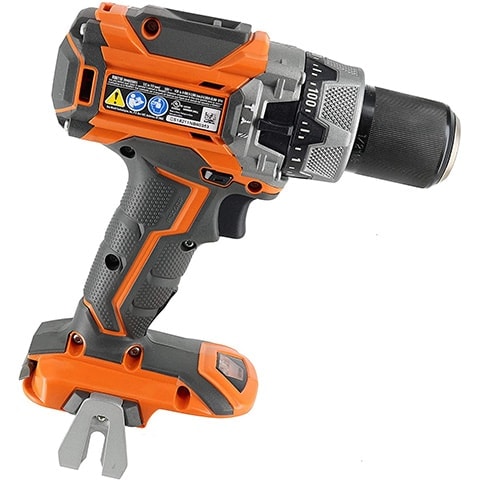 The Ridgid R86116 Cordless Brushless Compact Hammer Drill has a fully adjustable clutch. You can change it to over 100 different positions, allowing you to tackle various jobs with it easily. The brushless motor helps it run faster and last longer than other drills. The LED lighting is about average and isn't the best on the market. The auxiliary handle can be inserted from any direction, so left-handed and right-handed users can use it as needed.
The ergonomic grip is nice as well. It is quite comfortable to use, and the rubber coating is non-slip. It allows you to easily control the hammer drill for lengthy jobs that usually cause fatigue.
The major downside of Ridgid's drill is that there is no factory warranty. This may not be a huge issue, but durability problems seem to be a problem with the hammer drill. There are many reports of the R86116 breaking easily and often. Without a warranty, you're basically stuck.
Pros
LED light included
100 different clutch positions
Cons
No factory warranty
Defects are common
Not as durable as other options
---
10.

Bosch Compact Tough Hammer Drill
Even though it doesn't come with a battery, the Bosch HDS181AB Compact Tough Hammer Drill is one of the most expensive models on this list. Furthermore, despite its higher cost, we didn't find it much better than most brands. In fact, it seems to be of lower quality than most drills we reviewed.
The battery does not last as long as other models, and although the drill is supposed to produce a lot of torque, it doesn't produce that much due to the kickback-less feature. This is supposed to make the tool easier to use, but it does it by reducing the amount of torque the tool produces.
The Bosch is not ergonomic in the least, either. It is heavier than most drills and not designed to be comfortable in your hands. After a while, it is common to get fatigued. You cannot use this tool for long, so we do not recommend it for professionals.
Cons
Doesn't produce much torque
Not ergonomic
No battery included
---
Buyer's Guide: Choosing the Best Cordless Hammer Drill
Hammer drills can be used for a large variety of applications. However, you need to purchase a good tool if you want it to last and complete various projects. Otherwise, you may just end up with a paperweight.
Frequently Asked Questions
While hammer drills aren't complicated tools, a few questions seem to come up when shopping. We'll go over some of these questions below so you can make the best decision for your situation.
Can I use a hammer drill as a regular drill?
Yes, technically. Most hammer drills can be put in "drill" mode, which makes them act similarly to a regular drill. However, there are some limitations to this. They usually aren't as good as a regular drill. Ideally, you should have both for that reason.
What Are Hammer Drills Used for?
Hammer drills are used when you need to drill a hole with lots of torque. They are not used for production drilling but can be used for occasionally drilling into concrete, masonry, and stone. They are most suitable for homeowners who do not need to drill many holes but may occasionally do projects that require it.
Do I Really Need a Hammer Drill?
If you want to drill holes into something like concrete, your best bet is probably to purchase a hammer drill. Otherwise, you aren't going to drill into harder materials. You do not need a hammer drill to drill through wood, plastic, and metal.  However, hammer drills are necessary for drilling through concrete.
Can You Drill Concrete Without a Hammer Drill?
You can use a regular drill. However, it will take much longer, and you'll need many drill bits. In many cases, it is just better to purchase a hammer drill. After all, it's designed for drilling into concrete and will outperform everything else.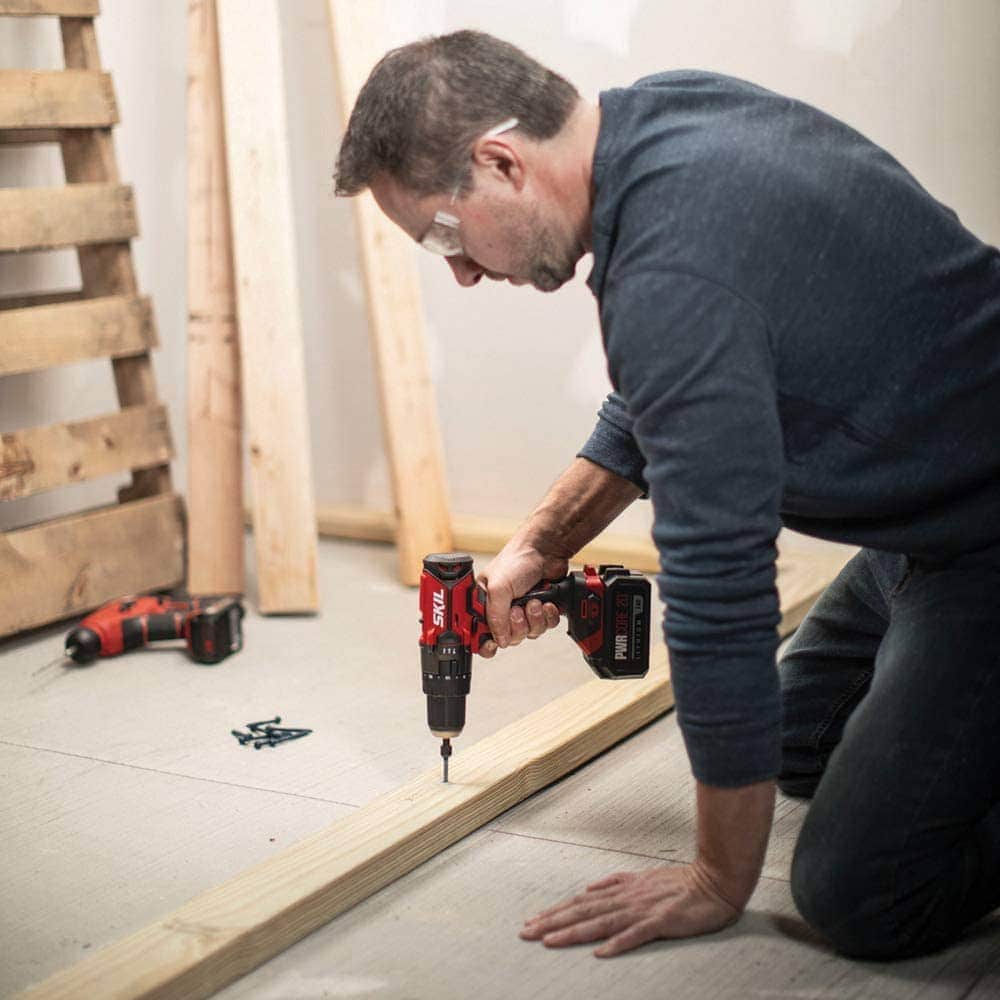 Key Features
Below, you'll find an explanation of the key features you need to keep in mind while shopping. These features are really what set apart the good tools from the bad.
Battery Life
The batteries don't run long before they have to be recharged. As you might imagine, that is a bottleneck on how much work you can get done. If your tool only works for 30 minutes, you're out of luck after that period runs out.
Preferably, you want the tool to run for as long as possible, which is affected by the battery and the tool's torque rating. Most companies do not list how long their tools run, so you'll need to rely on reviews like the ones above when considering this feature.
Versatility
If they're made well, hammer drills can be used for many tasks. You need a 2-speed drill so that you can adjust it for different materials. This makes it usable for a wider variety of projects. This is probably the most important consideration to keep in mind when looking for a versatile tool.

Conclusion
There are several hammer drills on the market, but they are all designed to do pretty much the same thing. However, not all hammer drills are equal. Some are poorly made, while others are excellent. Hopefully, our reviews and guide will help you determine which drills are which!
If you want a fast, easy answer, we liked the DEWALT DCD996B XR Hammer Drill the best. It is not extremely expensive but is still very high-quality. If you're a homeowner, this is the one to get.
For those who want a cheaper option, we also liked the SKIL HD527802 Hammer Drill. It is inexpensive and comes with a battery, which will save you even more money.
More of our pages about hammer drills:
Looking for a lithium-ion drill? Then see our guide here
Inspirational source used for writing this article:
https://en.wikipedia.org/wiki/Hammer_drill