10 Best Cordless Drills for Homeowners in 2023 – Reviews & Top Picks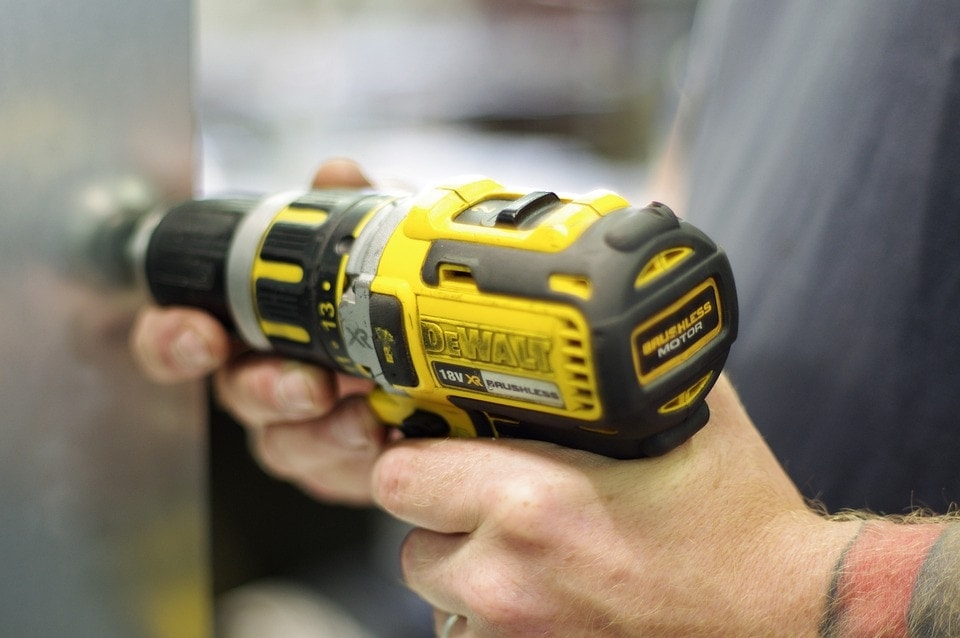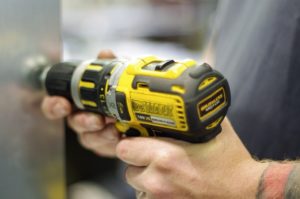 As a homeowner, you're responsible for the things that happen around the house. When minor repairs are necessary, you could call a professional, but that would get expensive quickly. If you're capable and want to save some money, you can always perform basic home repairs yourself with some very basic tools. So, from assembling furniture to hanging pictures and much more, one of the most versatile and essential tools for any homeowner is a cordless drill.
Once, these were clunky, cumbersome, underpowered devices. But today, many cordless drills are compact, lightweight, and offer enough power for any at-home project or repair. But there's a wide range of choices to pick from, so how do you know which drill you should rely on?
Luckily, we've already done the leg work by testing and comparing some of the most popular cordless drills that you're likely to be browsing if you're a homeowner searching for a new tool. All of these reviews cover great tools, but a few of them have proven to be more capable than the rest.
A Quick Comparison of Our Favorites
The 10 Best Cordless Drills for Homeowners – Reviews 2023
1.

DEWALT DCK240C2 Cordless Drill – Best Overall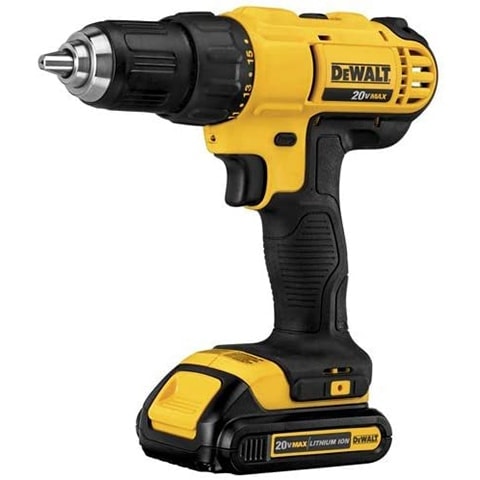 DEWALT makes tools that many professionals trust to withstand the harsh daily abuses of a job site. Naturally, your tools won't be taking as much abuse in your home, but if these tools can withstand a professional's workload, they can certainly handle anything you can throw at them. Plus, they offer the kind of reliability you can count on whenever you have a project to complete.
In this kit, you're not just getting a drill. You're also getting an impact driver. Impact drivers offer exceptional power for installing fasteners, streamlining many household projects, and allowing you to do things that you couldn't do with a drill alone. You'll also get two batteries and a charger, ensuring you can use both tools simultaneously or always have a backup battery on hand.
The drill in this kit offers 300 unit watts out of power and features a ½-inch chuck for maximum torque. It can reach speeds up to 1500 RPM for easy drilling. The impact driver features a ¼-inch chuck for one-handed bit changes. It has a max torque of 1400 inch-pounds and can produce up to 3200 impacts per minute. It's not the cheapest kit, but the 3-year warranty proves its longevity.
Pros
2 tools for a variety of household jobs
Includes 2 batteries and charger
Easy way into the diverse DeWalt lineup
Lightweight and compact
Built-in LEDs with a 20-second delay
3-year limited warranty
Cons
They're more expensive than other tools
---
2.

BLACK+DECKER LDX120C Cordless Drill – Best Value
A tool doesn't have to be expensive to be useful. Take the BLACK+DECKER 20V MAX cordless drill, for instance. This drill is priced affordably, includes a two-year warranty, and still manages to offer excellent performance, which is why we think it's one of the best cordless drills for homeowners for the money.
Most homeowners are not taking on large projects with their tools. If you are, then you might want to look at something like the DEWALT kit ahead of this one instead. But for basic projects around the home, this BLACK+DECKER is ideal. It weighs just about three pounds, so it won't fatigue you during use, and you'll be able to hang those high up shelves with ease.
This may not be the most powerful drill, but with 115 inch-pounds of torque and a max speed of 650 RPM, you'll be able to complete your household tasks without issue. Assembling furniture will be a breeze, but drilling holes in concrete might be too much to ask of this drill. Still, for the price, you're getting excellent performance and a guaranteed two years of reliability.
Pros
Affordable pricing
2-year warranty
Includes battery and charger
Cons
It's not the most powerful option
---
3.

Milwaukee 2505-22 M12 Cordless Drill Driver – Premium Choice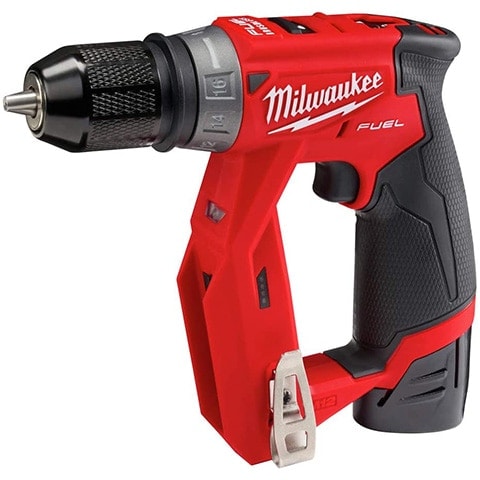 Milwaukee is another brand that you'll commonly find filling the toolboxes of professionals. They're known for producing robust, high-quality tools that are guaranteed by Milwaukee's impressive five-year warranty. This particular M12 cordless drill driver is a unique offering that stands apart from the closest competition in the category.
You can tell by looking that this is no ordinary drill driver. It's got four unique heads that are detachable and can be attached in 16 different positions, providing you with loads of maneuverability that you won't get with other drills. It's also very compact and can fit in tight spaces at just 5"x2"x7" overall. With the battery attached, it weighs a mere two pounds!
But don't let this device's small size fool you. It's also packing plenty of power with a max torque of 300 inch-pounds. For convenience, there's even a magnetic bit holder built-in that allows you to store several bits on the drill for when you need them.
Of course, this is one of the more expensive options on this list. We think this is a case of getting what you pay for, though.
Pros
300 inch-pounds max torque
4 unique heads for different situations
Weighs just 2 pounds with the battery installed
Magnetic bit holder retains several bits
Compact form factor for easy maneuverability
Cons
It's one of the more expensive options
---
4.

SKIL PWRCore DL529302 Drill

The SKIL PWRCore drill is right in the middle of the price range. It's pricier than many of the other single-tool kits on this list but more affordable than the kits with two tools. Of course, it also offers superior performance over many of these other tools, though not quite impressive enough to break into our top three.
One of the most impressive features of this drill is the five-year warranty that ensures it will be around for countless home projects. It's got a maximum torque rating of 450 inch-pounds, which is quite respectable for a drill driver. You even get a max speed of 1800 RPM, allowing this drill to be used in various materials, including wood, concrete, and even metal.
This drill is equipped with a brushless motor, which offers improved longevity, better efficiency, and great battery life. On top of this, the batteries are quick-charging, taking only 30 minutes to reach full charge. You can even use PWRJump to make a dead battery usable in just five minutes.
At just over three pounds with a battery, this isn't the lightest or smallest drill on this list, though it's definitely a capable device.
Pros
Brushless motor for efficiency and longevity
Quick-charging battery
1800 RPM max speed
½-inch chuck
450 inch-pounds max torque
Five-year warranty
Cons
Bigger than similar drills
Heavier than competing models
---
5.

PORTER-CABLE PCCK604L2 Cordless Drill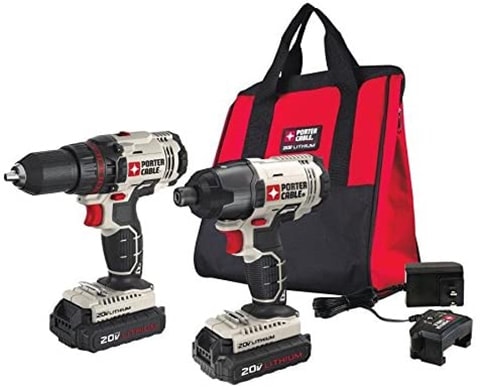 This package from PORTER-CABLE features two distinct tools; an impact driver and a drill driver. They're both a bit hefty and clunky compared to offerings from the competition, but they're also loaded with power that makes them suitable for a wide range of uses. The impact driver makes an admirable 1450 inch-pounds of torque, even outpowering our favorite DEWALT kit. The drill driver is stout, though not quite as impressive, with 283 unit watts out of power.
The impact driver features a standard ¼-inch chuck for one-handed bit changes. It manages 2800 RPM at a weight of 3.3 pounds. The drill driver is slightly heavier at 3.5 pounds, managing a 1500 RPM maximum speed with a ½-inch chuck that provides excellent torque transfer and a strong grip on your bits. Both tools feature built-in LED lights and bit storage.
Also included with this kit are two batteries and a three-year warranty. There are certainly cheaper options available, as well as more compact, lighter tools. But these still offer a good blend of performance and usability for the price, even if they're not our favorites.
Pros
2800 RPM max speed
1450 inch-pounds max torque driver
283 unit watts out drill/driver
Two tools to complete a wide range of projects
¼-inch impact chuck and ½-inch drill/driver chuck
Cons
3 lbs and 3.5 lbs are pretty hefty
There are cheaper options available
---
6.

CRAFTSMAN CMCK210C2 Cordless Drill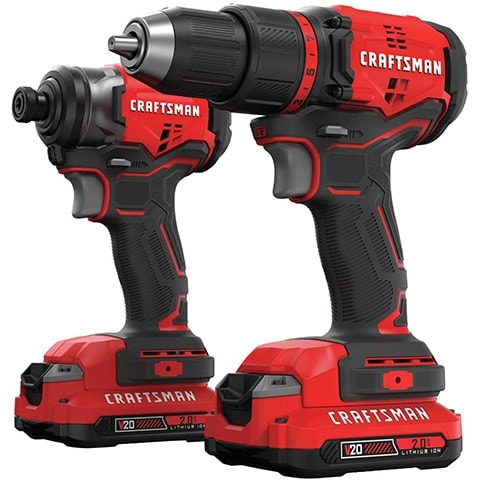 This combo kit from CRAFTSMAN offers two useful tools for a variety of household repairs and projects. You'll get an impact driver with a ¼-inch chuck that produces 1500 inch-pounds maximum torque, making it one of the strongest tools on this list. Moreover, it manages 3500 impacts per minute, proving its capabilities. The drill is no slouch either, with a ½-inch ratcheting chuck and 350 unit watts out of power.
Based on these numbers, we expected some serious performance. While they definitely performed, they didn't seem to outpower tools like the DEWALT drills in our top position.
Though these are pretty powerful tools, they're not exactly slim. In fact, these are some of the heaviest drills on this list, weighing in well over three pounds each. Since many homeowners aren't used to lugging these around all day, you're likely to experience some fatigue with these heavy tools over the course of your project.
Since these are priced very similarly to the DEWALT drills at the top of this list but don't offer quite the same performance, we have to recommend the DEWALT instead.
Pros
Includes drill and impact driver
350 unit watts out max power
½-inch ratcheting chuck
1500 inch-pounds max torque
2800 RPM and 3500 IPM
Cons
Both tools are pretty heavy
They didn't feel as powerful as advertised
---
7.

Bosch Power Tools PS31-2A Drill Kit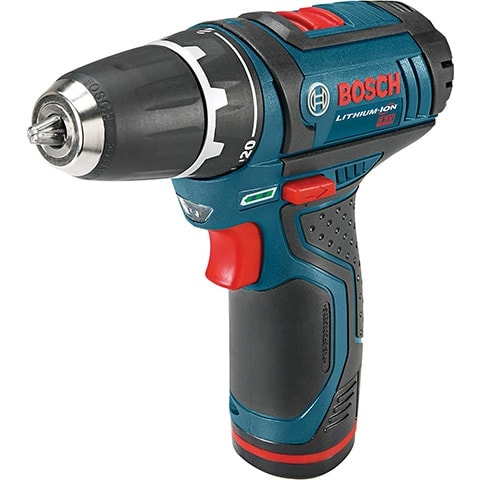 Weighing in at just over two pounds, this 12-volt drill from Bosch Power Tools is lightweight and compact, making it easy to maneuver for just about anybody. For such a small tool, it packs a decent punch with 265 inch-pounds max torque –– sufficient for most household projects. However, if you think you might need to take on anything more serious than basic furniture assembly, you might need a bit more power.
With this drill, you'll get everything you need to complete basic tasks around the home. There are two batteries included, so even if one dies, you have another available. You'll also get a few basic bits, enabling you to get started right away. There's even a soft-sided carrying case to keep everything organized.
Compared to other drills, the battery on this one is quite difficult to remove. Some people may struggle to remove it, particularly elderly or arthritic people who may have chosen this drill for its lightweight and small size. It's also much pricier than other drills we've tested, though it doesn't seem to offer any extra features or superior functionality for the higher price.
Pros
265 inch-pounds of torque
Compact package
Weighs just over 2 pounds
3-year tool warranty
Cons
It's quite pricey for a single drill
The battery can be difficult to remove
---
8.

Avid Power MW316 Cordless Drill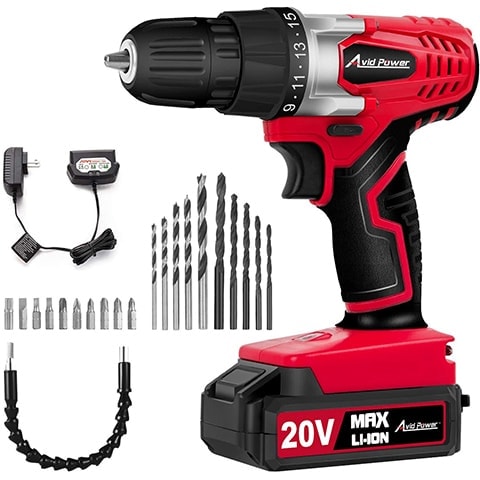 If you're shopping on price alone, then the Avid Power MW316 cordless drill probably seems appealing. For basic projects assembling pre-made furniture, this drill is probably acceptable. There are certainly better choices, but the MW316 can complete these basic tasks. But if you plan to take on projects aside from installing screws in pre-drilled holes, though, you'll probably need a more capable tool.
This drill maxes out at just 550 RPM. It's also pretty underpowered with a max torque of just 177 inch-pounds. In our experience, this prevents this drill from being usable for many serious projects.
Still, there were some traits we liked. For homeowners, the addition of several drill and screw bits is nice. Another cool feature is that the batteries can be charged by USB, which would be nice to see on many other battery packs. But these batteries don't maintain their charge, and ours died completely within just a few months. Unfortunately, that shows pretty poor reliability, which is why we don't recommend this drill for most homeowners.
Pros
Very affordable pricing
Comes with a selection of drill and screw bits
Can charge the battery by USB
Cons
Max speed of 550 RPM
Batteries don't maintain their charge
---
9.

WORKPRO W004548A Cordless Drill
This cordless drill from WORKPRO runs on 12-volt batteries that can charge in just an hour. You get two batteries with your purchase, as well as a selection of bits that will ensure you're ready to conquer any home project right away. You'll get 10 inch-long screwdriver bits, 10 screwdriver bits that are two inches long, six nut drivers, three spade bits, and five regular drill bits. Plus, you even get a case to carry everything.
With the battery installed, the drill weighs just two pounds and three ounces. It's light and maneuverable but lacks any real power with a max torque rating of 220 inch-pounds. This means that it has a difficult time drilling through anything but the softest materials. You can think of this drill as more of an oversized electric screwdriver. If you're just assembling furniture, it should do the trick. But if you want to take on anything more demanding, you'll need a more capable tool.
Pros
Weighs just 2 lbs 3 oz with battery
Includes a selection of bits
Cons
220 inch-pounds max torque
Has a difficult time drilling through hard materials
Lacks power overall
---
10.

TACKLIFE PCD02C Cordless Drill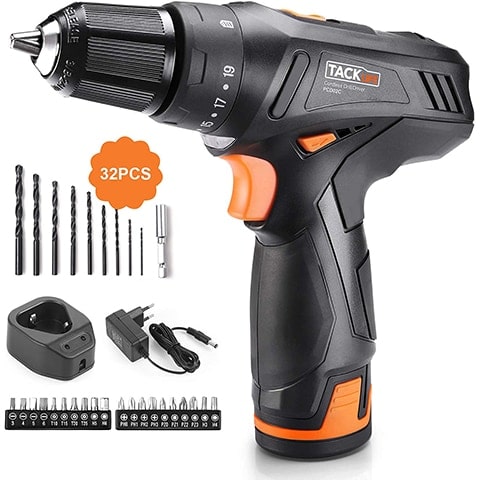 The TACKLIFE PCD02C cordless drill comes with everything you need to get working. You'll get the 12-volt drill, a battery, charger, and 32 total drill and screwdriver bits. At less than three pounds, this drill is lightweight with a compact frame. But it's also not very powerful with 220 inch-pounds max torque.
We would be ok with a weak drill if it didn't have other issues as well. This tool has terrible battery life. Our battery would hardly last an hour, then take even longer to charge than it worked for! Worst of all, the battery died completely after just a few months, rendering the drill useless. With such poor longevity, this isn't a tool that we can recommend.
Pros
It's compact and lightweight
Cons
Very weak
Terrible battery life
Poor longevity
---
Buyer's Guide – Purchasing the Best Cordless Drill
Buying a new drill for home use might not seem like a difficult decision. But once you start comparing all the different features and functions between these tools, the decision can become considerably more daunting. If you already know a lot about tools, then you might have a good idea of which metrics to compare these machines on. But if you're new to the world of tools, then it might be harder to figure out what traits to prioritize.
Our goal is to make sure that you get a drill that will fit all your needs. To that end, we've written this short buyer's guide that will clarify some of the most important traits and decisions to help you narrow down the choices and pick the drill that will serve you best.
One Tool or Two?
One of the most obvious differences between these drills is that some of them come with just one drill and others include two. Do you really need two drills? Well, not really. But there are definitely some times when that second tool will come in handy. It just depends on what you plan to use it for.
Drill vs. Impact Driver
The individual tools on this list are all drills. But the combo kits that include two tools include a drill and an impact driver. Naturally, that leaves the question; what's the difference?
Drills are very versatile tools that can perform a variety of basic tasks. You can stick a drill bit in the ratcheting chuck and use the drill to create holes in a wide range of materials. This is where drills really shine. You can also put a screwdriver bit in your drill and use it to install or remove fasteners. However, drills aren't the best for this. They lack torque, though they spin at high speeds. This combination often results in stripped screw heads and broken bits. Still, drills definitely can install fasteners –– you just have to be more careful.
Impact drivers are meant almost exclusively for installing fasteners. They use thousands of small impacts per minute, rather than just spinning freely like a drill. This results in a far more powerful tool that can drive fasteners into harder materials much more easily. You're also less likely to strip a fastener, wear out the head, or break your bit using an impact driver.
In the end, drills are best for making holes, and impact drivers are best for installing fasteners. But if you're budget shopping and can get only one, the drill is a more well-rounded tool that's applicable in most situations. If you know you'll be tackling a lot of different projects you'll probably benefit from having both.
Power
Another big difference between drills is how much power they can produce. While you don't always need maximum power for every job, certain things will require more power, such as drilling through harder materials. Also, longer fasteners take more power to install, as does installing fasteners in hard materials.
Voltage
One easy way to get a feel for a drill's power is to check its voltage. Most cordless power tools today are either 12 volts or 20 volts. There are also 18-volt options, though we can basically lump these in with 20-volt tools.
Naturally, higher voltage means more power. This means that you can usually count on a 20-volt tool to be more powerful than a 12-volt tool. So if you need a powerful drill, you'll want to stick to 20-volt toolsets.
Torque Specifications
You can get more specific with a tool's power output by checking its specifications. For many drills and impact drivers, you'll be looking at torque to determine how powerful that tool is.
In general, drills have quite a bit less torque than impact drivers. Our favorite impact drivers offer an impressive 1400-1500 inch-pounds of torque, while many of our favorite drills don't quite reach 500 inch-pounds.
Unit Watts Out
Some companies have switched to using unit watts out or UWO to explain their tools' power ratings. It's difficult to compare this to torque as these are different metrics, but you can easily compare the UWO of two tools to see how they stack up. Our favorite drills offer 300 or more UWO of power.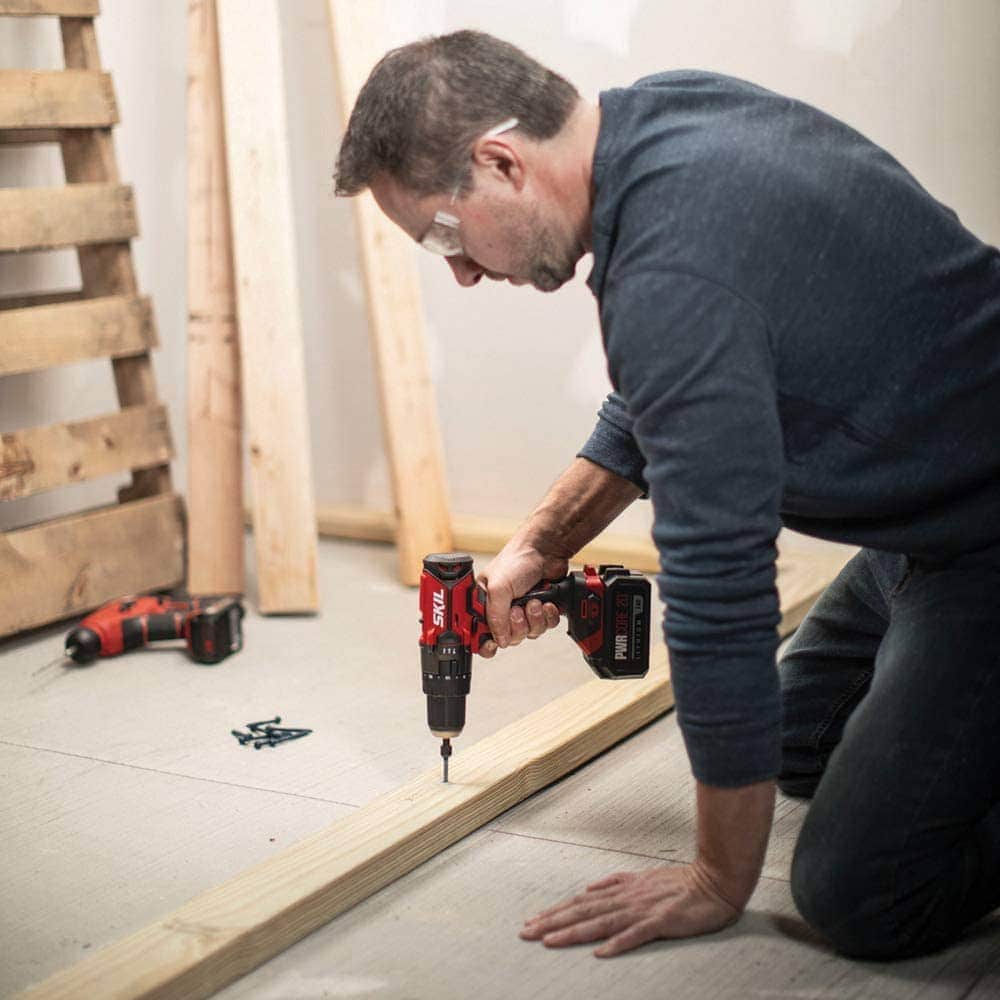 RPM
RPM is actually a measure of speed, not power. But when discussing drills, it's going to have a major impact on the tool's performance. Basically, the higher the RPM rating, the easier it will make holes in a variety of materials. Some of the weaker drills we tested topped out around just 600 RPM. But many of our favorites could easily achieve 1500 RPM.
Weight
Power and weight are not inversely proportional all of the time, but in general, more powerful tools weigh more. For many projects, a difference of a pound or less might not be noticeable. However, if you plan to use the tool for extended periods or you have a limiting factor like arthritis, advanced age, or anything else that might prevent you from holding up a heavy tool for a long time, then you'll need to prioritize weight over power.
Many 12-volt drills offer a lightweight, compact package while still providing enough power to complete most household tasks. That said, you can still find 20-volt drills that weigh less than three pounds with the battery installed. These offer greatly improved power levels for a minimal weight gain, though the smaller, lighter tools might still be preferable for some.
Extra Features
We've covered a lot of the important traits that you should be basing your decision on. But there are still plenty of little extras that manufacturers add in. These features can make your life a lot easier, so it's worth looking for a drill with at least a few of these extra features.
Built-in LEDs
Belt hanger
Included bits
Extra batteries
½-inch chuck
Quick-charge batteries

Conclusion
As a homeowner, your uses for a drill might be numerous and diverse, or they could be minimal and occur only occasionally. Either way, you need a drill that's reliable and offers enough power to complete basic tasks. We have three recommendations for you. They were covered in our reviews, but we're going to summarize them once more, so they're fresh in your mind.
Overall, we think the DEWALT 20V MAX cordless drill combo kit is the best choice for most homeowners. You're getting an impact driver and a drill, opening up the possibilities to complete any kind of project. With a max torque of 1400 inch-pounds from the driver and max speed of 1500 RPM from the drill, you'll be ready to take on any repair or improvement.
For homeowners with only basic needs, we suggest the BLACK+DECKER 20V MAX cordless drill. This tool is priced very affordably and will get you through a wide range of basic projects without spending a fortune or investing in tool education.
A premium choice is the Milwaukee M12 cordless installation drill. It's got four unique heads, 300 inch-pounds maximum torque output, and weighs a mere two pounds with the battery installed.
---
Featured Image Credit: Pixabay