8 Best Cordless Finish Nailers of 2022 – Top Picks & Reviews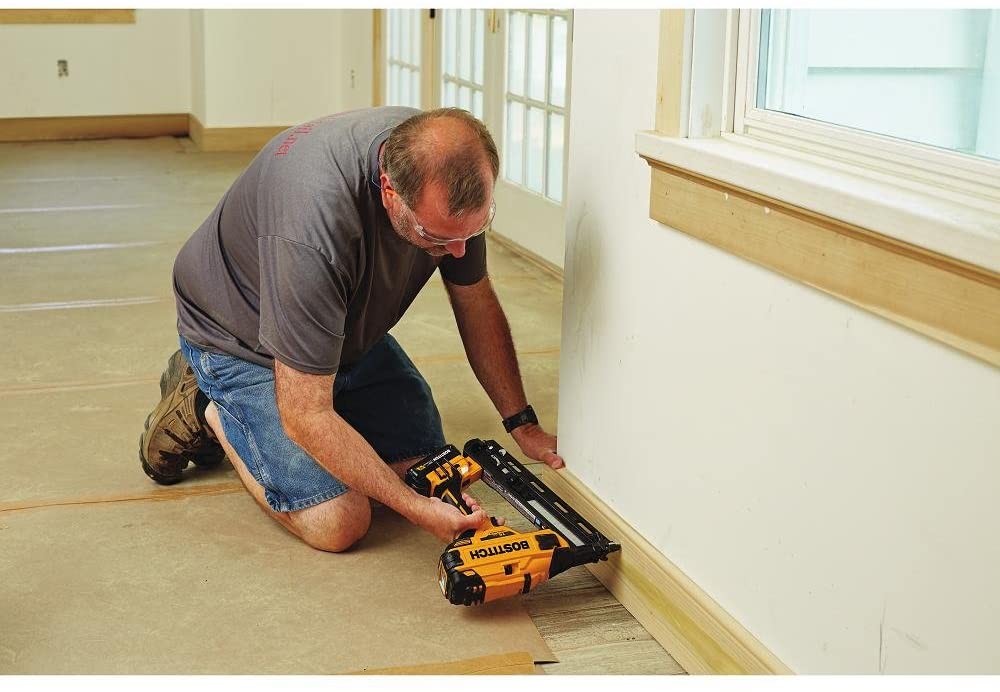 No one wants to haul out the compressor and hose for smaller nailing jobs, especially as you're nearing the end of a project.
Luckily, smaller, cordless finish nailers are now available and are gaining in popularity.
Once upon a time, these little machines didn't have the battery power to make them worth much. However, as batteries have improved, these handheld machines have slowly gotten more powerful. Today, they can take care of most basic nailing jobs, though they won't eliminate the need for the pesky compressor and hose.
Still, not all cordless finish nailers are made equal. Some are great. But others? Not so much. Read our reviews below to discover the best cordless finish nailers currently on the market to fit your needs.
---
A Quick Comparison of Our Favorites in 2022
Rating
Image
Product
Details

Best Overall

PORTER-CABLE 20V MAX Finish Nailer

1000 nails per charge
100 nail capacity per magazine
Multiple tool-free settings
CHECK PRICE

Best Value

CRAFTSMAN V20 Cordless Finish Nailer Kit

Lightweight
Inexpensive
375 nails per charge
CHECK PRICE

Premium Choice

DEWALT DCN660B MAX Finish Nailer

LED lights
20V battery
20º angle
CHECK PRICE

BOSTITCH BCN650D1 20V Max Finish Nailer Kit

Multi-functional LED lights
Powerful brushless motor
Jam release
CHECK PRICE

Paslode Cordless Finish Nailer

12000 nails per charge
Angled magazine
CHECK PRICE
8 Best Cordless Finish Nailers
1.

PORTER-CABLE 20V MAX Finish Nailer – Best Overall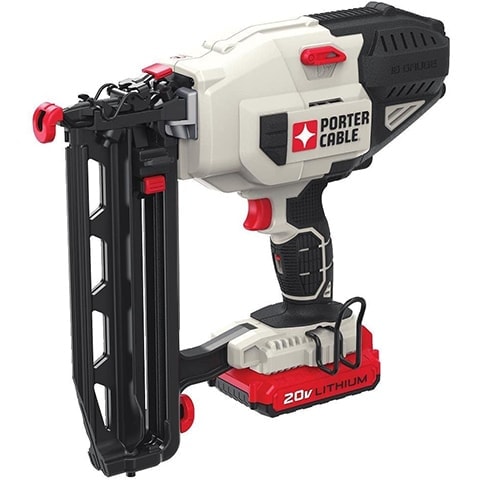 For most homeowners and part-time carpenters, the PORTER-CABLE 20V MAX Finish Nailer has everything you need to get your projects done without costing you an arm and a leg. It uses 100% battery power, eliminating the need for a compressor or a hose. It is reasonably priced and will likely save you money in the long run since you won't need to purchase gas cartridges.
This little machine comes with multiple settings, all of which can be changed without using tools. This makes setting up the finish nailer extremely fast and straightforward, improving your overall productivity. Plus, this machine was also designed to work across a variety of climates and has consistent firing power in many different materials. No matter where you are or what you're working on, this finish nailer can perform.
It can hold up to 100 nails in its magazine, which is about the average. This is a decent amount, so you won't have to stop and refill the gun every few minutes.
The best part about this gun is that it can do up to 1,000 nails per charge with the 4.0 Ampere hours (Ah) lithium battery. That is far more than most of the competition. With this machine, you may be able to get your whole project done with one battery. All in all, we think this is the best cordless finish nailer available this year.
Pros
1,000 nails per charge
100 nail capacity per magazine
Multiple tool-free settings
Weighs 6.5 pounds
Cons
Oddly shaped for tight spaces
---
2.

CRAFTSMAN Cordless Finish Nailer Kit – Best Value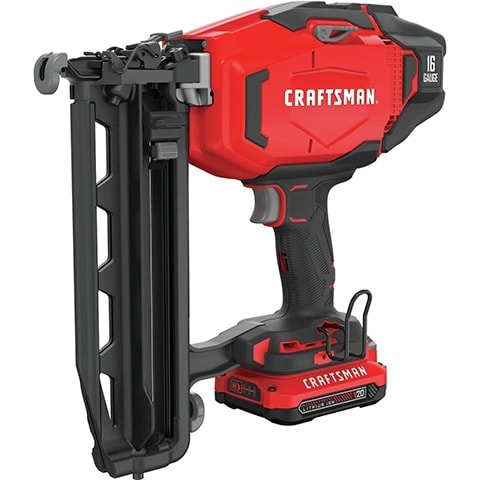 This CRAFTSMAN V20 Cordless Finish Nailer Kit is part of CRAFTSMAN's V20 cordless system. It uses a 20V max battery, which is compatible across the CRAFTSMAN line. If you're already the proud owner of other CRAFTSMAN V20 tools, that is just even more reason to choose this finish nailer.
Though it runs off of 100% battery power, this little machine is decently powerful. It has plenty of oomph to get most smaller jobs done. It can do up to 375 nails per charge, which should be more than enough for your average home DIYer. Plus, because it is compatible with other CRAFTSMAN batteries, you may already have an extra battery laying around that you could use as well.
This gun has a few unique features that we liked. It comes with a tool-free depth setting, which allows you to set up quickly. The tip is designed not to scratch up your work, which is the last thing you want at the end of a project. The tool-free jam and stall settings make the gun much easier to use and improve the efficiency of your work – allowing you to get done with your project faster.
Best of all, we found it's one of the best cordless finish nailers for the money on the market today.
Pros
Lightweight
Inexpensive
375 nails per charge
Tool-free depth setting
---
3.

DEWALT DCN660B MAX Finish Nailer – Premium Choice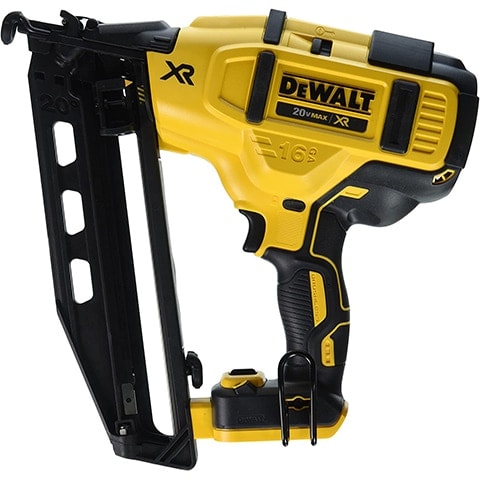 DEWALT is a very popular tool brand, and for a good reason. Many of their tools are top-notch, and this DEWALT DCN660B MAX Finish Nailer is no different. This machine is about the best you can get and should be perfect for most users.
It comes with an integrated LED light system, making it much easier for you to see in dim and cramped places. It is 100% battery-operated, so you don't have to spend valuable time messing with a compressor and a hose. The battery it uses in a 20V, which is more than powerful enough for most purposes. This battery is compatible with other DEWALT tools that use 20V, which is another plus.
We particularly loved the lightweight design of this machine. It weighs only 6 pounds overall and can easily be used with one hand. This prevents fatigue and provides you with some extra versatility. The magazine capacity is also sizable. It can hold 110 nails at a time, which is more than most other finish nailers on the market.
Pros
LED lights
20V battery
20º angle
110 magazine capacity
---
4.

BOSTITCH BCN650D1 Max Finish Nailer Kit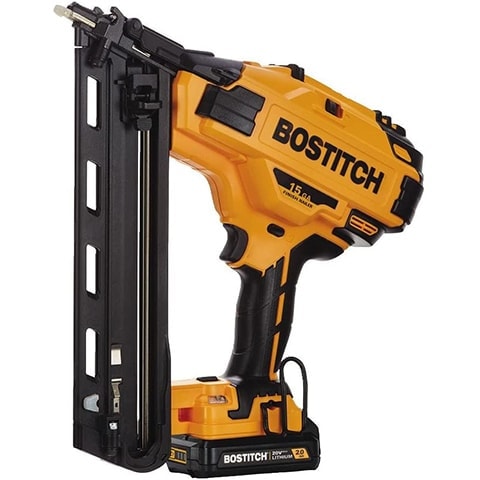 While the BOSTITCH BCN650D1 20V Max Finish Nailer Kit isn't bad by any means, it just didn't wow us for the price. It would probably work for most home DIYers and even professional carpenters. However, you can get a better gun for about the same price. For this reason, it landed at number four in our reviews.
Like most on this list, it runs off of battery power only. You don't need a compressor, gas, or anything of that sort for it to work. The motor is brushless and powerful enough to drive 1¼ to 2½ angled finish nails, making it suitable for a large variety of jobs. The nose is narrow, which may help you improve your overall accuracy. You'll be able to achieve a clearer line of sight – something that isn't always possible with other models.
This finish nailer comes equipped with LED lights to help you illuminate dim workspaces. These lights can even be used for tool diagnostics, which is a unique feature we liked. There is nothing more frustrating than not being able to figure out what's wrong with your tool! These lights help with that.
Pros
Multi-functional LED lights
Powerful, brushless motor
Jam release
Cons
Expensive
Jams sporadically
---
5.

Paslode Cordless Finish Nailer
There were many things we liked about the Paslode Cordless Finish Nailer, and many things we didn't. The angled magazine helps you reach tight spots and can help you be a bit more accurate as well. This angled magazine is perfect for getting into the corner of the baseboard, which can be a pain with other finish nailers.
Not counting the battery, the nailer weighs only 4.5 pounds. That's light enough for you to use it with one hand quite easily. The potent battery allows you to do up to 12,000 nails with one charge. This is far more than any of the competition (and also way more than most people need). However, this nailer also requires fuel cells to work, so it isn't just running off of the battery. These fuel cells are easy to change, but they will cost you a bit of money.
This gun is also quite more expensive than the others. The features it comes with are great, but most people will likely not find that they're worth the extra price. You also have to take the price of fuel cells into account, which can add up. Overall, this is a useful tool for professionals, but a little much for most homeowners.
Pros
12,000 nails per charge
Angled magazine
Cons
Requires fuel cells
Expensive
---
6.

Hitachi NT65GAPR Cordless Finish Nailer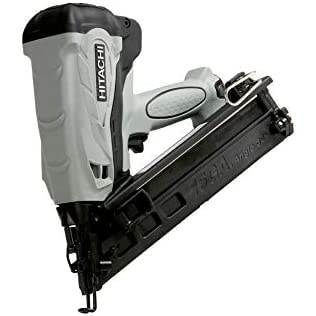 For some people, this Hitachi NT65GAPR Cordless Finish Nailer may be precisely what you're looking for. It does not run off of completely battery power. Instead, it runs off of a gas fuel rod and a Lithium-Ion battery. This makes it a bit more potent than some other options, but the difference wasn't exceedingly noticeable to us. These fuel rods can be replenished immediately, so you don't have to sit around and wait as you do with a compressor. However, it does cost money and is not included with this nailer.
The nose is easy to clear if it jams, which can improve your efficiency. There is a low-battery indicator light, so you'll know whenever you're reaching the end of your battery's charge. Overall, this handheld finish nailer only weighs 4.4 pounds, which is much lower than most of the competition.
Despite these positive features, we just didn't like the gas and battery combo. This nailer felt outdated. Batteries are plenty powerful enough for finish nailers today, so we didn't feel like there was any need for the added gas rod. It is just another thing you're going to have to worry about.
Pros
Lightweight at only 4.4 pounds
Easy to clear nose
Cons
Uses a gas rod and battery
Jams often
---
7.

Makita XNB02Z 18V Straight Finish Nailer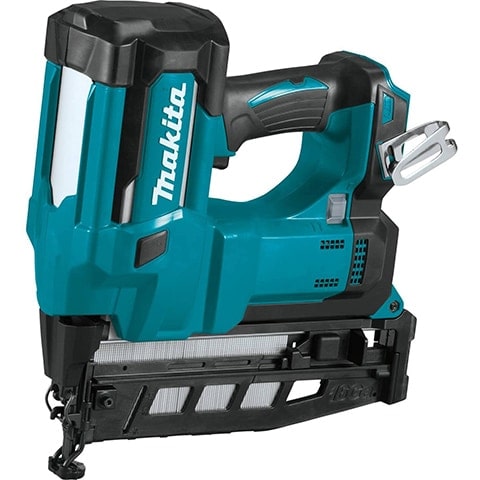 Despite the price, the Makita XNB02Z 18V LXT Straight Finish Nailer isn't great. It can drive standard 16-gauge, straight finish nails from 1 to 2½ inches. With the right battery, it can drive up to 1,000 nails per charge, according to the company. However, this battery is not included and must be bought separately. It is a 5.0 Ah battery, which means it is quite large and is likely going to be expensive. That bumps up the overall price of this machine, even more, making it easily one of the most expensive ones on this list.
The center height is compacted down, which does allow you to see what you're doing a bit better. This improves accuracy and eliminates the number of redos you'll need to perform. The anti-dry fire mechanism is a nice added touch. It prevents you from accidentally driving blanks, which can damage your work surface.
If the gun jams, the nose design makes it pretty easy to fix the issue. You won't need any tools, which is always a nice plus. Even the best gun jams sometimes. There is also a trigger lock button, which is a reliable safety feature. However, this is a feature that most nail guns have.
Pros
Compacted center design
Anti-dry fire mechanism
Cons
Battery sold separately
Very expensive
---
8.

Ryobi P325 One+ Cordless Finish Nailer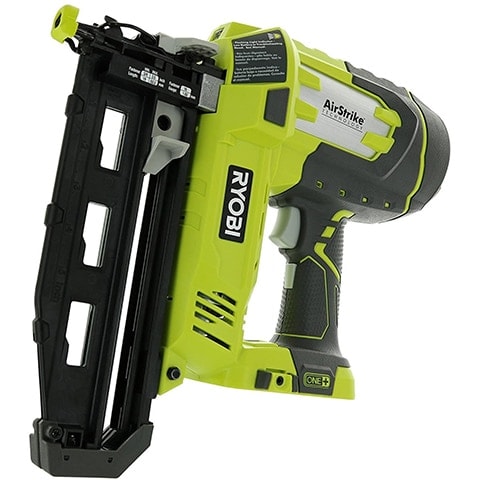 This Ryobi P325 One+ Cordless Finish Nailer isn't for most users. It does come with a few positive features that we liked. For example, it features decent LED lighting at the heat, which can be activated by a second trigger. It also has a low nail indicator, which prevents you from accidentally dry firing and damaging your work surface.
However, many of these features are just so-so. The low nail indicator is helpful to have, but many of the nail guns we reviewed have mechanisms in place that prevent them from dry-firing at all. The LED lights weren't the best. Most of the guns we reviewed above have better lights overall.
We also found that this finish nailer wasn't as reliable as some other options we looked at. It has a hard time with hardwoods, which diminishes its versatility.
Overall, while this nailer isn't downright awful, it isn't exactly good either. Save your money and buy a better gun. There are many available that cost less than this one.
Cons
Not powerful
Tends to breakdown
Disappointing LED lights
---
Buyer's Guide – Choosing the Best Cordless Finish Nailer
These little nail guns can be surprisingly expensive. Once you start digging in, it doesn't take long to realize that there are just so many different options and types available. It can be hard to know which finish nailer is right for you!
To give you a helping hand, we've put together this complete buyer's guide. It contains all the information you need to know about cordless finish nailers.
Are Finish Nailers and Brad Nailers the Same?
We see a lot of confusion about the difference between brad nailers and finish nailers (or if there is even a difference at all). However, these tools are different, even if they do similar jobs. If any website tells you otherwise, you should probably head to a different website.
To put it simply, finish nailers use finish nails, while brad nailers use brad nails. They will not use each other's nails. If you put the wrong nail in your machine, it will jam or possibly break.
Brad nails are made of 18-gauge steel wire. The gauge of a nail is a representation of how thick it is. The higher the number, the thinner the nail. Brad nails are fragile, hence their decently high number. Because they are so thin, they are usually used on delicate material to avoid splitting it. Many carpenters also use them for woodworking projects because of their subtle appearance. They are excellent at blending in.
Brad nails are also best for thinner materials, like plywood. They may not be able to make it through the thicker stuff.
Finish nails are made of 16-gauge steel wire in most cases, though the 15-gauge wire is sometimes used as well. Most finish nailers can only use 16-gauge finish nails, however. They are slightly thicker in diameter than brad nails. They are useful for hefty applications like putting together cabinets or baseboards.
Because they are bigger, they usually leave a decently sized hole behind. For most projects, you'll need to follow up with a filler to cover these holes and make the project look neat and tidy.
Cordless vs. Pneumatic Finish Nailers
Cordless finish nailers are only just beginning to gain in popularity.
Pneumatic
For many years, most people used pneumatic nail guns. These are cheaper and get their power from an air compressor. They are often more powerful than a cordless model. But you have to mess around with a compressor and hose when you're using them. You also have to purchase a compressor and suitable hose, which drives up the price by quite a bit.
Until only recently, almost all finish nailers were pneumatic, and everyone just dealt with the constraints involved. However, as batteries have become better, cordless finish nailers are now becoming more of an option.
Despite advancements in technology, most professionals are going to use a pneumatic finish nail simply because they don't have time to recharge batteries in the middle of their workday. Furthermore, pneumatic nailers are cheaper, which means they can afford to replace them more often.
Cordless
Cordless finish nailers include every model that doesn't need the compressor, hose, or a wall outlet. Usually, these are battery-powered. However, gas options are also available. Usually, gas options use some sort of canister or rod, which has to be purchased again and again. You don't just put gas in them like you would a chainsaw.
Battery-powered options and gas-powered options work in different ways. However, sometimes a cordless finish nailer can use both batteries and gas. This is often done to make both the battery and gas last longer. While this is helpful somewhat, it also means that you'll have to keep up with two different power sources while working. You'll have to remember to charge your battery AND purchase new gas canisters.
If you're simply a home DIYer or only use a finish nailer occasionally, you may want to spend the extra money for a cordless option.
Straight or Angled Finish Nailers
Despite how it may appear, there is no significant difference between a straight or an angled finish nailer. In the end, they do the same job. Angled options perform a bit better in corners and are a bit easier to use in tight spaces.
Besides that, small factor, however, it doesn't matter what option you choose. We recommend relying on other factors to make your decision, not whether or not the nailer is angled.
Factors to Consider when Choosing a Finish Nailer
There are a few small factors you should consider when choosing your finish nailer. Once you've made the more significant decisions, such as whether or not you even need a cordless model, you should look out for these factors while shopping around:
The price of the nailer is going to be important for most people. Odds are, you're on a budget. Therefore, the nailers you can purchase is going to be somewhat restrained. You should also keep the value in mind. Don't spend more money unless you're getting extra features or better performance out of it.
Finish nailers aren't dangerous. However, you still don't want them to be more dangerous than they need to be. Most nailers have quite a few safety features to prevent accidental injury and damage. However, you should double-check these features before making your purchase.
Using a finish nailer doesn't need to be uncomfortable. You should choose a lightweight option that isn't going to wear you out.
More Finish Nailer Articles:
Conclusion
Finish nailers are a great tool to have handy if you're making cabinets, nailing down baseboards, or doing anything that requires a lot of 16-gauge nails. We hope this article helped you sort through all of the factors that go into purchasing the best finish nailer for your needs.
For most people, the PORTER-CABLE 20V MAX Finish Nailer is going to be the best cordless finish nailer for you. It isn't too expensive and has all the power you need for most jobs. It can do about 1,000 nails per charge, which is plenty for most people.
If you're looking for the best cordless finish nailer, but need to stick to a stricter budget, the CRAFTSMAN V20 Cordless Finish Nailer Kit is another reliable option. It is a bit cheaper but still comes with all the features you need to get the job done.
See Also: