10 Best Portable Solar Panels of 2023 – Reviews & Top Picks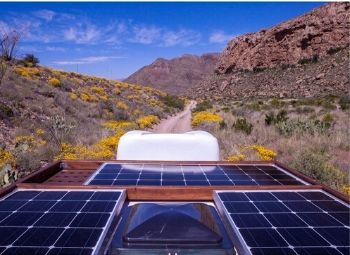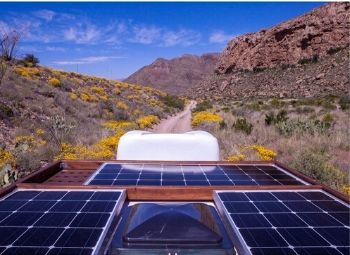 Whether you're planning to take your RV boondocking or are looking for a way to charge your devices during an outage, a portable solar panel can be an excellent and efficient source of power. This recent advancement in solar panel technology is a new take on the bulky, heavy roof-mounted versions. These lightweight and on-the-go products come in a range of prices and a variety of styles. With so many choices, you may not know where to start.
We've compiled a list of the top 10 best portable solar panels. Beginning with top-ranked products and working down, there are detailed reviews, along with quick reference pros and cons lists. Then check out the buyer's guide for advice when it comes to purchasing the best portable solar panel for your needs.
---
Our 2023 Favorites Compared:
Rating
Image
Product
Details

Best Overall

Suaoki Portable Solar Panel

Folding design
Portable
Durable
CHECK PRICE

Best Value

Nekteck Portable Solar Panel

Able to charge up to two phones
Foldable and lightweight
Durable and weatherproof
CHECK PRICE

Premium Choice

Renogy 200 W Eclipse

200-watt charging capability
Waterproof solar panels
Overcharge protection
CHECK PRICE

RAVPower Solar Panel

Charges quickly and efficiently
Easy to transport and lightweight
Excellent customer service
CHECK PRICE

Go Power! Portable Solar Kit

Easy-to-use controller
120 watts of battery charging power
Heavy-duty storage and travel case
CHECK PRICE
The 10 Best Portable Solar Panels:
1.

SUAOKI Portable Solar Panel – Best Overall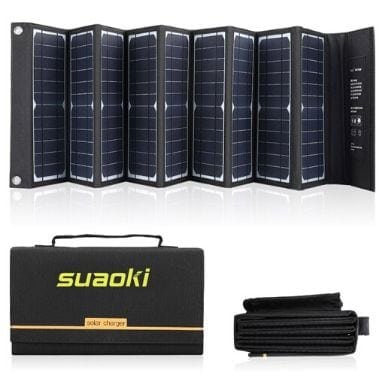 We ranked the Suaoki portable solar panel first on our list because its overall performance, the best for a solar-powered generator. This portable solar panel makes a useful travel companion for all your adventures. Easily unfold it in a sunny location to power up multiple devices, including phones, laptops, and cameras. The 10-in-1 connector cable supplies power directly without requiring an adapter or AC outlets.
Made from durable materials, the Suaoki's splash-proof, foldable design gives you versatility when choosing where to set it up. When you're finished using it, the Suaoki folds and compacts into a briefcase for handy transport. However, we did find that the carrying pouch may not fit all the cables you need.
The Suaoki can charge up to 60 watts, though in most cases, we found it that charges to half that wattage amount. It still does an effective job charging devices, but you will need unobstructed, direct sunlight.
Pros
Easily transportable with a carrying case
Folding design for ease of use
10-in-1 connector cable for direct charging
Durable, splash-proof construction
Cons
Carrying case may not fit all cables
Charges up to less than claimed 60 watts
---
2.

Nekteck Portable Solar Panel – Best Value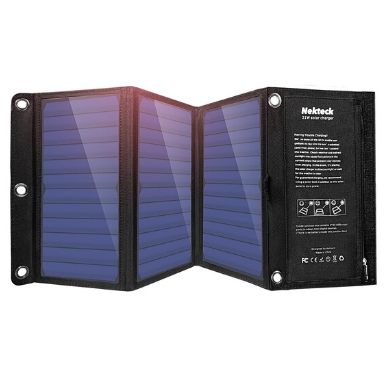 Our top pick for the best portable solar panel for the money goes to the Nekteck portable solar panel. Using SunPower Maxeon technology and Advanced Smart IC Chip Technology, three solar monocrystalline panels can efficiently and simultaneously power up to two phones.
The foldable and lightweight design makes transporting the Neteck easy and convenient. Plus, you have the option to attach this portable solar panel to the exterior of your backpack for charging on the go. As an added bonus, the Neteck is made for extra durability and offers IPX4 waterproof-level protection, making it able to withstand even the harshest weather conditions.
We found that the Neteck works well if used properly. However, it does have significant compatibility issues with Apple products. We found that most Apple devices will not charge directly, which may require an additional purchase of a storage battery.
Pros
Best value
Able to charge up to two phones
Foldable and lightweight
Able to attach to backpack exterior
Durable and weatherproof
Cons
Best value
Able to charge up to two phones
Foldable and lightweight
Able to attach to backpack exterior
Durable and weatherproof
---
3.

Renogy 200 W Eclipse Solar Panel – Premium Choice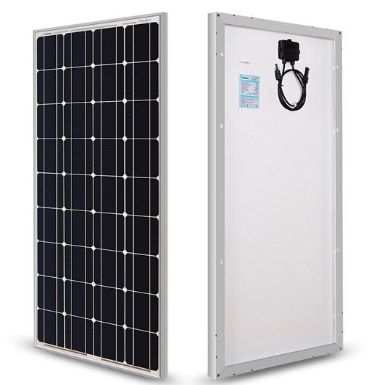 For excellent charging performance supplying an impressive 200 watts, we chose the the Renogy Eclipse monocrystalline solar panel as our premium choice. The two waterproof 100-watt solar panels set up relatively quickly, making it perfect for your next boondocking trip. The Renogy also comes with an adjustable kickstand, which we found could be better constructed, considering the higher price.
Transporting this solar panel in your RV is worry-free, thanks to the protective casing. The included alligator clips make it easy to connect to any gel, sealed, or flooded batteries. This product keeps your safety in mind with overcharge protection provided by a 20A built-in five-stage solar charge controller. You can monitor the Renogy's operations by checking both the temperature sensor and the battery voltage sensor.
Pros
200-watt charging capability
Waterproof solar panels
Protective case for worry-free transport
Alligator clips included
Overcharge protection
Temperature and battery voltage sensors
Cons
Expensive
Poor-quality kickstand construction
---
4.

RAVPower Solar Panel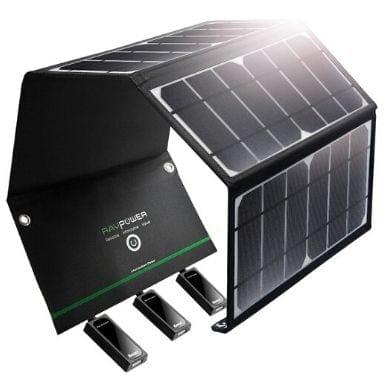 With three USB ports, the RAVPower solar panel supplies up to 24 watts, allowing you to charge multiple devices quickly and up to 21.5%-23.5% more efficiently. We found that in full sun, this portable solar panel can charge nearly as fast as an electrical outlet. The iSmart technology maintains an optimal charging current to all connected devices.
This flat, foldable solar panel is easy to transport and is lightweight enough to be attached to the exterior of your backpack. Keep in mind, however, that RAVPower warns you to take overheating precautions in reference to the placement of this solar panel.
We found that the RAVPower performs well, with the exception of Apple products. Although inconvenient, the simple fix of unplugging and plugging it back in may remedy this issue. Also, we did learn that RAVPower offers excellent customer service to help with other operational issues and to replace malfunctioning parts.
Pros
Charges quickly and efficiently
iSmart Technology for optimal multiple charging
Easy to transport and lightweight
Excellent customer service
Cons
May overheat on certain surfaces
Difficulty charging Apple products
---
5.

Go Power! Portable Folding Solar Kit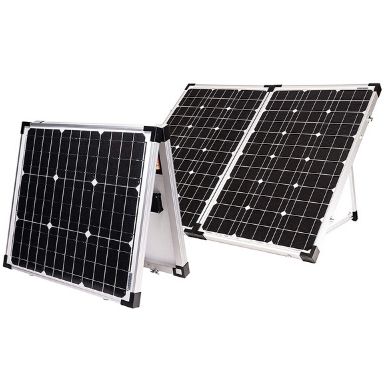 You can take the Go Power! out of the box, aim it at the sun, and easily achieve up 120 watts of battery charging power. This portable folding solar kit has a built-in, easy-to-use 10-ampere solar controller and comes with several connector cables and battery clamps for no-hassle connectivity. Also, complete directions are provided, but it may be a bit of learning curve if you're not experienced with solar power.
For easy transport, you can latch the bi-fold solar panels together and place them into a heavy-duty nylon storage and travel case. When set up, this solar panel relies on a kickstand to better angle the solar panels. We found the durability and quality of construction were lacking in both the latches and the kickstand arms.
Pros
120 watts of battery charging power
Easy-to-use controller
Includes equipment for no-hassle connectivity
Heavy-duty storage and travel case
Cons
May be complex to operate
Latches and kickstand poorly constructed
---
6.

BigBlue B401E Foldable Solar Panels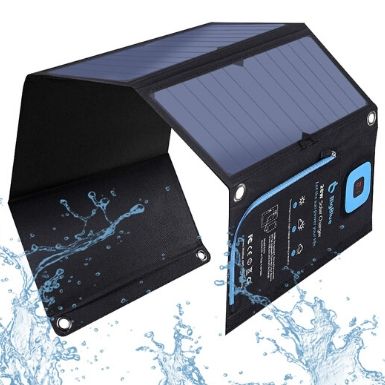 If you're planning to get outdoors to hike, camp, or do other recreational activities, consider the BigBlue foldable solar panel. With four solar panels supplying a total of up to 28 watts, you can easily power two devices through its dual USB ports. Plus, the BigBlue is compatible with most rechargeable devices, including Apple products.
This lightweight product can fold as compact as a magazine for easy transport. When you're ready to use it, four included hooks give you plenty of options for optimal placement. We found that all four panels must be unobstructed for proper operation.
As you recharge your devices, you'll find the built-in ammeter to be helpful. However, unlike the solar panels, the ammeter is not waterproof. Also, the provided pouch, which is meant to keep your device safe while powering up, is made of black material and tends to cause overheating issues. We found limited customer support for answering questions.
Pros
Ideal for outdoor recreation enthusiasts
Compatible with most Apple products
Lightweight and compact for transport
Built-in ammeter
Cons
Ammeter is not waterproof
Recharging pouch may cause overheating
Limited customer support
---
7.

Zamp solar solar 120P Charge Kit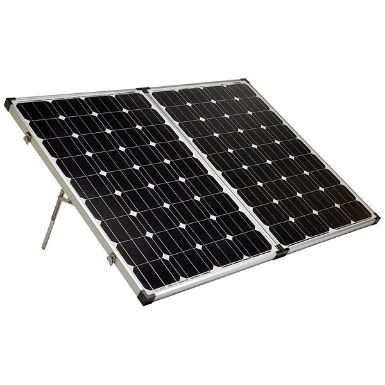 If you're looking for a portable solar panel to bring on your RV adventures, the Zamp solar charge kit has plenty of power output, up to 30 to 40 amps per day. It includes alligator clips for direct connectivity to either dual 6-volt or 12-volt battery systems. There's also a SAE port that attaches to a Zamp Solar sidewall solar port.
We found that the kickstand legs could be sturdier. The Zamp is priced higher than similar products with equal power output, and you may find the carrying case heavy, making for difficult transport.
Pros
30 to 40 amps per day
Includes alligator clips
SAE port
Cons
Kickstand not as sturdy
Expensive
Heavy carrying case for difficult transport
---
8.

Rockpals Foldable Solar Panel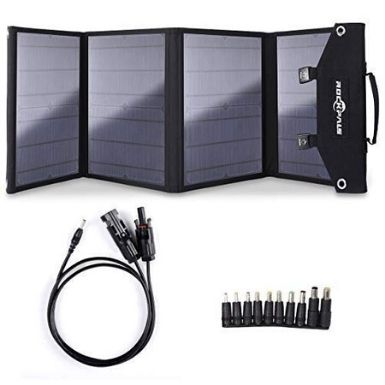 You'll have many connectivity options with this Rockpals foldable solar panel, thanks to the three included adapters. TIR-C technology employs an intelligent chip to adjust the electrical output for more efficient use and to prevent overheating and overloading.
This solar charger compacts into a briefcase to be easily transported. Unfolded, its flat design allows you to place this solar panel in a variety of locations, from the top of your parked vehicle to the exterior of your backpack.
The only drawback of the Rockpals solar panel may be quality control at purchase. Some users reported models not functioning properly initially and after a short amount of use.
Pros
Three different adapter sizes
Intelligent chip technology for safety
Foldable with briefcase for easy transport
Flat design allows for versatile use
Cons
Poor quality control
May not be as durable as similar products
---
9.

ECO-WORTHY Portable Foldable Solar Panel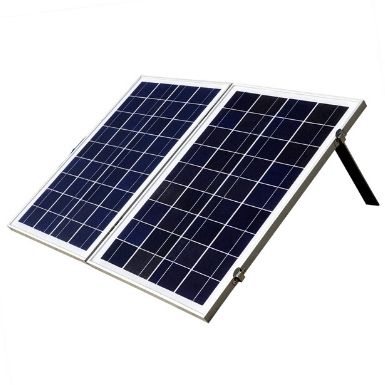 Ideal for setting up outside your RV or home during a power outage, the Eco-Worthy portable foldable 40-watt solar panel's plug-and-play system sets up quickly and starts generating energy immediately. With the included battery clips, you can use it to power up all 12V DC devices. The integrated kickstand legs are built to withstand wind and snow, and the fold-up suitcase design with a built-in handle helps with transport.
The Eco-worthy does have a few issues that drop it to the penultimate spot on our list. On a practical note, the suitcase design places the solar panels facing out, which could lead to damage during transport. We also noticed that an essential wire may be pinched when the unit is folded. Other than a green operating light, there's no method of controlling this solar panel.
Pros
Quick setup and operation
Sturdy kickstand and built-in handle for transport
Cons
Poor transport design
May not fold properly
Does not include a controller
---
10.

ACOPOWER HY100-12 Solar Panel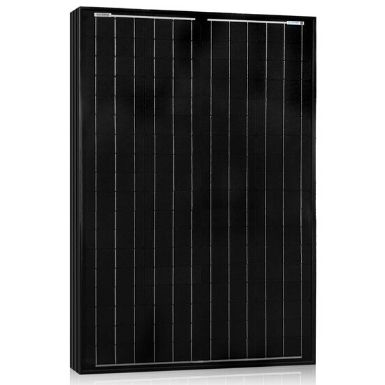 Our last pick goes to the Acopower 100-watt solar panel. We placed it in our final position for its lack of portability. Though not easy to transport, it is still small enough to tag along on your next camping, RVing, or boating expedition. The predrilled holes allow it to be installed as well.
This well-built and durable single solar panel is fully weather-resistant, as it's made with highly transparent low-iron, tempered glass. The Acopower comes with 12AWG cable with MC4 male/female quick connectors and a basic component for the off-grid solar panel 12V/24V/36V/48V system. It's nominal for a 12V battery charger.
Pros
Well-made and weather resistant
Versatile connectivity
Cons
Difficult to transport
Lacking in a portable design
Does not include a kickstand
No safety features
---
Buyer's Guide – Choosing the Best Portable Solar Panel
Now that you've had a chance to read through our list of the top 10 best portable solar panels, we hope you have a better idea about what product will work best on your next adventure. Before you make a final purchasing decision, take a moment to read through our helpful buyer's guide. We'll explain the benefits and potential challenges of portable solar power, followed by tips to consider for a high-quality product.
Solar Power On-the-Go: What You Need to Know
Now, more than ever, going off the grid, camping without hook-ups — otherwise known as boondocking — and hiking or boating in remote locations doesn't mean you have to leave all your modern conveniences and technology behind. With the emergence of portable solar power, you can immerse yourself in nature and still recharge your phone, laptop, or camera or run small appliances. While there are many benefits to investing in and using solar power, there are also a few limitations to understand before you set off on your next adventure.
Benefits
The benefits of portable solar power are obvious, especially if you've had to deal with a dead battery or attempted to enjoy yourself next to the odorous fumes and loud hum of a gas generator. Solar power can keep your devices functioning without the noise and carbon footprint.
Beyond being environmentally friendly, portable solar panels are budget friendly as well. Once you make the initial purchase of the panel and any necessary supplies, such as batteries or cables, they operate without cost.
Finally, portable solar panels give you freedom to charge on the go. Your only requirement is to position the panel at an optimal angle toward the sunlight. Nearly all the portable models on our list are lightweight and virtually effortless to readjust, and most of the foldable models have the option to attach to a backpack.
Potential Issues
While it's exciting to think of the possibilities available through the use of portable solar panels, there are a few issues to consider before you leave civilization or rather, a functioning electrical outlet. Knowing what to avoid and how to adapt can save you from unnecessary stress.
Unfortunately, portable solar power has its limits in creating wattage strong enough to power every appliance and the air conditioning unit in your RV. Our top-reviewed portable solar panels can produce 100 watts, but a portable gas or propane-fueled generator can pump out 2,000 watts on average.
Besides lacking in power, the obvious drawback to solar power is access to the sun. Portable solar power works best in bright, cloudless summer daylight. Most of the solar panels on our list work best when they're unobstructed and positioned at an advantageous angle. However, your ventures may include shady terrain, thick cloud cover, and fewer hours of bright daylight. So, you may not achieve the wattage level your solar panel promised. By making sure to bring along extra rechargeable batteries, you can get through dimmer days.
Capability with Apple products is a common issue, relating to the overheating safety feature in most Apple devices. Since you're charging your solar panel in the sun, your device may be in the sun as well, causing it to heat up to a potentially damaging level. To combat this, try to bring a longer charging cord so your device can sit in a shady spot. Also, understand that once the safety feature initiates on the Apple device, you'll need to disconnect it and plug it back in again to get it to work.
The final potential challenge to consider before purchasing a portable solar panel is your knowledge of electrical wiring, batteries, and overall use. You'll need to understand how to properly connect your portable solar panel to what you intend to power up. From alligator clamps to adapters, many of the components needed to get everything functioning properly may be confusing. Also, you'll need to budget for supplies that do not come included with your portable solar panel.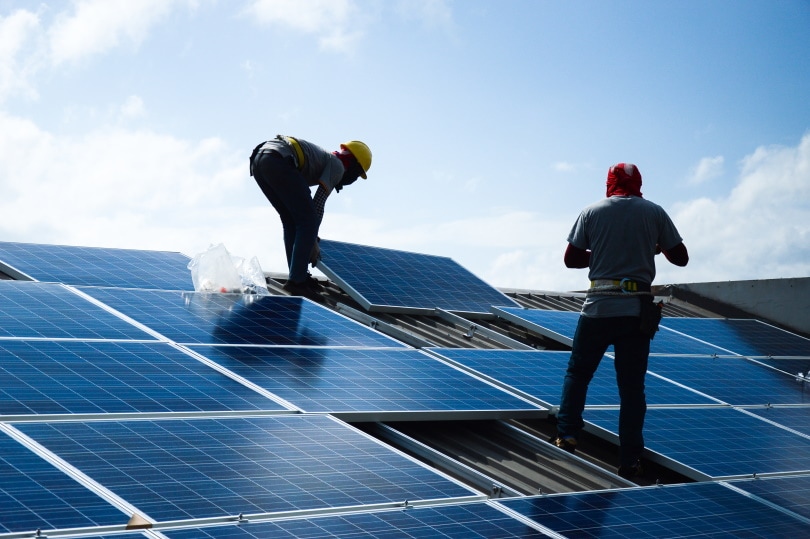 Tips for Making the Best Purchase
There are a few considerations to make before deciding which portable solar panel to bring on your next outing. We've reviewed two types of solar panels: smaller foldable models and larger products with kickstands.
Foldable solar panels work great for hikers. They're the most portable product we reviewed, since they can easily fold up into a compact bag for easy transport and storage. In addition, they're lightweight and can hook onto your backpack or be attached to your tent or nearby tree limbs. You may even want to consider a foldable solar panel for your home as an economical way to recharge your devices or as a backup power source during a power outage.
If you need to power up more than a phone and a laptop, such as being in your RV or during a major power outage in your area, you'll need a larger portable solar panel. While most of these products do fold for practical storage and transport, they still tend to have more surface area and come with a kickstand for better positioning. Unlike a solar panel that you can mount to the roof of your RV or house, a kickstand portable solar panel gives you more opportunities to place it where it can get the most sunlight. If your RV is parked in the shade or your home is in a wooded area, you can place a portable solar panel out in a sunny location. However, be mindful that the kickstand can create a tripping hazard.
Finally, before you make a purchase, make sure to take safety into account. Ensure that all the components of your solar panel are waterproof, and more importantly, features that prevent overheating can help you avoid a potential fire hazard. Even with safety measures in place, keep a careful watch as you recharge phones and batteries.
---
Conclusion
We ranked the SUAOKI 223355901-01 Portable Solar Panel the best portable solar panel overall for its performance and durable, splash-proof construction. The Suaoki is effortless to transport with a convenient carrying case, its folding design makes it easy and versatile to use, and it comes with a 10-in-1 connector cable for direct charging. Its only drawbacks are that the carrying case may not fit all cables, and this portable solar panel may not charge to a full 60 watts.
The Nekteck Portable Solar Panel is our top pick for the best portable solar panels for the money. Able to charge up to two phones, the Nekteck is foldable and lightweight and equipped to attach to the exterior of your backpack. Although this portable solar panel is durable and weatherproof, it may be difficult to operate properly and is generally not compatible with directly charging most Apple products.
The Renogy 200-Watt Eclipse Monocrystalline Solar Panel is our premium choice for its abundant 200 watts of charging capability. The Renogy's waterproof solar panels come with a protective case for worry-free transport, alligator clips to help with connectivity, overcharge protection for safety, and temperature and battery voltage sensors for more effective operation. Unfortunately, the Renogy has poor quality kickstand construction, considering it is one of the most expensive portable solar panels on our list.
We hope that our reviews, along with the pros and cons lists, have helped you learn more about the various portable solar panels available. With the information from our buyer's guide, you're now ready to make an informed purchase. With the right portable solar panel, you can keep all your devices charged and recharged no matter how far off the grid you venture.
See also: Tracking Solar Panels vs Fixed: Pros, Cons & Differences