5 Best Cordless Pole Saws – Top Picks & Reviews 2023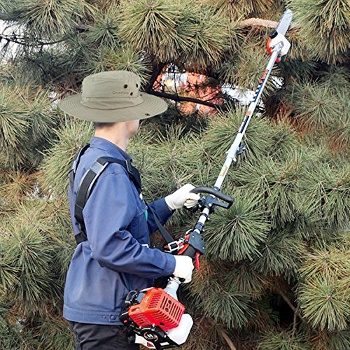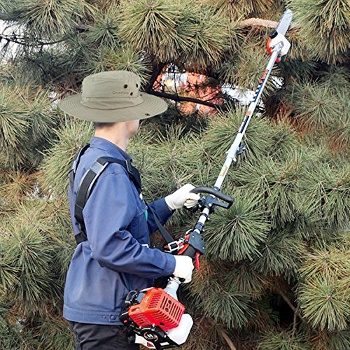 When it comes to trimming the higher branches of your trees, you have several options. Gas-powered and corded electric pole saws are viable, but you can't beat the convenience of cordless. When the time came to retire our old gas pole saw, we were ready for an upgrade to a modern cordless system.
We were surprised to see just how many options there are to choose from. But we weren't willing to settle for any old pole saw, we only wanted the best. So, we decided to purchase all of the most popular choices and put them through the wringer to see which ones were left standing.
After all of our testing was finished, we had narrowed the field down to our three favorites. But to help you get a better understanding of the competition, we're going to share seven reviews with you that we wrote using the information we gathered during our testing.
---
A Quick Comparison of Our Favorites
Rating
Image
Product
Details

Best Overall

Greenworks 8.5′ 40V Cordless Pole Saw

Clear oil tank
Weighs just 8 lbs
Well-balanced
CHECK PRICE

WORX 20V Cordless Pole/Chain Saw

Pole extends to 10'
Auto-oiling mechanism
Good battery life
CHECK PRICE

Best Value

BLACK+DECKER Lithium-Ion Pole Saw

Extends from 6.5' to 10'
Breaks into pieces for storage
Up to 100 cuts per charge
CHECK PRICE

EGO POWER+ 10" Pole Saw

Auto-lubing system
Very lightweight
Water-resistant construction
CHECK PRICE

Earthwise Camo Convertible 2-in-1 Pole Saw

The chainsaw can be detached
10" Oregon bar and chain
Auto-oiling with window
CHECK PRICE
The 5 Best Cordless Pole Saws – Reviews:
1.

Greenworks 8.5′ 40V Cordless Pole Saw – Best Overall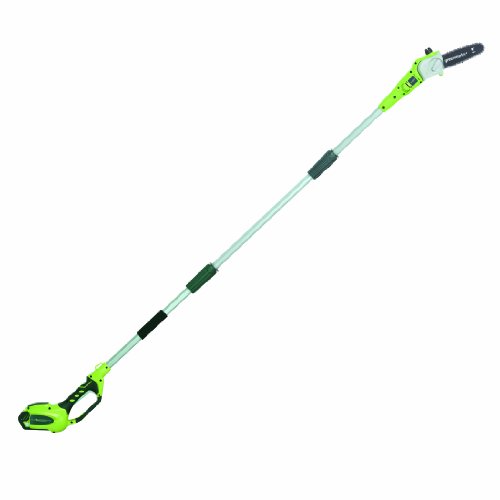 Powered by the G-MAX 40V Lithium-ion battery system, the Greenworks 40V Cordless Pole Saw was our top pick out of all the pole saws we tested. A lot of it had to do with its light weight of just 8 pounds, which made it much more manageable to cut branches far above our heads. Plus, it left us with energy remaining after all the work was done, unlike some of the heavier saws.
One thing we weren't so thrilled with was the chain tension adjustment system on the Greenworks pole saw. It requires a #1 Phillips head screwdriver to adjust and we prefer the toolless systems on other pole saws. But the chain stayed tight and didn't need adjusting often, so it was just a minor annoyance.
This saw is equipped with an automatic chain oiler so you never have to worry about the chain running dry. It's even got a clear oil tank so you can easily tell how much oil is left. We felt that the saw was well balanced overall and a pleasure to use, which is why we have called it our best battery operated pole saw.
Pros
3-piece 8′ aluminum shaft
Clear oil tank so you never run out
Weighs just 8 lbs
Well-balanced
Cons
Requires a screwdriver for chain tension adjustment
---
2.

WORX WG323 20V 10″ Cordless Pole/Chain Saw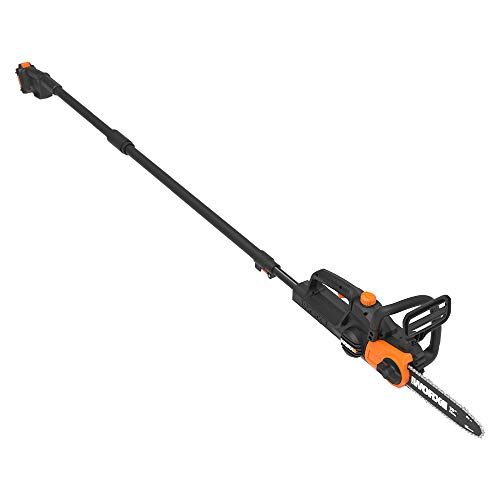 While many of the pole saws we tested topped out at eight feet in length, the WORX WG323 10-Inch Cordless Pole/Chain Saw goes the extra distance by extending to a full length of 10 feet. This gave us the extra reach needed to trim the taller branches that weren't possible to get with the shorter eight-foot poles.
Once you down a large branch, the saw detaches from the pole to allow free use of it as a standalone chainsaw. This makes it much easier to chop up downed limbs. Unfortunately, the saw is a bit on the heavy side, which makes it more difficult to control when it's on the pole at full extension.
The auto-oiling system on this saw means that you won't have to worry about your chain running dry, so long as you keep an eye on your oil level. Compared to similar saws, the WORX saw had great battery life that allowed us to work for hours on a single charge. It was one of our favorites overall, but the extra weight made it less manageable than the Greenworks that managed to out-maneuver this one for the top position.
Pros
Pole extends to 10'
The saw can be detached for cutting on the ground
Auto-oiling mechanism
Good battery life
Cons
Heavy (10 lbs)
Difficult to cut when fully extended
---
3.

BLACK+DECKER LPP120 Lithium-Ion Pole Saw – Best Value
If you're looking for affordable power with enough reach for the tallest branches, look no further than the BLACK+DECKER 20V MAX Pole Saw. It's got a three-piece pole that extends to 10 feet when all three pieces are used. You can leave out the middle for a 6.5-foot length, or break it into three pieces for easy storage.
One feature we've gotten used to on most modern pole saws and chainsaws is the automatic chain oiler that keeps the chain lubricated while you work. Unfortunately, that feature is missing from the BLACK+DECKER pole saw. Instead, you'll need to manually oil, which is easy to forget, but not a difficult task. Some may even prefer this since it won't waste as much chain oil.
We were also happy with the battery life from this 20V MAX tool. When cutting 1.5-inch thick pine, you'll get about 100 cuts on a charge. For us, it worked out to over an hour of use. But we weren't just cutting little branches, we let this pole saw have a go at some rather stout branches that it handled admirably. Altogether, we think it's the best cordless pole saw for the money.
Pros
Gets up to 100 cuts per charge
Extends from 6.5' to 10'
Breaks into three pieces for storage
Reasonably priced
Cons
Doesn't have an automatic oiler
---
4.

EGO POWER+ PSA1000 10" Pole Saw 56V Lithium-ion Powerhead System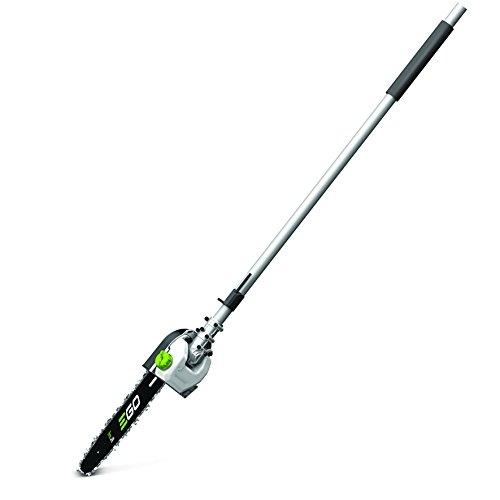 The EGO POWER+ PSA1000 Pole Saw is an attachment that works with the EGO POWER+ Power Head PH1400. It won't work with any other heads, but if you have the PH1400, that power head will work with many other attachments. To get the powerhead and this pole saw is a bit of an investment, but when put together, it's a very formidable tool that can tackle any job you throw at it.
This pole saw weighs just four pounds and will weigh just eight pounds when attached to the compatible powerhead that also weighs 4 pounds. That makes it one of the lightest systems we've used, which makes it considerably more comfortable during hours of landscaping.
We like that this pole includes a high-quality Oregon bar and chain. It's also got a convenient auto-lubing system so you don't have to worry about lubricating the chain. Plus, the water-resistant construction protects your investment while you're working, ensuring that you can work in all conditions.
Pros
Includes Oregon bar and chain
Auto-lubing system
Very lightweight
Water-resistant construction
Cons
Requires EGO Power+ Power Head PH1400
Expensive when all put together
---
5.

Earthwise CVPS44010 Camo 40-Volt 10-Inch Convertible 2-In-1 Cordless Chainsaw/Pole Saw Combo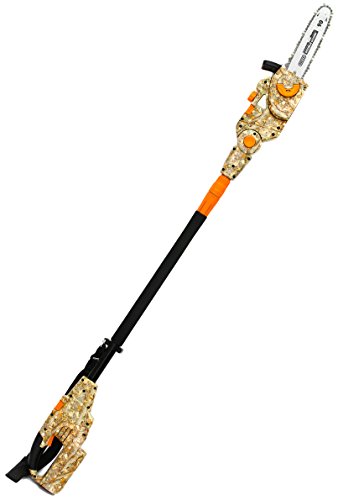 The camo print on the Earthwise 40-Volt 10-Inch Convertible Cordless Chainsaw/Pole Saw definitely grabbed our attention right off the bat. It looks incredible and makes the whole tool appear to be something special. If our reviews list were based on looks, this saw would surely top the list.
There were several features on this saw we liked, such as the 10-inch Oregon bar and chain. Oregon bars and chains are known to be some of the best, so it's great to see one included. This saw is also equipped with an auto-oiling chain that has a window to check the oil level.
But we weren't thrilled with the overall feel of this machine. It's a lot heavier than some of the other saws we tested. It's also not very well balanced, which you can really feel when reaching for higher branches. These things combined to make this saw very difficult to use, which is why it's ranked low on our list.
Pros
The chainsaw can be detached as a standalone tool
10" Oregon bar and chain
Auto-oiling with window to check oil level
Cons
Heavier than other options
Unbalanced when fully extended
---
Buyer's Guide – Choosing the Best Cordless Pole Saw
Though there are many different pole saws available, they all perform the same basic function; allowing you to trim branches above your head. But if you get the wrong one, you might be in for more frustration than tree trimming. To make sure you don't pick the wrong pole saw, consider the following when making your decision.
Weight
This is the most important consideration. If you cannot hold the saw up for long, you will have to stop and restart many times over to get the job done. This would not only make the job more time-consuming and frustrating, but also more dangerous. If you cannot hold the saw properly, you have little hope of controlling it properly and more chance of dropping it.
Balance
Weight is only part of the equation when it comes to overhead maneuverability. The other major factor is balance. If your saw isn't well balanced, then even if it's light it might be quite difficult to control. A well-balanced saw can get away with being heavier because it will still be easier to use. Plus, you'll be able to reach higher with a well-balanced saw since you won't be fighting it as much.
Power
There's no point in buying a cheaper model if it is not going to get the job done properly. If you have thicker branches, you need a more powerful machine.
It also bears considering that more power is a good idea for smaller tasks as well – more power means that things get done more quickly.
Battery
The battery life you need will depend on how much work you want to get done. Think about how much you will do at a stretch before making your choice. It pays to remember that, no matter how light the machine is, it is still hard work to hold it aloft.
You would need to take more rests while using this then you would mowing the lawn so it could be okay to settle for slightly shorter battery life.
However, if you do, look for something that recharges quickly. You are still going to build up some momentum when working and you don't want the charging time to hold you back. Or become an excuse to have a quick beer or three.
Reach
Pole saws come in different lengths, and they have different ways of reaching their maximum length. Some pole saws have telescoping shafts that extend and lock into place. Others utilize a multi-piece design that allows you to remove or add pieces as you need to achieve the desired length.
The longer poles have a maximum length of 10 feet when fully extended. When added to your reach, that should allow you to trim branches that are 14-16 feet off the ground. Some poles only extend to eight feet though, which will give you a maximum reach of just 12-14 feet instead.
Angle of Head
The options that we reviewed today mostly have heads fixed at an angle. This is more useful when cutting a tree branch vertically because the blade is then more parallel to the branch. This feature is not quite as useful when it comes to horizontal cuts, though.
Maintenance
The next thing to consider is the maintenance of the item. Is it going to be easy to get it going, or will it require more work? For most cordless options, you do need to keep the chain properly oiled, so it makes sense to get a model that makes this easier for you.
How Much Will You Use it?
We are being serious here. These machines are not all that expensive, and they do make short work of cutting down branches, but they are pretty one-dimensional when it comes to how they can be used.
If you do not have a lot of trees, it would be advisable to consider a slightly more expensive model where the head could be detached and used as a normal chainsaw would be.
Let's get real for a minute here, though – you like the idea of these saws because they are a great gadget. Don't feel bad; we feel the same way. But do think about how much use you will get out of it and also whether or not it can be safely used.
Though handy in a turf war with your neighbor, if someone gets hurt because you dropped a branch on them, you could be facing some serious medical and legal bills.
Are There Other Tools in the Collection You Would Use?
A cordless pole saw is going to require batteries to run. Most of these saws are part of a larger system of tools that all utilize the same batteries. So, it makes sense to try and get tools from the same family so they can share batteries. This is very useful if you're a person who uses a lot of power tools. You might even be invested in a particular system already, which would make it easier to continue with that family of tools.
If you're not already invested in a single system, then you might consider starting with your pole saw. Later on down the line, you may want to add more tools to your collection. If you already have a pole saw with a battery and charger, you can add more tools from the same family without having to purchase another battery and charger, saving you money each time you need to add more tools to your collection.
Conclusion
It has been a long time since we've had to climb on a ladder to cut down a branch, and thanks to these powerful cordless pole saws, we shouldn't ever have to again. After testing as many of these saws as we could get our hands on, we've settled on three winners that topped our reviews list.
Our favorite overall was the Greenworks 40V Cordless Pole Saw. This well-balanced saw has a three-piece aluminum shaft with a total length of eight feet. And it weighs just eight pounds in total, making it easy to hold above your head for trimming those high branches.
The BLACK+DECKER 20V MAX Pole Saw was our best value. It's got better reach than most with a pole that extends to 10 feet. But if you need to cut something closer, the saw detaches from the pole for use as a standalone chainsaw.