10 Best Pole Saws – Reviews, Top Picks & Buyer's Guide 2023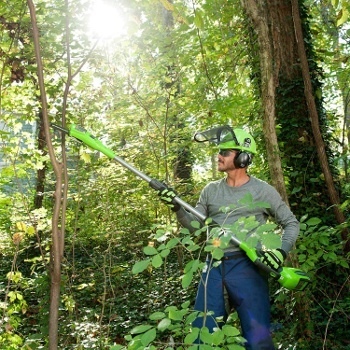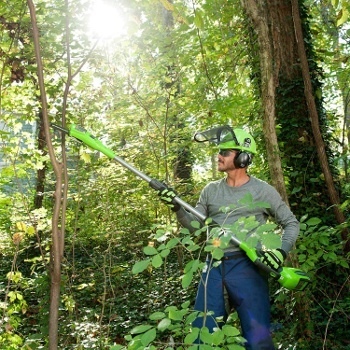 Failing to properly limb and trim your trees isn't just irresponsible. It can be downright dangerous.
The threat of falling or uncontrollable tree branches is real. They can cause thousands in property damage, power outages across electrical wires, or cause serious injury if they strike a person. And tree limbs can fall at any given time as well. It's not just during stormy weather. Termite infected or rotting wood may only need just an errant breeze to come tumbling to the ground.
That's why controlled tree trimming operations are so important. However, that doesn't mean you'll need to climb up every tree with your chainsaw. Instead, you may be able to get the job done with a handy pole saw.
A pole saw is exactly what it sounds like. It's a saw at the end of a long pole used to reach places normally out of reach. Genius, right? So, what constitutes a great pole saw? And which are our favorites? Keep reading to find out.
---
A Quick Comparison of the Winners of 2023:
Rating
Image
Product
Details

Best Overall

Scotts PS45010S Corded

Long reach
Lightweight
Powerful
CHECK PRICE

Best Value

Oregon Cordless PS250

Sharp blade
Solid build
Long battery life
CHECK PRICE

Premium Choice

MAXTRA 90-180 Gas Pole Chainsaw

Durable
10" bar
Rotating cutting head
CHECK PRICE

VonHaus 40V Max 8″ Cordless

8" bar
Automatic oiling
Lightweight
CHECK PRICE

WEN 4019 Corded Pole Saw

Cheap
8" bar
Lightweight
CHECK PRICE
The 10 Best Pole Saws – Reviews:
1.

Scotts PS45010S Corded Electric Pole Saw – Best Overall
Are you ready to step up your tree trimming game? The Scotts Outdoor Corded Electric Pole Saw can help you do just that. It's effectively a mini-chainsaw at the end of a pole giving you the most amount of tree cutting power possible for hard to reach places.
The pole material is made out of a sturdy fiberglass and aluminum alloy in order to provide a strong, yet lightweight tool. Weighing in at only 7.5 lbs, you could work with this saw all day long. And since it's a corded tool, you don't have to worry about running out of battery mid-job.
The telescoping pole is 9'5" long with a working reach of 15". That should be more than ample to handle lower hanging branches without needing to call in a professional service. The chainsaw is equipped with a 10" Oregon bar with 5 variable cutting angles in order to take down even the most awkward of branches. And according to Scotts, the saw can handle up to a. 9.5 inch diameter branch.
All in all, we think that this is the best pole saw of the year.
Pros
Long reach
Lightweight
10" Oregon Bar
Self-lubricating bar system
5 variable cutting angles
Can cut a 9.5″ branch comfortably
Cons
Assembly instruction could be written better
---
2.

Oregon Cordless PS250 Telescoping Pole Saw – Best Value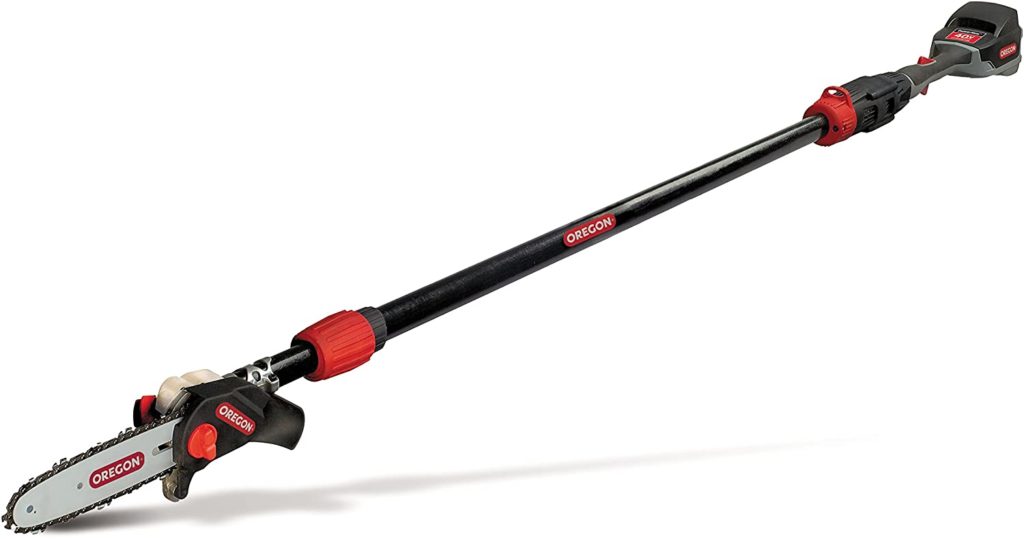 If you're looking for the best pole saw for the money, you might want to look into the Oregon Cordless PS250. It's part of Oregon's 40V Max Cordless Tool system as well, so if you own any others in the line, you'll be able to purchase just the base toll and hot swap the battery. And if you end using the 6.0 Ah battery, it will last you a stupid long time between charges.
Since it is battery operated, it's going to be a bit heavier than our top pick weighing in at 13.5 lbs. However, a shoulder strap is included to alleviate some of the strain. The PS250 comes with an 8" Oregon bar that most effective cutting branches that are between 1-3" thick—although you could cut slightly larger if you work slowly.
The biggest issue we've seen with this saw is that the chain jumps a little too much for our liking. You'll definitely need to bring the saw up to speed before bringing it down on the cutting surface, and you'll need to maintain tension. Even if this means checking your chain multiple times during a hard day's work.
Pros
Sharp blade straight out of the box
Solid build quality
Part of Oregon's 40V Max Cordless line
Battery lasts forever (especially with 6.0Ah)
---
3.

MAXTRA 90-180 Degree Pole Chainsaw – Premium Choice
The MAXTRA adjustable pole chainsaw is the only gas powered saw on this list. We prefer the the lightweight convenience of electric pole saws, but sometimes you need that extra boost. The MAXTRA equipped this saw with a 10" bar and chain to allow for bigger cuts up to 10" in diameter.
It's also got a cutting reach of 15' which is more than enough to take care of most tree limbs and a 90-180 degree rotating cutting head to help take down any branch with ease. However, there are a few gripes we have with this model in particular.
First off, while it really does get the job done, it's heavy. 27 pounds heavy. And that may be too much for a lot of people especially if you have a full day's work ahead of you. Next, when compared to an electric model, this can be a pain to start. If you're not used to a pull-start saw, you may find this to be a little strenuous.
Pros
Workhorse
10″ bar and chain
Rotating cutting head
Cons
Expensive
Extremely heavy
Pull start
---
4.

VonHaus 40V Max 8″ Cordless Pole Saw
The VonHaus 40V Max is another great choice if you're looking for a battery powered pole saw. It's telescoping pole gives you a working reach between 8-10 ft. Now, while this isn't as long as the others above on the list, it is lighter weight than our #2 pick. If you intend on working a full day, you may actually prefer the VonHaus to the Oregon.
Speaking of which… The VonHaus pole saw comes equipped with an 8-inch Oregon bar and chain with an automatic oiling system. But there are a few things that didn't rank this higher on our list.
It's not as maneuverable as other pole saws, and can still be a bit heavy for those who aren't accustomed to it. Also, it could be balanced better. The heavy front-end places strain on muscles most people don't even realize they have.
Pros
Oregon 8" Bar and Chain
Automatic Oiling System
Lightweight
---
5.

WEN 4019 Electric Telescoping Pole Saw
The WEN 6A pole saw is the second corded model on our list. Like most corded saws, it has a bit more cutting power than the battery operated variety. And they're much lighter. This saw weighs in at 6.7 pounds making it the lightest on our list. It also comes equipped with a 8" Oregon Chain.
But while slimming down the model, WEN took away a few features that we really would've liked to have. For instance, there's only one cutting position for the blade. And yes, gravity should be doing the work of an electric pole saw, but it would make the saw much more effective and safer if the cutting angle could be adjusted. It also only telescopes out to 7.3 ft. That may be enough to get some of the lower branches but higher branches will require some extra gumption.
Also, we wish it had just a bit more oomph. For a corded pole saw, it would be nice if it could tackle slightly bigger jobs.
Pros
Lightweight
8″ Oregon bar
Cons
Only one cutting position
Short reach
Not very powerful
---
6.

BLACK+DECKER 20V MAX Pole Saw
This is a neat entry into BLACK+DECKER's 20V tool line. Now, let's make one thing clear. This is not designed for large thick cuts; however, BLACK+DECKER doesn't even make that claim. If you cut more than the recommended thickness, you're gonna have a bad time.
That being said, this is hands-down one of the best trimming tools out there. It weighs less than 10 pounds with the battery installed and is easier to maneuver around. It comes with an 8" cutting bar that can be extended out to 14" to give you a huge cutting advantage. The manufacturer states that you can cut up to 6" thick diameters, but recommends you stay around the 2" mark.
One thing we wish this unit has is an automatic oiler system. The chain has to be manually oiled and lubricated. It also has a segmented pole. We understand the concept behind this, but we think a solid pole would have been a better option to prevent bowing.
Pros
Relatively light weight for battery powered saw
Great for smaller cuts
Long reach
Cons
Segmented pole
No auto oiler system
---
7.

Makita EY401MP 10″ Pole Saw
This pole saw from Makita is actually an attachment to be used with Makita's Couple Shaft Power Heads. So, if you don't have the Power Head, you'll need to procure one prior to using this saw. However, you can actually use this attachment on both the cordless electric X2 power head or the MM4 4-stroke gas power head.
It comes equipped with a 10" bar and chain with an automatic oiling system. And you'll be able to reach up to about 10-12 ft without the use of a ladder.
But there are a few difficulties we've experienced with this saw attachment. First, if you're not already invested into a matching Couple Power Head from Makita, do not waste your time and money with this saw. It's too expensive. Next, it can be difficult to find a replacement chain for this unit if ever you need one.
Pros
Works with Makita's Couple Shaft power heads
10″ bar and chain
Cons
Expensive
Replacement chains are hard to find
A bit heavy
---
8.

SunJoe SWJ800E Pole Saw
If you're looking for a bargain saw, the Sun Joe Pole Saw might be right up your alley. It's a lightweight saw weighing in at just over 7 lbs. and provides around 15 ft of cutting reach. The saw is equipped with an auto-lubrication feature with an easy tom operate chain tensioner.
The saw is powered by a 6.5 amp motor, and Sun Joe claims that the saw can handle the most stubborn limbs up to 7.5 inches thick. We've found that 7.5 inches is still a bit much for the saw as it gets bogged down very easily. Also, the saw seems to just guzzle oil. You'll need to constantly keep an eye on things to ensure you don't empty the reservoir.
But if you're looking for an inexpensive tool to do lightwork without having to buy into a power tool line, the Sun Joe could be just what you're needing.
Pros
Cheap
Lightweight
Good reach
---
9.

Greenworks PRO 80V
If you're vested in the Greenworks 80V line, you may want to consider picking up the Brushless Cordless Electric Pole Saw. It comes with a 10" bar and chain with manual adjustment. The Greenworks pole saw also has an easy electric start with auto oiler.
However, we think this unit could be better. First, it's pretty heavy even for a battery operated pole saw at right around 13 pounds. And when compared to other similarly prices saws, this get a fraction of the cuts from the battery life. Also, in order to buy into the Greenworks system with this saw, you might have to take out a second mortgage.
There are better options available. But if you're already locked into the Greenworks line, here's a basic option.
Pros
10″ bar and chain
Auto oiler system
Cons
Super expensive to buy into Greenworks line
Very heavy
Underperforms for size and price
---
10.

WORX WG309 Electric Pole Saw & Chainsaw
The WORX WG309 is another corded pole saw that doubles as a chainsaw, and can be detached and reattached quickly in the field, without the need for special tools. We tested it by attacking shrubs, tough tree limbs, and damp limbs in the same day. With the help of gravity, it cut through every one, although the chainsaw was noisier and the cut slower when the limb was wet.
We have several small quibbles with the WG309, but added together, they don't overwhelm the reasons we heartily endorse this saw. It's surprisingly light, though there's an imbalance toward the blade end when the pole is fully extended. While the "patented automatic chain tensioner" doesn't always work, the chain is easy to tighten manually. Honestly, we've always thought wielding a chainsaw on a stick should be at least a little bit as fun as it sounds, and with WORX, it feels that way.
There is one major safety concern we can't ignore, however. The chainsaw doesn't stop on a dime — in fact, it keeps running for about five seconds after shutoff. Do not release the trigger and immediately let it fall to the ground. You'll be dropping an active chainsaw on your own head.
Pros
Can cut many limbs in one day
Chain is easy to tighten
Easy to carry
Gravity-assisted cuts are fun
Cons
Chainsaw takes about five seconds to stop running
Underperforms on wet wood
Automatic chain tensioner isn't reliable
---
Buyer's Guide – How to Choose the Best Pole Saw
There's a lot that actually goes into purchasing a pole saw. You'll need to factor in what you're using the saw for, your budget for purchasing, how much saw you can handle, and so much more. It can get to be confusing and difficult to decide what exactly is right for you.
But don't worry. We've put together this handy little buyer's guide to help you quickly determine what you need to look for when picking up a new pole saw.
Types of Pole Saw
When it comes to picking up a new pole saw, you'll need to determine which style of pole saw you'd like. There are three primary types:
Electric Pole Saws – These can be either battery operated or corded. The corded will be the more lightweight of the two because you won't have to worry about the weight of the battery. However, you don't have the freedom of mobility that a cordless battery-powered one has.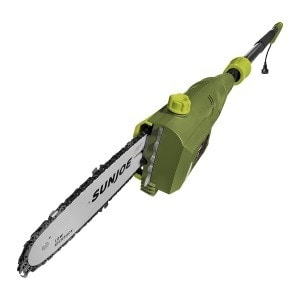 Gas-Operated Pole Saws – If you're needing some heavy-duty work done, you're probably going to want a gas-powered saw. They tend to provide the most power output and sawing capabilities. However, they can become very heavy even without fuel.
Manual Pole Saw – Even in these modern times, manual pole saws still exist. And sometimes they the exact right tool for the job. They're the lightest weight out of all the saws and offer the most maneuverability. And they're also the cheapest option. You're just going to have to put in a bit of extra elbow grease.
Length
Pole saws come in many different lengths. And often when purchasing you'll see two different lengths. You will find the pole length and the working length. The pole length is just that—the length of the pole. However, the working length is about how much reach you'll get from the saw based upon an average sized person.
Most pole saws have adjustable handles that allow you to position your pole saw just where you want it. Other have segmented poles in which you can remove a piece of the pole to make it shorter or longer.
Weight
This is a very important factor to consider. And that's because the true weight is not the weight that's actually felt when operating. The operating weight will feel around twice as heavy as the saw actually is. And that's because of the saw's placement on the pole. And the farther away from you the saw is located, the heavier it will seem.
So if you need a longer saw, you may want to consider picking up a lighter one as well.
Bar Length
When it comes to choosing your saw, you're going to want to pay attention to the bar length as well. This helps you to determine the maximum diameter of limbs you're trying to cut. A general rule is that your bar should be at least two inches bigger than what you're trying to cut. For example, if you're trying to cut a 4" branch, your bar should be at least 6" long.
Conclusion
There's more to choosing the right pole saw then just choosing what you think looks nice or is the cheapest. And we hope that this article helped you cut through the nonsense and decide what's best for you.
We still recommend the Scotts Outdoor Power Tool PS4510S as our overall winner. It's powerful, lightweight, and really gets the job done. But if you're needing a cordless option, the Oregon cordless PS250 really is the best value for the money.