5 Best Electric Pole Saws in 2023 – Reviews & Top Picks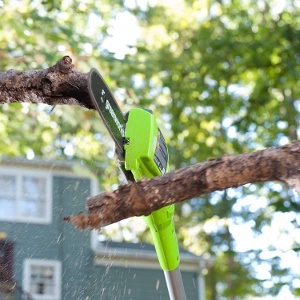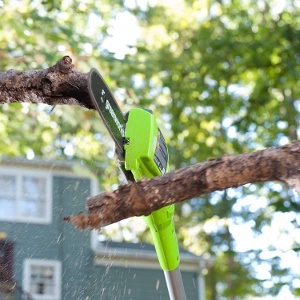 How many Americans are killed or injured by falling tree limbs every year? Even the CDC isn't sure, but we can guarantee your local news station ran at least one story about a tree-related accident this year. Add that to the millions of dollars in property damage and lost productivity from power outages, and the picture becomes clear: lopping off dangerous tree limbs is just good sense.
How do you take care of unstable or unsightly tree branches? With an electric pole saw, of course — a saw on a stick! Using an electric pole saw, you can eliminate the risk from those dangerous branches they used to call "widow makers" at summer camp.
We've put together reviews of the best pole saws on the market to help homeowners and tree care professionals alike find the right tool for the job. Read on as our saw experts cut through the chatter and help you purchase an electric pole saw to keep yourself, your family, and your tree care clients safe.
A Quick Comparison of Our Favorites in 2023
Rating
Image
Product
Details

Best Overall

Greenworks 20672 Electric Pole Saw

User-friendly chain tightening system
User-friendly chain tightening system
Lightweight
CHECK PRICE

Remington RM1025-P Telescoping Electric Pole Saw

Reach limbs up to 15 feet away
Easy to detach and reattach
Tough blade
CHECK PRICE

Best Value

Sun Joe SWJ800E Pole Saw

Easily affordable
Auto-lubricator works well
Powerful
quiet blade
CHECK PRICE

WORX WG309 Corded Electric Pole Saw

Chain is easy to tighten
Easy to carry
Gravity-assisted cuts
CHECK PRICE

Earthwise PS43008 Electric Pole Saw Tool

Noiseless motor and blade
Adjustable cutting head
Makes straight cuts
CHECK PRICE
The 5 Best Electric Pole Saws
1.

Greenworks 20672 Electric Pole Saw – Best Overall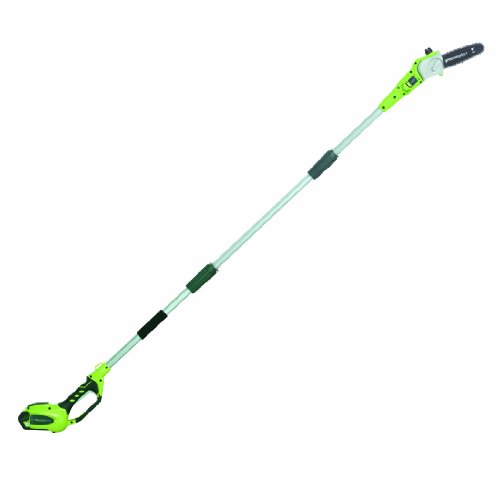 Our #1 pick is this completely cordless, 8-foot pole saw from Greenworks, a company dedicated to manufacturing quieter, better-performing power tools. On a single charge of its 40V lithium-ion battery, the 8-inch chainsaw on the Greenworks 20672 can cut through 65 limbs, and you'll never have to worry about the engine dying over the winter the way you do with gas tools.
Impressive as it is, though, the strength of the battery wasn't the only thing that vaulted the 20672 to the top of our list. In tests, we found that its other prominent features — a comfortable cushion grip and a simple chain-tensioning system — performed exactly as advertised. It starts and stops on a dime, and it's light enough to carry through the woods day after day. When the chainsaw meets a limb, it cuts quickly and without fuss.
In the name of clear information, we'll also mention the few things we didn't like. The instructions are completely wrong about several things, most notably how to use the chain tensioner. The safety switch is difficult to depress while wearing heavy gloves, and it goes through bar oil fast. However, we still think that this is the best electric pole saw this year.
Pros
Lightweight
User-friendly chain tightening system
Comfortable grip
Assembles and extends easily
Stellar battery life
Cons
Bad instructions for chain tensioner
Uses bar oil up quickly
Safety switch hard to press
---
2.

Remington RM1025-P Telescoping Electric Pole Saw
If you're trying to clear your way through an entire forest of downed logs and waste trees, you might want an electric pole saw you can detach from the pole and use as a regular chainsaw. That's the need filled by the RM1025-P, a versatile 2-in-1 saw with tool-free assembly and disassembly.
The shaft can be extended up to 10 feet, which, when you add the user's height, means you can reach limbs at least 15 feet in the air. It's a cinch to extend and retract while out in the field, lending the RM1025-P the flexibility it needs to help you tackle a whole forest in a day. For a tiny saw, it's way tougher than it looks, but it's also balanced enough that people with mobility issues can use it.
You might ask: with a longer shaft and a more powerful motor, why is the Remington sitting at #2? Because of a design flaw that causes issues in some units. The stress on the pole from the weight of the chainsaw falls directly on the handle, which can cause the trigger to short out if used too heavily in a short period of time.
Pros
Well-balanced for the user
Reach limbs up to 15 feet away
Easy to detach and reattach chainsaw in the field
Tough blade
Cons
Overuse causes trigger to short out
Leaks oil when improperly stored
---
3.

Sun Joe SWJ800E Pole Saw – Best Value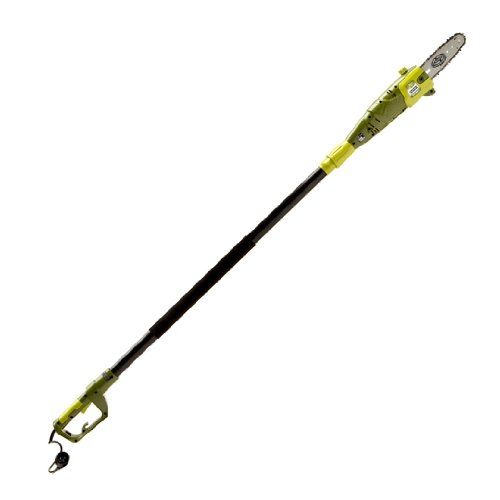 If you're looking for the best electric pole saw for the money, we've got two words for you: Sun Joe. For a much lower cost than the other saws on this list, the Sun Joe SWJ800E gives you similar features, including an 8-inch blade, a 6.5-amp motor, and an 8.7-foot extendable pole that'll have no trouble reaching up to your sketchiest tree limbs.
We also love the auto-lubricator, which takes advantage of gravity to keep the blade oiled. While the oil itself isn't included, the auto-oiler is efficient enough that you shouldn't have to refill very often. This feature, along with the easy assembly, power, and relatively silent blade, makes the SWJ800E a fantastic first chainsaw for tree care newbies.
The only parts of this saw that really say "budget" are the electrical cord and the handle. The cord is short, the insulation wears through quickly, and the two-pronged plug rattles out of most sockets. The handle cushioning likewise doesn't stick around for long. On both, we recommend improvising with electrical tape.
Pros
Easily affordable
Auto-lubricator works well
Powerful, quiet blade
Cons
Handle cushion falls apart
Short electrical cord
Cheap plug and insulation
---
4.

WORX WG309 Corded Electric Pole Saw
The WORX WG309 is another corded pole saw that doubles as a chainsaw and can be detached and reattached quickly in the field, without the need for special tools. We tested it by attacking shrubs, tough tree limbs, and damp limbs on the same day. With the help of gravity, it cut through every one, although the chainsaw was noisier and the cut slower when the limb was wet.
We have several small quibbles with the WG309 but added together, they don't overwhelm the reasons we heartily endorse this saw. It's surprisingly light, though there's an imbalance toward the blade end when the pole is fully extended. While the "patented automatic chain tensioner" doesn't always work, the chain is easy to tighten manually. Honestly, we've always thought to wield a chainsaw on a stick should be at least a little bit as fun as it sounds, and with WORX, it feels that way.
There is one major safety concern we can't ignore, however. The chainsaw doesn't stop on a dime — in fact, it keeps running for about five seconds after shutoff. Do not release the trigger and immediately let it fall to the ground. You'll be dropping an active chainsaw on your own head.
Pros
Can cut many limbs in one day
Chain is easy to tighten
Easy to carry
Gravity-assisted cuts are fun
Cons
Chainsaw takes about five seconds to stop running
Underperforms on wet wood
Automatic chain tensioner isn't reliable
---
5.

Earthwise PS43008 Electric Pole Saw Tool
The Earthwise PS43008 is at the bottom of our list. It's good, but not exceptional. Everything it does — automatic oiling, simple chain tensioning, a motor that runs without noise or gas fumes — is done better by another pole saw higher up our ranking. In a crowded market, you've got to stand out somehow, and Earthwise doesn't.
That's not to say this isn't a fine corded saw for clearing out dangerous limbs. It features an 8-inch chainsaw blade with three positions, a 9.6-foot pole that can reach most troublesome spots, and a powerful in-line motor. It cut limbs cleanly when we put it through its paces, but was even more top-heavy than most pole saws, requiring a lot of upper-body strength to hold in place.
It was also slow. With limbs 6 inches wide or more, the PS43008 will take a long time to make a straight cut, during which you'll have to hold it the whole time. The auto-lube system also has a nasty habit of leaking oil all over the place wherever you store it.
Pros
Noiseless motor and blade
Adjustable cutting head
Makes straight cuts
Cons
Leaks oil
Extremely heavy
Cutting is slow
---
Buyer's Guide – Purchasing the Best Electric Pole Saw
Before pole saws, people were keeping their trees healthy and their properties safe using…shall we say, less reliable methods.
The fact that standing on a ladder while swinging a full-size chainsaw around wasn't the worst of those methods should tell you everything you need to know. (At least it's better than climbing the tree).
Even though electric pole saws are clearly the best solution for safe tree care, some people still hold off on buying them. If you're one of those pole saw newbies, our buyer's guide is your chance to learn everything you need to know about chainsaws on sticks.
Working heights are often inflated
 Many electric pole saws list a "working height" on the box or web page. This is neither the length of the extendable pole nor the length of the entire saw — rather, it's the length of the entire saw plus the average human height and arm length. When you see "working height," mentally substitute "the absolute farthest away a limb can be for this saw to cut it."
And take it with a grain of salt. It involves a lot of theoretical trigonometry, which doesn't mix well with yard work.
Manual pole saws exist
Lots of electric pole saws are corded, making them only really suitable for work near the house. If you're regularly working in forests — which are known hotbeds of trees — you've actually got three alternatives: battery-powered cordless, gas, or manual.
Manual pole saws look like super-extended handsaws. They're much lighter than electric pole saws and rely more on human effort than gravity to make their cuts. If you only have to lop the occasional limb every season, or if you're on a budget, a manual saw might be the best alternative. Otherwise, you won't regret springing for battery-operated or gas-powered.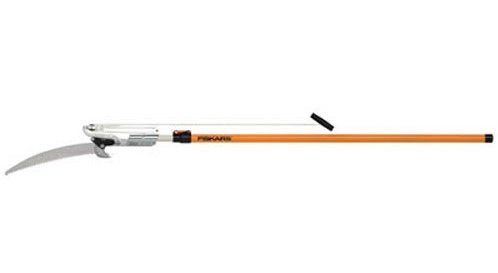 Consider a 2-in-1 detachable chainsaw
What's better than a chainsaw on a stick? A chainsaw you can remove from the stick without slowing your workday down! Several electric pole saws, including a few on our favorites list like the Remington RM1025-P, can be unhooked from their telescoping pole bases and used as regular chainsaws with the same power source.
They're distinctly shorter and less powerful than your average chainsaw, but convenience outweighs that. Try a 2-in-1 electric pole saw for the easiest firewood you've ever chopped in your life.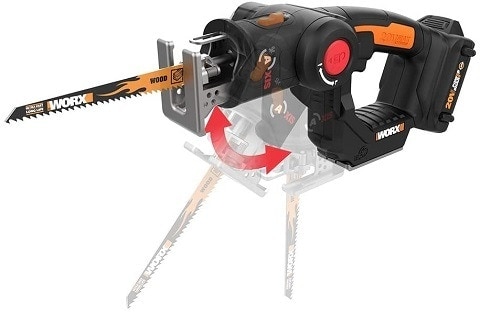 Look for space-age features
We've been tossing the phrase "saw on a stick" around pretty liberally, but that doesn't speak to everything an electric pole saw can do. Here's a brief rundown of some of the other features you might find on our favorite picks:
Ergonomic foam grips
Automatic self-oiling chains
Automatic chain torsioning devices
Adjustable cutting heads for different angles
These are all optional features, and their effectiveness varies. But they're out there if you want them on your new pole saw.
Conclusion
After putting different electric pole saws through their paces for each of these reviews, the Greenworks 20672 emerged as a clear winner. It's the platonic ideal of an electric power tool: powerful, noise-free, and run on a rechargeable battery strong enough to stay in the field all day. The soft grip conforms to your hand, and the no-frills chain tensioning system ensures maximum performance for a little effort.
We also loved using the Remington RM1025-P. In fact, it beats the Greenworks in a few areas, including working length and sawing power. We only put it in second place for two reasons.
First, we've got a soft spot for high-quality cordless equipment. And second, the RM1025-P suffers from that worrying trigger-shorting problem. It's not a safety issue — that would have put Remington much lower — but it's a big usability concern.
Even if you'd never heard of a pole saw before stumbling on this article, we hope we've helped you make a bit more sense of the options on the table for advanced tree care. Remember, it's not just about the health of your trees or your land: it's about the health of the people who use it. Better to buy an imperfect tool than to let "widow makers" put your family at risk.
We wish you good luck with finding the best electric pole saw for your needs!
Which pole saw is our all-time favorite?