10 Best DeWalt Drills of 2023 – Reviews, Comparison & Guide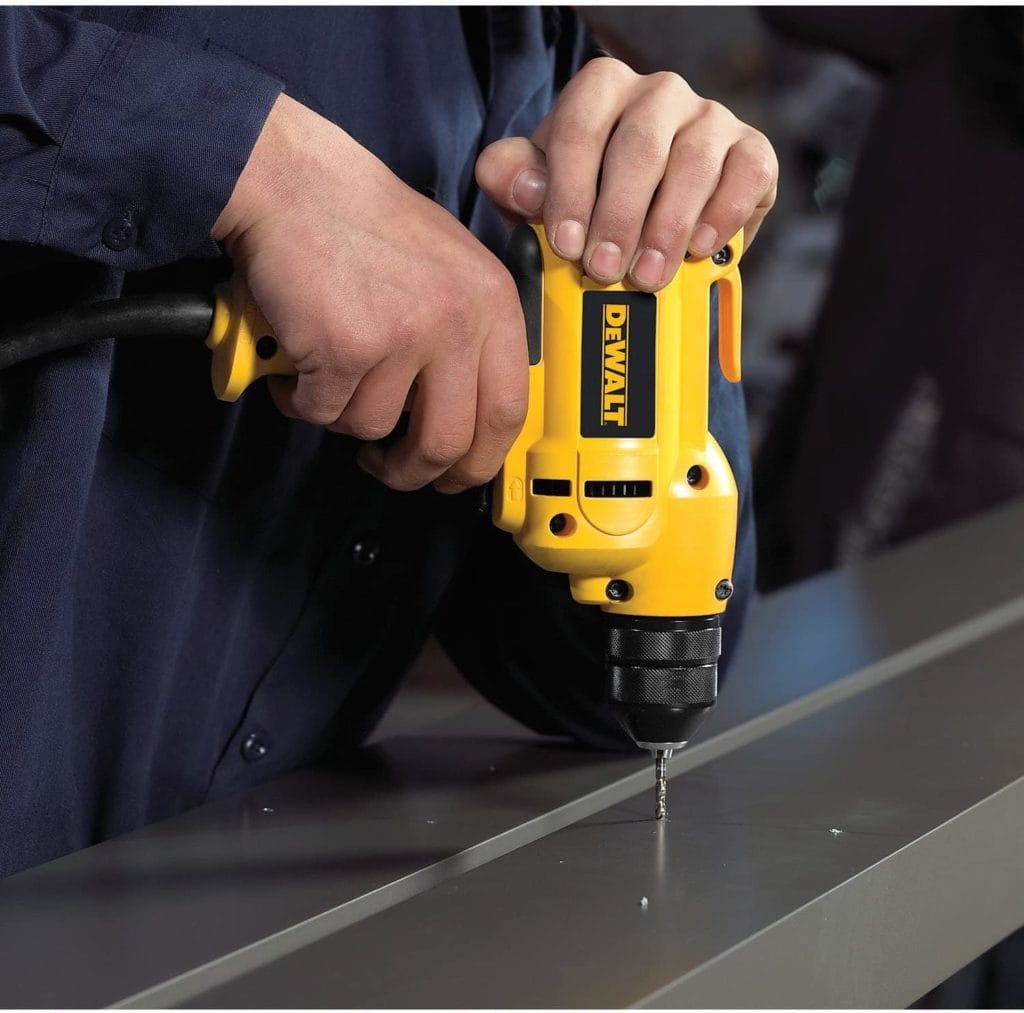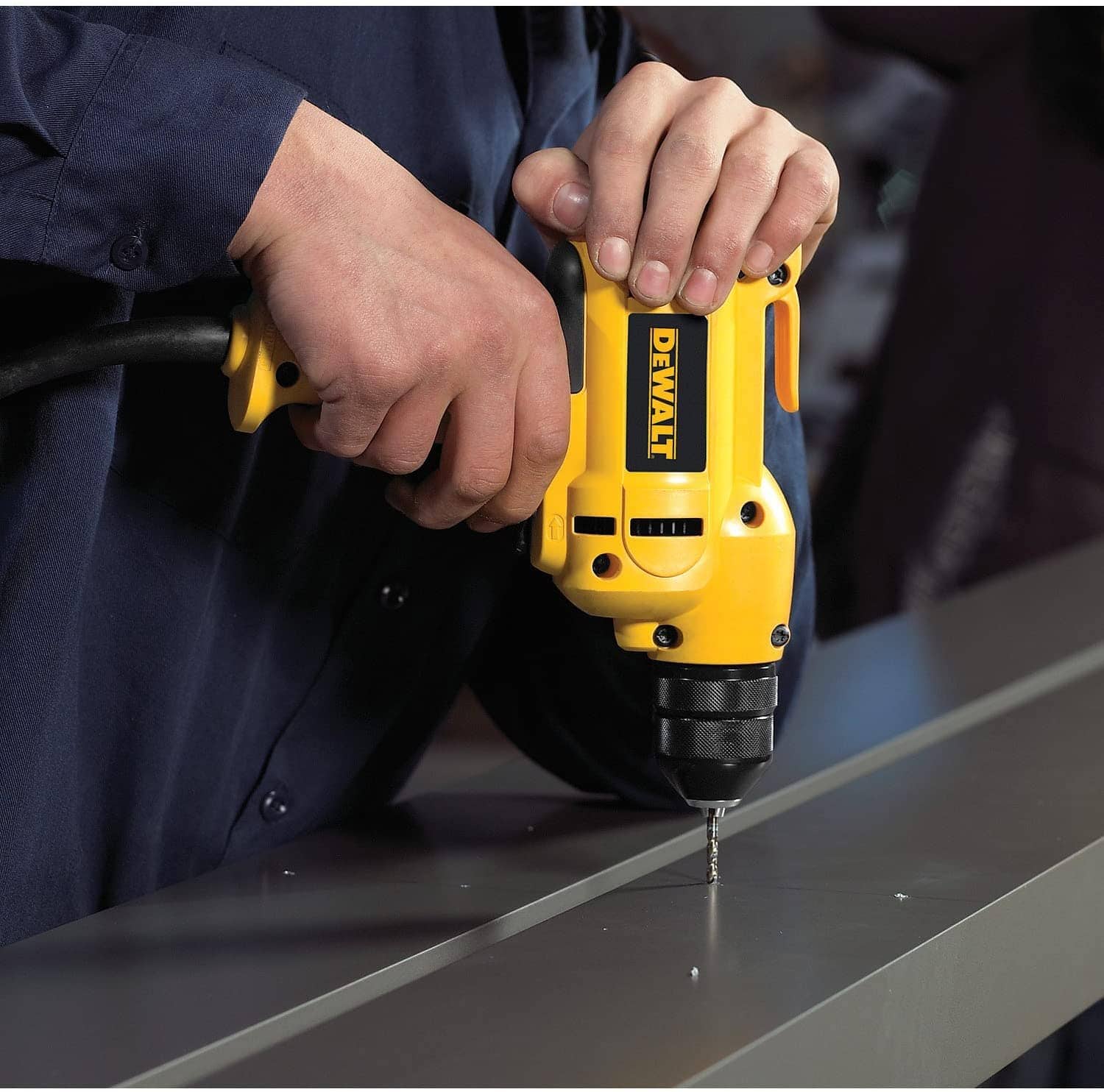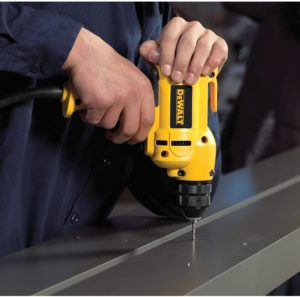 When you see the yellow and black of DeWalt, the first thing that comes to mind is quality and innovation. The DeWalt line of products has been a staple in the tool world for many years and keeps going strong because of their commitment to excellence. They see a need and come up with creative solutions to fill it.
DeWalt drills follow this innovative idea. They offer power and style, and put it in a portable, battery-powered unit that is very versatile. They make it easy to use any of their tools, and the drills have enlarged features for tuning while still wearing work gloves — an idea very few tool companies would have even considered.
For your love of DeWalt, we have put together some reviews that we hope will help you in choosing your next drill. We covered all the styles and think this will help cut through the countless options.
A Quick Look at of our Favorites in 2023
Rating
Image
Product
Details

Best Overall

DEWALT 20V MAX SDS Rotary Hammer Drill (DCH273B)

1 J impact energy
Brushless motor
Vibration dampener
CHECK PRICE

Best Value

DEWALT 20V MAX Impact Driver Kit

Lightweight
Compact
One-handed bit loading
CHECK PRICE

Premium Choice

DEWALT 20V MAX Cordless Drill/Driver Kit

Brushless motor
57% more run time
2 batteries
CHECK PRICE

DEWALT Rotary Hammer Drill with Shocks

Powerful
Shocks for reduced vibration
3 J of impact energy
CHECK PRICE

DEWALT 20V MAX XR Hammer Drill

High-efficiency motor
High-performance transmission
57% more run time
CHECK PRICE
The 10 Best DeWalt Drills Reviewed
1.

DEWALT 20V SDS Rotary Hammer Drill – Best Overall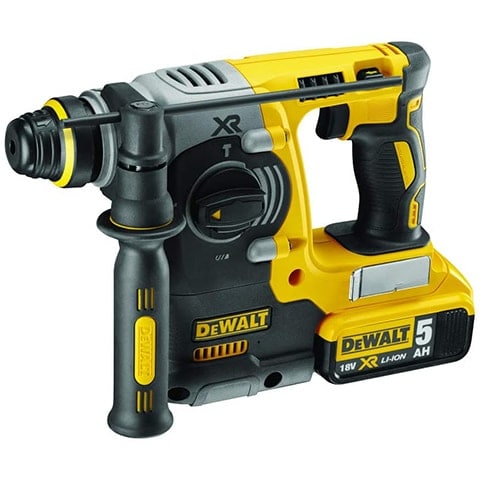 The DEWALT 20V MAX SDS Rotary Hammer Drill has a brushless motor that extends its durability and runtime, as well as vibration controls so your hand won't go numb from hours of use. Its impact energy is rated at 2.1 Joules (J), a power not common with uncorded drills.
It comes equipped with a retractable utility hook, convenient if you need to hang it or store it, and its lack of a load speed allows it to ramp up to 1,100 RPM. Combine all that with a rechargeable 20V battery, and you have a tool that is ready to work on everything from wood to cement.
The only flaw we can see is in the power available when set to chiseling/jackhammering. It works well with bits for drilling concrete, but this other feature lacks the punch needed to break off bits of a slab when needed. And the battery drains very quickly, but that is common when drilling concrete. Overall, we think this is the best DeWalt hammer drill on the market right now.
Pros
1 J  impact energy
Brushless motor
Vibration dampener
Rechargeable battery
Cons
Underpowered for chiseling
---
2.

DEWALT 20V MAX Impact Driver Kit – Best Value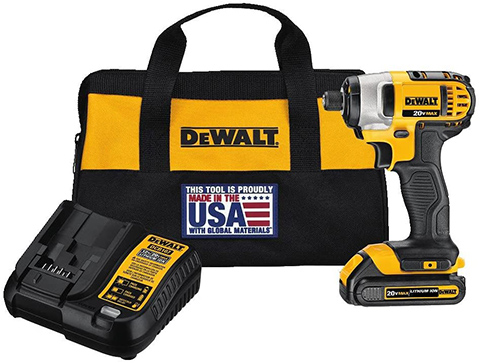 For visibility, the DEWALT 20V MAX Impact Driver Kit comes with a built-in LED with a 20-second delay after releasing the trigger. It is very compact, with an ergonomic handle, and weighs only 2.8 pounds. It has an anvil-type quick release, and one-handed bit loading feature, able to accept 1-inch bit tips.
This kit comes with the DCF885 impact driver, one 20V max battery, and a fast charger. Plus, it is covered by a 3-year warranty. All in all, one of the best DeWalt drills for the money. And it all comes in a very fetching carrying case for your convenience.
The torque control has been the biggest complaint amongst users. While you can control how fast the drill spins with adjusting the pressure on the trigger, the torque is always at notch 10. And the kit only comes with one battery, despite what many online descriptions indicate. With that being said, this is the best DeWalt drill available for the money.
Pros
Lightweight
Compact
One-handed bit loading
Accepts 1" bits
Built-in LED
Cons
No torque adjustment
Only one battery included
---
3.

DEWALT 20V MAX Cordless Drill/Driver Kit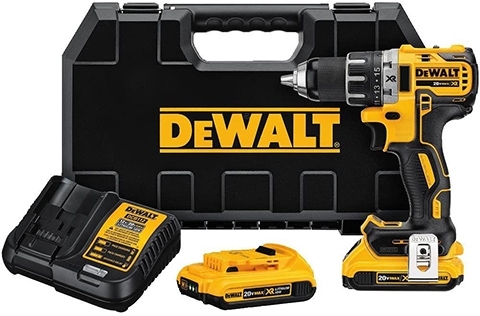 The DEWALT 20V MAX Cordless Drill/Driver Kit is afforded 57% more run time, thanks to its brushless motor. Its battery pack is equipped with a fuel gauge, providing 33% more overall power to the unit. And it has a compact design, perfect for work in tight areas.
It has a 3-mode LED light with a spotlight mode, allowing you to drill or screw in the dark, a great feature for attics and basements. It has a high-speed transmission with 2-speed settings and comes with a charger and an additional battery to keep you working efficiently. Plus, a hard case for transport and storage.
The only flaw we could see was in the chuck. When a bit was put into the chuck, there was a noticeable wobble. And not just a small wobble. It was excessive, almost to the point of falling out of the chuck. It might have been a manufacturing oversight, as it only happened to a few of this line.
Pros
Brushless motor
57% more run time
2 batteries
High-speed transmission
3-mode LED
Cons
Bit wobbles in chuck
Low clutch setting too high
No bit clip
---
4.

DEWALT Rotary Hammer Drill with Shocks
The DEWALT Rotary Hammer Drill with Shocks is a workhorse, pounding out 3 J of impact energy. Its 8.5-amp, high-performance motor has an integral clutch that reduces sudden, high torque reactions. And the rotating brush ring gives full-speed and torque in forward and reverse.
The shocks are for both performance and protection of the drill, and it has activated vibration controls, reducing the vibration you feel when using this powerful drill. It is a corded model, so no need to worry about the battery dying when working with thick material like concrete. It also comes with a hard case.
Its strength is also a weakness because it limits versatility. It needs a power source to function, something the battery-powered options do not. However, batteries need power to charge, so, if you have a power source on the job site, and need a serious hole puncher, this is your top pick for corded options.
Pros
Powerful
3 J  of impact energy
Shocks for reduced vibration
Integral clutch
Cons
Corded
Grease can seep from selector switch
If bit breaks, hard to remove
---
5.

DEWALT 20V MAX XR Hammer Drill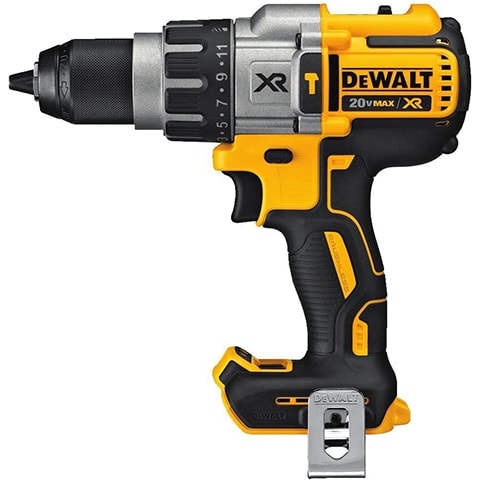 If you want a drill with a high-performance transmission, then the DEWALT 20V MAX XR Hammer Drill is your answer. It offers an improved run time and fast application speeds, and the high-efficiency motor delivers up to 57% more run time over its brushed counterpart. Great for masonry material uses.
Its design is ergonomic and compact, it has a 3-mode LED light with spotlight mode, which is excellent to have if working in the dark, and has a hanger for hooking to a tool belt. It is very lightweight at 4 pounds and comes standard with a 3-year warranty.
Most of these models do not come with the usual 20V battery, but it will work with any DeWalt battery you currently have. Sometimes the motor dies for no reason. The battery can be fully charged, it will run fine, and then…. nothing. This is actually a pretty common issue, and most users think it signals the downturn of DeWalt's quality assurance.
Pros
High-efficiency motor
High-performance transmission
57% more run time
Fast application speed
Cons
Unit dies for no reason
No battery included
Bits loose in chuck
---
6.

DEWALT Electric Drill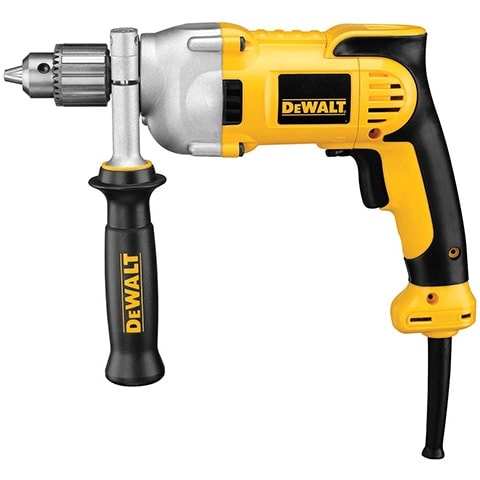 The DEWALT Electric Drill is a corded metal monster with a 10-amp motor and overload protection. It can drill at 0-1250 RPM in forward and reverse, which can be done comfortably with its soft-grip handle. It is as versatile as it is powerful, despite being a corded model.
It plows well through steel and wood; it is keyed to ½-inch chuck grips and secures the bits to prevent slippage. The locking side handle can swivel 360° for maximum pressure, and its metal-gear housing offers the ultimate job site durability.
Some of these models have had defective triggers that made speed control a little tricky. This also has the problem of bit wobbling after continued use. The bit will be fine, but after a short duration, the entire drill will shake violently and whatever hole is being drilled will be badly damaged.
Pros
Powerful
10-amp motor
Soft grip handle
Versatile
Cons
Corded
Bits loosen quickly
Defective triggers
Difficult speed control
---
7.

DEWALT 20V MAX Right Angle Drill
For a unique drill with a wide range of applications, the DEWALT 20V MAX Right Angle Drill is a great choice for tight areas. It features dual speed ranges, a multi-grip trigger for comfort, and its compact size allows the user to get into those hard to reach areas with ease.
Its overall front to back length is 4 inches. It has a ⅜-inch ratcheting chuck with a deep hex pocket that allows a 2-inch hex bit to be fully inserted. This model is battery-powered and comes with a standard 3-year warranty. Definitely good for hobby uses and simple jobs.
This model does not come with the standard 20V battery. The consensus is that for heavy-duty applications, this tool lacks the power to get many jobs done effectively and should only be used at home. It burns out quickly and many of them are defective right out of the box.
Pros
Compact
Small front to back length
Deep hex pocket
Cons
No battery included
Weak motor
Burns out quickly
---
8.

DEWALT 20V MAX Impact Driver
When people hear "impact," most think of lug nuts being applied to car wheel hubs, but the DEWALT 20V MAX Impact Driver is far from that. This sleek and compact tool boasts a brushless motor and lightweight design for those tight spaces, and a precision drive system for added control.
It has three-speed settings for an overall sense of versatility, as well as three LED lights with a 20-second delay after you let go of the trigger. The trigger is variable speed, up to 3250 RPM. Weighing only 2 pounds, your arms won't get tired after hours working with this little gem.
Despite its impressive qualities, it is a bit underpowered for high-impact work, which sounds counterintuitive for an impact driver. It has some trigger issues, making the variable speed options irrelevant, and the quick-change bit and driving issues are enough to cause significant frustration.
Pros
3 speed settings
3 LED lights
Lightweight
Cons
Underpowered
Trigger issues
Quick-change malfunction
Bogs down
---
9.

DEWALT Corded Drill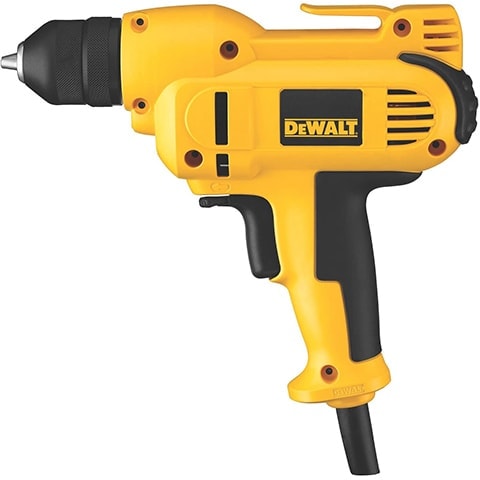 A simple but effective design, the DEWALT Corded Drill is more than capable of heavy-duty applications. It sports a very powerful 8-amp motor and will give you consistent high performance. It has a ⅜-inch, all-metal ratcheting keyless chuck and will retain your bits efficiently. And its variable speed reversible (VSR) trigger is versatile in drilling and fastening.
For comfort and balance, it has a soft, mid-handle grip, and is very durable with an all ball-bearing construction. With a molded carry hook, this tool is ready for a long life of working with you. And in high-visual yellow, you won't rightly lose it any time soon.
The biggest red flag is the warranty. Ninety days is the shortest warranty of any DeWalt drill. And it is a corded model, so you need a consistent power source to use it. The chuck mechanism seems to have locking issues, and if you can get it to lock, it is very difficult to get open again. And sometimes, the quick trigger can make the unit jump out of the user's hand.
Pros
8-amp motor
Molded carry hook
Cons
VSR trigger too active
Bad warranty
Chuck lock defective
Corded
---
10.

DEWALT 20V XR Rotary Hammer Drill
This drill is the product of a truly unique concept. The DEWALT 20V MAX XR Rotary Hammer Drill has an L-shaped design uncommon among the other hammer drills in DeWalt's arsenal.  It has a brushless motor that is perfect for all-day runtime and consistent durability.
It comes standard with an e-clutch for maximum control and shocks to reduce vibration. Its German engineering is designed for quality and durability, as well as performance and protection. And the retractable utility hook is perfect for those jobs that require climbing.
The only gripe we have heard is largely about the design. There needs a very specific carry case that fits this model and some of the pieces don't quite go in the way they should in a molded case. And some users received defective models that broke very quickly.
Cons
Defective units
Doesn't fit in storage box
Weak rubber boot

Buyer's Guide – How to Purchase the Best DeWalt Drill
Like with any tool, the application is important. And since a drill can wear many hats in the workplace, picking a great all-around tool can make the job more efficient and less stressful. However, there are functions of some drills that you may not need and can become an encumbrance. For example:
Getting a tool for drilling that has a jackhammer feature
Getting an impact driver when you need one for wood applications only
Getting a drill that won't hold bits for concrete purposes.
It might be worthwhile to divide and conquer. If you are a DIY person at home, and a commercial contractor professionally, having one tool specialized for each location can be a good idea, so you only have the right tool available in the place they are needed.
Can you use most of these drills in both spaces? Potentially, if the proper tuning can be done to the drill so overkill doesn't happen when delicacy is needed. Take the hammer drill for instance. It doesn't really have a low setting. So, everything it does is heavy-duty. If you are framing a new room, is heavy-duty what you need?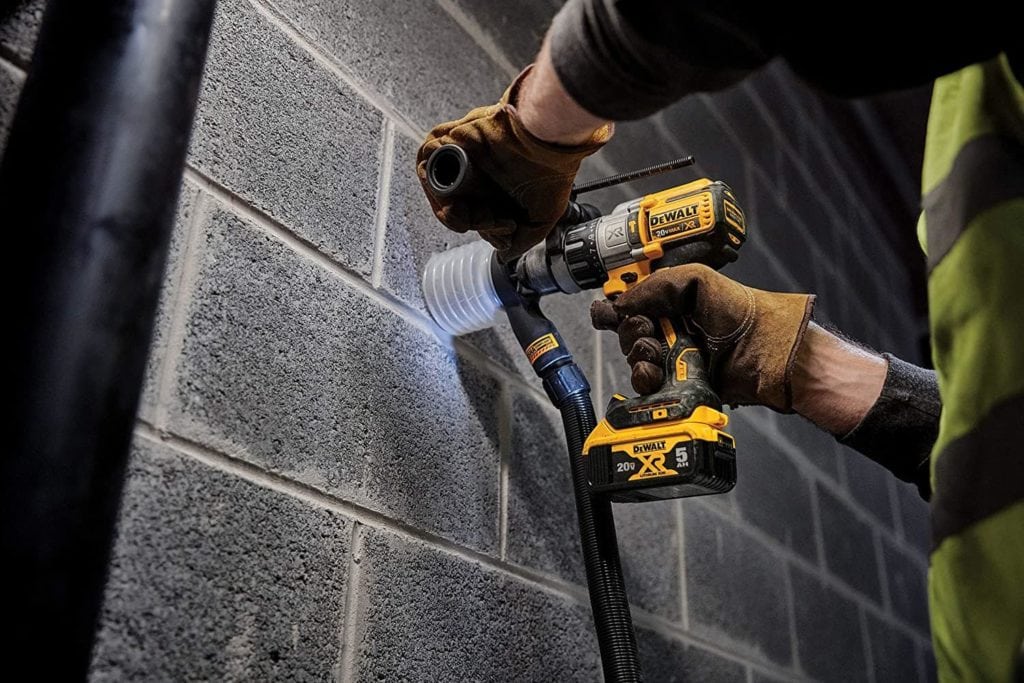 Choosing Your Power Options
Picking your power source is as important as picking the application for your drill. The higher the impact work your drill will do, the more power it will eat. Drilling through 2x4s will be much less labor-intensive than drilling into concrete.
When picking your power source, you have two options:
Battery
Electric
Batteries in DeWalt drills are most often 20V, and this is for sustained power to the brushless motor. It gives you versatility, a range of motion without snags, and most of them come with carry hooks for climbing. Plus, the battery charges quickly. Its only flaw is it will drain quickly when put into heavy-duty work situations.
Electric power has the one drawback of needing to be plugged in, but everything else about it is fantastic. It pushes plenty of juice into the motor for long-term sustainable energy, and many of the electric models have similar versatility to the battery-powered option.
For hard tasks, long days, and plenty of impact, electric is your best option. For spending time drilling or screwing wood, or in higher locations, battery is the way to go.
Picking the Style
When selecting a drill, there are differences to be considered in the physical look of the drill, and how it affects the overall performance of the user.
Take a look at a dozen different drills. Are all their styles the same? Probably not. Some have ergonomic handles and are designed for one hand. Some have spade handles for better leverage. Others have grip handles for increased applied force.
When picking your drill, think about the style you want. Do you want a drill that has a molded handle, or something simple? Do you want a push handle that can swivel 360-degrees for comfort? It is all relative and makes a difference long-term.
More posts related to drills:

Conclusion
DeWalt makes some amazing tools, and these reviews were tough. There was one clear winner that topped our list, and that is the DEWALT 20V MAX SDS Rotary Hammer Drill. It had all the benefits a contractor or even home DIYer would want, with minimal negative issues.
For the most economical option, the DEWALT 20V MAX Impact Driver Kit is the clear victor. It was not only a great value, but also came with a battery, charger, and carrying bag; something many others did not offer without added cost.
DeWalt has been known for quality for many years, and we think that quality will continue. We hope we helped cut through the ins and outs of each drill in these extensive reviews, and helped you have better insight for your next drill purchase.