DeWalt DCD985 Hammer Drill/Drill Driver Review 2023 – Pros, Cons, & Verdict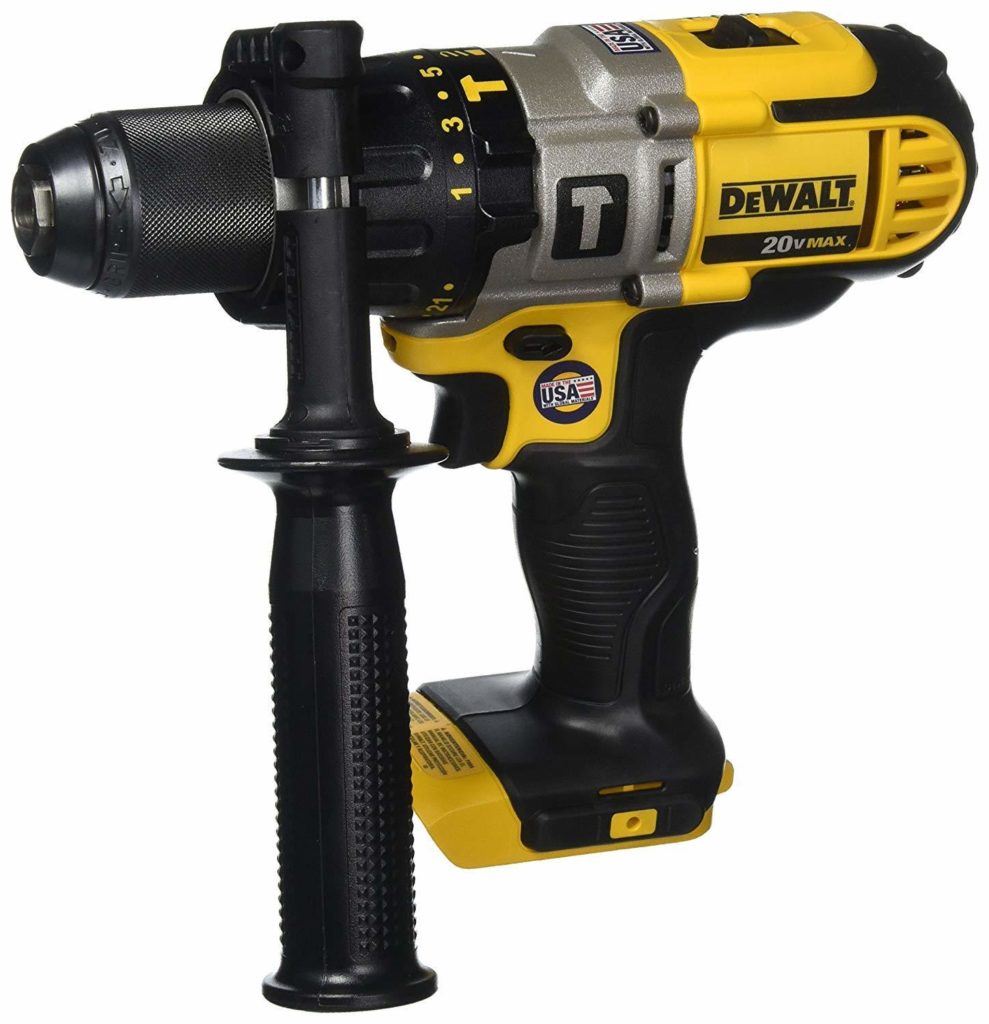 We give the DeWalt DCD985 Hammer Drill/Drill Driver a rating of 4.6 out of 5 stars. 
Build Quality: 4.5/5
Power: 4.5/5
Features: 4.5/5
Price: 4.8/5
Review Summary
DeWalt has been a leading tool producer for many years. As a result, DeWalt has put out many tools and drills, some of which being contemporary and fresh, while others are classic and reliable. One of their older but more popular items is the DeWalt DCD985B Hammer Drill/Drill Driver.
This drill is popular among amateurs and beginners because it is highly affordable and impressive. Better yet, the model is incredibly convenient and comfortable, meaning that anyone can use it for long periods of time with little to no issues. However, this model is not popular among professionals because it does not come with as updated technology or features as newer DeWalt drills.
Overall, this drill is a great choice if you are on a tight budget and don't really need as advanced technology and features. In contrast, this model is lacking in terms of modern design and additional features.
Still, there is a lot more to know about the DeWalt DCD985B. To find out more, read on. In this review, we take a critical eye to the product and offer summaries of what other users have found about it. Let's drill into the DeWalt DCD985B together.
DeWalt DCD985 – A Quick Look
Pros
Cordless
Powerful
Comfortable
3-speed all-metal transmission
Long battery life
Affordable
Cons
Singular light
Heavy
Brush motor
Older model
Specifications
Specifications
Manufacturer: DeWalt
Part: DCD985B
Style: Drill/Driver
Weight: 2.21 lbs.
Power Source: 1 lithium ion battery
Voltage: 20V
Wattage: 450.00
Speed: 2000 RPM
Accessory Connection Type: ½ inch ratcheting chuck
Warranty: 3 Year Limited Warranty
Powerful Yet Convenient
Cordless tools are loved for their convenience, but they often do not have enough power for all jobs. Luckily, the DeWalt DCD985B is a cordless drill that is also highly powerful. The motor is high efficiency and delivers 450 unit watts out maximum power. More so, the drill includes a 360 degree side handle and 3 speed all metal transmission. Together, these features make this model highly powerful.
Despite the power, the model is very convenient and portable. Because of the cordless design of the DeWalt DCD985B, you can take this model just about anywhere. Especially since it is only 2.21 pounds, this drill is highly lightweight and convenient.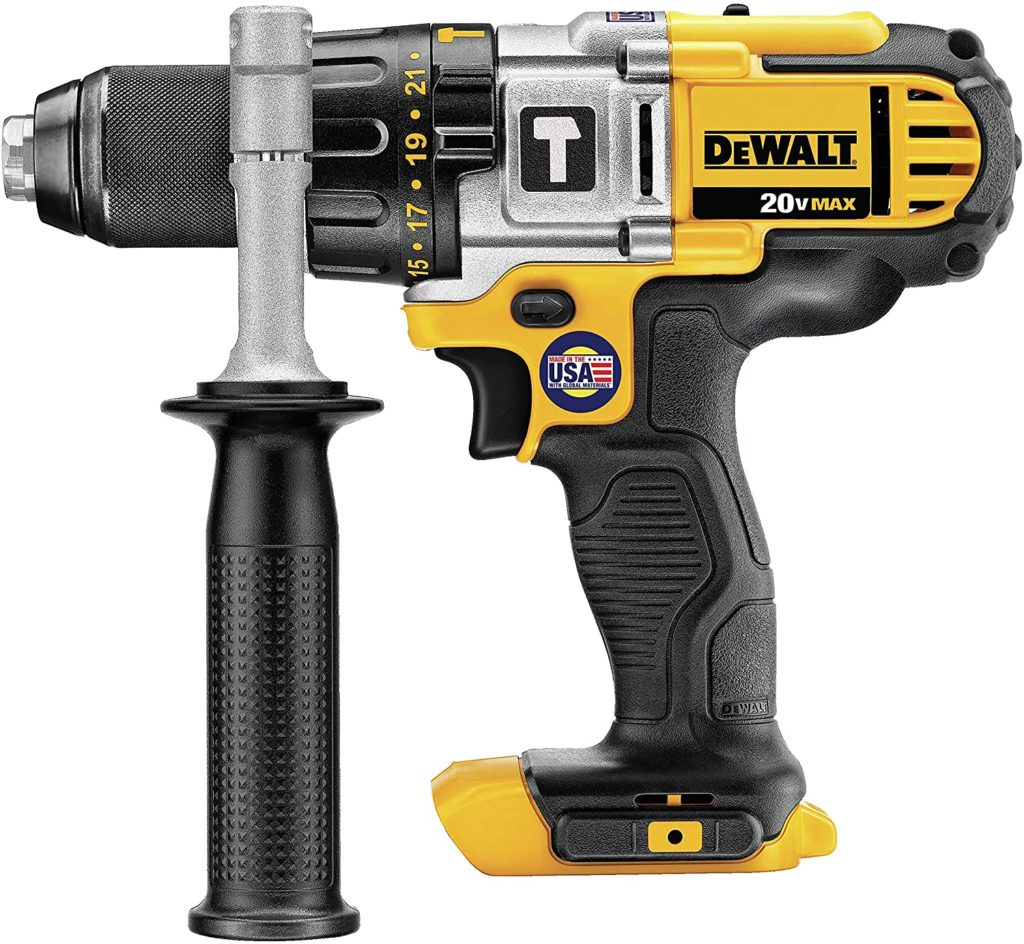 Comfortable
On top of the convenience, the model is designed specifically to be highly comfortable to hold and use. The DeWalt DCD985B is designed with an extremely comfortable grip and overall design. The grip prevents blisters or hand fatigue during use. This means that you can hold the drill pretty tightly without severe annoyance or pain in your hand.
Price & Warranty
Probably one of the best features of this model is its price. Since the DeWalt DCD985B is an older model, it is highly affordable. Better yet, it also comes with a 3 year limited warranty. The inexpensive price and pretty long warranty mean that it is a great investment for beginners or those on a super tight budget.
Other Budget-Friendly Cordless Drills We've Reviewed
Brush Motor
All good things must come to an end. Although the DeWalt DCD985B is an overall great drill, it does come with some drawbacks. Most notably, it does not have a brushless motor. This is due to the fact that this is one of DeWalt's older drills. So, it does not come with as advanced technology as their newer drills.
The brush motor makes this model more affordable, but it also does affect the efficiency and output power to size ratio. Brushless motors often have more efficiency and a higher output power to size ratio, though they are more expensive.

FAQ
Is the DeWalt DCD985B good for beginners?
Yes. The DeWalt DCD985B is good for beginners. In fact, this model is intended for beginners specifically. It is incredibly convenient and intuitive, meaning that those with no experience will benefit from its easy to use design. Additionally, its affordable price means that beginners won't have to shell out a lot of dollars for a new and potentially risky investment.
What makes this model different from other DeWalt drills?
The DeWalt DCD985B is not very different from other drills in the DeWalt collection. However, this model does only come with one light, whereas other DeWalt drills come with three. Additionally, this drill is different from newer models in that it has a brush motor, in contrast to the brushless motor preferred on newer models.
Is the DeWalt DCD985B a good drill?
The DeWalt DCD985B is a good drill in that it has a long battery life, is fast acting, and is incredibly convenient. Although it is not the fastest or most effective drill from the DeWalt brand, it is one of the more affordable options, and it does exactly what it is intended to do. With this in mind, this is a good drill if you just want a basic option.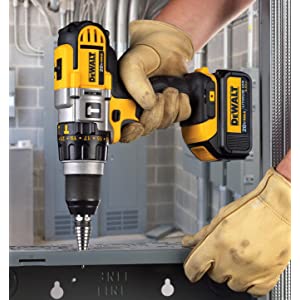 What the Users Say
To find out what other people thought about the DeWalt DCD985B, we looked online and read the reviews. Overall, most people were more than pleased with the drill, but there were some setbacks as we anticipated. Here are our general findings about the DeWalt DCD985B:
Positives
The power of the DeWalt DCD985B was probably the most frequently praised feature of this drill. Many people compared the power of this drill to that of corded models, showing that the DeWalt DCD985B is highly powerful. Given our own reviews and testing, we anticipated this as being a positive for the drill.
Additionally, users were ecstatic about the price for the drill. Between the high power and reliability, users claimed that this is a great bang for your buck type of investment. Once again, we found this to be an incredibly beneficial aspect of the DeWalt DCD985B from our own findings.
Drawbacks
Since the model is very upfront about having a brush motor, there weren't many complaints about it. Still, there were some other complaints. For example, some users found that their drill wobbled and was less precise at higher speeds. This can make it more difficult to get the results you want.
More professional users cited the lack of precision and general build of the drill as making it more suitable for personal use, not professional use. We agree with this complaint entirely. The DeWalt DCD985B is not really intended for professional or commercial use. There are better DeWalt drills for that.
Recap
Overall, most of the reviews agreed with our own findings for the product. The DeWalt DCD985B is a convenient, powerful, and fast acting drill for personal use. Still, you should probably invest in a different DeWalt drill if you are a professional.

Conclusion
Overall, the DeWalt DCD985B Hammer Drill/Drill Driver is a powerful, easy to use, and convenient drill. Those looking for an affordable drill for around the house really can't go wrong with this model. However, the brush motor and lack of precision makes it less suitable for commercial or professional use. Still, the power, convenience, and price are tough to beat for personal use around the house.
Related Reads: