10 Best Drawknives of 2023 – Reviews & Buying Guide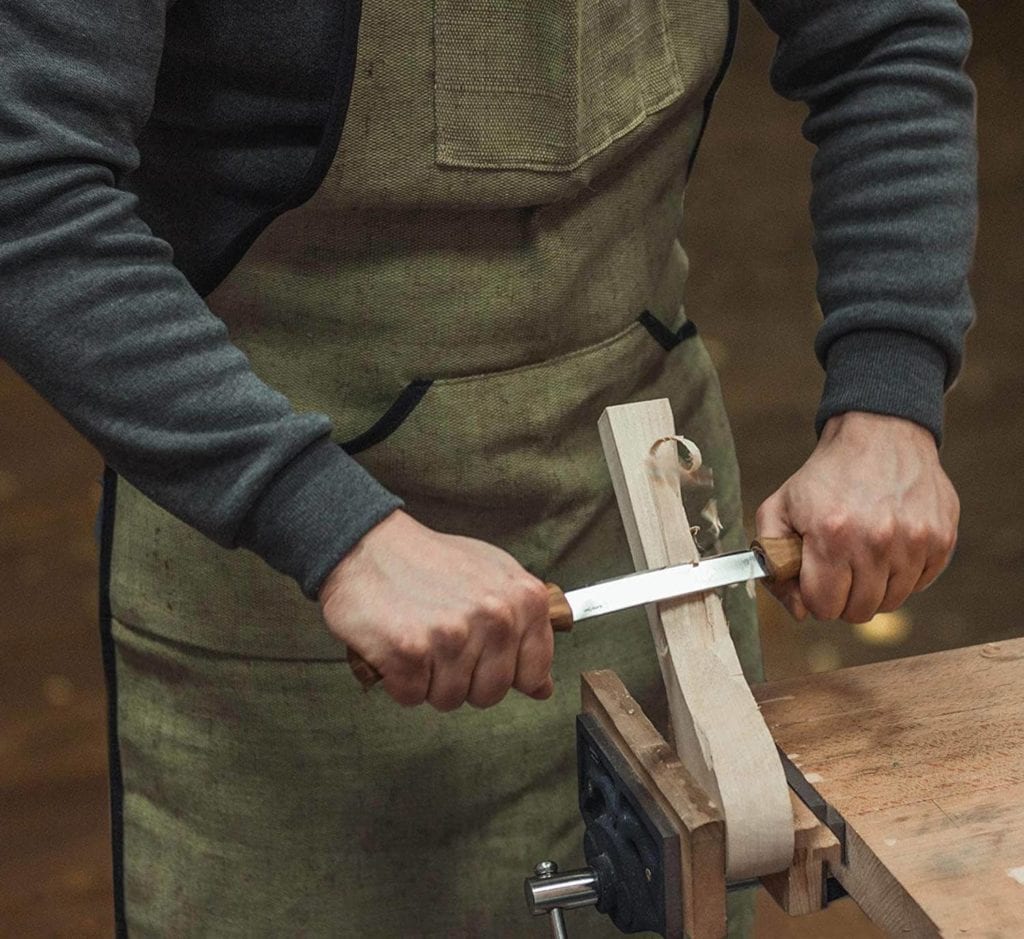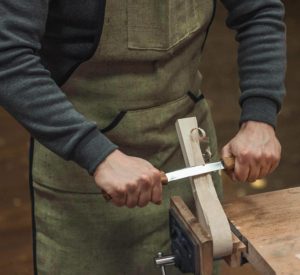 What if you could take your woodworking game to the next level?
Every good woodworker needs a good drawknife. This is your centerpiece tool because it makes all the difference in the quality of your work. In other words, a good drawknife takes your projects to the next level while a bad drawknife will constantly hold you back.
How can you know how and where to find the best drawknives, especially when you're not swimming in free time? That's where we come in.
We've assembled reviews of the best drawknives on the market today. Between these reviews and our comprehensive buyer's guide, you'll be able to find the drawknife that is perfect for you and your particular needs.
---
A Quick Comparison of Our Favorites in 2023
Rating
Image
Product
Details

Best Overall

The Timber Tuff Straight Drawknife

Solid price
Blade protector
8-inch steel blade
CHECK PRICE

Best Value

BeaverCraft DK1-4 Draw Knife

Great price
Carbon steel blade
Easy to control and use
CHECK PRICE

Premium Choice

Ox-Head OX3752500 Straight Drawknife

Lightweight
Blade stays sharp
Durable
CHECK PRICE

FLEXCUT KN16 Draw Knife

Blade comes very sharp
Very precise
Comfortable and stable handles
CHECK PRICE

Felled 7702 Draw Shave Knife

Durable blade
Rubber edge protectors
Comfortable handles
CHECK PRICE
The 10 Best Drawknives
1.

The Timber Tuff Straight Drawknife – Best Overall

Our reviews usually include a "best overall" pick as well as a "best value" pick. Every now and then, though, the "best overall" pick also comes at a great price, and that's the case with The Timber Tuff Straight Drawknife.
In addition to the surprisingly good price, this tool comes with a reliable blade protector. And we enjoyed the comfortable wooden handles as well as the hard and reliable 8-inch steel blade.
But we all know that even the best tools have their potential drawbacks. With this tool, the blade isn't as durable as we'd like, and it doesn't hold its edge that well. Despite this, we think this is the best drawknife on the market today.
Pros
Solid price
Blade protector
8-inch steel blade
Comfortable handle
Cons
Blade is not durable
Issues with holding edge
---
2.

BeaverCraft DK1-4 Draw Knife – Best Value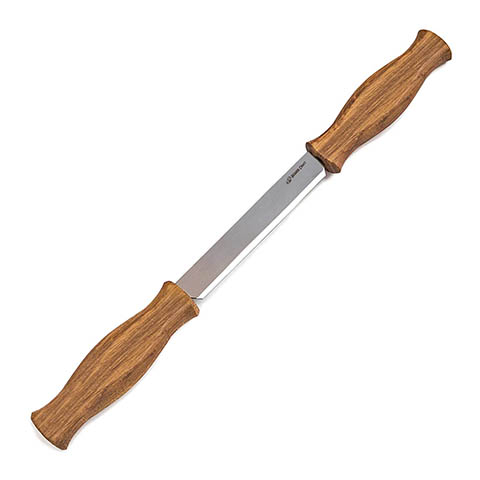 It's an open secret that woodworking can get very expensive over time. That's why it is good to save money with a drawknife. If you're looking for the best drawknives for the money, you can't go wrong with the BeaverCraft DK1-4 Draw Knife.
This tool comes in at a great price but provides great performance as well. The 3-inch blade is made of carbon steel and is great for smaller, more precise work. It's easy for you to control and generally user-friendly, even to beginning woodworkers.
So, what keeps this tool from being our "best overall" pick? While its size is handy for precise cuts, it also means projects may take a longer time. And because it is mostly designed for those precise cuts, the knife itself is not very versatile.
Pros
Great price
Carbon steel blade
Easy to control and use
Cons
Using it may take a lot of time
Knife is not versatile
---
3.

Ox-Head OX3752500 Straight Drawknife – Premium Choice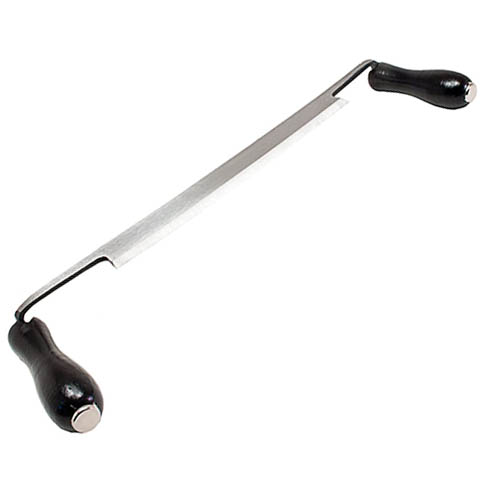 The better the drawknife, the better your final product. Some handymen like to invest a lot of money into their tools in order to improve the quality of their work. If you're looking for the best premium tool on this list, look no further than the Ox-Head OX3752500 Straight Drawknife. The 10-inch blade is ideal for debarking trees and associated work.
You'll notice right away that it is very lightweight, allowing you to make quick and efficient work of the wood. The blade stays sharp for a good, long time, and that blade is quite durable. And the ergonomic handles ensure you can work for a long time without getting tired or uncomfortable.
But there are still some issues to be aware of. Despite its durability and efficiency, the blade could be a bit sharper. And the steel blade is a bit softer than you might be expecting.
Pros
Lightweight
Blade stays sharp
Durable
Ergonomic handles
Cons
Blade could be sharper
Blade is softer than expected
---
4.

FLEXCUT KN16 Draw Knife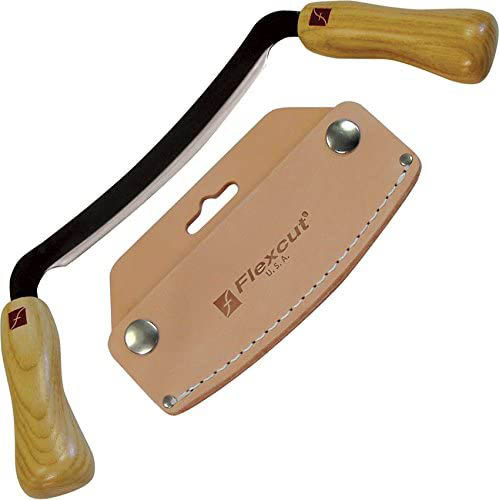 What are you looking for out of a drawknife? Many handymen say they want something simple and reliable. And that's a perfect description of the FLEXCUT KN16 Draw Knife.
This knife is great because you can bend the 5-inch blade to suit different project needs. The blade comes very sharp, and the shorter length of the blade gives you more precision and control. Finally, the handles provide comfort and stability while you are using the knife.
So, what keeps this tool from being higher on our list? It's a bit limited because this knife was designed to work with smaller material. And those comfortable handles may become loose over time.
Pros
Blade comes very sharp
Very precise
Comfortable and stable handles
Cons
Only works well with smaller material
Handles may become loose over time
---
5.

Felled 7702 Draw Shave Knife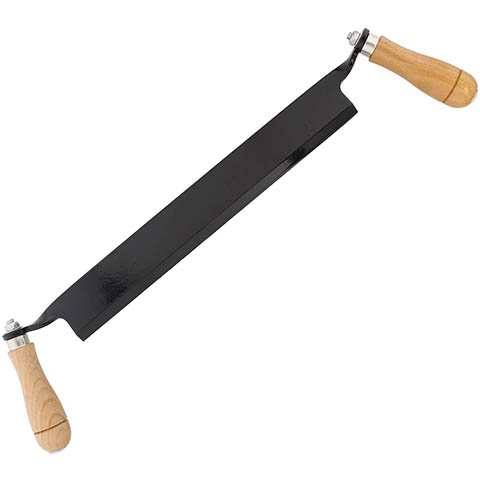 Looking for a longer blade to work with? The Felled 7702 Draw Shave Knife may fit that bill. But like most tools on this list, it has its own benefits and drawbacks for you to consider. Consider this a slightly more expensive version of our #1 pick, the TimberTuff, but with a much longer (13-inch) blade and similar profile.
The hardened steel of this blade makes it fairly durable. And the rubber edge protectors help keep you safe while you are working. Finally, we found the wooden handles nice and comfortable.
What are the drawbacks, then? The blade is long enough that you won't have much control while you use it. You can't remove fine shavings with the blade, and its edge is blunter than we would have liked.
Pros
Durable blade
Rubber edge protectors
Comfortable handles
Cons
Less control
Can't remove fine shavings
Blade edge is blunt
---
6.

Stubai STU-200 Drawknife

Many of the drawknives on our list are optimized for some task or another. But what if you want a drawknife with a more general design? In that case, the Stubai STU-200 Drawknife may fit the bill.
This 9¼-inch blade is sharp and ready to go, which is great if you're eager to get started. The blade is durable, and the offset handles make using it very comfortable. And as we mentioned above, this blade is easy to use on many different kinds of projects.
However, the blade is straight, which may cause problems with certain kinds of projects. And while being a good general blade, it doesn't do detail work very well. Finally, you need to beware the handles leaving marks on the wood.
Pros
Needs little sharpening
Durable blade
Comfortable to use
Cons
Straight blade may cause problems
Doesn't do well with detail work
Handles may leave marks on wood
---
7.

Robert Larson Two Cherries 500-1320 Drawknife

At a glance, the Robert Larson Two Cherries 500-1320 Drawknife is a simple and straightforward tool. But is it the simple tool you've been looking for? As always, this depends on what you are looking for.
The 8.85-inch (225 mm) German steel blade is durable and reliable. And the wooden handles are very comfortable to use. And the straight blade is ideal for certain projects.
What are the drawbacks to this tool? There is no blade guard, which would have been nice. And some users report the handles coming loose and the blade arriving duller than they were expecting. It is up to you to determine if these drawbacks outweigh the benefits of the German steel.
Pros
German steel
Comfortable handles
Straight blade is great for certain projects
Cons
No blade guard
Handles may come loose
Blade may arrive relatively dull
---
8.

Biltek Straight Draw Shave Tool Knife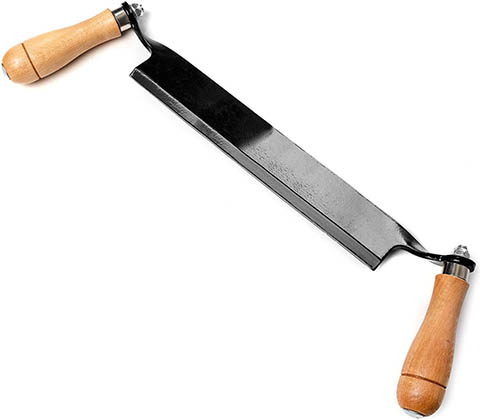 The Biltek Straight Draw Shave Tool Knife is another tool that looks simple and reliable at first glance. However, all it takes is working with this blade to see that it has several issues you need to be aware of before purchase.
We liked the seemingly-durable steel of the 10-inch blade, but our tune changed after using it for a while. And the longer blade helps cut down on the time it takes to complete projects. But these are the only good qualities of the tool.
It turns out the "durable" steel is neither very durable nor very hard. The blade doesn't arrive very sharp. And the speed that comes with the longer blade comes at the cost of accuracy and control. Finally, the whole thing is heavy enough that it can be uncomfortable to use.
Pros
Long blade makes for fast work
Cons
Blade is not durable or hard
Blade is not very sharp
Little accuracy or control
Too heavy to comfortably use
---
9.

Mueller 2091,91 Drawknife

The Mueller 2091,91 Drawknife appears near the bottom of our list of reviews. But does that mean it's a lower-quality choice? Sadly, that's exactly what it means.
There are some good qualities of the tool, including the 9½-inch Austrian steel blade and a reliable lifetime warranty. Unfortunately, you're likely to need to use that warranty sooner rather than later.
What are the issues with the tool? The steel is softer than we would have liked, and the blade may come with chips in it. Finally, the blade does not hold its edge very well at all. This isn't the worst drawknife in the world, but there are certainly better choices out there.
Pros
Austrian steel
Lifetime warranty
Cons
Steel is soft
Blade may have chips in it
Does not hold edge
---
10.

Earth Worth 83-DT5223 Straight Draw Shave Tool

With its logo right there on the blade, the Earth Worth 83-DT5223 Straight Draw Shave Tool is one of the cuter tools on this list. Unfortunately, being cute isn't the same as being a good and reliable drawknife.
There were still a few things we liked about this tool. For example, the wooden grips are nice and secure, and the 8-inch blade is durable.
However, the blade does not come very sharp. And it cannot maintain its edge very well. And the metal is pretty soft: you might just think you got a butter knife instead of a drawknife when this tool first arrives!
Pros
Secure wooden grips
Durable blade
Cons
Not very sharp
Does not hold its edge
The steel is soft
---
Buyer's Guide – Choosing the Best Drawknife
Hopefully, our review roundup has helped you learn more about the different drawknives on the market. But you might still have a few questions you need answers to before you can make your purchase. That's why we put together a comprehensive buyer's guide that will tell you everything you need to know.
By the time you're done with this guide, you're going to be an expert on the topic of drawknives. And that will help you make the best possible purchase to help with any and all of your future woodworking projects!
Blade Edge
Many of our reviews touched on the blade edge. But what is the blade edge, and why is the ability to hold that edge so important when you are working?
The blade edge effectively determines how sharp and effective your drawknife will be. A sharpened edge will have an easier time cutting through all kinds of wood. Meanwhile, a blunt edge is going to have trouble cutting through wood, making your projects longer and more frustrating.
You can actually visually inspect the edge of a blade by looking for a color difference between the blade and the edge. Basically, if you see a color difference, you'll know that the blade edge is already very sharp or, at worst, will require very little sharpening before you get to work.
The Handles
At first glance, most of the handles on our review drawknives looked pretty similar. They are almost all made of wooden handles. The question is, how can you tell a good handle from a bad one?
First, you'll want a drawknife with fixed handles instead of adjustable handles. This helps provide a sturdy and stable grip while you are working. And fixed handles can also be more comfortable to hold.
Second, you'll want handles that are built at a downward angle. This helps put more power behind every stroke, ultimately allowing you to work more quickly without becoming fatigued.
That last part is very important. Bad handles will tire you out quickly while you work and can even lead to injury!
Other Handle Considerations
In many ways, the handle of the drawknife is just as important as the blade. With that in mind, there are a few other handle considerations before you make a purchase.
For example, it's good to have a handle with a non-slip grip surface, including treated wood or rubberized plastic. This can greatly affect how well the drawknife performs in a variety of conditions, all while making you safer during use.
If you need a drawknife for work purposes, those non-slip grip materials we mentioned are OSHA compliant. And beyond the materials used, it's good to pick ergonomic handles that are comfortable to use, especially for longer projects.
Blade Length
Does "size matter" when it comes to a drawknife? Absolutely! In fact, the overall length of the blade will greatly affect what you can and can't do with this particular tool.
Longer blades can make your work go faster, and they are good when you require larger shavings. But long blades offer less precision and control than shorter blades.
And short blades are good when you need more precision and control or simply need smaller shavings. But as you might imagine, shorter blades take a longer time to use.
How long does your blade need to be? If you primarily need larger or shorter shavings, you can choose a longer or shorter blade. Otherwise, get a drawknife of medium length in order to boost the versatility of your purchase.
Blade Thickness
We have reviewed the importance of blade edge and blade length. But there is another component you need to worry about, and that's the overall thickness of the blade.
If the blade is thick, you're going to end up unnecessarily wasting a lot of material. And thick blades make the cutting process a long and unwieldy process.
Of course, it's possible to go too far in the other direction. If a blade is too thin, it may break very easily during use. By balancing blade size and strength, you'll get the performance and durability you've been looking for.
Blade Design
When you check out our reviews and different drawknives on the market, you'll quickly notice there are different kinds of blades out there. But they mostly come down to two choices: curved blades and straight blades. The kind of blade you need ultimately comes down to your preferences and your projects.
Some handymen favor curved blades because the curve makes it easier to make deeper cuts. This can be a real time-saver, especially when you have a longer project in front of you.
However, straight blades usually lead to a faster performance and less wasted material. If you're a woodworking beginner, we'd recommend starting out with a straight blade. Later, you can determine whether a curved blade might be handier for your specific needs.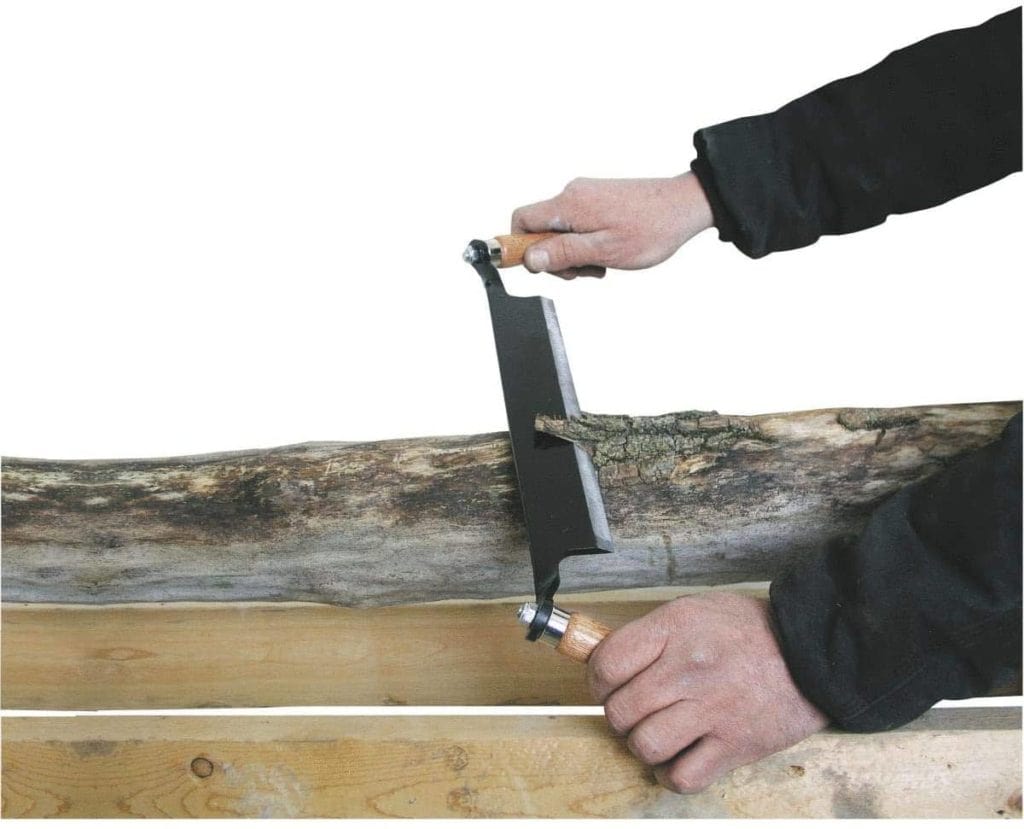 Safety First
You might think that drawknives aren't nearly as dangerous as, say, a power tool. But incorrectly using a drawknife can certainly lead to a nasty injury. That's why it's important to buy a tool that was designed with safety in mind.
This usually starts with the handles. You'll want handles with an outward-facing or convex design because these let you perform different functions (such as detailing and debarking) without risking injury. As an added bonus, such handles are often easier to hold and use.
It's good to get a drawknife that comes with a blade sheath. Alternatively, you can buy a third-party sheath. But having a sheath is important because it allows you to safely store the knife away while also preserving its sharpness for future projects.
Size and Weight
One final consideration before buying a drawknife sounds simple at first: the weight and size of the tool. However, these small factors can have a big impact on the overall performance of your new tool!
If possible, we recommend getting a drawknife that has a lightweight design. Tools that weigh two pounds or less are most optimal, though you can find tools that weigh much less than two pounds if you want something even lighter in weight.
What makes the lightweight design so important? This helps you use your drawknife for a long time without getting tired. The last thing you want to do is mess up a major project due to fatigue! We recommend balancing lightweight design with other features you may be looking for in a good drawknife.
The overall size of the tool is another consideration. Even when it doesn't weigh much, a large drawknife may be too unwieldy for you to comfortably use. Factors like blade length and handle design can affect the overall size of the drawknife, so you need to pay special attention to the sizes listed so you can make a comfortable purchase.

Conclusion
Looking for a great drawknife for your woodworking projects? Between our reviews and our buyer's guide, we've got all the answers to your burning questions. But one burning question still lingers: who were the biggest winners when it came to our review roundup?
For the best overall pick, we preferred The Timber Tuff Straight Drawknife. It struck a solid balance between simple design and elegant performance, and it is well-suited to almost any woodworking project.
But what if you're a woodworker on a budget? In that case, we recommend the BeaverCraft DK1-4 Draw Knife for our best value pick. It does a variety of things extremely well, all without burning too much of a hole in your wallet.
Does that mean you must go with one of these two drawknives? Of course not. We are big believers in a simple truth: every handyman must decide for themselves what tools they need and what projects they must take on next.
But that doesn't mean you have to complete this journey on your own. With our reviews and buyer's guide, making the right decision is easy. We carved out the time so you can carve out the wood and get back to work!