10 Best Travertine Sealers of 2023 – Reviews & Top Picks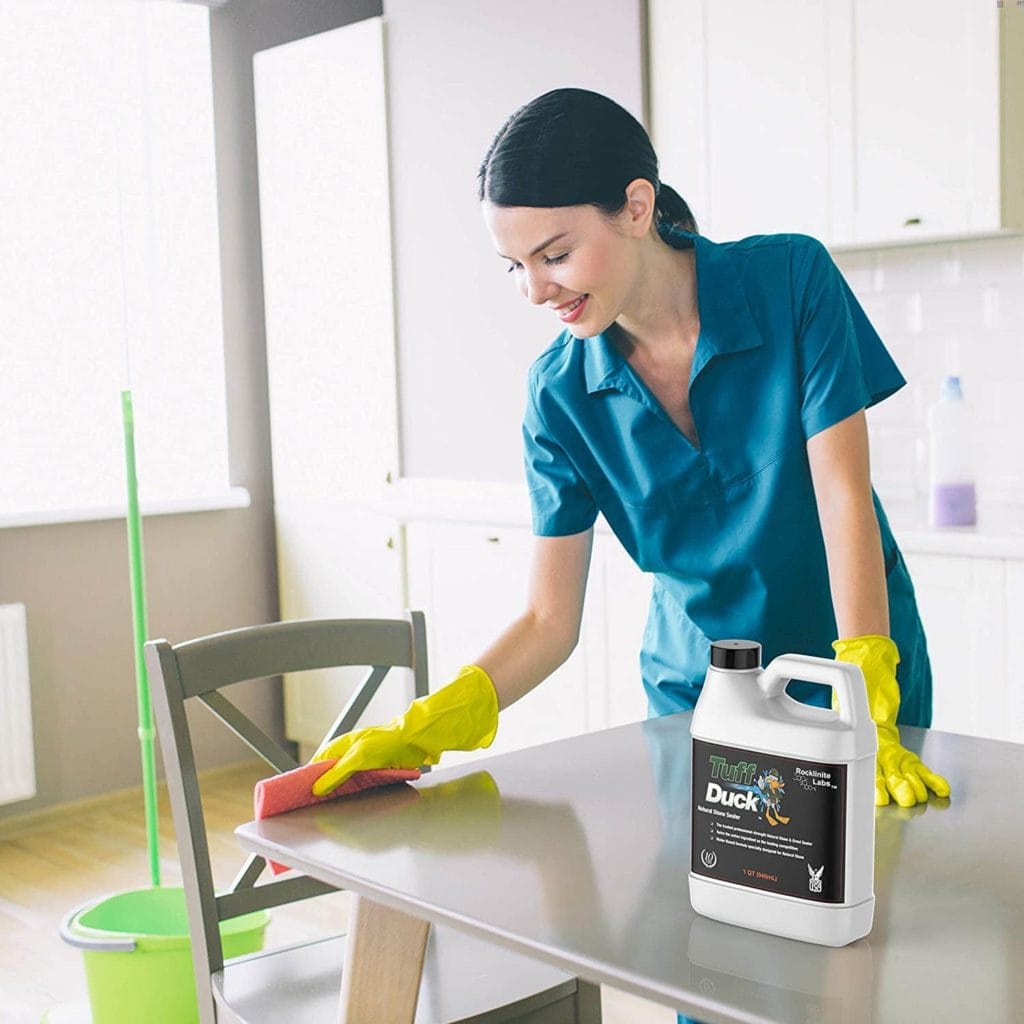 Anyone who has made the decision to put a luxurious stone countertop in their kitchen knows they have made a long-term investment. And like any investment, you want to take care of it to get the life you expect to get out of it. Be it granite, quartz, soapstone, concrete, or travertine, upkeep is just as important as aesthetics.
You already know what you can and cannot do on your natural stone countertops. Some forbid you from cutting on them. Some will stain. Still others cannot have hot items set on their surface. But everyone has the option to be sealed, which prevents some of these issues from accidentally ruining them forever.
For your sealing needs, we have compiled some reviews of the best sealers on the market, especially those for travertine. Apply one of these, and your countertops are protected, the aging process that occurs will be halted, and you will have a clean, lovely surface for all of your kitchen adventures.
---
A Quick Comparison of Our Favorites in 2023
Rating
Image
Product
Details

Best Overall

Granite Gold Sealer Spray

Non-toxic
No-acidic
Maximum protection
CHECK PRICE

Best Value

Miracle Sealants 511QT6 511 Penetrating Sealers

Covers 1
000 sq ft
UV transparent
Water-resistant
CHECK PRICE

Premium Choice

StoneTech BulletProof Sealer

5-year protection
Water-based
Bonds with stone
CHECK PRICE

Black Diamond Granite Sealer

Easy to use
Non-toxic
Non-corrosive
CHECK PRICE

The Floor Guys Grout & Granite Penetrating Sealer

Professional grade
Water-based
No odor
CHECK PRICE
The 10 Best Travertine Sealers
1.

Granite Gold Sealer Spray – Best Overall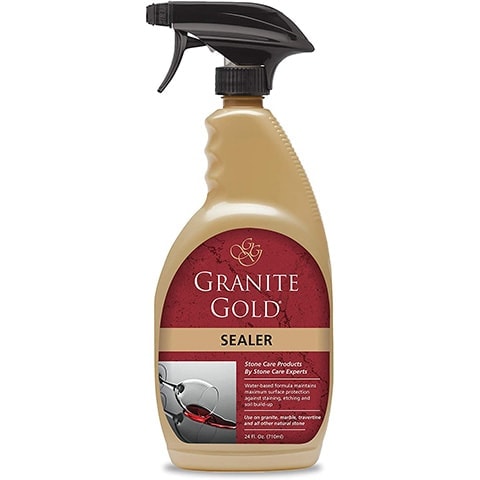 To keep your luxury countertops looking clean and sleek, Granite Gold Sealer Spray is hard to beat. It creates a barrier for maximum surface protection, keeping etching and soil buildup at bay while making sure your accidental coffee, oil, or wine spills won't stain them.
This spray works with all stone surfaces and is very easy to apply. It is non-toxic, non-acidic, and contains nothing that would make your eating areas unsafe. It is proudly made in the USA by a family-owned company with a long history of experience caring for stone that spans three generations.
The only drawback we can see with this sealer is it must be reapplied at least once a month and must be applied when the countertop is dry. If you have any moisture on the surface, it will be absorbed into the stone when the sealer is applied. Overall, we think this is the best travertine sealer available.
Pros
Family-owned company
Non-toxic
No-acidic
Maximum protection
---
2.

Miracle Sealants 511 Penetrating Sealers – Best Value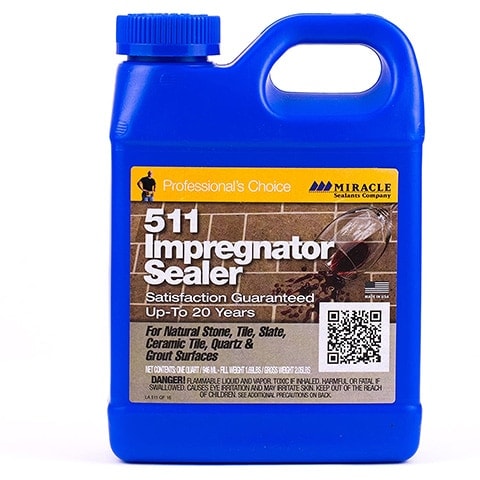 For maximum coverage of all your natural stone surfaces, Miracle Sealants 511QT6 511 Penetrating Sealers is the answer. It works for interior and exterior applications and is formulated to provide stain protection that is UV transparent and weather resistant.
It works on tile, stucco, marble, slate, and terrazzo, to name a few, and a single quart of this sealer can cover up to 1,000 square feet of area. It is oil and water-resistant and creates an invisible barrier that will protect your surfaces — one of the best travertine sealers for the money.
The biggest issue we had was in the drying time. It is listed with a quick-drying turnaround, allowing for a second coating within an hour, but we found it still wet to the touch. Two days later, it still hadn't completely dried. And the product doesn't indicate the level of sheen once it is finally dry.
Pros
Covers 1,000 sq  ft
Indoor and outdoor
UV transparent
Water-resistant
Cons
Long drying time
No sheen indicated
---
3.

StoneTech BulletProof Sealer – Premium Choice
Interior porous natural stone will never feel more protected as it will when coated in StoneTech BulletProof Sealer. This sealer offers extra strength stain protection for your natural stone surfaces, and a single quart can cover up to 100 square feet and it is safe and water-based.
It bonds with the stone and improves wear resistance. Tough oil and water-based stains don't stand a chance. And it comes with a guarantee from the manufacturer that it will protect your surfaces for up to 5 years.
Its biggest flaw is in the chemical mixture that makes it so great. Laticrete, according to the DuPont chemical division, is only viable for 2 years before opening the bottle, and 1 year after. Check the expiration date on your bottle if you choose this brand. Users also found it has somewhat of a bad odor.
Pros
5-year protection
Water-based
Bonds with stone
Cons
Short shelf life
Bad odor
---
4.

Black Diamond Granite Sealer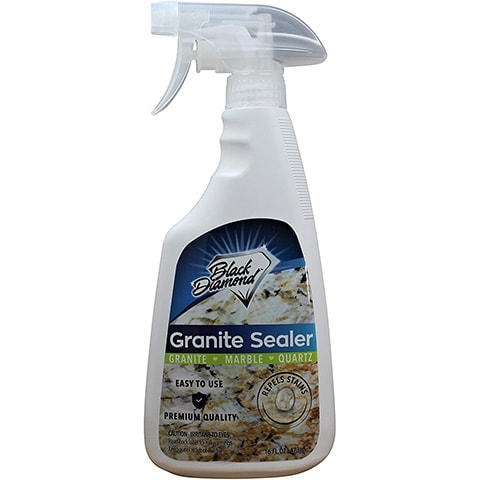 For a long-lasting professional look on your travertine, Black Diamond Granite Sealer is ready to do the job you deserve. Spray it on and wipe it up. It's that simple. And the results speak for themselves. And it is safe on surfaces where food is prepped and served.
This low odor sealer is excellent for granite, protecting it from oil, coffee, wine, grease, ink, or other spills. It works well on stone and concrete with penetrating power that gets into the cells of the surface. With a non-corrosive impregnator design, it's no wonder why it is the stone care product used by professionals.
Oddly, this bottle does not come with the sprayer attachment. And when you do spray it on, it doesn't coat evenly unless you squeegee to surface to spread the sealer. If not correctly evened out, the coating looks cloudy, muddying the natural, lovely surface.
Pros
Professional grade
Easy to use
Non-toxic
Non-corrosive
Cons
No spray nozzle
Coat is uneven
Coat is cloudy
---
5.

The Floor Guys Grout & Granite Penetrating Sealer
For a natural stone sealer and professional strength grout cleaner, look no further than the Floor Guys Grout & Granite Penetrating Sealer. A water-based sealer, it has virtually no odor. It gets deep into the grout or stone without marring the area's natural look and is very easy to apply.
It may seem silly, but the makers suggest taping a paintbrush to a mop handle so you can apply while standing up. It is that simple to coat your flooring with this beautiful product. And it lasts a very long time. For your floor, for your shower, it doesn't get much better.
It requires a little something extra from you. For proper water beading on protected surfaces, the space needs to be coated at least three times, back to back. With all of these different applications, you will spend more than with some other grout and granite sealers.
Pros
Professional g rade
Water-based
No odor
Cons
Needs many applications
Can get expensive
Flooring only
---
6.

Aqua Mix Sealer's Choice Gold
Your next no-sheen, penetrating sealer should be Aqua Mix Sealer's Choice Gold. It gives a natural look you want with the protection you crave. This sealer is entirely water-based and loved worldwide for its quality with sealing natural stone surfaces like travertine.
This sealer is best used before grouting for maximum effectiveness and is designed for food prep and serving areas. It is ideal for all types of stone countertops and provides stain protection and maintains the look of most porous tile.
We found this sealer left a white haze on dark grout. Even when applied in different ways, the outcome was similar. And it seems to require four coats before the grout will finally stop soaking the sealer. The time and effort, plus the additional cost of extra sealant, give us cause for concern.
Pros
No-sheen
Natural look
Good for all stone
Cons
Hazy on dark grout
Multiple coats
Time-consuming
---
7.

Tuff Duck Granite Sealer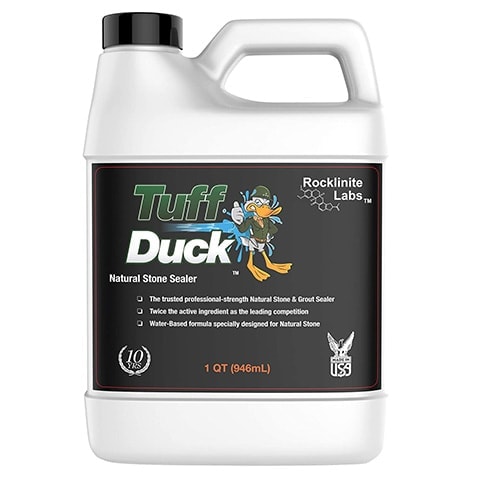 If you want to provide the best protection for your travertine, granite, grout, and even concrete, Tuff Duck Granite Sealer is ready to take on the task. This penetrating sealer knows how much your surfaces' natural appearance means to you and has no desire to dull or muddy it.
It has twice the active ingredients as other sealers to give you proper protection in just one coat. Its non-acidic formula can cover up to 200 square feet  and that protection will last up to 5 years on interior surfaces, up to 3 years on exterior surfaces.
Sadly, the single coating concept is not at all true in some cases. We found that even after applying a single coat per the precise instructions, we had numerous water spots within a week. We put on two more coats, and the same problem occurred.
Pros
Double strength
Non-acidic
Good protection
Cons
Single coat ineffective
Water spots
Bad batch possible
---
8.

Serveon Sealants H2Seal H2100 Stone Sealer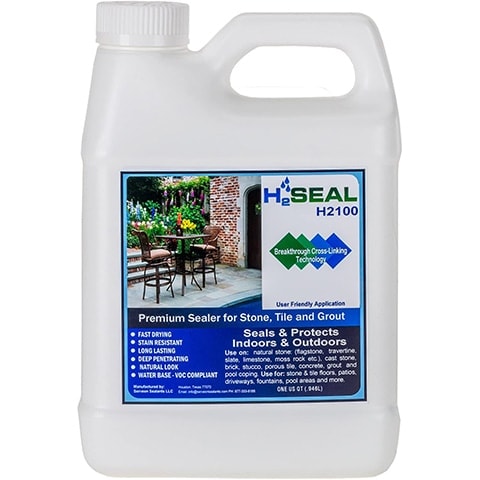 A faster drying sealant hasn't been found that can beat Serveon Sealants H2Seal H2100 Stone Sealer. This sealant is ready for foot traffic before you know it with its quick-dry formula. It doesn't require a professional application to get the results you desire, and if over-applied, you will not get a white film, unlike other sealers.
It can seal an area up to 450 square feet with less product and penetrates stone deep with one coat. It lengthens the life of your stone, preserving the natural look, has a very low odor, and is functional indoors and outside. And it resists moisture, including saltwater.
It isn't great with tile. In fact, there have been cases where it has deteriorated tile to the point of crumbling. As far as stone and grout, it needs a minimum of four coats to bead appropriately.
Pros
Quick dry
Low odor
Indoor/outdoor
Cons
Not good for tile
4 coats minimum required
Formula too strong
---
9.

DOMINATOR Stone+ Low Gloss Stone Sealer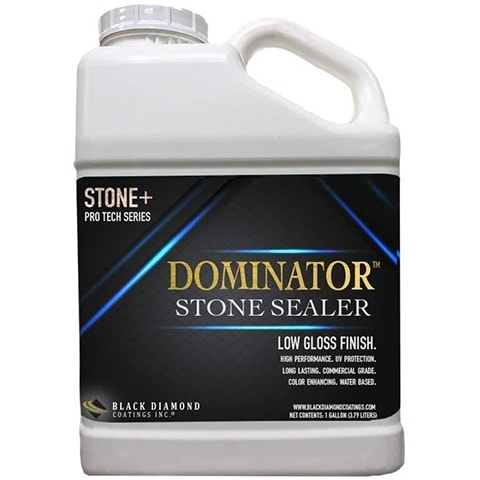 The DOMINATOR Stone+ Low gloss Stone Sealer is a fantastic tool if you want your outdoor pavers, faux stone, and travertine to have a wet look with a low-gloss finish.
It is easy to maintain and provides excellent UV protection. It forms a film that is designed to guard against spills, moisture, mildew, and stains. You can apply this sealer without fear of a foul odor, and its broad coverage area is up to 1,000 square feet.
It does appear a little glossier than advertised when applied to some areas. The wet look is also not entirely accurate in specific applications. Best to try on a small, out-of-the-way area first before doing a large surface.
Pros
Covers 1,000 sq ft
UV Protection
Cons
No submerged surfaces
Wet look not true
High gloss
---
10.

Essential Values 1 Gallon Concrete Sealer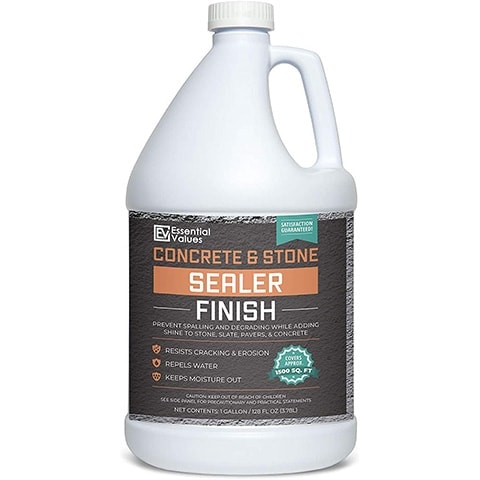 Another product made in the USA, Essential Values offers a quality sealer you can count on when protecting your outdoor concrete surfaces. This sealer does it all from finishing driveways, sidewalks, and patios to indoor pavers and fireplaces.
A single gallon can put a beautiful clear finish on your stone surfaces with an easy application process. Just apply three coats total, each an hour apart, and enjoy the high gloss, wet-look you want for your space. And it covers 1,500 square feet. Plus, it comes with a money-back guarantee.
That 1,500 square foot coverage is under some scrutiny from certain buyers. It depends on the thickness of the coats, but with that, there are also reports of discoloration, and sometimes, the chemicals congeal, making spray application difficult. If you pick this sealer, buy two gallons to get the full effect.
Pros
Made in the USA
High gloss
Cons
Doesn't cover advertised area
Uneven coats
Sealer congeals
Ineffective when spraying
---
Buyers Guide – How to Purchase the Best Travertine Sealer
Protecting your natural stone and porous surfaces like travertine is important if you intend to get the most out of them. And the two things that can help that are diligence to cleanliness and upkeep with a quality sealer designed for the surface in question.
Targeted Sealers
Some sealers are suitable for all surfaces, while some are very specific, but picking the right one is not just about what it is for, but its other values. For instance, if you choose one that is heavy-duty, great for the kitchen, but can also clean grout, you might run into trouble with certain acidity concerns.
Choose one that is less for the blanket of surfaces and more for just counters or just tile. Indoor and outdoor are more outdoor unless you are sealing brick or a fireplace. Natural stone might be hard to the touch, but many are porous, and chemicals in those little holes can be catastrophic.
Time Management for Sealers
If you cannot devote the proper time to put on the right number of coats in the correct intervals, you will have an issue. Many need to be applied and reapplied within an hour, some within 20 minutes, and they need multiple coatings. It is up to you to make the time, set a timer if you need to, but follow the guidelines for proper application.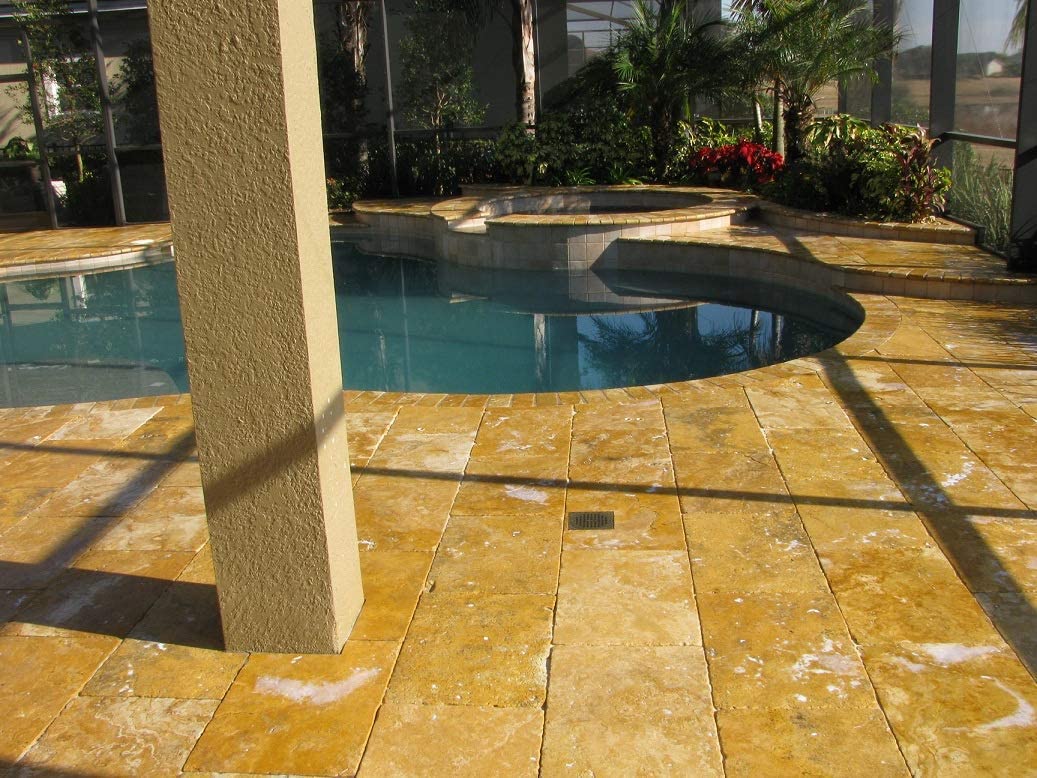 Sprays vs Jugs
Many sealers, typically the ones for interior use, come in a convenient spray bottle. And while convenient, they have one fatal flaw, and that is coverage. Sprays mist out your sealer in an uneven pattern similar to window cleaner. It will be thick in the middle, and very thin on the outside ring. When using a sprayer, have the right tool to even out the sealer once sprayed.
The most logical way to use them with quart jugs is with a Tupperware bowl and a paintbrush. This takes time, can ruin the bowl, but guarantees you know exactly how much sealer is being applied. It is also more heavily concentrated so you can use less to achieve the same goal as the sprayer.
Pick your applicator style based on the surface and the time you can spend doing the job right.

Conclusion
Our top pick was easy with this one. We went with Granite Gold Sealer Spray as our best overall choice. It had everything a person needs for sealing their countertops and maintaining that investment. The life of your granite, travertine, or whatever natural stone you prefer, will be extended with this fantastic sealer.
For the quality, yet economical choice, the Miracle Sealants 511QT6 511 Penetrating Sealers product is the best travertine sealer for the money. With value and style, this sealer has all the bells and whistles, and no sticker shock.
We certainly hope these reviews were helpful. There is a lot to be said about sealers for natural stone. We hope you find the one that will give your natural stone a long and lustrous life.
Related Reads: