7 Best Dual Flush Toilets of 2023 – Top Picks & Guide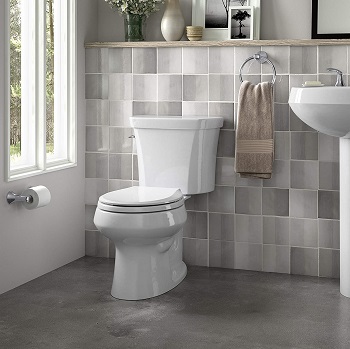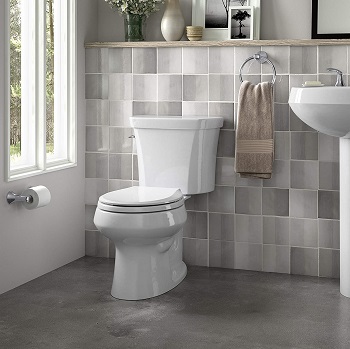 Who says that dual flush toilets should only be available for water-efficient businesses and hotels? Although they may be harder to find than traditional toilets, they are out there for household use. This availability is excellent news since using a dual flush toilet can save you up to 67% of the water usage compared to a regular toilet.
The dual flush toilets were initially invented by Caroma for businesses and households to save water. The original version of their toilet saved a family around 32,000 liters of water per year. Since then, the system has been improved to save even more water each year.
Finding the right one for you can be tricky. We have compiled the best quality products currently on the market to help you find the perfect flush.
---
A Quick Comparison of Our Favorites For 2023
Rating
Image
Product
Details

Best Overall

WOODBRIDGE T-0019

Easy to clean design
Sleek edges with skirted trapway
The quiet siphon flushing system
CHECK PRICE

Best Value

KOHLER Wellworth

An easy-to-clean design
Ergonomic size for easy install
Budget-friendly
CHECK PRICE

Premium Choice

Convenient Height

Tall build for a comfortable seat
Slow-shut toilet seat included
Easy to install
CHECK PRICE

American Standard H2Option

WaterSense Certified
16-½" tall body
Siphon jet and PowerWash rim technology
CHECK PRICE

Swiss Madison St. Tropez

Great customer service
Slow-release seat
Very easy to clean
CHECK PRICE
The 7 Best Dual Flush Toilets
1.

  WOODBRIDGE T-0019 Dual Flush Elongated Toilet — Best Overall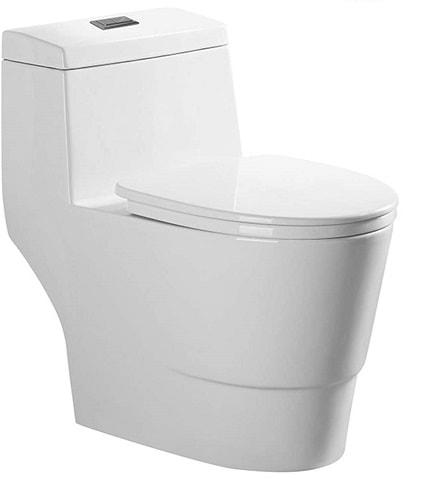 Woodbridge has kept the design of your bathroom in mind with its one-piece dual flush toilet. It is designed with sleek edges that don't only look nice but also help to make cleaning it much easier than toilets with curves. They have even thought about the height of the toilet. The seat is elongated, making it longer and taller, chair height, so it is easier for the average adult to get on and off.
Beyond the fancy exterior, this elongated toilet is rated number one because of its siphon flushing design that makes it run quickly and quietly, the soft-close toilet seat, and the high efficiency, WaterSense Certification it earned. They have natural compatibility items for the toilet, such as an attachable bidet.
The T-0019 isn't the only significant part of this product that is well-loved. The company prides itself on quality customer service. If something goes wrong with the toilet or delivery, they are eager to help you out, especially if it is covered by their extended five-year limited warranty. All in all, we think this is the best dual flush toilet you can buy this year.
Pros
Easy to clean design
Sleek edges with skirted trapway
The quiet siphon flushing system
WaterSense Certified
Cons
Very heavy
Tricky install in small spaces
---
2.

  KOHLER K-3987-0 Wellworth Dual-Flush Toilet — Best Value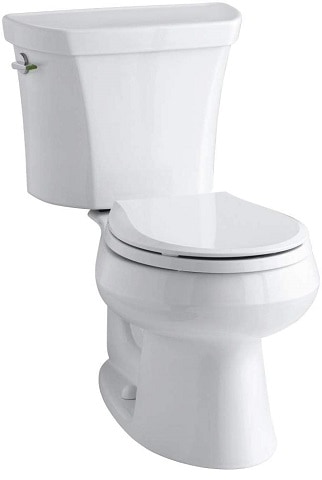 Kohler's K-3987-0 dual flush toilet is voted the best value because of its budget-friendly approach to the dual flush industry. This toilet manages to accomplish all of the premium qualities of the toilets on our list, yet does it with a price tag that is more convenient for some buyers.
This toilet is a two-piece that comes with consideration for small spaces in mind. If you have a smaller bathroom, the toilet fits smoothly with a round front bowl.
The dual flush options are controlled by a handle on the side of the toilet instead of buttons on the top. This keeps flushing intuitive for those of us who have had a side-flush toilet for all our lives.
For those of you who appreciate being able to put decorative or useful items on top of the toilet, the button placement and smooth, flat top make the Wellworth doable. For these reasons, we vote this the best dual flush toilet for the money.
Pros
An easy-to-clean design
Ergonomic size for easy install
Budget-friendly
Side handle for flushing
Cons
Toilet seat not included
Small stool means a problematic fit for some
---
3.

  Convenient Height S Dual Flush Toilet — Premium Choice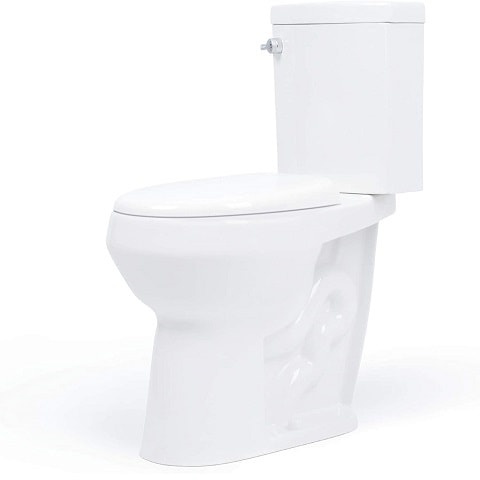 The major selling point for this toilet from Height Comfort is its convenient height for those that are taller and if you are older. An average toilet seat is raised 15 inches away from the ground. This toilet is made to be an easy-sit since it is raised 20 inches off the ground.
This toilet is a little more expensive than most, but you are investing in convenience and quality. The entire body of the toilet is fully glazed with shining white porcelain and curved edges to make cleaning a breeze. The toilet seat is included with the purchase and has a slow release for a silent touch.
The interior plumbing of the toilet is manufactured with a high elevation bend in the pipe to the bowl to ensure that you get a clean, powerful flush every time. The dual flush handle is placed on the front and slightly off to the side for easy access.
Pros
Tall build for a comfortable seat
Slow-shut toilet seat included
Easy to install
Great look
Cons
Narrow seat space
Insufficient installation instructions
---
4.

  American Standard H2Option Dual Flush Toilet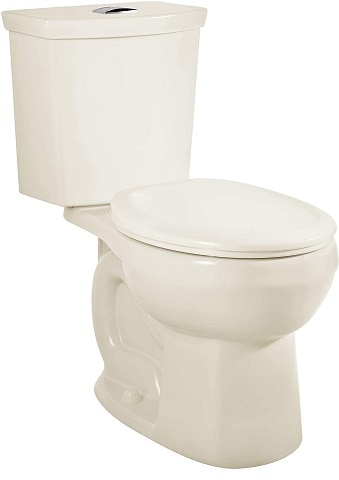 American Standard produces its toilets with an EverClean exterior to keep them looking sparkly clean for as long as possible. It is offered in three different colors to match well with the interior of your bathroom.
On the interior, the toilet flushes with siphon jet technology and a PowerWash rim to make for a clean, powerful flush every time. The seat is 16½ inches off the ground to make it taller than average toilets but not tall enough to be inconvenient. This may well be why it is top-rated for comfort.
The actuator for the H2Option is placed on the lid. While it might be new for some people, it makes reaching it and selecting the best flush mode accessible. In a lower price range, this toilet has excellent value for the cost.
Pros
WaterSense Certified
16-½" tall body
Siphon jet and PowerWash rim technology
Cons
The seat is not included
Picture-based instructions for install
---
5.

  Swiss Madison SM-1T254 One Piece Toilet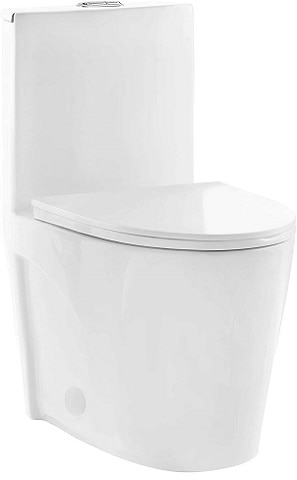 Swiss Madison went with an impressive modern design for their dual flush toilet. It is a one-piece toilet that comes with sleek and rounded out features instead of those that highlight the interior plumbing of a toilet. This keeps it easier to clean, along with the fully skirted trapway.
The seat is included with the purchase of the toilet. It is easily attachable and has a soft-closing mechanism to keep it discreet. The seat can also be easily removed with a push of a button to clean the often harder to reach areas.
The actuators are made from chrome and placed at the top of the toilet for an easy reach. With an average height and a sturdy overall build, the Swiss Madison is another toilet rated top for comfort for you, the user.
Pros
Great customer service
Slow-release seat
Very easy to clean
Cons
Difficult installation
Not compatible with many other seats
---
6.

  Toto CT418FGNo.01 Aquia Wall-Hung Dual-Flush Toilet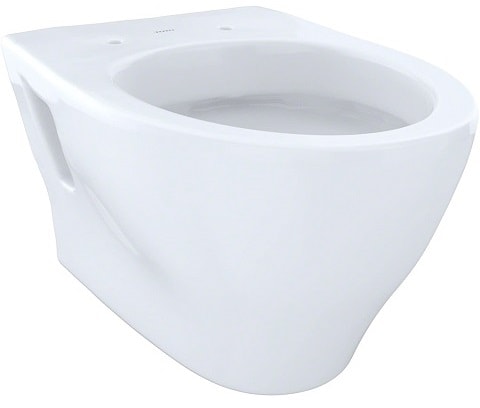 Are you looking for a toilet that is a little different or doesn't take up too much visual space in your bathroom? This dual-flush toilet is the way to go then. It is a wall-hung toilet that almost appears to be floating from its position.
The outside of the toilet is glazed with the company's SanaGloss that prevents any debris or mold from sticking to the outside. This keeps down the chemical and water usage for cleaning the toilet space.
Due to its wall installation, the total space that the Aquia takes up is minimal compared to average toilets. You will want to try this toilet out if you have a small room, with some people saying that "it is a must."
Pros
Small build for small spaces
Easy to clean
Easy to install
Cons
Lid and seat sold separately
Difficult to access cistern after install
---
7.

  Toto MS446124CEMG#01 Aquia IV Dual Flush Toilet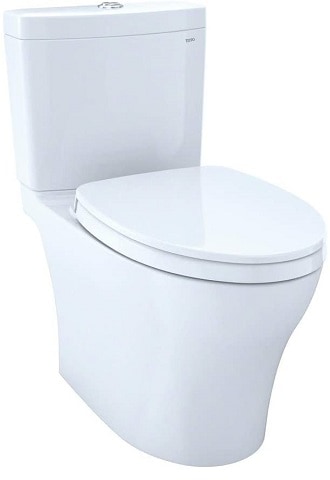 The final product on our list is another quality product from Toto. The Aquia IV Dual Flush has a standard build with the tank and the bowl being outside the wall. A common complaint about dual flush toilets is that the water level is typically lower and may leave stains behind. Toto has solved this by using a Dynamax Tornado flush that gets 360 degrees around the interior of the bowl.
The outside of the toilet has a sleek ceramic finish to keep mold and debris from attaching to the exterior. The toilet is a one-piece that helps cleaning with a smooth, straight design for the bottom and is fully skirted.
The lid is included with the sale of this toilet and is made with the soft-close lid mechanism that accompanies almost all quality toilets. When you go to purchase this toilet, Toto gives you two options for height: the standard 15 inches as well as the universal 16⅛ inches.
Pros
Dynamax Tornado flush for 360 coverage
Sleek ceramic finish
Multiple choices for height
Cons
Is not ADA-compliant
Chrome actuators not highly durable
---
Buyer's Guide – Choosing the Best Dual Flush Toilet
Even if you know that a dual-flushing toilet is a way you want to go, it is still helpful to have a list of priorities when buying. Several considerations go into buying any type of toilet, with several that are unique to a dual-flushing system. Look through the guide below to get a good idea of the product you should be looking for in your search.
Shape and Height
The first consideration is for the overall construction of the toilet. Your priorities here may sum down the list of potential options quickly if they only come in specific sizes.
The shape of the toilet refers to how the toilet is formed. Are the toilet bowl and the seat elongated, making for a more comfortable positioning? How long and broad is the cistern (tank) of the toilet? Some toilets are made to fit in smaller spaces but will appear tiny in a large bathroom. It is best to measure out the space you have before starting your search.
The height of the toilet is a large part of its comfortability. Toilets come in a variety of heights, with the standard height being 15 inches from seat to the floor and universal height being 16⅛ inches. There are some toilets made even taller at 20 inches. Taller toilets are generally more comfortable for tall people or people that have trouble squatting down. This may include the elderly or people with hip or knee problems. A 20-inch toilet will be much too tall for an average, non-disabled person, though.
Style
Although less important for the overall usability of the toilet, the style of the toilet is still important since it is a new fixture in your home. The more traditional look has more edges and shapes. They generally have a larger base that quickly narrows in the back to display over the pipes that show the flow of the toilet. The bowl is larger, and the edges of the tank are generally rounded.
Now, a lot of the newer designs classed as modern are sleek with straight edges and a form that extends from the tank to the ground without narrowing at all. It gives the toilet a full look that many find easier to clean but still pleasing to the eye.
Flushing Mechanism
One of the most important considerations when investing in a dual-flush toilet is the flushing mechanism it uses. This is critical since the big allure of these kinds of toilets is the amount of water that is saved. Thus, many of them hold less water at the bottom of the bowl, and you can choose how much is used when you flush.
Pay attention to the different water flow and flushing mechanisms, whether they have special, high power flushing to accommodate for less water in the bowl. This helps to keep it cleaner for longer.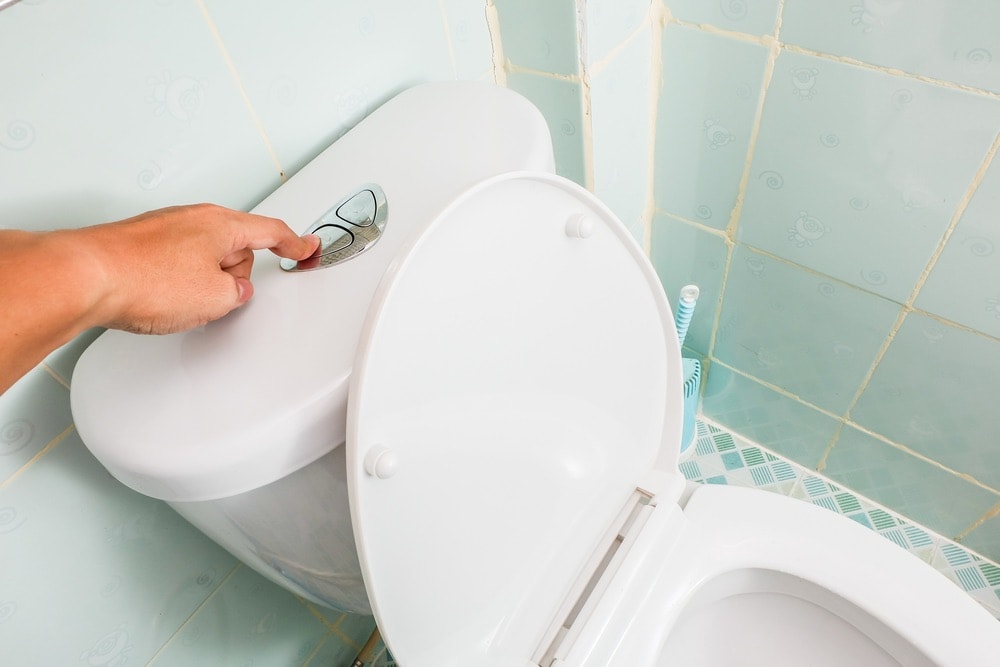 To Seat or Not to Seat?
Almost all toilets have different options and accessories that accompany it. Some of them, though, may appear as if they are in the same price range, but do not come with the seat or the lid of the toilet. These items would then need to be bought separately, and this may increase the price in large chunks.
This is not the only consideration for add-ons when it comes to dual-flush toilets. Many producers are now making compatible bidets that can be easily added to the main body of the toilet. If this is an interest for you, be sure to look up whether this is an option for you or not.
Toilet Bowl
Toilets come in either one or two parts for their main body. Many people prefer a single part toilet because it is easier to clean and appears to be more uniform. Some may prefer the two-part since repairs or replacements are easier when it is only a single part of the toilet.
If the bowl or the tank has individual problems, it can be replaced on a two-part toilet, whereas on a one-part toilet, the entire toilet will need to be replaced.
Water-Saving Capability
There is not a standardization for how much water a toilet will use. This is especially true for dual-flush toilets as the two options may each be different from option to option. If saving water is of utmost importance for you, then this is something to look into. How much water does each flush use? How much different is it between the smaller flush and the bigger flush?
The other consideration is the amount of water replaced in the bowl. A frustration with dual-flush toilets that focus on saving water is that there is not enough water in the bowl to catch and clean away waste. If this is a concern for you, look into a dual-flush system that reports a higher water level in the bowl or usage for each flush to get the job done.
Price Range
For the final consideration, we have more of an obvious one for many buyers. A toilet should be considered a long-term investment. Toilets tend to be more expensive than might be initially assumed. Purchasing a lower-grade toilet to make up for that can increase plumbing issues, and who likes plumbing?
Getting the right one for your needs as well as a quality make will hypothetically reduce the amount of money you have to spend on replacements in the long run. Consider your price range for a specialty toilet like a dual-flush system, and then consider how much money it could save you in repairs and water usage.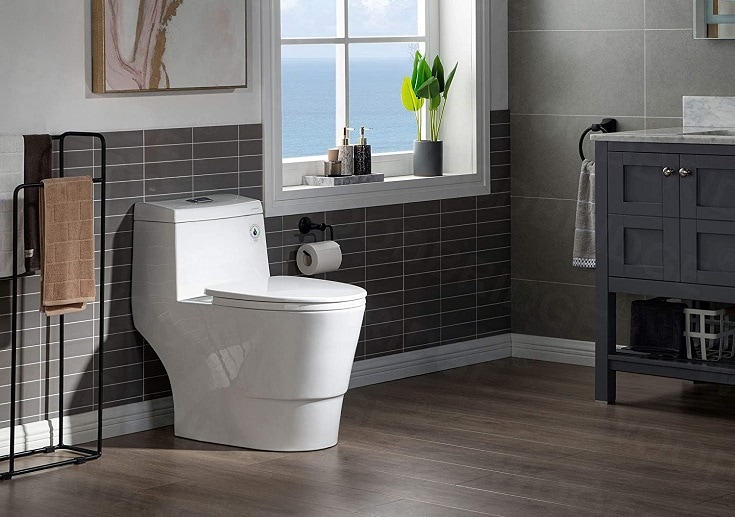 ---
Conclusion
Not only can a toilet flush away waste, but it can also help to protect the environment as well as save you money, like with our top value choice Kohler Wellworth Dual-Flush toilet. The toilet is an essential aesthetic to the bathrooms of every home, as can be seen in our best-rated selection, the Woodbridge Dual Flush Elongated Toilet.
Although it can be challenging to find one that fulfills all of the needs of the household, the compilation above gives you great options to choose from. It lists taller options to suit the towering or those who struggle with joint pain, to elegant possibilities for those who consider a toilet a throne.
Who knew how many factors there were when purchasing a toilet? However, it is beneficial to remember the "forgotten fixture" in the home and what it can do for you. The little ceramic bowl that could, if you will.
You can also see more toilet reviews here.