4 Best Spray Paints for Plastic in 2023 – Top Picks & Reviews


Spray painting plastic can be an arduous task as most spray paints don't adhere well to common plastics, which means they quickly chip away and can leave the object looking worse than when you started. However, some formulations are good for spray painting plastic, as they have been specifically created for that purpose.
It's not always clear which brands and which product lines are good for this purpose when shopping online. That's why we've created this list of reviews of some of the best spray paints for plastic. Armed with this information, you should be able to find the spray paint that is right for your next project, and that comes at a great price, too.
We also created a buyer's guide to help both novices and spray painting experts alike learn everything they need to know before they buy.
---
Our 4 Favorites of 2023 Compared
Rating
Image
Product
Details

Best Overall

Rust-Oleum 211338

No primer needed
Quick-drying
Soft gloss finish
CHECK PRICE

Rust-Oleum 267116

Good for wood
metal or plastic
Indoor or outdoor
Fast-drying
CHECK PRICE

Best Value

Krylon K04293007

Bonds to most plastics
No sanding
No priming
CHECK PRICE

Krylon K08970000 SUPERMAXX

Good rust protection
Includes primer
CHECK PRICE
The 4 Best Spray Paints for Plastic Surfaces
1.

Rust-Oleum Specialty Plastic Spray Paint – Best Overall

The Rust-Oleum 211338 is a great spray paint for taking an old piece of plastic furniture and making it like new again. This spray paint doesn't require any primer to work, which saves you a lot of time, though as with all spray paints, it works best if you thoroughly clean the object beforehand. It's quick-drying which lets you use the object or do a second coat in as little as 20 minutes. It also creates a nice soft-gloss finish which looks great without being too shiny and keeps plastic objects from looking too dull, either.
You can also use this spray paint for indoor or outdoor applications, though we caution you against the former in some circumstances. This formulation can have a strong smell, and it can take a while for that smell to fade, so if you're planning on using it indoors, you should be aware of that fact. With outdoor objects, this doesn't matter as much. Overall, this is the best spray paint for plastics, and you can get it at a reasonable price, too.
Pros
No primer needed
Quick-drying
Indoor or outdoor
Soft gloss finish
---
2.

Rust-Oleum Painter's Touch Spray Paint for Plastic Surfaces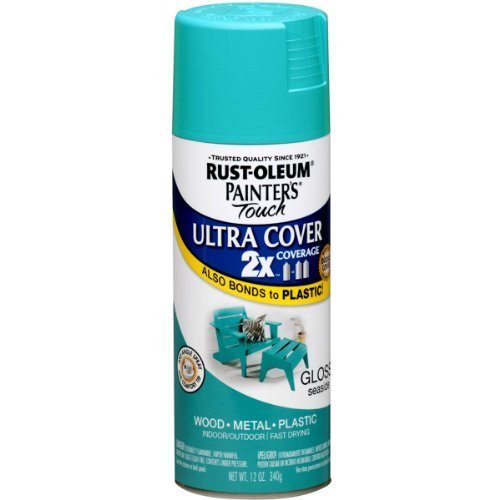 Another great spray paint from Rust-Oleum comes in second on our list. The Rust-Oleum 267116 bears many similarities to the previous entry, though there are some substantial differences. First, this formulation is good for wood, metal, or plastic, which means you're not limited to just plastic when you buy this spray paint. It's also good for indoor or outdoor applications. Like the previous model, it's also fast-drying, though it's not as reliable in this aspect as the other formulation is.
Unlike the previous variety, you'll sometimes need to use a primer to get the best looks out of this spray paint, which is an extra expense and lowers the value of a spray paint meant for plastic. It also retains a strong smell, which makes it less suited to indoor use. Overall, this is a great option if you're willing to spring for a primer to find a color in this line that can't be found with the previous entry on our list.
Pros
Good for wood, metal or plastic
Indoor or outdoor
Fast-drying
Cons
Sometimes need primer
Smell
---
3.

Krylon Camouflage Plastic Spray Paint – Best Value

The Krylon K04293007 is a spray paint for people who want an easy experience, a good price, and who aren't opposed to the colors that make up camouflage. If you're looking to create a camouflage look on something plastic, you're in luck, as this line contains every color you need for camouflage, and you can also purchase a stencil that makes creating that look easy. This spray paint doesn't require any sanding or priming, so if you're looking for a fast, low-effort spray paint, this is the variety for you.
This formulation bonds to most plastics, which makes it good for many purposes. While it does dry to the touch in minutes and is safe to handle in about an hour, it takes a week of curing to become thoroughly chip-resistant, which means that for the best results you shouldn't use the object much in that time. You're also limited to camouflage colors in this line, so they're not the most vibrant, colorful options you could get. The good news is that you can get this line for a reasonable price, so it's going to be a good choice for many people. All in all, we think this is the best spray paint for plastic for the money.
Pros
Fast-drying
No sanding or priming required
Bonds to most plastics
Price
Cons
Slow curing
Limited color options
---
4.

Krylon SUPERMAXX Spray Paint for Plastic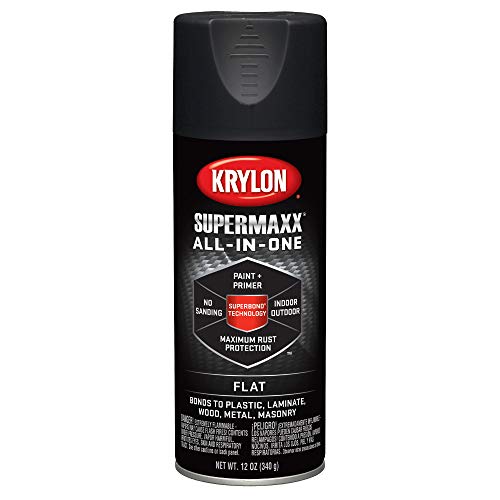 The Krylon K08970000 SUPERMAXX is a good utilitarian spray paint. It offers good rust protection, which is good if that's the primary reason that you're looking to paint an object. It also includes primer, which means you don't have to do that step separately before you paint. However, this is a very boring flat black color that you won't like looking at, which does make sense for something you want to protect from rust, but that's still weird considering that plastic doesn't rust.
This model is also prone to quality-control issues. While some cans work great, many seem to go to one of two extremes, as they're either so runny that they don't stick to the object you're trying to paint, or they're so thick that they almost immediately clog, which is a pain in the butt. Both situations are unacceptable, so you're probably better off avoiding them. If you're looking for rust protection, this formulation might be worth the risk, but otherwise, this probably isn't a good deal.
Pros
Good rust protection
Includes primer
Cons
Boring color
Quality-control issues
---
Buying Guide – Choosing the Best Spray Paints for Plastic
We hope that our reviews have given you some ideas about what to look for when you shop for spray paints for plastic. Whether you're new to using spray paints, or need a bit of a refresher course on what to look for, this buyer's guide is for you. We've loaded it up with a lot of great general information about choosing the right brand and formula of spray paint, so it's a can't miss if you want to get the best value when you buy.
Paint Quality
One of the most important qualities of spray paint is how well it works. It doesn't matter how cheap it is, or how easy it is to use if the paint doesn't hold up well to extended use. In some circumstances, some formulations don't hold up well to even light use, which makes for an exceptionally-poor deal. Since you may have the alternative of using traditional paints, spray paint must live up to the expectations you'd have for those paints to make for a good deal, regarding durability. However, some brands do live up to this expectation.
You'll want to pay attention to the level of gloss you're getting in each different spray paint. Some look outright shiny, while others have a very matte or flat look. For most applications on plastic, you'll probably want something in the middle. A semi-gloss looks nice without being distracting or dull, and it fits what most people expect when they look at something made from plastic.
If you're going to be using the plastic object outside, then you'll want to make sure that you invest in a variety that comes with moisture resistance and durability towards UV radiation, which can rapidly degrade indoor-only paint. If you don't, you'll find yourself constantly retouching and generally dissatisfied with your purchase.
Moisture resistance
Moisture resistance is a generally good thing to have in a paint, even if the object is going to be kept indoors. Paints can be vulnerable to humidity, not just direct water contact, so even objects kept indoors can be subject to water damage. With objects like lawn chairs that will live permanently on a porch or patio, this feature is extra-important.
If you don't get a variety with moisture resistance, you may find that your object has started to run, or smudges with even the lightest touches, which makes for a frustrating time. This is one of those features that is important enough that most companies include it in their product descriptions, so if you don't see it listed on a model, then it probably doesn't have it.
Mixture quality
If you've used spray paints before, you've likely had the misfortune of using a variety that was poorly made. Cheap spray paints have a couple of common problems. One of the most frequent ones is a clogged nozzle, which results from a spray paint that was improperly made and is too thick. You can sometimes fix this problem by cleaning the nozzle with mineral water or replacing the nozzle. Another way to reduce the likelihood of this problem is to shake the bottle well before use.
Spray paint also has an expiration date, and if you try to use it past that date, it's likely to clog or be completely dried inside the can. If you receive one of these cans, make sure that you promptly return or exchange it, as it's unlikely to work well. While there's no way to tell if a formulation trend towards runniness or clogging from the product description alone, you can often discover this information by reading reviews online.
Cure time
Each variety of spray paint has a different amount of time required for sufficient drying. Some brands claim that they're dry to the touch in 10 minutes or less, and safe for a new coat or handling in as little as an hour. This is typically only true on certain surfaces and in optimal conditions, but the fact remains that some brands dry more quickly than others. Some even require days or weeks to dry completely and become safe for handling, which is longer than many people want to wait.
In some circumstances, you can speed up the curing process by putting the object in question, but that's not going to be possible with all plastics, which may melt in high heat. It's also possible that many objects won't fit in the oven. You should also only do this if there are specific instructions on the can that say that the paint is safe for high-heat situations.
Can quality
One final thing to research before you buy any spray paint is the quality of the can. While it may seem unimportant, the way the can is manufactured can have a big impact on your overall experience and level of frustration or pleasure when using the product. Some companies make great cans that rarely clog, but unfortunately, many make the cheapest can possible, and that means that you're going to have clogs.
You'll always want to research what cans are used for each variety of spray paint, as some are made better, and in some circumstances, you can purchase additional nozzles, which makes it easier to deal with clogs without having to buy a new can.
Other types of spray-paints:
Conclusion
The Rust-Oleum 211338 is our top choice for spray-painting plastic, as it comes with a nice semi-gloss coat and dries quickly. The Rust-Oleum 267116 has a wider range of colors but will sometimes require a primer and has a strong smell. The Krylon K04293007 is our choice for the best value to its low price and ease of use, though it only comes in camouflage colors. The Krylon K08970000 SUPERMAXX is good for rust protection but comes in a boring color, and you don't need rust protection for plastic.
Hopefully, our reviews and our buyer's guide have helped you find the spray paint that is right for you. While it's not always easy to shop online, we hope this information has given you the knowledge and confidence you need to make a great purchase.