8 Best Dust Collectors for a Small Shop 2022 – Top Picks & Reviews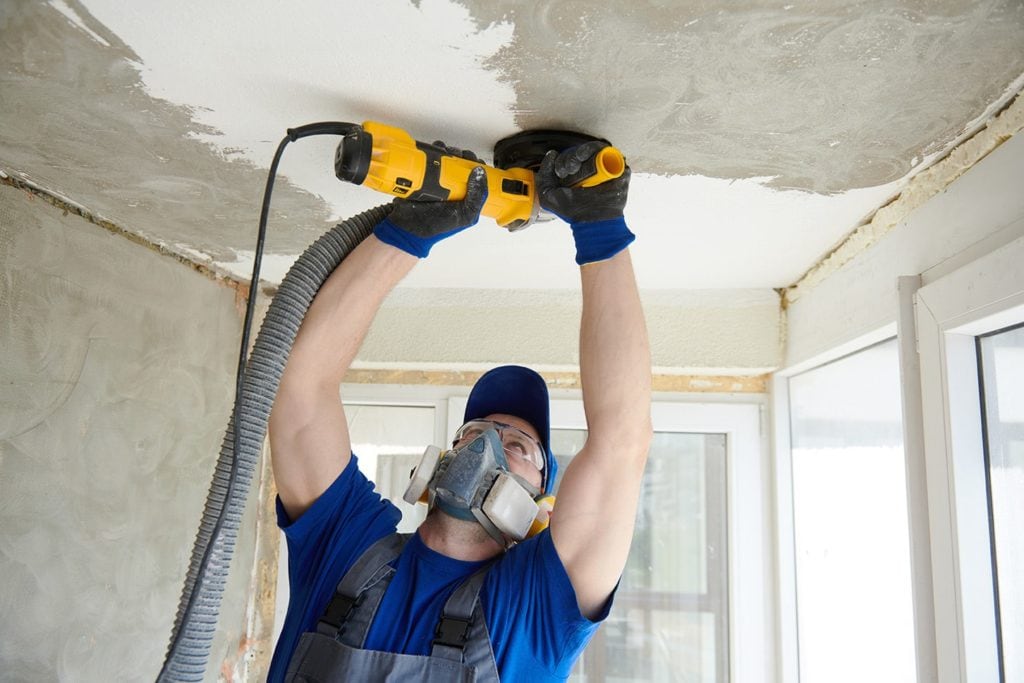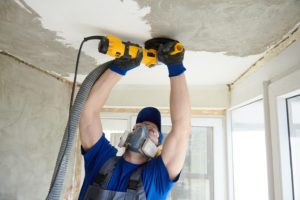 Dust collectors are one of those tools that aren't very fun to have,  but they are necessary for many different projects and situations. No one dreams about upgrading their dust collector or looks forward to the release of a new model. However, if you want your shop to stay clean (and safe), you need one.
Of course, purchasing the right model is also paramount. Otherwise, you may end up spending more money than you need to or choosing a model that isn't powerful enough for your workspace.
To help you make the best decision of your small shop, we researched some of the top dust collectors out there. Below, you'll find our reviews for some of the best dust collectors for smaller shops, which are generally less expensive than some of the industrial models out there.
---
A Quick Comparison of Our Favorites in 2022
Rating
Image
Product
Details

Best Overall

SHOP FOX W1685 Dust Collector

5-micron bag
16 amps
Powder dust-coated
CHECK PRICE

Best Value

WEN 3401 CFM Dust Collector

4-inch dust port
Swivel casters
Portable
CHECK PRICE

Premium Choice

Festool 583492 HEPA Dust Extractor

Ergonomic design
HEPA filter
Dry and wet
CHECK PRICE

Grizzly Industrial G8027 Dust Collector

Inexpensive
Very portable
4-inch port
CHECK PRICE

Jet DC-1100VX Dust Collector

5 HP
Steel impeller
Translucent bag
CHECK PRICE
The 8 Best Dust Collectors for a Small Shop
1.

SHOP FOX W1685 Dust Collector – Best Overall
The SHOP FOX W1685 Dust Collector is specifically designed to work with woodworking machines. It has a powder-coated paint to prevent rust and improve the overall durability of the model. This machine is 16 amps, so you have to remember to plug it into the correct outlet, as not all breakers are designed for 16 amps. Given its power, you should also be careful when plugging it up with other machines.
Besides that, this machine is perfect for small shops. It can be used as a stationary unit or moved around. It does have the option to put wheels on it, which is fantastic if you plan on using it with different tools around your workspace. It has a 2.5-micron bag, which is perfect for most small workshops. Plus, this machine seems to be quite durable as well. There are many reports of this dust collector running for years.
The cost of this machine isn't terribly high either. There are cheaper options, as well as more expensive options. For the average small shop, though, this mid-range model is perfect which makes it our choice of the best dust collector on the market.
Pros
5-micron bag
16 amps
Powder dust-coated
Steel impeller
1.5  HP
---
2.

WEN 3401 660 CFM Dust Collector – Best Value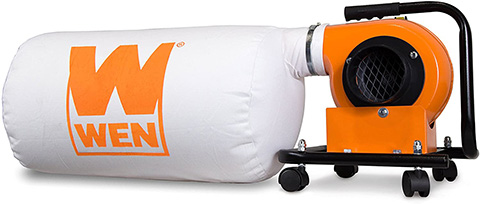 WEN is well-known for making inexpensive yet high-quality tools. The WEN 3401 Dust Collector is no different. It is the best dust collector for a small shop for the money. If you're on a budget, this is probably the model you'll want to get.
This model includes a 5.7-amp motor. You'll probably notice that this is significantly lower than our top pick. However, this lower amperage is one of the main reasons that this machine is so cheap (and one of the reasons it is not number one on this list). For small shops on a budget, though, you can likely get away with such a small motor. The dust collection port is 4      inches, which should allow for connections to most of your woodworking tools. The swivel casters can be locked into place when needed, but also make it easier to move the machine around when necessary.
The compact design makes it easy to move around and store. It even comes with a carry handle. You can also mount this unit to the wall if you'd like, which eliminates the need for storage.
Pros
Inexpensive
4-inch dust port
Swivel casters
Portable
---
3.

Festool CT 26 HEPA Dust Extractor – Premium Choice
For those looking to go all-out on their dust collector, the Festool 583492 Dust Extractor is a reliable option. It has an automatic tool start and an adjustable suction, making it much easier to control than other options. It can also be switched on and off manually as needed. We liked that it could be used for both wet and dry materials. Usually, dust isn't wet, but you never know when that feature will come in handy.
The 11 ½-foot hose is flexible and minimizes shock hazards. Because it is anti-static, you don't have to worry about static cling either. The hose garage feature allows for significant amounts of storage and transportation ease. The large wheels and low center of gravity make moving this collector around very easy. It is very ergonomically designed. It uses a HEPA filter as well, which means it does a better job filtering than some other options on the market.
This dust collector has all the features you need and probably some you don't. If you have the money to spend, this is a great option.
Pros
Automatic tool start
Anti-static hose
Ergonomic design
HEPA filter
Dry and wet
---
4.

Grizzly Industrial G8027 Dust Collector
The Grizzly Industrial G8027 Dust Collector is a decent option for small shops. It is fairly inexpensive, which makes it great for those that aren't looking to spend tons of money. It is also very portable. You can take it to the job site without much of a problem.
It has a 1.0 HP motor, which is a bit lower than most on the market. However, it is much cheaper as well, so you're getting what you pay for. It is 8 amps, which place sit in the middle of the pack. Some are more powerful, but also a few that are less powerful. The intake is 4 inches, which is the usual size, and there is a paddle safety switch just in case you need it.
However, this machine is just too underpowered for most shops, even small ones. You may not be able to plug it up to your woodworking machines directly due to the low power, which makes it unusable in some situations. It is so cheap for a reason, and many people aren't going to get much use out of this machine. This is why it only ranked at number four on our review list. There are just better options out there!
Pros
Inexpensive
Very portable
4-inch port
---
5.

Jet DC-1100VX-5M Dust Collector
The Jet DC-1100VX-5M Dust Collector is designed to be easy to use for years to come. It has a totally-enclosed, 1.5 HP motor. The impeller is steel, which makes it able to take in quite a bit more air than other machines. It also makes it more durable than a plastic impeller, for example.  It has a see-through dust bag, so you can quickly tell when it is getting full. This also lowers how often you'll change the bag since you'll be able to tell when it really needs to be changed. The heavy-duty casters make it quick and easy to move around as well.
It uses Vortex Cone technology to reduce filter clogging, which is just one less thing you'll have to worry about. It also extends the life of the machine.
However, this machine also has a few downsides. It is very noisy, so you will need to use hearing protection when wearing it. It is also a bit more challenging to set up than other options and is quite large. Of course, it is portable so that you can move it around. However, there are more compact options on the market.
Pros
5 HP
Steel impeller
Translucent bag
Cons
Noisy (70-80 dB)
Difficult to set up
---
6.

Delta Power Equipment Dust Collector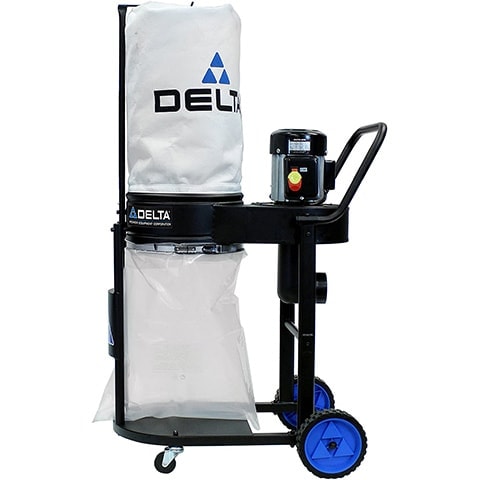 Another decent option is the Delta Power Equipment 50-723T2 Dust Collector. It isn't particularly bad, but it isn't our favorite either. It has four casters for easy transportation and has a snap-in bag design that makes changing the bag much more accessible than other options. This collector is much quieter than many other dust collectors on the market, if fact, we found it to be quieter than even some shop vacs. If you're concerned about the sound level for whatever reason, this may be a reliable option for you.
We also found that this machine was pretty easy to put together.
With that said, there were many things we didn't like about it. The bag is tiny and fills up quickly. You'll need to change and clean it often. Furthermore, it is not as easy to change the bag as you might first consider. The snap-in option can be easier than others, but it takes a bit of time to get used to it. If you're used to other dust collectors, it is a bit more complicated than you might like.
Pros
Quiet
4  casters for easy transport
Easy to put together
Cons
Plastic bag
Takes a bit to get used to the bag change system
---
7.

BUCKTOOL HP Auto Start Dust Collector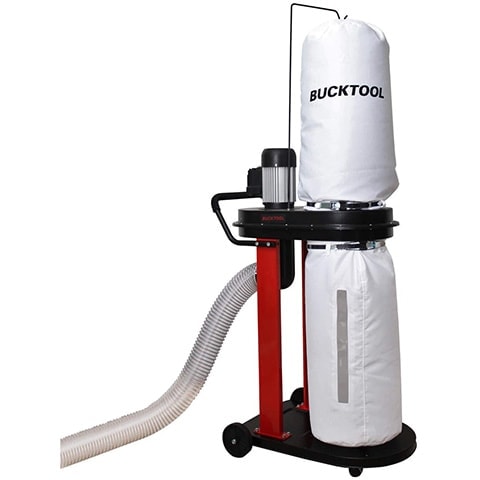 The BUCKTOOL 1.2 HP Auto Start is one of the lower-quality options on our list. It has a 1.2 HP motor, which is a bit lower than most of the competition. It is at 6.5 amps, however, which does put it slightly higher than other dust collectors around the same price. It has an auto-start feature, which we liked. It will automatically start when you plug in your dust collector. Surprisingly, this is a rare feature, though it is one we find very useful.
It is a small size, which makes it easy to transport when needed. The caster wheels allow it to be more mobile than some other options, though most high-quality dust collectors do have wheels.
With that said, we did find the suction of this machine a bit lacking. It may not work for some professionals who work with a lot of wood. If you're a carpenter, this machine probably isn't for you. It is also a bit harder to put together than some other options. Many of the screw holes don't seem to line up 100%, which can be a pain to deal with.
Cons
Weak suction
Hard to put together
---
8.

Grizzly G1028Z2 Dust Collector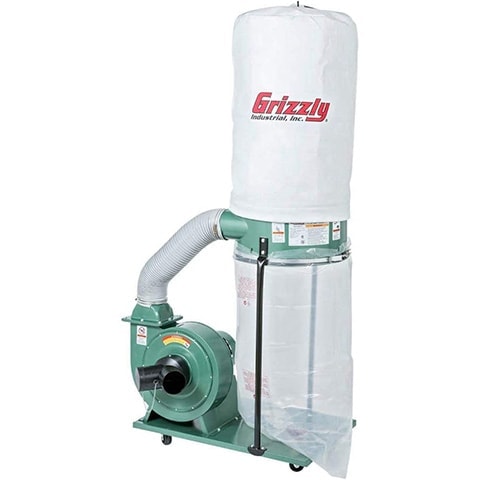 Unlike most of our bottom picks, the Grizzly G1028Z2 Dust Collector isn't terrible. However, it is significantly more expensive than most dust collectors of equal quality. Because of this, the value isn't there. You can purchase a dust collector of similar quality for cheaper, so there is little reason to spend the extra few hundred dollars on this one. If you have the extra money, you can get a dust collector of much better quality for the same price.
This dust collector does have a decent amount of power for most jobs. However, it's poorly put together and designed. It seems to break down often and never work quite as well as we felt it could. Many people reported that their collector broke within just a few months or came with pieces that were not put on correctly. A broken dust collector isn't useful, which is why we ranked this machine so low.
Emptying the bag is also tricky – way more complicated than any other bag we reviewed. You need two people to change the bag since it slides down very quickly and has to be changed fast.
Cons
Difficult to empty bag
High price
Design flaws
---
Buyer's Guide – Choosing the Best Dust Collector for a Small Shop
While a dust collector isn't one of the most exciting machines to purchase, it is one of the more important ones. Without it, your shop will become dirty and unsafe.
Because of this, putting in the research to purchase the best machine is vital. To help you in this endeavor, we put together this complete buyer's guide. It has all the information you need to make the best purchase for your small shop and personal situation.
Size
If you're in a small shop, you probably want as small of a machine as possible. We all know just how valuable space is when you're using big machines in a small area. We highly recommend measuring your space and comparing it against the measurements of each machine before you purchase it. You do not want to purchase a machine that is too big for your space, especially since the process of returning one can become a big hassle.
Air Flow
How much air a dust collector draws in is essential, since it controls the amount of air it will be able to filter. A dust collector that doesn't have excellent airflow is going to have some difficulties working with some machines or doing more extensive jobs.
The airflow listing on each machine is a rough estimate since there are quite a few factors that go into the total airflow amount. It also doesn't count for static resistance, which is going to be a sizable problem to consider for some underpowered machines.
Filtration
Dust collectors filter dust from the air. How well they do this varies, though. Two-stage filtration is the best option. This involves chopping the bigger wood chips down to size, which makes it easier for the filter to remove the smaller pieces as well. However, this sort of filtration is often a bit expensive, so it is hard to find it in cheaper machines.
The filter inside the machine also gives you a good idea of the amount of dust it can remove from the air. All filters are rated based on the smallest particle they can filter—generally, the smaller, the better. You preferably want to choose a machine that is rated to filter out particles of at least 1 micron. This dust is so small that you can't see it. However, it can be dangerous for your lungs when inhaled.
Type of Debris
Not all dust collectors can handle all types of dust. Most can handle your average wood. So, if you're a woodworker, you shouldn't have a problem.
However, for those working with other materials, like tile, you need to find a machine that is capable of handling that dust. Especially rough and sticky dust needs a specialty unit as well.
Portability
If you're in a small space, you may not have to move around your dust collector very much. However, if you need to move it around while using different machines, portability is going to be a big deal. Many machines come on wheels, allowing you to roll them around as necessary.
With that said, portable models often sacrifice some power. This is because they need to remain small to stay portable. If you need power, you might have to sacrifice portability and vice versa.
Related posts:

Conclusion
Dust collectors are essential for any shop that produces dust. And, let's be honest, a lot of projects produce dust. This dust can make a mess and be dangerous for your lungs, so it is essential to remove it as efficiently as possible. Hopefully our reviews helped you sort out which dust collector is best for you.
We recommend the SHOP FOX W1685 Dust Collector for most small shops. This machine is portable without sacrificing too much power. It has a 2.5-micron bag and is 16 amps, which makes it much more powerful than most other options on the market. Despite this, it isn't expensive.
If you need a cheaper option, the WEN 3401 Dust Collector is a decent option. It is much cheaper than most of the competition. However, it is decently portable and has high-quality wheels. Because of the lower price, it is a bit less powerful than most options.
---
Featured Image Credit: Dmitry Kalinovsky, Shutterstock