8 Best Cyclone Dust Collectors of 2023 – Top Picks & Reviews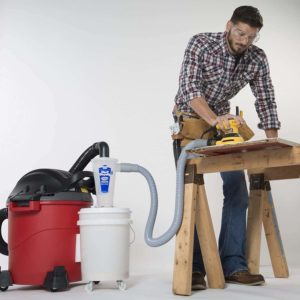 Not only does dust get everywhere, but it can also be a health hazard. Dust can get in your lungs and mess them up. It can also damage your tools, especially those with sensitive motors. The only way to avoid these problems is to get an efficient dust collector.
While there are many different dust collectors on the market, cyclone dust collectors are about as influential as they get. They are very large-volume and they can separate heavy chips and fine dust from the air. They do this filtration separately, so they don't clog very often.
However, that doesn't mean cyclone dust collectors are perfect. Some are relatively low-quality. It is essential to choose the best option for your workspace and preference. Check out our cyclone dust collector reviews and buyer's guide to help you narrow in on a quality dust collector.
---
A Quick Comparison of Our Favorites in 2023
Rating
Image
Product
Details

Best Overall

LAGUNA TOOLS MDCCF15110 Dust Collector

High value
Pleated filter
Very portable
CHECK PRICE

Best Value

Big Horn 11653 Cyclone Dust Collector

Easy to use
Simple to replace
Warranty
CHECK PRICE

Premium Choice

Jet JCDC-3 Cyclone Dust Collector

66-gallon drum
Direct-mounted filter
Independent casters
CHECK PRICE

Jet JCDC-2 Cyclone Dust Collector

Two-stage separation
Large collection drums
Clogs are very uncommon
CHECK PRICE

Oneida AXD000004A Dust Deputy Cyclone Kit

Inexpensive
Durable
Portable
CHECK PRICE
The 8 Best Cyclone Dust Collectors – Reviews
1.

LAGUNA TOOLS MDCCF15110 Dust Collector – Best Overall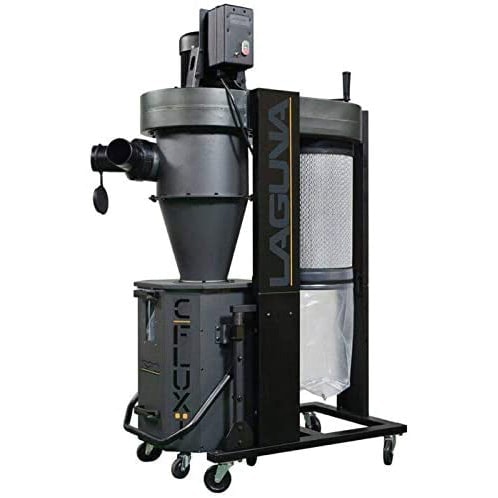 The LAGUNA TOOLS MDCCF15110 is a huge dust collector. It doesn't need a flex hose due to the innovative design. It allows the machine to be much more portable, which is always great – whether you're a homeowner or a professional. It comes with one standard canister and one micron canister. Together, they can filter at 99.96% of all particles between 0.2 and 2 microns. This is the primary reason we recommend this dust collector so heavily – it can collect practically all the dust in your workspace.
Furthermore, it is not as expensive as most professional-grade options. The majority of large dust collectors are out of the price range for most homeowners. However, this one may be purchasable on the average budget. It also has a polyester spun bond pleated filter, which helps the airflow to remain very high.
With that said, this dust collector is much more expensive than most homeowner options. It may be out of budget for some. It just depends on your budget and what you need. However, this is, without a doubt the best model on the market.
Pros
Captures 99.96% of particles
High value
Pleated filter
Very portable
---
2.

Big Horn 11653 Cyclone Dust Collector – Best Value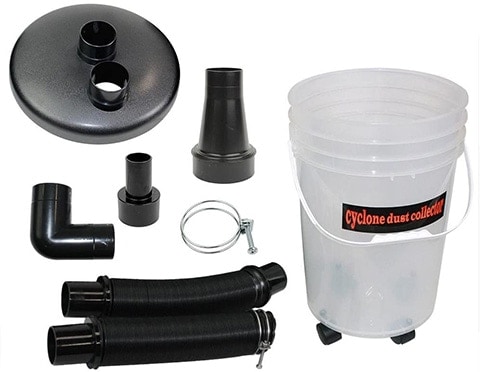 For those on a budget, the Big Horn 11653 is the best cyclone dust collector for the money. It is very inexpensive compared to other options. Even those on a tight budget should be able to afford this. However, with that low price, this dust collector is very cheaply made. It is a bucket and a lot of tubing. It is not made to last very long and is not very efficient. It is a budget dust collector if there ever was one!
With that said, this dust collector is extremely easy to use. You do need a shop-vac, but you probably already have one of those lying around. This is only really suitable for small shops, though, and homeowners. This isn't the most durable option, either. However, it is so cheap that you can purchase it again if it breaks. Plus, it also has a warranty.
Pros
Very affordable
Easy to use
Simple to replace
Warranty
Cons
Very simple
Not very durable
---
3.

Jet JCDC-3 Cyclone Dust Collector – Premium Choice
If you have plenty of money to spend on a dust collector, then the Jet JCDC-3 is a reliable option. It is more expensive than most other options on the market. The two-stage filtration system has more working cubic feet per minute (CFM) than comparable horsepower (HP). The filtration system is mostly the reason it is so much more powerful than other options. The heavy debris is pulled down into the collection bin before the debris hits the filter. Then, the filter removes the smaller stuff. The direct mounted filter eliminates the common inefficiencies associated with tubing. Again, this helps the airflow stay high.
The gallon drum that the heavy debris falls in a 66-gallon drum is far more extensive than most other options currently on the market. You won't have to empty it much at all, and it is large enough to support all-day work. If you spend a lot of time DIYing or are a professional, this is a huge plus. The casters are also independent, so you can empty them quickly when they do get full.
Pros
2-stage filtration system
66-gallon drum
Direct-mounted filter
Independent casters
---
4.

Jet JCDC-2 Cyclone Dust Collector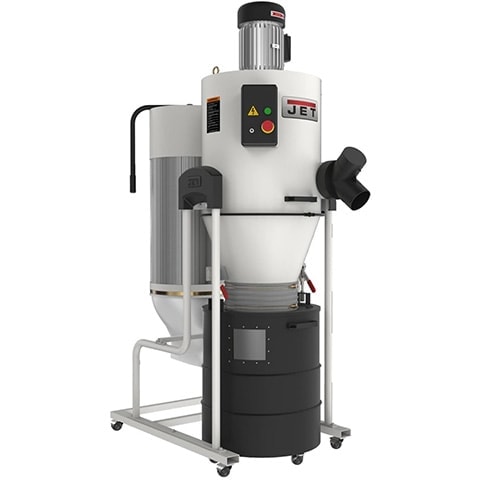 The Jet JCDC-2 is an average dust collector. It is a step down from our premium option. It is a bit cheaper, but also lower-quality. In our minds, if your budget prevents you from buying our premium option, your money is best spent on our overall option instead. This dust collector is good, but it just can't beat out the LAGUNA TOOLS MDCCF15110 Dust Collector.
Similar to our last option, this one has a two-stage separation system. The larger particles like wood chips are put into the collection drum before they hit the filter. Then, the filter handles the smaller particles. As you imagine, this helps the filter last longer and also makes it work better. Clogs are very uncommon because of this system as well. This system captures particles down to 1 micron. This isn't as small as other options. However, it may be enough for most small shops and homeowners.
One small negative about this machine is that users say it is a bit noisy. The engine makes a weird whistling noise, which gets annoying very quickly.
Pros
Two-stage separation
Large collection drums
Clogs are very uncommon
---
5.

Oneida Dust Deputy Cyclone Kit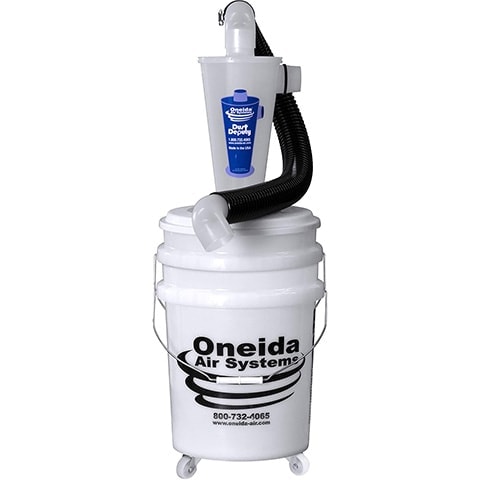 The Oneida AXD000004A is another inexpensive and very simple dust collector. It removes 99% of dust and debris from the air. The size of the dust it can remove is unknown – that stat is not provided by the company. We expect that it isn't that awesome, considering the low-quality of the filter. This machine does not clog very often, which is always an excellent addition.
We found this simple system very durable, which is not something we expected to say! It can be used many times without breaking. Plus, it is so cheap that you can usually afford to purchase it again if you need to.
The efficient design allows you to use it on wet and dry materials as well. It is versatile and can be used with a variety of hoses and fittings. Plus, it is made in America if that is a metric that is important to you.
Pros
Inexpensive
Durable
Portable
Cons
Small
Challenging to set up
---
6.

Grizzly Industrial Portable Cyclone Dust Collector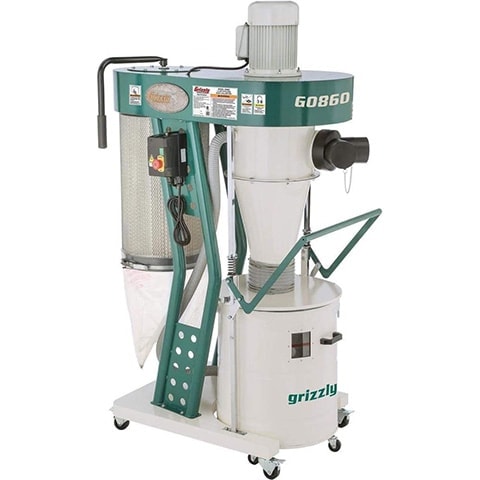 While the Grizzly Industrial G0860-1 looks professional and well-put-together, we found it a bit disappointing. It has a 20-gallon capacity, which is a little smaller than other options. However, it is also a bit cheaper than comparative dust collectors. You're sacrificing size for a lower price. It has a filtration capability of down to 1 micron. This isn't as good as we would like. However, it is decent. Most homeowners will find it suitable for their purposes.
It also has a wireless remote control, which you may find helpful in some situations. However, in general, we find this feature to be overvalued. You probably won't use it as much, even if it is a nice perk. The collection drum is straightforward to empty thanks to the quick-release handle, and the crank handle provides maximum airflow.
We did find this dust collector to be a little less durable than other options. However, this also comes at a lower price.
Pros
Inexpensive
Wireless remote control
Cons
Smaller than comparative models
Less durable
---
7.

Shop Fox Portable Cyclone Dust Collector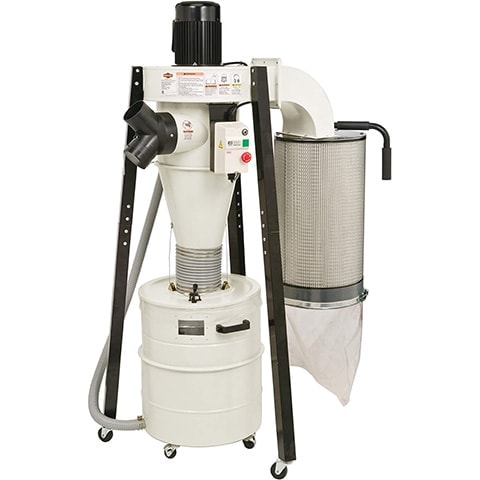 There is one significant downside of the Shop Fox W1823 is that it can only filter out particles that are 2 microns and larger. This means more particles are going to be floating around the air you're breathing. The smaller particles do the most damage, so this is not good in the least. This is one of the significant reasons this dust collector is rated so low on our list. It just doesn't do its job very well.
The filter is pleated for extra durability, which is an excellent feature. However, the filter doesn't work well to begin with, so it isn't that big of a benefit. The viewing window is excellent, as it allows you to take the guesswork out of whether or not the drum is empty or not. This system is also easy to empty, so that is a plus!
The assembly of this machine is complicated, though. The bolts are very hard to get in, and the directions are sometimes unclear. It is also deafening, according to those that purchased it. Not the best option for small, indoor shops.
Cons
Assembly is difficult
Filters out larger particles only
Noisy
---
8.

Baileigh DC-1450C Cyclone Style Dust Collector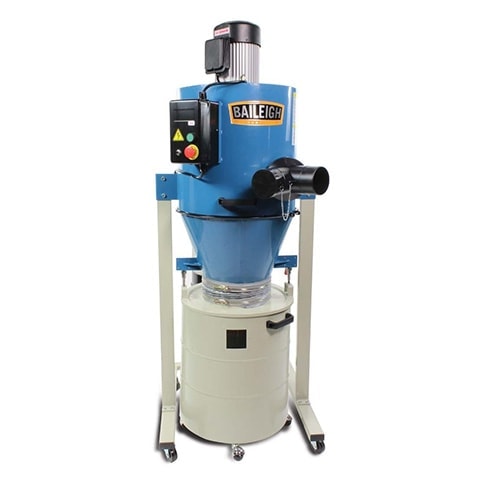 The Baileigh DC-1450C is a moderately priced option. It isn't the cheapest available, but it isn't the most expensive one, either. However, as far as performance goes, it isn't enjoyable. Your money is better spent elsewhere, like in one of the other units we discussed earlier in this article. It has a drum capacity of 20 gallons. This is smaller than most but is about average for the price point. If you're just a homeowner, this is likely plenty big enough. It may even be big enough for some professional shops.
This machine is also a bit underpowered. It is only 1.5 HP, which is a bit lower than other options on the market. This can be a problem for those who need to filter a lot of dust, and we expected more for the price point.
---
Buyer's Guide – Choosing the Best Cyclone Dust Collector
Choosing the best dust collector is vital for a variety of reasons. Most importantly, dust collectors are used to remove dangerous dust from the air, which can damage your lungs if inhaled. This is a purchase that you cannot cut corners on, as it may damage your health later on. If you generate dust in your workshop, you must have one of these dust collectors on standby to filter it out of the air you're breathing.
Not all dust collectors are the same, though, and there is not a one-size-fits-all solution. The best dust collector for you will rely on a variety of different factors. We will discuss these factors below in this buyer's guide.
Amount of Dust Generated
Some DIYing homeowners are not going to produce very much dust in the least. They may produce very little dust, depending on the projects being done. However, even small amounts of dust can be dangerous and need to be filtered, especially if you don't want to wear a mask capable of filtering out these particles. To do this, you will still need to purchase a cyclone dust collector. Otherwise, this dust is going to end up in your lungs or your tool's engine.
Still, if you only make a little bit of dust, you likely don't need a huge dust collector. After all, you don't have to worry about emptying the bin very much, since you aren't producing very much dust to begin with.
Simultaneously, if you produce a lot of dust, you should probably invest in a more massive machine. Not only will this decrease the number of times you need to empty it, but larger machines also tend to have better filters.
Your Workspace's Size
The size of the area you're using the dust collector in also matters. This does have something to do with the amount of dust you create – more machines will likely lead to more dust being created. However, the larger the space, the more powerful your dust collector needs to pull dust from the air at a reasonable efficiency.
Some dust collectors are small and portable. These usually do not have very high suctions. However, they're perfect for homeowners without a dedicated space or who need to move the dust collector around for whatever reason.
At the same time, your workspace affects the size of the dust collector you could reasonably accommodate. With a smaller space, you'll have to make do with a smaller dust collector. If you have a larger workspace, you can make a more massive dust collector do just fine. It just depends on how much room you have in your space to spare.
Portability
If you mostly work in your shop on the same machines, you likely don't need a very portable air collector. However, some projects and hobbyists might require a portable dust collector. It just depends on the projects you're doing and what tools you usually use.
Different dust collectors have different levels of portability. Some are incredibly portable, while others aren't at all and require a team of people to move. Consider how much portability you need carefully before making your purchase. This is a very personal factor that goes into choosing the best collector for your needs.
Cost
Dust collectors vary a lot in cost. Some are incredibly cheap, while others can cost thousands of dollars. Usually, size and quality are directly related to the price. Because of this, if you need a bigger and better model, you should plan on spending quite a bit of money.
Of course, your budget also plays a role here. We don't know what you can afford, so you'll have to make that decision yourself. With that said, though, it is essential to consider precisely what your budget is before you start shopping.
Assembly
You will only be assembling the dust collector just once. However, that one time can either go smoothly or be spread over several days. You may be tempted to ignore this feature, especially if you think you're a master at assembling stuff. However, you'll thank yourself later if you choose an option that is easy to put together.
Ease of assembly doesn't just cover how easy the directions are to figure out. You also have to consider if the pre-drilled holes match up and whether or not it comes with everything you need. You'd be surprised by the number of dust collectors that require you to purchase screws.
Filtration Power
Different dust collectors have different sized filters. Some can filter out tiny pieces of dirt, while others can only filter out dust particles larger than 2 microns. Preferably, you want a machine that can filter out particles that are lower than 1 micron. The less dust floating around in the air, the less air you will breathe. This will keep you healthy in the long run.
However, those with better filters often cost more. Still, we think this is a feature worth the extra investment. There is nothing more important than your health, and having a quality filter is what makes the dust collector do its job effectively. Otherwise, it is just spitting dust-filled air back into the room.

Conclusion
Based on our extensive research, the LAGUNA TOOLS MDCCF15110 rose to the top as the best dust collector money can buy. It can filter out tiny particles and have enormous capacity, making it perfect for those who want to stay as safe as possible. It also isn't expensive for what it is.
Dust collectors can be expensive, though. For those who don't want to spend much, we recommend the Big Horn 11653. It is effortless and cheap, which is most of its charm. As you might imagine, it is also the perfect budget option.
We hope our reviews and buyer's guide helped you dig through the massive amounts of dust collectors currently on the market.
See Also: