10 Best Easy-to-Clean Juicers in 2023 – Reviews & Top Picks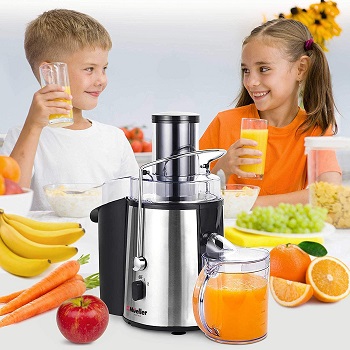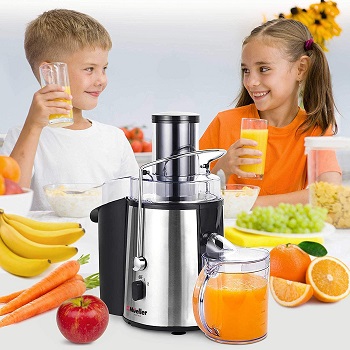 If you are reading this article, it's not news to you that squeezing fresh juice is healthy and nutritious. Not just that, but it's delicious! To continue to enjoy the fresh beverage daily, you will need a good juicing machine, but that's not all. You will also need to take care of it like any other appliance.
Juicers are typically not complicated machines, but they have several different moving parts that need to be cleaned and maintained. In fact, cleaning your appliance can extend its lifespan by years—not to mention, it will keep you from potentially becoming ill from lingering bacteria.
If you are in the market for a new juicer, you may want to think about the ease of cleaning as one of the top decision-making factors. To aid you in this choice, we have found the 10 easiest-to-clean juicers you can find. Not only will we review each for how easy they are to wash up, but we will also share the details you need to know!

A Quick Comparison of Our Favorites in 2023
Rating
Image
Product
Details

Best Overall

Mueller Austria SD80A Juicer

Durable
Easy to clean
Low-noise
CHECK PRICE

Best Value

Hamilton Beach 67601A Juicer Machine

Stainless steel
Doesn't overheat
Extra-large pulp bin
CHECK PRICE

Premium Choice

Kuvings B6000S Whole Slow Juicer

Low-speed
Easy to clean
Brushless motor
CHECK PRICE

Aicook Slow Masticating Juicer

Reverse function
One-button disassemble
Easy to clean
CHECK PRICE

KOIOS JE-70 Centrifugal Juicer

Safety locking arm
Two-gears and pulse function
Easy to clean
CHECK PRICE
The 10 Best Easy-to-Clean Juicers
1.

Mueller Austria SD80A Juicer – Best Overall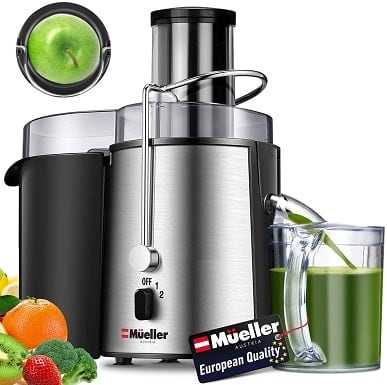 Our first pick is the Mueller Austria SD80A Juicer. This is an 1100-watt centrifugal model that has a convenient three-inch feeding tube capable of handling dense and whole fruits and veggies. This option can make 16 ounces of juice in seconds due to the stainless steel cutting discs and Italian-made micro-mesh filter. The filter also eliminates foam, pulp, and extracts the maximum amount of juice.
This model has dual-speeds. On low, it runs between 12,000 and 15,000 rotations per minute (RPM), and on high it creates juice between 15,000 and 18,000 RPM. With fewer clogs, jams, and foam, you will find the Mueller to be a breeze to clean. In addition to that, the anti-drip cover and low counter footprint keeps things from getting messy, plus the simple assembly makes life even nicer.
This juicer has overload protection, so it won't overheat. It will also automatically shut-down if you put it together incorrectly. Bisphenol A (BPA) free, this is a quiet appliance with decimal (dB) levels as low as 40. It has anti-slip feet, a safety locking arm, and a tight cover. The Mueller is easy to use, and overall, our favorite juicer that is easy to clean.
To conclude, we think this is the best easy-to-clean juicer out there.
Pros
Durable
Easy to clean
Low-noise
Overheat protection
Dual-speed
Anti-slip feet
---
2.

Hamilton Beach 67601A Juicer Machine – Best Value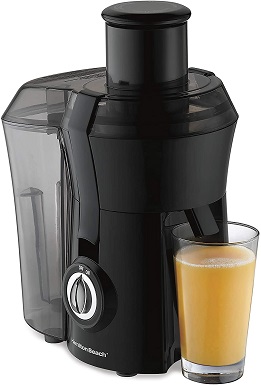 You don't always have to compromise on important features to have a well-working, affordable juicer. This is especially true if you want an easy to clean model. The Hamilton Beach 67601A Juicer Machine is the best easy to clean juicer for the money. It has a three-inch feeding chute for turning dense fruit into smooth liquids, plus it's made of durable, BPA-free black plastic.
Hamilton Beach's centrifugal model runs on 800 watts of power, and it has an extra-large pulp bin. It weighs less than 10 pounds, plus it has a stainless steel, micro-mesh strainer and cutter for optimal use. Easy to clean, this juicer's parts are easy to remove. It comes with a convenient cleaning brush, and you can put all the parts in the dishwasher.
You will find this option is not as high-powered as our first model. That being said, it's not prone to overheating nor is it loud. This is a great juicer if you are on a budget, but still want something that will be easy to take care of regularly.
Pros
Stainless steel strainer and cutter
Easy to clean
Doesn't overheat
Quiet
Extra-large pulp bin
---
3.

Kuvings B6000S Whole Slow Juicer – Premium Choice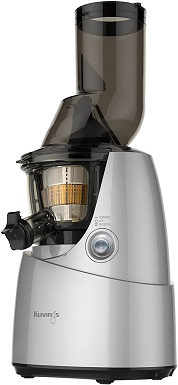 The Kuvings B6000S Whole Slow Juicer is a masticating, low-speed option that has a powerful 240-watt motor and runs at a slow 60 RPM to create smooth and foamless juice. Available in a silver pearl style, this model has a three-inch chute that fits whole fruit and vegetables. Using 110 volts, this appliance will not overheat thanks to the brushless motor.
The low-speed of this juicer allows you to extract more nutrients from your ingredients. It is also powerful enough to create nut milk and frozen desserts like sherbert with the blank strainer that comes included. What's more, it's a quiet model that will not disturb anyone sleeping if you like early morning juice.
Kuvings is an easy to clean appliance. It comes with a small brush to help you get rid of leftover particles, plus the assembly and disassembly is a simple process. Not only that, but the smart cap keeps the juice from dripping all over your counter and machine. The only drawback is this option is more expensive than our first two. If you need a powerful juicer and like to make frozen desserts, this is a good juicer for you.
Pros
Low-speed
Makes frozen desserts and nut milk
Easy to clean
Low-noise
Brushless motor
---
4.

Aicook Slow Masticating Juicer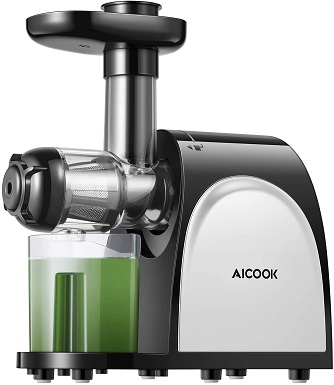 Another easy to clean option is the Aicook Slow Masticating Juicer. As the name states, this is a cold-press that has a 150-160-watt motor that rotates as low as 80 RPM. This will give you more juice with less foam. It has a decent 60 dB noise rating. BPA-free, it's constructed of food-grade stainless steel for durability.
Due to the one-button disassembly, the Aicook is simple to clean. It also has a unique auger and filter integrated design that cuts down on the number of parts you need to wash. For harder to remove ingredients, the juicer comes with a handy filter brush, as well. You can also toss all the parts into the dishwasher.
This is a multi-ingredient juicer capable of crushing and juicing fruits, vegetables, and leafy greens. That being said, it only has a two-inch feeder chute, so you have to cut your ingredients into smaller portions. Additionally, you will find this model overheats if it's run for too long. Other than that, the seven-order auger will do a good job of creating your favorite juice with less froth, plus it has a reverse function.
Pros
Stainless steel
Reverse function
Easy to clean
One-button disassemble
Quiet
Cons
Can overheat
Smaller chute opening
---
5.

KOIOS JE-70 Centrifugal Juicer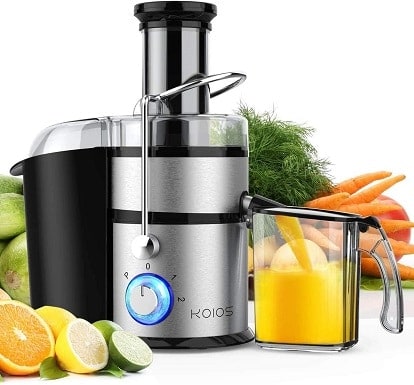 To cover a solid middle of the road option, we like the KOIOS JE-70 Centrifugal Juicer. This is a 1200-watt design that has a stainless steel filter and 13-row, saw-pointed blades. You will also find a three-inch feeding chute that can make 16 ounces of juice in seconds. With rust-proof titanium-plating, it also has a locking bar for added safety.
KOIOS is a smaller juicer that works well in kitchens with limited space. It has two gears plus a pulse mode. First, you have one low gear that runs between 12,000 and 15,000 RPM for softer fruit. You also have two high gears that move between 15,000 and 18,000 RPM for denser ingredients. What you won't find are any clogs, but it can create a bit more foam.
We also like that this option is easy to assemble and take apart. This makes it easier to clean with the included brush for hard to get at debris. BPA-free, you can also throw all the parts in the dishwasher. One thing that stands out, however, is the higher noise level. What's more, while it's easy to clean, it can leak—making it a bit messier to use.
Pros
Stainless steel filter and 13 point blades
Safety locking arm
Easy to clean
Two-gears and pulse function
Cons
Louder than others
Messier to use
More foam
---
6.

Vinci Hands-Free Electric Citrus Juicer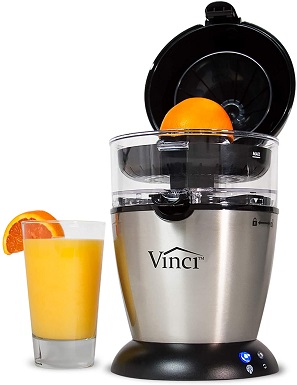 Our sixth option is the Vinci Hands-Free Electric Citrus Juicer. This is a one-button use machine that is considerably lighter than most comparable units at 4.3 pounds. Easy to clean, it comes apart quickly and easily, plus you can put the parts in the top rack of the dishwasher. It's good to note that it's BPA-free, though you can only use ingredients up to 4.5 inches in diameter.
This model comes with two pulp filters, so you can have as much or as little as you like. It holds up to 12 ounces of juice, and the pressure-sensitive juicing tells the Vinci Hands-free what pressure is needed to extract the most liquid. That being said, you will need to cut the majority of your ingredients into small portions. Not only that, but this juicer is better used with softer fruits.
Louder than other models, we also wanted to share that the plastic parts on this unit are not as durable. That being said, we have found that this brand's customer service deserves an A+ for their attention to detail and timely response to questions and concerns. While this is not the best juicer, it's far from the worst. And it's easy to clean.
Pros
Easy to clean
Pressure-sensitive juicing
one-button operation
Includes two pulp filters
Cons
Loud
Can only use ingredients 4.5-inches
Longer to prep
Parts are not as durable
---
7.

Tribest SW-2020 Slowstar Juicer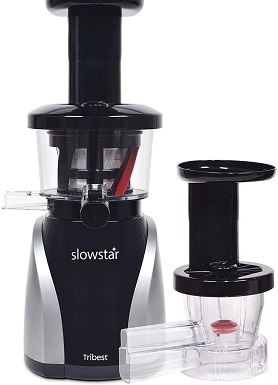 The Tribest SW-2020 Slowstar Juicer is a vertical masticating model that has a 200-watt motor and is made of stainless steel. It also has a three-stage speed reduction that can lower the gears to 47 RPM allowing you to juice soft or hard fruits and vegetables. This unit also has a duo blade auger that is BPA-free.
Tribest includes a micing attachment with your juicer. It also has a drip-reducing cap making clean-up easier, plus all the parts are easily detachable. You can add water to the auger housing for a pre-rinse that helps cut down the cleaning time, as well. That being said, the assembly time is a bit longer and more difficult than most. In addition to that, though, you won't find a lot of pulp or foam in your juice.
Overall, we found this juicer to be less durable than our other options so far. Although this is a quiet machine, we found that it can jam-up if you are using ingredients that are too hard. Finally, though cleaning is not difficult, it can take longer as this option has smaller pieces to take apart.
Pros
Three-stage speed reduction
Duo auger blade
Quiet
Cons
Longer to clean
Harder to assemble
Not as durable
---
8.

Breville BJE830BSS Centrifugal Juicer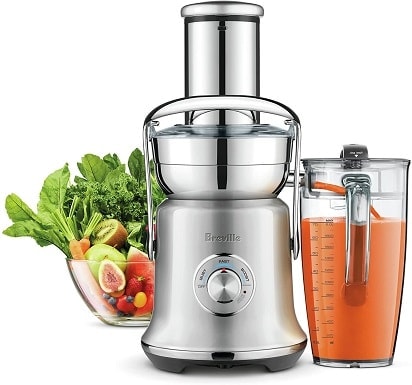 Another cold-spin model is the Breville BJE830BSS Centrifugal Juicer. Made of brushed stainless steel, it comes with a 1200-watt motor and uses between 110 and 120 volts. This option also has an extra-large 3.5-inch chute for juicing whole fruits and vegetables. Although, you will find more pulp and foam with this machine than with the others.
Breville uses cold-spin technology to send the liquid up and through cutting discs. It also has an Italian made mesh filter, though it's less durable than we would like. What's more, this unit comes with a quiet setting that is meant to cut the noise by 40%, however, it's still louder than most. On the other hand, you have a fast-setting mode that can produce 70 fluid ounces of juice five times faster, but again the liquid is more limited than you would expect.
Complete with a cleaning brush, we have found this machine is harder to clean due to the hard to reach places. That being said, it has a titanium-reinforced cutting disc that is durable. Though this machine will create a good glass of juice for an easy-to clean-option, we have found this one to be somewhat lacking.
Pros
Large chute opening
Titanium-reinforced cutter disc
Brushed stainless steel
Cons
Harder to clean
Louder
The filter isn't durable
More foam and pulp
---
9.

Oster Easy-to-Clean Professional Juicer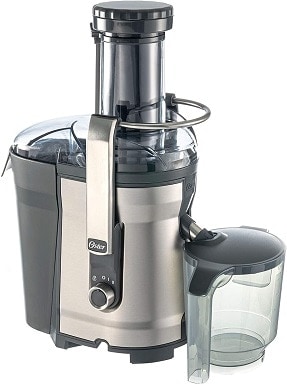 Our second to last option is the Oster Easy-to-Clean Professional Juicer. Complete with a 1000-watt motor, this stainless-steel model has an auto-clean feature that scrubs and rinses the filter in seconds. Unfortunately, it doesn't do the best job and leaves a lot of debris behind. That, combined with the drip-stopper that doesn't seal properly, makes this not much of an easy-to-clean juicer.
The Oster has a three-inch feed chute, but it is better used with softer ingredients that you have to cut up beforehand. You will receive a five-cup jar for catching your juice that can be kept in the refrigerator for up to three days. BPA-free, it's important to note that the plastic pieces of this juicer tend to break, though you can put them in the dishwasher.
Other than that, you have dual-speeds with this model depending on your ingredients. Be advised, however, this juicer is prone to jamming and overheating. Due to its lack of easy cleaning, plus the other drawbacks, we have put this option close to the bottom of the list.
Pros
Dual speeds
Stainless steel
Cons
Harder to clean
Plastic pieces are not durable
Jams and overheats
Smaller portions only
---
10.

Orfeld Slow Masticating Juicer
Our final pick is the Orfeld Slow Masticating Juicer. We have put this in the last spot for several reasons, but the most important being how difficult it is to clean. Not only are the components designed in such a way that cleaning them thoroughly is hard, but we also don't recommend putting them through the dishwasher. To make matters worse, it's hard to take apart and put back together.
The Orfeld is a slow masticating juicer that has a reverse function. It runs at 80 RPM, and it's BPA-free. That said, we have found this juicer overheats often, plus it tends to get jammed when trying to juice anything denser than a kiwi. Not only that, but the seven spiral auger is not durable. We would actually venture to say the entire structure is not durable. Although it has two speeds, you are likely to find a good amount of foam, pulp, and even seeds in your beverage.
All of that combined with the fact that this is a rather loud juicer, we have, unfortunately, decided that this is our least favorite juicer that is meant to be easy to clean. The overheating issues with the motor combined with the less-than-stellar juice production is hard to get past when the cleaning is also so difficult.
Pros
Two speeds
Reverse function
Cons
Difficult to clean
Motor overheats
Jams
Not durable
Loud
Creates a lot of foam and pulp
---
Buyer's Guide: How to Choose the Best Easy to Clean Juicers
As we mentioned previously, cleaning your juicer is an important aspect of your appliance's care. Below, we will share some benefits of proper maintenance, what else you can do to keep your juicer running longer, and a few things to watch out for when shopping.
Cleaning Your Juicer
Many people find cleaning their juicer an annoying chore. This is not only because it has to be done each time you use it, but if you have a machine with a lot of small parts, it can be difficult. First, let's take a look at why giving it a good wash after each use is important.
Benefits of Cleaning Your Juicer
Easier to Clean: Yes, cleaning your juicer makes it easier to clean it… the next time. Fruit that produces a lot of pulp or those with thicker rinds can leave a lot of debris behind on your filters and other parts. If it's not washed off, it can harden—making it difficult to remove later.
Healthier: When you leave food to dry on any surface, it's a breeding ground for bacteria. This is even more true if there is any excess liquid leftover. Bacteria can cause a lot of illnesses from digestive issues to full-blown hospital trips. Washing your juicer after each use will ensure any contamination possibilities are eliminated.
Performance: Not only can dried fruit pulp make cleaning your juicer's parts more difficult, but it can also reduce the performance of your machine. Caked on leftovers will make it harder for your auger and blades to work their magic.
Lifespan: Finally, washing your appliance can extend its lifespan by quite a bit. Keeping the mechanisms working properly is always helpful for a long-lasting machine, but acidic fruits (such as oranges) can wear down your components. If it's allowed to sit, it can cause quite a bit of damage including rust.
How to Clean Your Juicer
Cleaning your juicer may seem tedious, but it is actually a simple process. That being said, all juicers are not made equally, so it can depend on your make and model. First, however, you want to start by making some juice!
The next step is to unplug and disassemble your juicer as much as possible. Some models have a rinse cycle you can make use of, but even if not, you should run some water through it first. You also want to take it apart piece by piece to ensure you are not missing any hidden locations.
Once you have disassembled your machine, you can place them in a tub of warm water and dish detergent. Allow them to soak for five minutes, then start rinsing them one by one. You will also want to have a small scrub brush (a small and extra small size if possible) with soft bristles available. Most models come with one, but you can generally pick them up cheaply.
As you rinse each item, thoroughly inspect it for leftover food. Remove any debris with your brush, and return it to the soapy bin to be put back in the rotation. Let the parts air dry on a towel before reassembling.
Note: Some brands are dishwasher safe, but chances are you will be using your juicer more often than you will run your dishwasher. That being said, some dishwashers are too hot for the plastic components, so if you decide to toss them in, use either a China/crystal setting, or only place the items on the top rack.
What to Look For in an Easy-to-Clean Juicer
By now, you likely know what you are looking for in a juicer. Whether you prefer a centrifugal or a masticating machine, there is an option out there for everyone's juicing needs. What many people don't know, however, is what features to look for that indicate the juicer is easy to clean? Let's find out!
Fewer Parts: As you saw above, it is important that you separate all of the juicer's parts when cleaning it out. Needless to say, the fewer parts it has, the easier it will be to clean, and the less time it will take to do so.
Easy Assembly and Disassembly: Although going for fewer parts is good, you typically won't find a reputable machine without at least four to five components at a minimum. This is where assembly and disassembly come into play. You don't want to struggle taking your machine apart and putting it back together. Straightforward and easy to understand directions are key.
Hard-to-Reach Places: Another aspect you want to watch out for is juicers that have hard-to-reach places that are difficult to get clean. More than that, you want to be wary of hidden areas where bacteria can collect. You should be able to see and reach all of the parts of the juicer, even if you have to get to some with a cleaning brush.
Drip Caps: Don't discount the features of a juicer that keep the mess to a minimum while the unit is in use—things like a non-drip cap stop juice from getting all over your machine and counter. Additionally, make sure all other covers fit correctly, and don't allow the juice to splatter throughout the machine.

Conclusion
Cleaning your juicer may be tiresome, but it is an important step in your daily juicing routine. When you are looking to upgrade your model or you are starting your juicing journey, it helps to keep cleaning in mind. We hope our product reviews have helped you single out those necessary features and may even have helped you find the right one.
In our opinion, we like the Mueller Austria SD80A Juicer. Not only is it a great machine, but it's simple to take apart and wash up for the next round. For the newcomers to juicing, we think you would like the Hamilton Beach 67601A Juicer Machine. With slightly less power than our top pick, it still creates a great beverage with a quick clean-up process afterward.