9 Best Electrician Tool Belts of 2021 – Top Picks & Reviews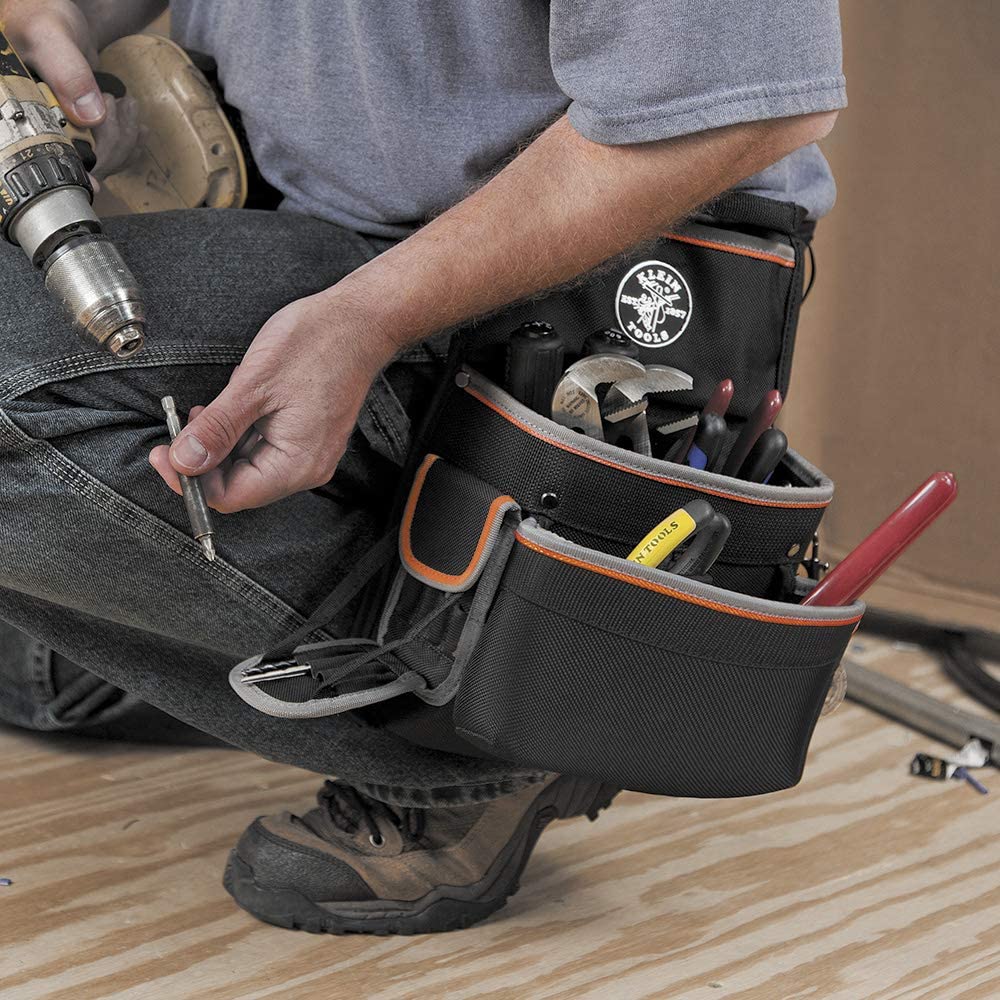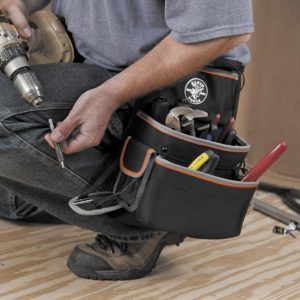 Whether you're a tradesman or a champion of DIY around the home, a good tool belt is an essential piece of equipment. In some ways, it may be the most important "tool" in your arsenal. Since there are a lot of different tool belts to choose from, we have tried to make things easier for you by rounding up the top 10 electrician tool belts that you can buy. We'll look at the different pros and cons for each of them and let you know why we like each of them.
Not only that, but we'll give you a buying guide to help you choose the right one. So, without anything further, let's get to it.
Comparison (updated in 2021):
Rating
Image
Product
Details

Best Overall

CLC Custom Leathercraft 1608 Electrician's Tool Belt

Includes 28 pockets
Zippered pouches keep tools from falling out
Even weight distribution
CHECK PRICE

Best Value

Dickies 5-Pocket Single Side Tool Belt

Adjustable length
Adjustable waist from 32-52
Affordably priced
CHECK PRICE

Premium Choice

Occidental Leather 5590 SM Electrician Set

Extremely durable
Looks & feels great
37 compartments
CHECK PRICE

Klein Tools 55427 Tradesman Pro Electrician's Tool Belt

Removable pouches
Padded belt with a mesh interior for breathability and comfort
Pockets are wide open to hold spare parts
drills and tools
CHECK PRICE

Gatorback Electrician's Combo Deluxe Package

Rugged and tough
Comfortable and contoured back support
Easy to remove
put on
and transport
CHECK PRICE
The 9 Best Electrician Tool Belts:
1.

CLC Custom Leathercraft Electrician's Tool Belt – Best Overall
The CLC Custom Leathercraft 1608 Combo Tool Belt is a great choice for electricians, but it also will work for many other types of workers.
Perhaps the best feature of this tool belt is the padded suspender design creates an even load distribution that doesn't put too much strain on any one area. The 28 stitched pockets have a rugged appearance but give you plenty of room for tools with quick and easy access to every item.
This belt is adjustable and features zippered pouches, so you don't have to worry about your tools falling out. The only drawback to the CLC is the polyester construction, which isn't as durable as other fabrics, especially leather.
Pros
Includes 28 pockets
Even weight distribution
Zippered pouches keep tools from falling out
Comfortable and lightweight
Cons
Polyester isn't very durable
---
2.

Dickies 5-Pocket Single Side Tool Belt – Best Value
If you're looking for an affordable yet durable tool belt, the Dickies 5-Pocket Single Side Tool Belt is the best electrician's tool belt for the money. This heavy-duty canvas tool belt gives you an adjustable, custom fit at a price that isn't going to break the bank.
Fitting waist sizes from 32-52 and adjusting to your necessary length, this belt offers a tool pouch with 5 pockets. The pockets are reinforced with webbing, and the two main pockets are complemented with tool loops and smaller pouches. It's got easy access to your pliers, screwdrivers, multimeters, and other smaller tools. The webbing belt also features a high-impact plastic buckle for reliability. The only thing that keeps it out of the top spot is the 5-pocket design. We'd like to see more.
Pros
Adjustable length
Adjustable waist from 32-52
Affordably priced
Has belt loops
Cons
Only 5 pockets
Some have found it hard to adjust
---
3.

Occidental Leather SM Electrician Set – Premium Choice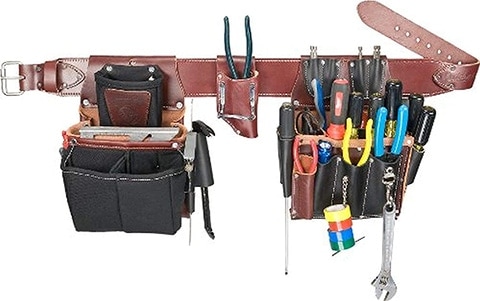 Occidental Leather is probably the most recognized and trusted name in electrician tool belts, and the 5590 SM Electrician Set is a perfect case study in "you get what you pay for". You will be impressed with this set's heft and feel, thanks to its heavy leather construction. Built to last for a lifetime, this belt is also remarkably comfortable for the product range – once the leather loosens up. But that's what users love about this belt: it conforms to your body shape, not the other way around
With 37 total compartments, you're going to have a space for everything that you need on a job. However, you'll need to prioritize your organizational system because it can be a bit difficult finding places for bigger tools. Since it's leather, it's going to feel tight and its pockets won't have the leeway you expect immediately. But as we said, it will break-in after a while.
Although this is the top-of-the-line product, the lack of space for larger tools keeps it out of the top 2 spots.
Pros
Extremely durable
Looks & feels great
37 compartments
Cons
Pockets are too small
You can't use it on the first day
---
4.

Klein Tools 55427 Tradesman Pro Electrician's Tool Belt

If you are looking for a stylish and simple tool belt, this Klein Tools 55427 Trademan Pro Electrician's Tool belt is a great choice. It's made of polyester weave and comes with removable pouches to let you carry the tools you need. Simple and durable, this tool belt must be ordered according to your waist size. We reviewed the medium, which fits waists from 31 to 34 inches.
The 1680D ballistic polyester weave construction is impressive, and the removable pouches are great for customizing your rig. The belt is padded with a mesh interior to create a comfortable and breathable fit, and there is a dedicated pocket for drill bits.
On the downside, some users complained about the overall quality of the product. Klein is known for making quality products, but this belt doesn't seem to meet their standards.
Pros
Removable pouches
Pockets are wide open to hold spare parts, drills and tools
Padded belt with a mesh interior for breathability and comfort
Cons
Expensive
Mediocre quality and design
---
5.

Gatorback Electrician's Combo Deluxe Package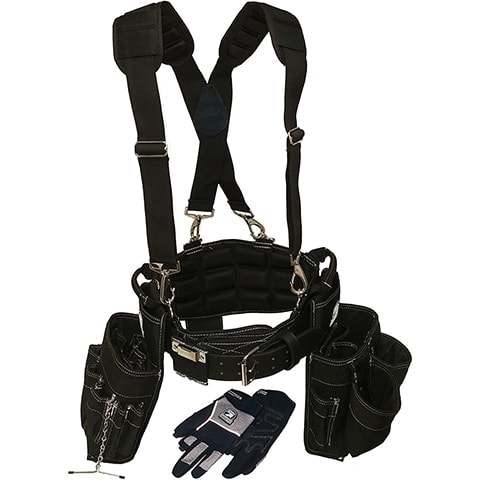 The Gatorback Electrician's Combo Deluxe Package is designed for electricians, carpenters, and framers, so it's probably the most rugged belt on this list. Between the pockets, pouches, and suspenders, this is a great all-purpose rig. Likewise, it's not the best belt for every type of electrician.
The Gatorback has a Duratek fabric construction with metal rivets at the stress points and stitching from Bar-Tack. This is a belt that will last many years. The tape-chain is convenient and the ventilated padding feels great while you are using it.
Speaking of convenience, this belt also has carrying handles, making it simple to take from one job to the next. Finally, it's easy on/off design makes it a pleasure to use all of the time.
That being said, it's rather pricey and may be out of the range for some DIYer's.
Pros
Rugged and tough
Easy to remove, put on, and transport
Comfortable and contoured back support
---
6.

FASITE PTN012 Electrical Tool Belt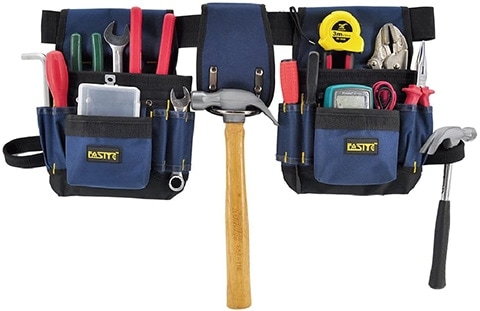 When you want a durable tool belt from a company that has been around for a long time, we recommend this FASITE PTN012 Electrical Tool Belt. This sturdy belt is constructed from very thick polyester fabric, which helps it stand up to your work. The belt uses triple fabric layers, which should be longer-lasting and more rugged. It also is waterproof, which is a very handy feature of a tool belt.
When this is combined with its stress point rivets and dual-stitches, this tool belt is even stronger. It can even hold heavy tools. With 32 pockets, its hammer loops and a holder for your measuring tape. If you have to work up high and go long distances on foot, you're going to love its versatile, ergonomic and lightweight design.
The one real drawback to the belt is the poor location of the tape measure's clip, since it can sometimes block the access to your side compartment.
Pros
32 pockets and other kinds of compartments
Durable
Adjustable
Lightweight and ergonomic
Cons
Clip for tape measure is poorly located
---
7.

Rack-A-Tiers 43242 Electricians Combo Belt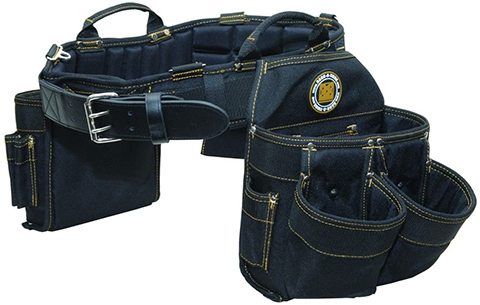 Sometimes you need just a tool belt. But for those times when you need something more, then the Rack-A-Tiers 43242 Electrician's Combo Belt is the one to choose.
This tool belt is built for comfort, keeping you cool with its ventilation and padding on its back to keep you comfortable while you are working. But it's not all about comfort. It's also about durability. The Rack-A-Tiers tool belt has been reinforced with nylon to ward off tool scratches, accommodate heavy tools, and resist oil spills.
Speaking of the pockets, these are large and generous. Located on each of the belt's sides, they give you fast and easy access to all of the tools you need. The pockets are also attached using Velcro to this belt, so they are easily adjustable. They are reinforced with nylon webbing and Duratek fabric, but some users report that the stitching is weak.
Pros
Durable and stylish
Lots of padding to make it comfortable
Customizable
Cons
Stitching quality isn't the best
Overkill for simple jobs
---
8.

GatorBack B240 Electrician's Tool Belt
When you look at the GatorBack B240 Electrician's Tool Belt, it looks great. It has support for your back and it looks comparable to the belt from TradeGear, at first. However, after we used it its differences became clear.
The B240 supports your back and is comfortable when you are wearing it for extended periods. It also has wonderful air ventilation.
However, that's really where the positives end. Even though it feels comfortable when you have to wear it for a long time, it may not last long. Its rivets feel flimsy and cheap, and when we were testing one came off the second day we had it. we also weren't impressed with the stitching. It has 18 pockets, if they don't fall apart.
The one thing that it has going for it is that it comes with a 1-year warranty that GatorBack offers you. It's our opinion that you're going to need this warranty sooner than a year.
Pros
Comfortable
1-year warranty from manufacturer
Cons
Feels cheap
Not very durable
Rivet came off the second day we had it with usual use
---
9.

OX Tools Pro Tool Belt Electrician's Pouch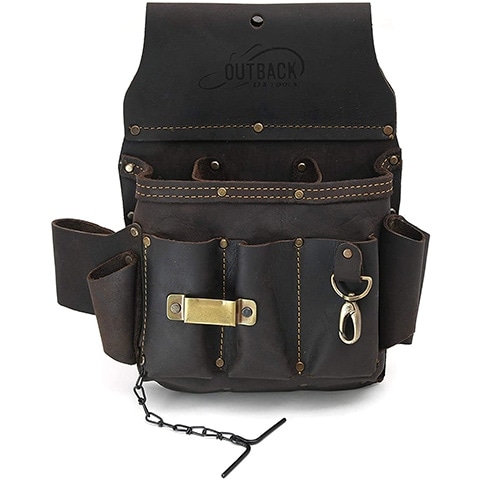 The OX Tools Pro Tool Belt Electrician's Pouch is a leather belt that's built to last, even when you are using it a lot, and comes with a 4-piece framing rig.
This framing rig means it's easy to store the tools that are needed for your day and much more. It includes 22 pockets, one 3-inch tool belt, and more. There is a lot of room that you can use for just about anything, particularly nails.
Unfortunately, along with the positives there are also quite a few negatives. The pouch's nail pouches are very narrow, which isn't good for larger hands.
Pros
Durable leather
Lots of storage areas
Cons
Gets dirty easily
Narrow nail pouches
Belt is short
Too small

Buyer's Guide
Okay, so we have looked at our top electrician's tool belts, so you have an idea of what belts are the best. Now we are going to delve a bit deeper into what to look for when you are buying a tool belt.
How Do They Work?
These belts are made for electricians, and that's putting it simply. It just means that it's able to hold all of the tools that you are going to use most frequently. It will help with organizing the things you will bring to work, so you're able to quickly and easily access them every time. The tool belts are also designed so that you can use them into any work and not have to worry about interrupting the work you're doing.
It also is a convenient and handy accessory that's necessary to wear by placing it around the waist, which is how you wear a regular belt. With this type of belt on, you know that all of your equipment and tools that you need to do a job are close at hand.
Electrician Tool Belt Types
It's important to know that the various kinds will vary often based on their designs and styles as well as the materials used to make them. We're going to look at the popular styles that are made specifically for electricians.
Standard Belt – These belts are what you will often see an electrician wearing. It also will be worn by a lot of people in construction. It's designed so that it sits around your waist and also has tool pouches which hang off it.
If this is the one you want to buy, it's a good idea to go for one that is thicker. These thicker belts are often much more comfortable. Just keep in mind that these belts are going to put the majority of its weight on your hips and lower back.
Harness – This belt style has a belt that's supplemented with suspenders. A lot of people consider this to be beneficial since it will work in distributing the weight the belt has across your shoulders, back, and hips. You should note that there are a few versions of this type of belt based on the belt's straps. It might have one strap or two straps. The two-strap version is the one that most people prefer because it's a lot more comfortable and maximizes the ability it has to evenly distribute weight.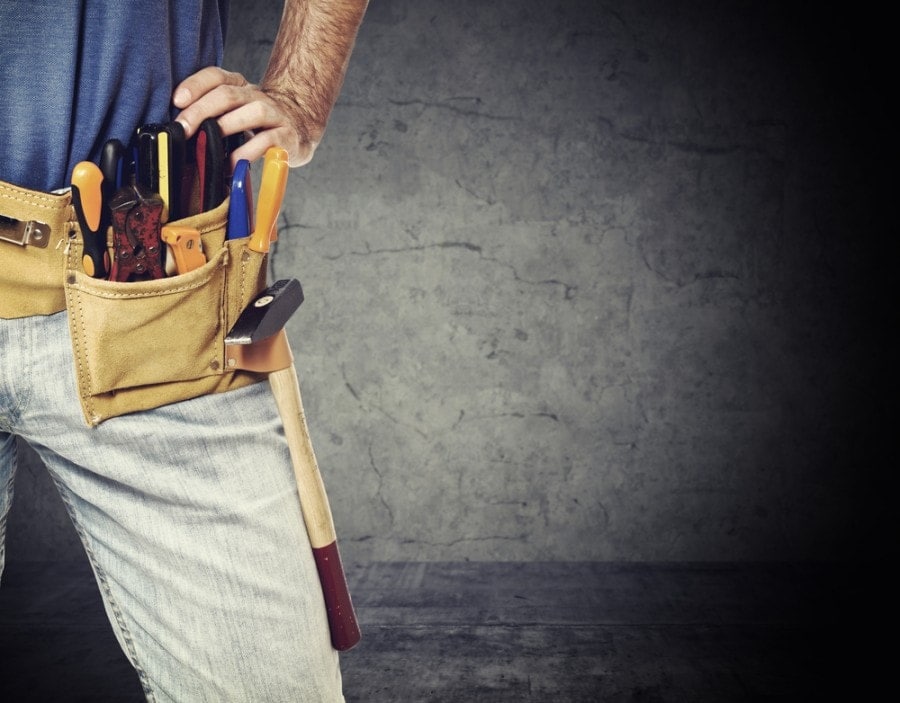 Tool Belt Materials
Along with the kind of belt you have, you can also choose from the material the belt's made from. Although there are a few types of material, some of them are much more durable than others.
There are three types of material that your electrician tool belt can come in, and they all have their benefits and drawbacks.
Leather – This is the material that's thought to be the strongest and when you choose this, you will enjoy several benefits. Below are the types of leather that tool belts come in.
Genuine leather – Made from different pieces glued or welded together. This is the lowest leather grade.
Top grain – This is known for being very durable and pliable. It's made from the topmost layer of skin. This is also the grade that's most comfortable.
Full-grain – This is made from all of the layers of skin and is the most durable of the three. However, it's also stiff, and this can sometimes be true even when you have had the item for a few years.
Polyester – Polyester is another popular option when it comes to tool belts. This is synthetic fiber that is made for making a tool belt to reduce its cost and weight. Remember that you are going to put several items into the tool belt. When you put the necessary tools into the belt, it can weigh 20 pounds and more.
Nylon – There are a few things that nylon has that's similar to polyester. However, nylon is stronger when compared with polyester and it's lower in price than polyester and leather. However, the issue is that it still has the durability problems polyester has. The difference with nylon is that it can take a bit longer before you see those issues. The other thing about nylon is that it doesn't have water resistance like polyester, but water won't damage it like it will leather.
More buying guides like this:

Conclusion:
We hope that you have found our information and reviews to be helpful and that you'll find it much easier to find the right electrician tool belt from now on. To review, our top choice for the best electrician tool belt is the CLC Custom Leathercraft 1608 Electrician's Tool Belt. We like this because it has a lot of storage, it's easy to carry, and it's lightweight. Our best value choice is the Dickies 5-Pocket Single Side Tool Belt because it's affordable and adjustable. Finally, our premium choice is the Occidental Leather 5590 SM Electrician Set.