8 Best Extension Ladders of 2023 – Top Picks, Reviews & Guide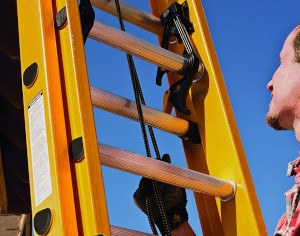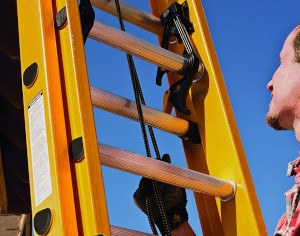 The extension ladder reviews on our list have been crafted in the hopes of connecting you with the best possible product. The ladders featured here are durable, versatile, and above all else, considered safe for even vigorous use.
We searched the market for ladders that will suit the needs of many different kinds of buyers. If you're looking to get a great ladder for a low price, we have options available for you. We also have ladders for people who are willing to pay whatever it takes to get the best extension ladder possible. Read on to see which ladder you'll be taking home!
Our Favorites Compared in 2023:
Rating
Image
Product
Details

Best Overall

Louisville 24-feet FE3224

Easy to adjust
24-foot reach
Extremely stable
CHECK PRICE

Best Value

Ohuhu 15-feet

Safe
Affordable
Easy to store
CHECK PRICE

Little Giant 22-Foot Velocity

Non-slip feet
300-pound weight capacity
Six different adjustment positions
CHECK PRICE

Werner D1116-2 16-Foot

Moderate price
16 feet of reach
Optimal for small household tasks
CHECK PRICE

DeWalt DXL3020-16PT 16-Feet Fiberglass

Sleek design concept
300-pound weight capacity
Steel support shoes
CHECK PRICE
The 8 Best Extension Ladders:
1.

Louisville 24-feet Extension Ladder – Best Overall

The Louisville 24-feet Extension Ladder features 24 feet of reach. However, even with all that height, you get lots of stability. The legs are fortified by nonslip rubber caps that work well on a variety of surfaces.
It's also easy to adjust. The quick adjustment rung system allows you to snap the ladder into position in a matter of seconds. The steel frame construction ensures a long life expectancy.
Granted, this ladder is not cheap. If you're trying to keep within a certain budget, you'll probably prefer some of the other ladders here, but when it comes to overall quality, this is our pick for the best extension ladder on the market.
Pros
Easy to adjust
24-foot reach
Extremely stable
---
2.

Ohuhu 15-feet Extension Ladder – Best Value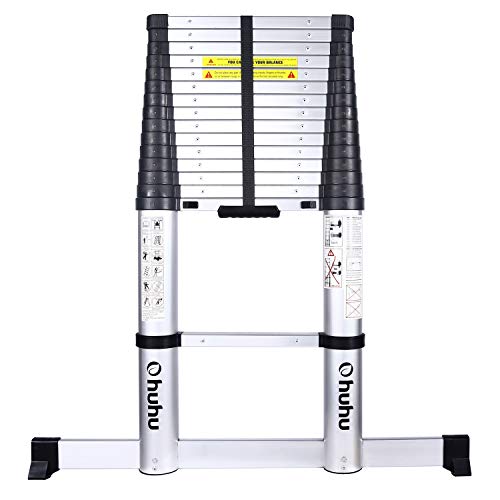 The Ohuhu 15-feet Lightweight Telescoping Extension Ladder earns the designation of our best extension ladder for the money, because it's affordable and reliable.
For the bargain, the dimensions are pretty generous. It can extend up to 15 feet, but when it's not in use, it collapses all the way down so it's easy to transport and store.
We also love how sturdy and lightweight the build is. This ladder is made entirely of aluminum, which is a material known for giving the best of both worlds when it comes to durability and storage.
It's also a very safe ladder, thanks to the non-slip grip feet. The only point of concern is with the rungs. Some of them feel a little loose and flimsy. It's hard to say how big a problem this is. However, it may undermine your confidence in the ladder.
For the most part, though, it's a great ladder that will be perfect for value-driven buyers.
Pros
Affordable
Safe
Easy to store
---
3.

Little Giant 22-Foot Velocity Multi-Use Ladder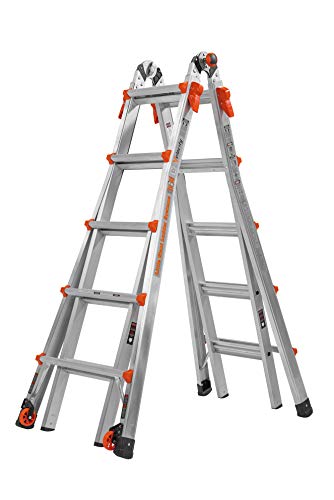 Little Giant is known for making good ladders, and it's maintained that reputation with our third pick. The Velocity Multi-Use gives you 22 feet of reach, but collapses inward when not in use for easy storage.
The 300-pound weight capacity makes it a great tool for users of a variety of different sizes, while the non-slip feet should make it safe to use in most situations.
The ladder can also assume six different positions to maximize its versatility. If you want something that will be good for virtually any job you throw at it, this is a great option to consider.
We are a little disheartened by how flexible the ladder is. The frame itself is liable to bend under stress, which can render it useless in extreme circumstances. This will be especially problematic for people who tend to travel with their ladders.
Pros
Non-slip feet
300-pound weight capacity
Six different adjustment positions
Cons
Frame tends to bend under stress
---
4.

Werner D1116-2 16-Foot Extension-ladder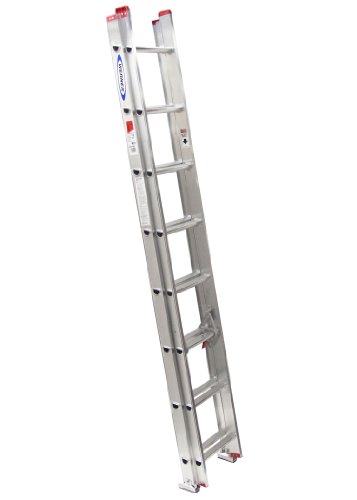 The Werner D1116-2 16-Foot Extension-ladder is a light-duty model that provides up to 16 feet of extension. It's made of lightweight aluminum and is optimal for small household tasks.
As a light-duty ladder, it's good for getting up in the attic, but it probably isn't so great for job site work.
The reason for that is pretty simple: it features only a 200-pound weight rating. With this weight capacity, many average-sized people won't be able to use the ladder safely. That can be a substantial problem in certain situations.
Some people will like this ladder a lot because it's moderately priced, and it's easy to transport and store. However, if you weigh more than 200 pounds, it's simply not an option.
Pros
Moderate price
16 feet of reach
Cons
Can only support 200 pounds
---
5.

DeWalt 16-Feet Fiberglass Extension Ladder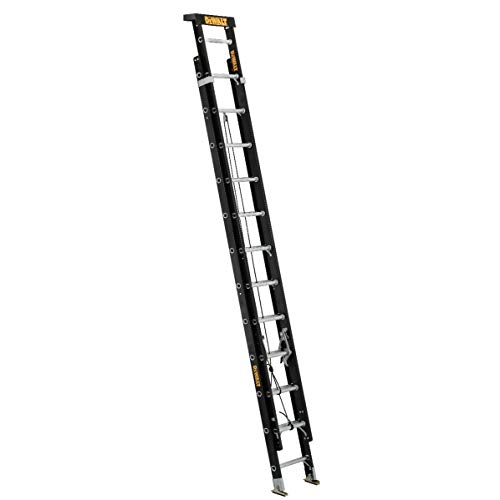 DeWalt is a true industry titan, famous not just for its ladders, but for tools of every variety as well. Its DXL3020-16PT 16-Feet Fiberglass Extension Ladder gives you 16 feet of reach and treats you to a sleek design concept that you don't often find.
Thanks to its 300-pound weight capacity and its steel support shoes (which stabilize the ladder on the ground), it's great for the job site.
The ladder does, unfortunately, suffer from DeWalt's fatal flaw: there are major value concerns with this product. It is a good ladder, but you can find something similar for a much lower price.
Pros
16-foot reach
Sleek design concept
300-pound weight capacity
Steel support shoes
---
6.

TOPRUNG Extension Multi-Purpose Ladder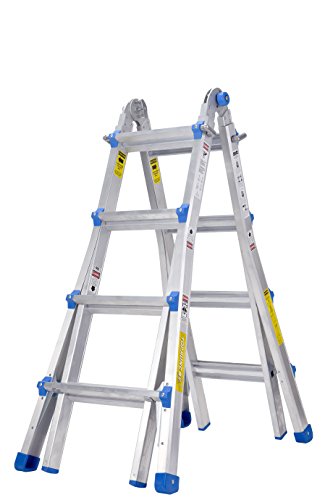 The TOPRUNG Model 17-ft. Aluminum Extension Multi-Purpose Ladder extends up to 17 feet and is able to support multiple positions, making it a great all-purpose ladder that can be used for most projects.
The frame is made of aircraft quality aluminum, so it's very tough. The only problem is that it also makes the ladder fairly heavy. It's a bulky product that can be hard to move, and also very challenging to store.
The solid two-year warranty and the stability of the ladder ensure that it serves its purpose, but for the average homeowner, this might be a little bit more of a ladder than you actually need.
Pros
Extends to 17 feet
Supports multiple positions
Aircraft quality aluminum
---
7.

TOPRUNG 12ft Aluminum Extension Ladder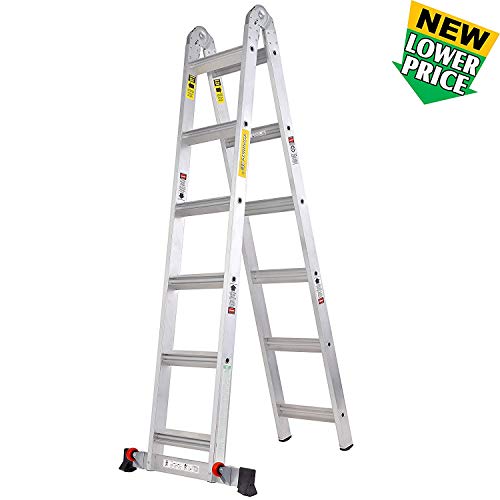 The moderately priced TOPRUNG 12ft Aluminum Extension Ladder features a modest 12 feet of extension, but makes up for it somewhat with a compact build, and wheels that make it very easy to transport.
The wheels, coupled with the lightweight design, make it about as easy to store as you could reasonably hope for.
Unfortunately, the 12-foot height capacity is fairly limiting. This makes it hard to do common jobs like cleaning gutters.
The lightweight design seems to compromise the unit's sturdiness. The ladder is a little less sturdy than some of the other options on our list. It also tends to flex a little towards the center of the frame, which can be dangerous when the ladder is in use.
Pros
Moderate price
Easy to transport
Cons
Limited height capacity
Frame tends to flex
---
8.

WolfWise 12.5FT Telescopic Extension-Ladder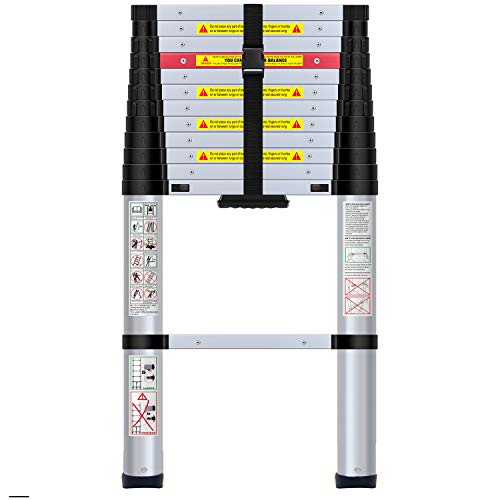 The WolfWise 12.5FT EN131 Aluminum Telescopic Extension Ladder features 12.5 feet of length and is made of corrosion-resistant aluminum.
This ladder can retract all the way down to three feet, making it easy to store or transport. It can also extend or retract in eight seconds, making it easy for beginners to use.
However, you won't want to use this ladder in strenuous working conditions. The frame tends to bend a little, and the rungs are not as stable as we like to see.
The rubber feet at the end of the unit also feel cheap, which leaves further concerns as to its long-term stability.
Cons
Rubber grip feet feel cheap
Frame tends to bend
Rungs feel somewhat unstable
---
Buyer's Guide – Choosing the Best Extension Ladder
Read on for some buying considerations that will help you choose the perfect ladder.
Length
Length is one of the most important considerations in buying a ladder. You start getting yourself in trouble when you push a ladder past its limitations.
Ideally, you'll be able to get something with a little more length than you think you need. This is especially true with extension ladders. Because they can collapse inward, even long extensions are easy to store and transport. There's no reason not to get a big one!
Weight Capacity
Make sure the ladder you get has a larger weight capacity than you think you need. You want to be certain it can support your weight, as well as the weight of whatever tools you'll be taking up the ladder.
Collapsibility
It's also worth looking into how small an extension ladder can get. Some of the options we looked at shrank all the way down to three feet or less. You don't necessarily need this feature, but it's very handy when it comes time to store the ladder.
---
Conclusion
As you read our extension ladder reviews, you hopefully found the perfect option for your needs. However, when dealing with a list of eight great products, it can be hard to finalize a decision. If you haven't made up your mind yet, you may want to revisit our top choice, the Louisville 24-feet Extension Ladder.
Of course, it is a little pricey. Budget buyers also have their options. For instance, the Ohuhu 15-feet Lightweight Telescoping Extension Ladder is a great choice for people who need a combination of value and quality.
As you continue to mull the decision over, feel free to consult this guide as needed. Hopefully, the tips featured will make your choice easier.
See also: How to Use an Extension Ladder Safely (10 Easy Tips!)
Click here to read our newest post about the 16 types of ladders and how they differ from each other