Little Giant Ladder Systems Review 2023: Pros, Cons, and Verdict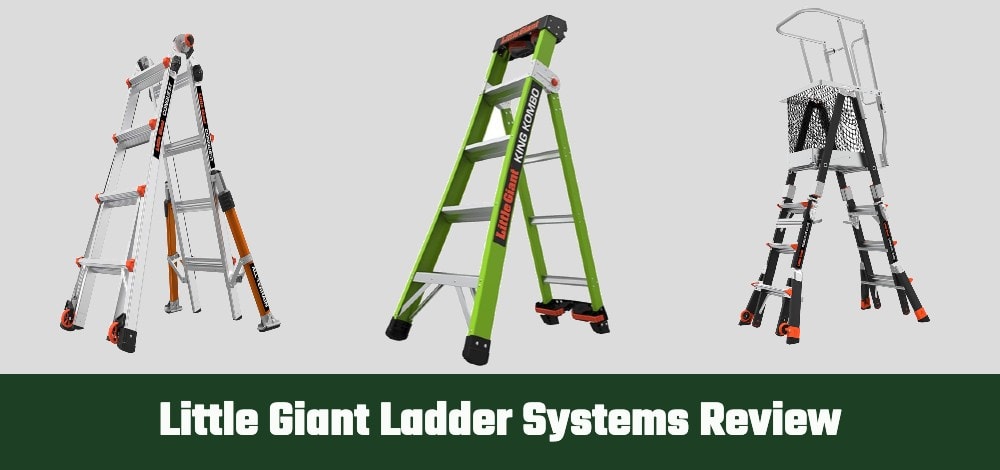 Review Summary
Our Final Verdict
We give Little Giant Ladder Systems a rating of 4.6 out of 5 stars.
Build Quality: 4.8/5
Safty: 5/5
Feature: 4.7/5
Options: 4.5/5
Price: 3.8/5
Little Giant Ladder Systems is a company that specializes in heavy duty ladders for jobs of all sizes. Little Giant Ladder makes extension ladders that can reach up to 28 feet. They also have A-frame ladders that are over 20 feet tall. On the other end of the spectrum, they have simple two-step step ladders. Every ladder is made from lightweight yet durable aluminum and strong rubber.
One of the best features of Little Giant Ladders is their focus on safety. Safety considerations go into every design choice. Little Giant Ladders are designed to be easily handled by one person, they are sturdy and well balanced, and they will not break due to general wear and tear. Little Giant also includes a warranty that covers defects to protect your ladder from any potential flaws on the manufacturing side.
These are serious ladders, so the price is higher than some competitors. These ladders are not meant for someone looking for a budget ladder but for people looking for the best quality materials available. The safety features are nice, but they do make these ladders heavy. Some of the Little Giant Ladders can weigh as much as 100 lbs. making them cumbersome. The price and the weight are the results of these ladders being made from strong materials and high-quality parts.

Little Giant Ladder Systems – A Quick Look
Pros
Tons of different ladders to fit any job
A focus on safety for pros and regular Joes alike
High quality materials at every level
Durable weight limits for nearly every product
Made in America
Cons
Pricey
Bulky and hard to handle
Heavy
Specifications
Types of Ladders Available:
Multi-Position Ladders
Extension Ladders
Step Stools
Step Ladders
Cages
| | |
| --- | --- |
| Maximum Weight Capacity: | 375 lbs. |
| Maximum Height: | 28 feet |
| Minimum Height: | 2 feet |
| Material: | Aluminum |
| Manufacturing Location: | Utah, United States |
| Price Range: | $100 – $1,200 |
Made In the USA
One of the best parts of Little Giant Ladder Systems is the fact that they are made in the United States. All Little Giant Ladders are built in Utah, and they pride themselves on supporting the local community. American made ladders have better quality materials, better user ratings, and better customer service. All of those things are true for Little Giant Ladders. Little Giant Ladders have excellent customer service, excellent durability ratings, excellent quality, and a great track record.
A Focus on Safety
Ladders can be extremely dangerous. Falling from ladders is one of the most common ways for people to end up in the emergency room. Yet, ladders are a necessary part of life. That is why Little Giant Ladders have a strong focus on safety. Little Giant makes their ladders from strong materials, which helps keep the ladder structurally sound over long periods of time. They use durable rubber to protect sharp ends. The ladders come with wheels, locks, and wide feet that help keep the ladder in place during use. The wide legs and sturdy feet anchor these ladders much better than other similar products.
These ladders are not the easiest to set up sometimes due to their size, weight, and shape, but once they are up, they are strong and safe. They even make professional grade safety cages for jobs where security is paramount. Other ladders focus on being as light or as cheap as possible with little regard for the overall safety of the product. That is definitely not the case for Little Giant Ladders.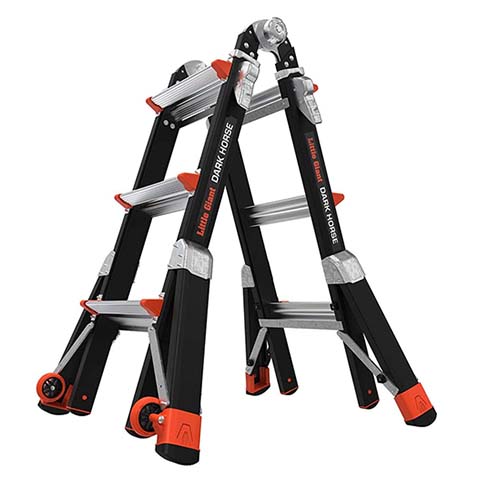 A Multitude of Versatile Options
One of the best parts of buying from Little Giant Ladder Systems is the fact that they have a wide variety of different options. They make five different types of ladders, and each type often features multiple options to choose from. For example, there are 19 different models of ladder available in their step ladder category. That means that there is a ladder available for everyone, including fresh DIY homeowners or professional painters, or contractors. There are three, four, and five-step step ladders perfect for jobs around the house and sturdy A-frames that can be used to swap lightbulbs that are ten feet in the air. They make seriously tall extension ladders that can reach 25-foot roofs and ladders that can handle up to 375 lbs. of weight. Whatever your ladder needs are, Little Giant Ladders makes a product that can get the job done.
Mind the Price
The biggest downside to Little Giant Ladders is the sticker shock that can accompany a purchase. Even the smallest ladders can cost $100. The largest and most expensive ladders can cost thousands. These ladders are not geared toward people who are on a budget. These ladders are very high quality and made in the United States, so they are expensive, especially compared to some budget brands.
The good news is that Little Giant Ladder Systems have ladders of all types and sizes, so you can do the research to find the ladder that will work perfectly for you. Look at the specs and find a ladder that is going to be able to tackle the job you need it to. Think about it and then decide if you want to invest the money in a great ladder or if you need to choose something more affordable.

FAQ
Does Little Giant Ladder Offer a Warranty?
Yes. Most Little Giant Ladders include a limited lifetime warranty. This warranty covers any defects or failures that can be traced to a problem in the manufacturing process. There are also five-year warranties that cover general wear and tear on select models. If you want to utilize the warranty, be sure to register your ladder and read the details when you make your purchase. The warranty is a great added value, especially since some of these ladders can cost hundreds of dollars.
Is This a Good Ladder for Around The House or Are They Geared Toward Pros?
Both. You can purchase some smaller step ladders for use around the house. The quality construction is great for homeowners who need a ladder occasionally. Without the wear and tear of an active job site, these ladders will easily last years. The safety features, warranty, and added durability are also great for professionals who use ladders regularly. With a large number of options available, there are ladders that are perfect for both homeowners and professionals alike.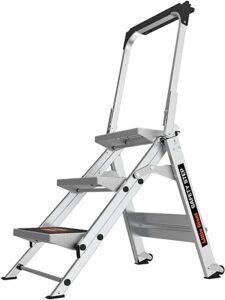 Are Little Giant Ladders Safe?
Yes. Little Giant Ladders are extremely safe. These ladders come packed with excellent safety features and safety ratings. The materials, design, features, and accessories are all aimed at creating some of the safest ladders in the world. If safety is a priority for you or if you are someone who gets scared on a ladder, you will appreciate how sturdy these ladders are. It is hard to feel unsafe on a Little Giant Ladder if you are using it properly.
Are Little Giant Ladders a Good Value?
It depends. If you are looking for a professional-grade ladder that has a good warranty, is sure to stand up over time, and can tackle a wide variety of jobs, the money will likely be worth it. These ladders are amazing options for professionals who use ladders every day. If you are a homeowner just looking for a ladder to help clean your gutters a couple of times a year and put up the Christmas lights, the money and the quality might not be necessary. Some people like making high quality purchases that they only have to make once. If that is you, then you will appreciate the durability of these ladders despite the price.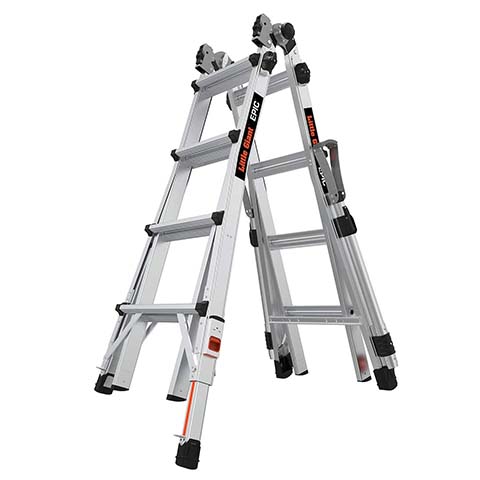 What Users Say
Little Giant Ladders are some of the best reviewed ladders on the internet. Some of their models have thousands of reviews and nearly perfect five-star ratings. Some of the things that users praise the most are durability, warranty, and design features. People who get nervous on ladders feel comfortable and secure using Little Giant Ladders around their houses. Some people claim a Little Giant Ladder is the last ladder they will ever need to buy. However, not every comment is all roses.
Some people complain that the larger ladders are too heavy. Some of the ladders can weigh between 50 and 100 lbs. making them difficult to move or load, especially for older adults. Sometimes the ladders are hard to set up and can be very cumbersome to lock into place or unlock. Then, of course, there is the price which is a big turn off for bargain shoppers.
But overall, users tend to love their Little Giant Ladder and often heap effusive praise when warranted.

Conclusion
Little Giant Ladder Systems is an excellent company. If you are looking for a high-quality ladder that is functional, versatile, and safe, you want a Little Giant Ladder. These ladders are made in the United States and feature nearly universal praise along with a great warranty. All of that together makes it easy to endorse Little Giant Ladder as a quality brand for anyone in the market for a new ladder.