8 Best Garage Floor Epoxy in 2023 – Reviews & Top Picks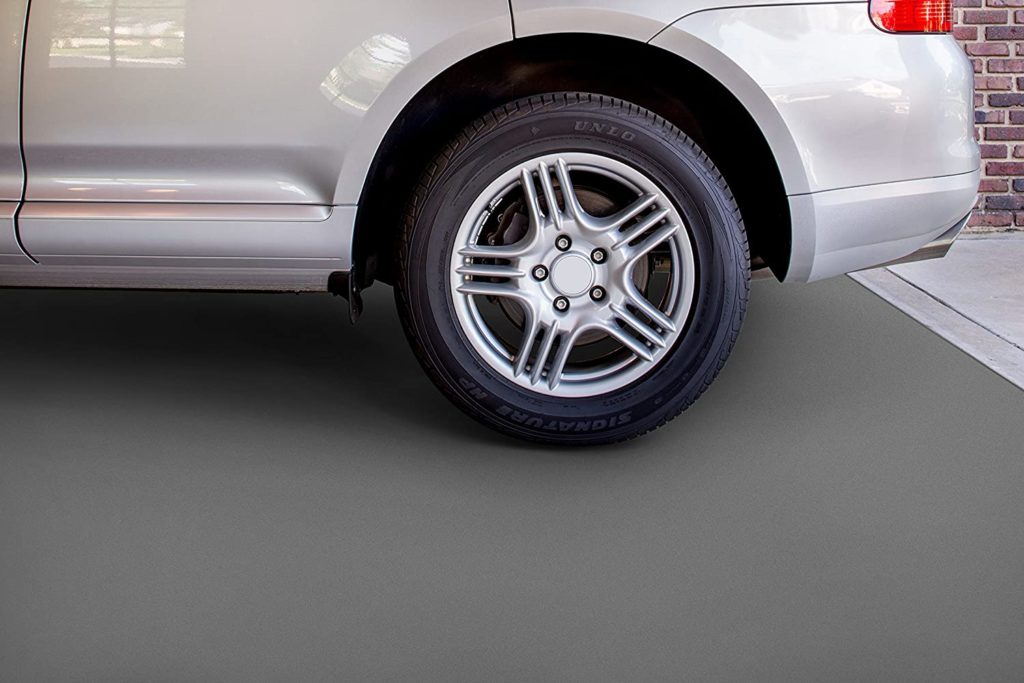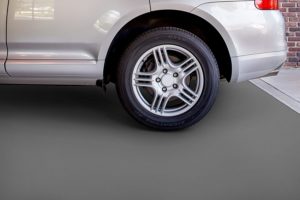 The garage is no longer just a refuge for storage bins and Christmas decorations. These days, it is a haven for classic car restoration and intricate projects, and the gray concrete floors aren't quite keeping with this new aesthetic. For sealing and coating, many homeowners are using epoxy resins to give their floor a unique look and feel.
This is also very popular in homes where extensive mechanic work is done, as epoxy resins don't allow the usual vehicle fluids to seep into the fibers of the concrete, staining it forever. Epoxy resin floor treatments can be found in auto shops and showrooms for this very reason.
In these reviews, we have pieced together the best of the best in the wide world of epoxy resins, and if you are considering coating your garage floor, basement floor, or any other concrete interior surface, you will appreciate the details of each of our choices. We hope it helps you pick the right resin for the desired effect.
---
A Quick Comparison of Our Favorites in 2023
Rating
Image
Product
Details

Best Overall

Colored Epoxies Epoxy Resin Kit

Impact-resistant
Plenty of colors
High gloss
CHECK PRICE

Best Value

Kilz L377711 Concrete and Garage Floor Paint

Single component
Durable
Water-based
CHECK PRICE

Premium Choice

SUPERCOAT DecoEffects Epoxy Floor Coating

Minimal odor
Holographic flakes
Non-slip additive
CHECK PRICE

Rust-Oleum 251965 Garage Floor Kit

Fast drying
Quality brand
Professional-grade
CHECK PRICE

Epoxy-Coat Epoxy Floor Kit

Covers 500 square feet
Made in the USA
10 times more durable than most water-based epoxies
CHECK PRICE
The 8 Best Garage Floor Epoxies 
1.

Colored Epoxies Epoxy Resin Kit – Best Overall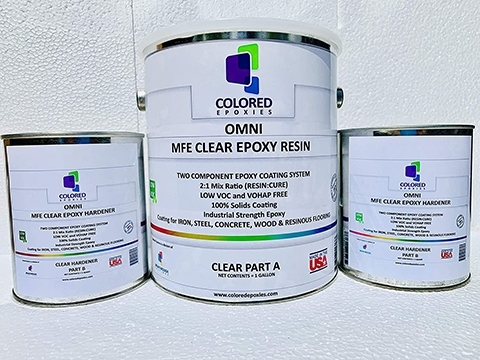 This elastomeric ultra-premium high gloss option is the go-to choice for anyone serious about protecting their garage floor. Colored Epoxies is the brand the professionals choose most for many of its impressive list of features, but they really appreciate that it is 20 times stronger than many other brands.
It is impact-resistant, comes in 12 colors as a backdrop when mixed with metallic epoxy with an additional 50 metallic epoxies to choose from. It always comes in a 2-part system, the first as a primer with a finishing coat after, and you can add metallic flakes for individuality and contrast.
It has been noted by users in high-humidity environments that the product doesn't harden in the advertised window of time. They indicated it took almost a week in some cases. And since it is a chemical product, it will become unusable if it is purchased and not used, a common issue with resins. Overall this is the best epoxy for garages floors we have tested this year.
Pros
Impact-resistant
Plenty of colors
High gloss
Very strong
Cons
Doesn't harden in high humidity
---
2.

Kilz L377711 Concrete and Garage Floor Paint – Best Value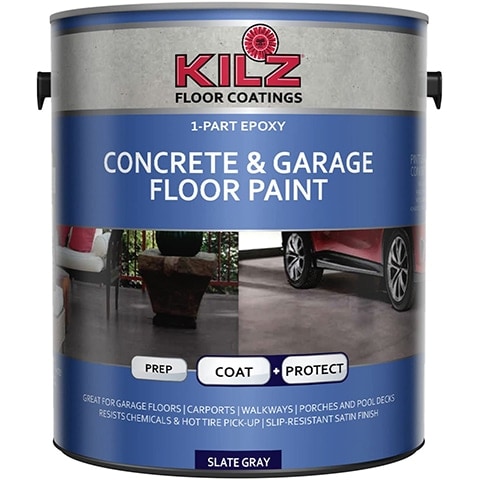 If mixing two separate chemicals seems like a huge hassle, Kilz has the solution. For a durable option that is easy to clean and won't crack or blister, Kilz L377711 is what you want for your garage floor, even under the hottest conditions. It is scuff-proof and even has fade-resistant properties.
This single component, water-based, floor paint is excellent for any high traffic surfaces and works on concrete, masonry, stone, and brick. It dries in about 2 hours and beads off chemicals and vehicle fluids without staining your concrete. One gallon can cover 400-500 square feet. We think it is the best garage floor epoxy for the money.
Some users, even after waiting the required time frame before parking their vehicles on the coated floor, already saw degradation and peeling. This could be due to heat when applied or just a bad batch. With that being said, this is the best garage floor epoxy for the money.
Pros
Single component
Durable
Water-based
Dries in 2 hours
Cons
Rapid degradation
Peeling when hot
Consult a flooring expert
Find a flooring specialist in your area, and get free, no-commitment estimates for your project.


---
3.

SUPERCOAT DecoEffects Epoxy Floor Coating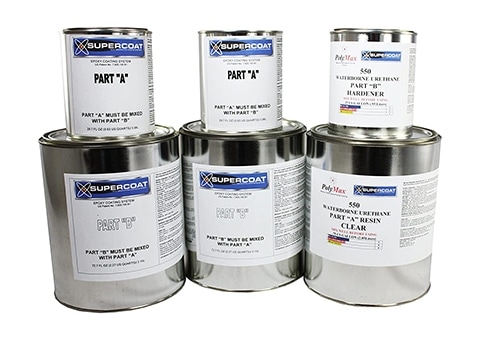 For a floor coating that you will love and is sure to get the admiration of anyone who sees it, the SUPERCOAT DecoEffects Epoxy Floor Coating is a beautiful way to accent your garage. This is not just a floor coating kit but also a floor decorating experience. It is a professional grade floor system that has minimal odor and maximum wow factor.
The kit comes with holographic reflective flakes that you sprinkle while the floor is wet, giving a reflective sheen. The urethane glaze coating enhances this effect, and for safety, a non-slip additive puts the finishing touch on what will be a magnificent floor. The whole system is water-based and binds to concrete very well.
This kit doesn't entirely cover the area it suggests, which is about 400 square feet but is closer to 250 square feet with the recommended coat. And some users found that it didn't dry in the advertised 24 hours. All in all, the biggest hurdle was the cure time, which might be attributed to the chemicals separating in the pale.
Pros
Minimal odor
Holographic flakes
Non-slip additive
Cons
Long curing time
Coats less space than advertised
---
4.

Rust-Oleum 251965 Garage Floor Kit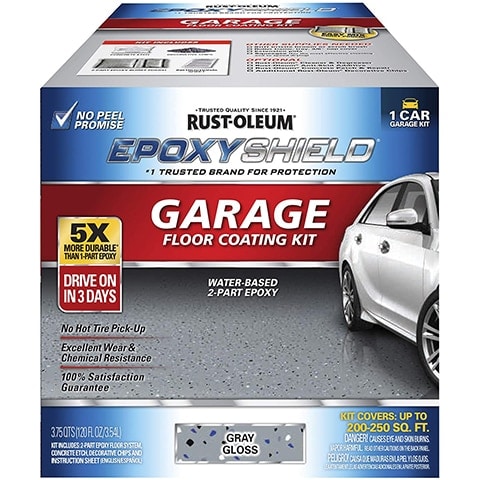 From a brand many people trust for epoxy coating, the people at Rust-Oleum have answered the call to give the people a quality garage coating option. In the Rust-Oleum 251965 Garage Floor Kit, you will find a professional-grade, 2-part epoxy formula specifically designed for concrete floors in garages, basements, and workshops.
Walk on it in 24-hours, drive on it in 72-hours, and rest assured it will give you the reliable strength you have come to expect from the Rust-Oleum product line. With its low odor and a low volatile organic compounds (VOC) gloss finish, you will have a showroom appearance no matter where it is applied. And it is easy to clean with little more than soap and water.
A few users have been disappointed with how easy it was to mark up the flooring after coating and curing. It seems like in the heat, the cure time is extended, and if you apply force to the coating with a vehicle before it is cured, your hot tires will pick up some epoxy residue.
Pros
Fast drying
Quality brand
Professional-grade
Cons
Long cure time
Not scuff resistant
---
5.

Epoxy-Coat Epoxy Floor Kit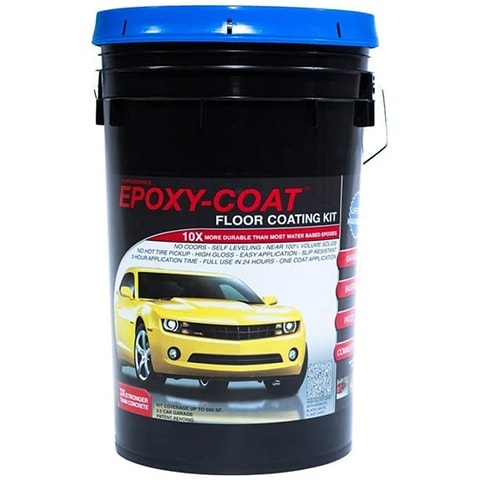 Made in the USA and guaranteed for life, Epoxy-Coat Epoxy Floor Kit makes no bones about its quality. They offer it in a 3-gallon container to ensure you can cover every inch of the 500 square feet they advertise. And it is 10 times more durable than most other water-based epoxies.
It is straightforward to apply, has no odor whatsoever, and is made with slip-resistant additives for safety. One remarkable feature many other epoxies don't offer is salt resistance, which is worth its weight in gold if you live in a snowy area. It also resists chemicals, oil and can handle the excessive heat from a tire that has been on the road all day.
This kit has an odd complaint, which lacks details on how to use it. It is supposed to come with instructions on a CD, as is shown in the picture on most ads, but it does not. It might be a shipping error. And if you are going to get this, check the date. The fresh product works very well, but the older product separates and is not at all useful.
Pros
Covers 500 square feet
10 times more durable than most water-based epoxies
Made in the USA
Cons
No instructions
Old product doesn't work
---
6.

Valspar 1081021 Garage Floor Coating Kit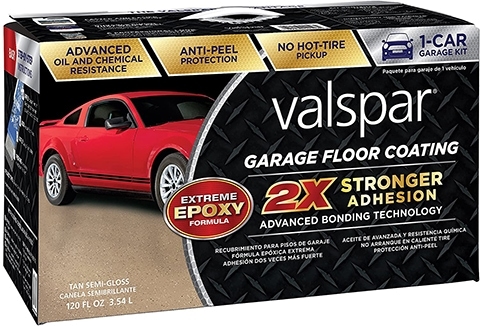 A great option from another brand known for high-quality epoxies, Valspar 1081021 is a little different than its competitors. Instead of a high-gloss sheen, it offers a more understated semi-gloss finish, allowing the attention to be drawn from the flooring and to the car that rests on it.
It has anti-peel protection, even in the most extreme temperatures, and with a lot of pick up if a hot tire rolls across it. It is made with a low VOC formula and features professional grade bonding technology that gives you the assurance of long product life. And this comes in tan, where most come in gray.
Some of the coats come out a little different in the shade of tan, which is a problem if you need to use more than one kit. And others found the anti-peel feature to be an outright lie. The mixture seemed to harden too quickly and became thick before application, and it is speculated that they might have received a bad batch from the vendor.
Cons
Anti-peel fails
Different shades of tan
---
7.

Rokrez 40001391 Pro Industrial Floor Coating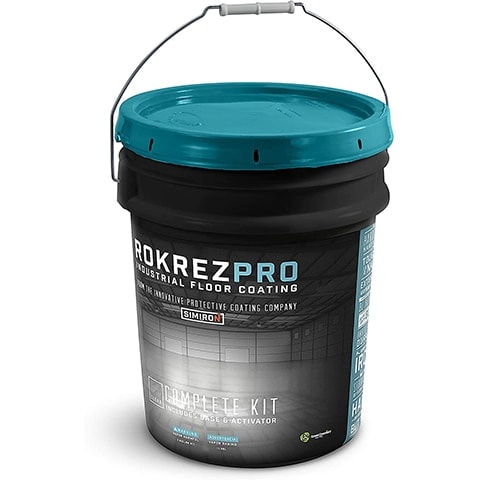 The Rokrez 40001391 Floor Coating is high quality and durable, resisting chemicals, impacts, and abrasions. It is 100% safe, has a low VOC, very little odor, and has an extended pot life and working time for novices and burgeoning professionals.
It is 100% solids, which means it is used as a solid color, and decorative chips and metallic pigments can be added later. It is user friendly in its versatility, great for everything from warehouses to power plants, from aircraft hangers to schools. And it self levels, so no additional smoothing after the application is required.
Some users found it to be a little more difficult to spread than they might have thought. And it seemed to cover a much smaller space than advertised. The instructions are wrong in the way they say to apply it, which is frustrating for anyone who reads them first. It comes out a little thin.
Cons
Thin
Bad instructions
Difficult to apply
---
8.

UNITED GILSONITE LAB 23813 Floor Paint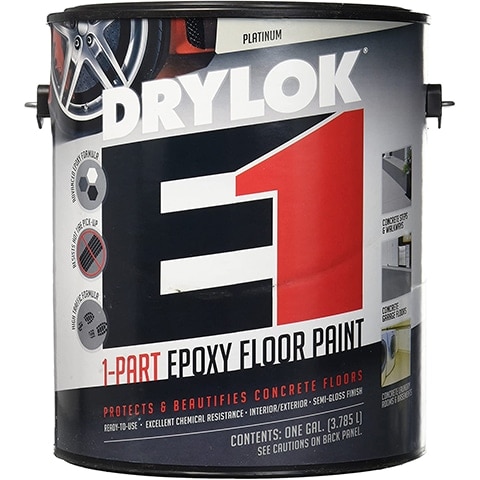 Drylok is a game-changer in epoxy floor paints. When you apply UNITED GILSONITE LAB 23813 to your concrete surfaces, you are saying you want the best water resistance, the highest color retention, and a durable coating you can trust. It is not only a quality resistance barrier but also adds beauty to your dull surfaces.
It stores well and cleans with nothing more than water. It is low VOC and designed with the best epoxy technology, adding to its protective properties. And it works well for both interior and exterior use.
Sadly, this product has a few flaws. For one, it peels off in short order if the concrete isn't the appropriate temperature when applied. It doesn't respond well to humidity and is not salt resistant. And one gallon barely scratches the surface of many garage sizes. It is not the best out there, but many users still laud it as an excellent product for the money.
Cons
Easy peel
Temperature issues
Thin
---
Buyer's Guide – How to Purchase the Best Garage Floor Epoxy
When deciding to coat your garage flooring, epoxy resin is the obvious choice for its durability and longevity, however, picking one can be challenging. A handful of factors play into the selection. Color for one, sheen for another — not to mention metallic flaking. Plus, you want it to complement your garage, if not improve it. In this section, we'll walk you through all of these features one by one.
Choosing Your Epoxy Floor Covering
A person intending to use an epoxy resin to coat their concrete flooring will have considerations broken into two categories:
Visual aesthetics
Chemical composition
The look is vital for the way it will accent the space. If you have drab walls, you don't want an equally drab floor, unless you are going for that. If you are showing a car that makes you smile, something flashier on the floor might suit the space with a livelier feel.
Chemical composition speaks to the makeup of what is in the resin itself. For instance, VOC stands for volatile organic compounds, or ingredients in the resin epoxy that might be harmful to the environment, including people. Most resin epoxies are low-VOC, but many on the market are no-VOC, which are the safest available.
The look is what you want, but the chemicals are what make that look possible. You want a nice shiny finish, but also water resistance and scuff-proofing. You want a particular color and the ease of cleaning that can be done with a simple garden hose. Both work in concert to give you the flooring you desire, but each must play its part to thrive.
Visual Aesthetics
It's time to coat your garage. So, what color? It can come in one of a hundred solid colors, and every one of them is perfect for a specific space. With the right patience and prep, you can do just about any color or combination you wish.
But what about the shine? Finishes are often high gloss due to the varnish coat, but semi-gloss is also an option and a good one. When working, the high-gloss finish is ultra-reflective. If you use a shop light and it is too bright, a semi-gloss will protect your eyes and keep the migraines at bay.
Now let's talk about flakes. Not the frosted kind, the holographic metallic kind. Once you put down your initial coat, some epoxy resin kits come with small chips made of small, flat metallic shapes or some other reflective material. This gives the floor a depth that it wouldn't have otherwise — and it looks incredible.
Chemical Composition
The chemicals used in epoxy resin are carefully designed to give the user the perfect spread, but only within a specific window from when it is blended. The single-bucket option is even more volatile as it is already mixed, and the timer began at the factory. Mixing chemicals changes both of them. Always know how old they are before buying them.
If you get older chemicals combined, some of the activating agents have separated, and the mix will not work correctly. Check the dates on any resin epoxy you select to ensure it will cooperate when you need it. And if it is shelved and the date is long passed, mixing might work, but often, the batch is no longer any good.
When picking your epoxy resin, know what it is designed to resist and how. Low VOC is only one piece of the puzzle. Slip-resistant additives are another. And for an epoxy resin to resist certain antagonists, it needs to be tough, and there is a chemical for that, too. The upside of all of this is it is water-based and rarely toxic.

Conclusion
When we went through our list of potential winners, it was hard to narrow in on a selection. But, for best overall we chose Colored Epoxies Epoxy Resin Kit. It is a fantastic product and has so many user-friendly features.
Kilz, the brand you know for paint, is also the brand you know for value in epoxy resin floor coverings. Kilz L337771 Concrete and Garage Floor Paint has the Kitz name's tradition with the value we were looking for when selecting an economical floor covering choice.
Coating your concrete is wise. It looks hard and impervious to everything until you spill oil on it, and it is defaced forever. A quality epoxy resin coat is designed on the molecular level to help. We hope you made the right call and used these reviews to pick your epoxy resin floor covering.
See also: How to Fix Cracks in a Garage Floor in 5 Simple Steps (with Pictures)